March, 4, 2015
Mar 4
3:00
PM ET
Baylor left tackle
Spencer Drango
earned All-America honors last season then elected to come back for his senior season and another shot at a national title. What's he working on this spring? How do his quarterbacks look? When will he get to catch a pass? We caught up with Drango before Baylor's first spring practice last week.
What have you guys seen from Seth Russell so far?
[+] Enlarge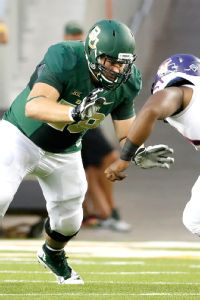 AP Photo/Tony GutierrezSpencer Drango will see to it that Baylor's new QB is well protected.
Drango:
He's shown us that he can be the leader of this team. As far as who has the position, I think it's still up in the air. The coaches decide that. But all of our guys have been busting their butt. Seth has stepped up to fill that leadership role that's been vacated by other guys.
What do you like about Jarrett Stidham from getting to watch him work?
Drango:
He's an overall good guy. I haven't seen much on the field, just seen him throw a little bit. Just like Seth, it doesn't look like he's putting much effort into it to throw 65 or 70 yards. I know he can run, I've seen that a little on his highlights. It should be a lot of fun to watch him work.
In what ways can you improve after already earning All-America honors?
Drango:
Well hopefully I can get unanimous All-American. That's one of my goals. And then another one of my goals is to win the Outland Trophy. I was a semifinalist last year so I'd like to improve on that. And just here and there, pass pro, getting back to my old self I guess. I got there about halfway through last season. Pass blocking, I still didn't feel like I was quite back to 100 percent on that. I had to adjust. Now that I've got a lot of my strength back, it should help a lot.
Was it important to you, in coming back this year, to help this offense through a transition to a new quarterback?
Drango:
I think so, and I think it's on the whole line in general to maintain that protection we've had in the quarterbacks of the past -- and not just maintain, but improve upon it. I don't know how many sacks we gave up last year. One is too many. I'd like to see us give up none, and I think we can. We definitely have the talent on the line and mindset to be able to do that.
How motivated is this team after the Cotton Bowl loss?
Drango:
We're extremely motivated. Offseason was very intense. We wanted it that way. We wanted to weed out and get rid of the bad habits we had and get focused on doing things right and staying right. Having motivation is always a good thing.
Has LaQuan McGowan been asking for more chances to catch the ball?
Drango:
I think every O-lineman is asking for more chances to catch the ball.
Well why haven't you?
Drango:
Uh, you know … coaching, I think. I'd be more than willing to do it, but I think …
You're an All-American now. You can ask for that, right?
Drango:
Well I would hope so. I think, position-wise, it works out better for him to do it than me. Just in the spot I'm at and the spot he's at, it works out better for him to go do it. I love it.
It might tip the opponent off if you're lined up in the slot.
Drango:
Yeah, exactly. I don't know, maybe we can do a tackle screen or something like that. That'd be fun.
When you guys were setting up that play, did you ever think they might actually run it in a game?
Drango:
Any play that we run in practice, I think we can run it in a game. We have some crazy stuff that we run just to mess around. Coach Briles has some of those plays he loves.
So there are much crazier plays than that one we haven't seen yet?
Drango:
Uh, I don't know about
much
crazier. I don't know if you can get much more crazy than a 400-pounder scoring a touchdown. But every team has their tricks. We've got to have a lineman throw him the ball. That would be kind of fun. I don't know if that's going to happen. I'll talk to Coach.