November, 2, 2011
11/02/11
1:00
PM ET
Unranked Texas A&M's 33-19 upset of then-No. 8 Oklahoma last season left two lasting images.
For the first time in a long time, players left the field to chants of "Wrecking Crew," the moniker ultimately reserved for the best Texas A&M defenses.
The other was the dominant play on the line of scrimmage that birthed those chants.
Three times, Von Miller's crew stuffed Oklahoma at the goal line, the biggest coming in the final minutes to seal the win, denying DeMarco Murray the end zone on three runs inside the 5-yard line.
[+] Enlarge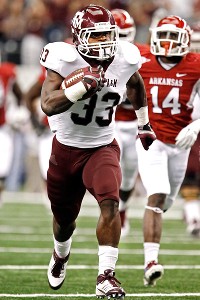 AP Photo/Brandon WadeChristine Michael will need room to run for the Aggies to upset Oklahoma on Saturday.
Once again, Texas A&M is unranked and facing Oklahoma with three losses. This time, it travels to Norman, where it was beaten 65-10 in its last trip back in 2009.
The Sooners and Aggies are the two most physical offenses in the Big 12, and if A&M is going to spring another upset, it will have to win the battle of the line of scrimmage. The Big 12, with its elite skill-position talent and deep stock of quarterbacks, doesn't always have games decided up front. This one will be.
"Our offensive line is coming around," said Texas A&M coach Mike Sherman, who played true freshmen last year at both offensive tackle spots. "Until this last ballgame, defensively, we've been pretty good against the run."
Consider: Oklahoma leads the nation with 34 sacks. The Sooners have allowed three sacks, tied with Boise State for the fewest nationally.
Texas A&M, meanwhile, has given up just seven sacks and is third nationally with 30 sacks.
"A lot of us have definitely stepped up," said Texas A&M defensive lineman Spencer Nealy. "We definitely always play with a lot of effort, and at times, like any other position, we'll have mistakes, but as a whole, we played pretty good."
The Aggies, though, have ascended to second in the Big 12 at 224 yards rushing per game while Oklahoma has sunk to eighth, though the Sooners possess the league's top passing attack.
Oklahoma will be without leading rusher
Dominique Whaley
, too, who suffered a broken ankle in Saturday's win over Kansas State.
Texas A&M fields the league's best 1-2 punch at running back, and last year's growth took place without one of them even on the field.
"The maturation of [the offensive line] really helped us. We struggled early in the season. We gave up a lot of sacks in the first half of the season. We didn't run the ball very well," Sherman said. "We weren't protecting well, we weren't running the ball well. They started to come into their own. A couple of our young tackles were talented but they didn't have the experience. I thought they grew up in the second half of the season and we emphasized the run game more and took some pressure off the passing game and tried to stay out of long-yardage situations. ... They had a big part in the second-half run last season."
It's only continued into 2011.
Christine Michael
's broken leg that forced him out of the second half of the season has healed, and he's on course for a career season with 811 yards, third-most in the Big 12.
Cyrus Gray
has 704 yards of his own to rank ninth in the league.
Those two are fully capable of carrying the Aggies to the upset.
Despite the high sack numbers for A&M, it's given up more passing yards per game than any team in the country. How?
"It's not ability at all. We've got some of the best players in the Big 12," Nealy said, pointing to fundamentals.
The best way to slow Oklahoma's passing attack is to keep it off the field. That means running the ball well and pressuring
Landry Jones
.
Texas A&M's offensive and defensive lines can do that. They proved it last year.
Now, it's time to do it again.
October, 27, 2011
10/27/11
12:00
PM ET
By
ESPN.com staff
| ESPN.com
Angie's thinking of the next move now. As you know, my single, "My Single is Dropping" is dropping.
October, 18, 2011
10/18/11
4:40
PM ET
By
ESPN.com staff
| ESPN.com
Thanks for all the questions this week.
Here's the full transcript.
And
my mailbag's open if you have more questions
. Time for a few highlights.
Jim (Grand Junction, Colorado)
: I can't help but wonder if Nebraska and/or Colorado had insisted that Dan Beebe be replaced, as Oklahoma did, if would one or both still be in the conference and that the Big 12 would still be intact or still viable.
David Ubben
: Nope, I'm not buying that one. Nebraska was never really thrilled with the way the Big 8 became the Big 12 and in this case, it was maybe more about how attractive the Big Ten was, rather than how unattractive the Big 12 was. In short, the opposite of Missouri. I'm not so convinced Missouri wants the SEC as much as it wants "Not the Big 12."
Mason (Texas)
: DUbs, what are you hearing about Texas playing Tech on Thanksgiving? Surely they are first looking at Notre Dame, but if that doesn't work isn't Tech the most logical choice?
David Ubben
: To some degree. I'm not sure Texas' opponent matters all that much as long as it's a good one. The Big 12 doesn't really do a lot of late-season nonconference games, so that complicates matters. It'll all shake out. I don't sense a lot of urgency about that exact topic from either fan base.
Cameron (CS, TX)
: Is this year already a bust for A&M? This was the year where we had a solid team all over and all the right pieces to make a run for a championship and instead we fell out the gate.
David Ubben
: To some degree, I think so, yes. This team was good enough to win a national title if the ball bounced their way a couple times. Now, they've got two losses midway through the season. A Big 12 title isn't impossible, but they need a ton of help.
Blake (Stillwater)
: Ubbs: Most people seemed underwhelmed by Okie State getting their second-consecutive win in Austin (First team to do that since 1910.) does that show how far they have come as a program? To get judged even in a double-digit road victory?
David Ubben
: No question it does. The "back-to-back Austin win" stat is a little overplayed. I'm not sure how many teams have played in Austin in consecutive years. But that was a bit of a yawner, and ended up pretty much exactly like I expected. And suddenly OSU is getting ripped? That makes no sense.
Matt (Champaign)
: David - In your humble opinion ... with the BIG EAST upping its exit fees, to whom will the BIG 12 look when Mizzou competes with Vandy in the SEC
David Ubben
: Ha. Ouch, Matt. I disagree, but ouch. I don't think the additional exit fees ($5 million has become $10 million) would be a huge deterrent to West Virginia or Louisville leaving the Big East. Timing could get awkward though. TCU is joining right away, but waiting 27 months for two more members? That could get messy.
Brian (Dallas)
: Rangers or the Cardinals?
David Ubben
: A nap.
Josh (Knoxville, TN)
: Why is the Aggie pass defense so bad? Is there any hope it gets better? Thanks.
David Ubben
: It comes down to the pass rush. Texas A&M isn't getting a ton of sacks from its front four, so it's bringing a ton of DBs and backers on blitzes. That's a high-risk, high-reward venture. The result has been both. A lot of sacks and a lot of big plays from opposing offenses. If it's going to get better, guys like Spencer Nealy and Tony Jerod-Eddie have to keep getting a push up front and get more pressure on the pass so the Aggies aren't forced to blitz as much. Those blitzes haven't resulted in enough turnovers, either.
October, 15, 2011
10/15/11
6:02
PM ET
COLLEGE STATION, Texas -- Baylor quarterback
Robert Griffin III
was wrapped up, all but down on fourth down deep in Texas A&M's red zone.
Somehow, he found a way to lob the ball to tight end
Jordan Najvar
. The ball fluttered over the hands of two Aggies defenders and Najvar, setting off a celebration on the way back to the sidelines and firing up the 87,361 comprising the fourth-largest crowd ever at Kyle Field.
Baylor didn't score again, and Texas A&M rolled to
a 55-28 win
over the Bears.
"Unstoppable. That's really what we thought," defensive end Spencer Nealy said.
Nealy led the team with seven tackles and 1.5 tackles for loss.
"After the fourth down stop, honestly, you look at every guy running off the field, jumping up and down. We really uplifted our confidence," he said.
Sometimes all it takes is one play to change the course of a game and perhaps a season. The Aggies led by 13, and if the Aggies hadn't made the stop, the odds of a third second-half nightmare in four weeks becoming a reality would have quickly risen.
"We knew it was big," said linebacker Jonathan Stewart, who had one of five sacks for Texas A&M. "We just knew we needed to grit our teeth and just get the stop."
The mistakes were there. Griffin torched this wrecked crew for a school-record 430 yards, the third quarterback in four weeks to write his name in the school record book at the Aggies' expense.
A few costly offside penalties in the first half extended Baylor drives.
"I'm sure we'll probably get yelled at for that during Monday morning film, but we had to get pressure on him," Nealy said.
Twice the defense got beat over the top for touchdown passes of 77 yards and 43 yards, and Griffin set up another touchdown with a 50-yard bomb to
Tevin Reese
, who drew pass interference on the play, too.
After the game, Sherman stopped Griffin.
"If you're III, I don't want to meet I and II," he told him.
[+] Enlarge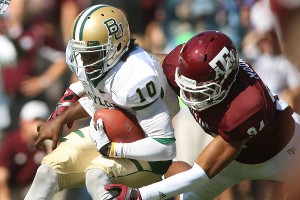 AP Photo/Jon EiltsTexas A&M's defense contained Robert Griffin III and the Baylor offense when it counted in the fourth quarter.
But for Texas A&M, it can focus on the day's biggest number: Baylor's gaping zero on the scoreboard in the fourth quarter.
"We're not going to shut this team out," Texas A&M coach Mike Sherman said of the Bears, who entered Saturday's game third nationally in total offense with the most efficient passing game in college football. "They will move the ball against anyone and everyone."
Except, apparently, Texas A&M in the fourth quarter.
"In the end, it came down to that fourth-down stop," Nealy said.
The stop allayed at least a few fears that this experienced team loaded with as much talent as any in the Big 12 can't perform in the second half.
This was a game complete with the end of a 22-quarter drought without a turnover. The Aggies did it with pressure on a previously unflappable quarterback in Griffin. He'd thrown just one interception with 19 touchdowns in 143 attempts entering Saturday's game, but the Aggies pressured him and he threw it up for grabs. Dustin Harris took advantage.
"We're taught to get takeaways. That's the first thing on our list," Harris said. "It was on our backs to get that pick or a turnover on defense and it happened on that play. Our offense went down and converted."
The last part was nothing new for the Aggies, who didn't punt in the second half. With the kind of firepower Texas A&M fields on offense, the defense's margin of error is only slightly wider than the separation
Ryan Swope
got on opposing defenders throughout Saturday's game.
Swope finished with a career-high 206 yards on 11 receptions and four of
Ryan Tannehill
's six touchdown passes.
"Our offensive line really set the tone of the game," Swope said. "People were just making plays. Coach strives on winning 1-on-1 matchups, and I feel like we did that."
Said Tannehill: "It was fun watching him play today."
The first-team offense scored on every possession in the second half, scoring 52 points in the game's final 39 minutes. The second-half failures that had become the team's defining trait through the first half of the season had, for at least an afternoon, disappeared.
Sometimes, all it takes is one play.
March, 8, 2010
3/08/10
10:00
AM ET
By
ESPN.com staff
| ESPN.com
Tim DeRuyter took the job as Mike Sherman's defensive coordinator in January, replacing Joe Kines, who retired after two seasons at Texas A&M. DeRuyter left a job as defensive coordinator at Air Force, his alma mater, to take on the task of shaping up the Big 12's worst defense in 2009.
Here's part two of what he had to say. If you missed part one earlier today, go
check it out
.
David Ubben: Who's impressed you early on?
[+] Enlarge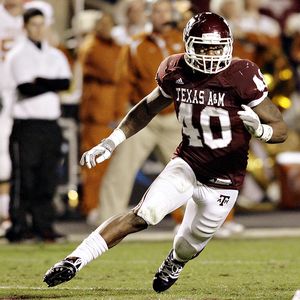 Brett Davis/US PresswireVon Miller will have a lot on his plate in Tim DeRuyter defensive system.
Tim DeRuyter
: One of our defensive lineman who was a freshman and is doing a great job so far is a young man named Spencer Nealy, who played some as a freshman last year. He's a guy that's got a great motor and really does a good job of leading and doesn't care who's watching; he's going to go hard. He's a fun guy to have, and that's the kind of guy I'm used to coaching, being from the Air Force Academy.
DU: Has anybody really exceeded your expectations, based on what you knew about them coming in?
TD
: Von Miller is a guy who obviously I knew a bunch of before I got here, but watching how athletic he is and watching more tape on him, he's going to be a fun guy to coach. He's got tremendous upside, tremendous athletic ability and he's very anxious to learn and I think he's going to be a heck of a player for us.
DU: What's going to be difficult about the transition from A&M's defensive scheme last year to your 3-4?
TD
: They did some of that stuff last year, they ran little bit of a 3-3 package, so the transition that way helps a little bit. Our fits are going to be a little bit different, but the fact that they ran some four-man and some three-man fronts helps in the big picture. Our terminology is going to be different, so they've got to learn a new language. But the fact that they played some quarters last year is also going to help us. Those things, when you talk about the transition, we're not starting from ground zero. It's a chance to kind of build on what they did before, and it doesn't have to be a wholesale change.
DU: Back to Von for a bit. What were your early impressions of him once you saw him up close?
TD
: My initial impression watching him on tape was I was very impressed. Then through the first few mornings of our workouts, he's a guy that can really stand out in a crowd. He's a 6-4, 240-pound man that moves around like he's 5-10 and 180. And having that explosion and burst really gives you a chance to say, 'How can we get this guy isolated?' Just seeing that athleticism just whets your appetite for that, thinking about the possibility.
DU: So how does he fit into your system?
TD
: We're going to use him in a couple of different ways. He's going to play what we call a Joker position, which is an outside linebacker who does a couple different things. He's going to be a guy who's in the rush at times, and then drop [into coverage] at times. We're going to put a lot on his plate and see if he can handle it, which I'm sure he'll be able to. He's a very sharp young man, and again, I think, hopefully he'll give us a chance to play multiple fronts with some of the personnel that could give people problems.
DU: He put up a ridiculous 17 sacks last year, but what are you expecting from him this year? What is he capable of?
TD
: I think he's capable of a lot. We're going to count on him, especially as a senior, to be a leader for us, and he's got to be a guy, especially in this package, when you're running a 3-4 and you've got edge guys like him, that's what makes the thing work. So we're expecting a lot of him and he and I have already talked about that. But I fully anticipate him being a guy who can make a difference for us and bring our Wrecking Crew back.
DU: Lastly, what's something people don't know about Tim DeRuyter?
TD
: I'm pretty open with everything, I don't have many secrets. I'm a Popeye, I-am-what-I-am type of guy. But I guess something a lot of people don't know is I'm one of eight children and I've got about 80 first cousins on my dad's side of the family. So that's one thing.