April, 14, 2012
4/14/12
11:00
AM ET
By
SoonerNation Staff
| ESPN.com
Though the Sooners' Red-White spring football game isn't televised, we'll be chatting throughout the game right here on SoonerNation starting at 1:30 p.m.

You can listen to the game nationally on Sirius 113/XM 191 and on the radio at KOKC-AM 1520 in Oklahoma City.

<a href="http://www.coveritlive.com/mobile.php/option=com_mobile/task=viewaltcast/altcast_code=62d000863d" mce_href="http://www.coveritlive.com/mobile.php/option=com_mobile/task=viewaltcast/altcast_code=62d000863d" >OU Spring Game</a>
April, 12, 2012
4/12/12
11:05
AM ET
There were times last December when it appeared Oklahoma might have to run four- or five-receiver sets for the majority of the 2012 season.
The Sooners' tight end depth had been crippled during the 2011 season. James Hanna and Trent Ratterree were about to complete their eligibility in the Insight Bowl, Austin Haywood had left the team, and an injury forced Max Stevenson to leave the program. Those departures left no scholarship tight ends on the roster.
Now, heading into the spring game, there's depth and optimism at the position.
[+] Enlarge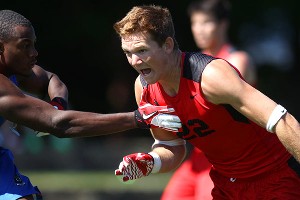 Tom Hauck for ESPN.comFreshman tight end Taylor McNamara should be a contributor for the Sooners in the fall.
Tight ends
Brannon "Moose" Green
and
Taylor MaNamara
appear poised to help the Sooners this fall after enrolling in January.
"For both of them to be here for a few months, they've done a wonderful job," safety Tony Jefferson said. "They both have phenomenal hands."
Green, a junior college transfer, has made the easiest transition into the program because of his experience at Fort Scott (Kan.) Community College. The best blocker of the two, at 6-foot-4, 260 pounds, Green should make an immediate impact in short-yardage and goal-line situations.
"He's more of the physical, edge-presence guy," tight ends coach Bruce Kittle said. "He's not quite as fluid as Taylor is, but he has a great set of hands. He's very predicable with his routes, he runs pretty good routes, and when he does get open, he catches the ball."
While Green has proven to be more experienced and ready to play this spring, McNamara has the potential to be a factor in OU's passing attack if he continues to improve.
"He's got a ways to mature," Kittle said. "It's hard. You get punched in the face twice, on separate plays, and thrown on your back by David King ... the world is not a very nice place here some days. But you have to pick yourself up and fight through that. He keeps responding, keeps coming back."
It's been a rough transition for McNamara as homesickness and getting used to college life has been difficult. The early enrollee was a four-star recruit on ESPN after starring at San Diego, Calif./Westview, and picked the Sooners because he recognized the opportunity to play early and compete for championships.
"It's quite an adjustment moving from San Diego," Kittle said. "A couple of weeks ago he came in and said, 'You know, I finally stopped hating OU this week.' I didn't know he hated it, but I knew it was pretty overwhelming for him."
Homesickness aside, McNamara has shown flashes of the pass-catching ability that made him one of the top prep tight ends in the nation last season.
"He's very fluid in open space, he's a very good athlete," Kittle said. "He's holding his own."
Kittle hopes McNamara can gain 10 pounds -- "he needs to get stronger," the coach says -- during the summer so he can enter fall camp at 6-foot-5, 245 pounds. Even though he has struggled with the transition to college football, McNamara has shown enough talent to make an impact in 2012.
"He was a guy who was committed to coming in early and trying to give himself an advantage," Kittle said. "It's important to him, he wants to play and he's going to be one of the guys in the rotation, playing for us this fall."
April, 6, 2012
4/06/12
10:30
AM ET
Kenny Stills
is a proven playmaker.
During his first two seasons, the Oklahoma receiver has threatened defenses with his speed, acceleration and ball skills. Stills has shown he can run past speedy defensive backs -- see his touchdown catches against Florida State or Nebraska -- or make difficult catches while he's covered like he did in the 2010 Red River Rivalry against Texas.
[+] Enlarge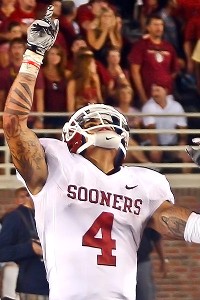 Phil Sears/US PresswireOklahoma receiver Kenny Stills is trying to fill the void left by Ryan Broyles' graduation.
Heading into his junior season, Stills is looking to progress from playmaker to difference-maker for the Sooners offense. And he understands that the biggest steps forward he can make in the next few months will come off the field.
"I felt like I need to be that guy who does that, I need to be a leader for these guys," Stills said. "We were in the shadows with the older guys, who had played for a national championship, [but] I was ready to step in the role and I had to go out and show them, not just talk about it."
Replacing
Ryan Broyles
' production has been a focal point for the Sooners since OU's all-time leading receiver suffered an ACL injury on Nov. 5. But replacing Broyles in the meeting room, on the practice field and on the sideline during games could be just as important.
While Broyles' production was unmatched -- he averaged 7.3 receptions for 95.5 yards and nearly one touchdown per game during his 48-game career -- his injury showed just how important he was to the team's overall success. The Sooners went 2-2 without Broyles and had three of their four lowest-scoring games with him on the sidelines.
In other words, Broyles was a difference-maker. So, it's easy to see why Stills is looking to duplicate Broyles in every way possible.
"I feel like you have to lead by example, that's what Ryan did half of the time," Stills said. "It wasn't about just telling people, you have to go out and do it. And they have to see you do it, every day. That's what I'm trying to do for these guys throughout the spring and summer."
Co-offensive coordinator Jay Norvell has noticed the difference. Also serving as OU's receivers coach, Norvell has watched Stills mature in the past few months and he's seen an example of Stills' maturation process in the way he has interacted with spring enrollee
Trey Metoyer
.
"I think it's a maturation of Kenny Stills," Norvell said. "He sees a young guy coming in who doesn't really understand everything, going through similar things he went through not that long ago. All of a sudden you look around and you're one of the older guys and you have a different role, different way of looking at things. He has to become more of a leader by example."
Durron Neal
,
Sterling Shepard
,
Derrick Woods
and
Courtney Gardner
will join Metoyer as additions to the Sooners receiving corps this summer and those newcomers will be searching for someone to mentor them and ease their transition into Big 12 football.
"I have a lot to prove to myself," Stills said. "We [Coach Norvell and I] talked about the great players do the little things well. One of those things, for me, was to come back and be able to lead the guys who are coming back and the guys who are coming in, so that's what I'm hoping to do."
March, 28, 2012
3/28/12
5:00
PM ET
Tony Jefferson
has lined up at safety during the first two weeks of Oklahoma's spring practice. The junior has been a starter at OU since his freshman season but spent the majority of his time as a hybrid linebacker near the line of scrimmage allowing him to make plays in opposing backfields.
"That's where we feel like we can utilize his abilities and his strengths," said new defensive coordinator Mike Stoops. "Tony is a very, very talented player. He can be good anywhere he plays. He's very easy to coach, highly instinctual and is a tremendous tackler."
[+] Enlarge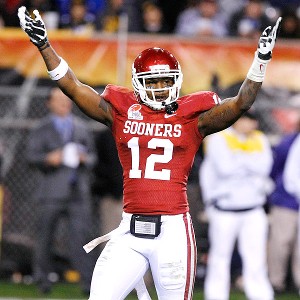 Rick Scuteri/AP ImagesJunior Tony Jefferson is expected to move to the safety position in 2012 for the Sooners.
And Jefferson, who was third on the team with 74 tackles in 2011, is getting comfortable as the last line of defense for OU.
"I like being back at safety," Jefferson said. "I'm able to come down and hit people on the run and also play the pass. It's a lot more instinctive."
The safety position is much different than playing near the line of scrimmage, but it's a challenge that Jefferson invites.
"Playing [safety] and getting beaten is the hardest position on the field," said Jefferson, who recorded four interceptions last season. "You're that anticipator going against guys who know where they have to go, where they need to be."
By all accounts, Jefferson has been one of the Sooners who has stepped up since the end of last season. He's taken a leadership role on the defense with the goal of becoming part of the foundation of the 2012 team.
"He's been very efficient, very productive," Stoops said. "I'm as pleased with him as anyone I've seen. I knew he was good but I didn't realize he was this good."
Even though his new coach is already praising him, Jefferson understands praise means nothing without production.
"It feels good," Jefferson said. "He expects me to be a leader but I need to, not only lead these guys, [but] I have to play well."
March, 23, 2012
3/23/12
12:31
PM ET
By
ESPN.com staff
| ESPN.com
HornsNation has more coverage of the Texas Longhorns:
Max Olson writes

: Mack Brown has played 30 freshmen combined over the past two seasons and has all but done away with redshirting. With that in mind, the soon-to-be Longhorns know they have to be ready when they arrive on campus.
Carter Strickland writes
: Texas has blockers and pass-catchers. Now the Longhorns want someone who can do both. Or, in other words, a tight end. Finding someone who fits has been a goal of the Texas coaches.
March, 20, 2012
3/20/12
2:30
PM ET
It wasn't long ago that
Dominique Whaley
was getting around campus on a scooter.
Now, Whaley is jogging around the football field.
[+] Enlarge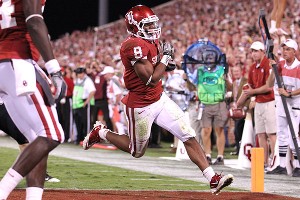 Matthew Emmons/US PresswireDominique Whaley rushed for nine touchdowns in 2011 despite missing several games.
The former walk-on, who emerged out of obscurity to win the starting running back job last fall, fractured his ankle mid-season. But Whaley appears to be on track to be ready for two-a-days in August.
"I see him almost every day," said quarterback
Landry Jones
. "To me he appears to be ahead of schedule. He's always in the training room working on it, getting his flexibility and power back. He was running the other day on the practice field. I didn't see him run but he told me it felt pretty good, pretty strong."
Running backs coach Cale Gundy said that Whaley is on schedule, and would be ahead of schedule if doctors allowed him to be.
"He looks good. I saw a little bit more stuff (at practice) and he was running around a little bit faster," Gundy said. "We've got plenty of time. We're not in a hurry."
In the meantime, Whaley has stayed tuned in mentally as his body has healed.
"You can't get him to stay away," Gundy said. "He's in all the meetings.
"He's amazing. He did a tremendous job of motivating himself. He works just as hard on individual stuff that he has to do. Compared with what everybody else is doing with weights he's doing his own stuff just as hard."