February, 9, 2010
2/09/10
11:32
AM ET
By
Tim Griffin
| ESPN.com
Oklahoma State alumni and benefactor T. Boone Pickens has been named to the board of directors of the National Football Foundation and College Football Hall of Fame.

Pickens is among a group of six new persons who have joined the board, including broadcasters Troy Aikman and Jim Nantz and former Tennessee coach Bill Battle.

The National Football Foundation has a deep connection with the Big 12. The group's president and chief executive officer is Steve Hatchell, the original commissioner of the Big 12. And other board members include Oklahoma athletic director Joe Castiglione, Texas A&M athletic director Bill Byrne, Texas women's athletic director Chris Plonsky and former Baylor coach and current American Football Coaches Association executive director Grant Teaff.

It's a big honor for Pickens to be added to this group and will help expand Oklahoma State's national reach because of Pickens' influence in this blue-ribbon panel of sports leaders.
December, 5, 2009
12/05/09
7:12
PM ET
By
Tim Griffin
| ESPN.com
ARLINGTON, Texas -- When the Big 12 was created, the rivalry between Texas and Nebraska became the most heated in the conference.

Sure, there's Oklahoma-Texas, Missouri-Kansas and all of the other traditional rivalries.

But the matchup between the two superpowers when the Big 12 started immediately became intense.

It was fanned by some events that took place off the field. Nebraska wanted to have the Big 12 with continued arrival of partial qualifiers. Texas didn't.

Texas wanted the league offices in Dallas. Nebraska wanted it to remain in the old Big Eight home of Kansas City.

Texas wanted Steve Hatchell as the league's first conference. Nebraska favored Bob Frederick.

After Texas won out on all those early skirmishes it raised the ante in the rivalry.

And it became even bigger after Texas stunned the Cornhuskers with a 37-27 upset in the first conference championship game in a game where James Brown called his shot with an upset.

Since then, the Longhorns have dominated the rivalry with six victories in the seven games since Mack Brown arrived. Nebraska's only triumph was a 22-6 win in the 1999 Big 12 title game that was their most recent conference championship.

Some of the vituperation that marked the Big 12's formative stages with Texas-Nebraska have settled over the years.

One of the biggest reasons was the arrival of Mack Brown, who has been very open about his respect for the Nebraska program and its history.

Brown learned early about the Nebraska fans when Ricky Williams orchestrated a victory over the Cornhuskers in 1998. That game was pivotal in Williams' Heisman hopes.

"The standing ovation they gave Ricky, when they yelled, 'Heisman! Heisman!' was as good of a moment as I had ever seen in my life," Brown said. "We're not seeing that anymore. And I hate that. It was 11 years ago. That took me to tears, just for Ricky. And that just doesn't happen. (Nebraska) is one of the few places that could happen."

Brown called Nebraska's fans "the classiest in college football." He still has a picture of the post-game excitement of that first Nebraska win hanging on his wall.

"It was such a special moment," he said. "I had told Ricky to keep his head down and his helmet on because they were going to throw things at him. I thought he was going to be in trouble. … But, unbelievable. They all stayed, and they all cheered."

Brown came into the Big 12 for the chance to play traditional rivals like Nebraska.

"When I got here, Nebraska was one of the places I would have liked to coach," Brown said. "Their stadium was neat. I had so much respect for Coach Osborne. The fans were classy. It was a really cool place."
November, 30, 2009
11/30/09
10:30
AM ET
By
Tim Griffin
| ESPN.com
Texas and Nebraska are two programs inexorably linked in the Big 12's young history.
Saturday's championship game in Arlington, Texas, will represent the third time the two traditional superpowers have played for the Big 12 title. Those rivals have played against each other for the title more than any other two teams in Big 12 history with each team winning one of the championship games.
Texas is a heavy favorite this year after a 12-0 regular season that has placed it on the cusp of a second national championship game berth in five seasons. Nebraska claimed the North title this season, but is a huge early underdog against the Longhorns.
[+] Enlarge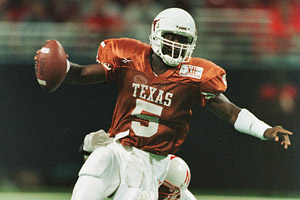 Jed Jacobsohn/Getty ImagesQuarterback James Brown predicted a Texas win in the first Big 12 championship game in 1996.
It's a complete role reversal from the first championship game in the conference's history. The Cornhuskers were ranked No. 3 and seemingly on their way to a national championship during that first Big 12 title game in St. Louis in 1996. Texas had come along late to earn the Big 12 South title, but was presumed by most prognosticators to have little chance with the mighty Cornhuskers.
"It kind of struck me a little unusual because of the matchup and how it's playing out," former Texas wide receiver Wane McGarity said. "It's almost the exact opposite of what happened that first time around."
That game became even more storied after Texas quarterback James Brown predicted a huge victory for the Longhorns and then backed it up with a stunning 37-27 upset that knocked the Cornhuskers out of the national title hunt.
The first Big 12 championship represented much more than merely a football game that would decide the conference's first representative into the old Bowl Coalition.
Nebraska was the dominant power in the old Big Eight Conference. Texas was considered to be one of the strongest among the four teams that joined the reconstituted Big 12 from the Southwest Conference.
The two schools battled on practically every item in the formative stages of the Big 12. Nebraska wanted the conference offices to remain in Kansas City. Texas wanted them moved to Dallas. Texas won that argument.
Nebraska wanted each team in the conference to be able to keep a certain number of partial qualifiers on the roster. Texas was against that. Texas won that argument.
Nebraska wanted former Kansas athletic director Bob Frederick as the conference's first commissioner. Texas wanted Southwest Conference commissioner Steve Hatchell. Texas won that argument.
Those off-the-field skirmishes made the first actual game between the two schools in the conference seem that much bigger.
Nebraska came into the game the two-time defending national champion. After losing early in the season at Arizona State, the Cornhuskers reeled off nine straight victories. Coming into the championship game, Nebraska had won 46 of its last 48 games.
Texas struggled with nonconference losses to Notre Dame and Virginia early in the season. John Mackovic's team fell into an early hole in the conference race after back-to-back losses to Oklahoma and Colorado left it at 3-4.
But Texas rebounded to win its final four regular-season games to finish strongly, including a 51-15 beatdown of Texas A&M. Still, most observers didn't give it much hope.
Nebraska was a three-touchdown favorite coming into the game. That status galled Brown, who predicted several days before the game that the Longhorns would win the game by three touchdowns.
"We weren't intimidated by them," McGarity said. "James made the comment we might win by 21 points. It just started it off and we all rallied behind him."
Like Nebraska heading into Saturday's game, that Texas team was hot after playing well down the stretch.
"We were the underdogs and people didn't think we had a chance," McGarity said. "But we weren't intimidated in the least by them. We thought we had a good chance to win once the game started. And we played like it."
That game is remembered by the stunning fourth-and-inches gamble made by Mackovic late in the game with his team nursing a slim 30-27 lead. Brown faked a handoff and then hit reserve tight end Derek Lewis on a 61-yard pass to the Nebraska 11. Priest Holmes scored his third touchdown on the next play to wrap up the victory and account for the only rushing touchdowns scored on Nebraska's first-team defense all season.
It's gone down in history as one of the biggest upsets in recent college football history.
Most observers aren't giving Nebraska much hope against Texas in this year's conference championship.
But if the Cornhuskers can duplicate the Longhorns' stunning triumph on Saturday, it will be every bit as large as the earlier Texas victory in the first conference championship game.
June, 15, 2009
6/15/09
2:15
PM ET
By
Tim Griffin
| ESPN.com
Posted by ESPN.com's Tim Griffin
Memorial services for former Kansas athletic director Bob Frederick will be held Wednesday at the Lied Center on the campus that he loved.
Frederick died Friday from injuries that he sustained the previous day in a bicycle accident when he was riding through the streets of Lawrence.
Frederick was involved with Kansas athletics for the better part of 40 years. He played basketball there as a walk-on. He married his wife on a chapel on the campus. He worked as an assistant basketball coach and later was involved in administration there for much of his professional career.
To give you an idea of how special Lawrence was for Frederick and his family, he retreated from a fast-track career as an assistant basketball coach at places like BYU and Stanford to return home and begin work as head high school basketball coach at Lawrence High School.
That move eventually led to his return to Kansas. I could think of no place where he was happier.
I still remember working with Frederick when he was the chairman of the men's basketball committee. It was back in the day when San Antonio was first trying to position itself as a national contender for NCAA events. Obviously, this story was of huge interest in the city. I called Frederick a bunch of times, but he was always gracious and patient in his dealings with me.
Later, he was a finalist for the Big 12 commissioner when Steve Hatchell was hired as the conference's first commissioner. I wonder how the conference would have turned out if Frederick has earned the job.
I can recall his two most celebrated hires at Kansas. He went against the norm, using a strong recommendation from his mentor Dean Smith, to hire little-known Roy Williams as his basketball coach. His qualities as a gentleman away from coaching were what attracted Frederick to hiring him.
It turned out to be his most successful hire.
Later, he used a similar strategy when he hired Terry Allen as his football coach. Allen was the winningest coach in the history of the Gateway Conference when he arrived at Kansas. But Frederick was attracted by his qualities as a gentleman away from coaching.
That hire turned out to be Frederick's most unpopular, a decision that helped lead to Frederick's undoing at Kansas after Allen struggled.
But through it all, Frederick never changed.
He was a moral man who once canceled a schedule with Notre Dame when he was Kansas' athletic director because the Fighting Irish had abandoned their deal with the rest of their college football brethren to strike their own television deal with NBC.
To those who knew Frederick best, that decision didn't surprise him. He was a man of his convictions.
The athletic landscape around the Big 12 changed a little when Frederick left his job in 2001.
His alma mater has developed into an emerging football power in the last several years with back-to-back bowl trips in the last two seasons.
They could be poised for even more in 2009.
But it won't be the same without him being around to revel in his alma mater's success.