December, 31, 2012
12/31/12
7:03
PM ET
It was a rainy afternoon in Memphis, Tenn., but Tulsa won this rematch with Iowa State in pretty convincing fashion. The Golden Hurricane flipped the script from the teams' first meeting of the season in September, when Tulsa raced to a 16-7 lead after one quarter before being dominated from that point on. This time around, Iowa State grabbed a 17-7 lead after the first quarter before Tulsa took over and clearly looked like the better team.
The loss for the Cyclones dropped the Big 12 to 3-3 in its bowls and improved Conference USA to 4-1 for the second consecutive season.

Let's get to some instant analysis.
It was over when:
Tulsa capitalized on an Iowa State turnover with a 1-yard touchdown from
Alex Singleton
with 1:50 to play in the third quarter. Iowa State scored 17 points in the first quarter (including an interception returned for a touchdown by
Jeremy Reeves
), but the offense was shut out over the final three quarters. With a double-digit lead and a running game that rolled over Iowa State for most of the game, there was no coming back for the Cyclones.
Game ball goes to:
Tulsa running back
Trey Watts
. The son of Oklahoma quarterback great J.C. Watts, Trey had another big game against the Cyclones but got the win this time with 149 yards on 25 carries. He didn't score, but he did break the Golden Hurricane's longest play from scrimmage all day, a 48-yard run that set up a touchdown. He ran hard and gave the Iowa State defense fits when it tried to bring him down.
Stat of the game:
Tulsa rushed for 320 yards and four touchdowns on 58 carries. That was the story. Iowa State looked outmanned and Tulsa simply looked like the better, more physical team. It proved it on both sides of the ball and in the trenches with a strong pass rush and a great performance from the offensive line. That's how you win games.
Second-guessing:
Cleyon Laing
's self-control. The senior defensive lineman was flagged for a cheap shot late after Iowa State made a third-down stop deep in its own territory while trailing 21-17. Instead of settling for a field goal, Tulsa eventually scored a touchdown on the drive. Coach Paul Rhoads gave Laing a pretty intense lecture after he came to the sidelines, and it was deserved. Not only was it a cheap play, but it was one of the game's biggest plays -- and it never should have happened.
What Iowa State learned:
It still has a quarterback problem on its hands, but the offense has other issues too. Sam Richardson showed some promise to close the season, but after a strong first quarter, including a 69-yard touchdown pass to tight end
Ernst Brun Jr.
, he struggled to establish much of anything. Outside of that Brun touchdown, Richardson was just 9-of-20 for 60 yards and an interception. Iowa State didn't have a first down in the third quarter and Brun was benched for
Steele Jantz
, just as
Jared Barnett
was in last year's Pinstripe Bowl. Jantz never engineered a comeback, turning it over twice in his final game as a Cyclone. Look for a competitive spring at the position between Richardson, Barnett and
Grant Rohach
.
What Tulsa learned:
It has yet another coach who can win big. Winning the C-USA title was plenty of evidence, but the bowl game provided even more. Todd Graham and Steve Kragthorpe helped build the Golden Hurricane into one of the best non-AQ programs in the nation, and second-year coach Bill Blankenship looks very capable of continuing that tradition after an 11-win season. That tied Graham's 2008 team for the most wins in school history.
July, 26, 2010
7/26/10
1:18
PM ET
By
ESPN.com staff
| ESPN.com
Texas A&M wide receiver coach Steve Kragthorpe has resigned, the school confirmed on Monday.
Family medical issues forced the first-year assistant to step down just over a week before fall preseason camp begins. Kragthorpe came to College Station in February after being fired as head coach at Louisville after compiling just a 15-21 record in three seasons.
"Steve and I sat down and discussed his situation," Texas A&M coach Mike Sherman said in a release. "I wanted to try to make it work where he could come back this season once the family health issues were resolved. Ultimately, he felt his wife Cynthia, and his three boys, required his undivided attention and I respect him for that. Steve is not only an excellent coach, but he is an even better person. We will keep him and his family in our prayers."

Added Kragthorpe: "My family is dealing with some medical issues and they need me at home. The timing could not be helped and I hate to leave Coach Sherman and the guys at this time. My group of receivers worked extremely hard this spring and they were a lot of fun to work with."
One of the conference's most talented units, the Texas A&M wide receivers will now be coached by Troy Walters, a former NFL star and Biletnikoff Award winner as the nation's best receiver. The Stanford grad is a native of College Station, Texas, and attended A&M Consolidated High School.
"I believe I have a lot to offer," Walters said. "I have been blessed to have played with many outstanding players during my NFL career and the privilege of playing for some outstanding coaches."
Five Aggies receivers caught at least 35 passes in 2009.
One quick note
: Oklahoma has added running back
DeMarco Murray
to its list of players coming to media days on Wednesday. The school will also bring linebacker Travis Lewis, wide receiver
Ryan Broyles
and defensive end Jeremy Beal.
Oklahoma joins Texas as one of just two teams scheduled to bring four players to media days.
February, 16, 2010
2/16/10
3:30
PM ET
Desperation or improvement?
That's the question Texas A&M football fans have to be asking themselves after Aggies coach Mike Sherman
rebuilt his coaching staff
after only two seasons. After the Aggies finished 6-7 in 2009, dropping Sherman's record to 10-15 in two seasons in College Station, he completely overhauled his staff. All but one defensive assistant was replaced, and former Louisville coach Steve Kragthorpe was hired to coach wide receivers.
There's really no way to sugarcoat it: If Texas A&M's defense and special teams are as bad as they were in each of the past two seasons, Sherman will be the coach looking for a job in 2011.
[+] Enlarge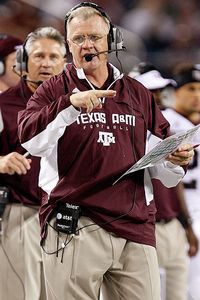 Ronald Martinez/Getty ImagesMike Sherman has posted a 10-15 record in two seasons at Texas A&M.
The A&M defense can't possibly be any worse, after it finished 106th among FBS teams in pass defense (254.7 yards per game), 105th in total defense (426.3 yards) and scoring defense (33.5 points per game) and 90th in rushing defense (171.6 yards).
After the Aggies allowed 30 points or more in nine games last season, defensive coordinator Joe Kines retired. Defensive line coach Buddy Wyatt left for Kansas and defensive backs coach Van Malone departed for Tulsa.
Sherman is betting that former Air Force defensive coordinator Tim DeRuyter can shore up his defense quickly. DeRuyter runs an aggressive 3-4 scheme, which helped the Falcons lead the country in turnover margin (plus-1.69 turnovers per game) and finish fifth in passing defense (154.3 yards per game), 10th in scoring defense (15.7 points) and 11th in total defense (288.3 yards) in '09.
The good news for DeRuyter? The Aggies will bring back 10 defensive starters, including pass-rushing specialist Von Miller. DeRuyter's chore is to make the Aggies more aggressive and disciplined.
Sherman hired former Texas A&M All-American Dat Nguyen as inside linebackers coach, which is a very smart move. Bringing back one of the school's most-decorated players is always a public relations coup with alumni and fans. The fact that Nguyen worked the past three seasons as an assistant linebackers coach with the Dallas Cowboys shows he's more than just a big name, too.
Sherman lured Purdue defensive line coach Terrell Williams to College Station and hired Nick Toth as his team's outside linebackers coach. Toth worked last season as defensive backs and special teams coach at The Citadel. Toth played and coached under DeRuyter at Ohio and is well-versed in coaching the 3-4 scheme.
Toth also will be asked to help fix Texas A&M's special-teams woes. Last season, the Aggies finished 104th in net punting (32.9 yards), 98th in kickoff return defense (23.1 yards) and 49th in kickoff returns (22.3 yards).
The special-teams miscues were never more evident than during Texas A&M's 44-20 loss to Georgia in the Independence Bowl. The Aggies allowed a kickoff return for a touchdown, had a field goal and punt blocked and snapped the ball over the punter's head.
Kragthorpe, who was fired after compiling a 15-21 record in three seasons at Louisville, replaces former A&M wide receivers coach Nolan Cromwell, who left for the same position with the NFL's St. Louis Rams. Kragthorpe previously worked as offensive coordinator at A&M from 1998-2000, helping lead the Aggies to their lone Big 12 title in 1998.
With Big 12 powers like Oklahoma and Texas having to replace several star players, and programs such as Kansas and Texas Tech undergoing major renovations, the Aggies might be well positioned to move up the league's ladder this coming season.
If they don't, Sherman's job might be on the line.
February, 16, 2010
2/16/10
12:30
PM ET
February, 15, 2010
2/15/10
10:30
AM ET
Former Louisville coach Steve Kragthorpe wasn't unemployed for long.

Kragthorpe, who was fired after the end of the regular season following three straight non-winning seasons with the Cardinals, was hired over the weekend as Texas A&M's passing game coordinator. That's the same school where Kragthorpe was offensive coordinator held from 1998 to 2000 and it's where he began to build his reputation as a bright offensive mind.

Louisville fans didn't see much proof of that this past season, when their team averaged only 18.1 points as Kragthorpe took over as his own playcaller. Perhaps a fresh start in more familiar terrain will help restore Kragthorpe's career.
February, 11, 2010
2/11/10
12:30
PM ET
Let's see what's going on in Big 12 land today.
July, 28, 2009
7/28/09
11:15
AM ET
By
Tim Griffin
| ESPN.com
Posted by ESPN.com's Tim Griffin
Anybody who has read this blog for any length of time knows the deep respect I have for Phil Steele and his work.
His blog has been providing some interesting nuggets as we get ready for the upcoming season.
One item that caught my eye earlier this month was his list of coaches who he thinks are on the hot seat in terms of keeping their jobs.
As a matter of history, Steele's top three choices from last season all either resigned or were fired. And seven of his 12 picks from before 2008 are no longer coaching at their previous jobs. So when Steele puts a "nickel on your head," it's usually not a good sign.
The Big 12 has only one member of the list: Colorado's Dan Hawkins at No. 4. Hawkins is listed behind Louisville's Steve Kragthorpe, Indiana's Bill Lynch and Virginia's Al Groh.
This is a huge year for Hawkins, who has posted a 13-24 record and made only one bowl trip in his three seasons with the Buffaloes.
Despite those recent struggles, it has done little to diminish Hawkins' confidence coming into the season. He has repeated his "10 wins and no excuses" several times since first making that call at a team banquet following last season's 5-7 record that featured seven losses in the final nine games.
But the Buffaloes' schedule is much more forgiving this season with key divisional games against Nebraska, Missouri and Kansas all at home.
I'm expecting that should be enough to allow the Buffaloes to remain in North Division contention until late in the season. And I also wonder if Colorado athletic director Mike Bohn would willingly get rid of his own hire after only four seasons.
Those reasons will make Colorado one of the most interesting stories in the conference this season. But I'm thinking Hawkins will win enough this season to be one of the few coaches who can escape mention on Steele's list and still come back to coach again next season.
May, 4, 2009
5/04/09
6:15
PM ET
By
Tim Griffin
| ESPN.com
Posted by ESPN.com's Tim Griffin
It's pretty quiet among Big 12 coaches these days after spring practice has completed.
That tranquility is also seen in the t-shirts offered by the Web site firethatguy.com, which has four different complete pages of t-shirts hyping the ouster of professional and college football and basketball coaches around the country.
Louisville coach Steve Kragthorpe, Notre Dame coach Charlie Weis, Miami coach Randy Shannon and Virginia coach Al Groh all have their shirts. New Florida International University basketball coach Isiah Thomas has several shirts available -- even before coaching his first game.
The Big 12 coaches are spared, although the folks at CoachesHotSeat.com still have a heavy Big 12 slant.
Texas A&M's Mike Sherman remains in the No. 1 position nationally and Dan Hawkins of Colorado checks in at fifth. They surround Lane Kiffin of Tennessee at second, Kragthorpe at third and Groh at fourth.
February, 24, 2009
2/24/09
6:00
PM ET
By
Tim Griffin
| ESPN.com
Posted by ESPN.com's Tim Griffin
Despite recently bringing in Texas A&M's most highly regarded recruiting class in this decade, coach Mike Sherman is ranked as the coach with the hottest seat in the country in the continuing poll commissioned by the Web site coacheshotseat.com.
Sherman was ranked fifth immediately after the regular season, but jumped to first in this week's poll. Others coaches listed nationally in the top five, in order, included Lane Kiffin of Tennessee, Steve Kragthorpe of Louisville, Al Groh of Virginia and Dan Hawkins of Colorado.
Interestingly, the recent extension of Mike Leach's contract made his job security worse. Leach was ranked 109th immediately after the regular season and is 101st this week.
Here's a look at where Big 12 coaches ranked this week, compared to Dec. 8:
Hot Seat Rankings For Big 12 Coaches
Coach
Natl. Ranking, 2/09
Natl. Ranking 12/08
1. Mike Sherman, Texas A&M
1
5 (2)
2. Dan Hawkins, Colorado
5
6 (3)
3. Bill Snyder, Kansas State
23
22 (4)
4. Art Briles, Baylor
44
70 (5)
5. Paul Rhoads, Iowa State
55
N/A
6. Mike Gundy, Oklahoma State
84
101 (9)
7. Mark Mangino, Kansas
95
80 (6)
8. Mike Leach, Texas Tech
101
109 (10)
9. Bob Stoops, Oklahoma
108
115 (12)
10. Gary Pinkel, Missouri
109
100 (8)
11. Bo Pelini, Nebraska
111
94 (7)
12. Mack Brown, Texas
117
113 (11)
Note: Paul Rhoads was hired after the December Coaches' Hot Seat poll. At that time, Iowa State Coach Gene Chizik was ranked third in the poll to lead all Big 12 coaches. Numbers in parentheses indicate where that coach was ranked among Big 12 coaches in December.
February, 23, 2009
2/23/09
2:47
PM ET
By
Tim Griffin
| ESPN.com
Posted by ESPN.com's Tim Griffin
Kansas State announced Monday it had filled its 2009 schedule with a game Sept. 26 against FCS representative Tennessee Tech.
While it might not rank with finding a new offensive coordinator or a quarterback, I'm betting that Bill Snyder has a certain amount of relief after filling the last scheduling hole.
And considering Snyder's rebuilding plans, Coach Watson Brown's Golden Eagles are probably a safe choice. Tech finished the season on a seven-game losing streak and finished last season ranked 100th or worse in six major team categories. Including in that grouping was 117th (next to last nationally) in turnover margin, 108th nationally in scoring defense and punt returns, 105th in rushing defense and pass efficiency defense and 100th in total defense.
According to the Web site Nationalchamps.net, the Wildcats were among nine FBS teams that still need an opponent to fill their 2009 schedule.
The others include Akron, Arkansas State, Florida Atlantic, Houston, Kentucky, Louisville, Mississippi and Rutgers.
While I would assume that some of these teams could hook up to fill their schedules, it was understandable why Kansas State and Snyder were very judicious in who they ended up playing. And that's on top of the Wildcats' already difficult road trip scheduled at UCLA and Snyder's traditional hesistancy in scheduling too many tough games before conference play begins.
Here's how I ranked the eight remaining FBS teams as far as attractiveness to appear on Kansas State;s schedule.
1. Akron (Mid American): Could have been the ideal team to finish the schedule -- if Snyder wants to schedule another FBS foe. The Zips ranked 90th or worse nationally in every major defensive team statistic. Akron was 115th nationally in sacks and 100th in tackles for losses. Does that sound comforting considering the Wildcats will be breaking in a new quarterback? You bet.
2. Florida Atlantic (Sun Belt): Howard Schnellenberger's Owls might have been another attractive opponent, but it's doubtful they were willing to travel to the Little Apple. FAU already has road games against Nebraska, UAB and South Carolina to start the season.
3. Louisville (Big East): The heat is on Steve Kragthorpe and quarterback Hunter Cantwell is gone. But the two teams have played in each of the last two seasons, making a rematch for a third-straight season less than attractive.
4. Arkansas State (Sun Belt): The Red Wolves are expected to challenge for their conference championship this season. But Snyder likely asked Texas A&M coach Mike Sherman about the sagacity of scheduling them. Arkansas State already has tough road games against Iowa and Nebraska next season, probably making them leery about another road trip.
5. Rutgers (Big East): Rutgers QB Mike Teel is gone and the Scarlet Knights' defense has some holes, but stopping running threat Kordell Young would have proved to be a problem for most defenses -- including the Wildcats.
6. Kentucky (Southeastern): It would have been an interesting battle between two veteran coaches like Rich Brooks and Snyder. But Brooks' development of the Wildcats' program is a little more advanced than what the new Kansas State coach will be inheriting.
7. Houston (Conference USA): I'm thinking that Chris Cosh's defense might not be quite ready to face Case Keenum and the Cougars' strong passing attack -- at least this season.
8. Mississippi (Southeastern): Trust me, Snyder wanted nothing to do with Jevan Snead, Greg Hardy or the other Rebels.
There's no wonder why Tennessee Tech looked a lot better to Snyder than any of the available FBS teams he could have scheduled.
December, 8, 2008
12/08/08
1:21
PM ET
By
Tim Griffin
| ESPN.com
Posted by ESPN.com's Tim Griffin
Perhaps the best way of showing the Big 12's competitiveness is by checking the list of "Coaching Hot Seats" that the Web site coacheshotseat.com compiles throughout the season.
According to the Web site, three of the hottest six seats nationally belong to Big 12 coaches whose teams didn't make bowl trips.
After his coaching shakeup last week, Iowa State's Gene Chizik is ranked third nationally -- behind only Notre Dame's Charlie Weis and Louisville's Steve Kragthorpe.
Mike Sherman of Texas A&M is fifth and Dan Hawkins of Colorado is sixth.
Which shows that spending the holidays at home with your family rather than preparing for a bowl game probably isn't a good thing for the security of most college coaches.
Here's the site's current listing of Big 12 coaches.
| | |
| --- | --- |
| Coach | National Ranking |
| 1. Gene Chizik, Iowa State | 3 |
| 2. Mike Sherman, Texas A&M | 5 |
| 3. Dan Hawkins, Colorado | 6 |
| 4. Bill Snyder, Kansas State | 22 |
| 5. Art Briles, Baylor | 70 |
| 6. Mark Mangino, Kansas | 80 |
| 7. Bo Pelini, Nebraska | 94 |
| 8. Gary Pinkel, Missouri | 100 |
| 9. Mike Gundy, Oklahoma State | 101 |
| 10. Mike Leach, Texas Tech | 109 |
| 11. Mack Brown, Texas | 113 |
| 12. Bob Stoops, Oklahoma | 115 |
It also shows that five of the 21 coaches with the most stability are in the Big 12 (Stoops, Brown, Leach, Gundy and Pinkel). And their stability makes it that much more difficult for the newer coaches to produce in their jobs.
The Web site also judged two recent Big 12 assistants who have made the jump to head-coaching positions. Former Missouri offensive coordinator Dave Christensen, now at Wyoming, is 38th. And former Oklahoma State defensive coordinator Tim Beckman, now at Toledo, is listed at 40th.
November, 19, 2008
11/19/08
8:00
PM ET
By
Tim Griffin
| ESPN.com
Posted by ESPN.com's Tim Griffin
I had to give my monthly look at coacheshotspot.com to see how they were ranking the Big 12 coaches most likely to be fired. I have to admit, it's kind of a guilty pleasure.
Interestingly, three of the top 10 coaches were Big 12 coaches and three others had extensive Big 12 experience earlier in their careers.
Texas A&M coach Mike Sherman has the hottest seat of any Big 12 coach, ranking fourth only behind Auburn's Tommy Tuberville (first), San Diego State's Chuck Long (second) and Washington State's Paul Wuff (third).
Other Big 12 coaches ranked in the top 10 included Iowa State's Gene Chizik at seventh and Colorado's Dan Hawkins at 10th.
Coaches with associations with Big 12 schools include Tuberville, a former Texas A&M defensive coordinator; Louisville coach Steve Kragthorpe, a former Texas A&M offensive coordinator; and Long, a former Oklahoma offensive coordinator.
Interestingly, the coach with the most security is Texas Tech coach Mike Leach, who is ranked 120th in the poll this week.
Here's a list of how Big 12 coaches ranked this week:
4. Mike Sherman, Texas A&M
7. Gene Chizik, Iowa State
10. Dan Hawkins, Colorado
47. Ron Prince, Kansas State (dismissed earlier this season)
52. Mark Mangino, Kansas
74. Art Briles, Baylor
89. Bo Pelini, Nebraska
103. Mike Gundy, Oklahoma State
106. Gary Pinkel, Missouri
111. Mack Brown Texas
114. Bob Stoops, Oklahoma
120. Mike Leach, Texas Tech
November, 18, 2008
11/18/08
1:00
PM ET
By
Tim Griffin
| ESPN.com
Posted by ESPN.com's Tim Griffin
The potential that the Big 12's South Division representative will be picked by the Bowl Championship Series standings is bad enough.
The idea that the coaches' final vote that makes up that final regular-season poll won't be released is even worse.
John Rohde of the Oklahoman makes a compelling case why these votes must be released in a column today that reminds us of some of the more notable BCS votes by coaches last season.
For a point, look at the voting after last season's Big 12 championship, a day after the Sooners had dismantled Missouri and were on their way to the Bowl Championship Series. But we had these notable votes last season, according to Rohde.
Florida State's Bobby Bowden: Missouri at No. 6, Kansas at No. 7 and Oklahoma at No. 10.
Clemson's Tommy Bowden: Missouri at No. 5, Kansas at No. 6 and Oklahoma at No. 7.
Florida Atlantic's Howard Schnellenberger: Kansas at No. 2, Missouri at No. 4 and Oklahoma at No. 7.
Oregon's Mike Bellotti: Missouri at No. 5, Kansas at No. 6 and Oklahoma at No. 8.
Louisville's Steve Kragthorpe: Kansas at No. 5, Oklahoma at No. 8 and Missouri at No. 9.
Texas Tech's Mike Leach: Kansas at No. 3, Oklahoma at No. 4, Missouri at No 6.
Oklahoma coach Bob Stoops saw the fallacy of that vote and decided to drop out. But now, he doesn't have a vote and Leach and Texas coach Mack Brown do.
The worries are generated by a potential three-way tie for the South Division lead, which is a likely scenario if Oklahoma finishes the season with victories over Texas Tech and Oklahoma State, Texas Tech finishes by beating Baylor at home and Texas defeats Texas A&M in its season finale.
And do we really think that coaches, when bonuses are generated by Big 12 title game appearances and potential championships, aren't going to vote for their pocketbook? Particularly when the votes might be shielded from public scrutiny?
I don't know, but it doesn't seem to me to be a good situation.
As I self-righteously fulminate for a change in the Big 12's tiebreaking rules -- as I think most other clear thinkers would do, too -- let's take a look at some of today's Big 12 links.