July, 1, 2011
7/01/11
11:00
AM ET
I hope you've enjoyed
our Simply Saturday list this week.
It concludes today with the top 10, but only one player from the Big 12 cracked the top 10.
Former Sooners linebacker Brian Bosworth comes in at No. 6 on our all-time list of players best known for their football accomplishments in college.
Reached earlier this week by ESPN.com, Bosworth declined to be interviewed, but former Sooners Heisman winner Jason White
answered a few questions this week.
Here's all the Big 12 talents who made our 50-man list.
No. 6: Brian Bosworth, LB, Oklahoma
Best known as "The Boz," the loud-mouthed linebacker sported a Mohawk and a fearsome reputation as a hitter. He won two Butkus Awards as the nation's best linebacker and is still the only player to win the award twice. A shoulder injury ended his career after just over two seasons with Seattle in the NFL. He went on to appear in several movies and was a commentator for the XFL after his career was over.
No. 34: J.C. Watts, QB, Oklahoma
He helped Barry Switzer and Oklahoma in consecutive Orange Bowls in 1980 and 1981, but eventually found success in politics, serving four terms in the U.S. House of Representatives.
No. 43: Steve Owens, RB, Oklahoma
One of the Sooners' other five Heisman winners, Owens racked up 17 consecutive 100-yard games and went 19
th
overall in the draft, but a knee injury forced him to retire after the 1974 season.
No. 45: Jason White, QB, Oklahoma
The Heisman winner
took some time out for us at ESPN.com last week
.
No. 49: Hart Lee Dykes, WR, Oklahoma State
He's best known for getting four schools put on probation, but a broken kneecap ended his career early.
June, 29, 2011
6/29/11
9:00
AM ET
I'm glad you all made it without me. I'm back. Enjoyed the trip to California. Got some surfing and various other beachery in. There was also some Dodgers baseball, some Disneyland, lots of walking and most importantly, some good times with friends.
Anyway, here's a bit of what we missed while I was away:
Lots of former Big 12ers on "Simply Saturday" list
You probably got a chance to at least gloss over
our Q&A with former Oklahoma quarterback Jason White
, who came in at No. 45 on
our "Simply Saturday" list
, which ranks the top 50 players of all-time who are best known for their college careers.
We'll have more this week as it moves on, including a Big 12 wrap-up, but White's not the only Big 12 player on the list.
No. 49: Hart Lee Dykes, WR, Oklahoma State
He's best known for getting four schools put on probation, but a broken kneecap ended his career early.
No. 45: Jason White, QB, Oklahoma
The Heisman winner
took some time out for us at ESPN.com last week
.
No. 43: Steve Owens, RB, Oklahoma
One of the Sooners' other five Heisman winners, Owens racked up 17 consecutive 100-yard games and went 19
th
overall in the draft, but a knee injury forced him to retire after the 1974 season.
No. 34: J.C. Watts, QB, Oklahoma
He helped Barry Switzer and Oklahoma in consecutive Orange Bowls in 1980 and 1981, but eventually found success in politics, serving four terms in the U.S. House of Representatives.
We'll have more at the end of the week after we unveil the rest of the list.
Four from Big 12 on Blue Ribbon top 25
The Blue Ribbon Yearbook released its top 25, and four teams cracked the top 25. Here's where they landed:
1. Oklahoma
8. Texas A&M
12. Oklahoma State
24. Missouri
It's an interesting list. You could make a case either way on A&M and OSU, but ultimately, I think when the official AP and ESPN/USA Today preseason polls drop in August, you'll see those two schools flipped. They're very close in my book entering the season. Assuming they're undefeated heading into their Sept. 24 showdown, I'd expect the team that's simply more impressive in nonconference to hold the higher ranking.
Jayhawks OC Chuck Long sits down with ESPN.com
Kansas offensive coordinator, a former Iowa quarterback, helped us out with our Simply Saturday series by
chatting with fans on Tuesday.
A few highlights:
John in Kansas City asked
: With a lot of young talented running backs, what will be the approach to handling carries? Running Back by committee?
Chuck Long:
Well, we still need to figure that out. That's what our training camp is for. We're all going in wide eyed. Miller was here in the spring and came along in a great way. Training camp will play out. We're not talking redshirting at this time. With the physicality of the Big 12, we'll need the guys. We'll let it play out. We do plan on running the football.
My take:
Very interesting that Darrian Miller was the first name that came to mind for Long. I'm not taking any larger truths from that, but it's very, very obvious that he's going to be a big part of what they do this year.
Daniel in KC asked:
How are the quarterbacks progressing this year?
CL
: The QBs have been progressing very well. I think they've made some steps forward from last year. They had some rough experiences at times, but experience is experience. They have it under their belt. I thought in the spring that Jordan and Quin improved. We are starting to develop a better foundation there. We feel good about where they're at.
Jeff in Kansas asked
: Do you feel the offensive line that will not only allow a good running game but enough pass protection to have an effective passing offense
CL:
Yes we do. That's one of the things I wanted to mention before, our OL is better. We were going in cold last year. We had some experience on the OL, but not much. We really have that lined up. We know what they can do. We think we'll make some progress there. A lot of that too goes back to the QB position and our WRs getting open. We feel with a good run game, we'll be able to have better pass protection.
Greg in Kansas asked:
What are you looking forward to most about 10 teams in the Big 12?
CL:
We pick up teams like Oklahoma and Texas this year. Our schedule got tougher. That's the one thing. The other side of it, we play a round robin schedule. Everyone plays each other. That's good, it makes for a more pure champion of the league. This goes back to the Big 10 days when I was there, when there were only 10 teams there. I've gone full circle.
Lots more later today as the Big 12 Blog gets back to full speed.
November, 30, 2010
11/30/10
1:00
PM ET
Bob Stoops remembers it well. The Oklahoma coach grew up in Youngstown, Ohio, alongside the Pelini family, far outside the proverbial footprint of the Big Eight.
It didn't matter. This time of year brought one of college football's premier rivalries, and Stoops was watching. He wasn't alone.
[+] Enlarge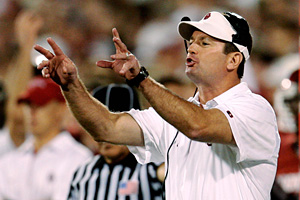 AP Photo/Sue OgrockiGrowing up as a kid Oklahoma coach Bob Stoops was a fan of the Nebraska-Oklahoma rivalry. "Couldn't wait for this game," Stoops said.
"Couldn't wait for this game," Stoops said of the Oklahoma-Nebraska rivalry. "Just watching the two teams in red and white go at it was really special, because it was always a great game, great players, great coaches.
"You have to admit, everybody was watching it around the country."
They saw the "Game of the Century" in 1971, when No. 1 Nebraska beat No. 2 Oklahoma, 35-31. From 1971-82, neither team entered the game ranked lower than No. 11. In the 1980s, the two teams met four consecutive times with both carrying top 5 rankings. That stretch birthed Oklahoma's "Sooner Magic."
Heisman winners like Johnny Rogers and Mike Rozier, among other legends like Turner Gill, Tommie Frazier and Roger Craig all helped build the rivalry across from Sooner legends like Steve Owens, Billy Sims, and Greg Pruitt, all Heisman-winning running backs.
The coaches littered throughout the series, including Nebraska's Bob Devaney and Tom Osborne and Oklahoma's Barry Switzer and Bud Wilkinson, are some of the best ever.
"I was always kind of an OU fan, their style of play, coach Switzer. And look at all the backs they had," Stoops said. "As a young kid, of course everybody's watching those flashy guys, how fast they were. Couldn't wait to watch the game."
The annual series died with the Big Eight and birth of divisions in the Big 12, but with Nebraska prepared to leave for the Big Ten in 2011, there's plenty of nostalgia for everyone building up to the last game ever in a 12-team Big 12.
Fittingly, Stoops said, between the Sooners and Huskers one more time.
"I feel fortunate to be a part of it. It's exciting and it's earned," he said. "Both of us have earned it through tough division fights."
October, 16, 2010
10/16/10
10:40
PM ET
Oklahoma has let big leads slip to close wins in four of its five wins so far this season.


Not the case on Saturday.
Oklahoma raced to a 31-point halftime lead and kept pounding Iowa State in the second half for a
52-0 win
, the team's largest margin of victory this season.
Heading into a huge road game against what will likely be a top 20 Missouri team next week, it's exactly what the Sooners needed, with both the offense and defense playing well.
Oklahoma running back
DeMarco Murray
scored three touchdowns to break Steve Owens school record with 58 career touchdowns. Owens won the 1969 Heisman Trophy.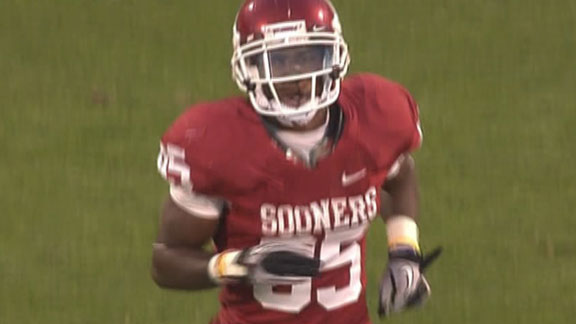 January, 12, 2010
1/12/10
11:04
AM ET
By
Tim Griffin
| ESPN.com
Sorry for the short notice, but there's some programming I think that many of you would find entertaining coming up on ESPN Classic.

Especially for those of you already undergoing college football withdrawal after five days since the end of the season.

You might want to tune in at noon ET today for a chance to watch the 1969 Texas-Oklahoma game from the Cotton Bowl.

It's interesting for a lot of reasons. I love to watch the broadcasts from that era and compare them to the games of today.

You won't receive the crisp camera angles from today, but it's something that still should be entertaining.

It's a classic Texas team with quarterback James Street running the triple-option offense. Oklahoma counters with Steve Owens, who would win the Heisman Trophy later that year.

I'm not going to give away the final result. You need to tune in to check it out.

But you'll enjoy the broadcast, trust me.
August, 14, 2009
8/14/09
1:00
PM ET
By
Tim Griffin
| ESPN.com
Posted by ESPN.com's Tim Griffin
Another getaway day before I go back home this weekend. Big plans with my 12th wedding anniversary -- I think that's right -- set for Sunday.
But before I leave Oklahoma, here are a few lunchtime links to gnaw on as we head to the weekend.
August, 12, 2009
8/12/09
5:51
PM ET
By
Tim Griffin
| ESPN.com
Posted by ESPN.com's Tim Griffin
Back in my former life at the newspaper in San Antonio, there was a wildly popular weekly column we used to run every Sunday called "Where Are They Now." A veteran staffer with loads of institutional knowledge tracked down some of the area's most memorable athletes and found out whatever happened to them after their athletic careers finished.
The concept has always been intriguing. It's why the list I found today at lostlettermen.com was so interesting to me (hat tip to the wizofodds.com.)
And heck, it's even topical with today's stories highlighting all of our Heisman Trophy stories.
Lost Letterman lists what has happened to all 73 previous Heisman winners. It's fascinating to see what men who had such football success have done with the rest of their lives.
Here's a list of the Heisman Trophy winners from Big 12 schools along with what happened to them after their college careers.
1952: Billy Vessels (Oklahoma) -- Worked in the horse racing business and real estate in South Florida before dying of heart failure in 2001 at the age of 70.
1957: John David Crow (Texas A&M) -- Former college coach and athletic director, now retired and living in College Station, Texas (age 74).
1969: Steve Owens (Oklahoma) -- CEO of a real estate company, Steve Owens & Associates, in Norman, Okla. (age 61).
1972: Johnny Rodgers (Nebraska) -- Owns JetWear kid's bedroom store in Omaha, Neb. (age 58).
1977: Earl Campbell (Texas) -- Assistant to the vice president of student affairs at Texas (age 54).

1978: Billy Sims (Oklahoma) -- Owns a chain of Billy Sims BBQ restaurants in Oklahoma (age 53).
1983: Mike Rozier (Nebraska) -- Stay-at-home dad living in Sickerville, N.J. (age 48).
1988: Barry Sanders (Oklahoma State) -- Retired from the NFL in 1998. Currently resides in West Bloomfield, Mich. (age 41.) His son, Barry Sanders Jr., is currently a high school star in Oklahoma City.
1994: Rashaan Salaam (Colorado) -- Promotes martial arts fights in China. Currently resides in San Diego, Calif. (age 34).
1998: Ricky Williams (Texas) -- Member of the Miami Dolphins (age 32).
2001: Eric Crouch (Nebraska) -- Owns playground equipment business called "Crouch Recreation" in Nebraska (age 30).
2003: Jason White (Oklahoma) -- Owns memorabilia stores in Norman, Okla., and Oklahoma City (age 29).
2008: Sam Bradford (Oklahoma) -- Starting quarterback at Oklahoma (age 21).
It's hard for me to believe the Steve Owens, a player who I avidly followed when I was a kid growing up, is now 61 years old.
And in a way, I can see Mike Rozier as a stay-at-home dad. He was always one of my favorite players to deal with when I was covering the Houston Oilers back in the day. I'm sure he a great dad -- and a very colorful one at that.
August, 7, 2009
8/07/09
10:46
PM ET
By
Tim Griffin
| ESPN.com
Posted by ESPN.com's Tim Griffin
Big 12 players dominated the Water Camp Player of the Year watch list announced Friday with eight players, including 2008 winner Colt McCoy of Texas.
The Big 12's number was double of any other conference. The Pac-10 and Southeastern Conferences were next with four players apiece.
Among the Big 12's nominees were quarterback Sam Bradford and tight end Jermaine Gresham of Oklahoma, running back Kendall Hunter and wide receiver Dez Bryant from Oklahoma State, McCoy and wide receiver Jordan Shipley of Texas, linebacker Sean Weatherspoon of Missouri and quarterback Todd Reesing of Kansas.
Oklahoma State, Texas and Oklahoma were among five schools to have two players nominated to the list. The others were Florida and Penn State.
McCoy became the fourth Big 12 winner of the award. Earlier winners included Ricky Williams of Texas in 1998, Josh Heupel of Oklahoma in 2000 and Nebraska's Eric Crouch in 2001.
Other winners from current Big 12 schools before the conference started included Oklahoma's Steve Owens in 1969, Nebraska's Johnny Rodgers in 1972, Oklahoma's Billy Sims in 1978, Nebraska's Mike Rozier in 1983, Oklahoma State's Barry Sanders in 1988 and Colorado's Rashaan Salaam in 1994.
January, 23, 2009
1/23/09
12:32
PM ET
By
Tim Griffin
| ESPN.com
Posted by ESPN.com's Tim Griffin
It wasn't a surprise that Oklahoma was ranked as the No. 1 team in the ESPN Prestige Rankings. The Sooners have been a consistent, dominant program since the end of World War II.
Oklahoma's football history has been dotted by success crafted by larger-than-life characters and memorable teams. Hall of Famers like Bud Wilkinson, Bennie Owen and Barry Switzer roamed the sidelines en route to the College Football Hall of Fame. Legendary players like Tommy McDonald, Jerry Tubbs, Lee Roy Selmon, Billy Sims and Steve Owens all have been key Sooners over the years.
But the recent return of Sooner mystique has only come since Bob Stoops took over the program in 1999, which came about after the hiring of Joe Castiglione as athletic director a few months earlier.
Sure, the Oklahoma program has endured a run of big-game struggles in recent seasons. But it has gotten to the big game with more consistency than any other Big 12 program with an unprecedented current streak of three-straight conference championships. Oklahoma has won 39 conference championships -- seven more than any other program in the country.
That recent run is a startling transformation since the start of the Big 12 era, which marks the starting point of my own close inspection of the Oklahoma program. I had followed it from a distance, marveling at their blowout victories and cocksure attitude under the charmingly roguish Switzer.
And to say the least, I was shocked at where Oklahoma was in the mid-1990s. Owen Stadium wasn't nearly the palace I imagined. The Sooners were a conference laughing stock under the direction of a less-than-stellar array of coaches like Gary Gibbs, Howard Schnellenberger and John Blake who all had struggled to match Switzer's "Sooner Magic."
I remember when Schnellenberger bragged that they would write books and make movies about his time at the school. After a 5-5-1 record during his 1995 season, I'm still waiting.
And Blake, a popular former Oklahoma player and assistant coach, also struggled mightily during his run from 1996-98.
Blake's 12-22 record during his coaching tenure featured three-straight losing seasons in the Sooner program for the first time since 1922-24. Blake changed his offenses three times in 1998, his final season, as the Sooners limped to a 5-6 season.
Castiglione had been hired as the school's athletic director only a few months before. He made the difficult but necessary decision to jettison Blake in favor of a transformation after only one season.
Stoops was his first major hire and the rest has been history. Stoops has claimed six Big 12 titles over the last nine seasons, a period where no other conference rival has won more than one.
To see the Oklahoma program at its current level compared to where it was only 10 years ago, it has been a remarkable transformation.
It's been one where leaders of a prestigious program have seen change coming and been willing to embrace it, keeping the Sooners ensconced at the rarefied levels of the past.
And it's the biggest reason why the Sooners program has maintained its prestige over such a long period of time.
December, 16, 2008
12/16/08
8:31
AM ET
By
Tim Griffin
| ESPN.com
Posted by ESPN.com's Tim Griffin
When Sam Bradford was being introduced Saturday night as the next Heisman Trophy winner, I was mildly amused with the show that former Sooner standout Billy Sims was making by repeatedly chanting "Boomer" as Bradford walked to the stage.
But as it continued, Sims became more and more buffoonish. His outlandish display was greatly out of place for the show of dignity that I usually expect from the most hallowed of all individual trophies available in college sports. And I would expect more out of former winners who seemingly would respect their own achievements and those of other winners.
My sentiments were shared by others while reading message boards for other Big 12 schools and even by some Sooner fans over the last couple of days.
It even prompted a stinging response this morning when The Oklahoman wrote an editorial blasting Sims for his Heisman show of exuberance.
"You knew it was coming," The Oklahoman wrote. "Sims began this routine when Jason White won the Heisman in 2003, although that time he hollered it only a couple of times, and it was good for a laugh or two. There weren't many laughs Saturday night, especially not after the fourth, or fifth, or sixth, or seventh shout from Sims."
Sims obviously shows great pride in his old school. And he's always excited about having another representative from his school join the exclusive football fraternity.
But his old fans and particularly the opinion leaders back in the state where he played college football merely wish that Sims would just shut up.
"Sam Bradford deserved better," The Oklahoman's editorial said. "In winning the Heisman as the nation's top college football player, he represented his team, his school and his state with the sort of class we have come to expect from him. And unfortunately, so did Sims."
Maybe Oklahoma athletic director Joe Castiglione needs to deputize former Sooner Heisman winner Steve Owens and get him to lock Sims in the closet for a couple of hours at the next Heisman ceremony if he can't act with dignity.
Because Sims' foolish antics definitely upstaged Bradford's big show. And in the process it embarrassed his old school when it should have been basking in the national spotlight.
December, 13, 2008
12/13/08
9:39
PM ET
By
Tim Griffin
| ESPN.com
Posted by ESPN.com's Tim Griffin
Sam Bradford's Heisman Trophy coronation almost turned into a pep rally for the school -- and his teammates.
Bradford paid homage to the Big 12 champion Sooners, a group that has scored more points than any team in modern-day college football, as he accepted the Heisman Trophy Saturday night.
"They are unreal," Bradford said. "I was surrounded by such a strong supporting cast. I feel like I'm up here representing them. This is an individual award, but I feel like I'm receiving it (the Heisman Trophy) for them. Without them, I would be nowhere. "
Good idea, in my opinion. The Sooners have been that dominant this season -- but particularly when the Sooners made history by scoring at least 60 points in their final five games of the season.
Former Oklahoma running back Billy Sims is already sparking the ire of the Texas message boards with his declaration that "Sooner or later we'll get you" as Bradford accepted the award. But it was all in good fun and just made the annual Texas-Oklahoma game next October in Dallas that much more interesting -- as if it really needed any more fuel after the BCS controversy that pushed the Sooners into the Big 12 championship ahead of the Longhorns.
It was the third- closest vote in history as Bradford garnered 1,725 votes, compared to 1,604 for second-place finisher Colt McCoy of Texas and 1,575 for defending Heisman winner Tim Tebow of Florida.
Tebow actually received more first-place votes than any other competitor. But Bradford received enough second- and third-place votes that boosted him past the rest of the field. He becomes the fifth Oklahoma player to win the award. The school's other winners were Billy Vessels, Steve Owens, Sims and Jason White.
The Big 12 was represented with four of the top five finalists. Teammates Graham Harrell and Michael Crabtree of Texas Tech ranked fourth and fifth, respectively.

Bradford's victory marked the second-straight season the winner accepted the trophy with a cast on his non-throwing arm. But he vows to be ready for the Sooners' Jan. 8 date against Florida in the FedEx BCS National Championship Game in Miami.
Watching Bradford and the Oklahoma offense was enough to make a believer of Florida coach Urban Meyer.
"It's as good an offense as I've ever seen on video," Meyer said.
And it was sparked the quarterback who led the nation in touchdown passes and richly deserved the award.
November, 29, 2008
11/29/08
1:23
PM ET
By
Tim Griffin
| ESPN.com
Posted by ESPN.com's Tim Griffin
Oklahoma has notched some memorable victories over Oklahoma State in Stillwater on previous games played on Nov. 29. Here's a look at two of the most historic games in the series.
Nov. 29, 1958: No. 3 Oklahoma 7, Oklahoma State 0 -- Backup quarterback Bobby Boyd raced on a 31-yard touchdown run in the fourth quarter to provide the only points in a bitter defensive struggle. Prentice Gautt provided key offensive and defensive plays as the Sooners won despite producing only 196 yards of total offense.
Nov. 29, 1969: Oklahoma 28, Oklahoma State 27 -- Steve Owens gave Heisman voters something to consider by rushing for a then-NCAA record 55 carries for a career-best 261 yards to lead the victory. The Sooners held on for the victory after snuffing out a two-point conversion by Oklahoma State quarterback Bob Cutburth with 1:33 left. The Cowboys had pulled within 28-27 on the previous play on a 6-yard touchdown pass from Cutburth to Herman Eben. Owens, who eventually became Oklahoma's athletic director during the 1990s, won the Heisman the following week.
August, 18, 2008
8/18/08
5:43
PM ET
By
Tim Griffin
| ESPN.com
Posted by ESPN.com's Tim Griffin
From Bellevue: Does 6-6 or a lofty 7-5 sound realistic for the re-tooled Cornhuskers?
Tim Griffin: Yes it does and maybe a step better, like 8-4 if Bo Pelini grabs some beginner's luck along the way and stays away from some defensive injuries that might cripple his program.
Pelini's arrival has been like a shot of adrenalin through the Nebraska program. I think it only continues once the season begins. I also expect Nebraska to absolutely mash the ball lot more than most people would think. I was talking to one of the most-respected Nebraska reporters over the weekend. He told me it wouldn't surprise him if the Cornhuskers ranked among the top 10 nationally in rushing. With backs like Lucky, Castille, Helu and Mendoza, it's a possibility.
To go 8-4, the Cornhuskers absolutely have to win their first three nonconference games. I'm thinking they could be ripe for an upset in one of those games and Pelini has to guard against that. But I really like their home schedule from there with games against Virginia Tech, Missouri, Kansas and Colorado. They will likely be underdogs for the first three. It wouldn't surprise me if they can claim at least one of those games and maybe two.
And if the Cornhuskers can finish strongly, they should finish at least 7-5 and maybe better. And a late winning streak might catapult them into a good bowl. Watch what the Gator Bowl does in terms of taking Notre Dame. If the Irish end up in Jacksonville for New Year's Day, don't be shocked to find the Cornhuskers finish up somewhere in Texas -- like San Antonio or El Paso -- for their bowl trip this season.