June, 20, 2013
Jun 20
3:00
PM ET
By my count, Washington coach Steve Sarkisian started the trend of taking to Twitter in code when a player committed to the program. The Huskies coach got in the habit of tweeting "WOOF!" when a new player joined the recruiting class.

Texas A&M coach Kevin Sumlin is the most notable coach to begin doing it lately, helping Texas A&M grab top recruiting classes in the past two seasons while tweeting "YESSIR" every time he picked up a commit.
None of the eight Big 12 coaches on Twitter has gotten into a consistent habit of tweeting in code, but it looks like Oklahoma State coach Mike Gundy might be pondering a move.
Tuesday evening, he dropped a
cryptic "Pistols Firing!" tweet
out of nowhere. Sure enough,
news broke a bit later
that the Cowboys had earned a commitment from
Jeremiah Ledbetter
, a junior college defensive tackle.
The practice miffs some, but I typically find it fun. I'd like to see more coaches try it out. Gundy briefly took to Twitter to answer fan questions every day earlier this offseason. He's gotten out of that practice since, but I don't see the whole code-tweeting phenomenon as anything more than another way to connect with fans and inspire excitement about a coach's respective program.
December, 4, 2011
12/04/11
11:18
PM ET
Washington Huskies (7-5) vs. Baylor Bears (9-3)
Dec. 29, 9 p.m. (ESPN)

Washington take from Pac-12 blogger Ted Miller:
Washington took another step forward in 2011 in the third season under Steve Sarkisian, but it needs to win the Alamo Bowl in order to finish with a better record than last season.
The big positive to the season was the surprisingly quick emergence of QB
Keith Price
. The expectation was he'd be a game manager after replacing Jake Locker. Instead, he was a playmaker who put up substantially better numbers than Locker did in 2010. The big negative to the season was the defense, which ranked 94th in the nation in total defense and 99th in scoring. Not good numbers considering that Nick Holt is one of the nation's highest paid defensive coordinators.
The Huskies were a little slow out of the gate. They played closer-than-they-wanted games with Eastern Washington and Hawaii and then lost at Nebraska. But then they won three in a row and were nationally ranked when they headed to Stanford. But the Cardinal humbled the Huskies 65-21, rushing for 446 yards. The Huskies beat Arizona, then lost three in a row. Getting whipped by Oregon and USC is understandable. Losing at Oregon State was not. But they bounced back with a win over rival Washington State to finish 7-5.
There was progress from a 7-6 season in 2010. If the Huskies remember the Alamo.
---

Baylor take from Big 12 blogger David Ubben:
The Bears have become must-see TV, and
Robert Griffin III
is the reason why. He's athletic, elusive, and loves to sling it. Nobody throws the deep ball better, and nobody's a better player. But don't listen to the folks who claim RG3 has no help. He's throwing to one of the nation's best receivers in
Kendall Wright
, who'll run right by most defensive backs.
Terrance Ganaway
's 240-pound frame has filled out the Bears' offense, winning the Big 12 rushing title with 1,347 yards and 16 touchdowns.
It's a big year for the Bears, who might have their first Heisman winner, despite a defense that's struggled for much of the year. That said, 9-3 is 9-3, and Baylor is riding high into the postseason for the second consecutive year after a 16-year drought.
December, 31, 2010
12/31/10
1:35
AM ET
That was pretty shocking. I didn't give Washington much chance to win, and I don't think I was alone there. The Huskies proved us all wrong with a
19-7
victory.


How the game was won:
Washington got physical and overpowered Nebraska's defensive line up front for 60 minutes. The Huskies had some success doing it the first time around, but a poor defensive performance kept them from doing it enough to win the game. The defense got it done this time, Washington's offensive line got consistent pushes up front and
Jake Locker
only had to throw into the Blackshirts fearsome secondary when he wanted to. More often, he used his legs to make plays, on called runs and scrambles as part of that success running the ball. The Huskies rode Locker and
Chris Polk
to a 268-yard rushing night and a convincing win over a team almost no one picked them to beat.
The Huskers, meanwhile, made constant mistakes, lost the turnover battle 2-0 and were penalized 12 times for 102 yards. One of the most costly came in the fourth quarter after a goal-line stand that looked like it might swing momentum with the Huskers trailing 17-7.
Cody Green
ran for a first down, but All-Big 12 guard Ricky Henry was called for holding in the end zone, resulting in a safety, which stretched the deficit to 19-7 and gave the ball back to the Huskies. Blame the supposed scapegoat, the dreaded "lack of motivation" if you'd like, but the Huskers' lack of execution in all three phases of the game is a bigger reason for the loss. I never, ever would have pegged Nebraska for seven points against Washington's defense after ringing up 56 in Seattle with three 100-yard rushers back in September.
Turning point:
Locker scored on a 25-yard run early in the third quarter to cap a four-play, 53-yard drive that put Washington up 17-7. The game teetered at halftime even though the Huskies had dominated the line of scrimmage, but Locker's emotional run shifted control of the game firmly in Washington's favor.
Turning point II:
Locker's return. The quarterback took a nasty-looking hit and remained on the ground for several minutes early in the second quarter. He left the game for a few plays, but was able to return and lead his team to a big bowl win after a winless season in 2008 and no bowl appearances since 2002. I don't wear hats often, but if I did, mine would be off to Steve Sarkisian. This was impressive.
Stat of the game:
This wasn't the prettiest passing game. All the quarterbacks combined threw for 170 yards, a touchdown and an interception on 16-of-40 passing.
Player of the game:
Jake Locker, QB, Washington. Polk racked up the yards, but Locker played smart, tough, and made plays with his feet. Polk and the offensive line have a legitimate case for player of the game, but Locker kept the Huskies' offense rolling and did exactly what he had to do for his team to win. Considering the nightmare outing he had last time against the Blackshirts, it's even more impressive.
Record performance:
Nebraska linebacker Lavonte David topped 150 tackles on the season for a single-season school record in just his first year on the field. The junior juco transfer broke former Blackshirt Barrett Ruud's previous record of 149 tackles in 2003.
What it means:
Nebraska's season began with so much promise. National championship aspirations arose following a thorough Thursday night undressing of Kansas State to move to 5-0. A loss to Texas and
Taylor Martinez
's midseason ankle injury were speed bumps for the Big 12 North champions, but a pair of offensive clunkers against Oklahoma and Washington end the Huskers' season with a frustrating thud on the way to the Big Ten.
Conference-wide, it's another loss for the Big 12, who is now 1-4 in bowl games and no loss was more shocking. The Huskers entered as two-touchdown favorites, and were completely outplayed in every way.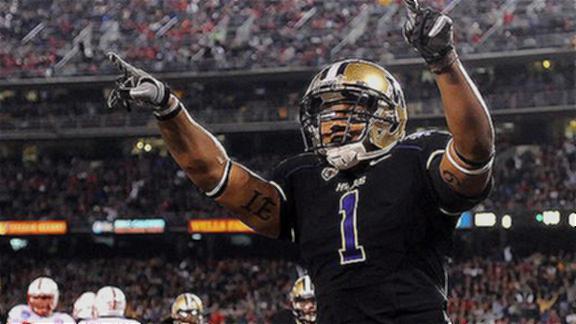 September, 19, 2010
9/19/10
2:59
PM ET
Here's a look at where the Big 12 stands in the polls heading into Week 4:
Here's
how it looked last week.
Associated Press (media)
6. Nebraska
7. Texas (1)
8. Oklahoma
Others receiving votes:
31. Missouri
32. Oklahoma State
37. Kansas State
43. Texas A&M
ESPN/USA Today (coaches)
4. Texas
7. Nebraska (1) (Ed. note: Coaches' ballots are confidential at this point in the season, but my guess at the Huskers' No. 1 vote: Steve Sarkisian.
A bit of evidence.
)
9. Oklahoma
24. Missouri
25. Oklahoma State
Others receiving votes:
39. Texas A&M
40. Kansas State
41. Texas Tech
My ballot for ESPN.com's power rankings:
1. Alabama
2. Ohio State
3. TCU
4. Boise State
5. Oregon
6. Oklahoma
7. Texas
8. Nebraska
9. Florida
10. Wisconsin
11. Arkansas
12. LSU
13. USC
14. Stanford
15. Utah
16. Arizona
17. Auburn
18. South Carolina
19. Miami
20. Iowa
21. Michigan
22. Penn State
23. Florida State
24. Oregon State
25. West Virginia
November, 16, 2009
11/16/09
7:00
PM ET
By
Tim Griffin
| ESPN.com
Iowa State coach Paul Rhoads and Kansas State coach Bill Snyder both will receive a lot of mention for Coach of the Year honors in the Big 12.

That honor is understandable, considering what the conference's first-year coaches have been able to accomplish.

Rhoads leads all first-year coaches in win improvement from last season. And Snyder is tied for fifth.



Interestingly, three of the coaches on the list have associations with the Big 12. Gene Chizik was the head coach at Iowa State who preceded Rhoads. Dave Christensen served as the offensive coordinator at Missouri before accepting the Wyoming job. And Tim Beckman was the defensive coordinator at Oklahoma State before taking the Toledo head job.
April, 30, 2009
4/30/09
6:59
PM ET
By
Tim Griffin
| ESPN.com
Posted by ESPN.com's Tim Griffin
The Web site Coacheshotseat.com is one of my must reads every day. They always have an interesting spin on various college football topics and a lot of original content.
One post this afternoon was particularly interesting. The Web site ranks the 22 hirings of new FBS head coaches since the end of last season.
Here's a list of hirings of all new Division I head coaches. The ones that are highlighted have Big 12 connections.
1. Dave Christensen, Wyoming
2. Dan Mullen, Mississippi State
3. Rich Ellerson, Army
4. Dabo Swinney, Clemson
5. Brady Hoke, San Diego State
6. Steve Sarkisian, Washington
7. Doug Marrone, Syracuse
8. Danny Hope, Purdue
9. Mike Locksley, New Mexico
10. Ron English, Eastern Michigan
11. Mike Haywood, Miami (OH)
12. DeWayne Walker, New Mexico State
13. Chip Kelly, Oregon
14. Paul Rhoads, Iowa State
15. Gene Chizik, Auburn
16. Gary Anderson, Utah State
17. Frank Spaziani, Boston College
18. Tim Beckman, Toledo
19. Stan Parrish, Ball State
20. Dave Clawson, Bowling Green
21. Bill Snyder, Kansas State
22. Lane Kiffin, Tennessee
It's particularly interesting to look at the difference between former Missouri coordinator Dave Christensen and former Oklahoma State defensive coordinator Tim Beckman.
They believe that Christensen's success bringing his version of the spread to Wyoming will pump new life into the Mountain West Conference. And they compare that to the largely unknown Beckman, who will be challenged to succeed in the balanced Mid-American Conference.
The switch from Gene Chizik to Paul Rhoads appears to be a wash, as Rhoads' hiring is ranked No. 14 while Chizik checks in at No. 15.
But the most interesting comments to me were how the Web site viewed Bill Snyder replacing Ron Prince at Kansas State.
21. Bill Snyder for Ron Prince at Kansas State
"We could have gone either way on the firing of Ron Prince, but bringing Bill Snyder back to Kansas State? No, we cannot understand that move by KSU. OK...Bill Snyder was a great football coach, but that was in another time and another place. Snyder put up some great seasons at K-State, but in his last two years, which happened to correspond to the rise of Texas, Oklahoma, Texas Tech and Missouri in the Big 12, Snyder went 4-7 in 2004 and 5-6 in 2005. There is a reason that Bill Snyder was fired after the 2005 season and that reason has not changed and we believe K-State will regret hiring Snyder because he will not move the football program forward in what has become a much tougher Big 12. Instead of Bill Snyder, we would have hired Buffalo's Turner Gill, Oklahoma's Brent Venables, Illinois Mike Locksley, Missouri's Dave Christensen or even Dennis Franchione over bringing back Bill Snyder and we believe Kansas State will regret this coaching move."
I would criticique Coacheshotseat.com for saying that Snyder was fired after the 2005 season. He actually resigned. But I'm still intrigued by their comments.
It will be interesting to see how Snyder's return to KSU plays out. Either it will be a home run or a colossal flop.
I'm betting that Snyder's work ethic and his return of a veteran group of coaches familiar with the KSU program will work and work to ensure the program's success.
But even that might not be enough, considering the Big 12's strength.
December, 17, 2008
12/17/08
1:00
PM ET
By
Tim Griffin
| ESPN.com
Posted by ESPN.com's Tim Griffin
I feel a little remiss that we didn't celebrate Nebraska coach Bo Pelini's birthday last week in a suitable manner.
Pelini turned 41 on Saturday, a likely day for stoppage of mail and garbage delivery considering his early success with the Cornhuskers.
A rash of recent hirings of younger coaches has dropped Pelini to 13th among the youngest FBS head coaches. And his matchup with Clemson's Dabo Swinney in the Gator Bowl will be only the second time that Pelini has been older than his opposing coach. The only other time that happened was when he beat Ron Prince and Kansas State earlier this season.
And here's another way to place Pelini and Swinney's youth in perspective. Their combined ages at kickoff for the Jan. 1 game in Jacksonville will be 80 years, 1 month and 31 days. That total is far less than Penn State's Joe Paterno, who will be 82 years and 11 days old on that date.
Here's a look at the youngest FBS coaches in the nation. Coaches who have been hired since the end of the season to their new jobs are indicated with an asterisk.
Youth Movement
Name
School
Age
Birthdate
Bowl berth
Lane Kiffin *
Tennessee
33
May 9, 1975
--
Pat Fitzgerald
Northwestern
34
Dec. 2, 1974
Alamo
Steve Sarkisian*
Washington
34
March 8, 1974
--
Dan Mullen*
Mississippi State
36
April 27, 1972
--
David Elson
Western Kentucky
37
Aug. 26, 1971
--
Mario Christobal
Fla. International
38
Sept. 9, 1970
--
Bret Bielema
Wisconsin
38
Jan. 13, 1970
Champs Sports
Mike Locksley*
New Mexico
38
Dec. 25, 1969
--
Dabo Swinney*
Clemson
39
Nov. 20, 1969
Gator
Al Golden
Temple
39
Aug. 4, 1969
--
Derek Dooley
Louisiana Tech
40
June 10, 1969
Independence
Butch Jones
Central Michigan
40
Jan. 17, 1968
Motor City
Bo Pelini
Nebraska
41
Dec. 13, 1967
Gator
October, 20, 2008
10/20/08
3:33
PM ET
By
Tim Griffin
| ESPN.com
Posted by ESPN.com's Tim Griffin
Texas quarterback Colt McCoy could rip through the NCAA record book if he can continue his blistering current completion percentage pace after seven games.
| | |
| --- | --- |
| | |
| | Brendan Maloney/US Presswire |
| | Texas quarterback Colt McCoy is on his way to breaking the NCAA's completion percentage record. |
McCoy has completed a nation-best 81.22 percent of his passes. Putting that number into context, only six other players in the country have completed 70 percent of their passes. His next closest challenger, Chase Daniel of Missouri, has completed 75.90 percent.
The NCAA's single-season passing mark was set by Chris Hatcher at FCS Valdosta State in 1994, where he was coached by current Texas Tech coach Mike Leach. Hatcher completed 74.9 percent of his passes.
The NCAA's FBS record-holder for completion percentage is Daunte Culpepper of UCF, who completed 73.6 percent of his passes in 1998. And the Big 12's single-season record is 71.8 percent, set by Graham Harrell last season.
And McCoy was just off the single-game NCAA FBS mark when he completed 29-of-32 passes against Missouri last week. His 90.6 completion percentage was just off the NCAA mark for passers with at least 30 attempts of 91.2 percent set by BYU's Steve Sarkisian of BYU, who completed 31-of-34 passes against Fresno State on Nov. 25, 1995.
Making McCoy's night against Missouri even more remarkable was how Texas coaches charted his misses, according to Texas coach Mack Brown.
"Colt missed three passes on Saturday. Two were tipped at the line of scrimmage and he threw one away," Brown said. "It was near perfect."
Texas offensive coordinator Greg Davis told the Austin American-Statesman that McCoy was even more accurate in practice in the last two weeks. McCoy had two days where he failed to throw an incompletion and two others where only one pass attempt hit the ground, Davis told the Statesman.
McCoy has completed at least 80 percent of his passes in five games this season. His lowest single-game completion percentage was 69 percent against UTEP this season.