June, 30, 2011
6/30/11
1:15
PM ET
We'll move on to the safeties today in our position rankings across the Big 12.
Here's what we've covered so far:
The group of safeties across the Big 12 isn't fantastic, without any truly elite groups, but it's decent. There aren't any teams that look really hopeless at the position in the immediate future.
I haven't given it real close examination so far on the positions we haven't covered yet, but this is by far the closest gap between 1-10 of any position so far.
Here's how I ranked them. (Remember, I lumped in nickel backs with linebackers, so Ahmad Dixon and Tony Jefferson won't be found anywhere in this post.)
[+] Enlarge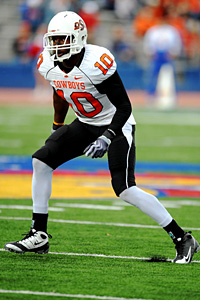 John Rieger/US PRESSWIREOklahoma State's Markelle Martin is the Big 12's best overall safety.
1. Oklahoma State
-- The Cowboys have Markelle Martin, the Big 12's best overall safety who's a big talent but a much better hitter than he is a cover man. Johnny Thomas is solid and both safeties got a lot better as the 2010 season progressed. OSU's depth lands them here, though. Daytawion Lowe could start for a few Big 12 teams and is slightly better than A&M and Texas' reserves, the other two teams with the deepest group of safeties.
2. Texas
-- Blake Gideon takes his share of criticism, a good deal of it fair, but there's a reason he's starting for Texas for a fourth season this fall. He knows what he's doing. Kenny Vaccaro will challenge OSU's Martin, among others, for the title of the Big 12's biggest hitter and Nolan Brewster and Christian Scott are strong reserves at the position. The Longhorns lose a lot at corner, but all the safeties are back from a defense that allowed just over 170 yards a game through the air in conference play last season.
3. Texas A&M
-- The Aggies' Steven Terrell and Trent Hunter are solid, and Hunter is a big playmaker who made 62 stops and picked off two passes last year. Toney Hurd Jr. is the backup and was one of the most impressive freshmen in fall camp last year, joined by Steven Campbell in the rotation.
4. Kansas State
-- Tysyn Hartman has loads of experience and is one of the Wildcats that Bill Snyder loves to rave about. Ty Zimmerman was one of the Big 12's best freshman last year, and picked off three passes. They should be solid again next year, and for as much criticism as K-State's defense faced last year, they were fifth in the Big 12 in pass defense. Logan Dold should be in the rotation, too.
5. Oklahoma
-- Reserve Sam Proctor has starting experience, but Javon Harris and Aaron Colvin enter fall camp as starters. That says plenty about how Bob Stoops and Brent Venables feel about them. In a word: confident. Colvin has the most potential in the group, but the two starters will have to learn on the go. Proctor, a senior, should be able to help. James Haynes will also be in the rotation.
6. Missouri
-- Jasper Simmons is gone, but Missouri's safeties might be a bit underrated in this spot. Kenji Jackson has loads of experience and should be solid, and Tavon Bolden and Matt White are a pair of promising sophomores who should compete at free safety. Kenronte Walker should be in the rotation, too.
7. Texas Tech
-- Injuries were a problem last year for the Tech secondary, but Cody Davis and D.J. Johnson will hold down the traditional safety spots away from the line of scrimmage in new coordinator Chad Glasgow's 4-2-5. The unit gave up lots of big plays in 2010 (151 over 10 yards, 46 over 20, and 25 over 30, all the most in the Big 12), but I'd expect that number to drop under Glasgow if the secondary stays healthy. Davis is the team's leading returning tackler, with 87 stops. Brett Dewhurst and Giorgio Durham should be in the rotation.
8. Kansas
-- Keeston Terry and Bradley McDougald give Kansas a lot of speed and athletic ability at the position, but both of the team's safeties from 2010 graduated and Terry and McDougald are short on experience. Lubbock Smith should add some solid depth to the position.
9. Iowa State
-- Iowa State loses their top playmaker at the position, David Sims, but returns starter Ter'Ran Benton. He'll be helped out by some combination of Jacques Washington, Earl Brooks and Deon Broomfield once the season starts. Iowa State's biggest weakness is on the defensive line, so it's hard to get a good read on how good the safeties really are with such a poor pass rush up front.
10. Baylor
-- This group might move up the list during the year under Phil Bennett, but the two best raw athletes (Ahmad Dixon, Prince Kent) at the position moved to nickel back and linebacker, respectively. The team's leading tackler, Byron Landor, graduated, and that left Mike Hicks as the other starter. He'll be helped out at safety by Sam Holl, Josh Wilson and K.J. Morton. Last year, the Bears ranked last in the Big 12 in pass defense in conference play, giving up over 300 yards a game. That'll have to change or Baylor won't get past seven wins.
March, 16, 2011
3/16/11
2:00
PM ET
By
ESPN.com staff
| ESPN.com
COLUMBIA, Mo. -- In 2008, Missouri's secondary ranked as the Big 12's worst, giving up more than 4,000 yards, 700 more than the next worst in the Big 12. That ranked 118th out of 120 teams in college football.

A year later, the Tigers ranked 11th in the Big 12 and couldn't crack the national top 100.

But finally, with a pair of corners who struggled in those two seasons, 2010 was a breakthrough season for Missouri's secondary.

"We have good players and they played at a very consistent level," said coach Gary Pinkel. "And I think the athleticism and experience level of our guys, with all that we saw a little more consistency."

Kevin Rutland and Carl Gettis helped Missouri's pass defense improve to No. 3 in the Big 12 and No. 37 nationally, behind only Nebraska and Texas, who both were in the national top 10.

Most importantly, the Tigers improved to 10 wins, the same number the team had in 2008, when Missouri fielded an offense with NFL talents like quarterback Chase Daniel, receiver Jeremy Maclin and Chase Coffman.

But now, Rutland and Gettis are gone, as is safety Jarrell Harrison. Those stepping into their voids are charged with building on last year's successes without the experience (and lessons learned) from Rutland and Gettis' early years.

"Our expectations are to be No. 1 in the league in pass defense. That's our goal," said cornerback Kip Edwards.

The Tigers classify him as a returning starter because he was on the field in all of Missouri's nickel and dime packages, and often rotated in with both Gettis and Rutland.

Sophomore E.J. Gaines entered spring as the other starter, ahead of senior Trey Hobson. Edwards was counted on for plenty in 2010, but Gaines, Hobson and new free safety Tavon Bolden will have a lot asked of them in trying to continue the growth the unit showed last season. Junior Robert Steeples should contribute as the team's second corner behind Edwards, similar to how much Edwards played last year.

"I don't say you don't miss a beat, but Kip is obviously good enough to win a championship with, and E.J. is really improving. Steeples is going to try to earn a job. Hobson is going to try and earn a job," Pinkel said.

Along with the only other returning starter in the secondary, strong safety Kenji Jackson, the Tigers will know where to look for guidance.

"I should be able to step in and guide the young guys through it," Edwards said. "Really, we have the talent to be the best secondary in the Big 12."
January, 26, 2011
1/26/11
9:00
AM ET
Signing day is exactly a week from today, and it's time to take a look at who needs what in its 2011 class.
Some schools have addressed these with their current class. Some haven't. Others are still trying.
We'll kick things off with the artists formerly known as the Big 12 North and examine the South later today.

COLORADO
Cornerback:
Jalil Brown and Jimmy Smith were pretty reliable for the Buffaloes, but both are headed to the NFL, and the Buffaloes could definitely use some depth behind their first-year starters. It's not quite as pressing of an issue considering their move to the less pass-happy Pac-12, but they still like to sling it out west.
Receiver
: Colorado isn't exactly starving anywhere on offense, but receiver sticks out a bit.
Toney Clemons
was good, but maybe not quite what the Buffaloes hoped he'd be in 2010, but they caught a break in getting
Paul Richardson
back after a great freshman season. The Buffaloes need some complementary pieces around Clemons and Richardson to replace departed pass-catchers
Scotty McKnight
and
Travon Patterson
. Next year, that should be tight end
Ryan Deehan
and receiver
Will Jefferson
.

IOWA STATE
Receiver:
It's been a struggle for Iowa State in recent years, but they have to get better outside to help out their quarterback.
Sedrick Johnson
's transfer only worsens the Cyclones depth at the position, but
Jake Williams
and tight end
Collin Franklin
, the team's leading receiver, are gone.
Shontrelle Johnson
looks ready to become a big factor in the offense, but the Cyclones filling the space at receiver will make it easier for Johnson to replace running back
Alexander Robinson
.
Safety:
Both starters, David Sims and Zac Sandvig, are gone. So is the Cyclones top reserve at the position, Michael O'Connell. Sims was a top-notch talent that will be tough to replace, but Iowa State needs more depth here. They should be solid at corner with Leonard Johnson, Ter'ran Benton, Jeremy Reeves and Anthony Young, which could make the new safeties' jobs easier.

KANSAS
Defensive line:
KU is losing three of four starters on the line, including the team's only All-Big 12 talent, defensive end Jake Laptad. Turner Gill wants more speed, and this is a place to install it. Tackles that tip the scales at 320 pounds aren't too necessary in this league, but speed on the edge can go a long way in stopping the pass.
Quarterback:
Neither
Jordan Webb
or
Quinn Mecham
look like long-term answers at quarterback for the Jayhawks. Mecham will be a senior, and Webb might develop into a better player as a sophomore next year, but Kansas needs other options. The Jayhawks hope Brock Berglund, the top-rated recruit in Colorado, is the solution to the problem.

KANSAS STATE
Running back:
I hear your cries for
Bryce Brown
, Wildcats fans, but K-State can't expect to hitch their wagon to the former blue-chip recruit turned Tennessee transfer in the same way it did for
Daniel Thomas
. Thomas and his backup,
William Powell
, are gone, and the Wildcats need some depth at running back to show up.
Interior offensive linemen:
K-State loses both guards and its center from an offense that produced the Big 12's leading rusher in 2010. Don't expect them to do it again in 2011 without Wade Weibert, Kenneth Mayfield and Zach Kendall, as well as Thomas and Powell, but finding some new talent behind them will help them come close.
Cornerback:
David Garrett emerged as a budding star in 2010 ready for a breakout senior year in 2011, but the Wildcats lose Terrance Sweeney and Stephen Harrison, as well as safety Troy Butler. Like we've mentioned earlier, good secondaries are a must for success in the Big 12, and K-State had one of the league's worst in 2010.

MISSOURI
Receiver:
Missouri has some good ones ready to suit up in 2011, namely
Wes Kemp
,
Jerrell Jackson
and
T.J. Moe
, but the Tigers don't have a true gamebreaker. They have some younger players in
Marcus Lucas
and
Jimmie Hunt
who they hope will develop into big-time, All-American caliber receivers, a la Jeremy Maclin and Danario Alexander. In Missouri's system, though, adding a few receivers is always a good idea. They certainly don't need any more running backs.
Defensive backs:
Mizzou doesn't have any huge holes that need to be filled with recruiting, but the Tigers lose both corners, Carl Gettis and Kevin Rutland from their 2010 team. Kip Edwards and E.J. Gaines look likely to fill those roles, but the Tigers could use some depth and keep recruiting in the secondary to help add some talent around Tavon Bolden and Matt White, safeties who will replace departed Jarrell Harrison, who actually had to play some linebacker in 2010 because of injuries.

NEBRASKA
Every kind of kicker:
Alex Henery, the team's punter and kicker is gone. So is kickoff specialist and lover/producer of touchbacks, Adi Kunalic. Fan favorite Henery was hardly underappreciated by the Nebraska faithful, but they'll miss him even more if the Huskers can't find a suitable placekicker and punter. Bo Pelini was reportedly after Wake Forest commit Mauro Bondi this week.
Receiver:
Niles Paul
and
Mike McNeill
are gone. The Huskers need
Brandon Kinnie
to come through with another good year and it'd be nice if
Quincy Enunwa
broke through in 2011, but
Taylor Martinez
needs some more help at wide out, and a couple new recruits could provide it as Martinez's passing prowess matures.
BIG 12 SCOREBOARD
Friday, 12/26
Saturday, 12/20
Monday, 12/22
Tuesday, 12/23
Wednesday, 12/24
Saturday, 12/27
Monday, 12/29
Tuesday, 12/30
Wednesday, 12/31
Thursday, 1/1
Friday, 1/2
Saturday, 1/3
Sunday, 1/4
Monday, 1/12
Tweets from https://twitter.com/ESPNCFB/lists/big12