January, 9, 2010
1/09/10
1:21
AM ET
By
Tim Griffin
| ESPN.com
It's not really a surprise that Texas sophomore safety Earl Thomas declared Friday night for the NFL draft.
[+] Enlarge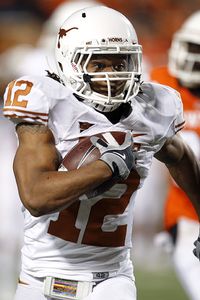 AP Photo/Sue OgrockiTexas' Earl Thomas set a team record with eight interceptions this season.
Thomas is coming off one of the best seasons for a Texas defensive back in school history in 2009. The redshirt sophomore had eight interceptions, which broke Noble Doss' mark of seven interceptions that was set in 1940. Thomas ran two of them back for touchdowns to set another record.
If there's such a thing as "The Natural" among defensive backs, it's Thomas. He isn't overly big or physical (5-foot-10, 197 pounds) but he has the uncanny instincts to stick with any receiver. His skills definitely will translate well to the next level.
Thomas isn't as physically gifted as either Eric Berry of Tennessee or USC's Taylor Mays. Both figure to be picked ahead of Thomas unless he has an off-the-charts workout for NFL scouts later this spring.
Thomas was a finalist for the Thorpe Award in 2009 and would have been the favorite for the award if he had remained for his junior season in 2010.
If he had stayed for another season and had another productive year, it's not out of the question that Thomas could have developed into the greatest defensive back in Texas football history.
As it is, he'll be in the conversation with players like Tarell Brown, Cedric and Michael Griffin, Michael Huff, Quentin Jammer, Aaron Ross and Nathan Vasher. All left Texas for a career as a starting defensive back in the NFL. Huff and Ross left with Thorpe awards in back-to-back seasons in 2005 and 2006.
With Thomas leaving, sophomore Nolan Brewster could move into the starting job when spring practice begins for the Longhorns late next month.
A more likely scenario might be to move Blake Gideon to the tight safety position to make room for game-breaking defensive back Christian Scott at Gideon's current position at free safety.
Scott was giving Gideon a serious challenge in fall camp this year before he was academically suspended. His ferocious hits would provide an intimidating presence to the secondary that was missing this year.
But whoever takes over Thomas' spot will be attempting to fill a sizable void that makes Texas' rebuilding job a little more daunting.
November, 12, 2009
11/12/09
5:59
PM ET
By
Tim Griffin
| ESPN.com
Posted by ESPN.com's Tim Griffin

Three Big 12 defensive players are among the eight semifinalists chosen for the Lott Trophy.

Texas defensive end Sam Acho, Nebraska defensive tackle Ndamukong Suh and Oklahoma defensive tackle Gerald McCoy were included on the list released by the Pacific Club IMPACT Foundation of Newport Beach, Calif., which sponsors the award.

Other semifinalists include Tennessee safety Eric Berry, USC safety Taylor Mays, Alabama linebacker Rolando McClain, TCU defensive end Jerry Hughes and South Carolina defensive end Eric Norwood.

The four finalists for the award will be named Nov. 24 and the award will be presented at a banquet on Dec. 13 in Newport Beach, Calif.

A Big 12 player has never won the award in its five-year history.
April, 30, 2009
4/30/09
3:04
PM ET
By
Tim Griffin
| ESPN.com
Posted by ESPN.com's Tim Griffin
The Big 12 just produced record-breaking numbers in terms of No. 1 picks with seven in Saturday's first round.
But Scouts Inc. analyst Todd McShay said those numbers won't be anything like he's expecting in 2010.
McShay released his first projections Thursday, and the numbers are the kind that probably brought a lot of smiles around the office of Big 12 commissioner Dan Beebe.
McShay predicts an incredible nine Big 12 selections among the first 10 picks in the draft.
Here's a look at his projected early list.
1. St. Louis Rams: Oklahoma QB Sam Bradford
2. Cleveland Browns: Nebraska DT Ndamukong Suh
3. Detroit Lions: Oklahoma State T Russell Okung
4. Oakland Raiders: Oklahoma T Trent Williams
5. Kansas City Chiefs: Oklahoma TE Jermaine Gresham
6. Seattle Seahawks (from Denver): Texas QB Colt McCoy
7. Jacksonville Jaguars: Oklahoma DT Gerald McCoy
8. San Francisco 49ers: USC S Taylor Mays
9. Green Bay Packers: Texas T Adam Ulatoski
10. San Francisco 49ers (from Carolina): Texas OLB Sergio Kindle
There are some other surprises in McShay's other projections.
But it looks like it could be a banner season for draft prospects across the Big 12.
April, 17, 2009
4/17/09
5:43
PM ET
By
Tim Griffin
| ESPN.com
Posted by ESPN.com's Tim Griffin
Here are a few of the letters and e-mails I received over the last few days.
Dennis from Corpus Christi, Texas, writes: Tim, I enjoy your blogs very much even though I ride you a little hard at times. I still think your blogs are very informative. I've noticed that Mike Caputo, a walk-on from Omaha, has emerged as one of the top linemen in training camp for Nebraska this spring. Walk-ons have obviously been an important part of Husker football for a long time. How much better or worst can a walk-on program help by improving the talent level, player attitude and team spirit of a Big 12 team.
Tim Griffin: Obviously, there are some walk-on players that can help a program. It's as much with team chemistry as anything else because these players can help infuse a program with a different attitude. It's very rare when a true playmaker will come into a program as a walk-on, although standouts like Kevin Greene, Wes Hopkins, Daniel Sepulveda and Joel Klatt all started that way.
And no Big 12 program has embraced the concept of walk-ons quite like Nebraska. Bo Pelini sees the value in it and I think it provides the Cornhuskers with some advantages.
But I don't think a team can count on attracting a starter or two a year with walk-on players. I think most coaches count whatever contributions they get from those players as a bonus.
---
Sean Murphy from Omaha writes: Hey Tim, I absolutely love your blog. One question for you, why do you think Colorado will have the best offensive line in the North next season?
Tim Griffin: Sean, I just believe that the Buffaloes have been wracked by injuries in the last year or so in the trenches. If they can get guys like Ryan Miller and Mike Iltis back in the lineup, it will help them greatly. And players like Evan Eastburn and Bryce Givens should give them a boost in talent, on top of having four starters back from last season.
And it also would help the Colorado offense look good if Darrell Scott and Rodney Stewart got back to health. Both are legitimate threats to rush for 1,000 yards this season if they are healthy. I realize that's a big if, but if they run behind a retooled line, the Buffaloes have a great shot to be a dark-horse contender in the North.
I don't know if they can make 10-2 as Coach Dan Hawkins has predicted, but I do think they are definite threats to go to a bowl game and can contend for the North title if they can catch a few breaks along the way.
---
Jay from Kansas City writes: Hey Tim! I hate to be the guy that emails you to moan about one of your rankings but I very much think Kerry Meier is far underrated by your blog. The stats speak plenty for Kerry. The fact that he is a playable Division 1 QB as well has to bump him up, in my opinion. Keep up that good work.
Tim Griffin: I labored about where to place Meier in my rankings. He's obviously a valuable player and can becoming that much more of a receiving threat if he was able to concentrate on playing wide receiver all the time. But realistically, Meier is the second most valuable receiver on the team. Dezmon Briscoe can stretch defenses with his deep receiving skills and could become one of the best receivers in college football if he can get back in Mark Mangino's good graces. That's why I placed Meier where I did with Briscoe in front of him. Meier is still a very valuable player, although I don't think he's the most valuable receiving threat on his team.
---
Shane from Elm Creek, Neb., writes: Hey Tim, any ideas on other possible Heisman hopefuls that are not on the offensive side of the ball, both from the Big 12 and outside the conference? Will the Heisman voters ever change the way they vote? Will they ever stop voting just on the quarterbacks, with a running back in the race here and there. It would be nice if the award went back to its original roots, in my opinion.
Tim Griffin: I don't see a defensive player winning a Heisman Trophy award solely on his defensive merits any time soon. I think most voters think the multitude of awards solely for defensive players already rewards them. Charles Woodson's award in 1997 was as much for his kick returns as his defense. Obviously, I would think that USC safety Taylor Mays, Florida linebacker Brandon Spikes, Tennessee safety Eric Berry and Big 12 defensive tackles Ndamukong Suh of Nebraska or Gerald McCoy of Oklahoma could be considered as Heisman contenders with a monster season. But it will be an unusual circumstance for it to occur.
---
Big Steve from Floydada, Texas, writes: Tim, how much is Texas Tech going to miss Graham Harrell this season? Can they still make a challenge for the Big 12 South or make a bowl trip with Taylor Potts in charge?
Tim Griffin: There's no doubt that Harrell will be missed around Texas Tech program. His record-setting numbers attest to his abilities and it's unfair to compare Potts or anybody else in the program to his high standards. But I think people are forgetting the turnover that used to follow the Tech program in previous seasons at quarterback. Harrell was one of the few multiseason starters in the program at quarterback along with Kliff Kingsbury. Mike Leach had a repeated run of one-year starters in B.J. Symons, Sonny Cumbie and Cody Hodges over a three-year period from 2003-05. I haven't seen Potts play yet, but from everything I've heard about him, I think he's comparable with any of those previous one-season starters. He's bigger and apparently has a strong arm. So it will be interesting to see what he does when he gets the chance to start.
---
James Williams from Tulsa writes: I'm curious if you think R.J. Washington will play much for Oklahoma this season? The Sooners have one of the deepest defensive lines in the country, but I think he's just too talented to sit the bench.
Tim Griffin: You might need to convince Bob Stoops because I think he likely believes he can never have too much depth in the trenches. That being said, I think the Sooners could have more talent along their defensive line than any Big 12 team I can remember. And for Washington playinf, he's going to have to beat out Jeremy Beal, David King, Frank Alexander and Auston English.
I think English could really emerge as a breakthrough player -- again. People forget how dominant he was in 2007 before he was hurt late that season and last year. If he is ever healthy, I think he can be one of the best pass-rushing threats in the nation. But I also believe that Brent Venables will rotate his players, giving Washington a chance to get some snaps this season. When he gets them, he needs to make the most out of them.
---
Adam Bates writes: Hey, Tim, is there any chance that Missouri game is going to be on television on Saturday like it was last season. Or will any of the other Big 12 teams with spring games left this season have their games televised live?
Tim Griffin: Sorry to be the bearer of bad news, but no Big 12 team will have their games televised live during the rest of spring practice from what I've heard.
Please keep the e-mails coming. I'll try to answer as many as I can next week.
Thanks again for your contributions. I appreciate them.