Big 12:

Terrance Frederick
March, 7, 2012
3/07/12
9:00
AM ET
We're moving on with our 2011 postseason position rankings. Today, it's time for cornerbacks. If you missed it,
here's how I ranked them in the preseason
.
Here are the other position rankings we've done so far:
Depth is somewhat of a factor here, but I weighted it heavily toward the top two starters at the position.
[+] Enlarge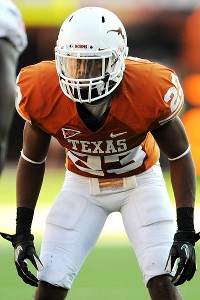 John Albright/Icon SMICarrington Byndom went up against some of the Big 12's top receivers and held his own.
1. Texas
— The Longhorns duo of
Carrington Byndom
and
Quandre Diggs
were by far the league's best at limiting the big play. Both are physical. Both return. Beware, Big 12 offenses. In just their first year as starters, they helped the Longhorns lead the league in pass defense. Diggs, a true freshman, led the team with four interceptions. Until the regular-season finale against Baylor, Texas and Alabama were the only teams that hadn't given up a touchdown pass longer than 20 yards. Obviously, that's way, way more impressive in the Big 12.
2. Kansas State
— K-State overachieved in a lot of ways this year, and perhaps nowhere more than at cornerback. Juco transfer
Nigel Malone
led the league with seven interceptions. Known entity
David Garrett
was even more solid, making 88 tackles and 6.5 tackles for loss. I ranked this unit 10th in the Big 12 before the season. They finished second. I was wrong.
3. Oklahoma
— The Sooners' corners were good, but not great, and underachieved slightly.
Jamell Fleming
and
Demontre Hurst
are supremely talented, but were susceptible to big plays this year. Granted, everybody in the Big 12 was, but the Sooners ranked fourth in pass defense. Fleming broke up 10 passes and intercepted two more. Hurst broke up 11 and had an interception.
4. Oklahoma State
— At times, Oklahoma State's
Brodrick Brown
was a legitimate shutdown corner.
Justin Gilbert
turned in a solid effort in his first year as a starter, which was much more important after a season-ending injury to
Devin Hedgepeth
in September. Gilbert picked off five passes, second-most in the Big 12.
5. Iowa State
—
Leonard Johnson
was quietly an NFL prospect that put together a huge year. He was a big reason for ISU's upset of No. 2 Oklahoma State, and helped shut down
Justin Blackmon
. He finished with 71 tackles, eight pass breakups and a pick.
Jeremy Reeves
added two picks and seven pass breakups.
6. Missouri
—
E.J. Gaines
led the Big 12 with 16 pass breakups, and the Tigers ranked fifth in the Big 12 in pass defense. Fellow first-year starter
Kip Edwards
added a pick and three pass breakups.
7. Texas A&M
— The team's top corner,
Coryell Judie
, was hampered by a hamstring injury all season, but production is production. It wasn't there for Judie, one of the league's top corners in 2010.
Terrence Frederick
had a good year with 13 pass breakups and a pick, but the Aggies were susceptible through the air all year.
Lionel Smith
and
Dustin Harris
filled in well in Judie's absence, but not well enough. A&M finished eighth in pass defense and helped five QBs set career highs for passing yardage in 2011.
8. Baylor
—
K.J. Morton
played well down the stretch for Baylor, but the Bears defense left a lot to be desired almost everywhere. They finished last in the Big 12 in pass defense, giving up over 290 yards a game. Morton picked off four passes and broke up six more. All four of his picks came in the final three games of 2011.
Chance Casey
broke up six passes and made 48 stops.
9. Texas Tech
— How's this for irony? The Red Raiders actually finished second in the Big 12 in pass defense. It doesn't matter much.
Tre' Porter
had the only interception for a cornerback all season, and broke up two passes. Injuries were a problem all season.
Cornelius Douglas
,
Derrick Mays
,
Jarvis Phillips
and
Sawyer Vest
filled the unit, but Tech faced 61 fewer pass attempts than Kansas and 111 fewer than the next team in the Big 12. That's what happens when you can't stop the run. Doesn't mean the corners played well.
10. Kansas
—
Greg Brown
picked off two passes and broke up three more.
Isiah Barfield
made 35 tackles and broke up five passes. The Jayhawks ranked ninth in the Big 12 in pass defense. They didn't get much of a pass rush to help the corners, but the corners were very poor in 2011.
January, 25, 2012
1/25/12
10:00
AM ET
By
ESPN.com staff
| ESPN.com
I unveiled
my All-Interview team this week,
but I heard about as much feedback from that post as any we've had on the blog.
Folks wanted more.
So, here it is. I asked the local reporters for help: Tell us the story of players this season who provided one memorable interview for one reason or another, or consistently offered a look inside teams that few other players could duplicate.
Here they are:
David Snow, OL, Texas
: Imagine what you'd expect a guy who grew up lifting hay bales and shooting deer in the small East Texas town of Giilmer to sound like. That's exactly the voice that comes from Snow, who spent every Longhorns media session spewing blunt honesty through his thick, slow drawl. If Texas stunk, Snow owned up to it, sometimes in PG-13 terms. If he didn't like an opponent (and he usually didn't) he had no problem describing his distaste. He was one of the few guys who seemed to genuinely enjoy talking to the media, and his listeners enjoyed it too. --
Mike Finger, San Antonio Express-News
Javon Harris, S, Oklahoma:
Came into the interview room for 30 minutes the Monday after that Baylor game, and answered every question honestly. --
Jake Trotter, SoonerNation
Shaun Lewis, LB, Oklahoma State
It's not about quantity. It's about quality. You don't get a lot of words from Lewis, but he always helps make the story better.
-- Bill Haisten, Tulsa World
Grant Garner, C, Oklahoma State:
Excellent, both on topics specific to the offensive line and the big-picture condition of Oklahoma State football. --
Bill Haisten, Tulsa World
Richetti Jones, DE, Oklahoma State:
Other than Weeden, Richetti was my favorite guy to chat with because he told you exactly how he felt about absolutely anything. He called out critics of the OSU defense when the Cowboys climbed to No. 2 in the nation. He ripped the BCS for the title game rematch that featured a team that didn't win its conference. But his jabs--or any answers he gave--were always entertaining. One of my interview highlights of the season was him describing how he thought the first earthquake that hit Oklahoma in November was paranormal activity in his bedroom. The dude is hilarious, and I'll miss talking with him. --
Gina Mizell, The Oklahoman
Gabe Ikard, OL, Oklahoma:
I noticed you had
Ben Habern
, and that's a very fine selection from the Sooners. But Gabe Ikard is more than suitable as an addition. In fact, once, we interviewed Habern and Ikard together, sitting next to one another. It was their choice. They cut up and had a good time with it, but they also gave a lot of answers I could use. (I remember that being the day I was writing about walk-on
Dominique Whaley
's impact on the team and previously working at Subway to pay for school.)
Both of those guys, and Ikard in particular, are extremely engaging. Not only do they not mind interviews ... they seem to like them. That's rare, at least over the course of the long season. Ikard, who has a 4.0 I think, is very thoughtful and honest with his answers. Those two guys often fill your notebook, regardless of what you're working on. I appreciate their positive attitudes about media when we sometimes run into malcontents by, oh, sometime in October. --
Travis Haney, The Oklahoman
Brandon Weeden, QB, Oklahoma State:
Not only did you feel like you were dealing with a grown up -- no age jokes allowed -- Weeden always gave every question sincere thought and provided a thoughtful answer. He showed up every week, after every game, ready and willing to talk. He should be hired by every team in the league to teach a Media 101 session. --
John Helsley, The Oklahoman
Jeff Woody, RB, Iowa State:
Great knack for giving you insight to the game, and the emotion that goes into it - without throwing teammates under the bus. He described running back
Shontrelle Johnson
as a rabbit darting across the back yard, while being chased by a dog. --
Andrew Logue, Des Moines Register
Steven Johnson, LB, Kansas:
No matter what the situation was, Steven Johnson was a guy we could count on for the truth. Whether it was after tough loss, a big win or the opening practice of the season, Johnson always told it like it was and rarely held back his emotions or expectations. Sometimes that meant him breaking down to the point of tears, other times it meant him holding out hope for winning the Big 12 or making a bowl game even though the Jayhawks were five or six games into a disappointing season. Johnson will go down as one of the classiest players to ever wear a KU uniform and he easily was this team's go-to guy for good quotes. --
Matt Tait, Lawrence Journal-World
Terrance Ganaway, RB, Baylor:
Thoughtful with his answers, willing to answer difficult questions and very well-reasoned and well-worded responses. --
Jimmy Burch, Fort Worth Star-Telegram
R.J. Washington, DE, Oklahoma:
Epic interviews in high school made us all eager to get some time with him. But after a redshirt year, he clearly had been taught to dial it back a bit. Still, he's very good. Almost always offers up something interesting, and it's frequently subject matter that you may not have asked about. He gets it. He knows not to be overly defensive or closed-down in interviews because he refuses to buy the company line that the media is out to get him. --
John Hoover, Tulsa World
Terrance Frederick, CB, Texas A&M:
He seemed real -- appropriately serious but at times still light hearted -- as the season turned sour. --
Suzanne Halliburton, Austin American-Statesman
Steven Johnson, LB, Kansas
: Looked like you already got him, but I'll put in another vote for KU's Steven Johnson. He was the guy you could count on to say what everyone was thinking. --
Austin Meek, Topeka Capital-Journal
Ter'ran Benton, CB, Iowa State:
Benton is smart, funny and you never know where an interview with him will go. He might tell you why Louisiana Hot Sauce is the best hot sauce in the world. He might joking tell you that cornerback
Leonard Johnson
should be playing well because he has a light class load. He's great at explaining why things are, or aren't, working for the defense. He's an all-around great quote. --
Bobby La Gesse, Ames Tribune
B.J. Finney, C, Kansas State:
The freshman center was the face of K-State football this season, at least at press conferences. He showed up at every single media availability and gave thoughtful answers to every question he was asked. Quite impressive when you consider he was the only football player to show up for a few of the midweek pressers and reporters desperate for a quote asked him about the opposing team's offense and what strategy the K-State secondary had for that week. He gets the perfect attendance award.
-- Kellis Robinett, Wichita Eagle/Kansas City Star
Chris Harper, WR, Kansas State:
Never afraid to speak his mind on a topic. Will respond to dull questions with incredible insight. A former quarterback, he can analyze every offensive position. By far the best and most entertaining talker on the team. But he lost points for criticizing the Pinstripe Bowl. Bill Snyder didn't care for that, and made him off limits to media for several weeks. --
Kellis Robinett, Wichita Eagle/Kansas City Star
December, 10, 2011
12/10/11
6:00
PM ET
Texas A&M has its man.
Kevin Sumlin is ready to get started in College Station, but he'll have to get his hands dirty very early.
Sumlin's become one of the hottest names in coaching after a 12-1 season in 2011, but he'll have a laundry list of things to prove during his first big-time job after leaving Houston.
The Cougars were his first head-coaching job after stops around the Big 12 at Texas A&M,
his new home
, and in a variety of positions (including offensive coordinator) in five seasons at Oklahoma under coach Bob Stoops.
Every coach with a résumé comparable to Sumlin's faces the same question: Can that small-conference success translate to a bigger pond with bigger fish?
For Sumlin, it's tough to imagine a more difficult scenario for a coach taking over a major program for the first time, especially as a coach who has yet to guide a team to a conference title.
Texas A&M will head into the torture chamber that is the SEC West, where Arkansas finished third after going 10-2, with both losses against teams that will meet for the national title.
Mississippi State? It won nine games in 2010 and finished fifth in the division.
[+] Enlarge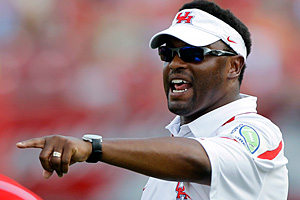 AP Photo/David J. PhillipKevin Sumlin spent four seasons guiding the Houston Cougars in Conference USA, and now he'll tackle the SEC as Texas A&M's newest head coach.
Sumlin knows Texas. He's recruited it for a decade and will continue to do so at Texas A&M, where he'll go head to head with former Big 12 rivals Texas and Oklahoma to convince players to help the Aggies ascend the SEC totem pole after going 6-6 in their final Big 12 season.
Sumlin's a man with spread sensibilities, though. He'll have to prove he can adjust that system as necessary to succeed in the SEC.
Success in the SEC, as national title participants Alabama and LSU can attest, correlates with defensive success, with rare exceptions for 6-foot-5, 250-pound Heisman-winning quarterbacks/No. 1 picks who can throw for 30 touchdowns, run for 20 more and rack up 1,400 yards rushing.
Sumlin's job in that department will be finding the right man to coordinate his defense. Current interim coach Tim DeRuyter could certainly stay in that role, despite a rough 2011 season in which the Aggies at one point went 22 quarters without forcing a turnover and finished 66th nationally in total defense and 76th in scoring defense.
The Aggies' linebacker-rich roster suits DeRuyter's 3-4 scheme well, and is better suited to defend the power running games in the SEC versus the pass-happy quarterbacks' league that is the Big 12.
If DeRuyter's not the right man, Sumlin better find the right one.
Can he carry over his success without
Case Keenum
? He threw an outlandish 45 touchdowns to five interceptions this year, including one game with nine scoring tosses.
Two of those interceptions came in the conference championship game loss to Southern Miss, where Sumlin was denied a league title for the second time in four seasons. Last year, when Keenum tore his ACL, the Cougars went 5-7.
The Aggies brass believed Sumlin could succeed without Keenum, and now, Sumlin will have to convince plenty of others.
Sumlin's personnel will look much different at Texas A&M. In the immediate future, his best player on offense will be former blue-chip recruit and 221-pound power back
Christine Michael
, who packs plenty of speed but will be coming off ACL surgery on his knee in 2012.
Sumlin will have a first-year starter at quarterback and loses his most physically gifted receiver,
Jeff Fuller
, while he'll retain his most productive receiver,
Ryan Swope
.
Defensively, the Aggies will lose top talents like four-year starting safety Trent Hunter. Cornerbacks Coryell Judie and Terrence Frederick will be gone. Defensive linemen Tony Jerod-Eddie and Eddie Brown will say goodbye, too.
Sumlin will have to adjust his wide-open passing attack at Houston that shredded Conference USA defenses to life among speedier, more instinctive SEC defenses.
He'll have the resources at Texas A&M, which built some recruiting momentum under Mike Sherman and will welcome a top-10 recruiting class in 2012 to some of the best facilities around.
Sherman proved that facilities and lots of talent don't equal wins. The Aggies were 1-5 in games decided by less than a touchdown in 2011.
Sumlin will set out to prove he's the right guy to fix that number and lots of others.
It won't be easy.
October, 29, 2011
10/29/11
2:28
PM ET
Texas A&M went 22 quarters without forcing a turnover this season, which stretched from the first quarter of a season-opening win over SMU to the fourth quarter of a win over Baylor two weeks ago.
It grabbed another pick last week against Iowa State, but somehow, a fumble recovery eluded them all season.
The slump is over now. Missouri running back
Henry Josey
fumbled in the red zone, and the Aggies defensive back Terrence Frederick recovered,
helping Texas A&M's lead stay at 28-17
.
Entering today's game, Texas A&M had forced just five turnovers. Only Kansas and Minnesota (4) had forced fewer. This, despite leading the nation with 28 sacks.
That's a second huge stop for this defense, which held the Tigers to a field goal at the end of the first half, and forced a three-and-out to open the second half.
There have been plenty of frustrating moments for defensive coordinator Tim DeRuyter, but today's been well-stocked with bright spots, and the Aggies have benefited.
October, 10, 2011
10/10/11
11:30
AM ET
By
ESPN.com staff
| ESPN.com
The Big 12 has named its players of the week for Week 6.
OFFENSE
Landry Jones, QB, Oklahoma:
Jones threw for 367 yards and three touchdowns on 31-of-50 passing, including all three scores and 305 yards coming in the first half of the Sooners' 55-17 win over Texas.
DEFENSE
Jamell Fleming, CB, Oklahoma:
Fleming made 13 tackles (11 solo), including two of the Sooners' 17 tackles for loss. He also forced and recovered a fumble, returning it 56 yards for a touchdown.
SPECIAL TEAMS
Dustin Harris, CB, Texas A&M:
Harris blocked a field goal that Texas A&M's Terrance Frederick returned for a touchdown in the Aggies' 45-40 win over Texas A&M. He also made two tackles.
September, 23, 2011
9/23/11
10:30
AM ET
We spent a few minutes with No. 7 Oklahoma State quarterback
Brandon Weeden
on Thursday, and today, it's time for a look at the other side of Saturday's big game: No. 8 Texas A&M.
Aggies receiver
Jeff Fuller
spoke to ESPN.com for a few minutes this week.
David Ubben: What do you remember most about last year's game?
[+] Enlarge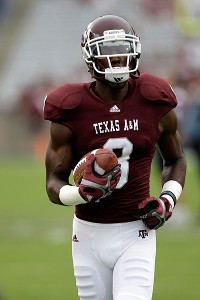 AP Photo/David J. PhillipTexas A&M wide receiver Jeff Fuller says beating Oklahoma State "would be huge."
Jeff Fuller:
That we lost, for sure. Last year was a tough loss with a lot of turnovers. Oklahoma State's a great team, but I feel like there's a lot of things we could have done ourselves to perfect our game dramatically so we could have less turnovers and things like that that would have given us a better chance to win the ball game.
What are you expecting from the crowd in a game like this?
Oh, man. I expect the 12th Man to be out there loud and proud like they are every game. This is the first time we've had two top 10 teams playing at Kyle Field [since 1975] and it's going to be a wonderful venue and we're just looking forward to going out there and playing my best.
What's the environment like inside the facilities in a week like this?
Everything is real tight. Every day we're in meetings and everybody is really engaged. Coach [Mike] Sherman keeps on harping on us to not beat ourselves, so it's just kind of staying on top of the little things, the details to kind of perfect everything so we'll be ready to play on Saturday.
Is this the most experienced team you guys have had in College Station?
I think so. We came in here with Coach Sherman, all of us. Tony Jerod-Eddie, Trent Hunter, Terrance Frederick. We're all Coach Sherman's guys and he kind of brought us up in his system and I think we started like, I don't even know how many freshmen, but I know we started more freshmen than anybody in college football my sophomore year, so we were young. That class is now seniors, and those freshmen are now juniors, and it's really exciting to see guys getting better and perfect things, all the little things, all the small details to make ourselves really a complete team.
Where does that experience pay off most on the field?
It pays off everywhere. Hopefully, we'll do a little bit better job of holding on to the football, we'll do a better job of just not turning the ball over and getting those small details right. Not miss one play and just get a lot of snaps.
What do you feel like a win in this game would mean to the program and fan base?
Being 3-0 would be huge. It would be a huge victory for us. The first two games, we had Idaho and SMU, two great teams, but they were nonconference games, but this is where it really counts. We're just trying to head into this game and try to put another victory on the board.
September, 4, 2011
9/04/11
7:50
PM ET
COLLEGE STATION, Texas -- The anticipation for the season was perhaps at an all-time high in College Station, following a summer of longing for the SEC.
It helps when a top 10 team is coming back for the fall, too.
Early on, you couldn't ask for a better start. Safety Steven Campbell intercepted a pass tipped by Terrence Frederick and returned it a winding 51 yards down to the SMU six-yard line.
Texas A&M fans welcomed back a bulked up
Christine Michael
with a touchdown on his first carry of the season, a four-yard score to put the Aggies up 7-0.
With Michael back, Texas A&M's offense can do a whole lot more, including a fearsome formation with
Cyrus Gray
and Michael flanking quarterback
Ryan Tannehill
, a new wrinkle in the offense already.
A&M used it in the red zone to score, and I'm betting we see plenty more before the night is over.
August, 16, 2011
8/16/11
9:00
AM ET
Enjoyed my visit to College Station, which featured quite a bit of things, including a scrimmage on Monday morning. Here are a few notes and thoughts:


Cornerback Terrance Frederick had one of the plays of the day, stepping in front of a Ryan Tannehill pass to the sidelines and returning the interception for what would have been an easy touchdown -- had coaches not blown the play dead once Frederick was clear. "It was just a bad decision. We've been talking about banging that smash [route] all week, and just made a bad decision and threw it out there," Tannehill said.
I'm consistently struck by how physical Texas A&M plays everywhere on the field. They were in full pads, but Oklahoma is the only team that might be more physical than the Aggies the past two seasons, and we saw who won the battle up front when those two teams played in 2010. If A&M does end up in the SEC, that will serve them well, versus some of the other spread teams in the Big 12 that don't have a downhill running game anywhere near as powerful as Texas A&M or a front seven that is tougher.
Christine Michael had a ridiculous 20-plus yard run on a draw play that featured a pump fake from Tannehill. He made three or four guys miss before bowling over the defender that did tackle him. "Man, let's go eat!" Michael yelled once he was back on his feet. Eat he did. All scrimmage long.
Cyrus Gray and Jeff Fuller sat out, but the impact of receiver Nate Askew was huge. He had a handful of catches, despite a couple drops, and was all over the field. It sounds like he'll be a big part of what Texas A&M does offensively. "He's come a long way. It was a long summer and he put in a lot of work," Tannehill said. "We expect a lot from him this fall just because of how he progressed through the summer. He's continued to play well and it's great to have him out there because it's not much of a step off if he comes in behind Jeff or the other side behind EZ [Uzoma Nwachukwu]. He's a great player, a big target that can move really well, so we're excited about what he can do.
Tannehill says Ryan Swope is Texas A&M's fastest receiver. I had no idea, but I'm not too surprised. I would have probably guessed Kenric McNeal or Nwachukwu.
Hit of the day was easy: Tight end Michael Lamothe was held up by a couple defenders until a darting Steven Jenkins laid a huge hit that anyone near Kyle Field had to have heard, knocking off Lamothe's helmet.
April, 1, 2011
4/01/11
10:30
AM ET
COLLEGE STATION, Texas -- It's tough to plan around which practices I'll get to see when I come to campuses during the spring or preseason camp, but it was a pretty ideal situation at Texas A&M on Wednesday. The team was in full pads, practiced for about an hour and a half, and the vast majority of it was 11-on-11 team drills.
Texas A&M's practices are open to the public, something that's increasingly rare in college football, but there were probably 70-80 fans who made it to the afternoon workout on a gorgeous day for spring football. To my knowledge, the only teams in the new Big 12 that open up spring practice to fans are Texas A&M, Missouri and Baylor.
Additionally, it takes a lot for women's hoops to generate buzz, but there was definitely a bit out at practice. The Aggies beat rival Baylor, featuring arguably the game's biggest star, 6-foot-8 Brittney Griner, in Dallas earlier this week to reach the first Final Four in school history. I'm sure there will be plenty of maroon in the stands in Indianapolis this weekend. (
More on that here
from colleague Mechelle Voepel.)
But back to football.
A few thoughts and observations from practice:
Two guys a bit under the radar who had great days: Receiver
Kenric McNeal
and running back
Ben Malena
. With all the skill-position talent at Texas A&M, both get a bit overshadowed, but Malena, at least for one day, looked every bit as good a runner as the backs ahead of him on the depth chart,
Christine Michael
and
Cyrus Gray
. He has a lot of development to do in things like feeling creases in the line but when he got a chance to get to the second level and let his instincts take over, he was giving the defense fits. He looked solid in the open field.
Additionally, McNeal has a reputation as a shifty slot receiver who works best underneath, but he was stretching the field on Thursday like I hadn't seen from him before. His two longest plays of the year (27 and 32 yards) came late last season, but he had a couple of deep catches in the end zone after slipping past the safeties and bringing it in behind the defense. He got open a few more times, and quarterback
Ryan Tannehill
missed a couple of deep balls to him, but it has to be encouraging for the offense to see him break a few off like that.
Michael looking confident on healed leg
[+] Enlarge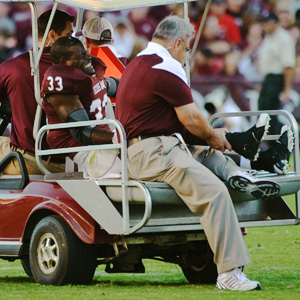 AP Photo/Dave EinselChristine Michael is working his way back from a broken tibia he suffered against Texas Tech.
Michael was one guy I wanted to see, and it was tough to get a read on his mobility -- he didn't get into the open field very much. But one encouraging sign was he didn't look like he was shying away from contact at all. That's exactly what A&M wants to see. Michael brings a mean running style that no other back on the roster can provide. Early in the conference season last year, he was running over plenty of linebackers. He looks like he wants to get back to doing exactly that, and he did it on Thursday, dragging a couple of defenders at times.
I don't think the mental side of returning from the injury will be an issue. He's never been quite as shifty as Cyrus Gray, but he runs with power that you won't find anywhere else in the Big 12, and considering how the rest of the league defended the run during the bowl season -- especially power runners -- the Aggies will once again be glad he's on their team this fall.
Wrecking Crew missing a few members
Diehard A&M fans are surely already aware, but the Aggies' defense is missing quite a few key pieces this spring, especially in the back seven. Defensive backs Terrance Frederick and Coryell Judie are both sidelined after offseason shoulder surgery and linebacker Sean Porter is out with an injury to his left foot from earlier in spring practice.
Lionel Smith is also out for spring ball.
Former Aggies on hand
It's always good to see alums and former coaches on hand for spring practice. Former Aggies linebacker Michael Hodges was milling around the practice field. He's one of just three defensive starters (Von Miller, Lucas Patterson) the Aggies have to replace this spring.
Additionally, former Aggies coach R.C. Slocum was in attendance.