August, 8, 2014
Aug 8
9:17
AM ET
Nobody questions the excellence of Barry Sanders during the 1988 season. The former Oklahoma State running back was a sight to behold during his Heisman-winning campaign, slithering through defenses with relentless consistency and eye-popping production.

One season before, Thurman Thomas was almost as lethal with an OSU decal on his helmet.

Thomas was an Associated Press All-American and Big Eight Offensive Player of the Year, rushing for 1,767 yards and 21 touchdowns in 1987. Yet Sanders' greatness the following season -- he recorded 2,850 rushing yards and 39 TDs in the regular season -- completely overshadowed one of the best seasons in Cowboys history from Thomas the year before.

"There's no question [his greatness was overshadowed]," said former Oklahoma State coach Pat Jones, who coached the duo during the 1987 season. "What Sanders did was so unworldly. This is the only time in the history of college football that two running backs overlapped in their college careers and ended up in Canton. That speaks volumes for how good they were. It's happened one time and we were fortunate to be a part of it."

Thomas averaged 147.2 rushing yards per game and 6.2 yards per carry in 1987 while sharing time with Sanders, and both players earned All-America accolades (Sanders earned All-America honors as a kick returner as a sophomore). Thomas rushed for more than 100 yards in 11 games that season, including 173 against Oklahoma and a 293-yard performance against Iowa State.

"Thurman's true greatness collegiately was overshadowed by the unbelievable year Sanders had in 1988," Jones said.

Thomas remains OSU's leading all-time rusher with 5,001 career yards and 50 touchdowns during four years in Stillwater. And his excellence rubbed off on Sanders, helping to create a foundation for what Sanders accomplished in 1988.

"The most impressive thing about Thomas was how he was on a daily basis," Jones said. "I don't think I've ever been around a more competitive, tougher guy. It helped Sanders' development to be around Thurman. It did Sanders a lot of good; by the time Sanders got going, Thomas was a legitimate All-American. Work habit-wise, maturity-wise, study-wise, all of it. It was invaluable to him to be around that guy, and there never was any animosity between them."

Thomas' 1987 season was overshadowed excellence, but excellence nonetheless.

"He had virtually every honor you could have outside of a Heisman Trophy," Jones said. "A lot of Thomas' stuff has gotten overshadowed just because of the sheer volume of what Sanders accomplished.

"The bust in Canton totally validates what [Thomas] was."
August, 8, 2014
Aug 8
9:16
AM ET
Somewhere on a playground -- probably in Texas -- there are kids arguing about whose father was the better football player.
"My dad was better than your dad."
"No, my dad was
obviously
better than your dad. If Coach woulda put him in in the fourth quarter, he would've been a state champion. No doubt. No doubt in my mind."
Barry J. Sanders was never one of those kids, but if he was the argument would have ended pretty quickly: "1988."
ESPN.com readers voted this week
and determined it was that year in which Sanders' father, the elder Barry Sanders, turned in the best season in college football history. There were plenty of good options to choose from -- including Vince Young's 2005 season at Texas, which was the other finalist -- but the whole time there was only one common-sense choice.
Pops isn't one to talk much publicly about that season -- it's just not his style. But with his son, who is now fighting for playing time in a crowded Stanford backfield, he's surely spoken at length about the year Dad won the Heisman Trophy, right?
"Not directly, no," the younger Sanders said this week.
Of course, that doesn't mean he hasn't gone out and done his own research. He's watched plenty of highlight tapes and read up on it as best he could.
When asked what he knows about that season, Sanders was quick to rattle off his father's accomplishments, one after the next.
"I know that he broke or set 38 NCAA records that year," Sanders said with pride. "And he had something like 2,600 yards, not including the bowl game and almost 2,900 and 40-plus touchdowns including that bowl game.
"Incomparable year to any other running back in the history of the game."
And there was really no need to limit it to just running backs.
Sanders said the football discussions he has with his father, a College and Pro Football Hall of Famer, are more about how he should have fun playing the game. They talk about competing and about what he learned from his experiences.
Coincidentally, 1988 also was the final year of a four-year stretch in which Willie Shaw, the father of Stanford coach David Shaw, was on the coaching staff for the Detroit Lions. The following year, the Lions made Sanders the No. 3 overall pick in the NFL draft and Shaw moved on to Stanford, where he was named the Cardinal's defensive coordinator.
August, 7, 2014
Aug 7
3:00
PM ET
This week, we've been focusing the players who delivered the best individual seasons in college football history.
Today, Vince Young and Barry Sanders are squaring off in the finals of our greatest season bracket. (You can vote for either by clicking
here
).
While some old-school stars like TCU QB Davey O'Brien
made the list
, the majority of players highlighted for delivering the best season at their school in ESPN.com's The Season played after 1960.
But there were some big-time seasons that came before 1960. Here are a few of the best that came from Big 12 schools:
Bobby Layne, QB, Texas (1947):
Layne notoriously liked to have a good time off the field, but he was lethal on it. He finished sixth in the Heisman voting in 1947 and was a consensus All-American after leading the Longhorns to a 10-1 record, including a win over Alabama in the Sugar Bowl.
Tommy McDonald, HB, Oklahoma (1956):
McDonald led the '56 Sooners in passing, rushing and receiving and might have won the Heisman had teammate Jerry Tubbs not split the vote with him. With McDonald leading the way, the Sooners won the national championship as part of their famed 47-game winning streak.
Sammy Baugh, QB, TCU (1936):
Baugh finished fourth in the Heisman voting after completing 50 percent of his passes and throwing 12 touchdowns. He would go on to have one of the most decorated careers in NFL history with the
Washington Redskins
.
Jerry Tubbs, C/LB, Oklahoma (1956):
Tubbs became the first Sooner to win the prestigious Walter Camp Award. Despite playing center and linebacker, he also finished fourth in the Heisman voting.
Bob Fenimore, RB, Oklahoma A&M (1945):
Before Barry Sanders and Thurman Thomas, there was Bob Fenimore. The "Blonde Bomber" led the nation in rushing in 194, and finished third in the Heisman voting behind only Army's "Mr. Inside" (Doc Blanchard) and "Mr. Outside" (Glenn Davis).
Billy Vessels, RB, Oklahoma (1952):
Vessels became the first Sooner to capture the Heisman Trophy. He scored 18 touchdowns and rushed for 1,000 yards at the advent of Bud Wilkinson's Oklahoma dynasty.
Ray Evans, HB, Kansas (1942):
Evans led the nation in passing in 1942 and once owned the NCAA record of 60 passes attempted without an interception. After the war, he came back to Kansas to star for the Jayhawks again in football and basketball.
Jack Crain, RB/DB, Texas (1940):
Crain helped resurrect the Texas program under coach Dana X. Bible. The "Nocona Nugget" was the first Longhorn to show up in the top 10 of the Heisman voting.
Larry Isbell, QB, Baylor (1951):
Isbell was an All-American in football and in baseball. He led the Bears to the Orange Bowl and placed seventh in the Heisman voting.
Dwight Nichols, QB, Iowa State (1959):
Nichols became the first Cyclone to place in the top 10 of the Heisman voting. He finished his career as the all-time Big Seven leading rusher.
August, 7, 2014
Aug 7
1:20
PM ET
The nation believes a pair of players from Big 12 programs delivered the best seasons in college football history.
Now it's time to decide who was
the
best. Oklahoma State running back Barry Sanders in 1988? Or Texas quarterback Vince Young in 2005?
Sanders broke 34 NCAA records on his way to rushing for 2,850 yards and 44 touchdowns. Young quarterbacked the Longhorns to their first national title in 35 years, dashing for the game-winning touchdown on fourth down in the national championship game.
But who had the best season?
Vote
here
in the final matchup of The Season to decide.
August, 6, 2014
Aug 6
3:00
PM ET
Offensive players dominated the list of top individual seasons at Big 12 schools in ESPN.com's The Season, with Texas' Vince Young and Oklahoma State's Barry Sanders
advancing to Wednesday's semifinal round.
Kansas cornerback Aqib Talib is the lone Big 12-era defender who landed on the list as an honorable mention for the Jayhawks. Talib earned consensus All-American honors while helping the Jayhawks go 11-1, including a 24-21 win over Virginia Tech in the Orange Bowl in 2007.
Several Big 12 defenders have had stellar seasons since the conference was born in 1996. Here's a look at other exceptional individual seasons for defenders during the Big 12 era.
[+] Enlarge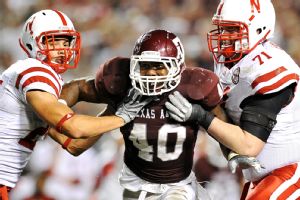 Patrick Green/Icon SMIVon Miller was too much to handle in 2009, posting 17 sacks.
Lawrence Flugence, Texas Tech linebacker, 2002:
The sheer numbers land Flugence a spot on this list. He had 193 total tackles, including 124 solo stops in 14 games during the 2002 season. The Mike Leach-led Red Raiders finished 9-5 with Flugence anchoring the defense and Kliff Kingsbury triggering the offense.
Derrick Johnson, Texas linebacker, 2004:
The Big 12 Defensive Player of the Year and Butkus Award winner, Johnson made plays from sideline to sideline for the Longhorns during the 2004 season. He finished with 130 tackles (70 solo stops), including 19 tackles for loss, eight pass breakups, nine forced fumbles and two sacks.
Curtis Lofton, Oklahoma linebacker, 2007:
Lofton was exceptional during the 2007 season, earning All-American and Big 12 Defensive Player of the Year honors. He had 157 tackles including 10.5 tackles for loss, four forced fumbles and three interceptions in 14 games for the Sooners. He was the anchor of a defense that allowed 20.3 points per game and 4.98 yards per play as OU finished 11-2 with a Big 12 championship.
Von Miller, Texas A&M defensive end, 2009:
The future NFL Pro Bowler was relentless and dominant during the 2007 season. He finished with 17 sacks, 21.5 tackles for loss and four forced fumbles in 13 games. He accounted for 47.2 percent of the Aggies' sack total (36) during a 6-7 season. His 17 sacks remain the highest single season total in the Big 12 era.
Terence Newman, Kansas State cornerback, 2002:
Newman was a nightmare for opponents during the 2002 season, locking down receivers on defense and putting fear into the hearts of defenders on special teams and offense. He won the Thorpe Award and was named Big 12 Defensive Player of the Year. Even as offenses avoided him, Newman finished with 44 tackles, 14 pass breakups and five interceptions.
Shaun Rogers, Texas defensive tackle, 1999:
The junior was a disruptive force in the middle for the Longhorns, finishing with 27 tackles for loss, the highest total from any Big 12 defender since the conference was born in 1996. He joined teammate Casey Hampton to give UT the Big 12's top defensive tackle duo that season.
Ndamukong Suh, Nebraska defensive tackle, 2009:
The Big 12 Defensive Player of the Year, Suh's 2009 season was second to none during the Big 12 era. Offenses focused on keeping Suh from dominating games yet he still dominated on his way to becoming a Heisman Trophy finalist, Lombardi Award and a lengthy list of individual accolades. He finished with 85 tackles including 24 for loss and 12 sacks.
Earl Thomas, Texas safety, 2009:
Thomas proved he was NFL ready with a incredible redshirt sophomore campaign. He was a finalist for the Jim Thorpe Award while earning all-american honors with 77 tackles, five tackles for loss, 16 pass breakups and eight interceptions. He helped UT finish No. 1 nationally in interceptions (35) and forced turnovers (37).
Roy Williams, Oklahoma defensive back, 2001:
The Jim Thorpe Award winner, Williams left a lasting legacy with his "Superman" play against Texas in the Red River Rivalry, forcing a Chris Simms' fumble that sealed an OU win. He finished with 107 tackles including 14 tackles for loss, 22 pass breakups and five interceptions.
Grant Wistrom, Nebraska defensive end, 1997:
He had a stellar 1996 season but his 1997 campaign should be considered even better. As the returning Big 12 defensive player of the year, Wistrom had 8.5 sacks and 17 tackles for loss and 25 quarterback hurries on his way to Big 12 Defensive Player of the Year honors for the second straight season. He also earned the Lombardi Trophy in 1997.
August, 5, 2014
Aug 5
3:00
PM ET
Determining the greatest individual performances for ESPN.com's new series
The Season
was, in all honestly, not too difficult for many FBS schools.

Picking Oklahoma State's best, for example, could not have been easier. Same with Baylor and Texas Tech. But Texas presented a bit of a challenge.
After much research and debate, Vince Young's 2005 campaign was ultimately selected to represent the Longhorns. In fact, Young's national championship year earned the No. 6 spot in the 16-man bracket to determine the very best of The Season.
But there were a handful of other Texas players legitimately worthy of consideration. Was VY the right choice? Be sure to vote in this poll, especially if you disagree.
A rundown of the résumés for a few more Longhorns we debated for The Season:
RB Earl Campbell, 1977:
Won the Heisman Trophy after rushing for 1,744 yards (breaking UT and Southwest Conference records) and 18 touchdowns. Campbell led the Longhorns to a perfect 11-0 regular season and was All-America in every sense, leading the NCAA in rushing, scoring and all-purpose yards. He eclipsed 100 rushing yards in 10 games and put up 222 yards and three scores in the regular-season finale against Texas A&M. The Tyler Rose had the superior career, but was this season by itself better than Young's best?
RB Ricky Williams, 1998:
Won the Heisman Trophy and set 21 NCAA records by dashing for 2,124 yards and 27 TDs. Williams led the nation in rushing for a second straight season, broke Tony Dorsett's 22-year-old NCAA all-time rushing record with 6,279 career yards and became the first two-time winner of the Doak Walker Award -- all in Mack Brown's first season at Texas. He snapped Nebraska's 47-game home win streak with a 150-yard performance and became the first to surpass 300 rushing yards twice in one season.
QB Colt McCoy, 2008:
He guided Texas to the BCS title game in 2009, but McCoy's 2008 campaign was more impressive, especially statistically. The Heisman Trophy runner-up threw for 3,859 yards and 34 TDs with just eight INTs and completed an NCAA-record 76.7 percent of his passes. He also led the Longhorns in rushing (561 yards, 11 TDs) and broke Young's single-season record for total yardage along with school records for passing yards, TDs and passer rating. Texas went 12-1 and capped McCoy's junior year with a win over Ohio State in the Fiesta Bowl.
QB James Street, 1969:
The numbers would not wow today's audience, but Street was a big-time playmaker who led Texas to a perfect season and a national championship. He finished with 699 passing yards and three TDs plus 412 yards and five rushing TDs, but he won't be remembered for those stats. He'll go down in Longhorn lore for his fourth-down pass completion to seal No. 1 Texas' comeback victory over No. 2 Arkansas in the Game of the Century. He went on to beat No. 9 Notre Dame for the title and went 20-0 as Texas' starting quarterback.
August, 4, 2014
Aug 4
3:00
PM ET
This week, ESPN.com has launched The Season -- a project we've been working on the last month. After diligent research and debate, we have compiled who we think produced the greatest individual season for every FBS school, including the Big 12 programs.
Brandon, Max and I had a hand in putting together the list for the Big 12.
Nine of the 10 that ultimately made the list were the players I pushed for (I actually had Michael Bishop over Darren Sproles for Kansas State, for reasons I'll detail below).
You can read the list
here
. But here's a snapshot of the Big 12 players who delivered the season above all others.
Baylor: Robert Griffin III, QB, 2011
My take:
This one was easy. Mike Singletary was a great player. But Griffin's 2011 season transformed the program, which will culminate with the opening of McLane Stadium later this month.
Iowa State: Troy Davis, RB, 1996
My take:
Only Barry Sanders, Kevin Smith and Marcus Allen have rushed for more yards in a season than Davis. The only Iowa State season that comes close was Davis' 1995 season in which he rushed for 2,010 yards.
Kansas: Gale Sayers, RB, 1963
My take:
Sayers' 1964 season was magnificent, too, when the "Kansas Comet" led the Jayhawks to a 15-14 upset over Oklahoma. How monumental was that win? Kansas has defeated the Sooners only six times since.
Kansas State: Darren Sproles, RB, 2003
My take:
Sproles was fabulous player and had a fabulous season. But Bishop had the Manhattan Miracle one game away from the national championship game. He also finished second in the Heisman voting.
Oklahoma: Lee Roy Selmon, DE, 1975
My take:
With so many great seasons to consider, Oklahoma was one of the toughest programs to sift through. But as good as Billy Sims, Adrian Peterson, Sam Bradford and Tommy McDonald were, none dominated the way Selmon did. He was the heart and soul of the Sooners' dominating run through the mid-1970s.
Oklahoma State: Barry Sanders, RB, 1988
My take:
Forget college football. Sanders' 1988 season was one of the greatest in the history of sports.
Texas: Vince Young, QB, 2005
My take:
Earl Campbell had the better career and was the better player. But Young had the better single season in 2005, strapping the Longhorns to his shoulders and carrying them to the school's first national title in 35 years.
TCU: Davey O'Brien, QB/DB/P/K, 1938
My take:
How loaded was TCU at quarterback in 1935? O'Brien actually backed up Sammy Baugh, who would go on to the Pro Football Hall of Fame.
Texas Tech: Michael Crabtree, WR, 2007
My take:
Though the numbers weren't anywhere as good, I actually pushed for Crabtree's '08 season. But it's hard to argue against 134 receptions, 1,962 receiving yards and 22 touchdowns.
West Virginia: Major Harris, QB, 1988
My take:
The Mountaineers have enjoyed some remarkably talented players offensively in recent years in Pat White, Tavon Austin and Geno Smith. But none took West Virginia as far as Harris did.
Both Young and Sanders are in the playoff for the best season overall. You can vote for both by clicking
here
.