February, 11, 2013
2/11/13
10:00
AM ET
Colleague Jake Trotter
ran down some big surprises and busts in the Big 12 recruiting class
of 2008 last week, but let's take a closer look at the class of 2009 this morning.
We'll take a look at the top half of the Big 12 now, and the bottom half later today.
Baylor
Best surprise: OL Danny Watkins (British Columbia)
The Canadian firefighter was new to football, but Baylor gave him a shot after a strong juco career in Canada. How did Watkins repay them? He was a productive two-year starter at left tackle who the Philadelphia Eagles made a first-round pick in the 2011 NFL draft.
Biggest bust: WR Skyler Scott (Lancaster, Texas)
Scott, the nation's No. 53 receiver and the class' No. 3 overall signee, was arrested on gun possession charges in early 2010 and had little impact for the Bears.
Iowa State
Best surprise: LB A.J. Klein (Kimberly, Wisc.)
Klein was the nation's No. 116 linebacker and more highly rated than just four of Iowa State's four-year signees. He matured into a strong three-year starter and won the Big 12's Defensive Player of the Year Award in 2011.
Biggest bust: OL Aaron Moore (Frisco, Texas)
Moore was the class' top signee and the nation's No. 41 offensive tackle. He redshirted his freshman year, played three games in 2010 and left the team the following spring.
Kansas
Best surprise:
CB Tyler Patmon (Cedar Park, Texas)
Patmon left the team in December, so it's hard to really laud him too much as a Jayhawk, but you can't ignore his contributions, despite being unranked at his position coming out of high school. He redshirted in 2009 but was a three-year starter in the secondary and one of the better players for KU's struggling defense in each of those seasons. He had three interceptions in 2012.
Biggest bust: LB Prinz Kande (Euless, Texas)
Kande was the class' top signee, but has yet to make a big impact heading into his senior season. He's been a reserve on the Jayhawks defense before finally emerging to make his first start last season in a loss to Rice. In that loss, though, he suffered a season-ending injury. He's had fewer tackles in every season since taking the field at KU.
Kansas State
Best surprise: S Ty Zimmerman (Junction City, Kan.)
Zimmerman was unranked coming out of high school but made an immediate impact and earned Freshman All-American honors in 2010 after redshirting. He's been a starter since and was one of three K-State defenders with five interceptions this season.
Biggest bust: S Thomas Ferguson (Grand Prairie, Texas)
Ferguson was the class' highest-ranked signee and was the nation's No. 23 safety but failed to notch double-digit tackles in any season on campus. He played in six games this year and had just six tackles.
Oklahoma
Best surprise:
OT Lane Johnson (Groveton, Texas)
Johnson was a junior college quarterback who moved to tight end and came to Oklahoma where he promptly put on almost 40 pounds and became a tackle after a stop at defensive end in 2010, too. He earned All-Big 12 honors in 2012 and now has earned some hype as a possible first-round pick for the Sooners in April.
Biggest bust: DE Justin Chaisson (Las Vegas, Nev.)
Chaisson was one of a handful of players who signed with the Sooners out of Las Vegas, joining players like
Ryan Reynolds
and DeMarco Murray for the Sooners. Chaisson was plagued by legal issues, though, and the nation's No. 8 defensive end and No. 100 player overall in the class left the team before the 2010 season after redshirting in 2009.
May, 9, 2012
5/09/12
9:00
AM ET
2011 overall record:
10-3
2011 conference record:
7-2
Returning starters:
Offense 9; defense 7; P/K (2)
Top returners:

QB
Collin Klein
, RB
John Hubert
, LB
Arthur Brown
, CB
Nigel Malone
, WR
Tyler Lockett
, LB
Tre Walker
, WR
Chris Harper
Key losses:
CB
David Garrett
, LB Emmanuel Lamur, S Tysyn Hartman, DL Ray Kibble, DE
Jordan Voelker
2011 statistical leaders (*returners)
Rushing:
Collin Klein* (1,141 yards)
Passing:
Collin Klein* (1,918 yards)
Receiving:
Chris Harper* (547 yards)
Tackles:
Arthur Brown* (101)
Sacks:
Meshak Williams
* (7)
Interceptions:
Nigel Malone* (7)
Spring answers
1. Filling the void left behind by Garrett:
David Garrett was one of the biggest playmakers for the K-State defense, but
Allen Chapman
seems to have locked down the assignment of replacing him in 2012. The California juco transfer broke up four passes last year and returned his only interception 60 yards for a touchdown. K-State's secondary should be solid.
Kip Daily
will also help out at corner.
2. Collin Klein can chuck it:
You have to take into account that Klein did it against second-teamers and that the quarterbacks have put up big numbers in spring games, but his 47-of-56, 480-yard performance is encouraging. He won't do that during the fall, but it's a good sign that Klein's improvement was obvious in the one practice fans or media were allowed to see.
3. Lockett returns:
Tyler Lockett was the most explosive talent on an offense mostly devoid of home run threats, but a lacerated kidney ended his 2011 season early. Lockett returned and practiced this spring, but reportedly had another minor injury before the spring game, depriving us of a chance to see him back in action. Still, it sounds like he'll be back in the fall.
Fall questions
1. Can Kansas State validate its surprising 2011?
The Wildcats memorably won eight games in 2011 by a touchdown or less, ascending to a second-place finish in the Big 12 after being picked to finish eighth. Advanced college football statistics suggest K-State is due for a regression in 2012, but this is Bill Snyder we're talking about. His team will be better in 2012. Can its record improve, too? Klein must remain healthy after leading the Big 12 in carries last season.
2. Who's filling in for Tysyn Hartman?
Hartman had loads of experience and was one of the most intelligent players on the team. The Wildcats don't have many question marks, but who replaces Hartman is one. They'll still have competition between
Thomas Ferguson
,
Randall Evans
and
Jarard Milo
this fall to win the job.
3. What will the offensive line look like?
Kansas State was the Big 12's most physical team in 2011 because of their strong offensive line. K-State loses three starters, and there's no doubt that if there's one thing that derails K-State in the fall, it's the new faces on the line. B.J. Finney is a stud at center, and
Nick Puetz
is solid, but the other three spots on the line didn't sound like they were sewn up by the end of spring.
July, 14, 2011
7/14/11
9:00
AM ET
We'll move on to the cornerbacks today in our position rankings across the Big 12.
Here's what we've covered so far:
This group? Well, it's not very good. And considering the crazy depth in the Big 12 at receiver, it could be a long season for cornerbacks in this league. I love the upside of many of the Big 12 corners -- namely the guys at Missouri and Texas Tech (especially working with Chad Glasgow's 4-2-5 in Lubbock). Texas could also develop fast in its new defense, but outside of Texas A&M and Oklahoma, I don't see any Big 12 teams that should be completely comfortable with their cornerbacks.
Of course, for fans who love points, this could be a welcome development. For secondary coaches and defensive coordinators? Not so much.
[+] Enlarge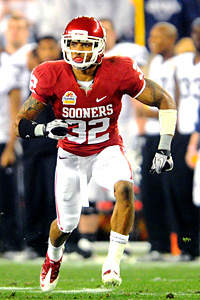 Mark J. Rebilas/US PresswireJamell Fleming returns as the Big 12's top cornerback.
1. Oklahoma
-- Jamell Fleming is the Big 12's top returner at the position and gives the Sooners a huge boost after being reinstated last week. Fleming had withdrawn from the university because of academic problems following the season. Aaron Colvin moved to safety during the offseason, but Fleming will still have to beat out Gabe Lynn in fall camp to start opposite Demontre Hurst. Julian Wilson also adds depth.
2. Texas A&M
-- Fleming's return pushed the Sooners over A&M as having the Big 12's best group of corners. But Coryell Judie and Terrence Frederick could both challenge for first team All-Big 12 honors at the position. They are ahead of reserves Dustin Harris and Lionel Smith, who will get plenty of time on the field.
3. Missouri
-- Missouri loses starters Carl Gettis and Kevin Rutland, but the coaches consider Kip Edwards a returning starter because of how much he played last season. Edwards could join E.J. Gaines in eventually becoming better than both Gettis and Rutland. Trey Hobson and Robert Steeples will get time in the rotation, too.
4. Oklahoma State --
OSU has to replace the Big 12's interception leader Andrew McGee , but Brodrick Brown's development should continue. He's likely a dark horse to earn first-team All-Big 12 honors after the season. The Cowboys didn't release a post-spring depth chart, but don't be surprised if return specialist Justin Gilbert edges out Devin Hedgepeth for the starting spot before the opener. Andrae May has earned playing time on special teams in both of his first two seasons on campus, but could be counted on for a much bigger role this year as the fourth corner.
5. Texas --
The Longhorns are fairly decimated at corner after losing three to the NFL in one offseason. Curtis and Chykie Brown joined Aaron Williams for one of the most talented sets of corners we've seen in this league, but now, secondary coach Duane Akina will have to replace them. Texas' depth chart is still as in flux as any in college football, but I'd be surprised if Carrington Byndom didn't emerge with a starting spot. True freshman Quandre Diggs might swipe the other, but A.J. White will be on the field, too.
6. Texas Tech --
The Red Raiders are likely to ascend this list by season's end, but for now, find themselves at No. 6. Injuries were costly for the defense last season, but Tre Porter and Derrick Mays should be much better, and Tech fans can be encouraged by the upside in Jarvis Phillips, Jeremy Reynolds and Eugene Neboh.
7. Iowa State --
This group might be a bit underrated, but with Iowa State's defensive problems last season, it's a bit hard to tell. Jeremy Reeves and Leonard Johnson return with loads of experience, and Anthony Young is a great additional piece as the third corner. Matthew Thomas should be in the rotation, too.
8. Baylor --
The Bears return both starters. Chance Casey has 15 career starts to Tyler Stephenson's four, but the Bears secondary struggled last season, especially the corners. Tuswani Copeland should be on the field under new coordinator Phil Bennett, whose work is cut out for him at this spot.
9. Kansas --
Kansas loses Chris Harris from last season's team, but Isiah Barfield is a playmaker at the position. Greg Brown, Tyler Patmon and Anthony Davis fill out the group.
10. Kansas State
-- The Wildcats have a huge talent in David Garrett, who led the team in tackles last season and was the nation's leader in tackles for loss, but he's still just one player at a position that needs lots of depth in this league. Also, his coverage leaves a bit to be desired. For now, K-State doesn't look like it has that necessary depth. Terrance Sweeney and Stephen Harrison are gone, but the Wildcats need to find more talents at the position in fall camp. Watch for Thomas Ferguson to emerge as the other starter.
August, 27, 2009
8/27/09
3:36
PM ET
By
Tim Griffin
| ESPN.com
Posted by ESPN.com's Tim Griffin

We're headed down to the final week of camp as two-deep rosters are getting set for next weekend's openers across the conference.

A collection of talented freshmen have emerged at Big 12 programs so far in training camp. Here's a look at one newcomer to remember from each Big 12 team as
we head into the start of the season.


Baylor: Imposing 6-foot-6 freshman wide receiver Willie Jefferson has already played his way into the Bears' rotation at receiver. He's shown a knack for making acrobatic, leaping catches and has made a quick connection with Robert Griffin in the Bears' offense.


Colorado: Freshman defensive end Forrest West is mature enough physically to compete for playing time immediately from early in the season. Coaches rave about his quick learning abilities and his physical skill. They think he can position himself into the rotation early in the season.


Iowa State: Freshman middle linebacker A.J. Klein, who turned 18 in July, has already turned heads because of his physical play and knack for roaming from sideline to sideline for tackles. He's now No. 2 on the Cyclones' depth chart behind starter Jesse Smith and should see playing time from early in the season.


Kansas: Coach Mark Mangino has already said that freshman wide receiver Bradley McDougald performed better than any freshman he's had in his program. The converted defensive back is already earning snaps at wide receiver -- improving the Jayhawks in speed and talent at an already stacked position.


Kansas State: Freshman cornerback Thomas Ferguson has been an early producer at workouts and has a good chance to see playing time immediately because of the new 4-2-5 defensive alignment favored by coordinators Chris Cosh and Vic Koenning.


Missouri: Freshman running back Kendial Lawrence will get immediately playing time, despite the stacked roster in front of him with Derrick Washington and De'Vion Moore. Lawrence can provide a speedy element for the Tigers to be looking for after rushing for 2,679 yards and scoring 43 touchdowns last season as a high school senior.


Nebraska: Freshman I-back Rex Burkhead, who was impressive early and has kept getting better. With Quentin Castille being kicked off the team, Burkhead now is the No. 2 I-back on the roster behind starter Roy Helu Jr.


Oklahoma: Freshman cornerback DeMontre Hurst has emerged as one of the surprises at camp. Hurst had two interceptions at the Sooners' recent scrimmage and should have had another.


Oklahoma State: Freshman safety Daytawion Lowe, who has shown well at several recent practices despite playing one of the team's deepest positions. Lowe will play in the Cowboys' defensive rotation.


Texas: Freshman quarterback Garrett Gilbert has staked his claim for the backup position behind Colt McCoy, taking advantage of Sherrod Harris' slow recovery from knee surgery. Look for Gilbert to get playing time this season and position himself for a strong bid for Texas' 2010 starting job.


Texas A&M: Freshman linebacker Sean Porter played a lot with the first-team defense in the Aggies' most recent scrimmage. A&M coaches have been impressed with his speed and athletic ability and he's playing at a position of need for his team.


Texas Tech: Running back Eric Stephens has emerged in the Red Raiders' rotation behind Baron Batch and Harrison Jeffers. Coach Mike Leach has described the 5-foot-8, 185-pound Stephens as "built for combat." Look for him to be used immediately in the running game and also as a kick returner.
February, 4, 2009
2/04/09
6:06
PM ET
By
Tim Griffin
| ESPN.com
Posted by ESPN.com's Tim Griffin
Hoping to add some late punch to his offense, Kansas State coach Bill Snyder was still waiting Wednesday with hopes of attracting key recruits Denard Robinson and Raymond Cotton in a dramatic last-day recruiting bonanza.
Kansas State missed out on both recruits. Robinson, a 6-foot, 180-pounder, was lured to Michigan as coach Rich Rodriguez said he would have a chance to compete at the quarterback job for the Wolverines.
And Mississippi claimed one of several signing day victories by claiming Cotton, a former Auburn recruit who changed his mind after Tommy Tuberville was fired late in the season.
Both players would have been ideal for a Kansas State offense that will be morphing without quarterback Josh Freeman.
The Wildcats attracted three of the nation's top 122 safeties, according to Scouts Inc.'s rankings. Included in the group was Thomas Ferguson of South Grand Prairie (Texas) High School (23rd nationally), lanky Torrell Miller of Walker High School in New Orleans (No. 90) and Joseph Bonugli (No. 122) of San Antonio Warren.
Unlike some of Snyder's previous recruiting classes from earlier in his career, this one was heavily dotted with high school recruits. Only four of the 30 players in Kansas State's 2009 recruiting class are coming from junior colleges.
Eleven different states are represented, headed by six Oklahoma players, five from Texas and four from Kansas.