March, 28, 2013
3/28/13
9:00
AM ET
Roughly 90 percent of college football programs would be thrilled to win 10 games in a season. Oklahoma is not one of those programs.
Sharing a Big 12 title? That trophy is a whole lot less satisfying when there are seven others waiting in the trophy case since 2000 that weren't shared with anybody.
"Our expectations are different than everybody else. Everybody's not Oklahoma," defensive coordinator Mike Stoops said. "When you have Oklahoma across your chest, you expect to win championships, and that's never going to change here."
He knows firsthand. Stoops helped his brother, coach Bob Stoops, win Oklahoma's seventh national title back in 2000, and the Sooners came up short two more times, once losing in the title game with Mike Stoops in 2003 and again a year later with Stoops coaching at Arizona. Without him coordinating the defense, the Sooners gave up 55 points to USC, more points than any team has ever scored in the BCS National Championship Game.
Arizona fired Mike Stoops six games into the 2011 season, and the Sooners' struggling defense needed an offseason jolt, despite winning 10 games that same season. Mike Stoops returned and brought assistant Tim Kish with him to coach linebackers and help coordinate the defense.
"Sometimes change is good, new ideas are good always, and change is good sometimes," Mike Stoops said. "That happens for whatever reason, and whether it's complacency or just being stagnant, those things occur. Just trying to reinvent ourselves is something we need to do."
In 2012, there were more late-season defensive struggles after a strong start, but yet again, a 10-win season and a shared Big 12 title weren't enough. Losing three games isn't good enough, and nobody wants to hear that all three losses came to teams that spent time in the top five last season. The Sooners want to get back to competing for national titles, and Bob Stoops went the route of coaching changes to help get Oklahoma back there.
Assistant coaches Jackie Shipp and Bruce Kittle were shown the door, along with offensive line coach James Patton. The Sooners scooped up Bill Bedenbaugh from West Virginia to replace Patton and brought in Jerry Montgomery from Michigan to coach the defensive line. Jay Boulware filled Kittle's spot on the staff after coaching tight ends at Auburn. The Sooners' reboot was complete, and they're working toward results in the spring.
"[They bring] a new perspective in some areas, new ideas. They're not drastic changes," Mike Stoops said. "Obviously, the coaches we had in here were involved and knew our systems well, but there's always little changes in technique and little things schematically that can help you, so we're always looking for fresh ideas."
Ten wins tastes bitter when you're used to winning 11 or 12, which can be the difference between proving yourself as a very good team and a great team. Oklahoma won at least 12 games six times since 2000 and 11 games on three more occasions. Ten wins isn't good enough, and a few former players and one famed coach were more than willing to speak up about it, echoing fan concerns.
Barry Switzer started it in September when he told one local paper that the Sooners "just don't have the talent."
"We're not as good as we have been," Switzer said. "We don't have the Tommie Harrises or Gerald McCoys squatting down there in the middle [of the defensive line]."
Offensive lineman Jammal Brown, an All-American who played in Norman from 2000 to '04, said he was "mad as hell" about the Sooners' 28-point Cotton Bowl loss to Texas A&M to cap the 10-win season, calling the Sooners "soft." CBS analyst Spencer Tillman, a Sooners running back in the '80s, said Oklahoma lost concentration on what made the program great in the first place.
Considering the Sooners let Shipp go at the end of the season, it's hard to believe Bob Stoops didn't agree in part with what Switzer had to say. As for the rest of it?
"We may not be as skilled at some of the positions as we want to be, but our toughness and pride is what made Oklahoma what it is, whether it was Bud Wilkinson or Barry Switzer or Bob Stoops, I think that's the common thread that goes to being a great team," Mike Stoops said.
"Some of those, from the outside, may have felt like we didn't have that common thread between us. I never felt that; I always thought our teams played hard and together. They're certainly entitled to their opinions, you know. We've got to look at ourselves, and if it's true, we need to change it. The things we needed to change, we're working on changing, and nobody knows our program like we do.
"There's areas we certainly need to get better at, and we're aware of those. Some of those take time. Some of those take adjustments each day to get better."
The Sooners lose a four-year starter at quarterback in
Landry Jones
from last year's team, along with seven starters from Mike Stoops' defense. The task of winning more than 10 games seems difficult in a Big 12 that's deeper than it has ever been.
"We just need to get better, again, individually and schematically and play better across the board and come up with better ideas and a better scheme. We're not far off when you look at the big picture," Mike Stoops said. "We had a chance to win 12 games, we lost them all late in the game and down the stretch and didn't make the plays we needed to, but again, we're not that far off."
April, 4, 2012
4/04/12
10:30
AM ET
NORMAN, Okla. -- Expect plenty from Oklahoma in the days and weeks to come, but here's a few spare notes and thoughts from my time on campus Tuesday.
The hype machine shows no signs of slowing around incoming receiver Trey Metoyer. Coach Bob Stoops said the incoming freshman "absolutely" could start for the Sooners; co-offensive coordinator Jay Norvell, who coaches receivers, laughed when he was asked if Metoyer could start. Look for more on him from SoonerNation soon. Metoyer will be a big piece for the Sooners. The 6-foot-2, 185-pounder is speedy with great hands and jumping ability, a rare combo. Oklahoma needs a big, productive receiver, and Metoyer's proving early on that he could have the same kind of impact as a freshman that Kenny Stills did in 2010, when he broke the school's freshman record for receiving yards, with 786.
Trey Millard's best known for his work at fullback, but he's earned the nickname "Slash" from Stoops for his work at tight end, H-back and tailback, too. "I don't even know how he remembers it all, but he does," Stoops said. New defensive coaches Mike Stoops and Tim Kish have told stoops on multiple occasions that Millard "may be the best player on the team." His role reminds me a bit of Brody Eldridge's during the injury-plagued 2009 season. Eldridge was mostly a tight end, but played some fullback and about every position on the offensive line -- despite being just 260 pounds -- for the Sooners. You heard similar praise thrown his way.
Dominique Whaley was the team's top rusher a year ago before his season ended with a fractured ankle. Stoops called Whaley's progress to this point "very encouraging," adding he didn't know how exactly to quantify the senior-to-be's healing process from the injury.
What does Norvell think about younger receivers having to compete with a possible impact player in Metoyer? "That's Oklahoma," he said. Despite having four inches on the elder receiver Trey Franks, it's Metoyer who's earned the nickname "Little Trey." Such is life as a young gun. "That's how it goes," laughed fellow receiver Stills.
Stills also opened up about life after losing team leader Ryan Broyles, the FBS career leader in receptions. Stills' production slowed and the whole receiving corps suddenly started dropping passes as the Sooners lost two of their final three regular-season games. "Everything without Ryan was hard. I feel like everybody saw that," Stills said. "I hope that I can go in and step up and make the plays Ryan did."
Coverage wasn't different on Stills, but he was playing an unfamiliar slot position and struggled to maintain his production, much less fill the void Broyles left behind. "I was in a position I'd never played and then it was like, 'Kenny didn't step up,' which was true," he said. "I've got to make the plays when the ball comes to me."
February, 10, 2012
2/10/12
9:00
AM ET
By
ESPN.com staff
| ESPN.com
No Big 12 offseason acquisition had a higher profile than Mike Stoops at Oklahoma.
The former Sooners defensive coordinator returned to Norman after seven-plus seasons as the head coach at Arizona. His entrance precipitated the exit of former coordinator Brent Venables, but all eyes will be on Stoops and his defense this spring.
The new man in charge of Oklahoma's defense took some time out to talk with ESPN.com this week.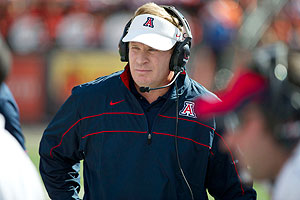 Jim Z. Rider/US PresswireMike Stoops is back at Oklahoma after spending eight years as the head coach at Arizona.
David Ubben:
What have these first few weeks been like?
Mike Stoops:
It's been pretty hectic, trying to get everything organized from recruiting to identifying our players and who they are and what number they are and their personalities and putting the defense together. It just takes time. It's not anything you can rush. You have to be as patient as you can. Trying to find a place you can live, find a place to get your haircut, you know, all those things. It can be a little bit painstaking at first, but it gets a little bit better, and I think in any transition, there's going to be a bit of an unstable period, but my familiarity with being here before will help considerably.
DU:
What's changed about this program since you've been gone?
MS:
I think it's grown each year. It's gotten bigger and bigger with wins and tradition. At Oklahoma, that's going to happen. How big the program is right now is probably what's changed the most. How national, really, the program is.
DU:
This program brought in guys from California and Florida recently. Those were maybe more so on the offensive side, but is this team recruiting more nationally now than when you were there?
MS:
I think so. Obviously, Oklahoma and Texas are our home bases, and then from there, we kind of branch off. It's just a national name. Any time you can play for four national championships in four years and have 100-whatever games on, your exposure is just so much different than most schools. Certainly, that enables you to have people identify with Oklahoma more now than ever.
DU:
Brent is gone, but for you, what's goal No. 1 this spring once practice gets started?
MS:
Just putting together the defense and finding out what the players can do. Find something we can hang our hat on and identify an identity for this defense and what we can do, and trying to make it as simple as possible for our guys.
DU:
Who has stuck out to you so far, based on what you've seen from this defense?
MS:
There's players that I identified very early on in the process, guys that will have to be impact players and leaders for us, so I think there's a good core group of those seven guys who return from the starting group last year who will have to be strong leaders on and off the field for us to be successful.
DU:
You attracted so much attention from a lot of programs when you left Arizona, but was Oklahoma always where you wanted to come back to? Or was it a situation where you weighed your options and Oklahoma made the most sense for you?
MS:
The second was probably the one, where you sort of look at your options. The financial part of it is really not -- all these programs were really all strong programs and that part made you feel good, but all the things that Oklahoma brings on and off the field was really what made it the right choice for me.
DU:
So, now that you're back, what kind of timeline did you have in mind for the next step in your career? Did you have one in mind?
MS:
No, not really. Sometimes as a head coach, you sort of miss the intimacy of coaching a group or a big group of players, so I missed that. I stayed pretty close to my brother Mark and Tim Kish, our defensive coordinator we had at Arizona, so I tried to stay involved as much as I could, but I was still the head coach and not the defensive coordinator or the defensive back coach. I'm looking forward to getting back into that more intimate setting of the day-to-day, working with players and strategizing and putting a game plan together.
DU:
What's changed about you since you left Oklahoma?
MS:
I think you understand the head coaches' perspective so much better. People don't realize -- I thought I knew a lot when I left or had a lot of suggestions for Bob -- but until you really sit in that chair and have to make those decisions day in and day out, and you can quantify the stress and the difficulty of those decisions on a day to day basis, it's just continuous. You have to represent a big group of people and a huge organization. There's a lot that goes into that thinking day in and day out. You make so many decisions that may seem pretty minute but are pretty important for that situation. I just understand what the head coaches go through and it makes you more mature, spending those eight years at Arizona.
DU:
This league is so known for offense, that sometimes people don't expect great numbers for defenses. For you, what's the bar for success defensively in this league?
MS:
That era of football -- that train has left the building. You're not going to see that anymore. These are very explosive offenses that really move the football and use all the personnel on the field and utilize every inch of grass that's out there. That's what good teams do; they try to get you in space and let their playmakers make plays. That's why you see so many of those screens, you see those jet sweeps, you see guys spreading the field out just to make you defend sideline to sideline and it takes a lot of pressure off your offensive line, too. So, it's kind of a video-game offense that you see from a lot of these teams week in and week out. We've got to have players who are a little bit different and able to play in space more so than before.
January, 27, 2012
1/27/12
12:22
PM ET
The winds of change are rippling through the University of Oklahoma.
Mike Stoops has returned to run the Sooners' defense and, after 12 years in Norman, Brent Venables has left the program to run Clemson's defense, opening up a spot on the coaching staff for
newly hired linebackers coach Tim Kish
.
Head coach Bob Stoops' decision to hire Kish is another sign of subtle changes at OU. The Sooners are in the midst of expanding their recruiting efforts on both coasts, and Kish's hire is an example of what could be a change in OU's recruiting philosophy.
Here's a closer look at how OU's recruiting has transformed in recent years:
Kish's hire
Kish jumped right into the mix, immediately visiting Arizona standout
Davonte Neal
(Scottsdale, Ariz./Chapparal), a player the Sooners weren't actively recruiting a week ago. Kish's recruiting exploits and West Coast ties fit in perfectly with OU's desire to expand its recruiting efforts into Pac-12 territory. Kish did a terrific job recruiting Arizona and Northern California during his time at Arizona, while also pursuing elite national prospects like current New England Patriots tight end Rob Gronkowski from Pittsburgh.
Regarded as a quality recruiter, Kish should be able to use his Pac-12 region ties to help OU expand even further into the area.
January, 27, 2012
1/27/12
12:00
PM ET
By
ESPN.com staff
| ESPN.com
"We're calling it, 'Not Kenneth.'"
"It's hard not to take that personally, sir."
January, 24, 2012
1/24/12
4:30
PM ET
By
ESPN.com staff
| ESPN.com
Thanks for
all the questions in today's chat
.
Here's
where you can send me more mail
if you didn't get your question answered in the chat.
And time for a few highlights.
mike (WV): best O in B12 next year - including WVU? Does Smith have a shot at the Heisman?

David Ubben: He's got a shot, sure. The Big 12 should be deep next year, though. It's going to tough for Geno to win it. As for the best offense in the Big 12 next year, certainly WVU will be in the mix. Don't overlook OSU or Baylor, too, even with new quarterbacks. I'll lean Oklahoma for now, but we'll see how the spring shakes out.

Kyle (St. Louis): As a Missouri fan we have seen great tight ends in recent memory (rucker, coffman, and now egnew) but there game hasn't translated to the NFL. Do you see egnew making an impact at the next level?

David Ubben: To me, it's all about the fit. Coffman and Rucker didn't land in situations that sort of fit their receiving talents. Ultimately, I think that's what will decide Egnew's fate. I don't know if he'll ever develop into the blocker needed in the NFL, but there's room for receiving tight ends in this league, as we've seen in these playoffs. Why can't Egnew be that kind of guy?

Chris (BCS, TX): Ok Ubbs... Honestly... how bad are my Aggies going to get killed in the SEC... I didn't like the idea from the begining but here we are so what do you think?

David Ubben: Ha. It's a trap! Here's the thing: The West is going to be tough on A&M in the immediate future. The Aggies are young. Finishing 6-6 in 2012 would be a good start. Meanwhile, Missouri is experienced and in a much less difficult division. I could see Mizzou winning 9-10 games in Year One. Over time, A&M should improve a bit, depending on how Sumlin works out. As for Mizzou, sustaining success is going to be a little more difficult.

Candice (Tulsa): If Clint Chelf comes out and plays a lot better than everyone expects him to, do you think OSU could win the Big 12? I'm an optimistic so I would like to think so. Plus, I would like all the haters (ahem, OU and Texas fans) to realize OSU is on the rise, and will be an elite team from here on out. Thoughts?

David Ubben: It's possible. OSU's got a good team coming back. The running backs should allow Chelf's margin of error to be a little bit larger. I'm not betting on it, but like I've written before: The Big 12 is wide open this year. There are easily 6-7 teams who could realistically win the Big 12 this year. Last year, there were only three. OSU's fortunate to be in both groups.

Jamie (Dallas): If Baylor's new stadium gets built in, say, the next 3 seasons, is that a game changer for the Bears in the recruiting field and if re-alignment evers rears its ugly head again?

David Ubben: Yeah, it could be. Realignment seems like it'll be quiet in the Big 12 until 2017 or so, but it can't hurt. More valuable for Baylor than any stadium? Keeping Art Briles.

Jeff (Columbia, MO): Is there any indication on when more information will come out on the WVU v. Big East? Is there still a chance the Big East could hold WVU to the 27 month 'we'll be here in case you change your mind' period?

David Ubben: They're undergoing non-binding mediation in the near future. There's a belief that said mediation could result in a deal that allows WVU to leave early but pay additional damages beyond the $5 million exit fee in the Big East.

danan (albuquerque): is tim kish a good hire for ou

David Ubben: I don't know the guy, but it's always a good thing when you can bring in an experienced guy who's dealt with more responsibilities at other times in his career to come be a position coach.

Ubben For President (Irving, TX): David, Do you think KSU's 10 win season this year was a fluke, or do you think that next year's season will sure up 2011's close wins?... Thanks for keeping me entertained during a slow day at work.!-Jacob

David Ubben: Here's how K-State looks: Was this year a fluke? Yeah, a little bit. The performance in close games (8-1) was insane. But next year, they bring back a TON and will be a better team. They'll have a good shot to win 10 games again. The odds are probably against that happening a little bit, but they'll come close.

Pete (Georgia): Which schools seriously would like to go back to 12 teams?

David Ubben: Not really much momentum to make it happen in the Big 12 for now. I could certainly see that changing in the future.

Tony (Richmond, CA): Who will Mike Gundy lean on to fill the big shoes left by Blackmon's depature to the NFL?

David Ubben: A lot of receivers. Won't be just one guy. Tracy Moore could slide in. Mike Harrison. Josh Stewart. They've got a lot of guys with a lot of potential.
January, 24, 2012
1/24/12
2:39
PM ET
NORMAN, Okla. – Last week, Oklahoma lost an assistant reputed for being a top-notch recruiter. The Sooners, however, are replacing him with a coach with the same reputation.
Former Arizona defensive coordinator Tim Kish has been named OU's next linebackers coach, head coach Bob Stoops announced Tuesday. Kish, 57, will take over for ex-OU defensive coordinator Brent Venables, who last week
accepted a job to be defensive coordinator at Clemson
.
Kish worked with Sooners defensive coordinator Mike Stoops all eight years that Stoops was head coach in Arizona, first as a linebackers coach, then taking over as the primary defensive coordinator before the 2011 season. When Stoops was fired after a 1-5 start, Kish was named interim head coach and guided the Wildcats to a 3-3 finish.
Kish has been in coaching for more than 30 years, with stints in the Big 10, MAC and Ohio high school ranks. He has been one of Arizona's top recruiters, focusing primarily on the California area, where the Sooners have made inroads in recent years. In this upcoming class, OU has secured verbal commitments from wide receiver
Derrick Woods
(Inglewood, Calif.) and tight end
Taylor McNamara
(San Diego).