March, 27, 2013
Mar 27
9:00
AM ET
Turnover is an annual tradition in college football, but with that, teams' strengths and weaknesses constantly shift, too. Today, we'll continue our look at the biggest strengths and weaknesses for each Big 12 team.
Next up: Kansas State.

Strongest position: Offensive line.
K-State already had one of the best offensive lines in the Big 12 last season, posting 42 rushing touchdowns, the most in the Big 12. It also had the fourth-most rushing yards in the league and the fourth highest yards per carry average while giving up just 14 sacks, second-fewest in the Big 12.
I've got bad news for the rest of the Big 12: Just one player from K-State's two-deep on the 2012 offensive line will be gone. Starters B.J. Finney and
Cornelius Lucas
return to headline the unit, flanked by
Cody Whitehair
,
Keenan Taylor
and
Tavon Rooks
.
Boston Stiverson
provided additional depth, but only reserve left guard
Nick Puetz
won't return from the 2012 Big 12 title team.
K-State loses quarterback
Collin Klein
, but the strong play up front should make life easier for running back
John Hubert
, who topped 900 yards rushing in each of the past two seasons, helping K-State win 22 games over that span. New quarterback
Daniel Sams
or Jake Waters will certainly look a little better behind these big guys up front with a lot of experience and even more talent.
Weakest position: Linebacker
On the flip side, no position has been hit harder by the losses from last year's team than linebacker. K-State returns just two starters on defense and no position was hit harder than linebacker.
Tre Walker
will return from a knee injury and should be a leader for the unit, but only one player on the season-ending two deep at all three linebacker positions returns: Junior Jonathan Truman, who was 10th on the team with 25 tackles. Walker's a solid player and was playing well before going down in the middle of the season, but you never really know how guys will look when they come back from knee injuries, especially a position like linebacker that depends so heavily on explosion and change of direction.
K-State will have to fill a whole lot of spots this spring once practice opens next month, and it's clear the task ahead won't be easy for defensive coordinator Tom Hayes and linebackers coach Mike Cox. Guys like
Arthur Brown
don't come around very often, and even replacing solid talents like
Justin Tuggle
and
Jarell Childs
is tougher than you'd think. We'll see how K-State matches up this fall. It's all about finding guys ready to step up and assume a much bigger role on the defense.
More Weak and Strong
.
December, 30, 2012
12/30/12
9:00
AM ET
Arthur Brown
didn't know much about Bill Snyder when he realized he wanted to come home to Kansas after making just 17 tackles in two seasons at Miami. He needed a change of scenery, and he landed in The Little Apple, just about two hours from his hometown of Wichita.
"I really didn't know what to expect. I wasn't quite sure who he was or what he was about," said Brown, a blue-chip recruit who signed with Miami as the nation's No. 1 linebacker in 2008. "I heard a lot of great things about what he'd done for the community of Manhattan and the program itself, so other people's perception of him definitely molded my perception for when I was making that decision to go to Kansas State."
[+] Enlarge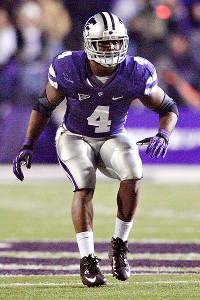 Scott Sewell/US PresswireKansas State linebacker Arthur Brown credits Bill Snyder with showing him how to be an effective leader.
All those people? They were right, and Brown matured from a possible star with a questionable future into the Big 12's Defensive Player of the Year under Snyder's tutelage after deciding the 73-year-old silver fox was the man he'd trust with his final two seasons of college football.
Snyder's not going to make any "Gangnam Style" parody videos any time soon. He's not going to post rap lyrics in the locker room or try any other dated attempts to stay relevant. What keeps Snyder relevant and 18 to 22-year-olds listening to his message is the kind of thing that never goes out of style.
"His character and him understanding the importance and value of investing in young people and giving back," Brown said. "That's what he's all about. He's truly a man of service and that's what he does for this team."
For Brown, he turned a quiet, introspective talent into a leader on one of the Big 12's best defenses, helping lead K-State to the Big 12 title.
"He's a tremendous leader by example. He's not a real vocal guy. In fact, he's really too quiet. I get on him about that, in a good way. I tease him. That's what he would tell you," defensive coordinator Tom Hayes told reporters this week. "When the coaches aren't looking, that's when the team gets better. If your leadership is good, that's where he helps our team. Every time they were working in the weight room, went out in the summer with the offense messing around, he's out there. He's going as fast as he can go all the time."
That wasn't always the case for Brown.
"[Snyder] gave me an opportunity to grow and be a leader on this team, and that was somewhere I struggled, something I was never naturally comfortable with," Brown said. "Him being the leader he is and a great example of how to function as a leader, I had a chance to watch him and he molded me and he shaped me and helped me become a better leader for this team."
Brown's on-field acumen is obvious, and he's certainly seen improvement in his two years (and one redshirt year as a transfer) in Manhattan.
"You watch the tape, and everybody's blocked on your defense, including him, but he gets unblocked fairly quickly. The ball is skirting around the wide part of the field, and here comes Arthur like a blur and makes the play," Hayes said this week. "You go, 'How did he do that?' That's just what he does."
Still, Brown's biggest growth came via the man whose name is on the stadium and helped give Kansas State a rebirth for a second time.
"He's been an influence on me and that's really all of us," Brown said. "A lot of the guys on the team, we truly feel that he is a father or a grandfather figure to us. I can imagine those younger guys coming in and gaining the same perception of coach Snyder. He's just a leader who does a great job relating to young people."
September, 1, 2012
9/01/12
10:56
PM ET
Kansas State gave its fans plenty of reason to be nervous for most of Saturday night's win.


The Wildcats survived close calls against FCS foes Eastern Kentucky and Massachusetts in recent seasons. Opening-night struggles against what should have been overmatched opponents are nothing new.
That was the case Saturday until a 35-point fourth-quarter outburst gave the Wildcats a convincing
51-9 victory
over Missouri State.
Collin Klein
didn't necessarily help or hurt his fledgling Heisman campaign, completing 19 of 28 passes for 169 yards and two touchdowns. Kansas State looks like it's trying to limit the damage done to its workhorse quarterback. He carried the ball 317 times last season, averaging 26.4 per game.
Tonight? Just 12 carries for 59 yards. Bill Snyder's team did what it took to win. The game's biggest highlight? A 95-yard sprint from
John Hubert
, who finished with 152 yards and a score on his 12 carries.
Kansas State hardly outgained the Bears, 493-415, which has to cause plenty of concerns for Tom Hayes' defense, playing its first game under a new coordinator since Chris Cosh left for South Florida.
Still, it's an opening game, and you have to consider this progress from last season, when the Cats needed fourth-quarter heroics to stage a 10-7 comeback win over Eastern Kentucky.
This one had the Cats sweating early, but the end result was pretty, even if three of the final four touchdowns were quick strikes from 95, 89 (
Tramaine Thompson
punt return) and 46 yards out.
It's 1-0 for the Wildcats, and the Cats will prep themselves for a Week 2 date at home against Miami (Fla.).
April, 7, 2011
4/07/11
9:00
AM ET
Schedule:
Kansas State opened spring practice on Wednesday with the first of 15 workouts, concluding with the annual spring game set for April 30.

What's new:
Defensive coordinator Chris Cosh came under fire after the Wildcats' defense struggled for most of 2010, ranking 11th in the Big 12 and 106th nationally in total defense. Coach Bill Snyder kept Cosh, however, and added his son, Sean Snyder, as the special teams coordinator and associate head coach. Snyder, a former K-State punter, had previously served only as director of football operations. The Wildcats also added Tom Hayes as secondary coach, replacing Keith Burns.
On the mend:
None are more notable than receivers
Brodrick Smith
and
Tramaine Thompson
. Smith sufffered a broken leg late in the loss to Nebraska and missed the rest of the season. Thompson, a shifty 5-foot-7, 165-pounder, also suffered a leg injury late in the season. The pair should be among K-State's leading receivers in 2011.
Key battle:
Quarterback. All three springs in Bill Snyder's second term will have featured quarterback competitions. This time around, the key characters include
Collin Klein
,
Sammuel Lamur
and incoming transfer Justin Tuggle, who previously started at Boston College. Quarterback play has been a problem for Kansas State since Josh Freeman took his talents to the NFL, and to compete in the Big 12, the play simply has to be better.
Key battle II:
Defensive line. Prizell Brown and Antonio Felder are both gone and must be replaced. All of Kansas State's top five recruits from the 2011 class were defensive linemen, and it's likely that at least a couple will start or find their way into the rotation.
Breaking out:
Defensive back David Garrett. One of the bright spots of a struggling defense last year, Garrett led the team with 92 tackles and had 15 tackles for loss, which ranked fourth in the Big 12. He broke up nine passes, made three sacks and intercepted a pass. He somehow managed to be left out of the coaches' All-Big 12 team, but he should make plenty of offenses sit up and take notice this year.
Don't forget about:
Defensive end Brandon Harold. He had a quiet season in 2010, making just two sacks and 7.5 tackles for loss as a sophomore. His talent was clear in his freshman season, though, when he had three sacks and 10.5 tackles for loss. He's still a solid end, and could be due for a big year in 2011.
All eyes on:
The Brown Brothers. The Wichita natives will be the story of the spring and, perhaps, the story of the 2011 season. On paper, both sound like possible program changers. Former five-star recruits, both signed with major programs out of high school.
Bryce Brown
, the running back, headed to Tennessee in 2009 and linebacker Arthur Brown went to Miami in 2008. Neither ended up being serious contributors, however, despite the talent showcased in high school. Now, they're back closer to home and hopeful that they'll be integral pieces of the Wildcats' offense and defense.
January, 24, 2011
1/24/11
9:00
AM ET
I'm not sure if Bob Stoops made a list of things he didn't want to see this offseason, but if he did, I'm sure "Having two of my best freshmen get arrested" would be near the top.
Receiver
Kenny Stills
, 19, was arrested on suspicion of driving under the influence early Saturday morning and safety Tony Jefferson was arrested for interfering with the official process shortly after.
Stills started all 14 games for Oklahoma this season and broke teammate
Ryan Broyles
' freshman receiving record after racking up 786 yards and five touchdowns on 61 catches.
Jefferson played mostly nickel back for the Sooners, but earned the Big 12's co-Defensive Freshman of the Year honors after making 65 tackles and two interceptions.
Both were true freshmen who look like budding stars in the Big 12.
When it comes to DUIs, what's really left to say? It was dumb. It was dangerous. Stills is a teenager a few thousand miles away from home out on his own. He's not the first college athlete, freshman or otherwise, to get a DUI. As much as we'd all like him to be, he's also not the last.
Depending on the details surrounding Jefferson's arrest, I'd expect both to receive Stoops' customary one-game suspension and miss next season's opener against Tulsa, but be back for the Sooners' heavyweight fight in Tallahassee against Florida State.
There's no excusing Stills' actions, but you'd hope both young players, going through their first year in Oklahoma after coming from San Diego, learn from their mistakes as we've seen others do.
---
Texas Tech made it official over the weekend: Chad Glasgow, previously of TCU, is its new defensive coordinator, and former graduate assistant Otis Mounds will coach the Red Raiders' cornerbacks.
"It's my goal to bring our defense to a championship level and Chad Glasgow is the right person for the job," Tuberville said in a release. "With his experience and knowledge of the game and recruiting, he will be a great addition to our staff."
Neither is a real surprise, and recent soft commit Marcus Roberson, the nation's No. 9 safety, is Mounds' nephew. That certainly helps Texas Tech's case in keeping Roberson around as part of Tuberville's efforts to infuse an SEC defense into a program best known for being the Big 12-iest offense in the league, a pure spread.
"I've known Otis for over 10 years," Tuberville said. "He is one of the new up-and-coming bright coaches in this business who has had experience at both the high school and college level. He was a big part of our staff last year, and I am glad that we were able to keep him on board."
Roberson told reporters last week that he was "50-50" to sign with the Red Raiders, and visited Florida over the weekend.
It's good for the Red Raiders to finally have a full staff and start making preparations for the spring, but the first payoff could come next week on signing day.
---
Kansas State made a hire of its own, bringing in Tom Hayes to replace Keith Burns as the Wildcats' defensive secondary/safeties coach.
The 29-year veteran joins coach Bill Snyder in Manhattan from Tulane, and also spent time coaching defensive backs for the New Orleans Saints in 2006 and 2007.
"I have known Tom for a long time and admired him not only as a highly competent and successful football coach, but also as a quality person who genuinely cares about young people," Snyder said in a release. "Tom's ability to teach is made evident by the fact that 26 of his collegiate players moved on to the NFL, four of which were Pro Bowl selections, and he has been involved in 13 total bowl games, winning 10 of them."