February, 5, 2010
2/05/10
12:10
PM ET
By
Tim Griffin
| ESPN.com
Former Nebraska running back Roger Craig is among the finalists whose credentials have been studied and analyzed before the new class of the Pro Football Hall of Fame is announced on Saturday.
[+] Enlarge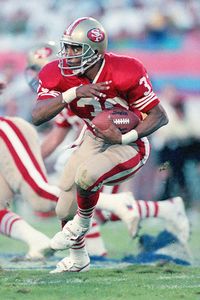 US PresswireDuring an 11 season career, Roger Craig compiled 8,189 rushing yards and 4,911 receiving yards.
Craig is the only product from a Big 12 school among the group of 17 finalists. Others who made the final cut include Tim Brown, Cris Carter, Don Coryell, Dermontti Dawson, Richard Dent, Russ Grimm, Charles Haley, Rickey Jackson, Cortez Kennedy, Dick LeBeau, Floyd Little, John Randle, Andre Reed, Jerry Rice, Shannon Sharpe and Emmitt Smith.
Craig's candidacy appears to be strong. He was a member of three Super Bowl championship teams with the San Francisco 49ers. He was a four-time Pro Bowler who led the league in receptions in 1985 and ranked among the top seven receivers during four consecutive seasons from 1985 to 1988. He also finished in the top 10 in rushing for three straight seasons from 1987 to 1989.
His numbers appear strong, but he likely will be hurt by two "no brainer" selections. Smith and Rice have to be picked in their first seasons of eligibility. Smith was the greatest running back of his generation and Craig pales compared to him. And I'm thinking if voters choose to reward a player from the San Francisco dynasty of the late 1980s, it will be Rice.
The Big 12 is underrepresented in the Pro Football Hall of Fame. There hasn't been an alumnus from the conference selected since Thurman Thomas and Roger Wehrli in 2007.
Here's a look at the Big 12 schools and their alumni chosen for the Pro Football Hall of Fame.
Baylor:
LB Mike Singletary (1998)
Colorado:
None.
Iowa State:
None.
Kansas:
T Mike McCormack (1984), RB John Riggins (1992), RB Gale Sayers (1977).
Kansas State:
None.
Missouri:
CB Roger Wehrli (2007), TE Kellen Winslow (1995).
Nebraska:
T Bob Brown (2004), E/coach Guy Chamberlin (1965), T William "Link" Lyman (1964).
Oklahoma:
QB Troy Aikman (later finished at UCLA/2006), WR Tommy McDonald (1998), DE Lee Roy Selmon (1995).
Oklahoma State:
RB Barry Sanders (2004), RB Thurman Thomas (2007).
Texas:
RB Earl Campbell (1991), DB/coach Tom Landry (1990), QB Bobby Layne (1967), administrator Tex Schramm (1991).
Texas A&M:
DB/P Yale Lary (1979).
Texas Tech:
None.
How about it, readers? Are there any Big 12 products either retired or playing today in the NFL who deserve a slot in Canton for their deeds in the NFL?
I think an argument can definitely be made for Craig and for former players Tommy Nobis (Texas) and Lester Hayes (Texas A&M). I can also see recently retired players like Zach Thomas (Texas Tech) making it one day. And it also wouldn't surprise me to see Adrian Peterson (Oklahoma) and Wes Welker (Texas Tech) there if they can keep progressing in their careers.
What do you think?
January, 21, 2010
1/21/10
11:34
AM ET
By
Tim Griffin
| ESPN.com
Mack Brown revived the glory at Texas in the last decade, claiming at least 10 victories in each of the last nine seasons, including a 25-2 record in the last two seasons. The Longhorns have finished in the top 10 in five of the last six seasons.

Darrell K. Royal/Texas Memorial Stadium now has more than 100,00 seats. The Longhorns have a designated successor for Brown in place with rising star Will Muschamp. And that pesky problem with Bob Stoops has been alleviated recently with four victories in the last five seasons over the Sooners.

Times are good for Brown.

Here's a look at the Longhorns' all-decade team during that time.

OFFENSE

QB: Vince Young

RB: Jamaal Charles

RB: Cedric Benson

WR: Jordan Shipley

WR: Roy Williams

TE: David Thomas

OL: Justin Blalock

OL: Jonathan Scott

OL: Derrick Dockery

OL: Leonard Davis

C: Lyle Sendlein

DEFENSE

DL: Brian Orakpo

DL: Cory Redding

DL: Shaun Rogers

DL: Casey Hampton

LB: Sergio Kindle

LB: Derrick Johnson

LB: Roddrick Muckelroy

DB: Earl Thomas

DB: Michael Huff

DB: Nathan Vasher

DB: Aaron Ross

P: Richmond McGee

K: Hunter Lawrence

KR: Quan Cosby

Offensive player of the decade: QB Vince Young. The most electrifying player of the decade capped his career by scoring the game-winning touchdown to lead his team to the national championship in his final drive. Brown finished with a 30-2 record, 6.040 passing yards and 3,127 rushing yards.

Defensive player of the decade: LB Derrick Johnson. He wasn't around when the Longhorns won the national championship, but was perhaps the best player at his position at the school since Tommy Nobis. He capped his career with the Nagurski and Butkus Awards after earning All-America honors in each of his last two seasons.

Coach of the decade: Mack Brown. Remember when people used to joke about his inability to win big games or how he coddled his players. That all changed as the decade progressed. Brown got tougher and made some astute moves at defensive coordinator to help his program take the next step with the addition of coaches like Gene Chizik and Will Muschamp.

Moment of the decade: Vince Young's run leads comeback victory to the 2005 national championship. Young's game-winning 8-yard TD run with 19 seconds left boosted the Longhorns to a 41-38 victory over USC in the 2006 Rose Bowl, providing the margin of victory in one of the greatest college football games in history. Michael Huff's fourth-down stop of LenDale White on the preceding drive set up Young's heroics to snap the Trojans' 34-game winning streak.
August, 11, 2009
8/11/09
4:43
PM ET
By
Tim Griffin
| ESPN.com
Posted by ESPN.com's Tim Griffin
Oklahoma and Texas played two players apiece on the Outland Trophy watch list released Tuesday by the Football Writers of America.
The Sooners and Longhorns were joined by Florida, Penn State, Alabama, Georgia and USC as the only teams to place two members on the 40-man watch list.
The Big 12 had nine players on the list, trailing only 10 players from the Southeastern Conference. No other conference had more than four.
Here's the list of Big 12 nominees
Baylor C J.D. Walton
Missouri G Kurtis Gregory
Nebraska DT Ndamukong Suh
Oklahoma DT Gerald McCoy
Oklahoma T Trent Williams
Oklahoma State T Russell Okung
Texas T Adam Ulatoski
Texas C Chris Hall
Texas Tech G Brandon Carter
The Outland Trophy, presented annually since 1946, is the third-oldest award in major college football. The winner will be announced on the Home Depot ESPNU College Football Awards Show on Dec. 10 in Lake Buena Vista, Fla.
The Outland Trophy presentation banquet, sponsored by the Greater Omaha Sports Committee, will be held on Jan. 14 in Omaha, Neb.
The Big 12 has had two previous winners in its history with Aaron Taylor of Nebraska in 1997 and Jammal Brown of Oklahoma in 2004.
Among the previous winners from Big 12 schools before the conference was created include Larry Jacobson, Rich Glover, two-time winner Dave Rimington, Dean Steinkuhler, Zach Wiegert, and Will Shields, all of Nebraska; Jim Weatherall, J.D. Roberts, Lee Roy Selmon and Greg Roberts, all of Oklahoma; and Scott Appleton, Tommy Nobis and Brad Shearer, all of Texas.
July, 22, 2009
7/22/09
12:52
PM ET
By
Tim Griffin
| ESPN.com
Posted by ESPN.com's Tim Griffin
I got a chance to watch College Football Live's recent two-day look at the traditions and greatest players and teams from Texas.
Here are the most recent results of the viewers and readers poll taken in conjunction with the visit, which is part of the program's state-by-state tour leading up to the season.
The results of the poll are up-to-date through noon ET on Wednesday. I'm also including my thoughts on the vote.
Which team is the best in state history?
1939 Texas A&M 41 percent
2005 Texas 28 percent
1938 TCU 27 percent
1982 SMU 2 percent
1969 Texas 2 percent
Ballots cast: 2,586 votes.
Right or wrong: Wrong.

My take: It's hard to believe there are too many teams better than the 2005 Texas team. It looks like a lot of voters have read Mickey Herskowitz's fine book about that A&M team, elevating them above the others because of the mystique of being the "greatest generation's greatest team."
Who is the best player to play college football at Texas?
Earl Campbell 55 percent
Vince Young 27 percent
Ricky Williams 7 percent
Bobby Layne 6 percent
Tommy Nobis 5 percent
Ballots cast: 3,622 votes.
Right or wrong: Right.
My take: Hard to argue with "The Tyler Rose" as the best player in the history of the school.
Who is the best player to play college football at Texas A&M?
John David Crow 49 percent
Aaron Glenn 16 percent
Lester Hayes 15 percent
Darren Lewis 10 percent
Johnny Holland 9 percent
Ballots cast: 3,378
Right or wrong: Right.
My take: The school's only Heisman Trophy winner always epitomized to me what an A&M player should be -- tough and determined. But I was surprised that Dat Nguyen, the greatest modern-day defensive player in school history, wasn't included on the list.
Who is the best college player at a school other than Texas or Texas A&M?
LaDainian Tomlinson, TCU, 36 percent
Eric Dickerson, SMU, 22 percent
Sammy Baugh, TCU, 19 percent
Doak Walker, SMU, 17 percent
Davey O'Brien, TCU, 7 percent
Ballots cast: 3,742.
Right or wrong: Wrong.
My take: Even with recent familiarity from watching him, how could voters elevate Tomlinson above three iconic figures in Baugh, Walker and O'Brien who all have trophies named after them? My pick would be Walker, but you can't go wrong with either of the other players.
Which coach is the best in state history?
Darrell Royal, Texas 33 percent
R.C. Slocum, Texas A&M 30 percent
Mack Brown, Texas 17 percent
Dutch Meyer, TCU 11 percent
Bill Yeoman, Houston 8 percent
Ballots cast: 4,055
Right or wrong: Right
My take: The homespun Royal didn't attend college in Texas, but got there as fast as he could after his playing career.

Missouri remains the last of the Big 12 states to be profiled. The show will examine "the Show-Me State" in detail on July 29.
June, 19, 2009
6/19/09
1:26
PM ET
By
Tim Griffin
| ESPN.com
Posted by ESPN.com's Tim Griffin
It's good to be the matchmaker.
Texas has made some noise about wanting to improve its nonconference schedule. And that's even before the Longhorns' Louisiana-Monroe/UTEP/UCF/Wyoming trip through the pastry wagon might bite them in the BCS this season.
Alabama coach Nick Saban checked in with reporters before leaving on vacation. Among the topics he broached was the Crimson Tide's upcoming schedule.
The Crimson Tide have a future home-and-home series with Penn State, Michigan State and Georgia Tech. Saban told the Tuscaloosa News that those are games he "likes to play."
Saban repeated a notion about Alabama's future scheduling, saying it would be exciting for his team to play upcoming matchups against five of the nation's top programs, "including ones that have a history with Alabama." He mentioned five potential targets for those games: Notre Dame, Penn State, Michigan, USC and Texas.
Ah yes, Texas. The Crimson Tide and Longhorns have plenty of history. Remember Tommy Nobis and Joe Namath in the 1965 Orange Bowl? Randy Braband stopping Wilbur Jackson on fourth down in the 1973 Cotton Bowl? Or Russ Wood's four sacks that Texas still overcame to win the 1982 Cotton Bowl?
The Longhorns are 7-0-1 in their history against Alabama. The two teams haven't played during the regular season since 1922.
Saban told reporters that the Crimson Tide would be willing to play at neutral-site games in the future against top opponents, as well as work them into future schedules in home-and-home series.
Texas could either bow to tradition and play at the Cotton Bowl, or opt for megabucks and bells and whistles by playing at Jerry World in Arlington, Texas. Or play the game in Austin.
There's a history between Saban and Mack Brown. Remember what an Internet sensation it was when Saban was coaching the Miami Dolphins and was pictured wearing Longhorns gear during a scouting trip to Austin?
Could that help the two old friends pulling off a scheduling deal?
All of us as football fans can only hope so.
Almost as delicious as the possibility of future Texas-Alabama games are these lunchtime links.
Enjoy them and enjoy Father's Day over the weekend.
March, 19, 2009
3/19/09
1:34
PM ET
By
Tim Griffin
| ESPN.com
Posted by ESPN.com's Tim Griffin
Thanks for squeezing in a few minutes for some lunch links during the basketball games today. Hopefully, these will be more interesting than a couple of early 2-15 blowouts.
Here are some of the more notable Big 12 stories people are talking about.
Enjoy them -- and the basketball games, too.
September, 13, 2008
9/13/08
8:04
AM ET
By
Tim Griffin
| ESPN.com
Posted by ESPN.com's Tim Griffin
BRISTOL, Conn. -- Deep in the heart of the Big East Conference, my mind still wanders back to what is happening in the Big 12.
It was a little hard not to after watching two rare Friday night games. Funny what playing those will do for your national attention, isn't it?
Watching Kansas fritter away a victory in a pulsating game for the ages against South Florida got me started. And it was just as interesting watching Baylor QB Robert Griffin turn my computer screen into his own personal playground against beleaguered Washington State. I couldn't get away from Big 12 football.
There will be more of the same Saturday during my turn in the ESPN studios. Here are a few of the links that caught my attention this morning from back home.
August, 30, 2008
8/30/08
11:48
AM ET
By
Tim Griffin
| ESPN.com
Posted by ESPN.com's Tim Griffin
The first Saturday of football season finally is here. I can't wait.
My enthusiasm couldn't even diminished by a balky wireless system that kept me about three hours behind this morning. Fortunately, the hamsters were rousted and the power restored a few minutes ago. Hopefully, these links to whet your appetite on the first full day of the season will be savored.
Enjoy them and check back throughout the day. I'll have tidbits and information as the conference starts play at 2:30 p.m. CT when Oklahoma State squares off with Washington State in Seattle. That gives you guys most of the morning to catch up on your honey-dos before the games start in earnest.
But remember to read your links first. They are a better hangover cure than menudo, my friends back in San Antonio tell me.
August, 16, 2008
8/16/08
11:58
AM ET
By
Tim Griffin
| ESPN.com
Posted by ESPN.com's Tim Griffin
Few schools have the rich historical base of Texas. And that's why the recent addition at Darrell K. Royal/Texas Memorial Stadium is so neat.
School officials have installed an exhibit in the stadium's north end zone that will list and honor the five retired numbers in the school's football history. Players who have been honored include Vince Young, Ricky Williams, Bobby Layne, Earl Campbell and Tommy Nobis.
Other schools have done this. I always have a fond remembrance of the past when I see Johnny Roland's or Kellen Winslow's number at Faurot Field or Rashaan Salaam at Folsom Field. It's a great way to recall the past.
I'm still waiting for some school to erect its own version of Monument Park like I saw at Yankee Stadium. Walking up to the bronze plaques of Babe Ruth, Lou Gehrig and Mickey Mantle left me with a lump in my throat. And I don't even like the New York Yankees.
Here's hoping that the Texas architects have arranged for these retired numbers to be prominently displayed where it will occasionally be noticeable on television broadcasts and be clear enough for people in the stadium. Because schools need to remember great players and their history.
And hopefully, these links will be as similarly cherished in 50 years.