June, 30, 2011
6/30/11
1:15
PM ET
We'll move on to the safeties today in our position rankings across the Big 12.
Here's what we've covered so far:
The group of safeties across the Big 12 isn't fantastic, without any truly elite groups, but it's decent. There aren't any teams that look really hopeless at the position in the immediate future.
I haven't given it real close examination so far on the positions we haven't covered yet, but this is by far the closest gap between 1-10 of any position so far.
Here's how I ranked them. (Remember, I lumped in nickel backs with linebackers, so Ahmad Dixon and Tony Jefferson won't be found anywhere in this post.)
[+] Enlarge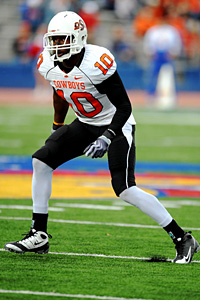 John Rieger/US PRESSWIREOklahoma State's Markelle Martin is the Big 12's best overall safety.
1. Oklahoma State
-- The Cowboys have Markelle Martin, the Big 12's best overall safety who's a big talent but a much better hitter than he is a cover man. Johnny Thomas is solid and both safeties got a lot better as the 2010 season progressed. OSU's depth lands them here, though. Daytawion Lowe could start for a few Big 12 teams and is slightly better than A&M and Texas' reserves, the other two teams with the deepest group of safeties.
2. Texas
-- Blake Gideon takes his share of criticism, a good deal of it fair, but there's a reason he's starting for Texas for a fourth season this fall. He knows what he's doing. Kenny Vaccaro will challenge OSU's Martin, among others, for the title of the Big 12's biggest hitter and Nolan Brewster and Christian Scott are strong reserves at the position. The Longhorns lose a lot at corner, but all the safeties are back from a defense that allowed just over 170 yards a game through the air in conference play last season.
3. Texas A&M
-- The Aggies' Steven Terrell and Trent Hunter are solid, and Hunter is a big playmaker who made 62 stops and picked off two passes last year. Toney Hurd Jr. is the backup and was one of the most impressive freshmen in fall camp last year, joined by Steven Campbell in the rotation.
4. Kansas State
-- Tysyn Hartman has loads of experience and is one of the Wildcats that Bill Snyder loves to rave about. Ty Zimmerman was one of the Big 12's best freshman last year, and picked off three passes. They should be solid again next year, and for as much criticism as K-State's defense faced last year, they were fifth in the Big 12 in pass defense. Logan Dold should be in the rotation, too.
5. Oklahoma
-- Reserve Sam Proctor has starting experience, but Javon Harris and Aaron Colvin enter fall camp as starters. That says plenty about how Bob Stoops and Brent Venables feel about them. In a word: confident. Colvin has the most potential in the group, but the two starters will have to learn on the go. Proctor, a senior, should be able to help. James Haynes will also be in the rotation.
6. Missouri
-- Jasper Simmons is gone, but Missouri's safeties might be a bit underrated in this spot. Kenji Jackson has loads of experience and should be solid, and Tavon Bolden and Matt White are a pair of promising sophomores who should compete at free safety. Kenronte Walker should be in the rotation, too.
7. Texas Tech
-- Injuries were a problem last year for the Tech secondary, but Cody Davis and D.J. Johnson will hold down the traditional safety spots away from the line of scrimmage in new coordinator Chad Glasgow's 4-2-5. The unit gave up lots of big plays in 2010 (151 over 10 yards, 46 over 20, and 25 over 30, all the most in the Big 12), but I'd expect that number to drop under Glasgow if the secondary stays healthy. Davis is the team's leading returning tackler, with 87 stops. Brett Dewhurst and Giorgio Durham should be in the rotation.
8. Kansas
-- Keeston Terry and Bradley McDougald give Kansas a lot of speed and athletic ability at the position, but both of the team's safeties from 2010 graduated and Terry and McDougald are short on experience. Lubbock Smith should add some solid depth to the position.
9. Iowa State
-- Iowa State loses their top playmaker at the position, David Sims, but returns starter Ter'Ran Benton. He'll be helped out by some combination of Jacques Washington, Earl Brooks and Deon Broomfield once the season starts. Iowa State's biggest weakness is on the defensive line, so it's hard to get a good read on how good the safeties really are with such a poor pass rush up front.
10. Baylor
-- This group might move up the list during the year under Phil Bennett, but the two best raw athletes (Ahmad Dixon, Prince Kent) at the position moved to nickel back and linebacker, respectively. The team's leading tackler, Byron Landor, graduated, and that left Mike Hicks as the other starter. He'll be helped out at safety by Sam Holl, Josh Wilson and K.J. Morton. Last year, the Bears ranked last in the Big 12 in pass defense in conference play, giving up over 300 yards a game. That'll have to change or Baylor won't get past seven wins.
February, 1, 2011
2/01/11
1:30
PM ET
ESPN The Magazine had a fascinating feature
looking back at the past 25 No. 1 high school recruits

, where they are now and what the ranking meant to them. With apologies to
Vince Young
, there aren't a ton of Big 12 talents on the list, but there have been plenty of great recruits to come through the Big 12. We took a look on Thursday at
how the All-Big 12 team stacked up as recruits
, and you saw quite a mixed bag.
Well, it's the same for the recruits who came to campus with high rankings and high profiles. Going back to 2006, here's how every Big 12 commit from the ESPNU 150 turned out. We'll eventually get to the current class in 2011, around signing day, but here's how the 2010 class breaks down. This class is only a year into their careers, so while some have shown more potential than others, it's ridiculous to be too discouraged by anyone on this list, or make any truly meaningful judgments.
No. 2: Jackson Jeffcoat, DE, Texas.
Got off to fast start in 2010 before being sidelined and slowed by ankle injury. Finished with 13 tackles, five tackles for loss, 2.5 sacks and one fumble recovery. Only three tackles after season's first four games.
[+] Enlarge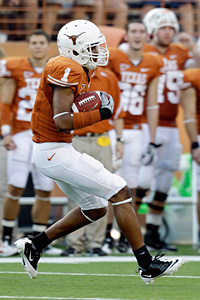 AP Photo/Eric GayTexas freshman wide receiver Mike Davis finished with 47 receptions this past season.
No. 4: Jordan Hicks, LB, Texas.
Ohio prospect chose the Longhorns over in-state power Buckeyes. Played in 11 games, including seven at linebacker. Finished with 21 tackles in first year, including 11 in a win against Nebraska.
No. 13: Mike Davis, WR, Texas.
No catches in the season opener, and missed the Red River Rivalry with an ankle injury, but ranked second on the team with 47 catches for 478 yards and two touchdown catches, tied for most on the team.
No. 14: Taylor Bible, DT, Texas.
Redshirted.
No. 15: Ahmad Dixon, S, Baylor.
Waco native forced a fumble and had 16 tackles.
No. 18: DeMarco Cobbs, ATH, Texas
. Played special teams in 10 games, and appeared at defensive back in one game. Made four tackles.
No. 20: Darius White, WR, Texas.
Played in seven games at wide receiver and one at special teams. Caught one pass for five yards against Florida Atlantic.
No. 21: Tony Jefferson, S, Oklahoma
. Won the starting nickelback job, finishing the season with 65 tackles, two interceptions and two sacks. Named co-Big 12 Defensive Freshman of the Year.
No. 46: Ashton Dorsey, DT, Texas.
Played in seven games, made one tackle.
No. 48: Austin Haywood, TE, Oklahoma.
Appeared in 11 games, mostly on special teams. Made three tackles.
No. 62: Corey Nelson, LB, Oklahoma
. Switched to the Sooners from Texas A&M on Signing Day 2010. Appeared in all 14 games, making 21 tackles, including 2.5 for loss. Blocked a punt vs. A&M.
No. 65: Blake Bell, QB, Oklahoma.
Redshirted.
No. 72: Reggie Wilson, DE, Texas.
Played in 10 games. Made five tackles.
No. 73: Chris Jones, WR, Texas.
Redshirted.
No. 75: Shaun Lewis, LB, Oklahoma State.
Became a starter and made 58 tackles and eight tackles for loss. Intercepted three passes, including two against Oklahoma, returning one for a touchdown. Named co-Big 12 Defensive Freshman of the Year.
No. 77: Quentin Hayes, S, Oklahoma.
Redshirted.
No. 83: Luke Joeckel, OT, Texas A&M.
Enrolled early and was the Aggies' starting left tackle by the spring game. Earned All-Big 12 honorable mention.
No. 86: Tevin Jackson, OLB, Texas.
Kept off the field by eligibility issues and appeal is still pending.
No. 90: Jake Matthews, OT, Texas A&M.
Became Aggies' starting right tackle midway through the season.
No. 114: Aaron Benson, LB, Texas
. Redshirted. Cousin of former Longhorn Cedric Benson.
No. 122: Carrington Byndom, CB, Texas.
Played in 10 games at defensive back and special teams. Made 11 tackles, all solo.
No. 125: Toney Hurd Jr., CB, Texas A&M
. Appeared in 12 games and made nine tackles.
No. 129: Brennan Clay, RB, Oklahoma.
Carted off field as a precaution in win against Florida State and missed next two games. Finished with 127 yards on 36 carries.
No. 134: Adrian Phillips, ATH, Texas.
Played in 10 games, including five at defensive back. Made eight tackles.
No. 141: Trey Hopkins, OG, Texas
. Played in 11 games and made three starts at left guard.
No. 142: Justin McCay, ATH, Oklahoma.
Redshirted.
No. 147: Andrew Rodriguez, OG, Nebraska
. Appeared in five games as a backup left guard, becoming the first true freshman Nebraska lineman to play since 2006.
August, 13, 2010
8/13/10
10:00
AM ET
By
ESPN.com staff
| ESPN.com
You read a little bit about Von Miller, his status as the
conference's best "hybrid" player
(I sense Nebraska's Eric Hagg might disagree soon) and the Aggie defense on Wednesday morning.
But like most stories, plenty didn't quite make it in. Here's the best of what didn't:
Von Miller really is a hybrid football player, but it's probably a good call that Texas A&M limits that to just linebacker and defensive end. Miller says in high school he played every position on the field except for offensive guard and tackle. "I'm telling you, I can play 'em all," he said. That included tight end, running back and wide receiver. "Honestly, I think I should be playing offense if you ask me," he said. "I kind of lost my throwing, but I could throw if I got back into it."
Add kick returner to Miller's list of aspirations. He says he wants to this year, and to be honest, I have no idea how serious he was, even after asking about it three or four times. "I'm pretty optimistic about [me returning kicks]. Me and Coach Sherman have a pretty good relationship. It all depends on what happens," he said. "I'd like to." I'd be very, very surprised if that actually happens, but if it does, I'd pay a lot of money to see it.
Toney Hurd, Jr., has separated himself from the other freshmen early in camp. That's a good sign for an Aggies defense whose struggles in 2009 have been well-publicized. He came to College Station as the nation's No. 11 cornerback and a member of the ESPNU150, and he's made good on that potential early. Texas A&M didn't put on pads until Wednesday, but Hurd's physical play showed up well before then. "Toney Hurd Jr. impressed us with his physical play and overall knowledge. My hat is off to Toney Hurd," Miller said. "From what I've seen, he's way ahead of the pack."
Coordinator Tim DeRuyter shyed away from revealing what teams' defenses he's shown the Aggies to give them an idea of how his version of the 3-4 is all supposed to look and work. But Miller called it a reflection of the Steelers' defense, so if that's the case, that's a pretty good height to try and reach.
Mike Sherman said he could see Miller's numbers dropping from his 16.5 sacks in 2009, but Miller would still be an improved player. With the amount of time Miller sounds like he'll spend in the defensive backfield, that's probably true, but DeRuyter's not so sure. "Going into last year, Von was a little of an unknown quantity. He really exploded early in the year and teams started to account for him later in the year. Going into this season with a lot of notoriety, people are going to gameplan for him. So I think that's part of why his numbers may go down, but I don't see them going down," DeRuyter said. "But to be honest with you, we're not basing our scheme on getting Von 20 sacks. For us to be productive and playing well as a defense, that position plays really well. But the objective is not to get him the sacks. The objective is to get him to run the defense and schemes. The production -- because of his athletic ability -- will come on its own. I'm excited to watch him because I think he's by far the most talented player I've ever coached."
Miller will spend some time rushing or dropping from a three-point stance, but naturally, he somewhat prefers the upright stance after spending his first three years on the field as a traditional linebacker, and he can see the field better, but the only thing that matters to him is his position on the field. "I like being in the corner where I can see and I have a good angle on everything," Miller said. "I just like being in the corner, it doesn't matter if I'm up or down."
February, 4, 2010
2/04/10
2:38
PM ET
By
Tim Griffin
| ESPN.com
Texas A&M Aggies
Total class:
22
ESPN150:
3
By position:
OT 4, DE 4, RB 3, QB 3, DT 2, WR 2, OG 1, ATH 1, CB 1, OLB 1.
By state:
Texas 18, Louisiana 3, Colorado 1.
Already enrolled in school:
4.
The big ones:
Bookends Luke Joeckel and Jake Matthews are two of the nation's top seven offensive tackles with Joeckel ranked sixth and Matthews seventh. They are the kind of players that Coach Mike Sherman can build an offense around for the next few years. And Toney Hurd Jr., who decommitted from Notre Dame after the coaching change, is a ball-hawking cornerback who overcomes his lack of size with spectacular athleticism that helped him become the nation's 11th-rated cornerback.
Sleeper:
WR Malcome Kennedy was overshadowed while playing quarterback on his high school team because of the presence of RB Traylon Shead, a heralded Texas recruit. Kennedy moved to quarterback for his senior season, rushing for 25 touchdowns and 2,357 yards and passing for 1,515 yards and 22 more scores. He actually might be a better fit for the Aggies at safety because of the team's receiving depth. Kennedy had eight interceptions and four fumble recoveries last season along with his monster offensive numbers.
Needs met:
Von Miller will be around for another season at defensive end, but the Aggies still need some help and got it with four players including projected standouts Nehemiah Hicks and Damontre Moore. Sherman is a stickler for depth in the offensive line so it's no surprise the Aggies added four tackles and made it a huge priority. The Aggies also prepared for life without
Jerrod Johnson
by adding Matt Joeckel, Jameill Showers and Clay Honeycutt to battle for the backup job.
Analysis:
The Aggies attracted a solid class that lost a little when Corey Nelson jilted them for Oklahoma and Jarrett Fobbs signed with LSU on the final day of the recruiting season. Sherman thinks that three of his offensive linemen will be contending for playing time next season. Despite the Aggies' struggles on defense and the arrival of new coordinator Tim DeRuyter, this class is heavily skewed with adding offensive help.
What Mike Sherman said:
"We're not recruiting against Timbuktu U. We're recruiting against some pretty dang good universities. We're going to win some and lose some. We don't lose sleep over that, I promise you."
Scouts Inc. grade/rankings:
B, third in Big 12.