February, 21, 2013
2/21/13
1:00
PM ET
We're moving on with a new series today looking at the players across the Big 12 who have to replace program legends. We might as well call this the
Nick Florence
Memorial team, but let's talk
Texas Longhorns
.

Big shoes to fill: Texas' defensive ends
Texas isn't replacing much next season; the Longhorns
bring back 19 starters to lead the Big 12
and tie for the national lead. That's got to bring a smile to Mack Brown's face, but the departing
Alex Okafor
leaves behind a big hole at defensive end following a season with 16.5 tackles for loss and a Big 12-leading 12.5 sacks.
Jackson Jeffcoat
has the opposite end spot locked down, of course, but filling Okafor's role will get really interesting this spring. Senior
Reggie Wilson
contributed each of the past three seasons, made a start in 2012 and may step into that role, but junior
Cedric Reed
started the last six games of the year without Jeffcoat and had 4.5 tackles for loss in the final five games of the season. It seems like he might be the safer bet, but sophomore Torshiro Davis could be a dark horse after burning his redshirt year following Jeffcoat's injury. The Longhorns need production opposite Jeffcoat and have a few solid options to do it, so even with Okafor's absence, Texas has reason to feel solid about this spot heading into the 2013 season.
More big shoes to fill:
January, 1, 2013
1/01/13
2:00
PM ET
The ESPN 150 are the best of the best when it comes to recruits, but how do they really stack up on the field? We check in each season with the freshmen who made an impact and those who didn't in Year 1.
You can
look back on the ESPN 150 in 2012 right here
, but how did the guys who landed in the Big 12 do? So glad you asked.
Also, here's how the last few years of Big 12 ESPN 150 recruits shaped up:
No. 2: Johnathan Gray, RB, Texas:
Took over in midseason as the team's featured running back and led the team with 701 yards and three touchdowns. Had 22 more carries than any other Texas back.
No. 12: Malcom Brown, DT, Texas:
Contributed as a reserve on Texas' strong defensive line. Made 19 tackles and two tackles for loss.
No. 54: Dominique Wheeler, WR, Texas Tech:
Redshirted his first season for Texas Tech's deep receiving corps.
No. 57: Peter Jinkens, OLB, Texas:
Started two games and played in every game this season. Made 27 tackles and three tackles for loss with a sack and an interception.
No. 58: Kennedy Estelle, OL, Texas:
Missed five games with a shoulder injury but contributed as a reserve offensive lineman in three games.
No. 60: Sterling Shepard, WR, Oklahoma
: Was one of the league's most promising freshmen in Year 1. Emerged with a breakout game against Kansas State with seven catches for 108 yards and a score. He finished with 41 catches for 578 yards and three touchdowns.
No. 64: Durron Neal, WR, Oklahoma:
Played sparingly and contributed in nine games. Caught four passes for 62 yards.
No. 70: Alex Ross, RB, Oklahoma:
Redshirted in 2012.
No. 77: Torshiro Davis, LB, Texas:
Goes by "Shiro" now and moved to defensive end. Played in the final six games of Texas' season and made three tackles, one tackle for loss and broke up a pass.
No. 78: Curtis Riser, OG, Texas:
Redshirted in 2012.
No. 79: Bryson Echols, CB, Texas:
Redshirted in 2012.
No. 87: Reginald Davis, WR, Texas Tech
: Redshirted in 2012.
No. 92: Dalton Santos, LB, Texas:
Played in 12 games and made 24 tackles, mostly contributing on special teams. Added 2.5 tackles for loss.
No. 97: Alex Norman, DT, Texas:
Redshirted in 2012.
No. 120: Michael Starts, OT, Texas Tech:
Moved to defensive tackle but played in just three games. Made three tackles with a sack against New Mexico. Missed time because of a blood pressure issue.
No. 126: Dominic Ramacher, LB, Oklahoma State:
Moved to fullback and redshirted in 2012.
No. 130: Connor Brewer, QB, Texas:
Redshirted in 2012.
No. 137: Derrick Woods, WR, Oklahoma:
Redshirted in 2012.
No. 141: Daje Johnson, ATH, Texas:
Speedster made an impact as a big-play threat at running back for Texas. Carried the ball 27 times for 203 yards and a touchdown and caught 19 passes for 287 yards and a score.
No. 147: Cayleb Jones, WR, Texas:
Played in 12 games but caught two passes for 35 yards and carried the ball once for 10 yards.
No. 148: Ty Darlington, OL, Oklahoma:
Earned starts late in the season at center and proved to be a valuable piece of the Sooners' offensive line that provided an opportunity for versatility and ability to move
Gabe Ikard
to guard.
August, 3, 2012
8/03/12
1:45
PM ET
Texas, which had two stepped around the edges of early offers, finally has succumbed to the Siren's song of
getting in the 2014 recruiting game
.
No more waiting until after the current recruiting class' signing day so as not to take away their moment in the spotlight. No more being "approved" for an offer to come in February. No more waiting.
So now it is no holds barred. Texas has entered the fray. With the Longhorns comes a big stick. The Longhorns, long the recruiting bullies of the Lone Star State, have now placed themselves on equal footing with the likes of Texas A&M, Oklahoma, Alabama, LSU and even TCU, Baylor and Oklahoma State.
[+] Enlarge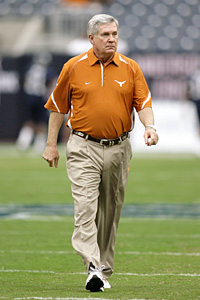 Brett Davis/US PresswireMack Brown and the Longhorns sent out a flurry of 2014 offers on Thursday.
Why it took this long is one part stubbornness and two parts arrogance.
Texas was loathe and slow to get into the early offer game because Mack Brown thought his way was the best way. He had, after all, perfected the art of the early offer back when early was the summer of a prospect's senior year.
The theory in recent years was that by waiting, until at least after a prospect's junior year, Texas was able to more comprehensively evaluate the player and how he might fit into the program. That worked. Until it didn't.
From Aug. 1, 2011 to June 1, 2012, Texas had 18 players transfer or leave the program for one reason or another. So much for that comprehensive evaluation process.
Even as far back as June, Brown seemed to know his old way wasn't working.
"We're the ones that started offering early in the summer of their senior year, and now we're two years late," he said. "… we all reassess everything we do daily. It's something that you just have to continue to look at and continue to do."
Right there Brown proved he was indeed flexible. But still more than a hint of arrogance remained. This is Texas, after all. And Texas did just pull off some late-in-the-recruiting-game switches with
Dalton Santos
,
Torshiro Davis
and
Daje Johnson
.
Success like that may have emboldened the coaching staff and led it to believe that its way was still the right way. Most assuredly the prevailing feeling around the program was that if some other school, say Tennessee or LSU or TCU, offered early, Texas could always come back around and get the guy it wants.
When Texas did miss on a guy, maybe because it wasn't in on the recruiting early enough, it was OK to let the little brothers in the state have a recruit or two.
"Sometimes people panic when you lose a guy," Brown said. "We might have been trying to lose the guy. Maybe we didn't want him. It didn't fit us. In some cases we've moved on long before the public moves on because we can't comment on kids publicly, and they can."
No comment speaks louder than the one Texas has made by
extending offers to the class of 2014
. With that move, the coaching staff is saying it is worried about Kevin Sumlin and Texas A&M, Nick Saban and Alabama, Les Milles and LSU, Art Briles and Baylor and others. Texas is worried because all of those programs have made strides.
In the case of the Aggies the strides might not be on the field. But Sumlin has been dynamic in the recruiting game and alumni-speaking circuit.
Briles has Baylor building a new stadium and has sent more players to the first round of the NFL draft the last two years than Texas –- four for Baylor, zero for Texas.
Now TCU has entered the fray. The facilities aren't there. Neither is the history. But the opportunity is – the Horned Frogs have had 10 drafted to Texas' 14 over the past three years. So, too, is the coaching.
February, 6, 2012
2/06/12
9:00
AM ET
By
ESPN.com staff
| ESPN.com
Readers of this blog know how much I love names.
Whether it be
my most lamented transfer of the 2011 season
or guys, judging by their names, born to play the game, I love it.
As such, we celebrate these on the blog often. And with another recruiting season come and gone, it's time to give a little attention to the best new names in the Big 12.
Here's last year's team
.
We're including Texas A&M, Mizzou, TCU and West Virginia in this post ... because I want to.
Now, for the best new names in the Big 12.
Team MVP:
Lynx Hawthorne, ATH, Baylor:
Known for his cat-like reflexes, I can only assume. Will also assume the role of my new favorite player in the Big 12.
Sterling Shepard, WR, Oklahoma:
Matching consonants are a great start for a great name. But the adjective/noun first name combined with the noun last name, too? Too much, sir. My hat is off.
Eric Striker, S, Oklahoma:
A safety named Striker? Come on, Bob Stoops. Perfection. He narrowly missed my MVP nod.
Ellwood Clement, OT, Kansas State:
Bringing a bit of the blues to The Little Apple. I assume he
plays a mean harmonica
.
Maty Mauk, QB, Missouri:
His
nomenclatorial doppelganger
(I'm slapping a patent on that term) won a national title at LSU, which gives him extra points, and he gets the nod based on the snappy matching consonant, too.
Aiavion Edwards, S, Baylor:
Throw a jump ball in this man's territory at your own risk.
Torshiro Davis, LB, Texas
: I've never heard of anyone named Torshiro, but I love it. He sounds a bit like a bull, which is a great trait for a linebacker. And its uniqueness is offset by the unremarkable last name. It just works.
Zorrell Ezell, DT, Baylor:
He's not
an evil emperor
, but he means business.
Kolby Listenbee, ATH, TCU:
Rumor has it he captures the attention of insects near and far with a mere whisper.
Orion Stewart, ATH, Baylor:
I hear this guy has a belt that is just mesmerizing.
Devlyn Cousin, DT, Iowa State:
Guy is just an absolute terror at family reunions.
Glenn Gronkowski, WR, Kansas State:
A guy named Gronkowski is going to catch passes for a team with one of the game's best coaches? Where
have I heard this before
? Big brother Rob didn't win the Super Bowl this year, but everybody in the family gets to keep the name. I'd say they broke even.
Kennedy Estelle, OT, Texas:
Sounds like a supermodel. Blocks like a big ugly.
Polo Manukainiu, DE, Texas A&M:
I love Pacific Islander names, and this one clearly qualifies. Also, his name is Polo. Outstanding, sir.
Noble Nwachukwu, DE, West Virginia:
Assuming his name is pronounced the same as
the Aggies' receiver
, it looks like he'll bring an additional level of class to the family name, which is pronounced "WATCH-ah-koo."
Halapoulivaati Vaitai, OT, TCU:
I look forward to moving from "butchered" to "serviceable" when it comes to pronouncing his name in the future.
Thierry Nguema, CB, Texas Tech:
Bringing
a bit of European soccer
to the Big 12, which is something I think it's always needed.
To this year's team: Congratulations on the nod. I look forward to seeing you play and hearing your names called often on broadcasts. This was a great group of my absolute favorite names from the new classes.
Any suggestions for this year's recruiting classes that I missed?
February, 2, 2012
2/02/12
10:30
AM ET
We looked at the biggest needs for each team in the Big 12 last week. Now it's time to
see who filled them
.

BAYLOR
Baylor needed a quarterback and defensive tackle, and delivered in both positions.
Javonte Magee
is on the way as the nation's No. 20 tackle, and the Bears grabbed former Kansas commit
Seth Russell
, the nation's No. 47 quarterback, from outside Dallas. The Bears also added the No. 78 defensive tackle,
Zorrell Ezell
, and Joey Sercy from junior college.
IOWA STATE
The Cyclones needed receivers and got them. Two of the team's top four signees are receivers,
P.J. Harris
and
Quan West
. The duo was just outside the top 100 nationally at the position and came from Florida and Texas, respectively.
KANSAS
The raw rankings won't tell you the strength of Kansas' recruiting class. Quarterback has been a huge weakness the past two years, and passers
Dayne Crist
and
Jake Heaps
arrive as transfers from Notre Dame and BYU, respectively. It also fulfilled a need by adding
Tyler Holmes
, the nation's No. 105 tackle.
KANSAS STATE
The biggest need filled for K-State is simple: defensive line. Two of the team's top signees (
Travis Britz
,
Demonte Hood
) are along the line, and the team added two more signees (
Chaquil Reed
,
Wesley Hollingshed
) from the juco ranks.
OKLAHOMA
The Sooners clearly filled their biggest need. The team's top three recruits (
Trey Metoyer
,
Sterling Shepard
,
Durron Neal
) are all receivers, which is huge for a team that found out it wasn't very strong at the position after
Ryan Broyles
' injury. It also added the nation's No. 19 receiver,
Derrick Woods
, to the class.
OKLAHOMA STATE
The Cowboys added a whole lot of volume at receiver. Time will tell how much noise it makes. OSU added six receivers in this class, but none ranked in the top 85 at their position. The team's top recruit,
Dominic Ramacher
, is the nation' No. 3 tight end and will surely be able to catch a few passes.
TEXAS
The Longhorns lost two starters at linebacker, and filled the void extremely well. The nation's No. 1 inside linebacker,
Dalton Santos
, is coming. As is
Peter Jinkens
, the nation's No. 5 outside linebacker, and the No. 12 outside linebacker,
Torshiro Davis
. It also added Tim Cole, the No. 27 outside linebacker and
Alex De La Torre
, the No. 11 inside linebacker.
TCU
The Horned Frogs' top two commits in their top-25 class are both on the defensive line, filling a big need. That includes
Devonte Fields
, an ESPNU 150 signee and the No. 11 defensive end.
Joey Hunt
is the nation's No. 18 defensive tackle. Both hail from Texas. The Horned Frogs also added
James McFarland
and Terell Lathan, two defensive ends in the top 85 at the position.
TEXAS TECH
The Red Raiders got big-time reinforcements at receiver, adding two of the nation's top 15 at the position.
Dominique Wheeler
and
Reginald Davis
are two of Tech's three ESPNU 150 signees in the top-20 class.
February, 2, 2012
2/02/12
9:00
AM ET
National signing day has come and gone, and as with any game week, we'll provide a proper wrap-up of the events of the week. Time to hand out a few superlatives.

Top class: Texas
The Longhorns did what the Longhorns do once again: Dominate a state with a talent pool as rich as any in America. The flagship school in the state of Texas reeled in 12 ESPNU 150 signees, seven more than any school in the Big 12, and finished the day at No. 3 in ESPN Recruiting's class rankings, the only Big 12 team in the top five.

Player you'll see next year: Courtney Gardner, WR, Oklahoma
The Sooners grabbed Gardner, a juco prospect, on signing day after he had been committed to Arkansas. Gardner's physical maturity earned rave reviews. For the Sooners, who need big help at pass-catcher positions, he'll provide a big, versatile target to help replace Ryan Broyles, who left for the NFL and left a big void in the Sooners' lineup when he tore his ACL late in 2011.

Best save: Texas A&M
The Aggies got some semi-expected news early, receiving word that
Bralon Addison
had sent his letter of intent to Oregon. It didn't take A&M long to get over it, though. The nation's No. 18 receiver had left the fold, but later in the day, at a news conference in Dallas broadcast live on ESPNU, the nation's No. 3 receiver pledged to the Aggies. The sweetest part for the Ags: SEC-bound
Thomas Johnson
had previously been committed to Texas, which is badly in need of receivers.

Biggest thieves: Texas
The Longhorns did a little work on the recruiting trail late, too. Eight of the final nine commitments that Texas received were previously committed elsewhere, and Mack Brown's staff flipped four players between Saturday and signing day. The final one came midday on signing day, when LSU-committed, Shreveport-bred
Torshiro Davis
flipped his commitment from LSU and sent Texas his letter of intent.

Future award winner: Johnathan Gray, RB, Texas
You don't become the nation's all-time high school leader in touchdowns scored by accident. Gray is the top overall player headed to a Big 12 school and could do big things in Texas' physical attack. The backfield will be crowded at first, but Gray seems like a can't-miss prospect who could perhaps become another award winner in the backfield for Texas, which hasn't had one since Cedric Benson in 2004.

Program on the rise: Baylor
RG who? Baylor's more than just one player, and Art Briles' staff proved it this year. Baylor brings in a class just outside the national top 25 that's loaded with prospects on the side of the ball the Bears need the most help with: Defense. Linebacker
Brian Nance
and defensive tackle
Javonte Magee
are among the nation's best at their positions.
February, 1, 2012
2/01/12
12:40
PM ET
Texas already had the nation's No. 2 recruiting class. Could they overtake Alabama at No. 1?

The Longhorns grabbed one more ESPNU 150 signee in defensive end
Torshiro Davis
, who had been committed to LSU since Feb. 3, 2011.
Davis (6-foot-3, 220 pounds) is the No. 12 defensive end and No. 77 prospect overall in the ESPNU 150.
From William Wilkerson at HornsNation
:
The Longhorns have long been on Davis' radar because of the relationship he has with Texas defensive tackles coach Bo Davis. The two met at an Alabama summer camp the summer going into Torshiro's sophomore year when Bo Davis was the Crimson Tide's defensive ends coach.

The two have maintained a close bond since then, as Torshiro has always appreciated the straightforward approach Bo Davis has given him.

However, this decision comes as a surprise if you consider that Bo Davis called former Woodlawn coach DeCarlos Holmes to cancel a scheduled in-home visit on Jan. 23.

"He's going to LSU," Holmes told HornsNation. "The coach said they're not going to waste any more time and they're going to let him honor his commitment and basically they're not going to keep trying to beat a dead horse."
So much for that.
A huge pickup for yet another huge class for Texas.
Davis became the fourth player since Saturday to switch his non-binding verbal pledge to Texas.
Dalton Santos
(Van, Texas/Van) switched over from Tennessee.
Daje Johnson
(Pflugerville, Texas/Hendrickson) flipped from TCU and
Bryce Cottrell
(Plano, Texas/West) switched over from Oregon.
The Longhorns now have 12 of the nation's top 150 prospects in their class.
January, 24, 2012
1/24/12
8:46
AM ET
By
ESPN.com staff
| ESPN.com
HornsNation has coverage on the recruiting efforts at Texas:
Max Olson writes

: Vincent Hobbs still waiting on his chance to become a Longhorn
William Wilkerson writes

: Daje Johnson sticking with TCU, cancel UT visit
2013 class

: Jake Raulerson impressed, will attend Texas Junior Day
Olson writes

: Texas cancels visit with LSU commit Torshiro Davis
October, 12, 2011
10/12/11
11:58
AM ET
By
ESPN.com staff
| ESPN.com
William Wilkerson has Texas' needs for its 2013 recruiting class ranked
6-10

and
1-5
.

Carter Strickland writes
: Facing another potent passing game against Oklahoma State, Texas' secondary is focused on fundamentals.
Also from Wilkerson

: Torshiro Davis sets Texas visit.
More from Wilkerson

: LaBradford Barnes' recruiting moving slowly.