January, 24, 2012
1/24/12
9:00
AM ET
Signing day is coming fast. Next Wednesday, the next round of players will sign up for their respective programs and start what could be storied careers.
Here's what each team across the Big 12 needs. You'll find Texas A&M and Mizzou on the SEC blog and West Virginia on the Big East Blog.

BAYLOR
Quarterback:
This one's pretty simple.
Robert Griffin III
is taking his talents to the NFL early.
Nick Florence
is waiting to take over, and the Bears have
Bryce Petty
behind him, but more reinforcements at quarterback are needed. Dual-threat quarterbacks, ideally.
Defensive tackle:
Baylor already was one of the nation's worst teams (102nd nationally) at stopping the run. Now it'll need to replace both its interior linemen,
Nicolas Jean-Baptiste
and
Tracy Robertson
.
Offensive linemen:
Baylor's offensive line, meanwhile, has been solid. It loses junior college transfer and two-year starter
Robert T. Griffin
, as well as All-Big 12 center
Philip Blake
.
John Jones
, a reserve guard, also has exhausted his eligibility.

IOWA STATE
Receiver:
This has been a weak spot for the team for several years, and its top overall talent,
Darius Reynolds
, is gone.
Darius Darks
is, too.
Aaron Horne
and
Josh Lenz
will be the team's best weapons in 2012, but the pair of shifty slot guys will be seniors. This position needs reinforcements.
Defensive back:
The DBs have been a quiet strength for ISU, especially in 2011. Cornerback
Leonard Johnson
and safety
Ter'Ran Benton
both have exhausted their eligibility, though, and defensive backs coach Bobby Elliott left for Notre Dame. You'll see plenty of new faces in the Cyclones' secondary next year.
Defensive line:
Experienced starters
Stephen Ruempolhamer and Jacob Lattimer are both gone, and Iowa State has struggled to stop the run consistently the past few seasons.

KANSAS
Quarterback:
Kansas landed high-profile transfers
Dayne Crist
(Notre Dame) and
Jake Heaps
(BYU), but this is still a huge position of need. Last year's starter,
Jordan Webb
, left the team.
Quinn Mecham
is out of eligibility. Heaps is sitting out his NCAA-mandated year after transferring. Crist is the starter, but he badly needs a backup, especially if
Brock Berglund
's transfer appeal allows him to leave.
Wide receiver:
Kansas lacks a big threat at this position. It needs a talent upgrade in a big way. Oklahoma transfer
Justin McCay
is joining the team, but he's no guarantee to a) be granted immediate eligibility or b) become an impact player.
Defensive tackle:
Kansas is thin here, too. Richard Johnson,
Patrick Dorsey
and
Michael Martinovich
are gone, and Kansas couldn't stop much of anything on defense. Some push up front could help make everything look better. A late addition to the 2012 class from a junior college seems like a no-brainer. The Jayhawks need physically mature players to contribute immediately.

KANSAS STATE
Offensive line:
K-State's offensive line was much better in 2011 and could be again in 2012. It needs help replacing All-Big 12 lineman
Clyde Aufner
, though. Starter
Colten Freeze
is also gone.
Defensive line:
Kansas State is bringing back about as many starters as anyone in the Big 12, but the biggest losses are along the defensive line. Kick-blocking specialist (five in 2011) Ralph Guidry is gone, along with tackle
Ray Kibble
. Juco transfer
Jordan Voelker
exploded onto the scene this year, but he's gone, too.
Defensive backs:
Cornerback
David Garrett
leaves a huge hole behind.
Tysyn Hartman
may not be as talented as teammate
Ty Zimmerman
, but his experience leaves a big hole. Zimmerman will have to mentor a younger safety in the near future.

OKLAHOMA
Receiver:
The Sooners are thin here in a big way. That was obvious late in the season when
Ryan Broyles
' storied college career ended a few weeks early with a knee injury. The team also lost Justin McCay (transfer) to Kansas.
Jaz Reynolds
and
Kenny Stills
are the likely top two targets, but they need help.
Tight end:
This position inspired a bit of panic at the end of the season. Seniors
James Hanna
and
Trent Ratterree
are gone.
Austin Haywood
wasn't allowed back on the team, and two more tight ends left the team for various reasons. That left the Sooners suddenly without a scholarship player at the position returning in 2012.
Offensive line:
Starting tackle
Donald Stephenson
must be replaced, as will guard
Stephen Good
, who moved in and out of the starting lineup throughout his career. The Sooners bring back a lot of talent and aren't dying for depth there, but those two will leave holes. Three more offensive line starters will be seniors in 2012.

OKLAHOMA STATE
Offensive line:
The Cowboys need a whole lot of help here to fill in behind young players stepping into the starting lineup. Starters
Levy Adcock
,
Nick Martinez
and
Grant Garner
are gone. Backup center
Casey LaBrue
is gone, too. Those are two All-Big 12 linemen who leave big shoes to be filled.
Receiver:
Justin Blackmon
surprised no one by leaving a year early, and
Josh Cooper
leaves with perhaps the most underrated career of any receiver in school history. In OSU's offense, there's always room for depth here. Nine receivers had at least 19 catches in 2011. Blackmon and Cooper combined for 192, though.
Defensive ends
: The pass rush was solid for Oklahoma State this year, but both starters,
Jamie Blatnick
and
Richetti Jones
, are gone. Replacing both is a necessity.

TEXAS
Receiver:
Texas lacks a true game-changer at the position, though
Jaxon Shipley
and
Mike Davis
may develop into that role in 2012. Former blue-chip recruit
Darius White
left for Missouri, too.
Quarterback
:
David Ash
and
Case McCoy
didn't show a ton of potential at quarterback this year, though Ash may grow with an offseason to prepare as starter. Garrett Gilbert got a big chunk of the work in the spring, summer 7-on-7 and fall preseason camp. Even if Ash does grow, the Longhorns need reinforcements at the position.
Linebacker:
Two senior impact players are gone. Texas is left trying to replace
Emmanuel Acho
and
Keenan Robinson
, though
Jordan Hicks
may mature into a star in 2012.
TCU
Offensive line:
TCU's offensive line is headed for some major turnover. OT
Robert Deck
, OG
Kyle Dooley
and OG Spencer Thompson are gone. Two more starters, OG
Blaize Foltz
and C
James Fry
, will be seniors in 2012.
Defensive linemen:
TCU isn't losing a lot at this spot, but
Ross Forrest
and
D.J. Yendrey
will be seniors in 2012. The Horned Frogs would be well-served to prepare, and offer some depth next year.
Specialists:
TCU will have to break in a pair of new starters on special teams next season. Kicker
Ross Evans
and punter
Anson Kelton
have exhausted their eligibility.
TEXAS TECH
Receiver:
The Red Raiders' offense requires a lot of depth here.
Tramain Swindall
is the only loss at the position, but three more (
Alex Torres
,
Cornelius Douglas
,
Darrin Moore
) will be seniors. Douglas moved to cornerback this year after the team was racked with injury, but we'll see whether he moves back this offseason.
Offensive line:
Tech has a huge need here. Four players won't be returning in 2012.
Lonnie Edwards
,
Mickey Okafor
and center
Justin Keown
must be replaced.
Defensive linemen:
Tech's
Donald Langley
and
Scott Smith
are both out of eligibility, and juco transfer
Leon Mackey
will be a senior.
December, 31, 2011
12/31/11
1:46
AM ET
TEMPE, Ariz. -- The Sooners took a three-touchdown lead into the fourth quarter, then held on to secure their
third consecutive bowl victory
.


Turning point:
After two fourth-quarter-touchdowns, the Hawkeyes owned the momentum with just over 5 minutes to play. But with the ball at the Iowa 43-yard line, Oklahoma turned to the Belldozer package to convert a crucial third-and-2. Quarterback
Blake Bell
faked the jet sweep to
Kameel Jackson
to the right, then rumbled left off tackle for 7 yards and a first down.
Michael Hunnicutt
capped the drive with a 35-yard field goal to put the game away.
Player of the game:
OU cornerback Jamell Fleming made himself some money, blanketing All-Big Ten wideout
Marvin McNutt
all night. McNutt was limited to just four catches for 46 yards despite numerous passes thrown his direction. Fleming also picked off a
James Vandenberg
pass in the first quarter and returned it to the Iowa 5 to set up OU's first score. Fleming finished with seven tackles and three pass breakups.
Unsung hero of the game:
OU punter
Tress Way
kept the field position in the Sooners' favor all night. He tied an Insight Bowl record with a 67-yard punt from inside the OU 5-yard line. Way finished the night with a 50.3 average on six punts.
Stat of the game:
With a 3-yard touchdown pass to tight end
Trent Ratterree
in the third quarter,
Landry Jones
snapped a streak of 15 consecutive quarters without a touchdown pass. Jones had been stuck on 28 touchdown passes since the Texas A&M game on Nov. 5, when leading receiver
Ryan Broyles
suffered a season-ending knee injury.
What it means:
It wasn't pretty, especially on offense, but the Sooners prevailed to take a little momentum into the offseason after a disappointing end to the regular season. OU should be a, if not the, favorite to win the Big 12 next season.
November, 26, 2011
11/26/11
3:23
PM ET
Oklahoma won. That's done with.


The
26-6 final score
over the Cyclones is convincing enough not to raise eyebrows. It should, though.
The Sooners suffocated Iowa State's offense, perhaps aided a bit by wind ,and quarterback
Jared Barnett
never consistently found receivers. The defensive miscues and poor safety play that plagued the Sooners against Baylor last week was gone, but Iowa State has nothing close to what Baylor has at its skill positions. Still, the defense was impressive.
But the offense?
It's clear this offense misses
Ryan Broyles
, and today, missed receiver
Jaz Reynolds
, too. Reynolds was suspended for a violation of team rules, and had a banged up shoulder from last week's loss to the Bears.
Landry Jones
' most reliable and most-often open target is gone, and against the Cyclones, it showed.
Jones finished 22-of-43 for 253 yards and no touchdown passes for the second consecutive game. His first interception? A ball thrown well enough to have been caught, but tipped up on a drop by
Kameel Jackson
and intercepted by ISU safety Ter'Ran Benton.
Why was Jackson playing? Because he had to. No Broyles and no Reynolds means the Sooners must dig deeper into the depth chart.
His second interception came on a pass intended for
Trent Ratterree
but CB Jeremy Reeves didn't clear out on an in route by
Dejuan Miller
and snatched an easy interception.
Who would have thought that missing the all-time FBS leader in receptions could leave a gaping hole in a passing offense. Oh, everyone? OK.
Backup quarterback
Blake Bell
's played well in short yardage situations and punched in eight touchdowns in three games for the Sooners.
It's clear Jones misses Broyles and against Oklahoma State next week, the Sooners will have to put up points. Iowa State's defense is improving, but Oklahoma State's defense is better. Make the same kinds of mistakes against Oklahoma State next week with a Big 12 title in the balance and the eight-year run of in-state dominance is over for the Sooners.
Reynolds will likely be back. That'll help.
But Oklahoma State has the offensive weapons to stretch the defense and force the offense to make plays. Turn the ball over three times in the second half next week like the Sooners did today and that's a near certainty. The defense forced four turnovers but the offense turned them into just nine points.
It was an ugly day. The defense might be capable of carrying the Sooners next week, but life would be easier if the Sooners offense made sure we all didn't find out.
If that's going to happen, there's plenty of work to do before next Saturday in Stillwater.
August, 11, 2011
8/11/11
11:00
AM ET
We talk about it constantly and haphazardly throw players on it, but here's your official 2011 All-Name team, courtesy of yours truly.
Any player on a current roster, regardless of role on the team, is eligible.
The only requirement: Your name must be awesome, for any number of reasons.
OFFENSE
QB:
Steele Jantz, Iowa State
RB:
Mister Jones
, Texas A&M
RB:
Brandon Bourbon
, Kansas
FB:
Joel Ossom, Oklahoma
WR:
Uzoma Nwachukwu
, Texas A&M
WR:
Jaz Reynolds
, Oklahoma
TE:
Trent Ratterree
, Oklahoma
OL:
Trevor Marrongelli, Kansas
OL:
Kelechi Osemele, Iowa State
OL:
Austin Wuebbels, Missouri
OL:
Spencer Drango, Baylor
OL:
Manese Foketi, Kansas State
DEFENSE
DL:
Stephen Ruempolhamer, Iowa State
DL:
Nicolas Jean-Baptiste, Baylor
DL:
Pearlie Graves, Texas Tech
DL:
James Castleman, Oklahoma State
LB:
Toben Opurum
, Kansas
LB:
Tom Wort, Oklahoma
LB:
Cqulin Hubert, Texas Tech
DB:
Quandre Diggs, Texas
DB:
Terrance Bullitt, Texas Tech
DB:
Happiness Osunde, Texas Tech (formerly Junior Osunde)
DB:
Sawyer Vest, Texas Tech
SPECIALISTS

K:
Bobby Stonebraker, Oklahoma State
P:
Michael Reichenstein, Oklahoma State
Any snubs? Who's the MVP?
March, 28, 2011
3/28/11
4:00
PM ET
It was a factor in putting Oklahoma State's
Brandon Weeden
over
Landry Jones
on list of the Big 12's best players of 2010, and it's been a topic of conversation since Jones took over as the Sooners' starting quarterback last season: Just how valuable are the short throws to Jones and the Sooners' offensive success?
This email nearly made it in last week's Mailbag, but I saved it for its own post and did a little homework.
Matt in Norman wrote:
"In the debate between Weeden and Jones, you keep bringing up the fact that jones through lots of swing passes to murray and broyles. But you bring no statistics. We all know he did, but was it really enough to be used in your argument? At least have some statistics to compare the two. You work at ESPN, use your resources."
Well, Matt, ask and you shall receive. (See chart at right). Unfortunately, because they had a pair of untelevised games, the statistics for Oklahoma State were unavailable, but ESPN Stats and Info was able to put together Jones' statistics for throws at or behind the line of scrimmage.
We'll have to keep the Weeden/Jones comparisons set aside for now, but it's pretty obvious how important the short passing game is to the Sooners.
Jones finished with 4,718 yards and 38 touchdowns on 405-of-617 passing, more attempts and more completions than any player in college football.
But like I've said, those numbers are inflated. Screens -- but really, more so swing passes -- are an extension of the run game, more reflective of receivers' blocking skill than Jones' passing skill. That's not to say Jones doesn't make throws that hit his receivers in stride to keep the play flowing, but it is to say his gaudy numbers come with plenty of help from other places.
Of Jones' total production, here's how much came on passes behind the line of scrimmage:
Attempts: 27.4 percent

Completions: 35.1 percent

Yards: 19.1 percent

Touchdowns: 13.2 percent

Interceptions: 16.7 percent
[+] Enlarge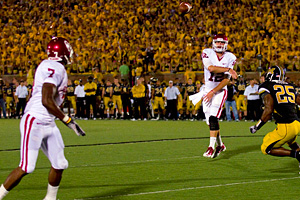 Scott Rovak/US PresswireMany of the completions by Oklahoma's Landry Jones come on short throws to his playmakers.
It was pretty clear that Oklahoma had two outstanding playmakers in
DeMarco Murray
and
Ryan Broyles
who could make a whole lot happen with the ball in their hands. Jones is clearly an excellent passer, but Oklahoma's offense was built around getting them the ball. Broyles is clearly a more viable downfield threat, but both are extremely hard to bring down in the open field.
Here's how their production broke down from passes behind or at the line of scrimmage:
Ryan Broyles
Receptions: 39 percent

Yardage: 21.3 percent
DeMarco Murray
Receptions: 72 percent

Yardage: 63 percent
That's a huge chunk, especially from Murray, whose solid rushing totals (1,253 yards) are boosted when you consider how many of his receiving yards (373 of 594) came on catches behind or at the line of scrimmage.
He's gone now, so it'll be interesting to see how Oklahoma proceeds without him. Considering how little we've seen of them, I can't speak to Oklahoma's returning running backs' receiving talents, but it's a safe bet that none of them will be as skilled as Murray.
It'll be fascinating to see this season how Jones develops as a junior without Murray. I'd expect Broyles' touches and targets to go up a bit, but Oklahoma's offense would be well-served to find another running back who can leak out of the backfield to catch those short passes. With Murray gone, the opportunity is there.
Just like last season, Jones' stat line would be the biggest benefactor.
January, 2, 2011
1/02/11
12:21
AM ET
GLENDALE, Ariz. -- Quick thoughts from the Tositos Fiesta Bowl, where Oklahoma beat Connecticut
48-20
.
How the game was won:
Oklahoma prevented Connecticut from scoring an offensive touchdown, and had a great day throwing the ball without a ton of mistakes. The Sooners far outgained Connecticut, who struggled to produce any offense in the first half, and controlled the game from start to finish.


Turning point:
Oklahoma led 20-10 in the third quarter when
Landry Jones
hit
Cameron Kenney
for a long 59-yard score down the left sideline. On the ensuing possession, Jamell Fleming picked off a tipped pass and returned it 55 yards for another quick score. Connecticut's run-heavy offense isn't built for comebacks, and the Sooners 34-10 advantage was too steep for the Huskies to climb.
Stat of the game:
Oklahoma wasn't flagged for a single penalty. That makes life a lot easier.
Player of the game:
Jones. The sophomore had a huge day and paced the Sooners offense for all of it. He finished with 433 yards and three touchdowns on 35-of-50 passing.
Unsung hero of the game:
Oklahoma's front seven. They won't get credit at the end of the day for really shutting down
Jordan Todman
, who finished with more than 100 yards, but they made him a complete non-factor in the first 2.5 quarters while Oklahoma rang up its big lead. If Todman gets going and Connecticut could control the ball early, the game might have been a whole different story.
Second guessing:
Oklahoma's fake field goal. The Sooners were going for the dagger, but trying to connect on a deep ball to tight end
Trent Ratterree
from
John Nimmo
isn't a very high-percentage play. They had the lead, but gave up field position and some momentum against an offense that hadn't produced all day. Liked the aggressiveness, but didn't like the execution.
Record performance:
Jones' 433 passing yards, broke Oklahoma's record in a bowl game. Jones set the record in last year's Sun Bowl win over Stanford when he threw for 418 yards.
What it means:
Oklahoma finally ends its BCS woes, even if it came against an underwhelming opponent. The Sooners' five-game BCS bowl losing streak came to an end, and their nine-year drought without a BCS win ended against the Huskies.
January, 1, 2011
1/01/11
11:42
PM ET
GLENDALE, Ariz. -- In theory, there's nothing wrong with being up 14 in a BCS bowl game, especially for Oklahoma, who hasn't won one since 2002.
It's less satisfying for Sooners fans when their team is a 17-point favorite, like it is tonight.
Twice, Oklahoma has nearly landed the knockout punch, but missed twice.
Ryan Broyles
returned a punt that looked like it had a chance to go all the way, but premature showboating led to a fumble and a turnover. Then, Oklahoma faked a 47-yard field goal, but the deep pass from
John Nimmo
to
Trent Ratterree
fell incomplete.
Make no mistake, Oklahoma is dominating this game. The Sooners have been in control and have yet to allow an offensive touchdown with a 34-20 lead.
Oklahoma has a pair of big plays -- the 59-yard touchdown to
Cameron Kenney
and Jamell Fleming's interception return, but it missed out on two more. Convert those, and the rout is on.
But Oklahoma has given up a pair of big plays, too. Jones had his own interception returned for a score, and the kickoff after Fleming's interception went back for a touchdown.
Because of that, Connecticut is still very much alive.
September, 11, 2010
9/11/10
6:05
PM ET
NORMAN, Okla. -- So much for a second-half shift. If Florida State was going to dig its way out of a 27-point hole, it needed big plays early in the second half. Instead, its the Sooners piling on.

Oklahoma forced Ponder into his first turnover of the day when Travis Lewis stepped in front of a pass for an interception. He returned it to the 8-yard line and three plays later, Jones found Trent Ratterree to make it a 41-7 game midway through the fourth quarter.

They got the ball back with Ponder's second interception, courtesy of cornerback Jamell Fleming.

This one's over, folks.

We'll probably have to wait until the nightcap if we want drama.

Colorado and Iowa State are still getting beaten badly, 31-7 by California and 35-0 by Iowa, respectively.
January, 12, 2010
1/12/10
11:00
AM ET
By
Tim Griffin
| ESPN.com
It was a forgettable bowl season for much of the Big 12.
But there were still enough top producers to fill out a team of top performers from the conference's 4-4 bowl season.
Here's a look at my top performers:
OFFENSE
QB
Landry Jones, Oklahoma
: Passed for career-best 418 yards and added three passing TDs to direct Sooners' Sun Bowl victory over Stanford.
RB
Alexander Robinson, Iowa State:
Rushed for 137 yards -- his sixth 100-yard game of the season -- to pace Cyclones' victory over Minnesota in the Insight Bowl.
RB
Baron Batch, Texas Tech:
Rushed for 100 yards, scored two TDs and produced six receptions for 85 yards in Red Raiders' comeback victory in the Alamo Bowl over Michigan State.
WR
Jordan Shipley, Texas:
Overcame slow start to produce 10 catches for 122 yards and two TDs against Alabama, becoming Texas' leading career receiver.
WR
Ryan Broyles, Oklahoma:
Produced career-best totals of 13 receptions, 156 receiving yards and also matched career high with three TD receptions to help beat Stanford in the Sun Bowl.
TE
Trent Ratterree, Oklahoma:
Grabbed three receptions for 86 yards, including pivotal 38-yard catch that was Jones' longest pass of game in Sun Bowl victory over Stanford.
OL
Ricky Henry, Nebraska:
Helped Cornhuskers dominate in the trenches in biggest Cornhuskers' bowl victory since 2000.
OL
Kelechi Osemele, Iowa State:
Dominant effort helped Cyclones claim first bowl victory since 2004 and only third bowl victory in school history.
OL
Jacob Hickman, Nebraska:
Cornhuskers' center set the tone for easy victory over Arizona.
OL
Brandon Carter, Texas Tech:
Colorful lineman helped Tech roll up school bowl-record 31 first downs, 579 total yards against Michigan State.
OL
Trent Williams, Oklahoma:
All-American moved from tackle to center and didn't miss a beat in the Sooners' Sun Bowl triumph.
DEFENSE
DL
Sergio Kindle, Texas:
Had his best game of the season with eight tackles, 2.5 sacks and 3.5 tackles for losses against Alabama.
DL
Pierre Allen, Nebraska:
Set the tone for Nebraska's pass rush with two sacks, four tackles, forced a fumble and notched a quarterback hurry in the Cornhuskers' shutout over Arizona -- first for a Big 12 team in a bowl game in conference history.
DL
Christopher Lyle, Iowa State:
Insight Bowl defensive MVP produced five tackles, including two for losses and one sack to lead Cyclones' victory over Minnesota.
DL
Rajon Henley, Texas Tech
: Four tackles, four quarterback hurries, one sack against Michigan State.
LB
Phillip Dillard, Nebraska:
Produced team-high seven stops, broke up one pass in Cornhuskers' shutout over Arizona.
LB
Ryan Reynolds, Oklahoma:
Produced 12 tackles (three solo, nine assists), two quarterback hurries and one tackle for loss against Stanford.
LB
Andre Sexton, Oklahoma State:
Produced 10 tackles, two interceptions and one tackle for a loss in Cotton Bowl loss to Mississippi.
DB
Matt O'Hanlon, Nebraska:
Earned Holiday Bowl defensive MVP honors with five stops, a 37-yard interception and a pass broken up against Arizona.
DB
Ter'ran Benton, Iowa State:
In his first game back after recovering from mid-season broken leg, notched five tackles and game-clinching fumble recovery in Cyclones' Insight Bowl victory over Minnesota.
DB
Jamar Wall, Texas Tech:
Produced six tackles, broke up two passes and one interception against Michigan State.
DB
Quinton Carter, Oklahoma:
Notched eight stops (five tackles, three assists) and added an interception in Sun Bowl victory over Stanford.
SPECIALISTS
P
Quinn Sharp, Oklahoma State:
Averaged 50.2 yards per punt on his eight punts, including four punts inside 20 in Cotton Bowl.
K
Alex Henery, Nebraska:
Converted all four field goals of 47, 50, 43 and 22 yards to set the Holiday Bowl record. His big night gave him a Nebraska single-season record of 24 for the season.
RET
Niles Paul, Nebraska:
The Holiday Bowl offensive MVP amassed 94 yards in returns, including a 49-yard kickoff return and a 28-yard punt return. He also added four catches for 123 yards, including a clinching 74-yard TD grab from
Zac Lee
.
December, 31, 2009
12/31/09
6:37
PM ET
By
Tim Griffin
| ESPN.com
Oklahoma ended its recent bowl woes with an impressive
31-27
victory over Stanford in the Brut Sun Bowl.
Here's a quick look at how the Sooners did it.
How the game was won:
After allowing Stanford to score on three straight possessions in the second quarter to claim the lead, Oklahoma's defense played with intensity in the third quarter to take over the game. The Sooners forced Stanford to go three-and-out on its first two possessions of the second half and allowed only one first down on their other drive to take control. Stanford obviously struggled without injured starting quarterback
Andrew Luck
.
Best call:
Oklahoma quarterback
Landry Jones
went to little-used tight end
Trent Ratterree
for a 36-yard gain down the left sideline late in the third quarter. Ratterree was pulled down at the Stanford 2, but it was his longest gain of the season.
DeMarco Murray
charged into the end zone two plays later to give the Sooners the lead for good.
Stat of the game:
Oklahoma rolled up 480 yards of total offense and 27 first downs to dominate the game offensively and power the Sooners over the Cardinal.
[+] Enlarge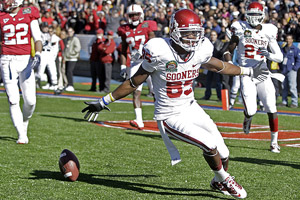 AP Photo/LM OteroWide receiver Ryan Broyles set Oklahoma bowl records with 13 receptions, 156 yards and three touchdown receptions.
Player of the game:
Oklahoma wide receiver
Ryan Broyles
put a punctuation mark on a record-breaking season with 13 catches. When Oklahoma's offense was sputtering early, Jones repeatedly went for Broyles to help pump some life back into the team. Broyles finished with a school-record 89 receptions and missed most of two games with a shoulder separation. And he should be even better next season.
Record performance:
Broyles set Oklahoma bowl records with 13 receptions, 156 yards and three touchdown receptions. Jones passed for a school bowl record 416 yards. And Broyles led the Sooners with 17 touchdowns this season, becoming the first Oklahoma wide receiver in the 72 seasons that the school has been compiling individual statistics to lead the team in scoring.
What it means:
Oklahoma's bowl victory ended the Sooners' celebrated recent bowl struggles as they posted their first bowl triumph since 2005. It was only the Sooners' second bowl win in their last seven tries. It puts a positive ending on Bob Stoops' disappointing regular season and provides them with some momentum heading into the offseason. Jones received some critical playing time and should be even more comfortable next year in his second season as starter. The defense will have to rebuild without Gerald McCoy in the middle, but younger players got their chance to develop. The Sooners should be back challenging for the Big 12 South Division title in 2010.