October, 14, 2014
Oct 14
11:00
AM ET
We're halfway through the season, which means it's time for our midseason All-Big 12 team. There's plenty of football still to play. And this midseason team might be very different from the end-of-season one. But this list recognizes the players who have distinguished themselves thus far.
After careful consideration and friendly debate, our midseason All-Big 12 team:
Offense
QB: Clint Trickett, West Virginia:
Baylor's
Bryce Petty
had the Big 12's best game last weekend, but Trickett has had the better season so far. He leads the Big 12 in QBR and completion percentage and is third nationally in passing, fueling the Mountaineers' surprising 4-2 start.
RB: Shock Linwood, Baylor:
The Big 12's top rusher has 326 rushing yards over Baylor's last two games, including 104 in the fourth quarter of the Bears' monumental comeback win against TCU.
RB: Samaje Perine, Oklahoma:
This true freshman is second in the league in rushing, first in rushing touchdowns and delivered an historic performance at West Virginia with 242 yards and four scores.
WR: Kevin White, West Virginia:
White has been as dominant as any player in the league. He easily leads the country with an average of 148 yards receiving per game, and has come up with a hundred yards receiving in every game.
WR: Sterling Shepard, Oklahoma:
It's hard to imagine where the Oklahoma passing game would be without Shepard. He has accounted for 48 percent of
Trevor Knight
's passing yards.
WR: K.D. Cannon, Baylor:
The true freshman might already be the most dangerous big-play receiver in the league, averaging 62.5 yards per catch on his six touchdowns.
TE: E.J. Bibbs, Iowa State:
The senior has been a big part of the Cyclones' offense with 22 receptions for 190 yards and four touchdowns, including a one-handed scoring grab at Oklahoma State.
OL: Spencer Drango, Baylor
: The Bears' franchise left tackle is thriving again after a return from a season-ending back injury. He has graded out the highest on the offensive line of the nation's top scoring offense.
OL: Joey Hunt, TCU:
Hunt is the best offensive lineman on the Big 12's most improved offense, which is second in the league in scoring with almost 46 points per game.
OL: B.J. Finney, Kansas State:
Finney is well on his way to a third consecutive All-Big 12 season as the lynchpin of the K-State offensive line.
OL: Quinton Spain, West Virginia:
He and
Mark Glowinski
form one of the top guard duos in the country for the league's second-best passing offense.
OL: Le'Raven Clark, Texas Tech:
Arkansas coach Bret Bielema singled out Clark's prowess after facing him. Despite throwing the ball on almost every down, Tech leads the league in fewest sacks allowed with Clark protecting
Davis Webb
's blindside.
AP: Tyreek Hill, Oklahoma State:
The speedy Hill has kick return touchdowns the past two weeks, and has proven to be tough and durable as well as really fast.
Defense
DE: Shawn Oakman, Baylor:
The freaky 6-foot-9 end is second in the league with five sacks and fourth with eight tackles for loss.
DT: Chucky Hunter, TCU:
Hunter has been the anchor of the TCU defensive line, joining
Davion Pierson
to give Gary Patterson's squad one disruptive duo up front.
DT: Malcom Brown, Texas:
This 320-pound monster has been unblockable, and the most disruptive defensive player in the league.
DE: Emmanuel Ogbah, Oklahoma State:
Ogbah has broken out with five sacks, including two on defending Heisman winner
Jameis Winston
in the opener. In addition to being tied for second in the Big 12 in sacks, he's also second with 9.5 tackles for loss.
LB: Eric Striker, Oklahoma:
Striker has 4.5 sacks and 8.5 tackles for loss, and his relentless pass-rushing ability makes him the primary focus of opposing offensive coordinators.
LB: Jordan Hicks, Texas:
The Longhorns' fifth-year senior is racking up 10 tackles per game, and is bringing leadership to the Texas defense after an injury-plagued career.
LB: Paul Dawson, TCU:
The Big 12's leading tackler is on pace for the most single-season tackles in the Gary Patterson era. He also had the game-winning pick-six to upset the Sooners.
CB: Zack Sanchez, Oklahoma:
Sanchez has given up some big plays, but he's countered with big plays of his own. He's second nationally with five interceptions, including a pick-six against Texas.
CB: Danzel McDaniel, Kansas State:
McDaniel hits more like a linebacker than a cornerback. He's been another impressive junior-college find for Bill Snyder.
S: Sam Carter, TCU:
Carter doesn't have eye-popping numbers, but he's once again been the heart of the TCU defense.
S: Karl Joseph, West Virginia:
The enforcer of the West Virginia secondary is second among Big 12 defensive backs with 45 tackles.
Special teams
K: Josh Lambert, West Virginia:
All he's done is nail two game-winning field goals as time has expired to beat Maryland (47 yards) and Texas Tech (55 yards) on the road.
P: Trevor Pardula, Kansas:
He's gotten plenty of chances, but he's made the most of them, averaging 44.8 yards per punt, while putting 37.8 percent of them inside the opponents' 20.
PR: Tyler Lockett, Kansas State:
Lockett, who is second in the nation in punt returns, once again has been an electric all-around playmaker. He's also sixth in the league in receiving.
KR: Alex Ross, Oklahoma:
Ross leads the nation in kickoff returns, taking two of his nine kick returns to the house for touchdowns.
July, 9, 2014
Jul 9
4:00
PM ET
The college football watch list train continued Wednesday with the Lou Groza Award (best kicker) and Ray Guy Ward (best punter) watch lists.
Monday, the Maxwell (player of the year), Bednarik (defensive player of the year) and Hornung (most versatile player)
watch lists were released
. Tuesday, the Mackey (best tight end) and Rimington (best center) watch lists
came out
.
Below are the Big 12 players that made the Groza and Guy watch lists:
Guy
Groza
July, 9, 2014
Jul 9
7:30
AM ET
The deadline for media to turn in All-Big 12 ballots to the conference office comes Friday. The official All-Big 12 team won't be released until Big 12 media days in Dallas in a couple weeks.
But below, the Big 12 blog team released the ballots we turned in to the office to you for your viewing pleasure.
Later this morning we'll go into more depth about how we went about selecting our ballots.
But before we do that, the ballots:
BRANDON CHATMON'S BALLOT
Offense
WR:
Tyler Lockett
, Kansas State
TE:
E.J. Bibbs
, Iowa State
OL:
Spencer Drango
, Baylor
OL:
Le'Raven Clark
, Texas Tech
C:
Dominic Espinosa
, Texas
OL:
Cody Whitehair
, Kansas State
OL:
Daryl Williams
, Oklahoma
WR:
Antwan Goodley
, Baylor
QB:
Bryce Petty
, Baylor
RB:
Malcolm Brown
, Texas
RB:
Shock Linwood
, Baylor
PK:
Michael Hunnicutt
, Oklahoma
PR:
Levi Norwood
, Baylor
[+] Enlarge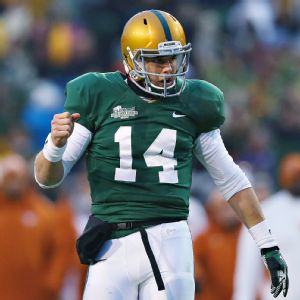 Ronald Martinez/Getty ImagesBaylor QB Bryce Petty made it on all three ballots.
Defense
DL:
Devonte Fields
, TCU
DL:
Ryan Mueller
, Kansas State
DL:
Cedric Reed
, Texas
DL:
Charles Tapper
, Oklahoma
LB:
Eric Striker
, Oklahoma
LB:
Bryce Hager
, Baylor
LB:
Ben Heeney
, Kansas
DB:
Kevin White
, TCU
DB:
Daryl Worley
, West Virginia
DB:
Kevin Peterson
, Oklahoma State
DB:
Sam Carter
, TCU
P:
Trevor Pardula
, Kansas
KR:
B.J. Catalon
, TCU
Player of the Year Awards
Offensive Player of the Year: Bryce Petty, Baylor
Defensive Player of the Year: Devonte Fields, TCU
Newcomer of the Year:
Nick Harwell
, Kansas
Quick explainer:
The Big 12 features more proven stars heading into this season than it did in 2013 but that didn't make my preseason All-Big 12 team any easier. Several young players seem ready to take their contributions to another level at the expense of established playmakers. The receiver position was a no-brainer (although two receivers on the squad seems a little odd), while the running back position is so littered with unknowns I considered just throwing a darts at the dart board and hoping for the best. Overall I ended up going with proven production over up-and-coming stars, meaning my postseason All-Big 12 squad could look much different than this version.
MAX OLSON'S BALLOT
Offense
WR: Tyler Lockett, Kansas State
TE: E.J. Bibbs, Iowa State
OL: Le'Raven Clark, Texas Tech
OL: Cody Whitehair, Kansas State
C: B.J. Finney, Kansas State
OL:
Quinton Spain
, West Virginia
OL: Spencer Drango, Baylor
WR: Antwan Goodley, Baylor
QB: Bryce Petty, Baylor
RB: Malcolm Brown, Texas
RB: Shock Linwood, Baylor
PK: Michael Hunnicutt, Oklahoma
PR: Levi Norwood, Baylor
Defense
DL: Devonte Fields, TCU
DL: Chucky Hunter, TCU
DL: Malcom Brown, Texas
DL:
Cedric Reed
, Texas
LB: Eric Striker, Oklahoma
LB: Bryce Hager, Baylor
LB: Ben Heeney, Kansas
DB:
Quandre Diggs
, Texas
DB:
Zack Sanchez
, Oklahoma
DB: Sam Carter, TCU
DB:
Chris Hackett
, TCU
P:
Nick O'Toole
, West Virginia
KR: B.J. Catalon, TCU
Player of the Year Awards
Offensive Player of the Year: Bryce Petty, Baylor
Defensive Player of the Year: Devonte Fields, TCU
Newcomer of the Year: Tyreek Hill, Oklahoma State
Quick explainer:
Petty, Lockett and Goodley are easy choices, but from there it gets tricky and you can make a case for a ton of players being deserving of preseason all-conference honors. On defense, the Big 12's ballot provides flexibility with DL, LB and DB as the three position categories, but I still tried to put together a unit with true defensive tackles and safeties. When in doubt, I went by 2013 production. How well these guys would all fit together on a playing field, who knows? But there's plenty of star power and proven talent in this lineup.
JAKE TROTTER'S BALLOT
Offense
WR: Tyler Lockett, Kansas State
TE: E.J. Bibbs, Iowa State
OL: Spencer Drango, Baylor
OL: Le'Raven Clark, Texas Tech
C: B.J. Finney, Kansas State
OL: Quinton Spain, West Virginia
OL: Cody Whitehair, Kansas State
WR: Antwan Goodley, Baylor
QB: Bryce Petty, Baylor
RB:
Johnathan Gray
, Texas
RB:
Keith Ford
, Oklahoma
PK: Michael Hunnicutt, Oklahoma
PR:
Daje Johnson
, Texas
Defense
DL: Devonte Fields, TCU
DL: Chucky Hunter, TCU
DL: Malcom Brown, Texas
DL:
Shawn Oakman
, Baylor
LB: Eric Striker, Oklahoma
LB: Ben Heeney, Kansas
LB: Bryce Hager, Baylor
DB: Daryl Worley, West Virginia
DB: Kevin White, TCU
DB: Sam Carter, TCU
DB: Quandre Diggs, Texas
P: Nick O'Toole, West Virginia
KR:
Corey Coleman
, Baylor
Player of the Year Awards
Offensive Player of the Year: Bryce Petty, Baylor
Defensive Player of the Year: Devonte Fields, TCU
Newcomer of the Year: Tyreek Hill, Oklahoma State
Quick explainer:
The official Big 12 ballot doesn't differentiate between offensive tackles and guards, defensive tackles and ends and cornerbacks and safeties. But like Max, I still tried to keep position integrity, which made putting this ballot together significantly more difficult. But unlike Max and Brandon, I attempted to project out this year's all-conference team instead of leaning on rehashing last year's, which is why Worley, Oakman and Ford made my preseason team over more conventional selections like Sanchez, Mueller and Linwood. Those three gambles could make me look incredibly smart at the end of the year -- or incredibly dumb. Time will tell.
April, 4, 2014
Apr 4
3:00
PM ET
Our breakdown of the 10 best players at the moment on every team in the Big 12 wraps up on Friday.
These lists don't include junior college or freshman signees who haven't arrived on campus yet. Rather, they include only the players currently on their teams this spring. Some of these rankings might look different after the spring, but this is how we see them now.
Last but not least, the
Kansas Jayhawks
:
1. LB Ben Heeney:
The best Big 12 defender who is not a household name. Heeney finished with 87 tackles as a junior, recording double-digit stops in six of the 10 games in which he played in 2013. He has been a bright light on the Jayhawks' defense for the past two seasons.
[+] Enlarge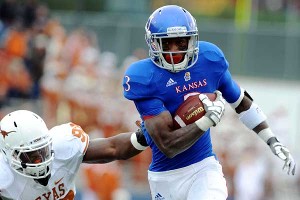 John Rieger/USA TODAY SportsTony Pierson missed five games last season, but has more than 1,000 rushing yards in his career at Kansas.
2. RB/WR Tony Pierson:
The senior is one of the Big 12's most explosive playmakers when healthy. Concerns about a head injury limited his big-play production as a junior, but if he returns to full health in 2014, he's sure to strike fear in the hearts of Big 12 defensive coordinators.
3. S Isaiah Johnson:
He was easily the most active newcomer to KU's defense in 2013. He earned Big 12 defensive newcomer of the year honors while starting all 12 games at safety. Johnson finished with 73 tackles and five interceptions to help an improved Jayhawks defense.
4. G Ngalu Fusimalohi:
The lone consistent anchor in KU's offensive line a year ago, Fusimalohi played a key role in James Sims' second consecutive 1,000-yard season. The strong yet fluid guard will provide a solid starting point for John Reagan in his first season as KU's offensive coordinator.
5. CB JaCorey Shepherd:
The former receiver was a playmaker in the Jayhawks secondary and also provided a threat as a returner. Strong performances against TCU and Oklahoma were a glimpse at the type of player he can be. If he continues to improve, he could rank among the Big 12's top cornerbacks in 2014.
6. LB Michael Reynolds:
The Jayhawks' most productive pass rusher, Reynolds led KU with 6.5 sacks and added 10 tackles for loss and two forced fumbles. One of the most consistently productive KU defenders, Reynolds had at least one tackle for loss in six of 12 games in 2013.
7. TE Jimmay Mundine:
Mundine could be one of the Big 12's best pass-catching threats if he becomes more consistent. His 20 receptions for 229 yards and five touchdowns made him KU's best receiving threat in the middle of the field a year ago. With better quarterback play and more consistent hands, Mundine could double that receptions total this fall.
8. S Cassius Sendish:
The senior slid right into the starting safety spot, starting 12 games in his debut season with KU. He immediately emerged as one of the most active defenders on the roster, finishing with 68 tackles, which ranked third on the team.
9. CB Dexter McDonald:
He joins with Shepherd to give KU a solid cornerback duo. His 12 pass breakups placed him eighth in the Big 12 and he added two interceptions during his first season at Kansas.
10. P Trevor Pardula:
He finished second in the Big 12 in net punting and also led the conference in punts inside the 10-yard line (14). Pardula got plenty of work, with 84 punts, and he did his job well while also handling the Jayhawks kickoff duties.
Recapping the series:
April 3
: Iowa State
April 2:
West Virginia
April 1:
TCU
March 31:
Texas Tech
March 28:
Kansas State
March 27:
Texas
March 26:
Oklahoma State
March 25:
Oklahoma
March 24:
Baylor
February, 27, 2014
Feb 27
3:00
PM ET
As we await the start of spring ball, we've been examining and ranking the
positional situations of every team in the Big 12
. Thursday, we close this series out with special teams.
1. TCU:
Honorable mention All-Big 12 place-kicker
Jaden Oberkrom
was 13 of 14 on field goals inside the 50 last season and drilled a 56-yarder late in the fourth quarter at Kansas State.
B.J. Catalon
was second in the league in kickoff returns and took one to the house in the opener against LSU. Freshman
Cameron Echols-Luper
took his first punt return 51 yards and had a 41-yarder in the season finale against Baylor.
Brandon Carter
has had moments in the return game in the past as well.
Ethan Perry
will be a three-year starter at punter, rounding out a formidable special teams unit.
2. Baylor:
Corey Coleman
led the league in kick returns, and
Levi Norwood
scored twice off punt returns. The Bears are loaded with potential game-breakers in the return game and welcome back All-Big 12 punter
Spencer Roth
. If
Kyle Peterson
proves to be a reliable replacement for departing kicker
Aaron Jones
, this special teams unit will have no weakness.
[+] Enlarge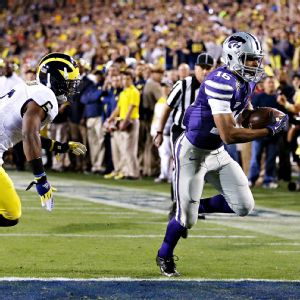 Christian Petersen/Getty ImagesAlong with being a top-flight wide receiver, Kansas State's Tyler Lockett can also provide big plays in the return game.
3. Kansas State:
The Wildcats feature one of the best kickoff return men in the game in
Tyler Lockett
, who doubles as an All-American WR candidate.
Jack Cantele
, the younger brother of All-Big 12 K-State kicker Anthony Cantele, only missed two field goal attempts as a sophomore and nailed a 41-yarder as time expired to beat TCU. Defensive tackle
Travis Britz
also returns after leading the nation with four blocked kicks.
4. Texas Tech:
The Red Raiders will feature a lethal one-two punch in the return game in
Jakeem Grant
and
Reginald Davis
, who took a kick back for a touchdown in the bowl game. Receiver
Jordan Davis
also has return experience. Kicker
Ryan Bustin
returns after garnering honorable mention All-Big 12 honors last year.
5. Oklahoma:
The Sooners lose the most explosive return duo in the league in
Jalen Saunders
and
Roy Finch
.
Sterling Shepard
and
Alex Ross
could be among the players who replace them. Oklahoma boasts the league's most efficient returning place-kicker in
Michael Hunnicutt
, who nailed 24 of 27 field goal tries last season. The Sooners have a secret weapon in
Nick Hodgson
, who led the league in touchback kickoffs last season.
Jed Barnett
, fifth in the Big 12 in punting average last season, returns as well.
6. Iowa State:
The Cyclones had four players make first- or second-team All-Big 12 last season, and departing punter
Kirby Van Der Kamp
was one of them. Replacing his production won't be easy, though incoming three-star freshman
Colin Downing
will try.
DeVondrick Nealy
,
Jarvis West
and
Aaron Wimberly
all had several dynamite moments returning kicks.
Cole Netten
was 13-of-18 on field goals as a freshman,
7. West Virginia:
Nick O'Toole
leads the Mountaineers on special teams. The "Boomstache" was 15
th
nationally in punting last season. The Mountaineers have all their returners back in
Wendell Smallwood
,
Mario Alford
and
Jordan Thompson
, though more big plays are needed from this group -- the Mountaineers ranked last in the league in both punt and kick returns in 2013.
Josh Lambert
comes back after making 17 of 23 field goals as a freshman. The Mountaineers also enjoy a luxury in
Michael Molinari
, who can do a little bit of everything.
8. Texas:
The Longhorns lose their punter and their kicker in consensus All-American
Anthony Fera
. That hurts.
Nick Jordan
, who made nine of 15 field goals in 2012, could reclaim his job.
Daje Johnson
-- who returned a punt for a TD against Oklahoma --
Duke Thomas
,
Quandre Diggs
,
Marcus Johnson
,
Kendall Sanders
and
Jaxon Shipley
all have experience returning.
9. Kansas:
Return men
Connor Embree
(punts) and
JaCorey Shepherd
(kicks) both come back. The Jayhawks also return kicker
Matthew Wyman
, who connected on a game-winning 52-yard field goal to beat Louisiana Tech. The freshman, however, only made two field goals after that and eventually lost that job to departing senior
Ron Doherty
.
Trevor Pardula
was third in the Big 12 in punting as a junior and received votes for Big 12 Special Teams Player of the Year.
10. Oklahoma State:
After enjoying All-Americans Dan Bailey and Quinn Sharp the last few years, the Cowboys were finally mediocre in the kicking game last season.
Ben Grogan
struggled as a freshman, making just 11 of 18 field goals while missing two critical attempts in the early-season loss at West Virginia. The Cowboys were also last in the league in punting. Oklahoma State signed three-star kicker
Zach Sinor
with hopes of curing some of those ills. The Cowboys were still dynamic in the return game, but with
Justin Gilbert
and
Josh Stewart
both gone, Oklahoma State could lean on juco transfer and track star
Tyreek Hill
for a jolt on returns.
January, 17, 2014
Jan 17
3:00
PM ET
It was an odd season in Lawrence, Kan.

The Jayhawks defense performed better than expected but Kansas' offense stumbled around and was the main culprit behind KU's 3-9 record. That said, Charlie Weis' bunch won more games in 2013 than they did in 2012 including their first Big 12 win since 2010.
Offense: F
James Sims
was the only positive in an otherwise ugly KU offense. Sims rushed for 1,110 yards and seven touchdowns in his final season but the rest of the offense stumbled throughout the 12-game season.
Tony Pierson
, one of the Big 12's most explosive players, struggled to stay healthy and quarterback
Jake Heaps
disappointed as a starter.
KU finished No. 118 in points scored per game (15.3), No. 117 in yards per game (294.5), No. 120 in yards per play (4.28) and No. 121 in third down conversion rate (27.9 percent). The Jayhawks' offense never found any rhythm or any confidence throughout the season. It was a odd turn of events for a team that was expected to lean in its offense for any success it had in 2013.
Defense: D
The defense wasn't great but it played better than expected at times and often found itself paying for the offense's struggles. The Jayhawks allowed 31.8 points per game and 5.82 yards per play, finishing in the bottom three in the Big 12.
[+] Enlarge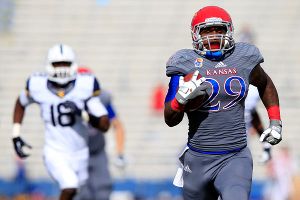 Jamie Squire/Getty ImagesJames Sims, who ran for 1,110 yards and 7 TDs, was about the only bright spot on a dismal KU offense.
Safety
Isaiah Johnson
was one of the surprises of the Big 12 with his active play and competitive nature. He finished tied for second in the Big 12 with five interceptions as he earned Big 12 defensive newcomer of the year honors. Linebacker
Ben Heeney
was another key contributor with his team-high 87 tackles and 8.7 tackle per game average which ranked fourth in the conference.
Even with some stellar individual performances, KU's defense couldn't really keep the Jayhawks in games and didn't make the key plays needed to spark more victories.
Special teams: C
The Jayhawks' special teams were fairly solid.
Trevor Pardula
was one of the Big 12's top punters, finishing second in net punting (40.12) and first in punts inside the 10-yard line (14). He had 51.2 percent of his kickoffs result in touchbacks. But KU's placekicking and return game was below average as the Jayhawks' third unit never really changed the momentum of games and sparked a win.
Overall: D
Weis' team improved over last season's group but remains at the bottom of the conference. The offense was the Big 12's worst unit and the defense, while improved, still wasn't good enough to keep it in every game. The only reason the Jayhawks escaped a lower grade was their 31-19 win over West Virginia which snapped a 27-game conference losing streak.
November, 15, 2013
11/15/13
10:00
AM ET
Back again with more stats and tidbits courtesy of SID departments across the league and ESPN stats and information. Did you know …
TCU coach Gary Patterson returns to his alma mater for the first time as a head coach when he visits Kansas State on Saturday. He played linebacker and safety for the Wildcats before graduating in 1983. He was born in Larned, Kan., and lived in Rozel, Kan.
TCU's Trevone Boykin is the only player in the nation with a 100-yard rushing, 100-yard receiving and 200-yard passing game this season.
TCU leads the Big 12 with 70.4 percent (2,379 of 3,380 yards) of its scrimmage yards from underclassmen.
Deante' Gray, who started two games at receiver this season, started at cornerback for TCU against Iowa State last Saturday and had two tackles and a pass breakup. He also leads the squad in special teams tackles.
Iowa State's DeVondrick Nealy's 98-yard kick return for a touchdown snapped TCU's 135-game streak without allowing a kick return for a score, which was the nation's longest.
TCU is tied for the conference lead and sixth in the nation with 25 forced turnovers this season.
TCU holds the nation's third longest streak of games without being shut out at 265, dating back to a 32-0 shutout loss to Texas in 1991.
Kansas State coach Bill Snyder earned victory No. 175 overall and No. 100 in conference play with the Wildcats' 49-26 win over Texas Tech last Saturday. He's the 46th coach to reach the 175-win mark and just the 11th reach that standard at one school. He joins Tom Osborne of Nebraska and Barry Switzer of Oklahoma as the only Big 8/12 coaches with at least 100 wins at one school.
K-State has turned it on in the fourth quarter of recent games, outscoring opponents 56-14 during its three-game win streak.
The Wildcats are 49-17 in November under Snyder since 1991.
KSU is looking to become the fourth Big 12 team to start 2-4 or worse yet still make a bowl game. 2001 K-State, 2002 Oklahoma State and 2004 Iowa State are the only teams to achieve that feat thus far.
Since 1999, K-State ranks No. 1 nationally in non-offensive touchdowns with 91.
John Hubert is averaging 109.5 rushing yards per game and one touchdown in KSU's last four games after averaging 53.6 rushing yards in the Wildcats' first five contests.
KSU sophomore defensive lineman Travis Britz has blocked four kicks this season, which leads the nation.
Texas is 6-0 in the Big 12 for the fifth time under Mack Brown (1999, 2005, 2006, 2009).
The Longhorns has scored 30 points or more in their last six games, matching their longest streak since 2009.
UT is No. 5 nationally in sacks in its last six games. The Longhorns have gotten to the quarterback 24 times during their last six contests.
Longhorns' guard Mason Walters has started 47 straight games, the second-longest streak in the nation among offensive linemen (Mississippi State's Gabe Jackson owns the longest streak).
Texas has scored 11 touchdowns on plays of 45 yards or more this season. Eight different Longhorns have achieved that feat.
UT receiver Jaxon Shipley is clutch with 30 of his 46 receptions resulting in a first down this season, including three on fourth down. His fourth-down catch kept hope alive in the Longhorns' 47-40 overtime win over West Virginia last Saturday.
UT defensive end Cedric Reed is the lone FBS defender with at least six sacks, four pass breakups and four forced fumbles. The junior has seven sacks, four pass breakups and four forced fumbles.
Oklahoma State has won 10 of its last 11 games in the state of Texas.
An OSU win over Texas would be the Cowboys third-straight victory in Austin and make the Cowboys the first team to do it since Colorado in 1990, 1994 and 1997.
OSU has scored 20 or more points in 48 straight games dating back to the start of the 2010 season. It's the longest streak in the nation.
OSU has forced a turnover in 17 straight games.
Cowboys cornerback Justin Gilbert leads all active players with six kickoff returns for touchdown in his career after his kickoff return for a score to open the game against Kansas.
OSU is one of seven teams ranking in the nation's top 20 in both scoring offense (40.7 points per game) and scoring defense (19.7 ppg). Alabama, Baylor, Florida State, Oregon, Ohio State and Louisville join the Pokes in that category.
The Cowboys are averaging 6.11 three-and-outs forced per game this season.
OSU ranks No. 9 nationally in yards per play allowed at 4.67 yards per play. Michigan State leads the nation at 3.47 followed by Baylor's 4.08.
The Cowboys lead the Big 12 in third down conversion percentage at 29.6 percent which ranks sixth nationally.
The Cowboys could feature the league's most balanced offense. OSU has 343 rushing attempts and 343 passing attempts heading into its battle with Texas.
Texas Tech's series with Baylor is the longest in school history. The Red Raiders hold a 36-34-1 lead in the series.
The Red Raiders have scored 20 points or more in 25 straight games, dating back to 2011.
Linebacker Will Smith has either led or tied for the team lead in tackles in six of TTU's last eight games. He has 72 tackles in 10 games, including 50 solo stops.
TTU had its nation-leading streak of 257 straight PATs snapped when KSU blocked Ryan Bustin's attempt last Saturday. It also snapped Bustin's personal streak of 101 consecutive PATs.
TTU tight end Jace Amaro had nine receptions for 67 yards against Kansas State to make it nine straight games with at least eight receptions for the junior, tying Michael Crabtree for the school record. He also moved to 10th on Tech's single season receptions list with 88 catches this season.
Baylor head coach Art Briles is a 1979 Texas Tech graduate and was an assistant coach on Mike Leach's staff from 2000-02.
It's been a full year since Baylor lost a game and the Bears 12-game winning streak is a school record. Oklahoma was the last team to defeat Baylor on Nov. 10, 2012.
The Bears' 8-0 start is the best in Baylor's history.
Baylor is hoping to win three straight games against TTU for the first time since 1984-87.
Baylor leads the nation in total offense (686 ypg), scoring (61 ppg), pass efficiency (201.5), yards per play (8.64) and passing yards per completion (19.29).
The Bears defense has more interceptions (11) than passing touchdowns allowed (8).
Baylor leads the nation in fewest three-and-outs per game (1.02) and is No. 2 in three-and-outs forced (7).
Baylor is on track to set NCAA records in points per game (61) and yards per game (686). Army averaged 56 points per game in 1944 while Houston averaged 624.9 yards per game in 1989.
BU's starting offense has 85 drives resulting in 52 touchdowns, getting into the end zone on 61.1 percent of its drives.
Baylor has won a school-record eight straight conference games. The previous high was five in 2010.
The Bears lead the Big 12 in tackles for loss with 8.9 per game. That ranks No. 2 in the FBS.
Baylor has converted 52.7 percent of its third down attempts, which leads the Big 12 and ranks No. 8 in the nation.
Baylor leads the Big 12 in sacks at 3 per game. That number ties the Bears for 14th nationally.
BU quarterback Bryce Petty leads the nation in pass efficiency (210.6) and yards per completion (19.68).
BU running back Lache Seastrunk has 10 games of 100 rushing yards or more in Baylor's last 12 games. He's averaging 8.7 yards per carry, which ranks No. 2 nationally.
Seastrunk leads the league with 111 rushing yards per game and 11 touchdowns.
Teammate Shock Linwood, a redshirt freshman running back, is second in the Big 12 with 89.3 rushing yards per game.
BU receiver Antwan Goodley leads the Big 12 with 121.8 receiving yards per game, which is No. 4 nationally.
Baylor is 12-1 in November and December since 2011, which is tops in the FBS. That record includes a 5-1 mark against Top 25 teams.
Iowa State's loss to TCU was the fifth time this season the Cyclones lost a game by eight points or less, including losses to Big 12 foes Texas, Texas Tech and TCU by a combined 12 points.
ISU and Rutgers are the only two teams with two different players who have returned a kickoff 95 yards or more for a touchdown.
Nealy has scored in four straight games in three different ways for the Cyclones.
ISU has used eight different starting offensive lines in nine games. With injuries ravaging its offensive front, 10 different Cyclones have starting along the offensive line.
Receiver Quenton Bundrage is the only Cyclone to start every game on offense.
ISU linebacker Jeremiah George has recorded double digit tackles in seven of nine games. He leads the Big 12 with 11.3 tackles per game, ranking fourth nationally.
Even with ISU's struggles on the field, the Cyclones have had three sellouts this season (Oklahoma State, Iowa, Northern Iowa) and are averaging the highest attendance average (55,617) in program history.
ISU has converted 23 of 24 red zone possessions into points (18 touchdowns, five field goals) to lead the Big 12 and rank No. 4 nationally at 95.8 percent.
West Virginia is making its first trip to Memorial Stadium in Lawrence, Kan.
Two of the top-20, single-game rushing performances in KU history have occurred on Nov. 16. June Henley rushed for 209 yards against Texas in 1996 (15th best) and John Riggins rushed for 189 yards against K-State in 1968 (19th best).
Mountaineers running back Dreamuis Smith played at Wichita (Kan.) Heights and was committed to the Jayhawks before spending two seasons at Butler County Community College.
KU's Michael Reynolds has 5.5 sacks this season, the most by a KU defender since 2009. He has a sack in four of KU's last five games.
KU punter Trevor Pardula has punted for 3,044 yards this season, nearly 1.73 miles. He leads the nation at 338.2 yards per game.
West Virginia has scored 30 points or more in 24 games, 40 points of more in 12 games, 50 points or more in six games and 60 points or more in three games during Dana Holgorsen's tenure.
WVU running back Charles Sims leads the Big 12 in all-purpose yardage, averaging 124.2 yards per game.
WVU has forced a turnover in 16 straight games and 28 of its last 29 contests.
WVU's is looking to extend its streak of making bowl appearances to 12 with wins over Kansas and Iowa State to close the season.
WVU is 3-1 on the road in November under Holgorsen
Oklahoma has won 14 straight games against Iowa State and is 8-0 under Bob Stoops.
The Sooners are 13-1 on Senior Day under Stoops.
Stoops has 156 career victories and will be looking to tie Barry Switzer at 157 with a win on Saturday.
OU will honor 17 seniors on Senior Day. This class is 39-10 during their time in Norman.
The Sooners are seeking a perfect home record for the 11th time in 15 seasons under Stoops and the first time since 2010.
The Sooners-Cyclones contest will feature a battle of brothers. Tom Farniok is ISU's starting center while Derek Farniok is a backup tackle at OU.
October, 7, 2013
10/07/13
9:00
AM ET
This week's Power Rankings after a weekend in which there were no upsets:

1. Oklahoma (5-0, 2-0 Big 12, last week 1):
The Sooners currently have the top-ranked defense in the Big 12. However, on Sunday they learned they'd likely be without linebacker
Corey Nelson
for the rest of the season. Nelson, who suffered a partially torn pectoral muscle, had been one of the defense's three most valuable players. Can the Sooners overcome his loss? The answer to that question will go a long way in determining whether OU emerges with the Big 12 title.
2. Baylor (4-0, 1-0, LW 2):
West Virginia coach Dana Holgorsen said he'd never seen an offensive line establish the line of scrimmage the way Baylor did Saturday night. Quarterback
Bryce Petty
and
Lache Seastrunk
are getting the headlines, and for good reason, but Baylor's offensive line is another reason it has been putting up points in record fashion. Led by All-American guard
Cyril Richardson
, Baylor's line is one of the best units in the country. Just ask Holgorsen.
3. Texas Tech (5-0, 2-0, LW 3):
Texas Tech is beginning to look like last season's Oklahoma State, which had to shuffle through three different quarterbacks because of injuries.
Michael Brewer
finally returned to the field from a back injury, but not before starter
Baker Mayfield
left with an undisclosed knee injury. The Oklahoma State offense survived its QB injury shuffle. Can the Red Raiders follow suit?
4. Oklahoma State (4-1, 1-1, LW 7):
The Cowboys won, but it has been four seasons since an Oklahoma State offense has looked anywhere near this discombobulated.
J.W. Walsh
engineered the game-winning touchdown drive, but the offense was largely ineffective otherwise, as the Cowboys went the entire second half without a first down until that drive. Oklahoma State's intermediate and downfield passing game has fallen off a cliff, as Walsh had only two completions go for more than 15 yards (though he should have had a third that
Josh Stewart
dropped). This has allowed opponents to zero in on Oklahoma State's rushing game, which has been poor since the opener against Mississippi State. If the Cowboys don't make a QB change and give
Clint Chelf
a chance, or find some way for Walsh to be more effective through the air, they stand little chance of contending in the Big 12.
5. Texas (3-2, 2-0, LW 5):
The Longhorns' season and Mack Brown's tenure at Texas comes down to one game. If the Longhorns somehow knock off Oklahoma, the conversation in Austin changes. If the Longhorns get blasted like they have the past two seasons, the conversation is effectively done. And, for all intents and purposes, the season is, too.
6. TCU (2-3, 0-2, LW 6):
It's a shame this TCU defense can't be paired with a more effective offense. Even though the Horned Frogs opened at Oklahoma with seven straight three-and-outs, the defense somehow kept the Frogs in the game. I was told over the weekend that QB
Casey Pachall
is ahead of schedule on his recovery from a broken forearm -- but he is still weeks away from actually returning. Until then, TCU will have to find a way to generate a little offense. And with the way its defense is playing, that would still be enough to win most games.
7. West Virginia (3-3, 1-2, LW 4):
It's about time to end the honeymoon with the West Virginia defense. The Mountaineers were completely and utterly torched in Waco, 73-42. The last time West Virginia gave up that many points was in 1904, when Michigan beat the Mountaineers 130-0. This Baylor game was almost as bad. West Virginia is definitely improved defensively, but good defenses don't give up 73 points, regardless of who they are facing.
8. Kansas State (2-3, 0-2, LW 8):
KSU coach Bill Snyder finally gave QB
Daniel Sams
a chance Saturday in Stillwater to run the offense. You have to wonder when he might give Sams a chance again. Sams moved the chains but turned the ball over four times, which ultimately proved to be K-State's downfall. Sams showed he's capable of being an effective Big 12 quarterback, but Snyder is not a coach who will tolerate turnovers from his quarterback.
9. Iowa State (1-3, 0-1, LW 9):
What a bummer it's been to be an Iowa State fan this year. I don't know which was worse, losing twice in overtime in hoops to Kansas, getting bounced from the NCAA tournament by Aaron Craft's leaning jumper or falling to Texas the way the Cyclones did Thursday. Iowa State has shown rapid improvement offensively the past two games, but it's a challenge finding five more wins on the schedule that will get the Cyclones to a bowl game.
10. Kansas (2-2, 0-1, LW 10):
Even if Charlie Weis didn't call for the fake punt, it's on him for even giving punter
Trevor Pardula
an option to take off that deep in his own territory. The Jayhawks probably wouldn't have beaten Tech anyway, but the botched fake punt ensured that they wouldn't. With running back
Tony Pierson
now out indefinitely, the Jayhawks will be without their best offensive weapon now, too.
September, 27, 2013
9/27/13
10:00
AM ET
Oklahoma and Notre Dame have tradition that is readily apparent in the college football record books, while Oklahoma State makes its first trip to Morgantown, W.Va., since the 1920s. Those tidbits and more are featured in another great package of Big 12 stats thanks to ESPN Stats and Information.
Did you know ...
Coaching staffs at Iowa State, Oklahoma, Oklahoma State, West Virginia and TCU will be wearing Coach to Cure MD patches this week to help raise awareness and funding for Duchenne Muscular Dystrophy research.
Baylor leads the nation in points per game (69.7), point margin per game (62), total yards per game (751.3), total yards margin (454), yards per play (9.84) and passing yards (444.33).
Baylor's defense has been superb in its own right. BU ranks No. 5 nationally in yards per play allowed (3.82), yards per carry allowed (2.3) and No. 2 in points allowed (7.7).
BU's Lache Seastrunk is averaging 10.97 yards per carry, ranking No. 2 nationally behind Wisconsin's Melvin Gordon.
Seastrunk's seven straight games with at least 100 yards rushing is the nation's longest current streak.
BU quarterback Bryce Petty is averaging 25.89 yards per attempt on third down.
Baylor's defense has scored more touchdowns (4) than it has allowed this season (3).
The Iowa State Cyclones were one of three teams that have played only two games heading into this week's action. Colorado, which postponed its Sept. 14 meeting with Fresno State due to flooding, and Navy are the others.
Iowa State receiver Quenton Bundrage's three-touchdown receptions against Iowa was the third time in 11 games that a Cyclone receiver has recording three touchdown catches. Yet, it only happened three times from 1951 to 2005, a span of 590 games.
Nigel Tribune, ISU's true freshman cornerback, is the only true freshman who has played for the Cyclones during the past two seasons.
Kansas running back/receiver Tony Pierson is averaging 11 yards per touch. He has 26 touches for 286 yards and one touchdown.
Kansas ranks No. 9 nationally in yards per pass attempt allowed, with a 4.9 yards per pass attempt allowed average.
KU punter Trevor Pardula's 78-yard punt against Louisiana Tech is the second-longest punt in the FBS this season.
Pardula's 49.7 yards per punt average leads the Big 12.
Kansas State leads the nation averaging 33.75 per punt return.
Wildcats receiver Tramaine Thompson is the main reason for KSU's outstanding return game. He's averaging 33.75 yards per punt return (4 for 135 yards) and 56 yards per kickoff return (2 for 112 yards, 1 touchdown).
KSU receiver Tyler Lockett leads the conference with 7.2 receptions per game for 117.2 yards. Lockett also leads the Big 12 in all-purpose yards with 157.2 per game.
Oklahoma is looking to become the first current member of the Big 12 to defeat Notre Dame since Texas knocked off the Fighting Irish, 21-17, in the Cotton Bowl on Jan. 1, 1970.
OU has won 36 straight games when leading at halftime.
OU and Notre Dame have combined to win 1,702 games. ND is third nationally with 868 all-time wins; OU is sixth nationally with 834 all-time wins.
OU and Notre Dame combined have spent 1,476 weeks in the AP Poll.
OU is 11-7 against ranked teams on the road under Bob Stoops.
Notre Dame is 28-4-1 all-time against current Big 12 opponents.
Oklahoma State has outscored its first three opponents 108-13 in the first three quarters of its games this season.
Four different Cowboys have scored a special teams touchdown during their career at OSU.
Oklahoma State and West Virginia will meet for just the fifth time ever on Saturday. It's the Cowboys' first visit to Morgantown, W.Va. since 1928.
WVU has three members of its staff with strong OSU ties. Head coach Dana Holgorsen was OSU's offensive coordinator under Mike Gundy in 2010. Special teams coordinator Joe DeForest coached at OSU from 2001-11 and graduate assistant Andrew McGee played at OSU in 2009 and 2010.
Holgorsen recruited OSU quarterback J.W. Walsh to play in Stillwater. Walsh kept his commitment to the Cowboys after Holgorsen left for WVU in Dec. 2010.
OSU has gained at least 400 yards in 28 of its last 29 games.
Cowboys linebacker Shaun Lewis has started 35 straight games.
OSU has scored 15 touchdowns in 15 trips to the red zone this season.
Ten different players have scored touchdowns for OSU this season.
Texas is averaging 6.98 yards per play on second down, helping them gain 41 first downs on second-down plays. They've gained 48 first downs on first- and third-down plays combined.
Texas Tech's Jace Amaro leads the Big 12 with 12 receptions on third down for 205 yards and one touchdown. KSU's Lockett is second with seven third-down catches.
TCU is 3-1 in 11 a.m. games during the past two seasons.
TCU coach Gary Patterson is 9-2 as a head coach against SMU.
TCU has a seven-game win streak in games following a bye week.
Under Patterson, TCU is 25-8 in games following a loss.
TCU has won five of the last six games against SMU.
TCU has faced SMU 92 times, tying the Mustangs with Texas A&M for the second-most meetings with the Horned Frogs.
Trevone Boykin's 101 rushing yards against Texas Tech made him the first TCU quarterback since David Roscoe (vs. BYU in 1987) to reach 100 rushing yards in a game.
Texas Tech ranks No. 4 nationally with 408.5 passing yards.
The Red Raiders rank No. 4 nationally in red zone efficiency allowed at 22.2 percent.
Texas Tech ranks No. 5 nationally in goal-to-go efficiency allowed at 16.7 percent.
The Red Raiders rank No. 7 nationally in kickoff return yardage allowed at 16.63 yards per return.
Fourteen players have made their first start for West Virginia this season, including quarterback Ford Childress and running back Charles Sims.
West Virginia is eighth nationally with 30 underclassmen on its depth chart, making the Mountaineers the Big 12's youngest team.
West Virginia is 97-93-1 all-time in nationally televised games. Saturday's game against OSU is WVU's 192nd network television appearance.
WVU's shutout loss to Maryland was the first time in 151 games that the Mountaineers were held scoreless since Oct. 6, 2001, against Virginia Tech.
August, 8, 2013
8/08/13
9:00
AM ET
Kansas begins its season a week later than the rest of the Big 12, which means a late start for preseason camp, too. Let's have a closer look.

Schedule:
Players reported on Wednesday and the first practice is scheduled for today. The Jayhawks open their season at home against South Dakota on Sept. 7.
Setting the scene:
It's all about improvement for Kansas, and there's only one way to go when you're coming off a 1-11 season with the lone win coming against an FCS team. KU's efforts to bring in almost 20 junior college transfers in the offseason has been well documented by now, and ultimately, the outcome of that rebooting strategy will shape Weis' tenure in Lawrence. Weis is hopeful that BYU tranfer
Jake Heaps
will have a different season than Dayne Crist, who never showed the ability to be the player KU hoped he would be. The defense was better in 2012 and should improve with more speed and experience this year. On the other side of the ball, though, the lack of a serviceable passing game will make it a long season in Lawrence.
All eyes on:
The new guys. Kansas simply hasn't had the necessary talent to compete in the Big 12 in the past three years, but a few FBS transfers and the previously mentioned juco transfers have given them a talent boost. The question is, can those guys be who KU needs them to be and can Weis pull this team together and make it work? There are high hopes for guys like OU transfer receiver
Justin McCay
and jucos
Cassius Sendish
and
Marquel Combs
, as well as a pair of talents who returned to Kansas -- DB
Dexter McDonald
and RB
Darrian Miller
--after being kicked off the team before the 2012 season. Ultimately, they hold the key to KU's season.
Breaking out:
DL
Jordan Tavai
. The juco transfer didn't get to join the Jayhawks until fall camp was already underway last season, but didn't take long to win a starting spot and held it down for all 12 games last season. The transition obviously wasn't easy, though he finished the year with 19 tackles. After a spring of practice and offseason in the strength program, he could be due for a much better second year in Lawrence as a senior this fall, especially considering the amount of upgrades along the defensive line this year.
Key battle:
Buck. Toben Opurum held down the hybrid linebacker/defensive end spot well last season, and KU thought it had an impact player in juco transfer
Chris Martin
. He was dismissed after an offseason arrest and the guy who might have been KU's best overall defender was gone before his career at KU really started. Now, sophomores
Michael Reynolds
and
Ben Goodman
are battling to fill the void this month.
Instant upgrade:
Trevor Pardula
. Weis was appalled at his special teams last season, especially the kicking game. Now, he hopes Pardula is the answer. He's likely to handle both placekicking and punting duties. The former soccer player comes to KU from, yes, junior college.
On the move
:
Tony Pierson
. KU's got to figure out exactly how and how much it wants to use him. There's so much depth at running back, and Pierson is the team's best threat for the big play. He's a running back at heart, but he could do a lot of damage in the slot. He proved his ability to catch the ball last season, hauling in 21 balls for 291 yards, mostly out of the backfield. Weis said this spring he saw some Tavon Austin in Pierson, and wanted him to earn some time lining up as a receiver. I'm betting this is one experiment that goes very, very well. The more touches for Pierson, the better.
Outlook:
Kansas has its 21-game losing streak in Big 12 play hanging over its head, as well as a road losing streak that goes all the way back to early 2009 when it beat UTEP. The Jayhawks are also stuck on a 21-game losing streak to FBS teams. Weis obviously doesn't have a problem with folks voting the Jayhawks last in the Big 12, but KU's looking to turn close calls like it had last season against Texas and Texas Tech into wins to get off those streaks. It also has a good chance to end the road streak in a game against Rice on Sept. 14.
Quotable:
Weis, on his recruiting philosophy. "I needed guys that could play now because, if not, I'm going to be ranked tenth in the league every year. So I needed to go with that high volume. I think that in the long-range plan and the plan that we've laid out as a coaching staff, that sliding scale should start working in the other direction where the majority of the players you bring in are high school players and then you fill the desired holes or gaps you need with those junior college players."