August, 29, 2011
8/29/11
2:00
PM ET
A few teams across the Big 12 updated their depth charts in preparation for the season. Here's what you ought to know.
KANSAS STATE
Bill Snyder's depth chart for the team's game notes heading into next week's game against Eastern Kentucky? A work of art.
Snyder said he'll be releasing the depth chart tomorrow. More later on the Wildcats.
OKLAHOMA
Oklahoma didn't have any huge surprises, but the biggest news: Jamell Fleming has officially reclaimed his spot above Gabe Lynn at the boundary corner spot, despite missing all of spring practice after leaving the university.
Three true freshmen also broke the lineup. Kameel Jackson will back up Trey Franks at receiver, and recently added linebacker Kellen Jones is a co-backup with Jaydan Bird behind Tom Wort at middle linebacker. Nila Kasitati is a co-backup behind Tyler Evans at right guard.
Doubt the committee approach at running back? Brennan Clay, Dominique Whaley and Roy Finch are all co-starters at the position. Finch is listed last on that group, but we'll see how carries are distributed in Week 1 vs. Tulsa. Whaley is a walk-on who has had big days in the spring game the past two seasons.
Ronnell Lewis is listed as the starter at defensive end, but the university has yet to officially clarify his eligibility status. Kenny Stills is likely suspended for Saturday's game after an offseason arrest, but he's listed as the starter at receiver.
TEXAS TECH
Texas Tech has pair of hyped defensive linemen, and both cracked the two-deep. Leon Mackey, a juco transfer, will start at defensive end in Week 1 for the Red Raiders against Texas State. Meanwhile, former UNC signee and recently cleared true freshman Delvon Simmons will back up Kerry Hyder at defensive tackle in Chad Glasgow's 4-2-5 scheme, fresh from TCU.
Glasgow will lean on a true freshman for one of his two linebacker spots. Blake Dees had a huge impact in the spring and solidified his starting spot during fall camp.
Receiver Marcus Kennard, a juco transfer, looks like he'll redshirt after not showing up on the two-deep, but Darrin Moore will grab the Z receiver spot for the Red Raiders.
OKLAHOMA STATE
The rumors have been officially proven correct at Oklahoma State: The Cowboys return all five starters on the offensive line, but juco transfer Michael Bowie has crashed the starting lineup at left tackle. He'll replace Nick Martinez, who'll back up Lane Taylor at right guard now. The Cowboys offensive line is the league's best, and clearly, Bowie's hyped arrival gives it a whole lot more than depth.
Justin Gilbert has officially usurped Devin Hedgepeth as the corner opposite Brodrick Brown. No surprise there. Gilbert's ceiling is sky high.
Caleb Lavey was the likely starter at the spot, but he'll officially start the year as Orie Lemon's replacement at middle linebacker, where he began spring camp.
MISSOURI
Justin Britt replaces Elvis Fisher at left tackle. The sophomore had been inside, but the team saw him moving outside eventually. He'll take that spot now with Fisher out for the season with a torn patellar tendon.
Hyped juco transfer Sheldon Richardson? Fifth on the depth chart no more. The recently cleared big man moved to No. 2 at defensive tackle behind Terrell Resonno.
Center Travis Ruth is out for the opener against Miami (OH). Jayson Palmgren fills his void.
Starting corner Kip Edwards is doubtful. Trey Hobson is listed as the starter.
Receiver Jerrell Jackson is also doubtful. Marcus Lucas will get the nod if Jackson can't go.
True freshman Corbin Berkstresser grabbed the No. 3 quarterback spot behind James Franklin and returning backup Jimmy Costello, who left the team and planned to join the Army, but re-joined after Tyler Gabbert's transfer.
IOWA STATE
Iowa State made it official on paper: Steele Jantz is the starting quarterback. His backfield? Crowded, but led by Shontrelle Johnson, as expected.
I'm not sure if it means he's playing for sure just yet, but Darius Reynolds is listed as the starter at one of the three receiver spots, despite suffering a broken toe earlier in fall camp.
A.J. Klein, meanwhile, has moved to middle linebacker next to weak side linebacker Jake Knott. Matt Tau'fo'ou started at middle linebacker spot last year, but after suffering a broken leg, he's backing up Klein in the middle. C.J. Morgan, a freshman, takes over at strong side. I haven't seen Morgan play, but at 207 pounds vs. Klein's 243, he'd presumably offer some more, much-needed speed at the position. Jacob Lattimer? Starting at defensive end, despite a March arrest and suspension.
July, 14, 2011
7/14/11
9:00
AM ET
We'll move on to the cornerbacks today in our position rankings across the Big 12.
Here's what we've covered so far:
This group? Well, it's not very good. And considering the crazy depth in the Big 12 at receiver, it could be a long season for cornerbacks in this league. I love the upside of many of the Big 12 corners -- namely the guys at Missouri and Texas Tech (especially working with Chad Glasgow's 4-2-5 in Lubbock). Texas could also develop fast in its new defense, but outside of Texas A&M and Oklahoma, I don't see any Big 12 teams that should be completely comfortable with their cornerbacks.
Of course, for fans who love points, this could be a welcome development. For secondary coaches and defensive coordinators? Not so much.
[+] Enlarge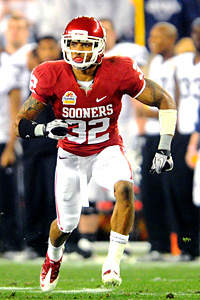 Mark J. Rebilas/US PresswireJamell Fleming returns as the Big 12's top cornerback.
1. Oklahoma
-- Jamell Fleming is the Big 12's top returner at the position and gives the Sooners a huge boost after being reinstated last week. Fleming had withdrawn from the university because of academic problems following the season. Aaron Colvin moved to safety during the offseason, but Fleming will still have to beat out Gabe Lynn in fall camp to start opposite Demontre Hurst. Julian Wilson also adds depth.
2. Texas A&M
-- Fleming's return pushed the Sooners over A&M as having the Big 12's best group of corners. But Coryell Judie and Terrence Frederick could both challenge for first team All-Big 12 honors at the position. They are ahead of reserves Dustin Harris and Lionel Smith, who will get plenty of time on the field.
3. Missouri
-- Missouri loses starters Carl Gettis and Kevin Rutland, but the coaches consider Kip Edwards a returning starter because of how much he played last season. Edwards could join E.J. Gaines in eventually becoming better than both Gettis and Rutland. Trey Hobson and Robert Steeples will get time in the rotation, too.
4. Oklahoma State --
OSU has to replace the Big 12's interception leader Andrew McGee , but Brodrick Brown's development should continue. He's likely a dark horse to earn first-team All-Big 12 honors after the season. The Cowboys didn't release a post-spring depth chart, but don't be surprised if return specialist Justin Gilbert edges out Devin Hedgepeth for the starting spot before the opener. Andrae May has earned playing time on special teams in both of his first two seasons on campus, but could be counted on for a much bigger role this year as the fourth corner.
5. Texas --
The Longhorns are fairly decimated at corner after losing three to the NFL in one offseason. Curtis and Chykie Brown joined Aaron Williams for one of the most talented sets of corners we've seen in this league, but now, secondary coach Duane Akina will have to replace them. Texas' depth chart is still as in flux as any in college football, but I'd be surprised if Carrington Byndom didn't emerge with a starting spot. True freshman Quandre Diggs might swipe the other, but A.J. White will be on the field, too.
6. Texas Tech --
The Red Raiders are likely to ascend this list by season's end, but for now, find themselves at No. 6. Injuries were costly for the defense last season, but Tre Porter and Derrick Mays should be much better, and Tech fans can be encouraged by the upside in Jarvis Phillips, Jeremy Reynolds and Eugene Neboh.
7. Iowa State --
This group might be a bit underrated, but with Iowa State's defensive problems last season, it's a bit hard to tell. Jeremy Reeves and Leonard Johnson return with loads of experience, and Anthony Young is a great additional piece as the third corner. Matthew Thomas should be in the rotation, too.
8. Baylor --
The Bears return both starters. Chance Casey has 15 career starts to Tyler Stephenson's four, but the Bears secondary struggled last season, especially the corners. Tuswani Copeland should be on the field under new coordinator Phil Bennett, whose work is cut out for him at this spot.
9. Kansas --
Kansas loses Chris Harris from last season's team, but Isiah Barfield is a playmaker at the position. Greg Brown, Tyler Patmon and Anthony Davis fill out the group.
10. Kansas State
-- The Wildcats have a huge talent in David Garrett, who led the team in tackles last season and was the nation's leader in tackles for loss, but he's still just one player at a position that needs lots of depth in this league. Also, his coverage leaves a bit to be desired. For now, K-State doesn't look like it has that necessary depth. Terrance Sweeney and Stephen Harrison are gone, but the Wildcats need to find more talents at the position in fall camp. Watch for Thomas Ferguson to emerge as the other starter.
March, 16, 2011
3/16/11
2:00
PM ET
COLUMBIA, Mo. -- In 2008, Missouri's secondary ranked as the Big 12's worst, giving up more than 4,000 yards, 700 more than the next worst in the Big 12. That ranked 118th out of 120 teams in college football.

A year later, the Tigers ranked 11th in the Big 12 and couldn't crack the national top 100.

But finally, with a pair of corners who struggled in those two seasons, 2010 was a breakthrough season for Missouri's secondary.

"We have good players and they played at a very consistent level," said coach Gary Pinkel. "And I think the athleticism and experience level of our guys, with all that we saw a little more consistency."

Kevin Rutland and Carl Gettis helped Missouri's pass defense improve to No. 3 in the Big 12 and No. 37 nationally, behind only Nebraska and Texas, who both were in the national top 10.

Most importantly, the Tigers improved to 10 wins, the same number the team had in 2008, when Missouri fielded an offense with NFL talents like quarterback Chase Daniel, receiver Jeremy Maclin and Chase Coffman.

But now, Rutland and Gettis are gone, as is safety Jarrell Harrison. Those stepping into their voids are charged with building on last year's successes without the experience (and lessons learned) from Rutland and Gettis' early years.

"Our expectations are to be No. 1 in the league in pass defense. That's our goal," said cornerback Kip Edwards.

The Tigers classify him as a returning starter because he was on the field in all of Missouri's nickel and dime packages, and often rotated in with both Gettis and Rutland.

Sophomore E.J. Gaines entered spring as the other starter, ahead of senior Trey Hobson. Edwards was counted on for plenty in 2010, but Gaines, Hobson and new free safety Tavon Bolden will have a lot asked of them in trying to continue the growth the unit showed last season. Junior Robert Steeples should contribute as the team's second corner behind Edwards, similar to how much Edwards played last year.

"I don't say you don't miss a beat, but Kip is obviously good enough to win a championship with, and E.J. is really improving. Steeples is going to try to earn a job. Hobson is going to try and earn a job," Pinkel said.

Along with the only other returning starter in the secondary, strong safety Kenji Jackson, the Tigers will know where to look for guidance.

"I should be able to step in and guide the young guys through it," Edwards said. "Really, we have the talent to be the best secondary in the Big 12."
December, 17, 2010
12/17/10
4:00
PM ET
Matt W. in Bancroft, NE asks:
Nebraska's almost out the door towards the Big Ten. What are your thoughts on the Leaders and Legends names for the divisions and what about the new logo?
David Ubben:
The logo's not exactly lighting it up like
the Pac-12's
, which might be the best logo in sports outside of
the Jumpman
, but I don't have a huge problem with the Big Ten's. As for the division names, I feel about like most do. A little lofty, no? Not exactly the people's choice.
If it makes a move to change the names, which sounds possible after Delany's comments this week, it'd be a nice chance for the league to endear itself and shed some of the elitist perception that emerged during the expansion brouhaha over the summer.
---
Jay in Austin, TX asks:
Why is Will Muschamp such a hot commodity? His defense gave up 30 or more points in 4 games this year. They also gave up 20 or more points 7 times. They lost 7 games and really only had 1 impressive win (over Nebraska on the road) and no bowl game. He had some great talent around him too. I know the offense is a problem but sometimes that defense just looked pathetic Should Florida fans be concerned?
DU:
Well, first off, since when did giving up 20 points or more become an indictment of a defense? And when your quarterback is throwing 17 picks and 10 touchdowns, you're out on the field plenty more than you'd like to be. That said, you're a little too wrapped up in 2010. This was a historically bad year for Texas, but the defense was pretty good most of the time. They had some poor stretches, but I'd hardly call them pathetic. And in the past, he's had some just amazing defenses. Like, you know, last year, when they got to the national championship (the second trip of Muschamp's career) and ranked third in total defense. Everyone around the SEC knows how good his defenses were at LSU and Auburn, too.
His pick for an offense coordinator will be a big, big decision, but I wouldn't be too concerned about his coaching future. As with any first-time head coach, there's always some slight reservation, but like I wrote when he was hired, there might
not be another coordinator in the country more ready to be a head coach
.
---
Brett in Kansas City asks:
Hey David, correct me if I'm wrong but did West Virgina hire Dana Holgorsen as a coach in waiting. Did they learn anything from what happened at Texas less than a week earlier?
DU:
Well, this is a very different situation. The kicker at Texas was Muschamp never knew when he'd be able to take over, and outside of a few anonymous reports during the year, there was never any indication that Mack Brown was being pressured to offer any kind of definitive timing.
Holgorsen knows he'll take over in 2012. That presents a whole other set of awkward problems and odd team dynamics for 2011, but when it's all over, Holgorsen should be in a good spot. It didn't sound like Muschamp was looking to go anywhere, but if Florida calls you, most guys are going to pick up the phone and give the Gators a good, long listen.
And then leave.
So yeah, they learned plenty. If Holgorsen hadn't been given a definite timeline, I don't know if he would have taken the job. Everyone involved would probably be better off if West Virginia just moved Bill Stewart into an administrative role after
this
season, but if the Mountaineers have a disappointing 2011 season, it's up to the next similar situation to learn from this one.
And on a side note, there's some major drain on great coordinators in the Big 12 this year. We'll see what that means next year. Barring their replacements, it could mean worse football. But it seems like everybody's leaving and nobody's coming.
---
Ben in CoMo asks:
With the addition of Sheldon Richardson and the likely return of both Jaquis and Alden Smith, along with our D'line backup's (who led in sacks btw), won't most opposing offenses be scared senseless, and if they aren't shouldn't they be? MU is poised to have the best D in the Big 12 if they can replace their DB's with comperable or better players in 2011. Also, will 2011 bring a 10-2, 11-1, 12-0 or worse record for my Tigers during regular season play?
DU:
We'll see about the best defense in the Big 12, because replacing those corners is easy to do in theory, difficult in practice. That's been a big problem for Missouri under Gary Pinkel. The two senior corners this year, Carl Gettis and Kevin Rutland, really struggled before having fantastic seasons in 2010. Is that just simple player development, better coaching from coordinator Dave Steckel, or a little of both?
Next year, with guys like E.J. Gaines, Kip Edwards and Trey Hobson, we'll get a better idea of what to expect from Missouri's secondary in the years to come.
That said, you're right about the front four. That rotation with Jacquies and Aldon Smith (assuming they both return), Sheldon Richardson, Terrell Resonno, Michael Sam, Brad Madison and Jimmy Burge could be pretty scary.
---
Wally Washington in Dallas, Texas asks:
My Brother,Can you explain why the loser of the Big 12 Championship doesn't play in the 2nd best bowl tie in? You would think a division winner should be automatic to either the BCS game or fall to the next level Bowl. For example, Nebraska should be playing in the Cotton Bowl this year. Or in a better year be the next choice for an at-large bid for a BCS game. Enlighten me.
DU:
I actually get this question a lot. It seems like a lot of fans don't quite understand. The bowl system is not a meritocracy, and they don't have to pick teams via standings. It's about making money. Fans more excited about their team and more likely to go watch their teams are going to make more money. Period. Outside of Oklahoma, I don't think any fan base in the Big 12 is more excited about their team than Texas A&M. Six consecutive wins, with two over top 10 teams will do that. And they're three hours away from the Cotton Bowl with a huge alumni base in Dallas. That's a big deal, and a big factor, fair or otherwise.
And if you're running the Cotton Bowl, you think fans of Oklahoma or Nebraska are going to be willing to travel back to the same stadium and the same city a month later after losing the Big 12 Championship? Not happening.
The Cotton Bowl sold out its ticket allotment for both schools really, really quickly. It didn't want an Arkansas-Texas A&M rematch back in Cowboys Stadium (the same game would have taken place three times in the same stadium within a year) but they got LSU when Arkansas got into the BCS. It's a great matchup with two great fan bases and
the best Big 12 bowl matchup
. I'd say the Cotton Bowl did pretty well.
---
KCC in Missouri asks:
Dubbs, Absolutely love the blog, and as a huge husker fan I'm definitely gonna miss it. My question is when do I have to stop reading you and go to Ritt's big 10 blog, and how do we say good bye? A "thanks for everything", fist bump, awkward hug or what?
DU:
Hey man, just do what feels right. Shoulder pat, awkward side hug, crushing bear hug, whatever strikes you. Maybe shed a few tears. I won't tell anyone.
October, 23, 2010
10/23/10
6:28
PM ET
COLUMBIA, Mo. -- Just found my seat in the press box at Faurot Field after a good day of College GameDay and football.
The weather held up in the afternoon after some early showers, but the sky turned overcast in the afternoon and looks threatening with kickoff still over two hours away.
For all the fun and hoopla that's enveloped Missouri's campus over the weekend, an overnight incident has provided some sobering perspective.
Missouri junior defensive back Trey Hobson's cousin, Aaron Hobson, was in town for an annual trip to see Trey play, but was
fatally wounded by a gunshot
at a gas station in Columbia early Saturday morning.
A homicide investigation by police is underway.
October, 14, 2009
10/14/09
1:09
PM ET
By
Tim Griffin
| ESPN.com

Posted by ESPN.com's Tim Griffin
There are games around the Big 12 this week other than just Oklahoma-Texas.
Here are some links about the Red River Rivalry and a bunch of other ones across the conference.
October, 8, 2009
10/08/09
10:07
PM ET
By
Tim Griffin
| ESPN.com

Posted by ESPN.com's Tim Griffin
COLUMBIA, Mo. -- Missouri's special teams paved the way for the Tigers to take an early lead, but Nebraska punter Alex Henery saved points when he got the ball out of the end zone for a safety.
Trey Hobson pressured Henery, who juggled a bad snap from freshman long-snapper
P.J. Mangieri
. But he got the ball out of the end zone to account for only a safety rather than a potential touchdown.
The big play put Missouri ahead 2-0.
The Tigers have also got a couple of other big plays on fumbled punts, but they couldn't produce on either play.
The problems with special teams have accounted for one change. Freshman
Rex Burkhead
replaced
Niles Paul
on the most recent Nebraska punt return.
May, 14, 2009
5/14/09
9:30
AM ET
By
Tim Griffin
| ESPN.com
Posted by ESPN.com's Tim Griffin
Missouri Tigers
2008 overall record: 10-4

2008 conference record: 5-3

Returning starters
Offense: 5, defense: 4, kicker/punter: 1
Top returners
RB Derrick Washington, WR Jared Perry, G Kurtis Gregory, LB Sean Weatherspoon, NT Jaron Baston, CB Carl Gettis.
Key losses
QB Chase Daniel, TE Chase Coffman, WR-KR Jeremy Maclin, WR Tommy Saunders, DE Stryker Sulak, DT Evander "Ziggy" Hood, S William Moore, K Jeff Wolfert
2008 statistical leaders (* returners)
Rushing: Derrick Washington* (1,036 yards)
Passing: Chase Daniel (4,335 yards)
Receiving: Jeremy Maclin (1,260 yards)
Tackles: Sean Weatherspoon* (155)
Sacks: Stryker Sulak (10 1/2)
Interceptions: Sean Weatherspoon*, Brock Christopher (3)
Spring answers
2009 Schedule
Sept. 5 Illinois (at St. Louis)
Sept. 12 Bowling Green
Sept. 19 Furman
Sept. 25 at Nevada
Oct. 8 Nebraska
Oct. 17 at Oklahoma State
Oct. 24 Texas
Oct. 31 at Colorado
Nov. 7 Baylor
Nov. 14 at Kansas State
Nov. 21 Iowa State
Nov. 28 Kansas (at Kansas City)
1. De'Vion Moore: With Derrick Washington missing much of spring practice recovering from knee surgery, Moore did a good job of picking up the slack at the position. Look for Missouri to feature its running game more than in recent seasons. The combination of Moore and Washington will be important in powering the Tigers' offensive attack.
2. Depth at defensive end: Starters Jacquies Smith and Brian Coulter will face a lot of pressure to keep their starting jobs after the strong spring development of Aldon Smith and converted offensive lineman Brad Madison. It will make the position one of the deepest on the Tigers' defense.
3. Cornerbacks: Coach Gary Pinkel believes he has the best collection of athletes in his nine-season tenure here. Starter Carl Gettis returns along with redshirt freshmen Robert Steeples and Kip Edwards, junior Kevin Rutland, junior Trey Hobson and former Notre Dame transfer Munir Prince.
Fall questions
1. Quarterback: Blaine Gabbert showed some strong progress over much of the spring, despite his struggles in the spring game. But it sill will be a huge adjustment for the Tigers as they attempt to replace Chase Daniel, the heart and soul of the team that made back-to-back Big 12 title appearances.
2. Wide receivers: Not only are key producers like Jeremy Maclin and Tommy Saunders gone from last season, but top returning receivers Danario Alexander and Jared Perry both missed most spring practice as they recovered from injuries. It gave receivers Jerrell Jackson, Wes Kemp and Brandon Gerau plenty of opportunities, but the return of Alexander and Perry will be critical for the Tigers' success during the season.
3. Kicker: Jeff Wolfert left college as the most accurate kicker in college football history. Senior walk-on Tanner Mills will get the first opportunity to replace him, although heralded arriving freshman Joe Schrick could challenge later this summer.