February, 5, 2010
2/05/10
12:10
PM ET
By
Tim Griffin
| ESPN.com
Former Nebraska running back Roger Craig is among the finalists whose credentials have been studied and analyzed before the new class of the Pro Football Hall of Fame is announced on Saturday.
[+] Enlarge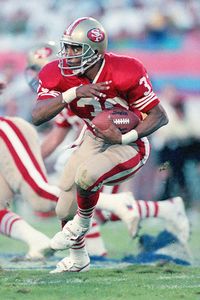 US PresswireDuring an 11 season career, Roger Craig compiled 8,189 rushing yards and 4,911 receiving yards.
Craig is the only product from a Big 12 school among the group of 17 finalists. Others who made the final cut include Tim Brown, Cris Carter, Don Coryell, Dermontti Dawson, Richard Dent, Russ Grimm, Charles Haley, Rickey Jackson, Cortez Kennedy, Dick LeBeau, Floyd Little, John Randle, Andre Reed, Jerry Rice, Shannon Sharpe and Emmitt Smith.
Craig's candidacy appears to be strong. He was a member of three Super Bowl championship teams with the San Francisco 49ers. He was a four-time Pro Bowler who led the league in receptions in 1985 and ranked among the top seven receivers during four consecutive seasons from 1985 to 1988. He also finished in the top 10 in rushing for three straight seasons from 1987 to 1989.
His numbers appear strong, but he likely will be hurt by two "no brainer" selections. Smith and Rice have to be picked in their first seasons of eligibility. Smith was the greatest running back of his generation and Craig pales compared to him. And I'm thinking if voters choose to reward a player from the San Francisco dynasty of the late 1980s, it will be Rice.
The Big 12 is underrepresented in the Pro Football Hall of Fame. There hasn't been an alumnus from the conference selected since Thurman Thomas and Roger Wehrli in 2007.
Here's a look at the Big 12 schools and their alumni chosen for the Pro Football Hall of Fame.
Baylor:
LB Mike Singletary (1998)
Colorado:
None.
Iowa State:
None.
Kansas:
T Mike McCormack (1984), RB John Riggins (1992), RB Gale Sayers (1977).
Kansas State:
None.
Missouri:
CB Roger Wehrli (2007), TE Kellen Winslow (1995).
Nebraska:
T Bob Brown (2004), E/coach Guy Chamberlin (1965), T William "Link" Lyman (1964).
Oklahoma:
QB Troy Aikman (later finished at UCLA/2006), WR Tommy McDonald (1998), DE Lee Roy Selmon (1995).
Oklahoma State:
RB Barry Sanders (2004), RB Thurman Thomas (2007).
Texas:
RB Earl Campbell (1991), DB/coach Tom Landry (1990), QB Bobby Layne (1967), administrator Tex Schramm (1991).
Texas A&M:
DB/P Yale Lary (1979).
Texas Tech:
None.
How about it, readers? Are there any Big 12 products either retired or playing today in the NFL who deserve a slot in Canton for their deeds in the NFL?
I think an argument can definitely be made for Craig and for former players Tommy Nobis (Texas) and Lester Hayes (Texas A&M). I can also see recently retired players like Zach Thomas (Texas Tech) making it one day. And it also wouldn't surprise me to see Adrian Peterson (Oklahoma) and Wes Welker (Texas Tech) there if they can keep progressing in their careers.
What do you think?
December, 11, 2009
12/11/09
12:43
PM ET
By
Tim Griffin
| ESPN.com
Good Friday afternoon.
Here are some Big 12 links to get you through your lunch hour.
August, 24, 2009
8/24/09
8:08
AM ET
By
Tim Griffin
| ESPN.com
Posted by ESPN.com's Tim Griffin There was an outstanding piece of research that appeared over the weekend in the Altoona (Pa.) Mirror that set out to ascertain a question that has been vexing over the years. Namely, which college deserves the title of "Quarterback U" for its proficiency in producing college players who eventually started games in the NFL? The findings were very interesting, particularly in terms of which schools have produced starting NFL quarterbacks and which ones have not in the modern era, starting with the 1966 season. Purdue earns an argument in the "Quarterback U" debate because its alums have started more NFL games (704) than any other school. Also, Purdue is the only school to have four quarterbacks start at least 100 games (Jim Everett, Len Dawson, Drew Brees and Bob Griese). USC leads the list with 15 quarterbacks who have started at least one game, followed by Notre Dame (13) and Washington (12). The Big 12, with its previous tradition of ground-based offenses in the old Big Eight and Southwest conferences, struggles mightily in this comparison. Here's the list of Big 12 schools and their starting quarterbacks. In a way, the numbers are a little skewed because it credits the starts of former college quarterbacks like Colorado's Kordell Stewart and Missouri's Brad Smith. Both have gone on to pro careers at positions other than quarterback. Here's how the Altoona Mirror stacks up the Big 12 programs in terms of starting quarterbacks and NFL starts. Kansas State (249 games, four starters): Steve Grogan 135, Lynn Dickey 111, Dennis Morrison 2, Dan Manucci 1. Kansas (190 games, three starters): John Hadl 135, Bobby Douglass 53, Frank Seurer 2. Colorado (95 games, two starters): Kordell Stewart 87, Koy Detmer 8. Nebraska (79 games, six starters): Vince Ferragamo 53, Jerry Tagge 12, Bruce Mathison 9, Dennis Claridge 3, David Humm 1, Terry Luck 1. Iowa State (52 games, four starters): David Archer 23, Sage Rosenfels 12, Seneca Wallace 12, Tim Van Galder 5. Texas Tech (47 games, one starter): Billy Joe Tolliver 47. Baylor (45 games, five starters): Cody Carlson 19, Don Trull 15, Buddy Humphrey 5, Cotton Davidson 4, Brad Goebel 2. Texas (44 games, two starters): Vince Young 29, Chris Simms 15. Missouri (18 games, three starters): Brad Smith 13, Steve Pisarkiewicz 4, Gary Lane 1. Texas A&M (16 games, three starters): Edd Hargett 7, Gary Kubiak 5, Bucky Richardson 4. Oklahoma State (14 games, one starter): Rusty Hilger 14. Oklahoma (no games, no starters). The study also credits a quarterback with where he finished school rather than started. So, Troy Aikman is considered to have attended UCLA rather than Oklahoma. As the story points out, it's interesting that a Division II program like Texas A&M-Commerce has been able to turn out three starters -- more than traditional powers Texas and Oklahoma combined. The Big 12's recent ascension as the nation's foremost passing conference will help change these statistics quickly in a few years. Because I'm thinking quarterbacks like Josh Freeman, Sam Bradford, Colt McCoy, Robert Griffin and maybe even Austen Arnaud or Zac Robinson will get their shot in the NFL one of these days.
July, 31, 2009
7/31/09
12:00
PM ET
By
Tim Griffin
| ESPN.com
Posted by ESPN.com's Tim Griffin
Is there an exact moment that can be pinpointed as the turning point of a national championship season?
My colleagues Ivan Maisel and Mark Schlabach have done a great job of looking at a special moment that helped turn the season for every national championship team since 1984.
The Big 12 was well represented. No moment was bigger than Oklahoma linebacker Torrance Marshall's key interception at Texas A&M that rescued that game for the Sooners en route to their 2000 national championship.
The Sooners were the country's only unbeaten team when they traveled to Texas A&M with an 8-0 record. After Oklahoma fell behind 31-21, tailback Quentin Griffin scored on a 2-yard run to make it 31-28 with 7 minutes, 43 seconds to play. Twenty-five seconds later, Sooners linebacker Torrance Marshall stepped in front of Mark Farris' pass and returned it 41 yards for a touchdown and a 35-31 victory. Marshall's first career interception helped the Sooners win in College Station for the first time since 1903.
I still remember covering that game. I don't think I've ever heard Kyle Field as quiet, with the exception of the small collection of Oklahoma fans who were tucked into a corner of that mammoth facility on that day.
Other key Big 12 moments that were included were Matt Davison's kicked pass reception that helped save Nebraska's season at Missouri in 1997 and Vince Young's late TD pass to Limas Sweed that propelled Texas' key comeback victory at Ohio State in 2005.
Big 12 schools are also represented for their championships claimed before the conference was formed in 1996. Troy Aikman's broken leg that forced Oklahoma back into the wishbone helped turn the Sooners' season in 1985, Colorado's fifth-down victory at Missouri in 1990, Nebraska's Orange Bowl redemption en route to the 1994 title and Tommie Frazier's remarkable 75-yard TD run against Florida the following season are highlighted.
It's great series that has a lot of neat multimedia tricks. Check it out for some good memories about Big 12 championship teams.
And are there any other plays or moments that might help define those Big 12 championship seasons?
June, 15, 2009
6/15/09
6:30
PM ET
By
Tim Griffin
| ESPN.com
Posted by ESPN.com's Tim Griffin
Today is a special summer day for football fans across Texas and the Southwest.
Today is the annual release date of Dave Campbell's Texas Football, which is the unquestionable college football magazine of record in these parts every year.
This magazine is special because it's the 50th anniversary edition. The first one was laid out on the kitchen table of former Waco Tribune-Herald sports editor Dave Campbell, who started it in 1960.
It's gotten much bigger than that over the years, being read by three generations of football fans over the years. Today, there's a Texas Football classic every year at the Alamodome and even an official Texas Football song.
I first learned about the magazine in the late 1960s when a friend of mine in fifth grade, Richard Jackson, moved to Memphis from Houston. Along with his neat Houston Astros hat that I always was envious of was his copy of Texas Football Magazine. The story and pictures of the guys from Texas, Baylor and Rice were so different than anything I came across in the Southeastern Conference. I wanted mine, too.
My dad occasionally traveled to Texas with his job and soon learned to look at the 7-Eleven on one of his trips to Dallas to see if he could score a copy of Dave Campbell for me.
Later, my family moved to Texas and I learned the excitement of visiting the newsstand in mid-June to pick up the Dave Campbell magazine, which was there to chronicle the demise of the Southwest Conference and the start of the Big 12.
The new one will officially be released today across the area. And the coverboy is Texas quarterback Colt McCoy, who becomes the first individual player to be pictured since Texas wide receiver Roy Williams in 2003.
I picked up my copy and am already deeply into it. It takes me back to my childhood.
The only problem is that I wonder why I couldn't pick up a Grape Slurpee to drink with it like I used to back in the day.
A list of the cover boys in the magazine's history exhibits a unique history of football in the southwest. Here's a list of the players who have graced the cover of the magazine over the years.
1960: Texas RB Jack Collins
1961: Baylor RB Ronnie Bull
1962: TCU QB Sonny Gibbs
1963: Texas coach Darrell Royal and DT Scott Appleton
1964: Baylor coach John Bridgers and WR Lawrence Elkins
1965: Texas Tech RB Donny Anderson
1966: SMU NG John LaGrone, Baylor DT Greg Pipes, Texas DT Diron Talbert
1967: Texas A&M T Maurice "Mo" Moorman
1968: Texas A&M QB Edd Hargett
1969: Texas QB James Street
1970: Texas RB Steve Worster
1971: Texas Tech QB Charles Napper
1972: Texas A&M LB Brad Dusek
1973: Texas LB Glen Gaspard
1974: Texas coach Darrell Royal
1975: Baylor coach Grant Teaff
1976: Houston coach Bill Yeoman
1977: Texas Tech QB Rodney Allison
1978: Texas A&M K Tony Franklin and Texas K/P Russell Erxleben
1979: Texas DT Steve McMichael
1980: Baylor LB Mike Singletary and Texas A&M QB Mike Mosley
1981: Baylor RB Walter Abercrombie and SMU RB Craig James
1982: Texas A&M QB Gary Kubiak
1983: SMU QB Lance McIlhenny
1984: Texas A&M DE Ray Childress
1985: TCU coach Jim Wacker and TCU RB Kenneth Davis
1986: Texas A&M coach Jackie Sherrill
1987: Texas QB Bret Stafford and Texas coach David McWilliams
1988: Texas RB Eric Metcalf and Texas A&M LB John Roper
1989: Houston coach Jack Pardee and SMU coach Forrest Gregg
1990: Texas Tech coach Spike Dykes
1991: Houston QB David Klingler
1992: Rice RB Trevor Cobb
1993: Texas A&M coach R.C. Slocum
1994: Texas QB Shea Morenz
1995: A collage of Southwest Conference historical figures including Texas RB Earl Campbell, Houston coach Bill Yeoman, Baylor LB Mike Singletary, TCU QB Sammy Baugh, Texas coach Fred Akers, Texas coach Darrell Royal and SMU RB Doak Walker.
1996: Baylor coach Chuck Ready, Texas Tech coach Spike Dykes, Texas coach John Mackovic and Texas A&M coach R.C. Slocum
1997: Texas QB James Brown and Texas RB Ricky Williams
1998: Texas A&M LB Dat Nguyen, Texas RB Ricky Williams and Texas coach Mack Brown
1999: Texas coach Mack Brown and TCU coach Dennis Franchione. Note: Alternative cover for those magazines sold outside the state featured Dallas Cowboys QB Troy Aikman
2000: Midland Robert E. Lee H.S. RB Cedric Benson
2001: Texas QB Chris Simms, TCU QB Casey Printers, Texas A&M QB Mark Farris and Texas Tech QB Kliff Kingsbury
2002: Texas Tech QB Kliff Kingsbury, Celina H.S. coach G.A. Moore, Dallas Cowboys RB Emmitt Smith and Baytown Lee H.S. QB Drew Tate.
2003: Texas WR Roy Williams
2004: Texas Tech DE Adell Duckett, TCU S Marvin Godbolt, Houston QB Kevin Kolb, North Texas RB Patrick Cobb
2005: Texas QB Vince Young and Texas A&M QB Reggie McNeal
2006: Former Texas RB Earl Campbell, Mansfield Summit H.S. QB John Chiles, Texarkana Texas H.S. QB Ryan Mallett and Gilmer H.S. QB G.J. Kinne
2007: Texas A&M QB Stephen McGee, Texas QB Colt McCoy and TCU DE Tommy Blake
2008: Texas Tech coach Mike Leach, Texas Tech QB Graham Harrell and Texas Tech WR Michael Crabtree
2009: Texas QB Colt McCoy
Source: ESPN.com research

May, 29, 2009
5/29/09
2:00
PM ET
By
Tim Griffin
| ESPN.com
Posted by ESPN.com's Tim Griffin
As anybody who reads this blog on a regular basis understands by now, I see numbers and statistics as a way of explaining a lot of things about sports.
A whole generation of analysts has constructed brand new ideas in baseball because of the work of sabermetricians like former Kansas student Bill James.
Football doesn't quiet have that wealth of study, mainly because there aren't as many numbers available.
But there are a growing segment of analysts out there doing more and more work on football analysis.
My wife got me a book over the weekend which I read while I was down at the beach over Memorial Day. Sean Lahman's "The Pro Football Historical Abstract" used some Jamesian methodology to rank the top pro players in history at their positions, among other things.
And bringing some of Lahman's study into closer focus, I was particularly interested in how players from Big 12 schools ranked among his career lists at various positions.
Here's a position-by-position glance at the top Big 12 players in NFL history, according to Lahman's rankings.

Quarterbacks
12. Bobby Layne (Texas)
27. Troy Aikman (started at Oklahoma, UCLA)
28. John Hadl (Kansas)
62. Steve Grogan (Kansas State)
63. Kordell Stewart (Colorado)
100. Bernie Masterson (Nebraska)
Running backs
2. Barry Sanders (Oklahoma State)
5. Thurman Thomas (Oklahoma State)
21. Earl Campbell (Texas)
30. Roger Craig (Nebraska)
32. John Riggins (Kansas)
38. Priest Holmes (Texas)
45. Ahman Green (Nebraska)
54. Larry Brown (Kansas State)
98. Gale Sayers (Kansas)
99. James Wilder (Missouri)
Wide receivers
17. Cliff Branch (Colorado)
27. Del Shofner (Baylor)
47. Irving Fryar (Nebraska)
48. Mel Gray (Missouri)
49. Dave Parks (Texas Tech)
Tight Ends
6. Kellen Winslow (Missouri)
14. Keith Jackson (Oklahoma)
34. Henry Childs (Kansas State)
49. Paul Coffman (Kansas State)
Offensive linemen
7. Will Shields (Nebraska)
32. Richmond Webb (Texas A&M)
34. Bob Brown (Nebraska)
39. Bob Young (Started at Howard Payne, Texas, Texas State)
46. John Wooten (Colorado)

Defensive linemen
18. Ron McDole (Nebraska)
19. Steve McMichael (Texas)
43. Ray Childress (Texas A&M)
Linebackers
2. Mike Singletary (Baylor)
26. Andy Russell (Missouri)
28. Jack Pardee (Texas A&M)
29. Zach Thomas (Texas Tech)
30. Leslie O'Neal (Oklahoma State)
Defensive backs
16. Yale Lary (Texas A&M)
21. Pat Fischer (Nebraska)
36. Roger Wehrli (Missouri)
Kickers
20. Bobby Layne (Texas)
Kickoff returners
2. Glyn Milburn (Started at Oklahoma, Stanford)
4. Dante Hall (Texas A&M)
7. Tyrone Hughes (Nebraska)
10. Gale Sayers (Kansas)
Punt returners
5. Eric Metcalf (Texas)
12. Glyn Milburn (Oklahoma, Stanford)
Combined kick returners
11. Dante Hall (Texas A&M)
14. Mike Nelms (Started at Baylor, Sam Houston State)
24. Dick Todd (Texas A&M)
TWO-WAY ERA PLAYERS
Backs
5. Verne Lewellen (Nebraska)
7. Glenn Presnell (Nebraska)

Ends
10. Guy Chamberlin (Started at Nebraska Wesleyan, Nebraska)
Tackles
1. Link Lyman (Nebraska)
Guards
3. Ox Emerson (Texas)
Centers
5. Charley Brock (Nebraska)
6. Frank Bausch (Kansas)
Coaches
4. Tom Landry (Texas)
53. Jack Pardee (Texas A&M)
72. Guy Chamberlin (Nebraska Wesleyan, Nebraska)

I had a chance to see many of these players as my frame of reference for the NFL goes back to about 1964, when I was 5 years old. The only one that really shocked me was how low Gale Sayers was ranked among running backs. I grew up watching the Chicago Bears and saw almost every one of Sayers' pro games. I find it hard to believe there were 97 better running backs in NFL history than him.
One fact that was interesting from this list was the number of running backs and linemen that were Big 12 products, in comparison with quarterbacks and receivers. In the old days, the Big Eight and Southwest conferences always had reputations based on stout running games. I think that will change in the future because of the conference's growing aerial status.
Obviously, there will be other Big 12 players who will be able to make the list in the future. It would be a shock if we don't see Adrian Peterson charging into the best backs in NFL history. It wouldn't surprise me if Michael Crabtree was able to be that kind of player. Maybe Jason Smith, too.
But it's always interesting to me to see the kind of work that Lahman has developed on a grand scale for the NFL and compare it to the Big 12 schools.
I just wish some other researchers would feel as passionate about college football history, too.
September, 11, 2008
9/11/08
8:10
AM ET
By
Tim Griffin
| ESPN.com
Posted by ESPN.com's Tim Griffin
Bob Stoops turned 48 earlier this week. And while the Oklahoma coach is revered in the Sooner State, it wasn't a holiday or anything.
At least not that we know of.
Oklahoman columnist Berry Tramel put his spin on Stoops' birthday in a unique way. He compared the career stages for other notable Oklahoma football coaches when they turned 48.
Barry Switzer's wishbone was struggling a little when he turned 48 in 1985 with Troy Aikman as his starting quarterback. Bud Wilkinson was in the middle of his run for the U.S. Senate in 1964. Chuck Fairbanks was trying to rebuild a struggling program at Colorado, well after his salad days at OU. Bennie Owen was getting ready for his 19th season as the Sooners' head coach. And Howard Schnellenberger was preparing for his fourth season as Miami's head coach, only 23 victories into his college head-coaching career.
With Stoops apparently excited about continued coaching at Oklahoma, it will be interesting to see what happens for him in the years after his 48th birthday.
Of a more immediate interest for him will be his team's trip to Washington to attack some nasty road karma. Joseph Duarte of the Houston Chronicle writes that Stoops currently has a nation-best 20-game home winning streak at Owen Field. During that same time, the Sooners are a more pedestrian 12-9 on the road.
Those recent road woes have raised the stakes for Saturday's game at Husky Stadium.
"For me, this is the game of the year because this sets the tone for our future road games and sets the tone for our team," redshirt freshman LB Travis Lewis told the Chronicle. "It's easy playing in front of 85,000 who love you, but what about the 80,000 who hate you?"
It will make Saturday's game the biggest test for the Sooners so far this season. If Stoops can win, he would become the fourth OU coach to have won 100 games during their careers at the school, joining Wilkinson, Switzer and Owen.
Pretty select company, indeed.
Kind of like being included with these morning links: