August, 12, 2014
Aug 12
4:00
PM ET
WACO, Texas -- Two years ago, Baylor's backup quarterback rounded up the starting offensive linemen in the preseason and took them to Chuy's for a Mexican feast on his dime. He wasn't playing in 2012, but he understood the importance of keeping the big boys well fed.
Last August,
Bryce Petty
took the gang to Olive Garden. This time he brought six linemen. They capitalized on his kindness.
"They had appetizers and salads and two entrees -- one to take home, which was ridiculous," Petty said. "I didn't think they needed that, but I couldn't really tell them no."
[+] Enlarge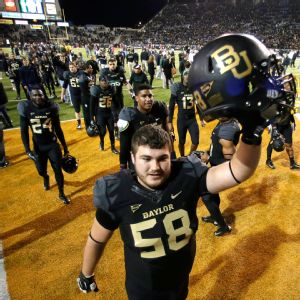 AP Photo/Tony GutierrezJunior tackle Spencer Drango is one of the leaders of the Baylor offensive line.
The final bill? More than $120. Petty would love to make these lineman dinners a weekly staple in 2014, but as he put it, "The budget doesn't really call for that all the time."
Tackle
Troy Baker
got the Olive Garden invite despite being out with a torn ACL, so he was especially appreciative. The love Petty has always shown his linemen, even before he was a starter or Big 12 Player of the Year, isn't lost on them.
"He's going to take care of his big guys. He knows we'll get beat up and we'll work for him," Baker said. "He knows what we mean to him. We know how important he is to us."
But Petty still has to tread lightly among his linemen in the locker room. Baylor's offensive line room is full of athletic freaks, blue-collar grinders and loudmouths, plus a Brit and two Aussies. And they can be merciless, even to QB1.
"Sometimes he'll come in wearing his decked-out Nike stuff, looking like Tiger, or he'll be wearing neon yellow Nike stuff head to toe," Baker said. "We'll give him some crap about that."
Petty doesn't get it as bad as
Jason Osei
, the 27-year-old sophomore from London with a martial arts and rugby background. He gets called "Pickle" on the days he's wearing his green skull cap, shirt, shorts and shoes.
"He's a character, man," tackle
Spencer Drango
said. "All the girls love him for his accent. It's pretty thick. We have a joke about who won the Revolutionary War. He says it was a tie."
Then you have brothers
Blake Muir
and
Sean Muir
, who arrived in Waco last year. Blake started 12 games at Hawaii in 2012 before transferring. Sean had never played football before joining the Bears. Their accents are just as beloved.
Blake is competing for the left guard job with
LaQuan McGowan
, a young man who might be from the future.
"LaQuan is legitimately 6-foot-8, 400 pounds," Baker said. "He's strong as can be. Coach [Art] Briles always says he's 20 years out of his time. It's unbelievable physically what he can do.
"You can't do anything to him. You literally can't. He can cut you in line and, even as another offensive lineman, you're like, 'Go ahead, buddy. It's yours. All you.'"
Drango jokes that the first time he shook hands with McGowan, his freshman-year roommate, he almost lost his.
"I have big hands," Drango said. "He completely dwarfed my hand and almost crushed it."
McGowan or Muir will line up to the right of Drango, an All-Big 12 tackle and NFL prospect who's fully recovered from the back injury that ended his 2013 season early. His backup,
Pat Colbert
, is known as "Sinbad" in the locker room. Look up his
mug shot
and it's easy to see why.
At center, there's
Kyle Fuller
, a redshirt sophomore who's described as no-nonsense and "very blue-collar" by teammates.
Desmine Hilliard
is the starting right guard and also an All-American at throwing the discus; he set school records at the NCAA track and field championships last year.
The backup at right tackle,
Tyler Edwards
, gets called "The Undertaker"
for his hair
. And then you have Baker, who's back from the torn ACL and can't wait to see what this group does at full strength.
[+] Enlarge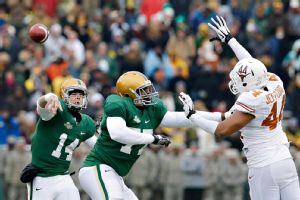 AP Photo/LM OteroBryce Petty knows his success is tied to staying upright, and he has a top-notch offensive line upon whom to rely.
As one of the old guys in the line room, Baker says he has witnessed an evolution in the past four years. The Waco native swears he wouldn't have been recruited by BU if he were a high schooler today. He wouldn't have been good enough.
"To be honest, I don't think I would," the former three-star recruit said. "They don't have to. They can recruit the studs, and the studs come after them now."
Randy Clements, Baylor's line coach, has been working alongside Briles since 1989. He oversaw linemen and power lifting back in their Stephenville High days. His linemen say he's brilliant, a coach capable of developing anybody. At Baylor, he's produced an NFL draft pick in six straight years.
The line began breaking through, in Baker's estimation, late in the 2012 season. Injuries hit the group hard last year during the stretch run, but they plugged in new starters and survived. Having All-American left guard Cyril Richardson to learn from no doubt helped.
"We had a perfect example," Baker said. "His technique was flawless and that's why he was so successful. He was able to do everything Coach Clem asked."
As Clements' linemen describe it, fall camp can be brutal. This 19-man line group averages 6-5 and 305 pounds. In practice, they run just as hard as everyone else to prep for hustling to the line of scrimmage. You can't sustain a four-plays-per-minute tempo without practicing faster than you play.
And while Petty, his trio of running backs and his endless supply of receivers get all the attention, his offensive linemen will be busy doing the dirty work.
Drango and Baker, the leaders of the gang, were stuck on the sidelines when Baylor's undefeated season fell apart at Oklahoma State. They know the run game faltered late, averaging 168 yards per game and 3.7 per carry in the final four games after putting up 300 a game and 6.0 per carry in the first nine. The seniors vow it can't happen again.
"We go as they go. I've always said that," Petty said. "I'm just praying those guys stay healthy."
His linemen are practicing and conditioning this month with December on their minds. Sure, they love to mess with each other and tease their quarterback in their spare time. But when it comes to title talk, they're not joking around.
"As we get closer to November," Baker said, "we plan on being in contention for the playoff."
June, 16, 2014
Jun 16
3:00
PM ET
One of my favorite annual sports pieces to read is Bill Simmons'
NBA Draft Diary
. I also always have to read Mel Kiper's yearly
NFL Draft grades
as well as the annual unveiling of Keith Law's
top 100 baseball prospects
.
Another one of my favorites is Pat Forde's
dream and nightmare scenario
for every team going into college basketball's NCAA tournament.
With that in mind, we've come up with the best- and worst-case scenarios for every Big 12 team going into the 2014 season. Of course, the reality will fall somewhere in between. But this will forecast what a season would look like if every single imaginable domino fell into place. And likewise, if everything that could go wrong, well, did.
We begin this series with the defending Big 12 champs -- the
Baylor Bears
:
BEST CASE
[+] Enlarge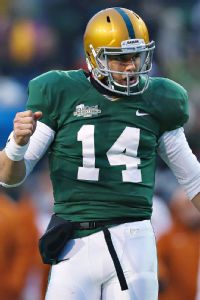 Ronald Martinez/Getty ImagesThere will be a lot of celebrating if things go swimmingly for Bryce Petty and Baylor.
Thanks to his work on pocket awareness with QB guru George Whitfield and a season of experience in his belt,
Bryce Petty
comes out looking better than ever. He throws for seven touchdowns in the christening of McLane Stadium and never looks back on his way to giving Baylor its second Heisman Trophy quarterback (Jameis who?) in four years. With USC still struggling, people everywhere begin dubbing Baylor college football's next "QBU."
Of course, Petty can't win a Heisman without his supporting cast showing up, and they do just that and more.
Antwan Goodley
matches his 2013 totals and earns first-team All-American honors.
Corey Coleman
has a breakout campaign, setting the stage to become the next in the ever-growing line of big-time Baylor wide receivers. Redshirt freshman running back
Johnny Jefferson
lives up to the spring hype, leading Baylor's running back stable with 1,100 yards on the ground. Left tackle
Spencer Drango
doesn't surrender a sack all season to win the Outland Trophy. And led by mammoth defensive end
Shawn Oakman
, the defensive line makes good on Art Briles' spring
proclamation
, and leads the nation in tackles for loss.
With the team firing on more cylinders than ever, Baylor empties Darrell K. Royal Stadium by the third quarter then obliterates TCU, leaving Gary Patterson speechless in his postgame news conference.
The undefeated Bears march into Norman on Nov. 8 and edge the Sooners in one of the all-time great games in Big 12 history, catapulting Baylor to No. 1 in the polls, and to No. 1 in the minds of the playoff committee.
The Bears coast through the rest of the Big 12 season unscathed, securing them a spot in the inaugural four-team playoff. They squeak through in the first game, setting up a clash with the SEC champ in AT&T Stadium, just a hundred miles from Waco's campus. With plenty of green on hand, the Bears capture their first national championship on a fourth-quarter bomb from Petty to Goodley, reminiscent of James Street's heave to Cotton Speyrer that handed Texas the national championship in the Cotton Bowl Classic 34 years before.
In his postgame news conference, Briles tells the nation he plans to retire in Waco, and days later signs another extension to keep him there for life.
Fresh off the national title, Baylor lands a top 10 recruiting class, and with confidence swelling about the state of the program, athletic director Ian McCaw beefs up the nonconference schedule by ringing up Alabama and immediately agreeing to fill the Crimson Tide's
vacant slot in 2015
.
Without Johnny Football, the Aggies finish with a losing record, and the Longhorns get drilled in the Heart of Dallas Bowl. In the NFL draft, the Dallas Cowboys trade up to get Petty in the first round to be their heir apparent to
Tony Romo
.
WORST CASE
In his second year as the starter, Petty succumbs to the dreaded sophomore slump. He throws three picks in the opener, as Baylor just barely survives SMU in a sluggish unveiling of McLane Stadium.
The defensive line falls way below Briles' expectation, the new secondary turns out to be a disaster, and the Bears wind up ranking in the bottom 10 nationally in pass defense.
Baylor also desperately misses the consistency of
Lache Seastrunk
and
Tevin Reese
, as the offense becomes too dependent on Petty and Goodley to make plays. Drango's back issues flare up and, and right tackle
Troy Baker
never really returns to form from last year's knee injury. In turn, Petty is under duress all season, and the Baylor offense doubles last season's turnover total.
The Bears survive the Ponies. But they can't escape Ames, as the giant killers of the Big 12 upset Baylor after Petty fumbles on the first play of double overtime.
The stunning defeat sends the Bears into a mini-tailspin. They get battered by the Longhorns the following week in the game of Texas linebacker
Steve Edmond
's career. TCU's defense smothers Baylor the following week, handing the Bears a third straight loss. At 4-3, the Bears hobble into Norman and put up a gutty performance but can't stop
Trevor Knight
, who all but locks up All-Big 12 quarterback honors.
Baylor rebounds to take down Clemson in the Russell Athletic Bowl, which gets other schools interested in Briles to be their coach again.
Edmond is named Big 12 Defensive Player of the Year. Petty slips to the second round. McCaw adds Old Dominion to the schedule.
June, 5, 2014
Jun 5
12:00
PM ET
June, 3, 2014
Jun 3
3:00
PM ET
Big 12 play is well underway with a schedule full of conference games.
Last week, we kicked off our
Big 12's Ultimate Road Trip series
. This week we continue with the bulk of the 2014 schedule.
To those unfamiliar with this series, we both pick a game featuring a Big 12 team in every week of the season that we'd cover if the travel budget were unlimited and there were no editors telling us where to go.
We'll be basing our choices on several factors, including the quality of the matchup and the stakes that could be involved. The only restriction is that each of us can pick only one game per week.
Let's continue with Week 6.
Oct. 4
Baylor at Texas
Kansas at West Virginia
Iowa State at Oklahoma State
Texas Tech at Kansas State
Oklahoma at TCU


Jake Trotter's pick:
Baylor at Texas
This renewed rivalry got another boost in the spring when Texas linebacker
Steve Edmond
, unprompted, called Baylor "trash." Bears offensive tackle
Troy Baker
responded by posting a picture of the Big 12 championship trophy on Twitter and writing, "I love this trash too."
After conference realignment destroyed several of the Big 12's rivalries (Texas-Texas A&M, Oklahoma-Nebraska, Kansas-Missouri, Kansas State-Nebraska, Texas Tech-Texas A&M) the league needs some of its games to generate more heat. The Baylor-Texas game should bring plenty of that this season.
By knocking off the Bears, the Longhorns could recover some of their lost standing in the Big 12 the last five years. By taking down Texas for the fourth time in five years, Baylor could keep its thumb on its neighbors to the south, while remaining on the collision course showdown against Oklahoma on Nov. 8 to determine the Big 12 crown.
There will be plenty of heat in Austin for this game. And for me, plenty of barbeque, too.


Brandon Chatmon's pick:
Baylor at Texas
This clash between Baylor and Texas is too good to pass up.
Charlie Strong gets the chance to send a clear message against a Bears squad that is used to sending the Longhorns home with an L.
Edmond's words made it clear that Baylor, despite its recent winning ways against the Longhorns, still has a ways to go before it has the respect it must think it's already earned. Expect the Bears to arrive in Austin, Texas with a huge chip on their shoulder and feeling disrespected.
Meanwhile, Strong can start showing the Big 12 his plan to return UT to national title contention is progressing quicker than most expect with a win over the defending champions.
Intense rivalry. NFL talent. Great coaching.
There are plenty of good reasons to spend Week 6 at Darrell K. Royal Stadium, so I can't wait to head to Austin.
Previous weeks:
Week 1:
Trotter -- SMU at Baylor; Chatmon -- West Virginia vs. Alabama (in Atlanta)
Week 2:
Trotter -- Kansas State at Iowa State; Chatmon -- Kansas State at Iowa State
Week 3:
Trotter -- Texas vs UCLA (in Arlington); Chatmon -- Tennessee at Oklahoma
Week 4:
Trotter -- Auburn at Kansas State; Chatmon -- Auburn at Kansas State
Week 5:
Trotter -- Texas Tech at Oklahoma State; Chatmon -- Baylor at Iowa State
May, 15, 2014
May 15
10:30
AM ET
Earlier Thursday, we concluded our 22-round draft of current Big 12 players. Below are the three lineup outcomes of that draft, and as you can see, each of us went in different directions.

Like the St. Louis Rams, Max and Brandon built up their defensive lines before worrying about the rest of their rosters. While I grabbed the best quarterback in the league and surrounded him with protection and weapons.
After each lineup, read our final takes on our teams. Then, decide who drafted best in the weekly Big 12 poll.
BRANDON CHATMON'S TEAM
OFFENSE
DEFENSE
What Brandon says about his team:
"Offensively, as soon as Petty was gone with the first pick I knew I wouldn't take a quarterback until my final pick. Knight could be the steal of the draft. Versatility is the name of the game with the rest of the offense. We can put Pierson and Smallwood in the backfield and go read option or really ruin your Saturday and throw Daje back there in the Diamond. When you bring more guys in the box, you leave Seales and Lockett one-on-one. Or we can just go five wide and you can try to cover running backs who run routes like receivers with your linebackers. And an experienced offensive line will be the foundation of it all. Defensively, it would be wise for opposing quarterbacks to tell their families to stay home when facing this group. We're going to man up and have our mail forwarded to the opposing backfield and make you want to take your ball and go home. And with a secondary full of coverage guys, I'm not concerned about the back end of the defense holding up. We'll win more battles than we lose. By the final whistle, my team will have earned the moniker 'Chatmon's chaos creators' with Tapper, Reed, Brown, Hunter, Alexander and Robertson living in your backfield."
MAX OLSON'S TEAM
OFFENSE
DEFENSE
What Max says about his team:
"You do not want to play against my team. That was my goal going in, and I constructed exactly the team I wanted. I have a great QB in Webb who gets to throw to Goodley, one of the nation's best receivers, and he'd help Jaxon Shipley put up Jordan Shipley numbers. I have the two-back punch of Linwood and Gray. I have Hill, who can do everything, and a good line. We're going to spread the ball around like crazy. Good luck stopping that. On defense, you have Fields, Oakman and Grissom all rushing the passer. That's deadly. We can go three-man fronts or even put Oakman in the middle, letting the 6-foot-8 stud swat your passes down. And while you're worrying about him and Grissom, you have the Big 12's best defensive player [Fields] coming after you. Hager and Shannon will hold it down at the second level, and the secondary is full of playmakers. This is a fun team, plain and simple, and one that can frustrate the heck out of anybody."
JAKE TROTTER'S TEAM
OFFENSE
DEFENSE
What Jake says about his team:
"Max and Brandon are good at talking smack. I'll give them that. But my players do their talking on the field. Once I was fortunate to land reigning Big 12 Offensive Player of the Year Bryce Petty as my quarterback, my goal was two-fold: to keep him upright from pressure off the edge; and, to surround him with firepower. I accomplished both ends, and then some. I wasn't able to get either of the two elite receivers in the league in Goodley or Lockett. But I put together the best overall receiving corps in Grant, Shepard and Bundrage, who could all deliver 1,000-yard receiving seasons in 2014. On top of that, I snagged the best pass-catching tight end on the board in Bibbs, as well as Brown, so that we can pound the ball between the tackles when we need. Speaking of tackles, aware that Brandon and Max were focused almost solely on their pass rush in the early rounds, I also added two of the most reliable pass-protecting bookends in the league in Drango and Williams. Defensively, I can bring pressure, too, with Mueller and Striker, who last season respectively placed second and fourth in the Big 12 in sacks. Castleman and Britz are roadblocks, Heeney and Dawson are tackle machines and my entire secondary has All-Big 12 potential. We don't talk. We just dominate."
May, 15, 2014
May 15
9:00
AM ET
Following up on NFL draft weekend,
we've been conducting our own draft
, picking from current Big 12 players to fill out three 22-man lineups.
Below is a recap of the first 15 rounds of the draft from the past two days, followed by rounds 16-22.
As another reminder, this is NOT a Top 25 player ranking. It's only an exercise in determining where the value of the league lies, and the different strategies to putting a team together from the league's present talent pool.
Jake Trotter:
Brandon Chatmon:
Max Olson:
Round 16
[+] Enlarge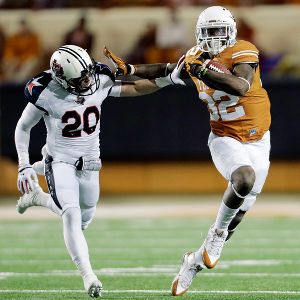 AP Photo/Eric GayGetting potential Big 12 rushing leader Johnathan Gray in the 17th round could be a big steal for Max Olson.
Round 17
Round 18
Round 19
Round 20
Round 21
Round 22
May, 1, 2014
May 1
4:30
PM ET
With spring ball done, we're
reexamining and re-ranking the positional situations of every Big 12 team
, continuing Thursday with the offensive line. These outlooks will probably look different in August. But here's how we see them post-spring:
1. Oklahoma (pre-spring ranking: 1):
The Sporting News has listed the Sooners as its preseason No. 1 team in the country, due in large part to Oklahoma's offensive line. That might be going overboard, but the Sooners have a wealth of experience and depth returning up front, which includes four starters. They'll get even deeper once guard
Tyler Evans
is cleared this summer, as expected (he was running this spring). Evans has missed the past two seasons with knee injuries but was a three-year starter before getting hurt.
[+] Enlarge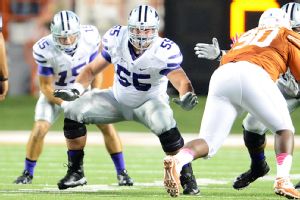 John Albright/Icon SMIAfter losing both offensive tackles from last season, Kansas State is switching All-Big 12 guard Cody Whitehair to left tackle.
2. Kansas State (2):
K-State responded to losing both tackles from last season by swinging All-Big 12 guard
Cody Whitehair
to left tackle and slotting juco transfer
Luke Hayes
at right tackle. With
B.J. Finney
entering his fourth year as the starting center and more juco offensive line help arriving in the summer, the Wildcats should be more than solid up front.
3. Texas (3):
The Longhorns will feature one of the eldest lines in the Big 12, with its projected starting front comprising two seniors and three juniors. Right guard
Taylor Doyle
emerged this spring at the biggest question spot, but Texas has other options inside with
Rami Hammad
,
Curtis Riser
and the versatile
Kent Perkins
. Center
Dominic Espinosa
is the anchor of this group, which will be asked to establish itself with the running game in Charlie Strong's first season.
4. Baylor (4):
The Bears are still waiting for left tackle
Spencer Drango
to return from last season's back injury, but right tackle
Troy Baker
showed no lingering effects of the knee injury he suffered last spring. With the depth inside and with
Kyle Fuller
locking up the center job, there are no weaknesses with this cast -- provided Drango gets healthy and gets back to the field.
5. Oklahoma State (5):
The Cowboys are also waiting for their left tackle to return from an injury he suffered last season.
Devin Davis
has NFL potential but has been slow to recover from an ACL tear last preseason. The Cowboys seemed to also be in a fix at center with their top-two players at the position from last fall moving on from the program with eligibility still remaining. But
Paul Lewis
slid over from guard this spring and stabilized that spot.
Daniel Koenig
is an All-Big 12 caliber player and capable of playing tackle or guard. He'll continue to man left tackle, at least until Davis returns.
6. Texas Tech (6):
Tech received some welcome news during spring ball with starting right tackle
Rashad Fortenberry
being granted an extra year of eligibility. The Red Raiders have one of the best returning tackles in the league on the left side in
Le'Raven Clark
, and two juco tackles they're high on in
Shaq Davis
and
Dominique Robertson
. With
Jared Kaster
and
Alfredo Morales
also returning as starters inside, Tech's offensive line should be much better than last season's.
7. West Virginia (7):
The Mountaineers have the league's most reliable one-two punch at guard in
Quinton Spain
and
Mark Glowinski
, who have 38 career starts together. The rest of the line, however, is a question. Left tackle
Adam Pankey
impressed coach Dana Holgorsen early in the spring and won a starting job before the Gold-Blue Game. If Pankey pans out, the Mountaineers could be a load up front.
8. Iowa State (8):
The Cyclones had disastrous luck with the health of their offensive line last season, but that should pay off in 2014 with so many different players having gotten experience. Left tackle
Brock Dagel
has immense upside, and center
Tom Farniok
is an All-Big-type player. But the Cyclones were especially pumped with the development of sophomore right guard
Daniel Burton
, who is physical and one of the smartest players on the team. If they get better luck with good health, this could wind up being a very a tough and balanced unit.
9. TCU (9):
The Horned Frogs welcomed the return of tackle
Tayo Fabuluje
, who left the team before the start of the season last fall. Fabuluje, however, missed several practices with an ankle injury, allowing redshirt freshman
Joseph Noteboom
to move ahead of him on the depth chart. Fabuluje will have a chance to earn his spot back in the spring opposite
Halapoulivaati Vaitai
, who replaced Fabuluje last season. But the way the 2013 season went, the Horned Frogs can't have too many reliable offensive tackles. Juco transfer
Frank Kee
impressed during the spring and should lock down a starting spot at guard next to center
Joey Hunt
, who did a nice job of adapting to the new offense during the spring. With 6-foot-7, 350-pound
Matt Pryor
also likely to fit in somewhere in the rotation, the Frogs will definitely be bigger up front than they were in 2013 -- and probably better, too.
10: Kansas (10):
Because he can get in and out of the pocket,
Montell Cozart
winning the starting job should help the offensive line. The fact that new offensive coordinator John Reagan is also an offensive line coach should be a boost, as well. The Jayhawks have several battles up front that will continue into the fall, including center, where walk-on
Joe Gibson
made a huge impression during the spring.
April, 28, 2014
Apr 28
9:00
AM ET
Over the next two weeks, we'll be analyzing the depth charts of every Big 12 team coming out of the spring. We start with Baylor, which released an official two-deep shortly after concluding spring ball in early April.
OFFENSE
[+] Enlarge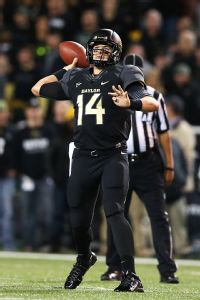 Matthew Emmons/USA TODAY SportsCan Bryce Petty be even better this season?
QB: Bryce Petty (Sr.),
Seth Russell
(So.)
The Bears have one of the top returning quarterbacks in college football in Petty, who was phenomenal last year in his first season as a starter. With a year of experience under his belt, there's no reason to believe he won't be better in 2014. Russell performed well in limited duty last year, suggesting the Bears could survive at least a minor injury to Petty.
RB:
Shock Linwood (So.)
or
Devin Chafin (So.)
,
Johnny Jefferson
(RFr.),
Terence Williams
(Fr.)
The Bears boast four potentially outstanding runners who all have at least three seasons of eligibility remaining. Linwood finished sixth in the Big 12 in rushing last season, despite backing up
Lache Seastrunk
and
Glasco Martin
. Jefferson, however, was the back who created the most buzz during the spring. The 5-foot-11, 200-pounder looks poised to give the Bears a dynamic home-run threat to complement the rest of the backfield. It's not often a program can lose two talents like Seastrunk and Martin and remain loaded.
WR:
Antwan Goodley (Sr.),
Davion Hall
(Fr.)
WR: Jay Lee (Jr.)
or
Robbie Rhodes (So.)
,
Quan Jones
(RFr.)
IR: Corey Coleman (So.)
or
Clay Fuller (Sr.)
,
Cal Spangler
(Jr.)
IR: Levi Norwood (Sr.)
,
Lynx Hawthorne
(So.)
TE: Tre'von Armstead (So.)
or
Gus Penning
(Jr.),
Jordan Feuerbacher
(Fr.)
Despite graduating all-conference performer
Tevin Reese
, the Bears should easily have the deepest collection of pass-catchers in the Big 12. Coleman was tremendous all spring, capped by a 47-yard receiving effort in the spring game. He and Rhodes could have breakout campaigns in their second years in the rotation. Goodley is one of the two best wideouts in the league along with Kansas State's
Tyler Lockett
, and Lee, Fuller and Norwood are all proven commodities. More firepower is on the way this summer, including hotshot freshman
K.D. Cannon
, who looks like a virtual lock to crack the rotation somewhere.
LT: Spencer Drango (Jr.)
,
Pat Colbert
(Jr.)
LG: LaQuan McGowan (Jr.) or Blake Muir (Jr.)
C: Kyle Fuller (So.)
,
Tyler Edwards
(Sr.)
RG: Desmine Hilliard (Jr.)
,
Jarell Broxton
(Jr.)
RT: Troy Baker (Sr.)
,
Tyler Edwards
(Sr.)
The Bears lose unanimous All-American guard
Cyril Richardson
, but will get a huge boost if Drango makes a full recovery from a back injury he suffered late last season. With Drango out, Baylor's blindside pass protection also suffered the final month of the season. When healthy, Drango is one of the best pass-protecting left tackles in the country. Baker, who started as a sophomore, returned late last season after tearing his ACL last spring to reclaim his starting job, which he held through the spring. With Hilliard returning at guard, Fuller locking down the starting job at center and other quality depth inside, the Bears should be very solid on the offensive line -- provided Drango can get healthy and Baker can stay healthy at the bookends.
DEFENSE
[+] Enlarge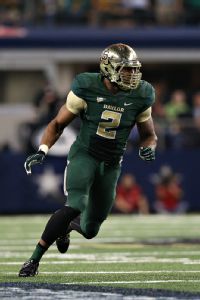 Matthew Emmons/USA TODAY SportsShawn Oakman has elevated his game.
RE: Shawn Oakman (Jr.)
,
K.J. Smith
(RFr.)
NT: Andrew Billings (So.)
,
Suleiman Masumbuko
(Jr.)
DT: Beau Blackshear (Jr.)
or
Javonte Magee
(So.),
Byron Bonds
(So.)
LE: Jamal Palmer (Jr.)
,
Sam Ukwuachu
(Jr.)
Last week, Baylor coach Art Briles said he'd put his top-seven defensive linemen against any other top seven in college football. The unit still has a lot to prove to reach that level, but there's no denying the potential. Oakman elevated his game to another level this spring, and was basically unblockable. He's a candidate to be an All-Big 12 performer even in a league that's stocked at defensive end. The fact that Magee is listed as a co-starter with Blackshear -- a starter last season -- underscores what the coaching staff thinks of Magee, who before taking last year off due to personal matters was among the most highly touted recruits Briles had ever signed. This group is high on ability, and has the capability to prove their coach right in the fall.
WLB: Aiavion Edwards (So.)
,
Taylor Young
(RFr.) or
Raaquan Davis
(RFr.)
MLB: Bryce Hager (Sr.)
, Grant Campbell (Jr.) or
Kendall Ehrlich
(So.)
Hager missed the final four games of last season due to a groin injury, which also kept him out this spring. But Hager is about as reliable as it gets in the Big 12, having earned second-team all-conference honors the last two years. Edwards is the one to watch. He was given the first nod on the weak side, after playing in the middle last season and in the spring in place of Hager. But he'll have to perform to fend off the competition, including Young, who impressed defensive coordinator Phil Bennett during the spring with his nose for the ball.
NB: Collin Brence (Sr.)
, Pat Levels (So.)
CB: Terrence Singleton (So.)
,
Ryan Reid
(So.)
CB: Xavien Howard (So.) or Chris Sanders (Jr.)
DS: Orion Stewart (So.)
,
Alfred Pullom
(RFr.)
CS: Terrell Burt (Jr.)
,
Taion Sells
(So.)
This unit comprises by far the biggest question mark on the team. The Bears should be in good shape at safety. Burt, the only returning starter in the group, will be back shortly from offseason shoulder surgery that kept him out of a spring ball. Briles also singled out Stewart for having a very promising spring as the replacement for All-American
Ahmad Dixon
. After a series of injury setbacks early in his career, Singleton returned to win a starting job at corner, at least for now. Howard also showed a ton of promise during the spring, but he'll have competition from Sanders, one of the top juco corners in the country, who had a shoulder injury this spring. Brence, a walk-on, was the biggest surprise in the secondary, and is listed as the starter at nickelback. How this untested unit comes together could ultimately determine whether the Bears repeat as Big 12 champs.
April, 4, 2013
4/04/13
9:00
AM ET
WACO, Texas -- You'll be able to see a lot more in-depth coverage from Baylor in the days and weeks to come, but thanks to all of you who read and participated in
Tuesday's live blog
. I'll make a note not to let safety
Ahmad Dixon
steal the show next time. Great, great job by him on the live chat with fans. I heard from a lot of you who said that was your favorite part of the day.
That's not hard to believe when he's dropping insight like this:
[+] Enlarge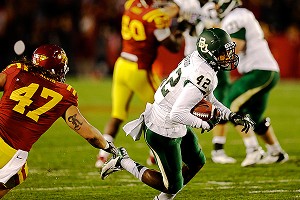 AP Photo/Charlie NeibergallBaylor WR Levi Norwood has impressed his teammates during spring workouts.
John from Houston asked:
Ahmad, Other than yourself of course, who has impressed you the most on Baylor's defense during spring practice? Who is the most difficult current Baylor receiver to defend one on one?
Ahmad Dixon:
John, I'm going to have to say
Shawn Oakman
. He's helped us out a lot. He slows down the perimeter run a lot. A lot of those bubble passes and short throws, he's able to knock those down because of his length. He can get off the ball and get a lot of sacks. He gives us a speed rush and his speed gets in the backfield and length to cut off the outside. He's been the most impressive of anybody I've watched. (For receivers) I would have to say
Levi Norwood
. His ability to come out of his breaks are tremendous. He has great hips. He's not the fastest guy, but he has great stop/start speed .That makes you have to work on coming with balance and not coming downhill and just biting on his first move. When you guard Levi, it makes you learn how to be patient.
Great stuff from Ahmad. Here's a few more thoughts from my day with the Bears:
The one thing that jumped out to me in seeing them and being around the Bears all day was the confidence of everybody. I think last year really did show a lot of people around the league that Baylor's program was more than just RG III, and if there were any folks inside the program who doubted that, there aren't any more. There's just sort of a different feel around practice than there was last spring, and even back when Griffin was in the mix. I've gone to spring and fall practices probably five or six times at Baylor, but this one felt a lot different. You build toward titles in small steps in college football. One or two players won't do it. Baylor's talent level is steadily rising. I don't know if I see transcendent talents like RG III or Kendall Wright on this team, but on the whole, there's a lot more talent in a lot more spots than there has been for a long time at Baylor. That's the biggest thing that jumped off the page at me in spending two hours watching them work out. Offensively, I didn't see a huge difference from Baylor in the past, but on defense, there is clearly more speed. There is more instinct and football IQ, and there is not much griping from coaches about guys being out of position or being lost on plays. I saw very, very little of that. Who knows how much of that will carry over, but the defensive resurgence we saw late in 2012 was far above the moderate resurgence we saw at the end of 2011.

Art Briles' biggest concern about his team is definitely his offensive line. Losing Troy Baker to an ACL injury last week only made that worse, and necessitated adjustments. "We were a little light in the O-line to start with. We only had 10 scholarship O-linemen," Briles said. "That's kind of made us readjust some positions, but the defense has really done well. We've got eight of those guys back."

You'll be able to read a whole lot more about quarterback Bryce Petty in the future on the blog from my extensive sit-down with him and Briles, but Petty divulged that his source of transportation around campus these days is a moped. That was news to Briles, but it doesn't sound like he's too nervous about his starting quarterback zipping around Waco on two wheels, though I might be if I were Briles. "I'm glad it's not a Harley," Briles said.

As for practice, I saw a more mature version of the physically gifted Petty I watched in practices on previous visits to Waco. I thought he was ready to be a Big 12 starter last year, and maybe could have even started for a few teams back in 2011. Now that he's nearing the end of his fourth spring on campus, he definitely looks far more polished than any of the other quarterbacks on Baylor's roster. I mentioned this in the live blog on Tuesday, but I asked Briles what Petty would have to do to lose this job. He thought about it awhile and said it would take a long string of mistakes and not taking care of the ball. "I don't anticipate that happening," Briles said. Me either.

Plenty more Baylor coverage to come soon, so sit tight. Hope you guys enjoyed the live blog, though. If you want more in-depth coverage of my practice observations, you can find it there.
March, 27, 2013
3/27/13
12:00
PM ET
Hard to believe, y'all, but the Big 12's first spring game is on Saturday. Batter up, Texas.
May, 18, 2009
5/18/09
12:30
PM ET
By
Tim Griffin
| ESPN.com
Posted by ESPN.com's Tim Griffin
Don't talk to Oklahoma State walk-on strong safety Jason Evans about having too active of a social life.
Jimmie Tramel of the Tulsa World tells the interesting story of Evans, a former Marine who served in Iraq before coming back to college. He's also recently auditioned for the MTV reality show "The Real World" after earlier appearing on the MTV dating show "Next."
Such notoriety apparently has helped make Evans one of Stillwater's most eligible bachelors, as well as a part of the Cowboy team that will be challenging for its first Big 12 South title later this season.
His introduction to the team, as are those for many walk-ons, came with some bumps and bruises when he was lined up on the same play and challenged to stop a hulking fullback on a power sweep.
"I guess they were just trying to feel me out to see if I was just some punk and I didn't back down one inch," Evans told the World.
"We just blasted each other. I didn't knock him over, but he didn't knock me over. Ever since then, ever since the first 30 minutes of the first practice, everybody has been real cool to me. They found out real quick that I wasn't just some kid out there for a name tag and a jersey. I was actually out there to play."
Even though it's the middle of May, these lunchtime links have come to play, too.
Enjoy them.