October, 29, 2013
Oct 29
1:00
PM ET
By
ESPN.com staff
| ESPN.com
Naming the best quarterback in the Big 12 is easy. Deciding who's second-best right now is near-impossible. So we went a step further: Why not rank them all?
This continues to be been a strange, unpredictable year for Big 12 quarterbacks. We've already seen 18 start at least two games. Only three schools -- Baylor, Kansas and Iowa State -- have started the same guy for every game, and even they've used multiple quarterbacks.
The following rankings judged how these QBs are playing right now as well as their full 2013 resumes. Deciding where to slot injured passers was tricky. You might not agree with all or any of these rankings, but this is how we'd size up the competition after nine weeks:
[+] Enlarge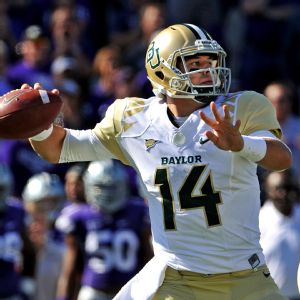 Peter G. Aiken/Getty ImagesConsidering how well he's run Baylor's high-scoring offense and the fact he leads the Big 12 in nearly every passing statistic, there is no debate that Bryce Petty is the Big 12's top QB.
1. Bryce Petty, Baylor
: Best passer in the Big 12 by nearly every statistical measure, first in FBS in yards per attempt, TD-INT ratio of 18-1 and it's only his first season of starting. The gap between No. 1 and everyone else on this list right now is tremendous.
-- Max Olson
2. Case McCoy, Texas
: The career backup has been a huge part of Texas' resurgence. In wins over Oklahoma and TCU, McCoy has Adjusted QBRs of 83.9 and 95.4.
-- Jake Trotter
3. Davis Webb, Texas Tech
: Webb hasn't been perfect but he's averaging 420.67 passing yards and 5.67 completions of 20 yards or more in TTU's past three games. He's been very solid for a true freshman.
-- Brandon Chatmon
4. Daniel Sams, Kansas State
: He might be too high at No. 4, but Sams is the best athlete of the bunch and already has 538 rushing yards on just 100 carries. Still has plenty to prove as a passer.
-- MO
5. Blake Bell, Oklahoma
: Great against Texas Tech and Notre Dame, bad against Texas. Has promising moments as a passer, firm grasp on the job and a chance to prove he's league's second-best QB.
-- MO
6. Baker Mayfield, Texas Tech
: The walk-on made waves while leading the Red Raiders to a 5-0 start before a knee injury sidelined him, but he threw more interceptions than touchdowns in his final three starts before the injury.
-- BC
7. Clint Chelf, Oklahoma State
: Chelf finally has the job again, but he'll have to complete more passes to keep it. His completion percentage this year is less than 50 percent.
-- JT
8. David Ash, Texas
: Ash is throwing again, and could be cleared to return soon. But will he resume his starting role? The way McCoy is performing, probably not.
-- JT
9. J.W. Walsh, Oklahoma State
: His combination of moxie and leadership is hard to deny but his struggles connecting on deep passes led to Chelf replacing him in the starting lineup. He remains a valuable piece as the disposal of Mike Gundy's squad, however.
-- BC
10. Jake Waters, Kansas State
: Juco transfer is starting to get the hang of Big 12 ball and his own offense, and coming off an impressive showing against West Virginia.
-- MO
11. Casey Pachall, TCU
: Pachall has only played in seven games over the last two seasons. It would be difficult for anyone to overcome that level of rust.
-- JT
12. Clint Trickett, West Virginia
: Trickett's season has mimicked the roller coaster nature of WVU's offense, but he did lead the Mountaineers to a win over Oklahoma State, the highlight of their season.
-- BC
13. Seth Russell, Baylor
: Getting mop-up time and experience in every game this season and has 427 yards on 60 percent passing. Would he start for a couple Big 12 teams?
-- MO
14. Sam B. Richardson, Iowa State
: Richardson has been banged up all year, and it's shown. At some point, the Cyclones may be forced to go with the healthier option in
Grant Rohach
.
-- JT
15. Jake Heaps, Kansas
: The BYU transfer just can't seem to find any confidence or rhythm for the Jayhawks passing attack, forcing Charlie Weis to start drastically experimenting with KU's offense.
-- BC
16. Trevone Boykin, TCU
: Dual-threat sophomore has his moments, but five touchdowns and nine turnovers in 2013. Back to backing up Pachall and could play some receiver.
-- MO
17. Trevor Knight, Oklahoma
: Knight won the job out of camp, but lost it to Bell two games in after moving the chains ineffectively. Bell's performance against Texas Tech means Knight will remain on the sidelines.
-- JT
18. Michael Brewer, Texas Tech
: Generally expected to be the Red Raiders starter heading into fall camp, Brewer has been surpassed by the true freshman quarterbacks.
-- BC
19. Paul Millard, West Virginia
: Started first two games for the Mountaineers before losing his job, got another chance late against K-State.
-- MO
20. Ford Childress, West Virginia
: The freshman quarterbacked West Virginia's worst performance of the year, a 37-0 loss to Maryland, before suffering a pectoral injury that could keep him out the rest of the year.
-- JT
21. Grant Rohach, Iowa State
: He's come off the bench to replace Sam Richardson in ISU's last two games but has yet to surpass 100 passing yards in the game.
-- BC
22. Montell Cozart, Kansas
: True freshman is now splitting snaps with Heaps and got half the reps against Baylor. Can make plays in the run game and be a spark.
-- MO
23. Michael Cummings, Kansas
: Cummings started five games in 2012 but has lost the No. 2 spot to Cozart, and is unlikely to play much going forward with Heaps also part of the offense.
-- JT
24. Tyrone Swoopes, Texas
: The 6-foot-4, 245-pound true freshman made his debut on Saturday and is a talented rusher, but he didn't attempt a pass. If McCoy goes down, he'll have to take over.
-- MO
25. Tyler Matthews, TCU
: The Horned Frogs got so desperate for production they turned to the redshirt freshman on multiple occasions, yet he's seen very limited game reps and hasn't completed a pass this season.
-- BC
October, 20, 2013
Oct 20
10:00
AM ET
What we learned about the Big 12 from Week 8:
1. TCU's offense is hopeless:
Once again, the TCU defense kept the Horned Frogs in the game. Once again, it didn't matter. TCU's inept offensive attack reached a new level in Stillwater. QB
Trevone Boykin
delivered a Total QBR of 5.9 (scale of 0-100) and was benched in the second quarter. Except his backup, freshman
Tyler Matthews
, fumbled the ball away on his first snap. This was the
third
Big 12 game the Horned Frogs were held scoreless in a first half. Coach Gary Patterson became so frustrated he made co-offensive coordinator Rusty Burns the primary playcaller for the second half and brought the other offensive coordinator, Jarrett Anderson, to the sideline from the booth. The Horned Frogs moved the ball better, but not better enough. As a result, TCU is now 1-3 in the league and has become the Big 12's biggest disappointment. That's even with its defense playing big-time football. No defense, however, can overcome this drive chart: punt, punt, punt, punt, punt, interception, interception, fumble, turnover on downs, punt, field goal, interception, rushing touchdown, turnover on downs. The Horned Frogs could get QB
Casey Pachall
back from a broken forearm soon. That's really their only chance to prevent this season from turning into an all-out dumpster fire.
[+] Enlarge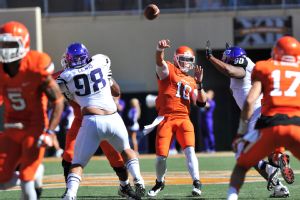 Peter G. Aiken/USA TODAY Sports Clint Chelf's numbers weren't great Saturday, but he provided a deep threat that opened up the offense.
2. Oklahoma State is better off with its backup backfield:
The Cowboys started the game with
J.W. Walsh
and
Jeremy Smith
in their backfield. They ended it with
Clint Chelf
and
Rennie Childs
. And there's no doubt which duo was more effective in the Pokes' 24-10 win over TCU. Walsh opened the game with two interceptions and finally was benched in favor of Chelf after three consecutive subpar outings. Chelf didn't exactly light TCU's secondary on fire. In fact, his Total QBR was poorer than Walsh's (28.0 versus 56.4). But the threat to throw the ball downfield opened up the offense a bit and allowed the Cowboys to finally get something going, thanks in part to Childs. Smith delivered another clunker of a game, rushing for just 14 yards on 12 carries before fumbling away possession to TCU in the third quarter. The Cowboys rode Childs at running back the rest of the way, and the true freshman ran hard. He finished with 45 rushing yards on nine carries, a 34-yard reception and a tough, 7-yard touchdown run that sealed the win in the fourth quarter. Even with Chelf and Childs, Oklahoma State has a long way to go offensively. But playing those two over Walsh and Smith seemed to be a step in the right direction.
3. Oklahoma's issues weren't a one-game thing:
The Sooners still can't pass. And they still can't stop the run. The two areas that doomed the Sooners in last week's loss to Texas resurfaced at Kansas. With the Sooners missing LB
Corey Nelson
and DT
Jordan Phillips
, the Jayhawks took a cue from the Longhorns and ran the ball right down Oklahoma's throat to take a 13-0 lead in the first half. Coach Bob Stoops took blame off the defensive line and said afterward that the linebackers and defensive backs were out of position. But cameras briefly caught defensive coordinator Mike Stoops laying into defensive line coach Jerry Montgomery. On the other side of the ball, the Sooners continued to struggle passing. In fact, the prettiest throw of the afternoon came from wide receiver
Lacoltan Bester
, who hit
Sterling Shepard
on a reverse pass that finally gave the Sooners a lead in the second quarter.
Blake Bell
played much better than last week but still threw for only 131 yards with a Total QBR of 67.3, which surely will drop once the strength of the Kansas defense is factored into the equation. Think about this: The Sooners scored a touchdown off a trick play, blocked an extra point and returned it for a two-pointer, blocked a punt for a safety and held the Jayhawks to 16 yards passing -- and Kansas still was down only one score well into the fourth quarter. The same Kansas team fell to Texas Tech on the same field two weeks ago, 54-16. That same Texas Tech team travels to Norman next weekend.
4. Baylor's defense has a chance to be special, too:
In 2011, Oklahoma State captured its first Big 12 title with one of the best offenses in conference history. That '11 Cowboys defense, however, was sneaky good, as well, and led college football with 44 forced turnovers. This Baylor defense has a chance to be sneaky good, too. The Bears' offense got back on track with a 71-point deluge against Iowa State. But Baylor's defense was almost as impressive. The Bears held Iowa State to just 174 yards of offense and only 41 yards on the ground. Baylor had a shutout going, too, until the Cyclones scored on a 27-yard touchdown pass with 47 seconds remaining. Iowa State isn't exactly Oregon (or Baylor), but the Cyclones had scored 30 or more points in three straight games. Baylor's offense alone makes the Bears the Big 12 favorite, but a sneaky good defense could elevate them into a dark-horse national title contender.
5. Kingsbury believes in his quarterbacks:
As coordinators around the Big 12 call plays reflecting a lack of confidence in their quarterbacks, Texas Tech coach Kliff Kingsbury has done the complete opposite. And when the game was on the line in Morgantown, he put the game -- and Texas Tech's season -- on the arm of true freshman
Davis Webb
, who came up with two huge throws on the final drive of the game. With Tech coddling a 30-27 lead in the final two minutes, Kingsbury called a pass on third-and-6. Three plays later, with Tech facing third-and-goal, Kingsbury called another pass. Both times, Webb delivered completions -- the latter a game-clinching touchdown strike to tight end
Jace Amaro
. Many coaches would have sat on the ball that drive. Even more would have done so with a true freshman quarterback making his first career road start. But by calling those passes, Kingsbury proved he believes in his quarterback. Quite a bit.
October, 17, 2013
Oct 17
12:00
PM ET
February, 24, 2012
2/24/12
10:00
AM ET
Another spring camp is opening, and it's time to take a closer look. Today, the TCU Horned Frogs get started.

Schedule:
Practice opens Friday at 5 p.m. ET and will conclude on April 5. Various practices may be open, but the plan has not been officially announced. TCU does not host a formal spring game.
What's new:
The task ahead, mainly. You'll see a renewed sense of purpose this spring at TCU. The Horned Frogs know they have to be better to compete for a Big 12 title. In the Big 12, you put it on the line every week, and everybody can beat everybody. Ask Baylor and Kansas about that one. Or Iowa State and Oklahoma State. One win can't make a season, and 1-2 games don't decide a conference title like they do in the Mountain West.
New faces:
TCU is welcoming four new faces to campus this spring as early enrolling freshmen: Quarterback
Tyler Matthews
, running back B.J. Catalon, transfer cornerback
Keivon Gamble
, and receiver
Kolby Listenbee
, who also
made our 2012 Recruiting All-Name team.
Rekindling old flames:
Former safeties coach Chad Glasgow returned to his post in Fort Worth after a season as the defensive coordinator at Texas Tech. He helped TCU lead the nation in total defense in 2008, 2009 and 2010. Those days are over for the Horned Frogs in the offense-heavy Big 12, but TCU fell to 15th last season in the Mountain West. Finishing there in the Big 12 in 2012 would be huge.
Big shoes to fill:
Linebacker
Deryck Gildon
.
Tank Carder
(
and his armbands
) wrapped up their eligibility last year, but hopes are high that the 6-foot-2, 235-pound Gildon can be the man to hold TCU's defense together at the linebacker spot. His importance is amplified by the exit of
Tanner Brock
, who is among four players "separated" from the team while the legal process plays out following their drug sting arrests.
Breaking out:
Receiver
Brandon Carter
. You probably already know about
Josh Boyce
and maybe
Skye Dawson
. But Carter, a freshman, could join them for a pretty dangerous third weapon in TCU's passing game for quarterback
Casey Pachall
. Among Carter's biggest catches last year was the game winner against Boise State, but this could be a big spring for him. And to think, Oklahoma only wanted him as a cornerback.
All eyes on:
Player conduct. Four players were arrested in a drug sting by local police and reports indicated that five players tested positive for marijuana while 11 others showed trace amounts in a surprise Feb. 1 drug test administered by the team. However, comments from players to undercover police in police affidavits suggest that usage was much higher. Either way, the microscope is firmly on what's otherwise been a spotless program before these recent troubles.