September, 2, 2011
9/02/11
8:38
PM ET
WACO, Texas -- Baylor's new-look defense was in for a test against TCU's offense, but it looks like new coordinator Phil Bennett's side of the ball took an early blow.
On a 38-yard pass from
Casey Pachall
to
Josh Boyce
, Baylor cornerback Tyler Stephenson fell down behind the play and looked to be in serious pain.
Trainers attended to him for a couple minutes before helping him off the field. He was unable to put any weight on his left leg.
Stephenson, a sophomore, is the Bears' starting corner. Sophomore K.J. Morton is behind him on the depth chart.
On the play after Stephenson's injury, TCU's
Matthew Tucker
ran for a 4-yard touchdown and put the Horned Frogs up, 13-7 with 5:46 to play in the first quarter.
July, 14, 2011
7/14/11
9:00
AM ET
We'll move on to the cornerbacks today in our position rankings across the Big 12.
Here's what we've covered so far:
This group? Well, it's not very good. And considering the crazy depth in the Big 12 at receiver, it could be a long season for cornerbacks in this league. I love the upside of many of the Big 12 corners -- namely the guys at Missouri and Texas Tech (especially working with Chad Glasgow's 4-2-5 in Lubbock). Texas could also develop fast in its new defense, but outside of Texas A&M and Oklahoma, I don't see any Big 12 teams that should be completely comfortable with their cornerbacks.
Of course, for fans who love points, this could be a welcome development. For secondary coaches and defensive coordinators? Not so much.
[+] Enlarge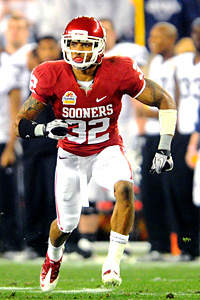 Mark J. Rebilas/US PresswireJamell Fleming returns as the Big 12's top cornerback.
1. Oklahoma
-- Jamell Fleming is the Big 12's top returner at the position and gives the Sooners a huge boost after being reinstated last week. Fleming had withdrawn from the university because of academic problems following the season. Aaron Colvin moved to safety during the offseason, but Fleming will still have to beat out Gabe Lynn in fall camp to start opposite Demontre Hurst. Julian Wilson also adds depth.
2. Texas A&M
-- Fleming's return pushed the Sooners over A&M as having the Big 12's best group of corners. But Coryell Judie and Terrence Frederick could both challenge for first team All-Big 12 honors at the position. They are ahead of reserves Dustin Harris and Lionel Smith, who will get plenty of time on the field.
3. Missouri
-- Missouri loses starters Carl Gettis and Kevin Rutland, but the coaches consider Kip Edwards a returning starter because of how much he played last season. Edwards could join E.J. Gaines in eventually becoming better than both Gettis and Rutland. Trey Hobson and Robert Steeples will get time in the rotation, too.
4. Oklahoma State --
OSU has to replace the Big 12's interception leader Andrew McGee , but Brodrick Brown's development should continue. He's likely a dark horse to earn first-team All-Big 12 honors after the season. The Cowboys didn't release a post-spring depth chart, but don't be surprised if return specialist Justin Gilbert edges out Devin Hedgepeth for the starting spot before the opener. Andrae May has earned playing time on special teams in both of his first two seasons on campus, but could be counted on for a much bigger role this year as the fourth corner.
5. Texas --
The Longhorns are fairly decimated at corner after losing three to the NFL in one offseason. Curtis and Chykie Brown joined Aaron Williams for one of the most talented sets of corners we've seen in this league, but now, secondary coach Duane Akina will have to replace them. Texas' depth chart is still as in flux as any in college football, but I'd be surprised if Carrington Byndom didn't emerge with a starting spot. True freshman Quandre Diggs might swipe the other, but A.J. White will be on the field, too.
6. Texas Tech --
The Red Raiders are likely to ascend this list by season's end, but for now, find themselves at No. 6. Injuries were costly for the defense last season, but Tre Porter and Derrick Mays should be much better, and Tech fans can be encouraged by the upside in Jarvis Phillips, Jeremy Reynolds and Eugene Neboh.
7. Iowa State --
This group might be a bit underrated, but with Iowa State's defensive problems last season, it's a bit hard to tell. Jeremy Reeves and Leonard Johnson return with loads of experience, and Anthony Young is a great additional piece as the third corner. Matthew Thomas should be in the rotation, too.
8. Baylor --
The Bears return both starters. Chance Casey has 15 career starts to Tyler Stephenson's four, but the Bears secondary struggled last season, especially the corners. Tuswani Copeland should be on the field under new coordinator Phil Bennett, whose work is cut out for him at this spot.
9. Kansas --
Kansas loses Chris Harris from last season's team, but Isiah Barfield is a playmaker at the position. Greg Brown, Tyler Patmon and Anthony Davis fill out the group.
10. Kansas State
-- The Wildcats have a huge talent in David Garrett, who led the team in tackles last season and was the nation's leader in tackles for loss, but he's still just one player at a position that needs lots of depth in this league. Also, his coverage leaves a bit to be desired. For now, K-State doesn't look like it has that necessary depth. Terrance Sweeney and Stephen Harrison are gone, but the Wildcats need to find more talents at the position in fall camp. Watch for Thomas Ferguson to emerge as the other starter.
May, 19, 2011
5/19/11
11:15
AM ET
Phil Bennett has a big job ahead of him as Baylor's new defensive coordinator. He wants speed, and he'll have a new player to fit into the defense next fall.

The Bears added cornerback Joe Williams, a juco transfer from Fort Scott (Kan.) Community College. He'll be a sophomore next year with three years of eligibility.
"This is a great pick up for us." Baylor coach Art Briles said in a release. "We like that Joe plays with a lot of confidence and is a former high school quarterback. He brings experience to the defensive secondary; he'll come in here and vie for playing time."
Those last four words are big ones. Junior Chance Casey returns at cornerback and should be one of the defense's leaders, along with fellow starter Tyler Stephenson. But in the pass-happy Big 12, you can never have enough defensive backs.
Bennett, who said his defense made "drastic" improvements in the second half of spring practice, looks like he just added one more.
April, 28, 2010
4/28/10
9:45
AM ET
Baylor coach Art Briles felt before the spring his team had a quality two-deep squad, a luxury he hadn't enjoyed in his first two seasons in Waco. The Bears 15 spring workouts confirmed his feeling, but he wants to be more than two deep at each position on the depth chart.

"We're approaching this, but we need to get to the point that we don't have any drop-off if someone gets injured," Briles said, "it allows us to maintain the level necessary to play in the Big 12 South."

The Bears may be approaching it, but could see unprecedented depth in the secondary when fall arrives. On the team's post-spring depth chart, the secondary will start Byron Landor and Tim Atchison at safety. Though both are seniors, they have only a combined 18 career starts, 15 by Atchison. Landor is a junior college transfer who notched 46 tackles as a junior.

"Byron really needs to have a good year for us," Briles said. "He's a strong leader."

Clifton Odom and Chance Casey solidified their spots as Briles two starting cornerbacks.

Baylor's 2010 recruiting class could certainly provide the depth Briles wants--possibly even challenging for playing time. Rivals.com ranked the Bears secondary recruiting class No. 5 in the nation, and includes plenty of incoming talent. Headlining the group is safety Ahmad Dixon, a Waco native who comes to Baylor ranked No. 15 overall in the ESPNU 150 and the No. 3 safety. Briles also signed cornerback Prince Kent, who signed with Miami in 2009 as the No. 51 overall recruit in the ESPNU 150, but didn't qualify academically and enrolled at Hargrave Military School in Virginia. Kent enrolled early and joined the Bears for spring workouts.

Baylor also signed Tyler Stephenson, rated the No. 14 cornerback and T.C. Robinson, the No. 45 cornerback overall. Sam Holl and Tuswani Copeland will also join the team in the fall.

"Some of those incoming freshmen will get looks," Briles said. "That's a talented bunch."

With the quarterback play he could face in the Big 12 South, if Briles is looking for depth, the secondary is a great place to start.
March, 26, 2010
3/26/10
10:30
AM ET
Here, we'll take a look at a couple key players going, staying and coming for each team in the Big 12.
Going:
Jordan Lake, S:

Lake was a three-year starter at safety for the Bears, earning a reputation as one of the conference's biggest hitters. He was also named to the All-Big 12 team each year he started.
Joe Pawelek, LB
Pawelek started four seasons at linebacker, earning first-team All-Big 12 honors in all four seasons. He made 237 tackles in his final two seasons.
---
Staying:
Kendall Wright, WR
Wright played mostly inside receiver as a sophomore, leading the Bears with 66 catches for 740 yards and four touchdowns. With the departure of
David Gettis
, he could play some outside receiver, but at 5-foot-11 and 185 pounds, the slot seems like a more natural position for him to succeed.
Robert Griffin, QB
He probably belongs in a special "returning" section, but one of the Big 12's biggest stars returns from a torn ACL suffered in the Bears' third game in 2009. The Bears will go as far as the 2008 Big 12 Newcomer of the Year can take them.
---
Coming:
Ahmad Dixon, S
Dixon grew up in Baylor's backyard, Waco, and picked the Bears over four SEC schools and Oklahoma, Oklahoma State and Texas. Ranked No. 15 in the ESPNU 150, Dixon has a great chance to play meaningful snaps as a true freshman or even earn a starting spot replacing Lake.
Tyler Stephenson, CB
Stephenson (5-11, 153 pounds) was one of four defensive backs at Lancaster (TX) to sign letters of intent with Division I programs. The school also had two defensive backs sign with Division I programs last season, including Oklahoma's
Demontre Hurst
. Stephenson certainly has the pedigree for success, but he'll need it to translate onto the practice field to earn playing time.
January, 21, 2010
1/21/10
12:18
PM ET
By
Tim Griffin
| ESPN.com
Here's a look at what each of the South Division teams need to address in terms of recruiting with signing day fast approaching.
Baylor
Defensive line:
After losing starters Jason Lamb and Trey Bryant and having Phil Taylor and Earl Patin entering their senior seasons, the Bears need to add immediate depth. Xavier Ruben and Anthony Gonzales will help shore up the deficiencies and the Bears still are in the hunt for top prospects like Carlos Thompson and Byran Jones.
Secondary:
Starters Jordan Lake and
Jeremy Williams
have graduated and four juniors in the two-deep roster will start their senior seasons. Coach Art Briles has already lured surprising strength in the defensive backfield with Ahmad Dixon, Tyler Stephenson and Prince Kent. That trio makes it one of the finest positional groupings for Baylor in recent history.
Robert Griffin's redshirt season has lessened the immediate need at quarterback:
With Griffin now having three years of eligibility remaining, recruits now see only a two-season window to play. But another Robert Griffin should help the Bears as well. Baylor coaches see the other Griffin, a junior college transfer from Coriscana Junior College, being able to contend for the starting position at right tackle from his first day in the program.
Oklahoma
Running back:
With
Chris Brown
graduating and
DeMarco Murray
entering his senior season, the Sooners need some producers at the position. Bob Stoops has never hesitated to playing top freshman players in the past if they can help. Don't be surprised if top recruits like Brennan Clay and Roy Finch get an early chance in 2010 with the Sooners.
Receiver:
Ryan Broyles
is entrenched in the slot, but the Sooners are looking all over for pass catchers who can challenge existing players. Recruits Kenny Stills, Joe Powell, Julian Wilson and Sheldon McClain all should challenge this summer to battle their way into the rotation.
Defensive tackle:
Injuries and NFL declarations have riddled the Sooners' depth at the postion. Gerald McCoy will leave early for the NFL draft with JaMarkus McFarland ready to take over.
Adrian Taylor
was set at the other position, but his nasty ankle injury sustained in the Sun Bowl has depleted the Sooners' depth. Redshirt sophomore Casey Walker and four incoming freshmen are all that is in place as far as depth at the critical position.
Oklahoma State
Offensive line:
The Cowboys lose four senior starting offensive linemen from the Cotton Bowl team, including the left side of their offensive line in tackle Russell Okung, guard Noah Franklin and center Andrew Lewis, as well as right tackle Brady Bond. Mike Gundy needs some immediate help at the position, both from existing players and incoming ones.
Defensive tackle:
Starters Swanson Miller and Derek Burton both will graduate and top backups Shane Jarka and Chris Donaldson both will be senior this season. Defensive coordinator Bill Young needs to find some defensive linemen who can challenge for playing next season.
Linebackers:
Young also will have to rebuild this group after the underrated group of Andre Sexton, Donald Booker and Patrick Lavine helped sparked the Cowboys' surprising defensive growth last season. All will be gone this season, putting pressure to add some more contributors to add to the returning mix of players including
James Thomas
, Tolu Moala and Justin Gent.
Texas
Defensive end:
With Sergio Kindle graduating and Sam Acho and Eddie Jones both entering their senior season, the Longhorns need a talent boost here. It also just happens to be the position where top target Jackson Jeffcoat would immediately fill the rather sizable hole.
The left side of the offensive line:
Tackle Adam Ulatoski, guard Charlie Tanner and center Chris Hall combined for 114 starts during their careers.The Longhorns has some strong arriving talent, but they'll still miss the leadership and savvy that this trio provided over the years.
Quarterback:
Even with
Garrett Gilbert
seemingly entrenched as the Longhorns' quarterback of the future, the Longhorns added depth with the commitments of Connor Wood and Colt's little brother Case McCoy. It will make for some interesting competition this spring and fall as the rotation sorts itself out.
Texas A&M
Defensive end:
The Aggies received a huge boost when Von Miller announced he would return for his senior season, but A&M needs to prepare for his departure -- particularly after losing starting defensive end Matt Moss and Miller's backup Matt Featherston as departing seniors from 2009.
Tight end:
Starter
Jamie McCoy
graduated and top replacements
Kenny Brown
and Craig Raschke both will be seniors next season. Adding at least one player would be beneficial as the Aggie coaches hope they can find a combination blocker/receiving threat at the position like McCoy was.
Offensive tackle:
The Aggies lose bookend senior starters Michael Shumard and Lee Grimes. They do have Stephen Barrera and Danny Baker in the depth chart but would like more depth to help the line develop.
Texas Tech
Defensive line:
The Red Raiders' biggest need is at defensive end where all three players in the two-deep roster -- Brandon Sharpe, Ra'Jon Henley and Daniel Howard were seniors. At defensive tackle, Richard Jones departs as a senior and Colby Whitlock will be a senior next season. New coordinator James Willis needs to find some productive players in the trenches quickly.
Linebackers:
Starters Bront Bird and Brian Duncan will be back as seniors next season, but Tech loses departing starter Marlon Williams on the other side. They need some depth to help build for the future at the position.
Quarterback:
Taylor Potts
and
Steven Sheffield
will wage one of the closest-watched battles for playing time in the nation during the spring and summer. But both will be seniors, meaning the Red Raiders need to prepare for their departure by grooming some young talent like Scotty Young, a recent commitment at the position.