February, 21, 2014
Feb 21
3:50
PM ET
As we wait for the start of spring ball, we're examining and ranking the positional situations of every team, continuing Friday with offensive line. Some of these outlooks will look different after the spring. But here's how we see the offensive lines at the moment:
1. Oklahoma:
The Sooners lose their captain in All-American
Gabe Ikard
, who kept the line together through several moving pieces. Those pieces, however, are almost all back.
Tyrus Thompson
and
Daryl Williams
are steady veterans at tackle. Inside, guards
Dionte Savage
and
Nila Kasitati
both started the Sugar Bowl, and former starter
Tyler Evans
returns after sitting out the last two years with injury. The Sooners also have been grooming Ikard's replacement at center in
Ty Darlington
, who has played well in a reserve role the last two years. Even without Ikard, this is a seasoned unit.
[+] Enlarge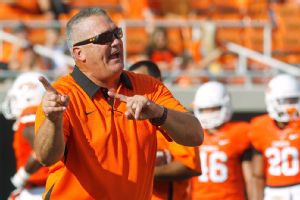 AP Photo/Sue OgrockiJoe Wickline's move from the OSU staff to Texas is an important storyline in the Big 12.
2. Kansas State:
The Wildcats will be stout inside. Guard
Cody Whitehair
and center
BJ Finney
are All-Big 12 caliber. Veteran starters
Cornelius Lucas
and
Tavon Rooks
are gone at tackle, but Bill Snyder signed two of the top 15 juco tackles in the country in
A.J. Allen
and
Luke Hayes
. If Allen and Hayes can solidify the bookends, K-State could be stout up front.
3. Texas:
The Longhorns return veteran center
Dominic Espinosa
, who has 39 career starts. But with three starters gone, the Longhorns really need the light to come up for
Desmond Harrison
. The talent is there, and if Harrison can put it all together, he'll give Texas a much-needed bookend on the left side. There's potential elsewhere in freshman guard
Rami Hammad
and sophomore tackle
Kent Perkins
, who could both earn starting roles this spring. The biggest addition to this group will be new assistant Joe Wickline, who worked magic with the offensive lines in Stillwater.
4. Baylor:
The Bears need left tackle
Spencer Drango
to make a healthy recovery from his back injury. After Drango was injured in November, Baylor struggled at times to keep quarterback
Bryce Petty
upright. Departing unanimous All-American guard
Cyril Richardson
is irreplaceable, though
Desmine Hilliard
had a solid sophomore season at right guard. Sophomore
Kyle Fuller
looks ready to take over at center, but the Bears will need another piece or two to emerge. The skill talent is in place for the Baylor offense to keep humming. How the players up front perform will determine whether it will.
5. Oklahoma State:
The key for the Cowboys here will be a healthy return of left tackle
Devin Davis
. Davis might have been Oklahoma State's best lineman last season, but suffered a torn ACL during a preseason that knocked him out for the year. Davis has NFL ability, and if he resumes his role, that will allow
Daniel Koenig
to move back to right tackle. The O-line in Stillwater was something never to worry about because of Wickline's masterful track record of mixing and matching to get a right fit. It will be interesting to see how the line performs next season with Wickline now at Texas.
[+] Enlarge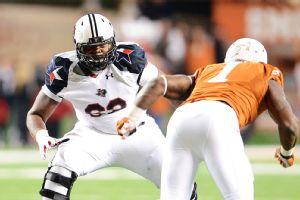 John Albright/Icon SMITexas Tech's Le'Raven Clark is one of the best offensive tackles in the Big 12.
6. Texas Tech:
The Red Raiders have an NFL talent in left tackle
Le'Raven Clark
, who earned All-Big 12 honors as a sophomore. Despite Clark, the Red Raiders line struggled last year, giving up 33 sacks (second-worst in the Big 12). But it should be improved in 2014. Juco tackles
Dominique Robertson
(ESPN JC 50) and
Shaq Davis
are on the way, and 2013 RT starter
Rashad Fortenberry
could be back, too, if the NCAA grants him a medical hardship waiver. Losing guard
Beau Carpenter
to dismissal hurts, but
Baylen Brown
has starting experience. Brown,
Alfredo Morales
,
James Polk
and center
Jared Kaster
all return after combining for 31 starts along the interior last season.
7. West Virginia:
The good news is that the Mountaineers should be superb inside.
Quinton Spain
is one of the best returning guards in the league, and
Mark Glowinski
had a solid season at the other guard spot. Tackle, however, is the biggest question on the entire squad going into the spring, outside QB. Coach Dana Holgorsen said Friday that guard
Marquis Lucas
would be swinging to the outside to compete with
Adam Pankey
,
Marcell Lazard
and
Sylvester Townes
.
8. Iowa State:
A healthy
Tom Farniok
at center would go a long way in stabilizing an inconsistent offensive line that gave up a Big 12-high 38 sacks last season. Farniok was never healthy last year, and it showed. The Cyclones are excited about the potential of
Brock Dagel
as a cornerstone at left tackle.
Jacob Gannon
will battle
Jake Campos
for the other tackle spot, while
Jamison Lalk
,
Oni Omoile
and juco transfer
Wendell Taiese
will compete for the guard spot opposite
Daniel Burton
. Under the new offensive regime, this line could enjoy huge improvement from 2013.
9. TCU:
The line was one of many reasons why the TCU offense struggled so much in 2013. Getting
Matt Pryor
on the field would be a big help. Pryor is massive at 6-foot-7, 350 pounds, and could fill a need a tackle. Getting Tayo Fabuluje back after a year away from football could help, too, assuming he's not too rusty. Juco guard
Frank Kee
, who chose the Horned Frogs over Oklahoma, could fill a spot inside immediately. True freshman
Ty Barrett
, the prize in a hotly contested recruiting battle, could challenge for time quickly, too.
10. Kansas:
John Reagan takes over at offensive coordinator and line coach, and he'll have some talented newcomers to weave into the rotation.
Devon Williams
and
Keyon Haughton
both arrived as three-star guards from Georgia Military College. Haughton is already on campus and could start right away. Freshman
Jacob Bragg
, the No. 3 center recruit in the country, could vie for time immediately, too, at the vacancy at center (2013 backup center
Dylan Admire
has moved to fullback/tight end).
October, 4, 2013
10/04/13
4:00
PM ET
In today's mailbag, Cyclones are feeling heartbroken, Mountaineers are feeling confident and I am called an idiot.
To the 'bag:
Matt in Seattle writes:
It's a disgrace what the Big 12 refs did to Iowa State. Please talk about it on the blog.
Jake Trotter:
I have a feeling we're going to be discussing it plenty.
---
Timothy in Ames writes:
What did you make of the call at the end last night?
Jake Trotter:
Looked like a fumble to me.
---
Cade in Cluj-Napoca, Romania, writes:
After watching the Iowa State-Texas game, I am nothing but frustrated. I live in Romania and for the past two years I've stayed up numerous times till 6 in the morning to watch my beloved ISU football and basketball, only to be let down in the last minute of the game. This loss is heartbreaking, but how much will this loss affect the rest of ISU's season? Is there any hope for resurrection later this season? Or should I get my rest and not mind to watch any more games that are in the evening? I'll probably watch them anyways because that's what ISU fans do, but it would be nice to hear your opinion.
Jake Trotter:
Between last night's game, the overtime losses to Kansas in basketball and the way Ohio State knocked the Cyclones out of the NCAA tournament, it's been a rough year for Iowa State fans. I wouldn't give up on this team, though. The offense is finding a groove, and I think the Cyclones finally have their QB in
Sam Richardson
, who was marvelous against Texas. A bowl game is probably a longshot, but with so many inexperienced players, this team should get better every game – as long as they can put what happened last Thursday night behind them.
---
Schawki in Anderson, S.C., writes:
Hey, man. Hawkeye fan here who generally pays very little attention to the Cyclones. I watched the Texas game, and that was gross! I actually found myself actually cheering for the 'Clones simply because that was the worst case of officials helping a team win that I have ever witnessed in all my years of watching college football.
Jake Trotter:
I'm glad this forum could bring Hawkeyes and Cyclones together in perfect harmony.
---
Andy in Austin writes:
Who suspends
Mike Davis
first? The Big 12 or UT? His cheap shot was garbage. Do you believe either organization will make an example of him?
Jake Trotter:
I doubt either suspends him. The precedent is not strong for the conference to suspend players for nontargeting hits. OU offensive tackle
Tyrus Thompson
punched TCU's Stansly Maponga in the head last year after Maponga was on the ground and the ball had left their vicinity. Nothing happened. I doubt anything will happen here, either, even though it was a pretty sorry cheap shot that could have seriously injured
Deon Broomfield
.
---
Caleb Weaver in Lubbock, Texas, writes:
As a Tech student, I'm loving the publicity and hype that Kliff Kingsbury has brought back to Lubbock. The game atmospheres have been crazy so far. Before the season, I was expecting, best-case scenario, eight wins. Tech definitely has exceeded a lot of expectations, and is much further in the rebuilding process than what I was expecting. How shocked are you that Texas Tech is where it is in the conference, and are you even more shocked that it is their defense that has taken them there?
Jake Trotter:
I'm not shocked, but I am surprised. I didn't think Tech would emerge into the top tier of the conference with so many questions at quarterback. But the defense has been stout, and the skill guys have made plays for the freshman QBs. At this point, anything less than a top-four finish in the league would be a bit disappointing.
---
Vivek in San Diego writes:
I am a Texas Tech alum, and I keep hearing Kliff's name (and Kevin Sumlin's name) in USC's search for a coach here. Just when I thought there is stability and standards being maintained in the coaching staff, should I start worrying about Kliff leaving the program? What are the chances of him getting offers from big programs (USC or Texas)?
Jake Trotter:
There's always a chance, but I think Kingsbury is where he wants to be. Mike Gundy always called the Oklahoma State gig his New York Yankees job because it was his alma mater. I think Kingsbury feels similarly about being at Texas Tech.
---
Bob in Fort Worth, Texas, writes:
As a former Red Raider I wanted to add a sane perspective on the whole Baylor thing. I have grown a massive amount of respect from what they have done thus far. I don't think they are a lock to win the Big 12 or anything, but you cannot help but be impressed by their offensive performances no matter who they were against. Every game was out of reach in the first half by. That's something we are not able to say. One of the most frustrating things about being a Red Raider is having to listen to our fans say stupid stuff about football.
Jake Trotter:
A Red Raider
complimenting
Baylor? What's next, a Big 12 official making a controversial call
against
Texas?
---
Josh in Dallas writes:
Give your odds on the following coaches coming to the great state of Texas: Will Muschamp, Charlie Strong, Nick Saban, David Shaw.
Jake Trotter:
The ship seems to have sailed on Muschamp; don't see Saban leaving Alabama, unless Texas makes him a ridiculous financial offer. Strong and Shaw seem the most likely of the four.
---
Josh in Wichita, Kan., writes:
Please make my day and give me a very long list of reasons why Texas wouldn't be interested in John Currie.
Jake Trotter:
My impression is that Texas would want to make a splashier hire to replace DeLoss Dodds. But Currie has done a tremendous job at K-State. Last academic year, the Wildcats captured Big 12 titles in football, men's basketball and baseball. In the BCS era, only Stanford (1999-2000), Texas (2005-06) and Louisville (2012-13) accomplished the same feat.
---
Rob in West Chester, Pa., writes:
Why is everyone so hyped over
Clint Trickett
and saying WV may have found their QB? He was terrible and a lot of his throws were ridiculous. The Mountaineers should go back to
Paul Millard
. WV's QB problem still exists. This will show over the next couple weeks.
Jake Trotter:
I agree that West Virginia's QB problem still exists. But I completely disagree that Trickett played terrible. He gave the offense something it desperately needed – a spark.
Ford Childress
is the QB of the future in Morgantown. But at this moment, Trickett gives West Virginia the best chance to win.
---
Nick in Frisco, Texas, writes:
I'm not sure what to think of this WVU defense. They played OU well, though Bell wasn't there really. They didn't look good against Maryland, but then they looked decent to good against Oklahoma State. Is this defense for real or not?
Jake Trotter:
Honestly, I think we'll find out for sure this weekend. The Maryland game wasn't as bad as it seemed because of all the offensive turnovers. But then the Sooners weren't playing
Blake Bell
yet when the Mountaineers went to Norman. If West Virginia keeps Baylor under 40, we can go ahead and proclaim this to be a solid defense. If the Mountaineers give up 70, well, it was all smoke and mirrors.
---
Patrick in Charleston, S.C., writes:
With the way WVU's defense has been playing, if the offense keeps improving, is it crazy to think of WVU hanging around and possibly beating Baylor in Waco?
Jake Trotter:
I don't see this West Virginia offense scoring with Baylor.
---
Bit in Knoxville, Tenn., writes:
With the win over Oklahoma State, WVU has placed themselves firmly in the Big 12 race. Can they remain there? We'll find out more after the Baylor game next week. I like WVU's chances with this defense.
Jake Trotter:
I wouldn't put them firmly in the race. But I would if they somehow knocked off Baylor this weekend.
---
Charlie Bear in Panama City, Fla., writes:
Hey guys, first of all, I love the work you guys are doing on the Big 12 blog this year. You have brought a much-needed balance to our conference coverage. What would it take for Baylor to get a shot at the BCS title this year? I think we can all agree that Baylor going undefeated this year isn't impossible; though it is unlikely. So, I guess what I am asking is this: What apocalyptic events would have to transpire in the SEC, ACC, and the Pac-12 for an undefeated or one-loss Baylor to be given a title shot? Thanks again for doing what you do – you keep office drones like me sane.
Jake Trotter:
No problem, Charlie. Baylor's only chance is to go undefeated. And the Bears would probably need Ohio State, Oregon, Stanford, Clemson and Florida State to all lose, too, unless the SEC ate its own.
---
Kurt Vonnecat in San Lorenzo, Ecuador, writes:
In a recent mailbag you stated, "Kansas State is coming off its best season in school history..." I beg to differ. It was one of the best, but actually the 1997 season would have to be the best. K-State went 11-1, won the Fiesta Bowl and its lone loss was to Nebraska in Lincoln. Don't you agree '97 was best?
Jake Trotter:
What about 1998? The 'Cats were three points away from playing for the national title. I think you could argue the '97, '98 or '12 seasons as being the best in K-State history.
---
Gentry in Las Vegas writes:
With the OU D getting better, does Mike Stoops stay as defensive coordinator or does he entertain head-coaching jobs?
Jake Trotter:
I think the possibility is there Mike could be Bob's heir apparent in Norman, especially if the OU defenses get back to the level they were at early in the Stoops era.
---
Hollis Bartholomew in the Dallas area writes:
I know
Keith Ford
is a true freshman and all, but he's shown that he's a physical running back and gives his all every play that he's been in. So what I don't understand is why he didn't get in the game on offense at all against a physical Notre Dame team. Not complaining, but he could've done very well, in my opinion. Do you agree?
Jake Trotter:
In that setting, Bob Stoops wanted his veterans on the field. Ford will get more and more work as the season goes on – the Sooners want him ready to step into the starting role in 2014.
---
Ohn Thomas in DeBary, Fla., writes:
Welcome aboard. I enjoy reading your insight of the Big 12. Regarding future conference realignment, why isn't there more consideration given to UCF? I'm a Tech-san living in Florida; I have seen UCF grow all of their programs. The central Florida area would be a great road trip and would return the favor to the SEC and A&M by opening up Florida to the Big 12. UCF has a student population of almost 50,000 and as the competition has improved, the fan support has grown.
Jake Trotter:
If the Big 12 ever committed to expansion and a current BCS conference school were not available, both UCF and South Florida would be interesting options, for all the reasons you point out. The only drawback would be travel. Lubbock, Texas, is 1,488 miles from Orlando, Florida. The football programs could overcome that. But for the other sports, it would be taxing.
---
John Barnard in Dallas writes:
I've noticed that you continually talk about the Big 12 imploding, as if the conference was somehow on its last legs. I would have thought that someone who covers the Big 12 would be a little better informed about the facts. In 2011, the Big 12 members agreed to sign their first-tier media rights over to the conference, essentially locking all the members in from leaving. What evidence do you have that the Big 12 is somehow a faltering conference that is near falling apart?
Jake Trotter:
I've never suggested that the Big 12 is on the verge of imploding. But if there's anything to be learned from the past three years, it's that contracts can always be circumvented in college sports.
---
Mary in Prairie Village, Kan., writes:
You really think the Big 12 is only the fourth-best conference? You're an idiot. Stop insulting us with your lack of intelligence!
Jake Trotter:
My wife said the exact same thing to me this morning, except the discussion wasn't centered on conference rankings in college football.
August, 19, 2013
8/19/13
3:00
PM ET
Jeremy Smith
isn't the lone non-quarterback in the conference with
big shoes to fill.
As the Oklahoma State running back aims to replace Joseph Randle, here are some other Big 12 players looking to make a mark on the conference like their predecessors.
Receiver Robbie Rhodes, Baylor:
As the Bears aim to replace Terrance Williams, coach Art Briles has been raving about Rhodes during preseason camp. The No. 35 player in the ESPN300 for the Class of 2013, Rhodes appears poised to become a featured receiver in BU's offense after recording five receptions for 160 yards and one touchdown combined in the Bears' first two scrimmages.
[+] Enlarge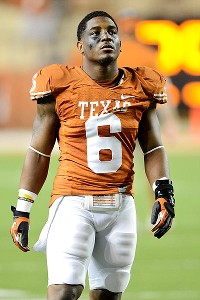 John Albright/Icon SMIExpectations are high for Texas nickelback Quandre Diggs, who will take over the role previously filled by NFL rookie Kenny Vaccaro.
"As he gets more involved, the threat becomes more dangerous for our offense, no question," Briles said.
Linebacker Jared Brackens, Iowa State:
A former defensive back, Brackens has moved down to play outside linebacker and will be counted on to help fill the void left by A.J. Klein and Jake Knott. A tad undersized, he'll bring speed into the lineup, which will help handle the wide open spread offenses in the Big 12, but will have to adjust quickly to secure his spot in the defense.
Safety Isaiah Johnson, Kansas:
Johnson chose KU out of Iowa Western junior college because the Jayhawks needed immediate help at safety. Now he's set himself up to be a starter at free safety for KU, and the Jayhawks will need him to match the playmaking production of Bradley McDougald.
Linebacker Blake Slaughter, Kansas State:
In a rare and unselfish move, Slaughter redshirted last season instead of finishing his Wildcat career as a backup to Arthur Brown. Now he enters his senior season set to replace him. He started four games as a sophomore in 2010, recording 47 tackles. It's unlikely Slaughter will be the defensive terror in the mold of Brown, but his maturity and experience will be key assets for KSU's defense.
Tackle Tyrus Thompson, Oklahoma:
Thompson is the odds-on favorite to replace Johnson as the Sooners' left tackle. Junior college transfer
Josiah St. John
was signed in February to ramp the competition at the position but didn't arrive until right before preseason camp began, and Thompson appears to have a solid hold on the starting spot. Thompson is supremely talented so don't be surprised if there is not a major drop off at left tackle for the Sooners despite losing Lane Johnson, the No. 4 pick of the 2013 NFL draft.
Nickelback Quandre Diggs, Texas:
Diggs has been anointed as the Longhorns' new nickelback to replace Kenny Vaccaro, the New Orleans Saints' first-round pick. Fellow NFLers Earl Thomas and Aaron Williams have also manned the position, which has become a highlight spot in UT's defense. Diggs has been a key part of UT's defense since his freshman year and the nickelback spot could be a terrific fit for the junior.
Receiver LaDarius Brown, TCU:
The Horned Frogs have a bevy of talented receivers to replace Josh Boyce, but Brown could have the highest upside of any of them. He started seven games as a redshirt freshman and brings terrific size (6-foot-4, 220 pounds) and athleticism to the table. No Boyce could mean more opportunities for Brown to emerge in the Horned Frogs' offense.
Safety Tre' Porter, Texas Tech:
Porter has played various different positions during his Red Raider career and could be the answer at free safety to replace ultra-productive former safety Cody Davis. He enters the season with 130 career tackles and has been a consistent performer since he stepped on campus in 2010. Porter's background at several different positions in the secondary make him the ideal guy to be the face of the Red Raiders' defensive backfield.
Receivers Kevin White and KJ Myers, West Virginia:
The Mountaineers won't be able to replace Stedman Bailey and Tavon Austin with just two receivers. But White and Myers are candidates to get plenty of opportunities in Dana Holgorsen's offense. White, a junior college transfer, brings terrific size at 6-foot-3, 211 pounds and Myers, a redshirt sophomore, has stepped up during camp.
"He's one of the guys that I've got a big plus by," Holgorsen said of Myers' preseason performance.
August, 12, 2013
8/12/13
12:00
PM ET
Started Season 1 of Breaking Bad over the weekend. What took me so long?
March, 25, 2013
3/25/13
11:00
AM ET
Turnover is an annual tradition in college football, but with that, teams' strengths and weaknesses constantly shift, too. Today, we'll continue our look at the biggest strengths and weaknesses for each Big 12 team.
Next up: Oklahoma.

Strongest position: Offensive line.
Don't discount
Landry Jones
' experience and decision-making, but Oklahoma threw the ball 571 times last year -- more than everyone in the Big 12 but Texas Tech -- and gave up just 15 sacks, third-fewest in the Big 12. The Sooners have good depth at running back but not a true gamebreaker, and the offense still averaged 4.85 yards a carry, third-most in the Big 12. Oklahoma dealt with a ton of injuries on the offensive line and at the end of the season, was basically reduced to five guys who could play and depended on true freshman
Ty Darlington
at times, too. The unit loses tackle
Lane Johnson
, but
Gabe Ikard
is the Big 12's best offensive lineman and returns alongside
Adam Shead
,
Bronson Irwin
and
Tyrus Thompson
. This unit perhaps could have been better than it was in 2011, which is part of the reason you saw position coach James Patton shown the door in favor of WVU's Bill Bedenbaugh, but it should be a big strength yet again in 2013. I'd say it's definitely the Sooners' best overall position. The Sooners fought through the loss of center Ben Habern and guard
Tyler Evans
in preseason camp last year, and Evans is out again after injuring his knee this spring. Here's betting Oklahoma fills the void yet again.
Weakest position: Defensive line
If you watched the Cotton Bowl, you know all you need to know about this position for the Sooners. Texas A&M had arguably the nation's best offensive line, but the Sooners D-line looked like a bunch of high schoolers for much of the game, applying zero pressure to
Johnny Manziel
and letting him get loose for a record-breaking game in a blowout loss. The Sooners lose four seniors along the line, leaving behind just
Chuka Ndulue
,
Jordan Phillips
and
Mike Onuoha
as contributors from last year's D-line that helped Oklahoma rank just 108th nationally in tackles for loss and 94th nationally in run defense. Oklahoma needs a big upgrade at this position to return to prominence, and I'm not sure the answer to the Sooners being as good along the front line of the defense is coming anywhere but on the recruiting trail.
More Weak and Strong
.
December, 6, 2012
12/06/12
12:57
PM ET
An official from the Big 12 Conference said Thursday that the league has reviewed the punch thrown by Oklahoma offensive tackle
Tyrus Thompson
against a TCU player and will not be taking further action.
Big 12 assistant commissioner of communications Bob Burda said that league officials supervisor Walt Anderson reviewed the play and supported the personal foul penalty assessed after the play.
"No further action will be taken by the conference," Burda said in an email, "and the matter is considered closed."
The Big 12 has the power to review plays and impose sanctions on players who commit flagrant fouls.
Section 10, Article 1 of the NCAA rulebook states that a "flagrant" foul is "a rule infraction so extreme or deliberate that it places an opponent in danger of catastrophic injury." Section 4 of the rulebook states that all flagrant offenders shall be disqualified.
Thompson received a 15-yard penalty for unnecessary roughness for punching TCU defensive end
Stansly Maponga
twice in the head at the end of a play in the second quarter, but was not removed from the game.
The Sooners play Texas A&M in the AT&T Cotton Bowl on Jan. 4.
October, 28, 2012
10/28/12
2:46
AM ET
NORMAN, Okla. -- After Notre Dame sacked
Landry Jones
on the game's final play, the Oklahoma offensive line looked like a bowling ball had rolled through it. Left tackle
Lane Johnson
crumbled when he tried to stand up. Right tackle
Tyrus Thompson
keeled over to his knees. And moments before, tailback
Damien Williams
had limped his way to the locker room.
In Norman once again, football tough and sound prevailed over finesse and style as the Fighting Irish slugged their way to a resounding
30-13 victory
to knock the Sooners permanently from the national title picture.
"We played hard, we played with energy, we played with toughness," said Oklahoma center
Gabe Ikard
. "But when it comes down to it, they controlled the line of scrimmage.
"Things are not going to go your way when that happens."
Click
here
to read the full story at SoonerNation.
May, 9, 2012
5/09/12
8:30
AM ET
2011 overall record
: 10-3
2011 conference record
: 6-3 (T-3rd)
Returning starters
: Offense: 8; defense: 7; kicker/punter: 2
Top returners

QB
Landry Jones
, RB
Dominique Whaley
, FB
Trey Millard
, WR
Kenny Stills
, OG
Gabe Ikard
, LB
Tom Wort
, CB
Demontre Hurst
, CB/S
Aaron Colvin
, FS
Tony Jefferson
Key losses
WR
Ryan Broyles
, LT
Donald Stephenson
, TE
James Hanna
, DE
Ronnell Lewis
, DE
Frank Alexander
, LB
Travis Lewis
, CB
Jamell Fleming
2011 statistical leaders
(*returners)
Rushing
: Dominique Whaley* (627 yards)
Passing
: Landry Jones* (4,463 yards)
Receiving
: Ryan Broyles (1,157 yards)
Tackles
: Travis Lewis and Aaron Colvin* (84)
Sacks
: Frank Alexander (8.5)
Interceptions
: Tony Jefferson* (4)
Spring answers
1. Trey Metoyer is the real deal:
The true freshman had the best spring of any wide receiver on the OU roster, then capped it by leading the Sooners in receiving in the spring game. Metoyer has all but solidified a starting spot at wide receiver, and should help fill the massive production gap left by the graduation of Ryan Broyles.
2. Secondary on right path:
Defensive coordinator Mike Stoops wasted no time revamping the secondary, sliding Tony Jefferson to free safety while inserting
Javon Harris
back into the starting lineup at strong safety. Stoops liked what he saw there in the spring, and if Harris can continue to bounce back from a shaky 2011 season, Stoops will have the flexibility of bumping Aaron Colvin to cornerback opposite three-year starter Demontre Hurst, solidifying the Sooners there, too.
3. O-line could be OU's best in years:
Not since 2008 have the Sooners been this deep and talented on the offensive line. Even with center
Ben Habern
rehabbing from offseason neck surgery, the line didn't miss a beat grinding out OU's defensive front most of the spring. Gabe Ikard has proved he can excel at either guard or center, guard
Tyler Evans
is entering his fourth year as a starter, and
Adam Shead
could be OU's top interior run-blocker since All-America Duke Robinson. The tackles remain a little bit of a question mark. But
Daryl Williams
all but locked down the starting job on the right side with a great spring. On the left side,
Tyrus Thompson
is pushing to beat out 2011 starting right tackle
Lane Johnson
.
Fall questions
1. The No. 2 QB battle:
Head coach Bob Stoops is no hurry to name a backup quarterback, a competition that figures to extend through August.
Blake Bell
, who shined running the ball out of the Belldozer formation last season, outplayed
Drew Allen
in the spring game, but Allen had his moments, too, and has another year of experience in the offense. Whoever wins the No. 2 job could have a leg up on the 2013 derby to replace Landry Jones.
2. The defensive line:
Bob Stoops has had a first-team all-Big 12 defensive lineman every year since 1999. That streak, however, could be in jeopardy. Gone are sack machines Frank Alexander and Ronnell Lewis, leaving the Sooners without a proven difference-maker up front. The top five players in the rotation across the front will all be seniors, making it the most experienced in the conference. But for the Sooners to win the Big 12 and contend for a national title, someone must emerge as that difference-maker.
3. The backfield rotation:
The Sooners have options in the backfield, but it's unclear how running backs coach Cale Gundy will use them. It's also unclear how effective 2011 leading rusher Dominique Whaley will be after missing half of last season with a fractured ankle.
Roy Finch
can be electric with the ball, but has not earned the trust of the coaching staff in his pass protection.
Brennan Clay
, banged up the past two seasons, finally looks healthy and had a solid spring. Then there's touted junior-college transfer
Damien Williams
, who was also recruited by USC, and fullback Trey Millard, who warrants at least a handful of carries a game. Will someone emerge as the feature back? Or will Gundy go with a backfield by committee?
March, 5, 2012
3/05/12
5:30
PM ET
For the first time in his tenure at Oklahoma, coach Bob Stoops is welcoming back a quarterback entering his fourth straight season as a starter.
What kind of advantage does having somebody with
Landry Jones
' experience quarterbacking the Sooners as they begin spring drills this week?
"I believe it's a great advantage," Stoops said during a news conference to kick off spring practice Monday. "The leadership, the poise, being able to hopefully avoid the really poor plays that put you in bad position with turnovers. And then hopefully there's increased precision and execution. That's what you really get with a more mature and experience quarterback."
Jones struggled some late last season after losing top target
Ryan Broyles
to a knee injury. But by coming back for his senior season, he also has a chance to become the winningest quarterback in OU history.
"He makes a great impact," Stoops said. "He's a tremendous leader and a very talented quarterback in everything he does — not just throwing the football. With another year under his belt and time to work here in the spring and summer with these receivers, I'm excited about the possibilities."
Other news and notes from Stoops' news conference:
• On his first day at practice as defensive coordinator, Mike Stoops will be without three key starters. Defensive tackle
Casey Walker
(shoulder), safety
Aaron Colvin
(shoulder) and middle linebacker
Tom Wort
(back) will sit out the spring recovering from injuries sustained last season. Wort could still return late in spring drills.
The Sooners will also be without center
Ben Habern
(neck) and running back
Dominique Whaley
(ankle).
• Two players that were expected to miss spring will actually be available. Wideout
Jaz Reynolds
(kidney) and fullback
Aaron Ripkowski
(back), who both suffered serious injuries in the loss at Oklahoma State, have both been cleared for spring drills.
"Jaz has been cleared for probably the last three weeks and has really gotten back to full strength and looks good," Stoops said. "He's cleared to go. And in all likelihood, we're set to have a procedure at the end of spring that will sideline him just for probably three weeks."
• Stoops said that
Lane Johnson
, who started at right tackle last season, will start the spring at left tackle as the Sooners work to replace
Donald Stephenson
. Sophomores
Daryl Williams
and
Tyrus Thompson
will man the right side.
Stoops also noted that mammoth redshirt freshman
Derek Farniok
has made strides during the winter and has a chance to become part of the rotation.
"Derek Farniok, a young guy, had a huge winter," Stoops said. "He's a totally different guy than the guy that walked in here. It's exiting to see how hard he's worked, how well he's running. He's the biggest of all of them. The other guys are all doing well."
• Stoops confirmed that Florida State tried to schedule Oklahoma for a third straight season, with both programs needing to fill holes because of conference realignment. But Stoops said FSU wanted the Sooners to come back to Talahassee for a second straight year.
"I know it was brought up about Florida State, but they didn't seem to want to come here," Stoops said. "We might have entertained it if they wanted to come here first game."