Big 12:

Utah State Aggies
July, 23, 2014
7/23/14
9:00
AM ET
Considering its long history of Polynesian influence, it should come as no surprise that the Pac-12 led the way with 15 players named to the preseason watch list for the inaugural Polynesian College Football Player of the Year Award.
Headlining the list is Oregon quarterback
Marcus Mariota
, USC safety
Su'a Cravens
, Oregon State center
Isaac Seumalo
, Washington linebacker
Hau'oli Kikaha
and BYU linebacker
Alani Fua
.
The award was established by the Polynesian Football Hall of Fame, which inducted its
first class of members
in January. That group of seven included Kurt Gouveia (BYU), Olin Kreutz (Washington), Kevin Mawae (LSU), Junior Seau (USC), Jack Thompson (Washington State), Herman Wedemeyer (Saint Mary's College) and Ken Niumatalolo (Navy/Hawaii).
The full breakdown of players on the watch list by conference is as follows: Pac-12 (15), Mountain West (12), Independents (4), American Athletic (1), Big 12 (1) and Sun Belt (1).
Here is the complete list (34 total):
OL Kody Afusia, Hawaii
S Su'a Cravens, USC
K Ka'imi Fairbairn, UCLA
LB Jake Fely, San Diego State
LB Salamo Fiso, Arizona State
LB Alani Fua, BYU
OL Edward Fusi, BYU
OL Ngalu Fusimalohi, Kansas
WR/P Scott Harding, Hawaii
OL Micah Hatchie, Washington
S Jeremy Ioane, Boise State
RB Joey Iosefa, Hawaii
OL Solomone Kafu, BYU
LB Bronson Kaufusi, BYU
LB Hau'oli Kikaha, Washington
QB Sefo Liufau, Colorado
OL Isaiah Folasa-Lutui, New Mexico State
DL Jaryl Mamea, Central Florida
QB Marcus Mariota, Oregon
OL Jeremiah Poutasi, Utah
DE Sonny Puletasi, Wyoming
DL Sonny Sanitoa, UNLV
DE Ian Seau, Nevada
C Isaac Seumalo, Oregon State
S Brian Suite, Utah State
LB Christian Tago, San Jose State
LB John Tavai, USC
OL Vi Teofilo, Arizona State
LB John Timu, Washington
DL Josh Tupou, Colorado
Soma Vainuku, USC
DV Peni Vea, UNLV
LB Psalm Wooching, Washington
DL Beau Yap, Hawaii
Five finalists will be announced on Nov. 20 with the winner set to be named on Dec. 9.
June, 19, 2014
6/19/14
10:30
AM ET
There will be familiar faces around weight rooms and in front of overhead projectors in football complexes this summer: coaches' faces.
Big deal.
Except it is a big deal, at least to the coaches who can now occupy strength and conditioning sessions and hold film study with their players.
The NCAA partially adopted a rule from the hardwood in October allowing a maximum of eight hours of mandatory workouts for players for eight weeks of the summer. What football coaches really care about, however, is the ability to watch those conditioning sessions and meet with their players for up to two hours each week. Any on-the-field work with footballs is still prohibited.
[+] Enlarge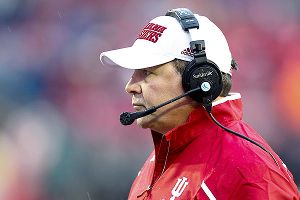 AP Photo/Andy ManisIndiana coach Kevin Wilson is one of many coaches that can visit with players in the summer rather than relying on "spies" to get information on offseason workouts.
"You don't need secret spies anymore," Indiana coach Kevin Wilson told ESPN.com. "You can just watch your football team now. ... It's common sense that if I'm in control and if I want to walk in the weight room and watch them lift weights then I can watch them lift weights."
It is uncharted territories for most coaches, who are used to relying on third-party word of mouth from the program's strength coach and upperclassmen on how summer workouts are progressing and whether freshmen are adjusting. Some coaches began mapping out how they would use their eight hours when the rule was passed, while others will take the pulse of the team and adjust accordingly. For some, they'll protect the details of those hour splits as if it were the playbook.
"We have to carve out [player meetings] with our strength coach, time that we can take away from his hours because you're not adding extra time," Notre Dame coach Brian Kelly said. "There is this model that I'm not interested in giving up to anybody, that we think gives us a balance."
Notre Dame is still debating between
Everett Golson
and
Malik Zaire
as its starting quarterback, so Kelly can spend part of the summer mentally preparing both for the upcoming competition. He will institute a "spring ball installation" of the core offensive plays and defensive structure, "something we've never been able to do in June." He'll also show his quarterbacks all of their mistakes in previous settings in hopes of limiting them once the season begins.
The vast majority, if not all, are in favor of the rule, although to varying degrees. Indiana's Wilson has walk-on players who could eventually earn a scholarship, so those players feel a need to attend summer workouts. He knows that means some will take out additional loans for summer school.
For the coaches, with summers now filled with prospect camps and recruiting visits, there are fewer hours to break away from the football facility. Wilson will take advantage of the change, but he wonders whether coaches will suffer from the burnout a 365-day coaching calendar lends itself to. The NCAA implemented a two-week summer dead period to combat the evolving recruiting calendar, but Wilson knows some coaches will stick around to watch tape with players.
"It's a little ironic they added a rule that for two weeks a recruit can't come in but added a rule so you can spend that time with your players," first-year Wake Forest coach Dave Clawson told ESPN.com.
Added Wilson: "How do we find the balance? It's nice we can work with them, but it's finding a balance where your coaches can find sanity. It's nice we can talk legally but … I think you can overcoach.
"It will be interesting after year one, whether coaches will say they want to do more or do less."
No school returns fewer starters in 2014 than Utah State, so coach Matt Wells is tasked with making sure those players who will be asked to step up this fall are physically and mentally able. He is also cognizant that his staff spending too much time with the team this summer could produce undesired results.
[+] Enlarge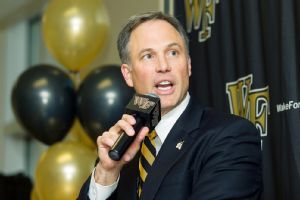 Brian Westerholt/Four Seam Images/AP ImagesThe new NCAA rules are a boon to first-year coaches such as Wake Forest's Dave Clawson, who get a chance to get acclimated with their new players.
In the early portion of the summer, Wells will meet with his team more often than he might in July. He will bring the program's newcomers up to speed with scheme and terminology in meetings, but he also doesn't want to overload them. With the upperclassmen, he believes it will become counterproductive to have extended and repetitive classroom sessions.
"We're going to still lean on player-led meetings, voluntary meetings the coaches aren't in because it builds leadership in your team and in position groups," Wells told ESPN.com. "We've benefitted from that the last three summers from an increased leadership role, and I think it's important for the players to have a break from the coaches."
For first-year coaches such as Clawson, the new rule will narrow the learning curve this fall as his players continue to adjust to his offensive and defensive ideologies. Clawson is seemingly like most coaches, though, in that he does not favor using the full two hours for Football 101 seminars. Wake Forest's new coach is not deviating much from the old summer status quo.
When he and his staff assessed the Demon Deacons following the spring, he felt strength and conditioning was lacking most. So when mandatory summer workouts kicked off, he decided he'd only spend 30 minutes to an hour each week meetings with players.
"It didn't make sense to take two hours away from that," he said.
That could change in the coming weeks, though. While some schools already have their entire incoming freshman class on campus, Clawson won't see all of his until July. He said the previous rule preventing coaches from working with freshmen lacked common sense.
"It used to be awful, the first time a freshman's ever on campus and you can't be around them," Clawson said. "When these guys first get here, you need to have some involvement. Part of recruiting is parents trusting you with their son, and first time they drop them off, to not be allowed around them was very hard."
January, 22, 2010
1/22/10
6:21
PM ET
By
Tim Griffin
| ESPN.com
If it's a Friday afternoon, it means we've got a few letters to answer before we start the weekend.
Here are a some that I've received over the last couple of days.
Austin from Arlington, Va., writes:
Hey Tim, enjoy reading the blog, thanks for your reporting. I was interested in one of your comments today, when you mention you prefer the college version to the pros. I'm with you, but I was curious to hear you expand on that a little. What aspects of the game (excluding outside the game stuff like recruiting) make the college game a better version for you? Thanks again, keep up the good work!
Tim Griffin:
I just think the college game lends itself more to the fans. You don't have greedy owners threatening to move colleges at the drop of the hat if they aren't satisfied with their stadium deal. I love the pageantry of a Saturday afternoon game. There's color involved when you hit a college campus hours before a game you just don't see in and around NFL stadiums. I've covered the NFL for many years, and it always seems too antiseptic for my tastes.
I also like the college game more. I think it skews a little bit more towards offense, which I like. I love the fact the clock stops after a first down, giving teams more plays over the course of a game. I hate the fact that television has made the NFL into a three-hour, 20-minute window with commercials after every kickoff.
I also will take recruiting over the NFL draft any day. And give me the college version of overtime where both teams have the opportunity to have the ball before a game is settled.
In my opinion, it's really quite clear why the college game is better than the pro version.
---
Nate from Seattle, Wash., writes:
Tim, love the blog, please keep the content coming during the offseason. That being said, on your "crystal ball" piece, in which you looked in to the Big 12's future, you got one thing terribly wrong. Bo Pelini is not interested in the LSU job. It has been mentioned before, but several reports have stated that his wife hated Baton Rouge and Bo wasn't a big fan of the area either. Ohio State may be an issue some day, but LSU? No.
Tim Griffin:
Nate, thanks for the kind words. But I've heard from sources that Pelini wasn't that all that happy with his experience in Ohio State, either. I just think that when some school from the Southeastern Conference waves a huge multi-million contract in front of Pelini, likely sometime in the future, he'll have to think about it. And he left on great terms in the administration and among LSU fans. Not saying that would be enough to persuade his wife to start liking boudin and beignets, but a paycheck with a lot of zeroes at the end has a way of doing some not-so-subtle convincing.
---
Thomas from Columbia, Mo., writes:
Tim, I liked your crystal ball predictions but was a little disappointed that nothing more about Missouri came from your thoughts. I was hoping that the Big 10 blogger would comment on Mizzou, but that didn't happen. If Missouri does not leave the Big 12, what are your predictions for the Tigers through 2020? And if they do go to the Big 10, where do you think they would end up? Will they fit in with a heavy offense, and annually limited defense? Will they flop or soar in the Big 10?
Tim Griffin:
I would think it would be a little harder for Missouri to compete in the Big Ten on a consistent basis than the Big 12. The reason why is because I think the Big Ten is deeper top to bottom than the Big 12. The Big 12 has more dominant teams at the top like Texas, Nebraska and Oklahoma, but there are still some teams that Missouri enjoys a natural advantage over.
I think they would be on a more even basis in the Big Ten. Ohio State, Penn State, Michigan and Iowa would replace their big rivals in the Big 12. But I think they would be challenged on a consistent basis with teams like Wisconsin, Northwestern, Michigan State and others in the Big Ten as well.
Another possible problem if they were to ever leave the Big 12 would be that Missouri's developing recruiting presence in Texas would gradually dry up. The Tigers and Gary Pinkel are entrenched in the state and have done a nice job of picking up under-recruited players like Chase Daniel, Sean Weatherspoon, Stryker Sulak and Ziggy Hood from Texas high schools and developing them once they spend a few seasons in the program.
I don't think Missouri would be quite as effective recruiting Texas if they ever left the Big 12, because I don't know how excited Texas players like I mentioned would be to play against Big Ten schools rather than Big 12 schools. Those Texas players are excited about an occasional trip back to Texas where friends and family could watch them play.
It will be interesting to see what happens with the Tigers. And like I predicted in my piece earlier today, it wouldn't surprise me if they decide to move if they get the opportunity.
---
Dan from Texas writes:
Hey Tim, read the blog every day, keep up the good work. I was wondering with the recent success of the Flexbone/Triple Option run by Georgia Tech, and the military academies, do you see more teams hiring coaches that run that system? Are you surprised more schools haven't given it a shot?
Tim Griffin:
Dan, I don't see the triple option really taking off as a mainstream offense at many schools. The military academies recruit to that kind of offense because they have tradition in place in running them and coaches who are confident in playing that offense.
But it's a big change for most coaches to go to that kind of offense. They worry that the offense doesn't provide an opportunity to come back in games if they were to fall behind by a couple of touchdowns. It's not attractive to many of today's recruits who have been weaned on the excitement of pass-and-catch football. Also, it's the kind of offense that places your quarterback in jeopardy of being injured on almost every running play if he carries the ball. Most coaches add all that up and see that the flexbone or the option provides much risk when compared with other offensive philosophies.
While the option has a place in college football, I just don't see it getting a lot of acceptance by most coaches when other offensive avenues are available.
---
Julio Ramirez from Corpus Christi, Texas, writes:
Tim, were you surprised that Mack Brown had such a quick hook with
Dan Buckner
when he decided to leave school last week?
Tim Griffin:
I was stunned that Buckner elected to transfer as quickly as he did. I don't suspect he was particularly happy with his shrinking role in the offense at the end of the season. I don't know if the arrest necessarily triggered that or not. But Mack Brown's statement when he was released mentioned that Buckner's family was convinced he would be cleared once he goes through the legal process.
Buckner will be getting a fresh start at Arizona starting in 2011. It's a rare move from a Brown-coached school to one directed by a Stoops brother. But in Arizona's offense, I think that Buckner could flourish. I think he saw what former Arizona tight end
Rob Gronkowski
was able to do and likely thinks he could produce similar numbers with an opportunity to play for Mike Stoops' team.
---
Charles Urich from Dallas writes:
From your story about the hiring of Tim DeRuyter yesterday: "But duplicating that success against the offensive firepower in the Big 12 will be a different challenge? Particularly with the personnel the Aggies currently have." Tim, I'm curious to know what you meant by this statement. Are you saying the 4-star athletes we have in this new recruiting class on defense are lesser than what the Air Force Academy had? Are you saying that with the defense we had last year that almost beat Texas and beat Tech is a challenge to work with?
Tim Griffin:
The Aggies do have some defensive talent, but in regards to the Texas game you were speaking of, I believe the Longhorns did gash the Aggies for 597 yards and 49 points in that game, didn't they? The Aggies allowed more than 44 points in five games last season, including two in the sixties. They allowed 640 yards to Oklahoma, 520 yards to Texas Tech and even 521 yards and 31 first downs to Utah State, a team that went 4-8 this season.
DeRuyter will find himself with better defensive players, but he'll be facing better offensive players, too. It's a double-edged sword that will make turning around the Aggies' defense a lot more of a challenge than his previous work at the Air Force.
Thanks again for all of your good questions this week. I'll check back again on Tuesday.
July, 22, 2009
7/22/09
4:32
PM ET
By
Tim Griffin
| ESPN.com
Posted by ESPN.com's Tim Griffin
Earlier this week, I took a look at the nonconference games that Big 12 teams will struggle to win this season.
There's also a set of games that the Big 12 should have no worries about winning. These trips to the pastry wagon can get addictive, but they don't provide much nutritional value. So consider whatever tangible benefits that happen in these games as problematic -- mainly because of the opposition the Big 12 teams will be playing.
Here are the six easiest nonconference games of the season for the Big 12.
1. Idaho State at Oklahoma, Sept. 12: Want to know how bad Idaho State is? They lost to Northern Colorado last season in a 1-11 season marked only by an overtime victory over Sacramento State. The Bengals ranked as the nation's worst FCS team in total defense and pass efficiency defense, next-to-last in scoring defense and had the FCS's sixth-worst rushing defense. Sam Bradford will be watching this one from the bench by midway through the second quarter.
2. Northern Colorado at Kansas, Sept. 5: The Division I-AA Bears are 3-31 over the last three years, including a 32-point loss at Purdue last season, a 36-point loss at San Diego State and a 57-point loss at Hawaii in 2006.

3. Tennessee Tech at Kansas State, Sept. 26: Watson Brown will be looking for better luck against the Wildcats than little brother Mack Brown has enjoyed over the years. It won't happen on this trip.
4. North Dakota at Texas Tech, Sept. 5: The Fighting Sioux were a Division II team last year. They are transitioning to Division I-AA status and this game will be their first battle in modern history against an FBS opponent. That won't help them in an opener as Mike Leach tries to build confidence in his retooled offense quarterbacked by first-year starter Taylor Potts.
5. Northwestern State at Baylor, Sept. 26: The Bears dominated the Demons in a 51-10 blowout last season and will be even better this year. Considering that Baylor's first two games are against foes from BCS-affiliated conferences -- a feat that no other Big 12 will attempt this season in nonconference play -- gives them a little bit of a mulligan for playing such a weak opponent for their third game.
6. Grambling State at Oklahoma State, Sept. 26: Once upon a time, the Tigers were a virtual football factory for NFL talent. Those days are long gone, but at least the storied Grambling band will be coming to Stillwater -- at least we hope.
And some other dogs to avoid include:
Furman at Missouri, Sept. 19
Louisiana-Monroe at Texas, Sept. 5
Massachusetts at Kansas State, Sept. 5
UTEP at Texas, Sept. 26
Utah State at Texas A&M, Sept. 19
Louisiana-Lafayette at Nebraska, Sept. 26

July, 10, 2009
7/10/09
12:06
PM ET
By
Tim Griffin
| ESPN.com
Posted by ESPN.com's Tim Griffin
A sports management study group at Texas A&M has come up with an interesting study, crunching numbers and analyzing the overall performance of athletic departments in terms of efficiency.
It might seem a little dubious that Texas A&M leads Big 12 schools in a study produced by an A&M-affiliated group, but facts are facts.
The way the school's Laboratory for the Study of Intercollegiate Athletics (LSIA) figured this out is by analyzing the number of national and conference championships won compared to the athletic budgets of the competing schools.
In a way, this is an "everyman" version of the Learfield Sports Directors' Cup, which clearly benefits those schools with the biggest budgets and who compete in the most sports.
Not surprisingly, the LSIA list is heavily stacked with non-BCS schools at the top of the list. The first 10 schools include (in order): Utah State, Kent State, Louisiana Tech, Akron, BYU, Utah, Boise State, Tulsa, Miami (Ohio) and SMU. Oregon, at 11th, is the highest-ranked school from a BCS-affiliated conference.
Maryland at 14th is next, followed by Texas A&M at 15th. The Aggies have won three NCAA championships in the last two months -- winning national championships in men's golf, men's track and field and women's track and field.
The timing of this study is curious, particularly considering the recent cutbacks in the A&M athletic administrative staff that were announced last week. The Aggies' athletic department recently slashed 17 positions to help trim $4.5 million from its budget for the 2009-10 fiscal year. That's only part of a $16 million debt the athletic department will have to repay back to the university beginning in November.
No other Big 12 teams are ranked in the top 25 in the final LSIA standings. Oklahoma State is ranked 28th and Baylor is 34th.
Texas A&M athletic director Bill Byrne is facing some difficult financial decisions as he attempts to balance his budget. But at least in one determination, he can take some solace in seeing his programs are getting some recognition for accomplishments done in an efficient manner.
July, 8, 2009
7/08/09
1:05
PM ET
By
Tim Griffin
| ESPN.com
Posted by ESPN.com's Tim Griffin
Nebraska chancellor Harvey Perlman was in the uncomfortable position of trying to argue against one of the most difficult and cunning forces in all of public speaking Tuesday on Capitol Hill.
Namely, how do you reason with a grandstanding politician who is shamelessly pandering to his electorate back home?
Such was the challenge for Perlman as he tried to answer the pointed questions of U.S. Sen. Orrin Hatch, who should have been wearing a Utah sweatshirt as he spoke with BCS proponents at the Senate Judiciary subcommittee's hearing.
Obviously, the current system has been good to Perlman and other Big 12 schools. The conference has a guaranteed berth to the BCS and often has landed a spot in the national championship game. Sometimes, Big 12 teams have qualified for that game when it could be argued there are more worthy teams outside the BCS' convoluted and arcane mathematical formula.
But like their other brethren from BCS-affiliated conferences, if any teams would deserve those breaks it would be the teams from the biggest conferences. The reason is because of the week-in, week-out scheduling gauntlet these teams consistently face in their conferences.
Central to Perlman's argument is that teams like Texas, Nebraska, Oklahoma, Florida and Ohio State routinely face a tougher schedule than schools like Utah, Boise State or Hawaii.
And he's right.
June, 10, 2009
6/10/09
12:01
PM ET
By
Tim Griffin
| ESPN.com
Posted by ESPN.com's Tim Griffin
Big 12 teams should be seldom tested before conference play begins as most teams again are opting to compete with a pillow-soft slate of opponents.
Here's the toughest and weakest of the Big 12 nonconference schedules:
1. Oklahoma: BYU (at Arlington, Texas), Idaho State, Tulsa, at Miami
The Sooners deserve props for adding the BYU game late. The nationally televised game should showcase Oklahoma's defense as it thwarts Max Hall and Harvey Unga for the Cougars. Idaho State is a bad Division I-AA team that went 1-11 last season. Tulsa and Miami both went to bowl games last season. The Golden Hurricane will be breaking in a new quarterback and a new coordinator -- not a good recipe for success for a road team at Owen Field. And although the game against Miami brings back memories of Jimmy Johnson vs. Barry Switzer, the fact is that the Hurricanes could be worn out by the time Oklahoma visits. Miami starts the season with a meat-grinder schedule of Florida State, Georgia Tech and Virginia Tech before the Sooners visit.
2. Colorado: Colorado State, at Toledo, Wyoming, at West Virginia
Coach Dan Hawkins has this team pegged for good things in the conference. The Buffaloes will be tested by four FBS opponents, including two on the road. The rivalry game against Colorado State should be decided in the trenches and the Buffaloes' offensive line will be a load for the Rams. The Toledo game might be trickier than expected considering the Buffaloes will be playing this one only five days after the Colorado State game. But Colorado still should have the talent to prevail. Something tells me that Hawkins will remember that new Wyoming coach Dave Christensen's offense hung 113 points against his defense the last two seasons when he was at Missouri. And the West Virginia trip will be a challenge, although new Mountaineers quarterback Jarrett Brown is largely untested.
3. Missouri: Illinois (at St. Louis), Bowling Green, Furman, at Nevada
The Tigers' inexperienced defense will get a huge challenge in the opener against Illinois' pass-and-catch tandem of Juice Williams and Arrelious Benn. They'll be facing another experienced quarterback in three-year Bowling Green starter Tyler Sheehan, but the Falcons' defense will be breaking in two new cornerbacks. Furman has a talented quarterback in Jordan Sorrells, but the Paladin's defense shouldn't be able to match Missouri. The trip to Nevada might be a hornet's nest. The Wolf Pack have made four straight bowl trips, multi-purpose quarterback Colin Kaepernick and the Western Athletic Conference's last two leading rushers. And, oh, yeah, the Wolf Pack probably still remember that 69-17 beatdown to the Tigers last season in Columbia.
4. Nebraska: Florida Atlantic, Arkansas State, at Virginia Tech, Louisiana-Lafayette
No truth to the rumor that the Cornhuskers are gunning for the September version of the Sun Belt championship. Their road game at Virginia Tech is the toughest game that any Big 12 team will play this season. But Bo Pelini will have two games to get his defense ready for Tyrod Taylor and Co. Florida Atlantic coach Howard Schnellenberger made his career name by beating the Cornhuskers in the 1984 Orange Bowl while at Miami. He won't be nearly as successful this time around. Arkansas State stunned Texas A&M last season, but the Red Wolves will be utilizing a new offensive line this season. And Louisiana-Lafayette's offense is very young and the Cornhuskers will be catching them the week after they have met up with LSU.
5. Oklahoma State: Georgia, Houston, Rice, Grambling
Four home games make for an ideal schedule for the Cowboys to make some national noise. The Georgia game will be arguably the biggest home nonconference game in school history. But the Cowboys grab a break as the Bulldogs try to break in new quarterback Joe Cox. Houston will have Case Keenum and a high-powered offensive attack, but the Cowboys blistered the Cougars for 56 points last year and could score more this season. Rice won't be as good this season after losing most of its offensive firepower. And Grambling has a great football history and an even better band.
6. Baylor: at Wake Forest, Connecticut, Northwestern State, Kent State
The nonconference schedule could determine whether the Bears can snap that long bowl drought. And it won't be an easy one considering that Baylor is the only Big 12 team with two opponents from "Big Six" conferences. The Wake Forest opener will be a huge test, but Robert Griffin might be able to feast on a depleted Demon Deacon defense that lost four starters to the NFL draft. The Bears nearly beat Connecticut last season on the road and the Huskies lose their starting quarterback and top rusher from that team. New coach Bradley Dale Peveto will bring new ideas for Northwestern State, but the Bears have a big edge. And Kent State will be breaking in a new quarterback for a team that has won only 19 games in the last five seasons under Doug Martin.
7. Kansas: Northern Colorado, at UTEP, Duke, Southern Mississippi
The Jayhawks should be able to name their margin against Northern Colorado in the opener. The trip to the Sun Bowl against UTEP the following week might be a different matter. UTEP quarterback Trevor Vittatoe could be a challenge, although the Jayhawks should have enough firepower to outscore them. A Kansas-Duke game would be a made-for-national television delight in basketball. Football, however, is a different story. And Southern Mississippi might be poised to challenge for the Conference USA title and might be a chore with leading conference rusher Damion Fletcher and all of its starting secondary back to challenge Todd Reesing and Dezmon Briscoe.
8. Texas A&M: New Mexico, Utah State, UAB, Arkansas (at Arlington, Texas)
The Aggies desperately need to build confidence and collect a few victories before the South Division gauntlet begins. After last season's opening-game loss against Arkansas State, expect coach Mike Sherman to have the Aggies focused for all of the games. They catch new New Mexico coach Mike Locksley with an uncertain quarterback in the Lobos' opener. Utah State is universally picked to finish last in the Western Athletic Conference. UAB will be rebuilding its defense and likely won't pose many problems for Jerrod Johnson. But the game against Arkansas at
the new Dallas Cowboys' stadium will be a challenge for A&M's defense. The Razorbacks should be much improved in Bobby Petrino's second season. Fans are paying premium prices and expect big things from both teams. The Aggies may catch a break considering the Razorbacks will play SEC contenders Georgia and Alabama in their previous two weeks.
9. Texas Tech: North Dakota, Rice, at Houston, New Mexico
Mike Leach's nonconference schedule won't be as bad as last season's trip to the pastry wagon, but not by much. North Dakota is transitioning into FCS status this season after ranking 137th among the 148 Division II passing teams last season. Sounds like target practice for Taylor Potts, doesn't it? Rice won't be nearly as tough as last season without James Casey, Jarrett Dillard and Chase Clement gone. The trip to Houston will be Tech's biggest challenge and Case Keenum will test Tech's rebuilt secondary in the first battle between the old Southwest Conference rivals since 1995. And New Mexico will have had several weeks to work under Locksley's system, making them a tougher challenge for the Red Raiders in early October.
10. Texas: Louisiana-Monroe, at Wyoming, UTEP, Central Florida
The Longhorns had a couple of game against Utah and Arkansas fall through in their planning. But don't expect the Longhorns to get that much sympathy for a group of opponents that won't give them much BCS bounce. Louisiana-Monroe will be breaking in a retooled offense with a new quarterback. The road trip to Wyoming doesn't resonate like some the Longhorns have made to places like Ohio State and Arkansas in recent seasons. The Cowboys will be breaking in a new quarterback, too. UTEP could contend for the Conference USA West title, but the Miners are a different team on the road. And the Nov. 7 game against Central Florida will bring the nation's worst offensive team from last season into Austin.
11. Iowa State: North Dakota State, Iowa, at Kent State, Army
Paul Rhoads doesn't want any surprises early in his first season and his nonconference schedule. North Dakota State has posed problems to FBS teams like Minnesota in the past. Iowa doesn't have Shonn Greene back, but has almost everybody else back on a stout defense that will challenge the Cyclones. Mighty mite 5-foot-5, 170-pound tailback Eugene Jarvis will test ISU's defense and the trip to Kent State won't be a gimme. And new Army coach Rich Ellerson will bring 6-10, 283-pound wide receiver Ali Villanueva along with starting quarterback Chip Bowden from a team that won three games last season.
12. Kansas State: Massachusetts, at Louisiana-Lafayette, at UCLA, Tennessee Tech
The schedule doesn't provide as many gooey treats as some that Bill Snyder's teams have feasted on in the past, but it's still nothing to write home about. Massachusetts is a contender in the CAA, which is the toughest top-to-bottom FCS conference in the nation. Louisiana-Lafayette will have to replace a lot of offensive talent, but can be troublesome at Cajun Field. UCLA struggled offensively last year and will be breaking in a new quarterback with four new offensive linemen. KSU might be able to compete in that one better than most might think. And Tennessee Tech coach Watson Brown, older brother of Texas coach Mack Brown, returns a talented pass-and-catch combination of Lee Sweeney and Tim Benford. KSU still should roll, however.
April, 30, 2009
4/30/09
6:59
PM ET
By
Tim Griffin
| ESPN.com
Posted by ESPN.com's Tim Griffin
The Web site Coacheshotseat.com is one of my must reads every day. They always have an interesting spin on various college football topics and a lot of original content.
One post this afternoon was particularly interesting. The Web site ranks the 22 hirings of new FBS head coaches since the end of last season.
Here's a list of hirings of all new Division I head coaches. The ones that are highlighted have Big 12 connections.
1. Dave Christensen, Wyoming
2. Dan Mullen, Mississippi State
3. Rich Ellerson, Army
4. Dabo Swinney, Clemson
5. Brady Hoke, San Diego State
6. Steve Sarkisian, Washington
7. Doug Marrone, Syracuse
8. Danny Hope, Purdue
9. Mike Locksley, New Mexico
10. Ron English, Eastern Michigan
11. Mike Haywood, Miami (OH)
12. DeWayne Walker, New Mexico State
13. Chip Kelly, Oregon
14. Paul Rhoads, Iowa State
15. Gene Chizik, Auburn
16. Gary Anderson, Utah State
17. Frank Spaziani, Boston College
18. Tim Beckman, Toledo
19. Stan Parrish, Ball State
20. Dave Clawson, Bowling Green
21. Bill Snyder, Kansas State
22. Lane Kiffin, Tennessee
It's particularly interesting to look at the difference between former Missouri coordinator Dave Christensen and former Oklahoma State defensive coordinator Tim Beckman.
They believe that Christensen's success bringing his version of the spread to Wyoming will pump new life into the Mountain West Conference. And they compare that to the largely unknown Beckman, who will be challenged to succeed in the balanced Mid-American Conference.
The switch from Gene Chizik to Paul Rhoads appears to be a wash, as Rhoads' hiring is ranked No. 14 while Chizik checks in at No. 15.
But the most interesting comments to me were how the Web site viewed Bill Snyder replacing Ron Prince at Kansas State.
21. Bill Snyder for Ron Prince at Kansas State
"We could have gone either way on the firing of Ron Prince, but bringing Bill Snyder back to Kansas State? No, we cannot understand that move by KSU. OK...Bill Snyder was a great football coach, but that was in another time and another place. Snyder put up some great seasons at K-State, but in his last two years, which happened to correspond to the rise of Texas, Oklahoma, Texas Tech and Missouri in the Big 12, Snyder went 4-7 in 2004 and 5-6 in 2005. There is a reason that Bill Snyder was fired after the 2005 season and that reason has not changed and we believe K-State will regret hiring Snyder because he will not move the football program forward in what has become a much tougher Big 12. Instead of Bill Snyder, we would have hired Buffalo's Turner Gill, Oklahoma's Brent Venables, Illinois Mike Locksley, Missouri's Dave Christensen or even Dennis Franchione over bringing back Bill Snyder and we believe Kansas State will regret this coaching move."
I would criticique Coacheshotseat.com for saying that Snyder was fired after the 2005 season. He actually resigned. But I'm still intrigued by their comments.
It will be interesting to see how Snyder's return to KSU plays out. Either it will be a home run or a colossal flop.
I'm betting that Snyder's work ethic and his return of a veteran group of coaches familiar with the KSU program will work and work to ensure the program's success.
But even that might not be enough, considering the Big 12's strength.
July, 14, 2008
7/14/08
11:08
AM ET
By
Tim Griffin
| ESPN.com
Posted by ESPN.com's Tim Griffin
New Baylor coach Art Briles is a proven winner who has had success in all of his previous head coaching opportunities, most recently taking Houston to four bowl games in the last five seasons. Before that, he directed Stephenville High School to four Texas state high school championships.
But Briles will be facing the challenge of his coaching career in his new job with the Bears. Want to know how difficult it will be? Consider that the Bears are tied for seventh among the NCAA Division I programs in terms of the longest current bowl droughts.
Here's a list of the longest active bowl gaps in college football:
| | | |
| --- | --- | --- |
| School | Year | Bowl |
| New Mexico State | 1960 | Sun |
| Kent State | 1972 | Tangerine |
| Temple | 1979 | Golden State |
| Vanderbilt | 1982 | Hall of Fame |
| Southern Methodist | 1984 | Aloha |
| Eastern Michigan | 1987 | California |
| Baylor | 1994 | Alamo |
| Duke | 1994 | Hall of Fame |
| Army | 1996 | Independence |
| Utah State | 1997 | Humanitarian |
| Arizona | 1998 | Holiday |
| Idaho | 1998 | Humanitarian |
| San Diego State | 1998 | Las Vegas |
Note: Buffalo, Louisiana-Monroe, Louisiana-Lafayette, Florida International and Western Kentucky have never made bowl trips as Division I-A members.