September, 19, 2014
Sep 19
2:30
PM ET
Fourth-and-1 at
Texas Tech
's 39. Time for the Red Raiders, down seven points in the third quarter, to get a stop.
Arkansas lined up exactly how you would expect: A three-tight-end power set with a fullback. Nine blockers, one running back. No pass, no fakes, no funny stuff.
Just a power run off right tackle.
And Texas Tech played it right.
Safety
J.J. Gaines
met Arkansas back
Jonathan Williams
near the line of scrimmage. Williams juked left. Gaines whiffed. Then the Arkansas junior threw two stiff-arms at linebacker Sam Eguaoven and picked up 21 yards. Six plays later, the Hogs were back in the end zone.
[+] Enlarge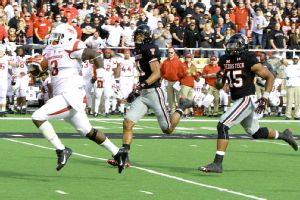 Michael C. Johnson/USA TODAY SportsOver the past nine games, this has been a familiar view of running backs for Texas Tech defenders.
This wasn't the turning-point play in Texas Tech's 49-28 loss. Just another landed punch in an eventual beatdown.
Williams ran for 80 yards in the second half, teammate
Alex Collins
added 167 yards, Arkansas averaged a ridiculous 7.15 yards per carry and attempted just two passes. No need to throw. Everything was working against a Red Raiders defense whose biggest flaw of 2013 re-emerged.
"You've got to give them credit," Texas Tech coach Kliff Kingsbury said after the loss. "They lined up and pounded us, and we just didn't have an answer today."
Fixing a Texas Tech run defense that has been a sieve in its past nine games is Challenge No. 1 for newly elevated defensive coordinator Mike Smith. Though Matt Wallerstedt
exited Thursday because of off-field issues
, he leaves behind one real on-field problem that Big 12 foes will try to exploit.
Since Oct. 26, 2013, Tech's first loss of last season at Oklahoma, the Red Raiders have the second-worst run defense in the FBS at 293.4 rushing yards allowed per game.
During that nine-game stretch, of which Tech has lost six, no defense in the country has given up more first downs on rushes (142). Only Southern Miss has allowed more touchdowns and more rushes of 10-plus yards.
In fact, Tech gave up 36 rushing touchdowns during that period, eight more than any other FBS team.
Though Arkansas has one of the best run games in the country, a power-heavy attack the likes of which Tech probably will not face again in Big 12 play, the fact is no FBS defense has faced more rushing plays in those nine games than Tech. Opponents know they must hit this weak spot hard. The Red Raiders know it's coming. They can't stop it.
In the third quarter against Arkansas, Williams' fourth-down dash was deadly because it was another play that kept Texas Tech's defense on the field. The Hogs ran 23 plays in the quarter and kept the ball for a total of 12:45. That is an easy way to get your opponent gassed.
Linebacker
V.J. Fehoko
said he saw too many communication issues, too many times when defenders tried to do too much and didn't stick to their assignment.
"In this conference," Fehoko said Saturday, "the smallest mistakes go the longest ways."
Though this is a generally young defense, the starters in the front seven are all juniors and seniors. How are they going to react to another letdown against the run?
"You know, it's tough. It's tough when the ball's not going your way and the momentum's not going your way," Fehoko said. "But I think we've got to just persevere and fight through it. As a team we've got a lot of young guys, but that's no excuse. I think energy and fire comes from within."
So does Texas Tech's new leadership on defense. Smith was already the co-coordinator, so it's not a drastic change. He is expected to bring more of an NFL mindset to assignment and alignment than Wallerstedt. And no doubt he's already hard at work to address his defense's most obvious defect.
It's not that complicated. Next up is Oklahoma State. They and every other opponent are going to pound the rock. They will keep doing it, and the reputation will continue, until Texas Tech starts finding answers to stop it.
August, 28, 2014
Aug 28
9:30
AM ET
LUBBOCK, Texas -- One of Lubbock's most popular families walked around the Jones AT&T Stadium field in April like they'd been there forever. But this was their first time back in almost three years.
The leaders of the Fehoko clan, Vili and Linda, passed out prizes from stuffed-full bags: Hand-woven headbands made of coconut leaves -- from their culture's "tree of life" -- for each and every Texas Tech player after the spring game. Then fans started lining to snag one of the more than 150 headpieces, even offering to pay.
You can't put a price on what the Fehokos were bringing back to Lubbock that day.
[+] Enlarge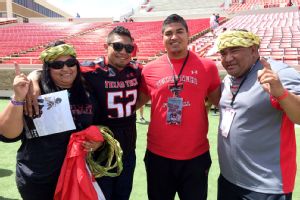 Max Olson/ESPNThe Fehoko family -- Linda, Sam, Breiden and Vili -- are back rooting for Texas Tech.
Their son Sam Fehoko, a Mike Leach-era linebacker known for his fiery spirit and game day war paint, had made the family from Honolulu a fan favorite. Now they're back, and they'll be Lubbock regulars for the next few years.
Sam's brother, V.J. Fehoko, transferred from Utah for his senior year and will start at Will linebacker for Tech. And their youngest brother,
Breiden Fehoko
, is an ESPN 300 recruit who recently signed financial aid papers to officially join the Red Raiders in January.
"The people around here welcome you with open arms, just like the people of Hawaii do," Sam Fehoko said. "It's amazing to me. That's why I came here. I love the city of Lubbock, and I know the city loves the Fehokos."
For Sam, a homecoming was overdue. He left the program early in his senior season of 2011, during ex-coach Tommy Tuberville's first year, and tried to make it in the NFL. After two years away, he returned to Tech last fall to finish his undergrad degree.
"From the time I set foot back here in Lubbock, it was amazing," he said. "With Coach Kliff Kingsbury here, he knows exactly how to relate to people. He's such a people person. You feel this energy come off of him. I was watching the team and watching the culture and this new Texas Tech brand. I fell in love with it again. I fell in love with Texas Tech."
V.J. took notice. He won't discuss why he left Utah, but he hadn't forgotten about Tech. He'd given a silent commitment to Leach during his recruitment in 2009 but had to change plans upon the coach's firing.
"Coming back was kind of destiny, in a way," V.J. Fehoko said. "It's sort of full circle."
When he joined Sam in Lubbock this January, V.J. asked his brother for a crash course on Big 12 defense. The Pac-12 prepared him for high-speed offenses, but he's still learned plenty in the past eight months. Like Sam, he quickly took a liking to the Red Raiders' new leader.
"My goodness, man, Kliff Kingsbury, you can quote me on this: Best head coach in college football," V.J. said. "He's sort of like an older brother to you."
[+] Enlarge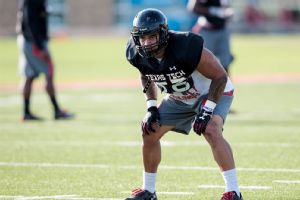 Courtesy of Texas Tech Athletics V.J. Fehoko, who transferred from Utah for his senior year, will start at Will linebacker for Tech.
For Kingsbury, who's adopted "Family Over Everything" as one of his program's mottos, embracing the Fehokos and welcoming them back made too much sense.
"That's been a great relationship," Kingsbury said. "Their entire family, through and through, are big-time Red Raiders, obviously. They bring a lot of passion, a lot of energy to the football field."
He's seen that trademark passion in Sam, who's working with program again as an off-field defensive intern, as well as in V.J., a backup for the Utes last year who's already making Texas Tech's defense better.
"Every day he's yelling, screaming, hopping around and excited to be out there," Kingsbury said. "That's contagious to his teammates."
What made Tech a natural fit for this family from 3,500 miles away? Sam says the seclusion of Lubbock out in West Texas -- "almost like you're on an island, you know?" -- suits their dedication. No distractions, he says. Just football and school. That was enough to sway their youngest brother.
And if you ask the elder Fehoko brothers, the best is yet to come. Breiden, a defensive tackle at Farrington High in Honolulu, is ranked No. 56 in the ESPN 300 and committed soon after attending Tech's spring game.
The 6-foot-2, 285-pound lineman already maxes out a 45 reps of 225 pounds on the bench press and 585 pounds on squats. After growing up in the shadow of three brothers, he's developed into a freak athlete -- Sam calls him a "rare breed," V.J. says he's a "whole 'nother species" -- with a deep admiration for what his family has started.
"Tradition meant a lot to me. Carrying on a legacy meant a lot to me," Fehoko said of his recruitment. "To have the Fehoko name as a household name in Lubbock, it only makes sense to continue it. Why go somewhere else? People there, with that West Texas hospitality, they took us in and treated us like their own."
When Breiden made his commitment on April 14, his future head coach
took to Twitter
to celebrate. Now that Breiden has signed financial aid papers, Tech coaches can call, text and even visit as much as they want. He's in the family.
"Whenever Kliff comes to Hawaii, I'll be taking him out for surf lessons," Breiden said. "Whatever he wants to do. Maybe a Hawaiian luau. You know, he's single, he'll probably want to go see all the Hula girls over here."
Another tradition they're bringing back: The Haka. In 2010, the three brothers and their father
led a Maori war dance
before the spring game. Vili and Breiden did another rendition at this year's game and should be back for more this season.
The ritual, meant to invoke a warrior's spirit, isn't just an expression of the Fehoko family's culture. For the brothers, it's also a tribute to the parents who got them this far.
"We were raised tough," V.J. said. "We had six members of our family and we grew up in a one-bedroom house. Mom worked two jobs. Dad, with his health, was unemployed at times. We grew up in the struggle.
"We looked at each other and told each other we were going to make it out for our parents."
For a family that didn't come from much, the Fehokos can't wait to bring a whole lot back to Texas Tech.
May, 6, 2014
May 6
3:00
PM ET
With spring ball done, we're
re-examining and re-ranking the positional situations of every Big 12 team
, continuing Tuesday with linebackers. These outlooks will look different in August. But here's how we see them post-spring:

1. Oklahoma (pre-spring ranking: 1):
While the future of inside linebacker
Frank Shannon
remains unclear, the Sooners have a tailor-made replacement in
Jordan Evans
ready to go. Shannon was OU's leading tackler a year ago, but Evans was the defensive MVP of the spring game in his place. Blitzing outside linebacker
Eric Striker
had a huge spring coming off his three-sack performance in the Allstate Sugar Bowl. And the Sooners had another blitzing linebacker in juco transfer
Devante Bond
emerge in March, which could give them flexibility to move Striker around.
Dominique Alexander
, the reigning Big 12 Defensive Freshman of the Year, solidifies OU's perch atop this positional ranking, even with Shannon's future in limbo.

2. Texas (2):
Steve Edmond
sparked controversy with his Baylor comments, but he also impressed coach Charlie Strong this spring with his knack for making tackles. Edmond and
Dalton Santos
team up to give the Longhorns a reliable combination on the inside. Athletic sophomore
Timothy Cole
took advantage of his opportunities with the first-team defense during the spring but should fall back into a spot role once
Jordan Hicks
returns this summer from a second consecutive season-ending injury. This will be a good group of linebackers, but Hicks playing up to his five-star potential is what could make it great.

3. West Virginia (3):
After struggling at the "Spur" linebacker spot in 2013,
Isaiah Bruce
moved back inside this spring, where he starred as a freshman All-American two years ago. Bruce said he didn't feel as comfortable playing outside and that showed, as he didn't record a sack last season despite playing off the edge. Taking over in the Spur is converted safety
K.J. Dillon
, who was as impressive as any West Virginia defender this spring. With the ability to drop back in coverage, attack the run and rush the quarterback, Dillon seems to be a much better fit at the Spur. If he continues to progress at his new spot and Bruce gets back to his old self playing alongside tackling machine
Nick Kwiatkoski
inside, the Mountaineers will be stout at the second level.

4. Kansas (5):
If the Jayhawks finally climb out of the Big 12 cellar for the first time in six years, it will be on the back of
Ben Heeney
and a Kansas defense that returns nine starters. One of those nine returners is Heeney's linebacker wingman,
Jake Love
, who delivered a strong spring game with a scrimmage-high 10 tackles. The Jayhawks have several weaknesses, but the tackling of their linebackers is not one of them.

5. TCU (6):
They get overshadowed by the units in front of and behind them, but linebackers
Paul Dawson
and
Marcus Mallet
simply fulfill what's asked of them. The Horned Frogs were surprisingly solid at linebacker last year. They should be even better in 2014.

6. Texas Tech (7):
The Red Raiders received a huge boost in the spring from
Kenny Williams
, who made a seamless -- and voluntary -- position switch from running back to the "Raider" linebacker position. With honorable mention All-Big 12 pick
Pete Robertson
on the other outside spot and veterans
Sam Eguavoen
and
Micah Awe
and Utah transfer
V.J. Fehoko
manning the middle, the Red Raiders have a solid foundation. Ex-Ohio State linebacker
Mike Mitchell
, who attended Tech's spring game, could give the unit another boost in the summer. He was an ESPN 300 recruit last year and could be eligible immediately at his next school.

7. Kansas State (8):
Coach Bill Snyder seemed to be reasonably pleased with returners
Jonathan Truman
and
Will Davis
, who have locked up two of the linebacker spots. If
D'Vonta Derricott
, who was in the
ESPN Junior College 50
and had offers from Miami, Wisconsin, Arizona State and a host of Big 12 programs, can make an impact at the third linebacker spot, the Wildcats could quickly solidify their biggest question spot defensively.

8. Baylor (4):
Middle linebacker
Bryce Hager
will be fine once he finally recovers from a groin injury. That means
Aiavion Edwards
, who exited spring as the starter on the weak side, will be the key as the Bears attempt to overcome the graduation of All-Big 12 performer
Eddie Lackey
. Baylor, though, still has big expectations for juco transfer
Grant Campbell
, even though he finished spring as a backup on the depth chart. After a shaky first few practices, Campbell began to come on late in spring drills.

9. Oklahoma State (9):
The Cowboys picked up a valuable transfer during the spring in former Michigan safety
Josh Furman
, who will be eligible immediately after getting his degree. Furman isn't a star, but he has plenty of experience and could be a real asset teamed with juco transfer
D'Nerius Antoine
at Oklahoma State's "Star" linebacker spot. On the weak side, fellow juco transfer
Devante Averette
really shined before suffering some mild injuries at the end of spring ball. The Cowboys will be even better there if 2012 four-star signee
Seth Jacobs
emerges.

10. Iowa State (10):
The Cyclones remain in transition mode at linebacker while working to replace the production of departed All-Big 12 performer
Jeremiah George
. Redshirt freshman and former QB
Alton Meeks
was one of the defensive surprises of the spring; he currently sits atop the depth chart at middle linebacker. The other big defensive surprise was walk-on senior
Drake Ferch
, who beat out returning starter
Jared Brackens
on the strong side.
Jevohn Miller
is the third starting linebacker, but he figures to be a placeholder on the weak side until
Luke Knott
returns from last year's season-ending hip injury.
May, 5, 2014
May 5
9:00
AM ET
Since last week, we've been analyzing
the depth charts of every Big 12 team
coming out of the spring. Monday, we continue with the
Texas Tech Red Raiders
, who released an official two-deep after finishing up spring ball last month:
OFFENSE (starters in bold)
[+] Enlarge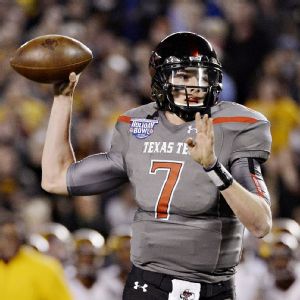 Donald Miralle/Getty ImagesDavis Webb had a great spring and returns to lead the offense.
QB:
Davis Webb (So.)
This one is pretty simple. Webb, who broke out in the bowl game, is loaded with potential and had a fabulous spring with 13 touchdowns and no turnovers over three open scrimmages. With no other QB on the roster, incoming freshman
Patrick Mahomes
will assume the backup spot by default.
RB:
DeAndre Washington (Jr.)
,
Quinton White
(So.)
With
Kenny Williams
taking over as the starting "Raider" linebacker, Washington takes over as the starting running back. Washington has two seasons of experience and was just as productive out of the backfield as Williams was in 2013. White will have to perform in a backup role to fend off incoming four-star freshman
Justin Stockton
.
WR: D.J. Polite-Bray (So.)
,
Devin Lauderdale
(So.)
IR: Jakeem Grant (Jr.)
,
Brent Mitcham
(Sr.)
IR: Bradley Marquez (Sr.)
,
Jordan Davis
(Sr.)
WR: Reginald Davis (So.)
,
Derreck Edwards
(Jr.)
The playmaking potential is boundless in the speedy trio of Grant, Marquez and Davis, who combined for four touchdowns in the National University Holiday Bowl. Polite-Bray can fly, too, and made a living hauling in bombs downfield during the spring to emerge as the fourth starting receiver. With bulky tight end
Jace Amaro
and
Eric Ward
(who ranked 29
th
in the Big 12 in yards per catch), the Red Raiders struggled at times last season to stretch the field. With a major upgrade in speed across the board at the position, that won't be an issue in the fall.
Jordan Davis
gives Tech a reliable fifth option inside when Kliff Kingsbury goes to his five wide receiver sets.
LT: Le'Raven Clark (Jr.)
,
Poet Thomas
(RFr.)
LG: Alfredo Morales (Jr.)
,
James Polk
(Sr.)
C: Jared Kaster (Jr.)
,
Tony Morales
(Jr.)
RG: Trey Keenan (So.)
,
Baylen Brown
(So.)
RT: Rashad Fortenberry (Sr.)
,
Josh Outlaw
(RFr.)
The offensive line two-deep could undergo a transformation once junior-college transfer
Dominique Robertson
arrives in the summer. Offensive line coach Lee Hays has said that he would consider swinging Clark to guard to boost the run game, should Robertson show up ready to play. Hays was given this option after Fortenberry was awarded another year of eligibility in the spring. At the moment, right guard is the biggest question up front, but if Clark were to slide inside, he and Morales could team up to give the Red Raiders a powerful run-blocking duo at the guard spots.
DEFENSE
DE: Branden Jackson (Jr.)
,
Zach Barnes
(So.)
NG: Jackson Richards (Jr.)
,
Donte Phillips
(Jr.)
DT: Demetrius Alston (Jr.)
,
Keland McElrath
(Jr.)
This appears to be the biggest question on the entire team. Jackson is coming off a solid sophomore season, with nine tackles for loss and four sacks. But Tech, which finished next-to-last in run defense in 2013, got pushed around in Big 12 play with the unit its currently projecting to start. That's why Tech signed four juco defensive linemen --
Brandon Thorpe
,
Marcus Smith
,
Rika Levi
and McElrath – in its 2014 class. To toughen up their front, the Red Raiders will need at least a couple of those jucos to pan out.
BANDIT: Pete Robertson (Jr.)
,
Kris Williams
(So.)
WLB: V.J. Fehoko (Sr.)
,
Malik Jenkins
(So.)
MLB: Sam Eguavoen (Sr.)
,
Micah Awe
(Jr.)
RAIDER: Kenny Williams (Sr.)
,
Austin Stewart
(Sr.)
This is a unit that really came together over the spring. What started as an experiment could result in the Red Raiders uncovering their answer at the "Raider" linebacking spot vacated by
Terrance Bullitt
. Even though he sat out the spring game, Williams had a tremendous run of practices at the position and was rewarded with a spot atop the depth chart. Elsewhere, the Red Raiders are in good shape. Robertson was an honorable mention All-Big 12 performer last season, and Eguavoen and Awe were third and sixth on the team in tackles. Some big-time help could be on the way this summer, too. Former Ohio State linebacker
Mike Mitchell
, who was an ESPN 300 recruit last season, attended Texas Tech's spring game and could be in line for a hardship waiver to play immediately at his next school.
BC: Justis Nelson (So.)
,
Thierry Nguema
(So.)
FS: J.J. Gaines (So.)
,
Jalen Barnes
(RFr.)
SS: Keenon Ward (So.)
,
Dorian Crawford
(Sr.)
FC: Dee Paul (So.)

The Red Raiders have reason to be cautiously optimistic about their young secondary. Gaines was performing at a high level last fall before suffering a season-ending shoulder injury five games into the year. He was a limited participant during spring ball and should be good-to-go again for the fall. Ward had an MVP spring, laying out several receivers with big hits to solidify the other safety job. Nelson returns after starting as a true freshman, essentially leaving the field cornerback spot as the only lingering competition.
Nigel Bethel II
, the four-star gem of the 2014 recruiting class, has the talent to vie for that job when he arrives on campus. Even though he didn't appear on the depth chart, safety transfer
Josh Keys
, who did enroll early, could add valuable depth once he settles into coordinator Matt Wallerstedt's scheme.
February, 2, 2010
2/02/10
9:19
AM ET
By
Tim Griffin
| ESPN.com
We're heading into the final stages of recruiting as national signing day approaches tomorrow.

Here's a list of the top remaining recruits that Big 12 schools still are in the hunt for and how I view their chances.

OL Seantrel Henderson

St. Paul, Minn. (Cretin-Derham Hall)

Big 12 contender: Oklahoma

Others: Florida, Miami, Minnesota, Notre Dame, Ohio State, USC

Sooners' chances: Slim.

DE Owamagbe Odighizuwa

Portland, Ore. (David Douglas)

Big 12 contender: Nebraska.

Others: Oregon State, UCLA.

Cornhuskers' chances: Excellent.

OLB Christian Jones

Winter Park, Fla. (Lake Howell)

Big 12 contender: Oklahoma.

Others: Alabama, Florida, Florida State, LSU, Miami, Michigan, Notre Dame, South Florida, Tennessee, USC.

Sooners' chances: Slim.

WR Kadron Boone

Ocala, Fla. (Trinity Catholic)

Big 12 contender: Texas Tech

Others: Georgia, Louisville, LSU, West Virginia.

Red Raiders' chances: Slim.

LB V.J. Fehoko

Honolulu (Farrington H.S.)

Big 12 contender: Texas Tech

Others: Hawaii, Utah, Washington, Utah State.

Red Raiders' chances: Fair.

T Damien Robinson

Olive Branch, Miss.

Big 12 contender: Oklahoma.

Others: Arkansas, Mississippi, Mississippi State, Tennessee.

Sooners' chances: Slim.

DE J.R. Ferguson

Chatham, Va. (Hargarve Military Academy)

Big 12 contenders: Nebraska, Oklahoma, Texas Tech.

Others: California, Florida, LSU, Maryland, Miami, North Carolina, Notre Dame, South Carolina, UCLA.

Big 12 teams' chances: Slim.

DT Ricky Heimuli

Salt Lake City (Brighton)

Big 12 contender: Nebraska, Oklahoma.

Others: Oregon, Oregon State, UCLA, Utah, Washington.

Big 12 teams' chances: Slim.

S Corey Cooper

Maywood, Ill. (Proviso East)

Big 12 contenders: Nebraska, Missouri.

Others: Illinois, Arizona, Notre Dame, Florida State, Michigan State, Northwestern, Stanford, Tennessee.

Big 12 teams' chances: Nebraska, fair; Missouri, slim.

CB Anthony Jefferson

Los Angeles (Jefferson)

Big 12 contender: Oklahoma.

Others: Oregon, UCLA, Arizona, Arizona State, California, Notre Dame, Tennessee, USC, Washington.

Sooners' chances: Slim.

MLB Hayes Pullard

Los Angeles (Crenshaw)

Big 12 contender: Nebraska.

Others: Arizona State, Notre Dame, Oregon, UCLA, USC, Washington.

Cornhuskers' chances: Slim.
BIG 12 SCOREBOARD
Saturday, 12/20
Monday, 12/22
Tuesday, 12/23
Wednesday, 12/24
Friday, 12/26
Saturday, 12/27
Monday, 12/29
Tuesday, 12/30
Wednesday, 12/31
Thursday, 1/1
Friday, 1/2
Saturday, 1/3
Sunday, 1/4
Monday, 1/12
Tweets from https://twitter.com/ESPNCFB/lists/big12