February, 4, 2013
2/04/13
4:00
PM ET
We're back ranking the top 10 players at positions across the Big 12. Today, we'll turn our eyes to the defensive lines across the Big 12. Here's what you've missed so far:

Here's what you've missed so far:
Let's get to it.

1. Devonte Fields, TCU: You could make a case for either of these two guys, and Fields wasn't as productive in conference play, but Fields' raw talent is eye-popping. I give him the No. 1 spot on this list after leading the league with 18.5 tackles for loss and 10 sacks.

2. Meshak Williams, Kansas State: Williams' motor runs higher than anyone else's in this league, and the juco transfer made a ton of the talent he was given to win the Big 12's Defensive Lineman of the Year Award. He was second in the league with 10.5 sacks and added 15.5 tackles for loss.

3. Alex Okafor, Texas: Okafor finished his career in unbelievable fashion, making 4.5 sacks and dominating Texas' Alamo Bowl win over Oregon State. That jolted him into the Big 12 title with 12.5 sacks and he was second in the league with 16.5 sacks. His career has been a bit up and down, but this was a fitting crescendo to a big talent.

4. Calvin Barnett, Oklahoma State: Barnett was the league's best interior defensive lineman this year, constantly getting a push and generally being a handful for offensive lines. He fixed his early-season penalty issues and finished with nine tackles for loss.

5. Jake McDonough, Iowa State: McDonough wasn't too far behind. He was a breakout star in the middle for Iowa State this season, pushing his way to two sacks and 5.5 tackles for loss. You can't grade interior linemen on numbers, but watch Iowa State's defense sometime. McDonough freed up a lot of space for the rest of the defense, one of the league's most underrated.

6. Adam Davis, Kansas State: Davis doesn't have the name recognition around the league that Williams did, but he was solid on the other side of the line, ranking fourth in the league with six sacks and eighth in the league with 11.5 sacks. K-State's defense was one of the Big 12's best last year. The D-line was a huge reason why.

7. Kerry Hyder, Texas Tech: Hyder was a breakout star this season for the much-improved Tech defense. He was fifth in the league with 14 tackles for loss and seventh with 5.5 sacks. The 6-foot-2, 281-pounder is versatile along the defensive line and could be due for a big 2013.

8. Jackson Jeffcoat, Texas: Jeffcoat's junior year came to a sad end when he injured his pectoral and underwent surgery, but even with the abbreviated season, he still had four sacks and 9.5 tackles for loss in just six games. Ridiculous. He could be a top 10 pick next April after electing to return to Texas for his senior season in 2013.

9. Stansly Maponga, TCU: Maponga was a little underwhelming this year, but still turned in a solid effort when you look from a wide angle and not from the high expectations he brought in as the Frogs' only preseason All-Big 12 selection and an All-Mountain West first-teamer. He battled injuries all year and finished with four sacks and 6.5 tackles for loss.

10. David King, Oklahoma: Maximus was mighty for the Sooners this season, who needed him to do a lot. Injuries and suspensions forced him to move all over the place on the defensive line. He was inside, outside and every other possible side. He finished with 2.5 sacks this season.

Honorable mention: Dartwan Bush, Texas Tech; Vai Lutui, Kansas State; Chris McAllister, Baylor; Chucky Hunter, TCU
February, 4, 2013
2/04/13
2:30
PM ET
Each season, there's lots of turnover and change for every college program. What do the Big 12 teams need to do before next fall? Let's continue our look with the Wildcats up in Manhappenin'.

1. Fill in the secondary.
Three starters in the secondary are gone, and cornerback
Nigel Malone
will be the toughest guy to replace. Safety
Jarard Milo
and cornerback
Allen Chapman
were solid talents as well. The Wildcats will have a lot of work to do in the spring to figure out who'll be jumping into the starting lineup to replace the trio.
Ty Zimmerman
will be healthy, and true freshman safety
Dante Barnett
showed some promise in replacing Zimmerman after he suffered a leg injury.
Randall Evans
is a playmaker at corner, and Carl Miles backed up Chapman. Does K-State move them up, or fill their spots with incoming jucos?
2. Sort out the quarterback competition.
Collin Klein
is gone, and somebody has to be next in line. It sounds as if spring in Manhattan will feature a very open competition between sophomore
Daniel Sams
, who showcased his legs all of last season and got over a half of experience in K-State's 44-30 win over Oklahoma State at home this season. He's probably the league's fastest quarterback, but expect him to be pushed by newcomer Jake Waters, one of the top juco quarterbacks in the country who broke Cam Newton's completion percentage record last season. This one should be interesting.
3. Develop the defensive line.
This defensive line was one of the most underrated in the country, highlighted by
Meshak Williams
,
Adam Davis
and
Vai Lutui
, as well as
John Sua
and
Javonta Boyd
. The bad news? All of them are gone, and K-State is forced to replace them. The Wildcats are losing 10 starters on defense.
Ryan Mueller
showed some promise this year, but K-State's facing a similar problem on the D-line as it is in the secondary. Replacing these guys is just as important, and if K-State can do it, the 2013 season could be a promising one.
More offseason to-do lists:
October, 26, 2012
10/26/12
9:00
AM ET
There might not be a position group in this league more underrated than Kansas State's defensive line.
The Wildcats lack the headline-makers at Texas or even TCU, but the Wildcats are second in the Big 12 with 17 sacks, led by
Meshak Williams
, with 5.5 sacks.

Williams, along with fellow end
Adam Davis
and defensive lineman
Vai Lutui
will transform this Saturday in Manhattan and provide a reminder that the Wildcats have a big-time defense along with
Collin Klein
, too.
A mediocre surrounding cast around Klein? I think not.
Davis has 3.5 sacks of his own and has forced three fumbles, and the Wildcats have been more dominant than any defense in the Big 12 in conference play. They've given up 19 fewer yards per game than any defense through four games, and lead the league in scoring defense, too.
Davis, Williams and Lutui are a huge reason why. More casual fans are familiar with
Arthur Brown
's efforts, but without the defensive line, offensive lines can get upfield and get a body on the Wildcats' cruise missile at the second level of the defense.
Instead, when Davis and Williams aren't getting to quarterbacks, they're getting a push and occupying linemen, leaving Brown free to roam and make plays at the line of scrimmage and fill gaps.
Only Oklahoma has been better at defending the pass this season in conference play, and the Sooners destroyed Texas Tech's passing game, forcing Red Raiders QB
Seth Doege
into three of his seven interceptions this season and holding him to a season-low 203 yards.
Doege leads the nation with 28 touchdown passes. He didn't get a single one against the Sooners. Kansas State might not shut him out, but they'll do plenty well enough to quiet the explosive Red Raiders offense and keep the K-State train rolling toward the BCS National Championship Game.
September, 23, 2012
9/23/12
1:15
AM ET
NORMAN, Okla. --
Tre Walker
climbed the wall in the southeast corner of Owen Field just to reach a few loved ones Saturday. He had to hug somebody, and couldn't wait until his pads were off to do it.
While the Kansas State linebacker took care of his business there, a "K-S-U" chant echoed through Norman after Bill Snyder's Wildcats finished making history. Walker was climbing to get off the field, but the rest of his team never wanted to leave after Kansas State's
24-19 victory over Oklahoma
. Coaches and players hugged and high-fived.
Kansas State and Oklahoma players both had glassy eyes, for very different reasons.
"I mean, I was shocked," defensive end
Adam Davis
said.
Sure, the Kansas State faithful knew they
could
win. But that they
would
? History shot disapproving glances the way of anyone who believed otherwise.
Oklahoma was a perfect 14-0 versus ranked teams at home under Bob Stoops, dispatching opponents by an average of 28.2 points dating all the way back to 1999. The Wildcats hadn't beaten the seven-time Big 12 champs in the regular season since 1997.
Those stats, though, hadn't reached Davis. And he was still shocked. So were the raucous 85,276 Sooners fans in attendance who provided the best Big 12 atmosphere to date.
"It feels like you're on top of the world," Davis said of the postgame party on the field.
The big names on Saturday will attract plenty of attention.
Landry Jones
' shortcomings.
Collin Klein
's toughness and passing prowess, highlighted by a 12-yard completion on third-and-11 to
Tramaine Thompson
that all but iced the game in the final minutes.
[+] Enlarge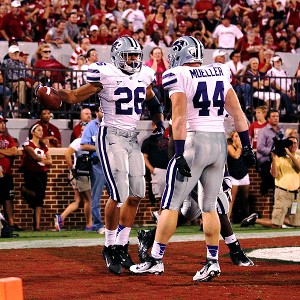 Matthew Emmons/US PresswireJarell Childs (26) celebrates with Ryan Mueller after recovering a Landry Jones fumble in the end zone for Kansas State's first touchdown.
The real story? A dogged defense that harassed Jones into two game-breaking turnovers and got lucky with a third when a low snap scooted past
Blake Bell
, leaving the Belldozer broken down on the way back to the sideline instead of into the end zone.
Snyder, ever the exploiter of weaknesses, saw a big one in Jones that plenty of others saw, too.
Asked if Jones was "spooked," Davis replied: "I noticed it in the first half. When we'd get upfield, he'd start jabbing his feet real quick and moving. That let us know that he don't like nobody in his blind side, and we tried to attack it all night."
The Wildcats succeeded. They flushed Jones from the pocket in the first quarter and linebacker
Justin Tuggle
, playing defensive end on that particular play as part of a specialized package, caught Jones from behind and stripped the ball.
Jarell Childs
scooped it up just a yard in front of the goal line and scored.
Kansas State's defense believed.
"What we did all week was worked on trying to flush him out of the pocket, because we know he ain't good with pressure," Davis said. "If we get to his blind side, he's going to get jittery and try to move out the pocket and scoot up and stuff. We tried to get our D-tackles to cause pressure on the edge and try to get him."
The Wildcats notched two sacks, but the constant pressure had Jones looking mediocre for most of the night. His second turnover came when tackle
Vai Lutui
lunged at Jones from his knees. Jones threw off his back foot and promptly sailed a probable completion into the waiting arms of Kansas State safety
Ty Zimmerman
.
"It was a little bit of a struggle offensively. ... Our defense, I think, created the turnovers that took place, by and large," Snyder said. "I thought they did a heck of a job."
Snyder was a cool customer holding a hot cup of coffee with cream and sugar, taking sips while he answered questions after the victory in his Cotton Bowl windbreaker on a brisk fall night in Oklahoma. At one point during the conference, a cricket flew in and landed an inch from Snyder's left eye. He broke an answer for only a moment to swat away the pest.
Nothing could get to the unflappable SnyderCats on this night.
"When you play somebody as good as an Oklahoma team, it really does mean something special to them, and they feel good about it," Snyder said.
Snyder's demeanor wouldn't have been much different if the 14-point underdogs had gotten waxed by 30, like so many teams at Owen Field before them. Still, his message to the team remained consistent.
"He said he was very proud of us," Davis said with a grin.
Expecting maybe something a little more dramatic?
"Yes, we were, but you never really know what to expect," Davis said.
Well, that just wouldn't be very Snyder. Saturday's win, though? Doing what no team had ever done before and getting outgained in total yardage while doing it?
Could anybody else but Snyder do that?
May, 2, 2012
5/02/12
1:00
PM ET
Miss K-State's spring game? We've got you covered.
What happened:
What we learned:
Sadly, not much. There's some encouragement from seeing Klein complete the high percentage of passes he did and rack up that kind of yardage, but I'd encourage you to take a look back at the 2009 and 2010 spring games at Kansas State. Carson Coffman threw for 334 yards and 440 yards in those games. To me, Klein's already a better passer, but you can't expect him to do that in the fall. Big 12 defenses aren't great, but they're better than K-State's backups.
Whenever spring games are played like this -- first teams versus second teams -- it's hard to take away much. You can really only get a sense for young players who'll fit into the rotation, and K-State brings back a ton of starters. Few of the backups stood out on Saturday. The White team's leading rusher had 13 yards. The leading tackler, Jonathan Truman, had 10.5 tackles and one tackle for loss. K-State's got to be encouraged by performances from Travis Tannahill and Curry Sexton who could contribute next year, but again ... these teams were stacked. We'll see come fall. That's just what Bill Snyder wants.
They said it:
"He is throwing the ball well. He can throw it down the field, but he is throwing the short passes. You saw a lot of that today and he has been doing it reasonably well."
-
- Bill Snyder on Klein
"No matter how it plays out, and this is in the position that I am in; if you are on the offensive side of the ball you might be able to say some positive things about the defense on the defensive side. If you are on the defensive side, you can say something good about the offense. I am in the middle. If the offense scores, I am mad at the defense. If the defense holds them, I am mad at the offense. It is kind of a no-win situation and I need to remove myself from it as much as possible. Our No. 1 offense played well, which would allow you to say that they played well except for the two beginning drives in the third quarter, which they were three and out and had not been kept out of the end zone in the first half. They played very well in the first half and I think they took a little something for granted going into the second half. It is something to learn from and I certainly believe they will."
-- Bill Snyder