June, 11, 2014
6/11/14
1:30
PM ET
The rule never made sense to West Virginia running backs coach JaJuan Seider. Recent signees would arrive on campus but couldn't spend time with the Mountaineers' coaching staff due to NCAA rules prohibiting coaches interaction with their players during the summer.
"You're talking about kids who might be 1,000 miles away from home for the first time," Seider said. "And you can't even go hang out with your coach if you want to. That was a dumb rule, you bring a kid up here for the first time and you can't have any interaction with those kids."
A silly rule. And one that is in the past.
"

You get to be around those kids and help them to adjust, it helps tremendously. You can be around those kids, you can see their growth, you can watch film with them, they'll understand how you coach and then they're comfortable. They get to see the guy who recruited them, the guy who will be coaching them. I can't tell you how important it is.

"

-- West Virginia RB coach JaJuan Seider
A new NCAA rule allows Big 12 coaches more interaction with their players this summer. Gone are the days of freshman arriving on campus with only upperclassmen to help make their transition into the schedule of a college football player as smooth as possible. Under the new rule, football players can be required to attend weight training and conditioning for eight hours per week during summer semesters with two of those hours available to use for film study. No on-field work is allowed.
The Mountaineers welcomed 10 new faces into the program this week, including quarterback
William Crest
and defensive back
Dravon Henry
. In the past WVU coaches couldn't have interacted with those newcomers to help prepare them to play this fall. Now, the coaching staff gets the opportunity to help those players -- including Crest, who could insert himself into the starting quarterback battle this summer -- make a smoother transition into the program.
"You get to be around those kids and help them to adjust, it helps tremendously," Seider said. "You can be around those kids, you can see their growth, you can watch film with them, they'll understand how you coach and then they're comfortable. They get to see the guy who recruited them, the guy who will be coaching them. I can't tell you how important it is."
At Oklahoma State, the new rule could help a young Cowboys' roster be better prepared to open preseason camp in August. Instead of kids teaching kids, the Pokes' coaches can teach them both.
"To be able to work with these guys in the summer time takes the mental game to another level," Cowboys cornerbacks coach Van Malone said. "Now, rather than relying on [true sophomore]
Jordan Sterns
to teach [true freshman]
Dylan Harding
, we have the opportunity to spend time, especially with this young team, to teach them both. It's really only an hour a week but you get the opportunity to be around them and help them grow."
Malone doesn't expect to even use the full allotment of time but instead wants to use it as quick primer for what to expect in the fall.
"You just try to get one point across, two points across in that time you have," Malone said. "Take advantage of this time, even though we have an hour a week, we're not going to grind them up every week, we're not going to use that full hour. You just try to get one point across, two points across and let them go. I think when you do it that way it ends up being much more fruitful."
For new Iowa State running backs coach Louis Ayeni, the time will be valuable for him to start to interact with his freshmen, but he wants to make sure the Cyclones running backs get time away from him before the season heats up at the end of the summer.
"This biggest thing it will do is answer those little questions they have as they work out with the guys, we can go on the board and draw it," Ayeni said. "It will help the freshman as they get adjusted. As they get adjusted, they'll be more on their own. My freshmen ... I'll be able to help get adjusted. My older guys are on the ball, so they'll see me when they see me."
Even with the increased interaction, the overall time demands still remain limited and manageable for both the players and coaches. Coaches will still have the opportunity for some valuable down time during the summer months, and players will continue to have much needed time away from a coaching staff they're around day in and day out during the fall.
"The thing about the summer is they'll get away from me for a little bit," Ayeni said. "Because once the season comes around I'll be on them 24/7 so I want the message to still be fresh."
May, 28, 2014
5/28/14
9:00
AM ET
Van Malone's description of spring football at Oklahoma State is a clear representation of the obstacles facing the Cowboys' program in 2014.
"We went out in the spring, we had some crayons and we did the best we could," OSU's cornerbacks coach said.
Malone and the rest of the Cowboys' defensive coaching staff spent the spring trying to prepare an inexperienced group of talented youngsters to replace a senior-laden defense that was one of the Big 12's best in 2013. The task is particularly difficult for Malone, who is replacing top-10 NFL draft pick
Justin Gilbert
.
Junior
Kevin Peterson
returns after starting opposite Gilbert and provides an experienced and talented anchor at the position. Fellow junior
Ashton Lampkin
looks ready to slide right into the starting lineup in Gilbert's place after two seasons as a special teams ace. And the rest of the roster has several talented albeit inexperienced cornerbacks who could provide quality depth, including redshirt freshman
Darius Curry
, whom Malone singled out for his strong spring.
"He has a Justin Gilbert-type body for the position, really strong upper body and is doing a good job picking up the schemes," Malone said of Curry. "We look forward to him being able to step in [and contribute]."
Replacing Gilbert won't be easy, but the cornerbacks in his meeting room are talented enough for Malone's excitement to override his concerns.
"I'm excited about the group," he said. "Because Justin Gilbert was not just a first-round talent, he was one of these guys [on the current roster], a guy with incredible talent who just hadn't realized it yet on the college level."
It's the theme on OSU's entire defense. They're young and inexperienced, but the talent level has changed.
"In the secondary and the defense as a whole, from an experience level, we have some guys who haven't seen as much as Daytawion Lowe, who started 30 games," Malone said. "They don't have the experience level but from an overall level of talent and athletic ability, we feel like we've raised the bar."
The Cowboys might have raised the bar but the only certainty about the Pokes' defense is the ups and downs and uneven play that will become commonplace this fall. The only way for these young guys to get experience is to throw them into the fire.
"That can be scary but that kind of makes it fun when you don't quite know where they may line up. They may create a new defense," Malone joked. "That happened a few times this spring where we created a new coverage."
But the Cowboys are hoping their plan during their recruitment of the young players currently on the roster will pay off.
"One thing when we recruited these guys, we researched and they love football," Malone said. "So if they love football they're going to be in here watching film and preparing themselves."
Malone won't rule out the possibility of playing his true freshmen with
Chris Hardeman
,
Juwan Offray
and
Ramon Richards
joining the battle for playing time at cornerback this summer, especially if they display the traits Hardeman has shown before even arriving on campus.
"Chris Hardeman is text messaging every coach," Malone said. "Those kind of kids are the ones you can put out there, even as freshmen, because you know they are spending the time it takes to be prepared to go out and play. You put a lot on their plate and playing, for a freshman, is a lot on their plate. But these kids will be able to accept the challenge because that's who they are."
Replacing Gilbert is a tall task, one that probably won't be accomplished this fall. But the long-term dividends could be well worth the roller coaster ride the Cowboys' secondary could experience in 2014.
"Eventually those freshmen will be sophomores," Malone said. "If you can just make it to them being sophomores then you have a really talented guy with experience."
May, 23, 2014
5/23/14
1:30
PM ET
When he arrives at
Oklahoma State
next month,
Chris Hardeman
has one goal: He wants to play in the season opener. The opportunity to see the field against defending national champion Florida State is extra motivation for the already-hungry four-star cornerback from Houston Alief Taylor.
A thick, physical corner at 5-foot-8 and 185 pounds, Hardeman is confident he has what it takes to make it as a freshman defender in the Big 12. Now he just has to prove it.
Our summer series of weekly Q&As with the
Big 12's best incoming freshmen
continues today with Hardeman, who'd been committed to LSU for more than a year before eventually choosing OSU.
Now that the recruiting is all over, do you ever think about what would've happened had you gone to LSU?
Hardeman:
Oh, I think about it. At the same time, I'm glad I chose Oklahoma State because it's a great program where I can see myself. It's an opportunity for early playing time for me playing in the Big 12, where they throw a lot and I can make a lot of plays.
Did it bug you when you saw your friends and fellow DBs Jamal Adams and Ed Paris go on to sign with LSU? You helped recruit those guys.
Hardeman:
Yeah, it kind of bugged me a lot. But I knew Ed was going to be there and I knew Jamal was real strong on them. Me and [Alabama signee]
Tony Brown
have a good relationship, so I knew if Tony would've went it would've been more difficult. But I kind of knew where Tony's head was, too.
You visited Oklahoma and OSU on the same weekend that you made your decision. How did those two compare in your eyes?
Hardeman:
Oklahoma is a great university and great place, but I just couldn't see myself playing there. When I went to Oklahoma State there was just a difference, to me, with the players and the coaching staff. I felt more family and more at home when I went to Oklahoma State.
To be going to Oklahoma State with your teammate Keenen Brown, will that keep both of you focused?
Hardeman:
Yeah, it'll keep both of us motivated. Me and Keenen are going to push each other every day. We're going to be roommates. We're going to go up there and grind for the next three or four years to try to make our dreams a reality and make it to the next level.
What kind of opportunity do you have to play in 2014?
Hardeman:
I have a great opportunity. Coach [Van] Malone has told me that I have a great opportunity to come in there and play right away. It's just going to be up to me. He's going to put me in the fire once I get there, and I'm either going to swim or I'm going to sink. If I swim, I'll be playing. If not, I'll redshirt. He basically told me it's up to me. I'll go compete like I've always done and try to get on the field that first game against Florida State.
The Cowboys lose one of the best DBs they've ever had in Justin Gilbert. Do you see that as motivation?
Hardeman:
Justin was a big part of me deciding to go to Oklahoma State. He's a real cool guy. I went down there for spring practice and he was down there after the [NFL] combine. He remembered me from when I went out there in August to commit and he was just real cool, even though he's a big-time dude. He was normal and humble. I really like that about him.
I know Coach Malone helped get him to this high stature, and I feel like I can do the same thing. They basically do the same stuff we run at Taylor, that man press coverage. I feel like that's a big asset of my game, getting in people's faces and knocking them off their routes. It fits right into what I do, so I'll come in and adapt really well.
Do you like that pressure, that sink-or-swim reality of playing against Big 12 receivers?
Hardeman:
That's the main reason why I decided to go to Oklahoma State. I'm always thinking of my future. I know the first thing NFL scouts want to see is, can he cover and can he make plays on the ball? If I'd gone to LSU, I would've had to do some tremendous things like my idol,
Tyrann Mathieu
, in order to even get considered for the next level. At Oklahoma State, I can prove to them and prove to myself that I can cover big-time Baylor and Oklahoma and Texas Tech receivers and make plays.
I'm sure you've fantasized about it, but what would it mean to play against Jameis Winston and Florida State at AT&T Stadium in your first career game?
Hardeman:
That would be crazy. That's one of my goals as a true freshman. That's a great way to get your name out there and get publicized. If I go out there in the first game as a freshman to play Jameis Winston -- my dream is to catch an interception -- and help my team win, that would bring a lot of exposure.
If you guys beat Florida State, there's no telling where the year goes from there, right?
Hardeman:
If we beat Florida State, we should shoot up in the rankings and we might even be in the national championship talk. That game is going to be real fun. I can't wait.
May, 7, 2014
5/07/14
10:30
AM ET
Oklahoma State cornerback
Justin Gilbert
could become a rich man later this week. The former Cowboy could be selected in the first round of the 2014 NFL draft on Thursday. Opinions vary on Gilbert with some rating him as the top cornerback in the draft. The general consensus has him being taken among the first 32 picks.
OSU cornerbacks' coach Van Malone, who switched to coaching cornerbacks in 2013 after coaching the safeties during the 2012 season, has known Gilbert since the NFL prospect was in high school so he understands Gilbert's journey to elite NFL prospect better than most. With the draft approaching, Malone took some time to chat with ESPN.com about Gilbert and his improvement from junior to senior year.
[+] Enlarge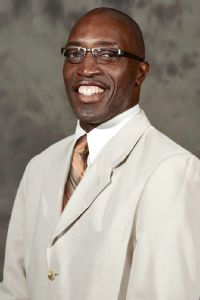 Courtesy of Oklahoma StateOklahoma State CB coach Van Malone says it will be a proud moment when Justin Gilbert's name is called during the NFL draft.
What was your first impression of Justin?
I had recruited him when I was at Texas A&M (Malone coached at Texas A&M from 2006-2009) so I knew about him, his family and what type of person he was. When I came through the doors at Oklahoma State with him and a few of the guys on the team it was more like reuniting. When I switched to the corners, it was a natural transition. I went to talk to him first, before any other player, because I wanted to talk to him about that fact a lot of people were talking about his junior season. I had seen a couple interviews about being disappointed and the first thing I said was, "Hey, we're going to let that go." At cornerback you have to have the mentality that "that play is over" and that year was like a play, we're going to let that go, we're not going to talk about that, we're going to focus on the next season and he took that to heart.
What's been the biggest area of growth in the past year?
He developed a sense of responsibility, a sense of leadership. He's always been a guy that, "Hey what time do we need to be there? I'm going to be there.' But he never realized his responsibility, by his actions or his words, to make sure he's leading the other guys. He started to do that this season, which, when a guy is a senior it's almost pulled out of them. And I think he made considerable improvement as far as his preparation for his opponent. He matured in that way and had a understanding that what you do during the week, during the offseason, the summertime, it will pay off. Our guys talk, even today, about how they were always impressed with his work.
I'd imagine there were a lot of them, but was there one play where you realized his talent?
There were a lot of them but there are a couple games I always allude to. The Texas game, he got beat for a catch. His technique on that particular play was poor and he got beat. We came back to the sideline and, like you would want, he was listening, he knew what he did wrong, he could explain what he did wrong and he went back out there, they attacked him with the same route and, with great technique, he intercepted it. It's what I call video evidence, the younger guys can learn from what happened. They saw a bad play, they saw him correct it and they saw him go out and make a good play on the same exact play. If you do the same thing two times, you have two interceptions. He had that happen in the West Virginia game and the Texas game.
When you think of Thursday what will it be like for you?
It will be a proud moment. I've been talking to Justin the past few days, talking to his family, talking to his mom, who is a big part of his life. I've been trying to give him those pieces of advice that people gave to me and I didn't grab onto or that people didn't give to me. Doors will open that were never open to you before, people always say people with money change, "money changes you." No, it doesn't, it changes the people around you. Be who you've been all of your life, treat people the right way, have fun with this super opportunity and make the most of it. I told them his mom is that person for him, maintain that relationship because his mom does not want anything from him, she wants nothing but him to be successful. Those are the type of people you need to maintain relationships with. Thursday will be a proud moment for me, Oklahoma State and for Justin as well.
I'm sure that helps on the recruiting trail.
Of course. Kids want to go to [the NFL]. For me it's about the players. Good players make great coaches and that's what Justin is and was, he's going to go and make someone else a great coach. When recruits watch Justin they can see some of the things we've helped him develop on only on the field but his character, his behavior as a teammate, how he operates with his family, in the community, that's important. We're proud to say he spent time at Oklahoma State and will point to him when we recruit.
April, 2, 2014
4/02/14
9:00
AM ET
Every coach wants to be in a similar position. Yet, at the same time, it creates a problem that can be difficult to overcome.
Mike Gundy's success at Oklahoma State has made his job harder.
Since 2009, the Cowboys have won 50 games, recording a 76.9 winning percentage and winning one Big 12 championship. During the same span, nine assistant coaches have left the program including West Virginia head coach Dana Holgorsen and Southern Mississippi head coach Todd Monken. Only Gundy and defensive coordinator Glenn Spencer remain from the 2009 staff, which coached a squad which finished 9-4 and earned a Cotton Bowl berth.
Time and time again Gundy has watched as guys who helped build the program into a Big 12 championship contender have walked out of the football offices at Boone Pickens Stadium, never to return. Former coaches like West Virginia's Joe DeForest and Texas' Joe Wickline were core contributors as OSU created the foundation in Stillwater, Okla.
"[You build a program] then you win and you lose them all, people come in and take them," Gundy said. "It's kind of double-edged sword, if you don't win, you're not going to be here anyway, if you do win, then people are going to take your coaches. So, hopefully you can find quality people to come in here and take over. That's what we've had to do."
[+] Enlarge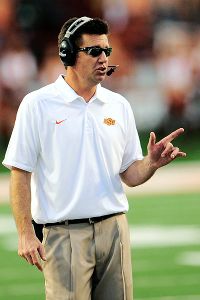 Stacy Revere/Getty ImagesMike Gundy has become used to rebuilding his coaching staff.
The offensive coaching staff has taken the biggest hits with Holgorsen and Monken leaving for head coaching jobs after record-setting seasons in Stillwater. Wickline had been the lone constant throughout Gundy's tenure before leaving to join Charlie Strong's Texas staff after nine seasons at OSU.
Fans have watched as historic rivalries have disappeared during conference realignment as schools searched to expand their budgets. Gundy believes the infusion of money into college football has played a major role in the instability of his staff, or any staff that has enjoyed similar success.
"Money has changed the way that staffs are [maintained] in our game," he said. "Money has changed everything. Guys can stay at one place for a year or two then double their money, just like that, so they move. What I've learned to do over a number of years is to learn to not take it personal."
For the most part, Gundy and the Cowboys have weathered the storm. OSU has had at least one coach leave the program after every season for the past five years. They've won double-digit games the following season three times during that period as Gundy has brought in new blood like running backs coach Jemal Singleton and cornerbacks coach Van Malone.
Yet it can't help but feel like the lack of continuity will catch up with the program at some point.
"We always worry about the continuity of the staff," Gundy said. "A guy has an opportunity to better his career, his family and move on. We've had guys leave, Doug Meacham left, now he's a coordinator in the Big 12."
Which brings up yet another problem facing the Pokes. Gundy has watched several of the branches from his coaching tree land in his own backyard.
In the fall of 2010, Holgorsen, Wickline and Meacham sat in the same meeting room as offensive coaches for the Cowboys. This fall, all three coaches will be at other Big 12 schools, with Meacham as the offensive coordinator at TCU, Wickline as offensive coordinator at Texas and Holgorsen running the offense at WVU. And all three will be looking to expose the Cowboys' young defense in 2014 with a measure of familiarity with OSU's offense that will be uncommon for a conference rival.
"That's a bit of an issue in itself," Gundy said.
Nonetheless, the Cowboys just keep trucking forward.
With Wickline as the latest departure, Gundy has been happy with his decision to hire Bob Connelly to replace him as OSU's offensive line coach. Connelly is an 18-year veteran with coaching stops at Alabama, UCLA and Arizona State.
"I like his demeanor," Gundy said. "I like his ability to teach and coach, he's very experienced. Believe it or not, when you hire a coach you never know what you're getting until you get him. We do the best we can to try to get people who fit into our style and mix with the personality of our coaching staff. I'm interested in bringing in coaches who want to teach and coach the game, not want to scream and yell. I think he's done a nice job mixing in with our staff."
With OSU's sustained success, replacing assistant coaches has become an annual post-signing day tradition in Stillwater. Gundy fully expects that tradition to continue.
"I don't think it's ever going to change with the direction our profession is going," Gundy said. "The dollar changed everything and people can move in a heartbeat."
October, 15, 2013
10/15/13
8:00
PM ET
Editor's note: For a look at the national recruiter power rankings based only on Class of 2014 success,
click here
.
The best college football coaches will tell you that when it comes to recruiting, their business is an art. It's a craft you must perfect if you want to have the best players commit and ultimately sign. Recruiting isn't for everybody, but those who are good at it -- particularly for building the 2014 class -- should be recognized, as the business is extremely competitive.
Here are 10 of the top recruiters from the Big 12.
July, 30, 2012
7/30/12
12:00
PM ET
By
ESPN.com staff
| ESPN.com
February, 16, 2010
2/16/10
3:30
PM ET
Desperation or improvement?
That's the question Texas A&M football fans have to be asking themselves after Aggies coach Mike Sherman
rebuilt his coaching staff
after only two seasons. After the Aggies finished 6-7 in 2009, dropping Sherman's record to 10-15 in two seasons in College Station, he completely overhauled his staff. All but one defensive assistant was replaced, and former Louisville coach Steve Kragthorpe was hired to coach wide receivers.
There's really no way to sugarcoat it: If Texas A&M's defense and special teams are as bad as they were in each of the past two seasons, Sherman will be the coach looking for a job in 2011.
[+] Enlarge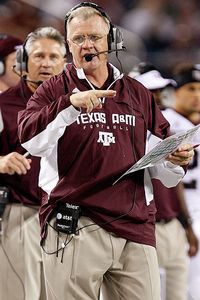 Ronald Martinez/Getty ImagesMike Sherman has posted a 10-15 record in two seasons at Texas A&M.
The A&M defense can't possibly be any worse, after it finished 106th among FBS teams in pass defense (254.7 yards per game), 105th in total defense (426.3 yards) and scoring defense (33.5 points per game) and 90th in rushing defense (171.6 yards).
After the Aggies allowed 30 points or more in nine games last season, defensive coordinator Joe Kines retired. Defensive line coach Buddy Wyatt left for Kansas and defensive backs coach Van Malone departed for Tulsa.
Sherman is betting that former Air Force defensive coordinator Tim DeRuyter can shore up his defense quickly. DeRuyter runs an aggressive 3-4 scheme, which helped the Falcons lead the country in turnover margin (plus-1.69 turnovers per game) and finish fifth in passing defense (154.3 yards per game), 10th in scoring defense (15.7 points) and 11th in total defense (288.3 yards) in '09.
The good news for DeRuyter? The Aggies will bring back 10 defensive starters, including pass-rushing specialist Von Miller. DeRuyter's chore is to make the Aggies more aggressive and disciplined.
Sherman hired former Texas A&M All-American Dat Nguyen as inside linebackers coach, which is a very smart move. Bringing back one of the school's most-decorated players is always a public relations coup with alumni and fans. The fact that Nguyen worked the past three seasons as an assistant linebackers coach with the Dallas Cowboys shows he's more than just a big name, too.
Sherman lured Purdue defensive line coach Terrell Williams to College Station and hired Nick Toth as his team's outside linebackers coach. Toth worked last season as defensive backs and special teams coach at The Citadel. Toth played and coached under DeRuyter at Ohio and is well-versed in coaching the 3-4 scheme.
Toth also will be asked to help fix Texas A&M's special-teams woes. Last season, the Aggies finished 104th in net punting (32.9 yards), 98th in kickoff return defense (23.1 yards) and 49th in kickoff returns (22.3 yards).
The special-teams miscues were never more evident than during Texas A&M's 44-20 loss to Georgia in the Independence Bowl. The Aggies allowed a kickoff return for a touchdown, had a field goal and punt blocked and snapped the ball over the punter's head.
Kragthorpe, who was fired after compiling a 15-21 record in three seasons at Louisville, replaces former A&M wide receivers coach Nolan Cromwell, who left for the same position with the NFL's St. Louis Rams. Kragthorpe previously worked as offensive coordinator at A&M from 1998-2000, helping lead the Aggies to their lone Big 12 title in 1998.
With Big 12 powers like Oklahoma and Texas having to replace several star players, and programs such as Kansas and Texas Tech undergoing major renovations, the Aggies might be well positioned to move up the league's ladder this coming season.
If they don't, Sherman's job might be on the line.
September, 9, 2009
9/09/09
5:30
PM ET
By
Tim Griffin
| ESPN.com

Posted by ESPN.com's Tim Griffin
JC Shurburtt of Scouts Inc.
lists the nation's top 25 recruiters
among assistant coaches. The Big 12 has three selections on his list, far behind the nine selections from the SEC and six from the ACC.
The Big 12 selections were Texas wide receivers coach Bobby Kennedy, Oklahoma defensive line coach Jackie Shipp and Oklahoma State offensive line coach Joe Wickline.
All deserve their selections, but I think a solid case could be made for about 10 others from across the conference.
Other ace recruiters in the Big 12 who could have merited mention include Kansas defensive coordinator Clint Bowen, Missouri receivers coach Andy Hill, Missouri offensive coordinator David Yost, Nebraska running backs coach Tim Beck, Nebraska linebackers coach Mike Ekeler, Oklahoma defensive coordinator Brent Venables, Kansas State defensive ends coach Joe Bob Clements, Oklahoma State special teams coach/associate head coach Joe DeForest, Texas offensive line coach Mac McWhorter and Texas A&M defensive backs coach Van Malone.
And I'm sure I'm missing some other deserving nominees, too.