June, 30, 2011
6/30/11
1:15
PM ET
We'll move on to the safeties today in our position rankings across the Big 12.
Here's what we've covered so far:
The group of safeties across the Big 12 isn't fantastic, without any truly elite groups, but it's decent. There aren't any teams that look really hopeless at the position in the immediate future.
I haven't given it real close examination so far on the positions we haven't covered yet, but this is by far the closest gap between 1-10 of any position so far.
Here's how I ranked them. (Remember, I lumped in nickel backs with linebackers, so Ahmad Dixon and Tony Jefferson won't be found anywhere in this post.)
[+] Enlarge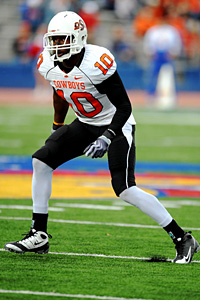 John Rieger/US PRESSWIREOklahoma State's Markelle Martin is the Big 12's best overall safety.
1. Oklahoma State
-- The Cowboys have Markelle Martin, the Big 12's best overall safety who's a big talent but a much better hitter than he is a cover man. Johnny Thomas is solid and both safeties got a lot better as the 2010 season progressed. OSU's depth lands them here, though. Daytawion Lowe could start for a few Big 12 teams and is slightly better than A&M and Texas' reserves, the other two teams with the deepest group of safeties.
2. Texas
-- Blake Gideon takes his share of criticism, a good deal of it fair, but there's a reason he's starting for Texas for a fourth season this fall. He knows what he's doing. Kenny Vaccaro will challenge OSU's Martin, among others, for the title of the Big 12's biggest hitter and Nolan Brewster and Christian Scott are strong reserves at the position. The Longhorns lose a lot at corner, but all the safeties are back from a defense that allowed just over 170 yards a game through the air in conference play last season.
3. Texas A&M
-- The Aggies' Steven Terrell and Trent Hunter are solid, and Hunter is a big playmaker who made 62 stops and picked off two passes last year. Toney Hurd Jr. is the backup and was one of the most impressive freshmen in fall camp last year, joined by Steven Campbell in the rotation.
4. Kansas State
-- Tysyn Hartman has loads of experience and is one of the Wildcats that Bill Snyder loves to rave about. Ty Zimmerman was one of the Big 12's best freshman last year, and picked off three passes. They should be solid again next year, and for as much criticism as K-State's defense faced last year, they were fifth in the Big 12 in pass defense. Logan Dold should be in the rotation, too.
5. Oklahoma
-- Reserve Sam Proctor has starting experience, but Javon Harris and Aaron Colvin enter fall camp as starters. That says plenty about how Bob Stoops and Brent Venables feel about them. In a word: confident. Colvin has the most potential in the group, but the two starters will have to learn on the go. Proctor, a senior, should be able to help. James Haynes will also be in the rotation.
6. Missouri
-- Jasper Simmons is gone, but Missouri's safeties might be a bit underrated in this spot. Kenji Jackson has loads of experience and should be solid, and Tavon Bolden and Matt White are a pair of promising sophomores who should compete at free safety. Kenronte Walker should be in the rotation, too.
7. Texas Tech
-- Injuries were a problem last year for the Tech secondary, but Cody Davis and D.J. Johnson will hold down the traditional safety spots away from the line of scrimmage in new coordinator Chad Glasgow's 4-2-5. The unit gave up lots of big plays in 2010 (151 over 10 yards, 46 over 20, and 25 over 30, all the most in the Big 12), but I'd expect that number to drop under Glasgow if the secondary stays healthy. Davis is the team's leading returning tackler, with 87 stops. Brett Dewhurst and Giorgio Durham should be in the rotation.
8. Kansas
-- Keeston Terry and Bradley McDougald give Kansas a lot of speed and athletic ability at the position, but both of the team's safeties from 2010 graduated and Terry and McDougald are short on experience. Lubbock Smith should add some solid depth to the position.
9. Iowa State
-- Iowa State loses their top playmaker at the position, David Sims, but returns starter Ter'Ran Benton. He'll be helped out by some combination of Jacques Washington, Earl Brooks and Deon Broomfield once the season starts. Iowa State's biggest weakness is on the defensive line, so it's hard to get a good read on how good the safeties really are with such a poor pass rush up front.
10. Baylor
-- This group might move up the list during the year under Phil Bennett, but the two best raw athletes (Ahmad Dixon, Prince Kent) at the position moved to nickel back and linebacker, respectively. The team's leading tackler, Byron Landor, graduated, and that left Mike Hicks as the other starter. He'll be helped out at safety by Sam Holl, Josh Wilson and K.J. Morton. Last year, the Bears ranked last in the Big 12 in pass defense in conference play, giving up over 300 yards a game. That'll have to change or Baylor won't get past seven wins.
September, 2, 2010
9/02/10
12:00
PM ET
By
ESPN.com staff
| ESPN.com
So, the season's like seven hours away. That's pretty good.
August, 31, 2010
8/31/10
12:00
PM ET
By
ESPN.com staff
| ESPN.com
Cole Hazard just got a call saying he has 89 minutes left to live ... from himself.
August, 20, 2010
8/20/10
12:30
PM ET
By
ESPN.com staff
| ESPN.com
"You work in a business. Businesspeople need beepers."
"No, they need cellphones."
"Yeah, right now, but the beeper's gonna be making a comeback. Technology's cyclical."
July, 27, 2010
7/27/10
12:30
PM ET
By
ESPN.com staff
| ESPN.com
To be clear, I'm a towering 5-foot-8. In the Big 12 that translates to a slightly undersized cornerback. That's not a quote from anything, just a fact.
September, 25, 2009
9/25/09
5:00
PM ET
By
Tim Griffin
| ESPN.com
Posted by ESPN.com's Tim Griffin

Steve Johnson from Oklahoma City writes: Tim, what has happened to the Oklahoma State defense? Everybody was talking about them like they were the second coming of the Pittsburgh Steelers' "Steel Curtain" after their effort against Georgia in the opener. And then, it's like they've forgotten how to cover passes and make tackles. What do you make of this and do you think that the importance of Bill Young was overrated coming into the season?

Tim Griffin: I've been kind of wondering what happened to Oklahoma State's pass defense the last two weeks, too. The Cowboys played so well in that first game that I expected some carryover.

Despite that strong debut, they then were blistered by Houston's Case Keenum and Rice had some passing success against them too. Part of that was caused by Perrish Cox's injury and the fact that safeties Johnny Thomas and Victor Johnson were out.

One of Young's biggest aims was boosting Oklahoma State's pass rush. The Cowboys produced two sacks against Georgia, but have only produced two sacks in the last two games combined.

A key for their pass defense will be getting an effective pass rush. That should improve as defensive end Richetti Jones gets healthy and defensive end Jeremiah Price returns to the lineup from his hand injury.

The Cowboys shouldn't be tested by Grambling quarterback Greg Dillon on Saturday. And then Oklahoma State has a week off before starting Big 12 play.

Getting the pass defense fixed will be Young's first concern, considering the Cowboys' early Big 12 schedule. They will face big challenges in their first top four games as they face Texas A&M (sixth in passing), Missouri (19th nationally), Baylor (with the multi-talented but struggling Robert Griffin) and Texas (13th nationally). Their performance in those four games will determine if all of the hype about the Cowboys coming into the season was deserved or not.

And no, I don't think that importance of Young's hiring for the Cowboys was overrated. I think we'll see why over the next several weeks.

Tommy from Omaha, Neb., writes: Tim, there was a lot of controversy about the Big 12 Conference being overrated after the first couple of weeks of the season after Oklahoma, Oklahoma State and Nebraska lost and Colorado couldn't beat anybody. But with Florida's struggles against Tennessee, Mississippi's loss to unranked South Carolina, and Georgia's loss to Oklahoma St., doesn't that seemingly suggest that maybe the SEC is not exactly up to par either? Or do you think that college football is just getting more competitive? When you look around the country and see USC, Ohio State, Virginia Tech, and Oklahoma losing games in the first few weeks of the season it would seem that it's not just the Big 12 that is struggling. What do you make of it?

Tim Griffin: I agree with your point. Almost every conference has had several key losses during the non-conference part of their schedule. The SEC hasn't shown in some nationally televised games. But that seems to be symptomatic in college football these days.

Other than Florida, Texas and Alabama, I haven't seen many teams that have knocked my socks off. I might throw Miami and Houston in as other teams that have really impressed me. But I think that speaks to the parity of college football. More teams are capable of winning games and making the supposedly better team look bad.

Some might think that isn't good for the sport. But I just believe it will make for a more competitive season with a lot of interesting upsets throughout the year.

Corey from Liberty, Mo., writes:How are you going to sit there and say that Zac Lee isn't hot? Blacksburg is a tough place to play and everybody else on the Cornhuskers played bad anyway. One game doesn't define a player.

Tim Griffin:Corey, I was just making a statistical judgment from what Lee produced in that game. And the fact that he passed for 136 yards, which led to the lowest passing production for the Cornhuskers in 20 games, I thought qualified him as struggling.

Of course, he can turn things around and have a big game against Louisiana-Lafayette. That could get him just as easily on the hot list next week.

Ron Sestak from St. Louis, Mo., writes: Tim, quick couple of questions for you. Who have been your biggest surprise as a player so far this season and who has been your biggest disappointment?

Tim Griffin:It's hard to narrow that to only player, so I'll give you a couple. As far as the biggest surprise, I'll pick Kansas defensive end Maxwell Onyegbule, who has morphed into the second coming of Julius Peppers despite never starting a game before this season. Another big surprise for me is Missouri quarterback Blaine Gabbert, who I thought would be productive but not nearly as much as he's shown over the first three games. One of my biggest early disappointments start has been Robert Griffin of Baylor. He started with a victory over Wake Forest where his most notable play was a quick kick. And then he struggled through the worst game of his career last week against Connecticut. The Bears' bowl hopes are toast unless he picks things up. And I'll also add Darrell Scott of Colorado, who I thought was ready for a breakthrough season. I know he was injured last week. But he still has accounted for nearly four times as many kickoff return yards as he has rushing yards. That's not a good sign for Dan Hawkins' future job security.

Jack Sturgis from Lenexa, Kan., writes:Tim, I saw where you mentioned Brandon Banks' early struggles this season for Kansas State. He hasn't been the deep threat that me and all of the other Catbackers hoped he would be. Do you have any reason for this? Is he injured and we don't know about it?

Tim Griffin: I, too, have been a little surprised with Banks' slow start. I've only had a chance to watch a little bit of one of their games this season, but I know that it seemed like UCLA was paying a lot of attention to him in its pass defense.

Banks' numbers of receptions are high, but his yard-per-catch average is down from 15.7 last season to 8.3 this season.

I think the biggest reason for his decline might be in the comparison of the quarterbacks throwing to him from last season to this season. Josh Freeman had a big arm and the Wildcats favored a more vertical passing game than this season with Carson Coffman throwing. That may be the major reason for his supposed struggles so far.

Let's look at the numbers he produces tomorrow against Tennessee Tech. A big game might indicate that the first three games are just a statistical aberration. But if he struggles again against the Golden Eagles, it might be indicative of a bigger problem.

Thomas Knobloch from Dallas, Texas, writes: Tim, I'm not sure your effectiveness rankings are very meaningful. Your formula treats all possessions equally while that assumption couldn't be further from the truth. I do like the point you are trying to get to though. Maybe adding a starting field position component to the equation would help. For conference games, you could also add a component that accounted for quality of opponent. A scoring drive against ISU at home isn't as meaningful as a scoring drive against OU in Norman. This type of analysis seems relatively meaningless week-by-week due to the small sample size, but over the course of a season, it could prove valid.

Tim Griffin: Thomas, I appreciate your observations. But remember, I'm not trying to develop a cure for the common cold or world hunger here. I just wanted a simple, relatively meaningful gauge of offensive and defensive effectiveness. And my point is this: Isn't an offense's goal every time it takes the field to ultimately try and score points? And isn't a defense's goal to stop them from scoring? That's what I feel this measurement gauges, even if you are playing USC or Slippery Rock. I think the figures will be more meaningful over the course of a season. And I also think we'll be able to get a pretty good picture of effectiveness of Big 12 teams once we use just the figures from conference games, which I'm planning to do.

Thanks again for all of the good questions again this week. We'll catch up again next Tuesday.
September, 12, 2009
9/12/09
3:04
PM ET
By
Tim Griffin
| ESPN.com
Posted by ESPN.com's Tim Griffin
Oklahoma State's defense was the major reason the Cowboys notched an impressive season-opening victory over Georgia.
The Cowboys will be facing another kind of challenge this week against
Case Keenum
, who passed for 359 yards and four touchdowns in last week's victory over Northwestern State.
Georgia was about as subtle as a punch in the stomach as it attempted to bull through the Cowboys. And after an 80-yard drive to start the game, the Bulldogs produced only 177 yards for the rest of the game.
Oklahoma State's defensive could be influenced the status of their starting safeties.
Victor Johnson
or Johnny Thomas will start at strong safety for Markelle Martin, who is hobbled with an undisclosed injury. And Oklahoma State free safety Lucien "The Punisher" Antoine told me after last week's game that he was sore, but expects to play today.
I just looked at Antoine going through his warmups with his teammates before the game. He looks ready to play.
One key player that Oklahoma State will have to account for is freshman running back
Charles Sims
, who had a breakthrough game for the Cougars last week. Sims produced six receptions for 128 yards.
Houston offensive coordinator Dana Holgorsen will likely try to isolate Sims against the slower Oklahoma State linebackers.