May, 23, 2011
5/23/11
1:30
PM ET
I've done it. You've done it.
"Hey, is that guy still around?"
Even with two fewer teams, it's hard to keep track. Our next series, which we did last year, too, takes a look at two key players for every team in the league that are taking their talents elsewhere, returning to campus, or arriving to try and write a legacy of their own.

So really, this series isn't so much for the fans of the teams in the posts, but more for everyone else. It wouldn't be a bad idea to bookmark this series.
Next up: Missouri
Going:
Blaine Gabbert, QB
Gabbert left Missouri after his junior season with two years of starting experience under his belt. The rocket-armed, 6-foot-5, 235-pounder did it as the 10th pick in the NFL draft, after throwing for more than 6,800 yards and 40 touchdowns with just 18 interceptions. The St. Louis native came to Missouri as
one of the program's most touted recruits ever
and made a whole lot of his potential. It was obvious during his freshman season that Gabbert was the heir to Chase Daniel, and he earned the right the following season. As a first-year starter, Gabbert earned loads of respect from his teammates for playing through a painful ankle injury courtesy of the House of Spears. In 2010 he helped Missouri win the biggest game of Gary Pinkel's career, knocking off No. 1 Oklahoma at home in front of a homecoming crowd with ESPN's College GameDay in town for the first time.
One final note: At this rate, Gabbert is on pace to have the
NFL's most recognizeable 'do
south of Troy Polamalu and Tom Brady.
Gordon Gekko
? Give me
Gordon Bombay
.
Aldon Smith, DE
Smith earned a reputation as one of the league's best pass rushers fast, sprinting to an 11-sack freshman season in 2009, a Missouri record. His production was limited in 2010 because of a broken bone in his leg, but NFL teams believed in his freakish athletic ability and upside, enough so that the San Francisco 49ers made him the seventh overall pick in last month's draft.
The 6-foot-5, 260-pound Raytown, Mo. native was one of the first surprises of the draft, but he'll get his chance to develop while collecting hefty paychecks in the NFL.
Staying:
T.J. Moe, WR and Michael Egnew, TE
Missouri's top receiving duo is back and should provide Gabbert's replacement,
James Franklin
, with a lot of help. Both are sure-handed and won't go down easily. They were the driving force behind Missouri's passing game in 2010, which lacked a home-run threat a la Jeremy Maclin or Danario Alexander. A year of experience as relied-upon threats should be valuable, too.
In 2009, they combined for five catches and 33 yards. Last season? Try 182 catches, 1,807 yards and 11 scores. Finding a deep threat that was absent in 2010 will make it a lot easier -- their production dipped in the heart of conference play -- but both should put up big numbers again in 2011.
Will Ebner, LB
Ebner seems to continually battle injuries, but the big-hearted senior is back for a fourth season. As a freshman, he earned a reputation as one of the team's hardest hitters very early in camp. In 2009, he returned in two weeks from arthroscopic knee surgery, and in 2010 he played through a broken foot. He had just 47 tackles last season, thanks in part to being slowed by the foot injury, but he's likely to slide into a spot on the All-Big 12 team if he can finally stay healthy.
Coming:
Sheldon Richardson, DT
I'd argue that no player in Missouri history has had more written about him before he stepped on campus as an official, enrolled member of the Tigers. Richardson's three-year (and perhaps longer) saga seemed to reach its natural end when he signed with Missouri as its top recruit in 2009, a member of the ESPNU150. But Richardson didn't qualify and headed to junior college in California. Then, as the nation's No. 3 juco recruit, he committed to USC but switched back to Missouri before signing with the Tigers. He's expected to be on campus in June. The athletic, 6-foot-4, 296-pounder looks like a game-changer on paper and on the limited game tape he produced during an injury-plagued juco career. Will he become one at the major college level?
Corbin Berkstresser, QB
After Tyler Gabbert's transfer, James Franklin looks like the likely successor to Tyler's older brother, Blaine. But could Berkstresser slide in front of
Ashton Glaser
to become Franklin's backup, or perhaps earn time if Franklin struggles? The 6-foot-3, 218-pounder from outside Kansas City will have to make up a big experience gap between himself and Glaser, a redshirt sophomore entering his third season in the program. Berkstresser didn't come to Missouri this spring like fellow 2011 signee Wesley Leftwich, whose speed wowed coaches in his first 15 practices as a Tiger.
Click here for more from The Revolving Door.
March, 17, 2011
3/17/11
2:30
PM ET
COLUMBIA, Mo. -- I hope you've enjoyed our coverage from Mizzou the past few days. If you aren't one of my most faithful readers, here's a refresher.
But not everything fit neatly into those stories. I've got plenty more on the Tigers from my visit to Columbia.
[+] Enlarge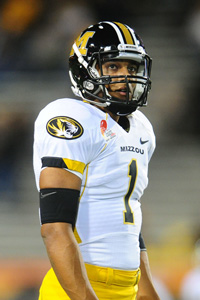 Mark J. Rebilas/US PresswireJames Franklin may need to be more assertive if he wants to become a leader on offense.
Quarterbacks are the focus of spring for the Tigers, but there's no doubt, it's going to be a bit of an adjustment if
James Franklin
wins the job. That's no guarantee, and
Tyler Gabbert
has come on strong this spring, but Franklin is just a completely different type of person than the fiery Chase Daniel or uber-competitive
Blaine Gabbert
. Not that it's necessarily a bad thing. Offensive coordinator David Yost told me he wants each new quarterback doing things his own way, and that includes his demeanor and actions off the field.
"Blaine and Chase were different, and Blaine did a good job of not just copying Chase. He took what Chase did and tried to make it fit him and how he dealt with players, getting himself ready to play," Yost said.
Franklin will have to do something similar. Tyler Gabbert, who has come on strong of late in practices, is a much more heated competitor. "Sometimes you have to calm him down because he gets very, very 'on,'" Yost said. "He wants to make every throw. It's great to have that, but you can't let that affect the next play, so he's kind of learning that."
Franklin is a much more easy-going type of guy. He's nowhere near as outspoken. It'll just be different. I believe it was Rene Descartes who said, "Different strokes for different folks." Seems to fit this scenario.
"I'm not too vocal as a quarterback. As a person, I talk a lot, but once I come on the field, I'm not as vocal. It's something I hadn't really done in the past, so it's something I need to adjust to," Franklin said.
Coaches have told him that sometimes his silence, especially after negative plays, can come off as bad body language, so even if his head is clear, his actions have to communicate positive messages to teammates. Sometimes his quiet demeanor meant his teammates didn't even realize who had thrown them the ball in practice.
"They'd come back and say 'Hey, nice throw James' or 'Good call,' and I'm like, 'That wasn't me, that was Ashton or that was Tyler," Franklin said. "To me, I'm thinking, 'How could they not know?' For one, I'm just a little bit taller and my skin is like 50 shades darker. But they're just kind of in the zone, so if I'm more vocal and demanding of them, they kind of recognize 'hey, that was me.'"
The thing is, he has to do it naturally, and managing that balance will be a key for all three quarterbacks' development. Franklin can't just turn into an animated screamer overnight. That would only come off as disingenuous and be more counterproductive than anything.
"Being more vocal will help. Not only as a quarterback, but also as a person, because it should show you leadership and you demand things out of your offense.
You get the sense Yost could talk about Blaine Gabbert and what he's meant to the program for hours. I'm sure he could. But when it comes to influencing younger quarterbacks, it's easy to see why. "You'd go up for room check [the night before road games] and Blaine's sitting in his bed with his iPod in and his computer on his lap watching cut-ups," Yost said. "Every week. That'd be at 11 o'clock and at meetings the next day I'd ask what he watched, and he'd tell me. I'd ask when he got to bed, and he'd say, 'Ah, it was about 1:30.'" Franklin roomed with Gabbert on the road, and his younger brother surely saw some of that.

Passing down lessons like that is nothing new. When Blaine Gabbert came into the program, he'd spend about two hours a day during the summer as a freshman with Chase Daniel watching tape. He wasn't watching the offense by then. He was looking at the defense. "Where are they moving? Backing up? Where can I get throws? When this guy does this, this opens up," Yost said. And because of those summer film sessions, "Blaine was way ahead of where Chase was in understanding defenses at the same spot in camp their sophomore years," he said. The idea, of course, is that continues with the younger quarterbacks.

Speaking of Gabbert, Yost loved how he blossomed into a "quarterback" after coming to Mizzou as a "thrower." "He was a tremendous, highly recruited thrower out of high school, but he bought into becoming a great quarterback," Yost said. He did it by first learning how to study film from Daniel and carrying it on once Daniel left and he became a starter. "People look and say, 'Well, his passing yards are down,'" Yost said. "But he became more of a quarterback because of how he prepared each week."

Part of the reason for that dip was Missouri's lack of a vertical passing game in 2010, which is are of focus this spring. Tyler Gabbert has the arm strength. Yost likes Franklin's deep ball a lot. But somebody's got to catch it. I did think it was funny that Yost cited my look at explosive plays across the Big 12 in our conversation. The number of plays longer than 20 yards didn't drop much for Missouri (73 in '08, 66 in '09 and 63 in '10), but the longer plays did. "We were still getting our 20-yard plays, but instead of having Danario [Alexander] take a 20 yarder to a 60-yarder, we were getting that 24-yarder. Even when you go back to 2008 when we had Maclin, the numbers were a lot higher than last year," he said. "Anytime you can get those, it takes off so much pressure. You could feel it last year. Guys were tightening up on us. We didn't hit a lot downfield last year, and that was more disappointing than anything. We took some shots, and there were some games when we'd be at halftime and we've thrown the ball downfield eight times and we're 0-for-8. Either we could have thrown it better, could have caught it, protected better and given him a better chance, there was a multitude of things. It wasn't just one reason. But you hit those, it changes a game."

Jerrell Jackson and Wes Kemp have the ability to get vertical, even if they lack Alexander or Jeremy Maclin's straight-line speed. The potential is there for younger receivers such as Marcus Lucas and Wesley Leftwich, or older ones such as L'Damian Washington or Rolandis Woodland who have had modest careers thus far. But someone has to do it. Missouri has the rare opportunity to bring back every single receiver on its roster from last year, and it added Leftwich, who enrolled early and has 4.4 speed, according to Yost. But for Michael Egnew and T.J. Moe to be their most productive, someone has to stretch the defense.
March, 8, 2011
3/08/11
4:00
PM ET
By
ESPN.com staff
| ESPN.com
Schedule:
Practice opens today, and continues through the spring game on April 16. Practices between now and then are open to fans and media.

What's new:
Not much, really. There will be a quarterback derby, but we'll get to that in a bit. Missouri returns nine starters on offense and six on defense and didn't have a coaching change in the offseason. There will be new faces in the secondary, but Gary Pinkel has established a solid foundation for his program around his quarterback and there shouldn't be much concern about a down year in 2011 with a new passer.
On the mend:
Linebacker Donovan Bonner missed all of 2010 with a knee injury, but he looked like a budding star before the injury. He's back this spring and should get a chance to get back to where he was in fall camp.
Key battle:
There's plenty to see at quarterback. Pinkel says sophomore
James Franklin
will enter spring practice as the starter, but
Ashton Glaser
and
Tyler Gabbert
will push for the starting gig. This is definitely new territory for the Tigers, who haven't had any real uncertainty about their starting quarterback since Brad Smith took over as the starter in 2002. Chase Daniel and
Blaine Gabbert
were clear heir apparents, but a quarterback competition should add some new intrigue to the offseason in Columbia.
New faces:
Receiver
Wesley Leftwich
will take part in camp, alongside offensive lineman
Michael Boddie
and defensive lineman
Gerrand Johnson
.
Breaking out:
When defensive end and likely first-round pick Aldon Smith suffered a broken leg last year, backup defensive end Brad Madison flourished. He had three sacks against Texas A&M and finished with 7.5 sacks to lead the team and with Smith gone. Madison's road to becoming a household name across the conference could begin this spring.
Question marks:
Secondary troubles have been a constant for Missouri's defenses over the past decade. Until last year, anyway. The secondary became a strength, but it did it with a pair of experienced, senior corners, Carl Gettis and Kevin Rutland. Now, promising young players E.J. Gaines and Kip Edwards look ready to replace them, but will the excellence on the back line continue under third-year defensive coordinator Dave Steckel, or was last year an anomaly?
Big shoes to fill:
All-Big 12 center Tim Barnes is gone, and Justin Britt and Travis Ruth will compete to take his place. Barnes was responsible for a lot of organization for the offense before the snap, not to mention his blocking and snapping talents. A weakness there would throw a kink into Missouri's offense. The Tigers need a solid talent to emerge, and that could happen this spring. The good news is the other four offensive linemen return.
Don't forget about:
The running backs. Missouri split carries between four backs last season, with none receiving more than 100 carries. Pinkel says he wants one to emerge and separate themselves, and if I'm guessing, I'd put my money on sophomore
Henry Josey
. He's the shiftiest of the four backs, and in Missouri's offense, a scat back can be a big asset. He may not get the goal-line carries (look for
De'Vion Moore
to take that duty), but he could get the Tigers down there.
All eyes on:
Quarterback James Franklin. It sounds like he has a lead to start the spring, but the job isn't his yet. Missouri fans would like to see him (or someone, anyway) grab a firm hold on the job by the end of spring practice and impress them heading into fall camp. Uncertainty may not be the best option for Missouri's offense next fall, but if no one separates themselves, it might be a necessity.
February, 3, 2011
2/03/11
11:30
AM ET

MISSOURI TIGERS
The class
Signees
: 17 (three enrolled early)
Top prospects:
Junior college transfer
Sheldon Richardson
is a defensive tackle and former Missouri signee out of high school who ranks as the nation's No. 3 juco prospect.
Shane Ray
(No. 35 DE) and
Gerrand Johnson
(No. 58 DT) also give the Tigers some strength on the defensive line at the top of its recruiting class. Quarterback
Corbin Berkstresser
(No. 43 nationally) could also have a future at the helm of the Tigers' offense.
Michael Boddie
and
Taylor Chappell
give the Tigers a pair of tackles to develop for the future.
Needs met:
Missouri got some help at receiver with
Wesley Leftwich
and
Brandon Hannah
, but the deep threat its offense needs might already be on campus. Three starting defensive backs graduated, but the Tigers signed four DBs in their 2011 class. The problem is only
Cortland Browning
(No. 82 CB) is ranked by ESPNU. Fellow corner
David Johnson
, and safeties
Earnest Payton
and
Ian Simon
are also coming to Missouri, but the Tigers will have to hope there are hidden gems among the unheralded group.
Analysis:
You'll hear the standard recruiting cliches from Missouri about this class, but the truth is it's pretty underwhelming considering the success the Tigers have had in recent years on the field. Also true? You can't fully judge a class until it takes the field for a couple years. That said, Missouri didn't sign a single four-star high-school prospect in the class. Even if Richardson blossoms into a star, he sounds like a player intent on playing major college football for just one season before a jump to the NFL. The Tigers have proven they're one of the best programs in the Big 12 at developing talent once it arrives in Columbia, so maybe this class could surprise in a few years, but the expectations from this group will be low next season. ESPN ranks the Tigers' class as ninth in the Big 12, ahead of only Iowa State, and that's not very good for a program that's been on the rise the past six years or so under Gary Pinkel.
ESPN recruiting grade:
C
January, 18, 2011
1/18/11
4:00
PM ET
By
ESPN.com staff
| ESPN.com
The semester is just beginning. Last week in some places, today in others. Some programs have welcomed in new members, new college freshmen that are eager to get their careers started after being in high school just a month ago.
It's perhaps most valuable among quarterbacks -- notable in the case of Florida's Tim Tebow and Baylor's
Robert Griffin
, to quickly name a couple -- but here's who checked in to campus early and will likely take part in spring practice in a few months.
Keep an eye out for possible future stars among this group.
Colorado
Iowa State
Kansas
Missouri
Oklahoma
Oklahoma State
Texas A&M
Texas Tech
February, 9, 2010
2/09/10
11:12
AM ET
By
Tim Griffin
| ESPN.com
Veteran talent analyst JC Shurburtt of ESPN Recruiting has listed the top 11 programs with the fastest start on their 2011 recruiting classes. Both Nebraska and Oklahoma made the unranked list.
Nebraska has already received commitments from three players, including two selections on the ESPNU 150 watch list. Both of Oklahoma's early commitments made the ESPNU 150 watch list.
The Cornhuskers already have received verbal commitments from two of the nation's top linemen, continuing a tradition that is a bedrock of the Nebraska program. Tyler Moore, a 6-foot-6, 270-pounder from Countryside High School in Clearwater, Fla., is joined by Ryne Reeves, a 6-foot-3, 287-pound center from Crete, Neb. Along with those two on the ESPNU 150 watch list with quarterback Jamal Turner of Sam Houston High School in Arlington, Texas.
And the Sooners have garnered two on the 150 list, including wide receiver Kameel Jackson who is Turner's major receiving target at Sam Houston High School. He is joined by quarterback Kendal Thompson of Southmoore High School in Moore, Okla.
Here's a quick look at what other schools in the conference have gotten an early start (Note: * indicates an ESPNU 150 watch list player):
Baylor: None.
Colorado: C Shaun Simon (Hutchinson Community College)
Iowa State: None.
Kansas: None.
Kansas State: OT Cody Whitehair (Abilene, Kan.), DT Olukayode Akinmoladun (Independence Community College), WR Marcus Kennard (Butler County Community College), QB Angelo Pease (Hutchinson Community College), DE Meshak Williams (Hutchinson, Kan.)
Missouri: *QB Corbin Berkstresser (Lee Summit, Mo.); WR Wesley Leftwich (Hickman, Mo.); ATH Anthony Pierson (Gateway, Mo.), DT Sheldon Richardson (College of the Sequoias).
Nebraska: *OT Tyler Moore (Clearwater, Fla.), *C Ryne Reeves (Crete, Neb.), QB Jamal Turner (Arlington, Texas).
Oklahoma: *WR Kameel Jackson (Arlington, Texas), *QB Kendal Thompson (Moore, Okla.)
Oklahoma State: *QB J.W. Walsh (Denton, Texas), T Travis Cross (Plano, Texas), S Isaac Maselera (Glenpool, Okla.)
Texas: None.
Texas A&M: *T Joseph Creek (Seguin, Texas).
Texas Tech: *WR Javares McRoy (Lakeland, Fla.)