Big 12:

Wildcats-Eers-102012
October, 21, 2012
10/21/12
12:22
AM ET
MORGANTOWN, W.Va. -- Bill Snyder doesn't deal in the hypothetical very often, if ever.
What is, is. Preparation and hard work fuel success. Not the catchiest of catch phrases, but it's worked OK for more than a couple of decades for a man who just might be the greatest coach in college football history (and is certainly its most underappreciated).
Get better every day. That's what Snyder asks his players to do.
This year, it's exactly what the Wildcats have done, and that improvement was on display in Saturday's
55-14
laugher in Morgantown, where Kansas State embarrassed yet another team picked to finish ahead of it in the Big 12 preseason poll.
"We've found a level a consistency that was good and that we want to see, but there's still things we can't have," quarterback
Collin Klein
said, citing a failure to score a touchdown on the game's opening drive, when K-State settled for three points.
Never mind that it scored touchdowns on its next seven drives, while Klein passed his opponent,
Geno Smith
, as the Heisman Trophy front-runner in the process.
"They kicked our butts," Smith said, adding that he'd never faced "adversity of this magnitude" after a pair of blowout losses to Kansas State and Texas Tech.
Klein led the way with a career-high seven touchdowns and 323 passing yards, scoring four times on the ground and throwing three touchdowns to just two incompletions on 21 attempts. He was slinging it well enough to lead
Chris Harper
to start calling his quarterback "John" late in the game.
[+] Enlarge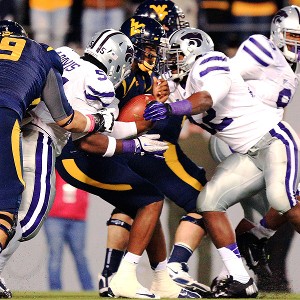 AP Photo/Christopher JacksonKansas State hounded QB Geno Smith into his worst yardage total under Dana Holgorsen.
As in Elway. We'll see about that, but the defense played as big a part as any in the 41-point beatdown.
The Wildcats picked Smith off twice Saturday, twice more than all six teams the Mountaineers had previously faced this season. The defense held him to 143 yards on 21-of-32 passing, his lowest total under coach Dana Holgorsen.
Hold a mirror up to these Wildcats and you'll see Snyder, who had a lengthy face-to-face visit on the field to encourage Smith after the game, and left the gridiron to chants of his own name yet again from a visitors section packed with purple.
His 16 goals? His demands for one thing above all -- to improve each day? Kansas State has followed the path this season, and that daily improvement has it in position to make a run at the BCS title game. It's beaten the two teams most likely to beat out the Cats for a Big 12 title, and did so on the road as an underdog.
"We are just what we are," Snyder said, again wearing his commemorative windbreaker jacket from last year's Cotton Bowl, again sipping on some coffee with cream and sugar while fielding postgame questions. "I believe our players embrace those values. ... They're the same values you've taught your son or your daughter."
The win over Oklahoma looks better by the day -- the Sooners have beaten their last three opponents by 21, 42 and 45 since -- and the SnyderCats are the lone undefeated Big 12 team standing.
Alabama and Florida stand above the Cats and are on a crash course to meet in the SEC title game. Oregon (maybe) sits above the Wildcats at No. 3.
Still, if Kansas State keeps winning, the cards are likely in place to finally give Snyder a shot at the national title that eluded him back in 1998, thanks to an upset loss to Texas A&M in the Big 12 title game. Any talk about that, though, wouldn't be Kansas State's style.
One game at a time. Better every day.
"One of those [16 goals] is no self-limitations," Snyder said. "However good we may or may not have been today, tomorrow, there isn't any reason why you can't be better."
When you've gotten as good as Kansas State has, there's plenty of time to relax. After picking Smith off twice, Snyder joked on the sidelines that the Wildcats would stop the game and hold a pep rally if they picked him off a third time. That didn't happen, but Snyder's feeling a lot looser these days now that he's cleaned up the mess his successor/predecessor, Ron Prince, left behind.
"He's a lot looser than when he first got here, but we sucked when he first got here, so I would be mad, too. We've gotten way better, 20,000 times better," Harper said.
Harper saw that turnaround in Year 2, when the Wildcats jumped from 7-6 to 10-3, losing one of those games by just seven points on the road to Big 12 champion Oklahoma State -- and with a few more seconds, Kansas State might have escaped with a win.
"We understood that what we were doing," Harper said. "It worked."
It always has for Snyder. Will it work better than ever, and keep a healthy zero in the loss column through December?
By now, it's getting harder and harder to bet no.
October, 21, 2012
10/21/12
12:00
AM ET
By
ESPN.com staff
| ESPN.com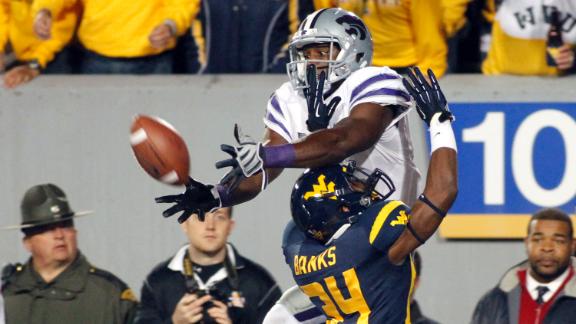 Kansas State receiver
Chris Harper
talks about what Saturday's 55-14 win over West Virginia means for the Wildcats, and his quarterback's big night.
October, 20, 2012
10/20/12
11:32
PM ET
By
ESPN.com staff
| ESPN.com


Kansas State quarterback Collin Klein talks about the possibility of being K-State's first Heisman winner and his big night in a 55-14 win over West Virginia.
October, 20, 2012
10/20/12
10:08
PM ET
MORGANTOWN, W.Va. -- That was about as complete a beatdown as you'll see in the Big 12.


Kansas State dominated from start to finish and rolled to a
55-14 victory
Saturday. Here's a little instant analysis:
It was over when:
Kansas State answered a
Tavon Austin
100-yard kickoff return with yet another touchdown to take a 31-7 lead with 17 seconds left in the first half. It was West Virginia's only sign of life all night, and Kansas State stomped it out systematically.
Game ball goes to:
Collin Klein
. He took control of the Heisman race with a virtuoso performance against an overmatched defense, carrying the Cats to the blowout. He finished with 323 yards on 19-of-21 passing and rushed for 41 yards. He accounted for seven touchdowns (three passing, four rushing). It was his first game with three touchdowns of each variety.
Stat of the game:
Kansas State scored on its first eight drives of the game, including seven consecutive touchdown drives after settling for a field goal on the opening possession. When the streak ended, K-State led 52-7.
Stat of the game 2:
Geno Smith
broke Trent Dilfer's NCAA record with 273 passes without an interception to start the season, but
Arthur Brown
ended that run on Smith's first attempt of the second half. Brown also was the first player to intercept last year's Heisman winner, Robert Griffin III, in the fourth game of the year.
What West Virginia learned:
Woof. What is wrong with the offense? Hey, the defense figured to have issues coming into the season, but the offense has just disappeared, going scoreless until the game was well out of hand. This after managing only seven relevant points in last week's blowout loss to Texas Tech. The Mountaineers are reeling, and both sides of the ball are in trouble.
What Kansas State learned:
It just might have what it takes to go all the way. There are plenty of quality teams left on the schedule, but the Wildcats will be favored the rest of the way and look very capable of going undefeated. Plus, unlike in the 1998 season, there's no Big 12 championship game at the end if the Cats do win out.
October, 20, 2012
10/20/12
6:28
PM ET

David Ubben and Travis Haney take a look at the challenge ahead for both Kansas State and West Virginia's offenses this week.
October, 20, 2012
10/20/12
4:56
PM ET
MORGANTOWN, W.Va. -- The clouds covering Milan Puskar Stadium are expected to clear by kickoff and the town is hoppin' before tonight's game against Kansas State. I'll be on hand all night to
bring you coverage via Twitter during the game
and on the blog once it's over.
Stedman Bailey
(ankle) is expected to play tonight, but how effective will he be? If he's clearly hobbled, you may see Kansas State's defense focus on
Tavon Austin
like Texas Tech did a week ago and have some success limiting the high-powered Mountaineers offense.
The task ahead of
Allen Chapman
and
Nigel Malone
is a tough one, but they'll get plenty of help from the offense. Kansas State is without a doubt going to win the battle of time of possession. How lopsided that battle is won should be a major indicator of whether or not Kansas State gets out of Mountaineer Field with a win and a comfy seat at the head of the Big 12 title table.
BIG 12 SCOREBOARD
Saturday, 12/20
Monday, 12/22
Tuesday, 12/23
Wednesday, 12/24
Friday, 12/26
Saturday, 12/27
Monday, 12/29
Tuesday, 12/30
Wednesday, 12/31
Thursday, 1/1
Friday, 1/2
Saturday, 1/3
Sunday, 1/4
Saturday, 1/10
Monday, 1/12
Tweets from https://twitter.com/ESPNCFB/lists/big12