Big 12:

Wildcats-Sooners-092212
September, 23, 2012
9/23/12
3:39
AM ET
NORMAN, Okla. -- Bill Snyder was so excited about Kansas State's history-making 24-19 win at Oklahoma on Saturday evening that his heart rate almost reached single digit. You didn't know whether to congratulate him or check to see if he had dozed off.
This is the Snyder way. Almost nothing flusters him. The 72-year-old coach stood in the middle of a cramped cinderblock hallway, a Styrofoam cup of freshly poured coffee in his hand, and talked in a near monotone about one of the great K-State victories of his long career.
"All wins are important," said Snyder. "Every coach will tell you and every player will probably tell you the same thing."
But this wasn't just any win. This was 15th-ranked K-State ending a 15-year OU chokehold on this series in Norman. This was K-State ending OU coach Bob Stoops' 14-0 home record against ranked teams. This was K-State avenging last season's 41-point loss to the sixth-ranked Sooners.
Didn't matter. Snyder had his postgame face on. Even when a cricket jumped from a TV reporter's forearm to Snyder's left cheek, the Wildcats coach simply flicked the bug away with a bored nonchalance.
But there was one thing that got a small rise out of Snyder. And it had to do with his senior quarterback
Collin Klein
.
For Gene Wojciechowski's full column, click
here
.
September, 23, 2012
9/23/12
2:31
AM ET
By
SoonerNation staff
| ESPN.com
NORMAN, Okla. --
Landry Jones
' fumble against Kansas State sure looked like his fumble in the Cotton Bowl two years ago.
Unable to locate an open receiver, Jones chose to roll out instead of throwing the ball away. Moments later, he was stripped from behind, and the Wildcats were celebrating in the end zone with a defensive touchdown.
A polished player in so many ways, Jones continues to make the same mindless mistakes he did as a young quarterback. And Saturday night, it cost Oklahoma big, as Kansas State stunned the sixth-ranked Sooners 24-19.
Read the rest of this story
here
.
September, 23, 2012
9/23/12
1:15
AM ET
NORMAN, Okla. --
Tre Walker
climbed the wall in the southeast corner of Owen Field just to reach a few loved ones Saturday. He had to hug somebody, and couldn't wait until his pads were off to do it.
While the Kansas State linebacker took care of his business there, a "K-S-U" chant echoed through Norman after Bill Snyder's Wildcats finished making history. Walker was climbing to get off the field, but the rest of his team never wanted to leave after Kansas State's
24-19 victory over Oklahoma
. Coaches and players hugged and high-fived.
Kansas State and Oklahoma players both had glassy eyes, for very different reasons.
"I mean, I was shocked," defensive end
Adam Davis
said.
Sure, the Kansas State faithful knew they
could
win. But that they
would
? History shot disapproving glances the way of anyone who believed otherwise.
Oklahoma was a perfect 14-0 versus ranked teams at home under Bob Stoops, dispatching opponents by an average of 28.2 points dating all the way back to 1999. The Wildcats hadn't beaten the seven-time Big 12 champs in the regular season since 1997.
Those stats, though, hadn't reached Davis. And he was still shocked. So were the raucous 85,276 Sooners fans in attendance who provided the best Big 12 atmosphere to date.
"It feels like you're on top of the world," Davis said of the postgame party on the field.
The big names on Saturday will attract plenty of attention.
Landry Jones
' shortcomings.
Collin Klein
's toughness and passing prowess, highlighted by a 12-yard completion on third-and-11 to
Tramaine Thompson
that all but iced the game in the final minutes.
[+] Enlarge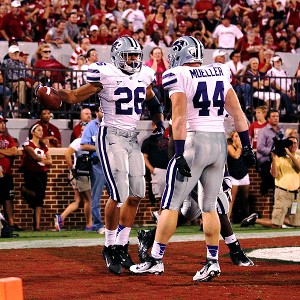 Matthew Emmons/US PresswireJarell Childs (26) celebrates with Ryan Mueller after recovering a Landry Jones fumble in the end zone for Kansas State's first touchdown.
The real story? A dogged defense that harassed Jones into two game-breaking turnovers and got lucky with a third when a low snap scooted past
Blake Bell
, leaving the Belldozer broken down on the way back to the sideline instead of into the end zone.
Snyder, ever the exploiter of weaknesses, saw a big one in Jones that plenty of others saw, too.
Asked if Jones was "spooked," Davis replied: "I noticed it in the first half. When we'd get upfield, he'd start jabbing his feet real quick and moving. That let us know that he don't like nobody in his blind side, and we tried to attack it all night."
The Wildcats succeeded. They flushed Jones from the pocket in the first quarter and linebacker
Justin Tuggle
, playing defensive end on that particular play as part of a specialized package, caught Jones from behind and stripped the ball.
Jarell Childs
scooped it up just a yard in front of the goal line and scored.
Kansas State's defense believed.
"What we did all week was worked on trying to flush him out of the pocket, because we know he ain't good with pressure," Davis said. "If we get to his blind side, he's going to get jittery and try to move out the pocket and scoot up and stuff. We tried to get our D-tackles to cause pressure on the edge and try to get him."
The Wildcats notched two sacks, but the constant pressure had Jones looking mediocre for most of the night. His second turnover came when tackle
Vai Lutui
lunged at Jones from his knees. Jones threw off his back foot and promptly sailed a probable completion into the waiting arms of Kansas State safety
Ty Zimmerman
.
"It was a little bit of a struggle offensively. ... Our defense, I think, created the turnovers that took place, by and large," Snyder said. "I thought they did a heck of a job."
Snyder was a cool customer holding a hot cup of coffee with cream and sugar, taking sips while he answered questions after the victory in his Cotton Bowl windbreaker on a brisk fall night in Oklahoma. At one point during the conference, a cricket flew in and landed an inch from Snyder's left eye. He broke an answer for only a moment to swat away the pest.
Nothing could get to the unflappable SnyderCats on this night.
"When you play somebody as good as an Oklahoma team, it really does mean something special to them, and they feel good about it," Snyder said.
Snyder's demeanor wouldn't have been much different if the 14-point underdogs had gotten waxed by 30, like so many teams at Owen Field before them. Still, his message to the team remained consistent.
"He said he was very proud of us," Davis said with a grin.
Expecting maybe something a little more dramatic?
"Yes, we were, but you never really know what to expect," Davis said.
Well, that just wouldn't be very Snyder. Saturday's win, though? Doing what no team had ever done before and getting outgained in total yardage while doing it?
Could anybody else but Snyder do that?
September, 22, 2012
9/22/12
11:37
PM ET
Kansas State did it again. Powered by an impressive fourth quarter from quarterback
Collin Klein
and 130 rushing yards and a touchdown from
John Hubert
, the No. 15 Wildcats escaped with a stunning
24-19 victory
against No. 6 Oklahoma in Norman, Okla.


It was over when:
On third-and-3 with 1:59 left in the game and both teams out of timeouts, Klein plowed left on a keeper and picked up five yards for the game-clinching first down. The Wildcats held on to the ball for the game's final four minutes and ended in the victory formation after their second third-down conversion of the drive.
Game ball goes to:
Collin Klein. He threw for only 42 yards in the first half, but he saved his best stuff for the final quarter, throwing for 72 yards on 4-of-5 passing. Klein paced the Wildcat attack with 79 rushing yards and, most importantly, he didn't turn the ball over once.
Stat of the game:
Three Oklahoma turnovers were the difference-maker in the end and doomed an inconsistent Sooner offense. A
Landry Jones
fumble became a Kansas State touchdown, a
Blake Bell
fumbled snap at the goal line cost OU a crucial score and Jones' interception late in the third quarter set up another Wildcats touchdown.
What Oklahoma learned:
The Sooners are still very much a work in progress. OU couldn't make up for a shaky night from Jones, and its run game (27 carries, 88 yards) didn't provide much help. With Texas Tech and Texas up next, Oklahoma needs to get its act together quickly.
What Kansas State learned:
Just as they did last year, the Wildcats proved they can hang with the big boys in the Big 12. The close-game magic that carried KSU to 10 wins in 2011 isn't gone, that's for sure. The Wildcats can make their case for being the conference's top team in three weeks at West Virginia.
September, 22, 2012
9/22/12
5:45
PM ET
NORMAN, Okla. -- After three weeks of yawn-worthy matchups against mostly no-name opponents, it's finally time for some real Big 12 games.
No. 15 Kansas State and No. 6 Oklahoma will get it started tonight in a matchup of pretty contrasting styles. You
learned plenty about Kansas State quarterback
Collin Klein
this morning on College GameDay, and if you don't know what all the fuss is about, you'll learn why later tonight.
Oklahoma's speed at receiver should take advantage of Kansas State's questionable secondary. Kansas State's strength and consistency up front in the running game should control the clock, control possession and hang plenty of points on the board.
It could be a long night for both of these defenses, but there's a whole lot of respect at stake in this one. Few, if any, Big 12 teams have faced a true test so far. Oklahoma looked sluggish in its biggest test of the season, a road game at UTEP.
Want pollsters and pundits to take you seriously? Take care of business in conference. Oklahoma's hanging around inside the top 10, but skepticism about these Sooners abounds. A good chunk of it would subside with a win against the Wildcats, especially a convincing win.
Kansas State looked good against Miami, but Miami wouldn't look very good against most teams in the Big 12.
The questionable early season scheduling should make for an unpredictable Big 12 season. The other result: A whole lot to gain for both teams in games like this. Five Big 12 teams are ranked from No. 6 to No. 17, and tonight is the first step on a road that will sort out who's who in this league.
To quote a certain New York Jet: Can't wait.
BIG 12 SCOREBOARD
Saturday, 12/27
Saturday, 12/20
Monday, 12/22
Tuesday, 12/23
Wednesday, 12/24
Friday, 12/26
Monday, 12/29
Tuesday, 12/30
Wednesday, 12/31
Thursday, 1/1
Friday, 1/2
Saturday, 1/3
Sunday, 1/4
Monday, 1/12
Tweets from https://twitter.com/ESPNCFB/lists/big12