Big 12:

Xavier Lawson-Kennedy
October, 24, 2014
Oct 24
10:00
AM ET
In Week 9 of Big 12 action, Kansas State and TCU will attempt to keep their playoff hopes alive, while Texas and Texas Tech will try to take a step on the road toward bowl eligibility. West Virginia, meanwhile, will look to keep rolling at Oklahoma State, which hopes to bounce back after getting blown out last week.
Those, among others, will be the storylines to watch Saturday in the Big 12:
Texas at No. 11 Kansas State, noon ET (ESPN):
If the numbers are any indication, Texas won't get anything easy in this game. Kansas State has allowed only 19 plays of 20 yards or more, which is the fewest given up by any Big 12 defense. The Longhorns have been better offensively the last two weeks. Still, only Kansas and Iowa State have produced fewer 20-yard-plus plays in the Big 12 than the Longhorns. Running backs
Johnathan Gray
and
Malcolm Brown
have also had problems breaking loose from the line of scrimmage. According to ESPN Stats & Information, Texas is averaging 1.4 yards after contact on designed runs, the worst average among Power 5 offenses.
The Longhorns will have to be better on the ground to have a chance of pulling the upset in Manhattan, Kansas.
[+] Enlarge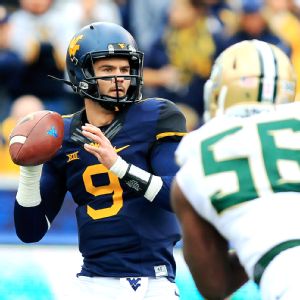 AP Photo/Chris JacksonClint Trickett has thrown 15 touchdown passes and only five interceptions this season.
No. 22 West Virginia at Oklahoma State, 3:30 p.m. ET (ESPN):
How much better has West Virginia QB
Clint Trickett
been this year? He has improved his Total QBR by 29 points from last season, the third-largest increase among Power 5 QBs, according to ESPN Stats & Information. One reason for the dramatic improvement has been the long ball. Trickett has already thrown eight touchdowns on passes of 20 yards or more, tied for third among Power 5 QBs. He had just one such touchdown pass all of last season.
Kevin White
, the nation's leading receiver, has been on the other end of the majority of Trickett's long throws. White tops the country with 16 receptions of 20 yards or more. Oklahoma State, meanwhile, has been even more reliant on throwing deep.
Daxx Garman
has 35 completions on passes thrown 15 yards or longer, tied for the most by a Power 5 QB. One thing is certain in this game: The ball will be flying downfield often.
Texas Tech at No. 10 TCU, 3:30 p.m. ET (FOX):
Trickett isn't the only Big 12 QB who has been a completely a different player this year. Trevone Boykin's Total QBR is up 28.7 points from last season, the fifth-largest increase in college football, per ESPN Stats & Information. Thanks in big part to Boykin's turnaround, the Horned Frogs have featured one of the best big-play offenses in the country. TCU has 13 touchdown drives of three plays of fewer, tied for the most such drives in the country, according to ESPN Stats & Information. Boykin & Co. could add to that total this weekend. Texas Tech's defensive efficiency is the worst among Power 5 teams. Opponents have scored a touchdown on 36 percent of their drives against Tech, the worst percentage of any Power 5 defense. The Red Raiders will probably need their best defensive effort of the year to have any shot at toppling the surging Horned Frogs.
February, 3, 2009
2/03/09
5:07
PM ET
By
Tim Griffin
| ESPN.com
Posted by ESPN.com's Tim Griffin
While watching the recruiting lists that will be released by Big 12 schools tomorrow, it might be wise to remember some of the players who have thrived without much early recruiting hype. It's also interesting to remember some of the highly touted recruits who struggled once they arrived at college.
Here's a look at some of the more notable hits and misses in the Big 12 the past few seasons which should explain why some of the recruiting hoopla should be taken with a grain of salt.
Quarterbacks
Hits: The Big 12's two Heisman Trophy finalists in 2008, Sam Bradford of Oklahoma and Texas' Colt McCoy, both were projected as middle-of-the-pack recruits. Oklahoma State's Zac Robinson was presumed to be a step behind them. All three have developed into players who could end up being among the finest quarterbacks in their respective schools' histories.
Misses: Oklahoma's Tommy Grady never materialized as a prospect from the Class of 2003 and ended up transferring to Utah. And Harrison Beck was a highly anticipated prospect at Nebraska before washing out and ending up at North Carolina State.
Running backs
Hits: Oklahoma State's Kendall Hunter was a midrange recruit before blossoming to lead the Big 12 in rushing in 2008. And Shannon Woods was even more lightly regarded before excelling as a multifaceted back in Texas Tech's offense.
Misses: Daniel Davis was a highly ranked junior-college prospect who was expected to blossom once he arrived from at Kansas State. He never fulfilled that promise after several legal run-ins. Webster Patrick was a tough running back who was compared favorably to the Davis brothers who had thrived in Dan McCarney's offense at Iowa State. But Patrick failed to qualify academically for the Cyclones and ended up at Butte College.
Wide receivers
Hits: Juaquin Iglesias was barely recruited coming out of Killeen (Texas) High School, where his track exploits were more widely regarded. He accepted a scholarship offer from Oklahoma and blossomed into the second-leading receiver in school history. Dezmon Briscoe had one catch as a junior at Cedar Hill High School in Dallas, but caught the attention of then-Kansas assistant coach Tim Beck. He produced 92 catches for school-record totals of 1,407 yards and 15 touchdowns last season for the Jayhawks.
Misses: Colorado's Tyler Littlehales was a huge recruit for Gary Barnett in the Class of 2002 after playing at the Army All-American Bowl, but never could crack the starting lineup for the Buffaloes. Marquis Johnson was a top national recruit who was counted as a top recruit when he came to Texas from Champaign, Ill., as an All-American high school receiver. He failed to keep his grades up and ended up at Hutchinson Community College, eventually resurfacing at Texas Tech where he caught 21 passes in a two-season career.
Tight ends
Hits: Jermaine Gresham wasn't a top prospect after a knee injury in his junior season of high school stifled recruiting interest. He blossomed in college and is expected to be a first-round pick in the NFL draft this April. Chase Coffman was thought to be a good but not great prospect while playing at Raymore-Peculiar High School in Raymore, Mo. Coffman beefed up from his high school playing weight of 210 pounds and developed into a sure-handed receiver who won the Mackey Award in 2008.
Misses: Josh Barbo appeared to be a prototypical tight end and had the recruiting clippings to match when he arrived at Missouri in the 2003 recruiting class. But Chase Coffman and Martin Rucker took over the position as Barbo moved to defensive line and never got higher than third string on the depth chart before leaving school after the 2006 season. Walter Nickel was presumed to be a key player at Iowa State after arriving from Dixie State Community College, but he struggled with injuries and produced 35 catches in his two seasons with the Cyclones.
Offensive line
Hits: Few could have imagined that Jason Smith would be a key producer when he arrived at Baylor as a 220-pound tackle. But after gaining 85 pounds, he likely will go among the first 10 picks in the upcoming NFL draft. Center Daniel Sanders wasn't offered a scholarship by Colorado until the week before signing day after originally committing to Northern Arizona. He developed into a four-year starter for the Buffaloes.
Misses: Jorrie Adams was touted as the nation's best offensive line prospect when he arrived at Texas A&M in the class of 2003 from Jasper, Texas. But Adams struggled and switched to defense before he was kicked out of school after a drug-related arrest. Kyle Riggs was one of the nation's top line prospects when he arrived at Missouri in 2003, but never developed after suffering from an undetermined stomach condition. He eventually became a student assistant coach.
Defensive line
Hits: Texas Tech coaches discovered Brandon Williams playing in a high school basketball game at South Hills High School at Fort Worth. He eventually developed into the Big 12's leading sacker last season. Stryker Sulak's recruiting was almost as surprising. Sulak was set to attend Houston before Missouri coaches saw him in a recruiting film. He eventually bulked up and became a three-season starter for Missouri and an All-Big 12 selection last season.

Misses: Texas A&M defensive end Chris Smith was one of the nation's top prospects who committed to Aggies before his senior season in high school in 2004. He hurt his knee during his senior season and struggled thereafter, posting 12 tackles and not playing in the 2008 season. Xavier Lawson-Kennedy was one of the most heralded players to arrive at Oklahoma State, announcing his decision on regional television as a key member of the 2003 class. Struggles with injuries and his weight kept him from developing into a starter in his college career.
Linebackers
Hits: Sean Weatherspoon weighed 195 pounds when he left Jasper, Texas, as a marginal recruit who picked Missouri over Houston, Iowa State and TCU. He has developed into the Tigers' key defensive player on back-to-back North Division championship teams. Joe Pawelek also received little interest from FBS football schools, but immediately claimed a starting job as a freshman with Baylor. He was a freshman All-American and an All-Big 12 selection by his junior season when he led the conference in tackles.
Misses: Kelvin Flood was one of the top linebacker prospects of the 2002 class. But after the Dallas Kimball player selected Texas A&M, he never cracked the Aggies' lineup and left sch
ool after two seasons. Mike Reed was a prototypical middle linebacker who was one of the nation's top recruits when he arrived at Oklahoma from California's Yuba College in 2007. But Reed had difficulty juggling college with the finances of raising three young children and eventually left school. Reed resurfaced last season at the University of Central Oklahoma.
Defensive backs
Hits: William Moore was a midrange recruit who was thought to be more of a wide receiver than a defensive player. But he's blossomed into a standout at safety and a likely first-round draft pick in April. Jordan Lake was a hard-hitting safety at Houston McAllen Memorial who received scant recruiting notice. Lake picked Baylor over Northwestern, Rice and Houston and has developed into an All-Big 12 player with one more season remaining.
Misses: Edorian McCullough was one of the highest-ranked defensive back prospects in recent Big 12 history. But his career stalled at Texas before transferring to City College of San Francisco and ending up at Oregon State. Jason Frederick was one of the top recruits at Texas A&M in the class of 1999, but transferred out of school after only one season. He struggled to earn playing time after transferring to Sam Houston State.
Kicker
Hits: Jeff Wolfert arrived at Missouri on a partial diving scholarship and tried out for the football team on a lark. He left school as the most accurate kicker in college football history in combined percentage for field goals and extra points. Matt Williams arrived on Texas Tech's doorstep last season after capturing the attention of coaches while converting a field goal during an in-game promotion. Williams converted all of his 33 extra points after claiming the job midway through last season.
Misses: Williams got his chance only because of the struggles of Donnie Carona, who arrived as the first scholarship kicking recruit at Texas Tech in Mike Leach's tenure. Carona lost his chance to kick after missing four extra points and five of his nine field goal attempts last season. Iowa State kicker Josh Griebahn was the highest-rated kicking recruit ever attracted to Iowa State by McCarney. But Griebahn redshirted as a freshman and had ankle surgery the following season. He never won the Cyclones' kicking job.