August, 2, 2012
8/02/12
3:15
PM ET
As Oklahoma kicks off football practice this week, here are five storylines to watch this preseason:
1.
How does Whaley look in pads?
The injury to Ryan Broyles overshadowed the impact of the loss of
Dominique Whaley
, who suffered a season-ending ankle injury midway through the 2012 season. Whaley has been cleared to practice, but even Bob Stoops admitted the Sooners won't know how Whaley will handle cutting and contact until the team practices in pads. The Sooners have other options at running back, but Whaley is the most proven of any of them.
2.
How will the offensive adjust to life without Habern?
[+] Enlarge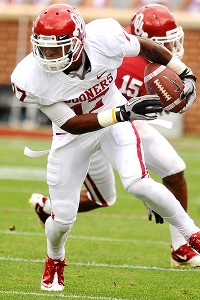 Mark D. Smith/US PresswireFreshman receiver Trey Metoyer is already penciled in as an opening-day starter for the Sooners.
Stoops said this week that the offensive line will be ready to deal with the loss of center
Ben Habern
, who has
given up football
because of issues with his neck and back. The Sooners made a seamless transition for six games without Habern last season, sliding
Gabe Ikard
to center, and inserting
Adam Shead
in at guard. The Sooners shouldn't miss much of a beat without Habern, but the line is a lot thinner than it was a week ago. Others like guard
Bronson Irwin
must step up.
3.
Does
Trey Metoyer
build off his spring?
Other than
Landry Jones
, Metoyer was OU's best offensive playmaker of the spring. Can the freshman phenom keep it going? By all accounts, Metoyer has busted it over the summer. So there's little reason to doubt he won't lock down a starting job before September.
4.
Which other newcomer receivers will emerge?
With
Jaz Reynolds
and
Trey Franks
expected to serve long suspensions, and Kameel Jackson still working on academics, OU will need wideouts other than Metoyer to emerge.
Durron Neal
has been slowed by a knee injury this summer,
LaColtan Bester
just got to campus and
Courtney Gardner
was unable to qualify. That leaves freshman slot receiver
Sterling Shepard
as the most likely to step into a prominent role. Shepard has wowed his teammates with his work ethic this summer.
5.
Will the secondary regain some of its swagger?
The confidence of the defensive backfield was shaken the second half of the season following porous performances against Texas Tech and Baylor. The group even dropped its "Sharks" nickname. But the return of Mike Stoops has the secondary primed for a bounce-back season. A change of scenery could do wonders for
Javon Harris
and
Gabe Lynn
, who both figure to open the season in the starting lineup. If they hold up, the secondary could be awesome, with stars
Tony Jefferson
,
Aaron Colvin
and
Demontre Hurst
manning the rest of the unit.
August, 1, 2012
8/01/12
2:52
PM ET
Really sad, surprising news out of Oklahoma today.
Here's our news story
:
Oklahoma senior Ben Habern's career is over.

The Sooner center won't return to the team after offseason neck surgery that fused together two vertebrae, despite expectations that he would return at full strength this fall.

...

"Our coaching staff knows this was a difficult decision for Ben," [coach Bob] Stoops said in a statement. "Ben has been a consummate leader for our team, both on and off the field. We appreciate the toughness that Ben has displayed, and we wish him the very best as he completes his education at OU."
First things first: Absolutely hate to see this for Habern. I covered the Sooners for The Oklahoman during Habern's freshman year, and he's consistently been a great guy to cover from that point through just last week, when he was chosen as a representative for Oklahoma at Big 12 Media Days.
Here's
the video he took time to shoot for us
. (Stick around until the end).
It's truly shocking news. Habern must have been thinking about quitting, but didn't know until just recently. If Oklahoma knew Habern's status was in doubt, it's highly unlikely he would have represented the Sooners at media days.
Habern's dealt with neck and back issues throughout his career, which also featured a broken ankle in 2009 and a broken right arm last season that forced him out of five games.
His experience and leadership simply can't be replaced this season. Oklahoma's fantastic offensive line takes a huge hit with his loss.
As for his spot on the depth chart? Look for guard Gabe Ikard (one of the league's best overall linemen) to slide over to play center, and junior Adam Shead to move up and replace Ikard at guard. The Sooners can handle that. Don't be surprised if freshman Ty Darlington gets some time at center, too.
Still, Habern has been around for everything coming into this year, and been a stalwart at center for the past three seasons. He saw the 2009 collapse up close. He was integral in the rebound for a Big 12 title in 2010. He learned from the pressure of 2011.
He talked about his neck surgery at Big 12 media days last week, but gave zero indication he was even thinking about quitting.
Now, he has.
It's a sad story, no doubt, but Oklahoma has no choice but to move on.
As Habern moves on, here's hoping for the best for him. I'm confident he'll excel in his future endeavors.
Suspended players reinstated
In Wednesday's statement, Stoops also said that receiver Trey Franks, defensive back Quentin Hayes and receiver Jaz Reynolds were each reinstated from offseason suspensions, but only for preseason practice. Their availability for Oklahoma's season opener at UTEP on Sept. 1 was still undecided. Receiver Kameel Jackson was not reinstated, and his suspension will be re-evaluated "at the conclusion the current academic session."
Stoops also confirmed previous reports that wide receiver
Courtney Gardner
and offensive lineman
Will Latu
would not be available this season.
July, 6, 2012
7/06/12
10:00
AM ET
To begin the season, I see six teams with a legitimate chance to win the Big 12. Today begins a series looking at why each team will or will not win the league. We'll start with the prohibitive favorite, Oklahoma.
Why the Sooners will win the Big 12
[+] Enlarge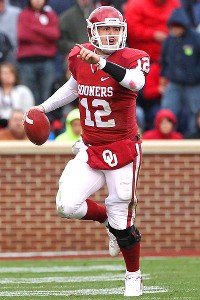 Matthew Emmons/US PresswireLandry Jones gives Oklahoma experience at quarterback, but he'll be throwing to several untested targets this season.
1. They've been there before:
Never, ever underestimate the importance of experience. Oklahoma lost a lot from last season's team, but it still boasts essentially a four-year starter at quarterback in
Landry Jones
, receiver
Kenny Stills
, and defenders like
Tony Jefferson
,
Tom Wort
, and
Demontre Hurst
. They were all key cogs in a 2010 title run that included a gutsy comeback on a neutral site against a very good Nebraska team. Oklahoma has a lot on its to-do list, but outside of a trip to West Virginia, the Sooners won't encounter anything too foreign this season.
2. Its secondary is fierce, and revitalized:
Texas probably has the league's best overall secondary, but Oklahoma's not far behind. Cornerback Hurst and safety
Aaron Colvin
are solid, and fellow safety Tony Jefferson might, by the end of the season, have a case for being the league's best overall defender after moving back to safety from nickel back. Fellow safety
Javon Harris
re-emerged this spring after a midseason benching, but still must prove he can prevent the big play in the fall. The best news of all for the unit? Coordinator Mike Stoops is back in Norman coaching them after nearly a decade as the Arizona head coach.
3. Oklahoma has more talent than anyone else:
This one's pretty simple. If you line up every team in the league, truly examining everybody's two-deep, Oklahoma stands tall as the league's best team, especially at important positions like quarterback and the secondary. There are some questions along the defensive line, but the Sooners have solid athletes with potential. The same is true of the receivers, and running back will be a strength, even if
Dominique Whaley
isn't 100 percent next season. The linebackers are loaded again, and so is the offensive line, which might be the most important aspect of this year's team. If these games were played on paper, Oklahoma would be the champs.
Why the Sooners won't win the Big 12
1. Does Landry Jones have enough help?
Ryan Broyles is gone, and Oklahoma's passing game seemed to self-destruct when he was gone. There's a lot of talent back, but offseason suspensions mean Stills will be flanked by a horde of freshmen targets. Can
Trey Metoyer
, Sterling Shepard, Durron Neal and Courtney Gardner be enough? And can Jones string together enough solid games to lead Oklahoma to a Big 12 title? The solid offensive line gives some reason to believe he will.
2. There won't be enough pass rush:
Ronnell Lewis and Frank Alexander were an absolute terror last season, even though both were plagued by injuries, and Lewis' season shut down early. Now, they must be replaced.
R.J. Washington
and
David King
have plenty of potential, but Lewis and Alexander were mostly experienced, known entities. Washington and King have never been relied on as heavily as they will be this season. Can they handle the load? Oklahoma's Big 12 title hopes -- and defensive passing statistics -- probably depend on it.
3. The pool of Big 12 title suitors is too deep:
Oklahoma's the best team on paper, sure, but the Big 12 is going to be brutal, and wide open. Eight (maybe nine) teams could legitimately beat the Sooners. That's just one game. Five others (we'll get to them later in the series) have the chance to prove they're better than the Sooners over the course of a 12-game schedule. Will they do it? Ultimately, that might be up to the Sooners.
June, 6, 2012
6/06/12
12:00
PM ET
By
ESPN.com staff
| ESPN.com
Good Job, Good Effort: The John Blake Story.
June, 4, 2012
6/04/12
12:00
PM ET
By
ESPN.com staff
| ESPN.com
June, 1, 2012
6/01/12
4:00
PM ET
By
ESPN.com staff
| ESPN.com
Thanks for all your e-mails this week. Here's
where you can reach me
. Let's get to it.
Dan in Fort Worth, Texas, writes:
Hey David, I know losing
Ed Wesley
and
Deryck Gildon
were big for the Frogs, but I think Tucker and James and our various players at LB can pick up the slack there. My biggest concern is the losses on the O-line. By my count we've lost three this offseason for various, non-graduation-related reasons. We could be fairly shallow at that position. I know Casey will have a good season but how limited will he be by an inexperienced offensive line? And if you had to take the over or under on 9 wins for the Frogs now, which way would you go?
David Ubben:
Yeah, depth will be an issue on the offensive line, but I like TCU's chances to have a really solid starting five alongside
James Fry
and Blaine Foltz, the two returning starters. It's definitely a question mark, but I tend to lean toward the positive side of things when that question comes up. Running back will be fine, and even without Ed Wesley,
Waymon James
and Matthew Tucker will be capable of producing even if the line isn't great.
I totally disagree with you on the linebackers, though. That's huge. I've really got no faith now in TCU at that position.
Tanner Brock
was a stud. Deryck Gildon could have become one. That's plenty to build around. Now?
The Big 12 is known as a passing league, but teams are more than willing to take advantage of defenses that can't stop the run. Just ask Texas Tech from last season. Its linebackers were awful, and the Red Raiders finished dead last in rush defense. If TCU doesn't have it shored up, it can't count on having a great secondary to get by. Texas Tech's safeties were pretty good, and the defense was still awful.
I've got no real questions about TCU's offense, even without Wesley. However, if the Horned Frogs are indeed falling away from title-contender status, it's because of all the offseason attrition on defense for various reasons. Very troublesome.
---
Jon in Davis, Calif., writes:
Really,
the drug scandals are what mars the season
? What about Penn State?
DU:
Clearly, Penn State was the most tragic incident of the past year, but it's been a rough year everywhere for college football. I was just focusing on the drug issues. The coaching scandals (Tressel, Petrino), a stinker of a national title game and the Penn State issues all marred the season, but our series in the past week tried to look at a different facet on each day.
---
Luke in Oskaloosa, Kansas, writes:
I can somewhat understand why you put Bradford ahead of Freeman (although I think most would disagree)
on the All-Big 12 Offensive Team
. But in no way can you convince me, or anybody else for that matter, that Jordy Nelson does not beat out Dez Bryant. Are you serious? Honestly, what has Dez done that is in any way impressive? What has he accomplished that make you go, "Wow"? Jordy was one amazing, diving touchdown catch away from becoming a Super Bowl MVP two years ago (which would have totaled 3 for the game). He also has to compete with a way more talented receiving core than Bryant. 1,263 receiving yards and was the second in touchdowns for recievers in 2011 with 15 (only behind "Megatron"). Poor Jordy gets nowhere near the credit he deserves! Please, do your worst, and convince me.
DU:
Numbers-wise, I'd probably agree with you. Nelson has been more productive. But really, if you're picking between those two receivers, you're taking Nelson. ... Really? No way. He's a great receiver, but consider who's throwing him the ball. Aaron Rodgers is the game's best quarterback. Also, consider that Nelson is probably his team's second or possibly third-best receiver. The Super Bowl MVP doesn't really mean anything. It's one game.
Bryant was his team's best receiver, and had to play without Miles Austin for much of the year. How often is Nelson seeing double coverage? That's Greg Jennings' job. Meanwhile, Bryant's got to fight for everything he gets, and has a less-talented quarterback throwing him the ball. The numbers aren't the only factor.
If you went around and asked NFL coaches who they'd rather have, you're crazy if you think they'd say Nelson. Productive, yes. Talented, yes. Better than Dez Bryant?
Uh, no.
---
Kevin Nowicki in Columbus, Ohio, writes:
Don't mean to be disrespectful, but your article was useless.
No one cares about marijuana use in NCAA football.
Clearly you can smoke weed and still be good at your respective sport. You can even be pretty well conditioned and smoke weed. I know plenty of players have come through Ohio State and are able to have success on and off the field and be a marijuana smoker. Marijuana being a "bad" drug is a joke. All the negatives that can be said come from short term effects. This is sports. No more no less. This isn't the professional world where you have to manage way more things and don't have time to smoke. They make mad money. They are mad talented and can get away with it. Santonio Holmes was high while he caught the game winning Super Bowl catch. I guess lady mary jane really affected his motor skills on that play... not. Marijuana is harmless. Removing all the local bars around campuses would have more of a positive effect on the universities rather than cutting down on the most harmless drug of all time.
DU:
On this issue, I don't think anyone's making the argument that marijuana affects your talent level to a noticeable degree. The NBA has been proving that for awhile.
But that's not the issue here. Above all else, it's illegal. You can't have players in your program using (or in TCU's case, selling) illegal substances. Have a problem with marijuana being illegal? This isn't the place to debate that. It's illegal. Players are getting caught using and dealing. A lot of people don't have a huge problem with kids drinking before they're 21. That doesn't make it legal.
That's breaking laws, and in the case of TCU, enough to bring about felony charges. And that's not an issue worth writing about?
---
Shawn in Claremore, Okla., writes:
Hey Mr. Ubben I'm not sure if anyone has asked these questions but with the recent suspensions of the three
Oklahoma Sooners
wide receivers how do you think
Landry Jones
is gonna perform during this next season considering one of them was one of his top returning targets in
Jaz Reynolds
? Do you think it will hurt the offense enough to keep them away from a conference or national title?
DU:
For OU, it's pretty simple. How ready are all these young receivers? I'm completely sold on
Trey Metoyer
. He's going to be a factor, and more likely a stud. But what about Sterling Shepard? Durron Neal? Juco transfer Courtney Gardner? What can those guys bring? How long will these guys be suspended? That's still not official.
The offense is going to take a hit early, but those freshmen receivers have a lot of potential. They're also needed immediately. It's going to be difficult. It's possible, but I'm not really buying OU as a national title contender. Big 12 title contender? It'll be a fistfight at the top (look for the Big 12 champ to have two losses), but OU's definitely the favorite in my book, even with the losses at receiver.
---
Josh in Manhattan, Kansas, writes:
Would it ever be worth the time for the B12 to invite Arkansas? I know they have old ties with Texas schools and such and money wouldn't be much different. What are your thoughts?
DU:
I've always thought Arkansas was a better fit in the Big 12, but it's never going to happen. As someone who grew up in Northwest Arkansas, the fans love the SEC and would revolt if the administration ever considered leaving. The Hogs would have a lot more geographic rivals (well, one less now that Mizzou is in the SEC), but it's hardly worth even thinking about. Arkansas fans still hate Texas more than any other program, but the school has moved on. It's hardly even worth discussing.
April, 9, 2012
4/09/12
4:00
PM ET
NORMAN, Okla. -- Even with its best player on the sidelines in tears, Oklahoma didn't know how bad it could get in the season's final month.
No player in the history of FBS caught more passes than
Ryan Broyles
. When the Sooners' receivers lost their leader and most productive member, one-loss Oklahoma went from Big 12 title contender gunning for an NCAA-most ninth BCS bowl appearance to Insight Bowl participant.
"I just felt like we didn't know what to do once Ryan went down, to tell you the truth," receiver
Kenny Stills
said. "We never really saw that coming, and it hit us really hard."
[+] Enlarge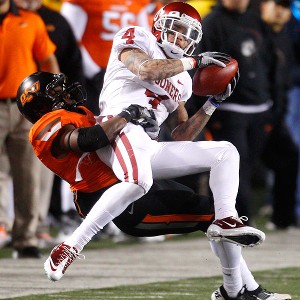 AP Photo/Sue OgrockiKenny Stills and the Sooners receivers will try to replace Ryan Broyles' production this fall.
After the loss, quarterback
Landry Jones
was shut out of the end zone for the season's final three games along with five interceptions. Oklahoma's sure-handed unit suddenly turned shaky, dropping passes more frequently than it had all season.
The Sooners started slow in a win over Iowa State, but were embarrassed in the regular season finale at Oklahoma State with the conference title hanging in the balance.
"We're disappointed at the way we finished last season, I don't think there's any question," said co-offensive coordinator and receivers coach Jay Norvell, "and I think that's motivated our guys to come out and really prove themselves and to step their game up."
That's been the task for Oklahoma's receivers this spring. After Broyles' injury, Stills moved to an unfamiliar slot position, and his discomfort showed. Despite Broyles' presence, Stills managed to top 100 yards receiving three times in his first six appearances of the season.
When the Sooners' needed him to replace Broyles' production, he didn't top 75 yards receiving.
"We were figuring out what to do with different people in different positions and now I feel like the spring's helped us figure out what we want to do," Stills said.
He's playing some inside and some outside during the spring, but his preference is simple.
"Wherever the ball's coming, I want to go," Stills said.
He'll get this offseason to learn how to live life without Broyles, whether it's leading off the field or producing on it. He'll also have plenty of reinforcements. Freshman
Trey Metoyer
has turned heads in the spring and coach Bob Stoops said he could "absolutely" start.
Come fall, freshmen Durron Neal, Sterling Shepard (two of the nation's top 10 receivers in the 2012 class) and Derrick Woods will join the team, along with highly touted juco transfer Courtney Gardner.
"Competition is the best motivator that you have. That's Oklahoma," Norvell said. "You hear stories about back in the day when all the running backs were here and coach [Barry] Switzer was here, and there'd be another guy come in, and the way guys looked at each other.
"Good players, they have a lot of pride. And I just think we've tried to create that environment. We have a lot of guys that can make plays and that also push each other. I think guys get excited when they see somebody come in that has ability like that and it can help the team."
Norvell's message to his receivers this spring was accountability. Replacing Broyles is up to more than just Stills.
"We've talked a lot about (accountability), and I think we have to do a better job of that as a unit and as a team, playing hard for each other, and I don't think we always did that, especially at the end of last year," Norvell said. "That's what being a part of a team is, it's the most special thing you can ever be a part of, especially because you know somebody has your back, and that's exactly where we started this spring."
April, 6, 2012
4/06/12
10:30
AM ET
Kenny Stills
is a proven playmaker.
During his first two seasons, the Oklahoma receiver has threatened defenses with his speed, acceleration and ball skills. Stills has shown he can run past speedy defensive backs -- see his touchdown catches against Florida State or Nebraska -- or make difficult catches while he's covered like he did in the 2010 Red River Rivalry against Texas.
[+] Enlarge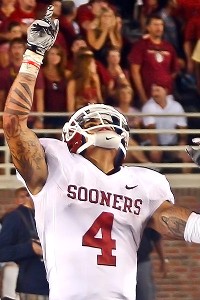 Phil Sears/US PresswireOklahoma receiver Kenny Stills is trying to fill the void left by Ryan Broyles' graduation.
Heading into his junior season, Stills is looking to progress from playmaker to difference-maker for the Sooners offense. And he understands that the biggest steps forward he can make in the next few months will come off the field.
"I felt like I need to be that guy who does that, I need to be a leader for these guys," Stills said. "We were in the shadows with the older guys, who had played for a national championship, [but] I was ready to step in the role and I had to go out and show them, not just talk about it."
Replacing
Ryan Broyles
' production has been a focal point for the Sooners since OU's all-time leading receiver suffered an ACL injury on Nov. 5. But replacing Broyles in the meeting room, on the practice field and on the sideline during games could be just as important.
While Broyles' production was unmatched -- he averaged 7.3 receptions for 95.5 yards and nearly one touchdown per game during his 48-game career -- his injury showed just how important he was to the team's overall success. The Sooners went 2-2 without Broyles and had three of their four lowest-scoring games with him on the sidelines.
In other words, Broyles was a difference-maker. So, it's easy to see why Stills is looking to duplicate Broyles in every way possible.
"I feel like you have to lead by example, that's what Ryan did half of the time," Stills said. "It wasn't about just telling people, you have to go out and do it. And they have to see you do it, every day. That's what I'm trying to do for these guys throughout the spring and summer."
Co-offensive coordinator Jay Norvell has noticed the difference. Also serving as OU's receivers coach, Norvell has watched Stills mature in the past few months and he's seen an example of Stills' maturation process in the way he has interacted with spring enrollee
Trey Metoyer
.
"I think it's a maturation of Kenny Stills," Norvell said. "He sees a young guy coming in who doesn't really understand everything, going through similar things he went through not that long ago. All of a sudden you look around and you're one of the older guys and you have a different role, different way of looking at things. He has to become more of a leader by example."
Durron Neal
,
Sterling Shepard
,
Derrick Woods
and
Courtney Gardner
will join Metoyer as additions to the Sooners receiving corps this summer and those newcomers will be searching for someone to mentor them and ease their transition into Big 12 football.
"I have a lot to prove to myself," Stills said. "We [Coach Norvell and I] talked about the great players do the little things well. One of those things, for me, was to come back and be able to lead the guys who are coming back and the guys who are coming in, so that's what I'm hoping to do."
March, 2, 2012
3/02/12
12:00
PM ET
By
ESPN.com staff
| ESPN.com
And Phil Donahue's walkin' past Cinnabon, and he's makin' eye contact with me. I can tell that he'll smile, and stay for a while, and say, "Pete, you're who I want to be!"
February, 2, 2012
2/02/12
9:00
AM ET
National signing day has come and gone, and as with any game week, we'll provide a proper wrap-up of the events of the week. Time to hand out a few superlatives.

Top class: Texas
The Longhorns did what the Longhorns do once again: Dominate a state with a talent pool as rich as any in America. The flagship school in the state of Texas reeled in 12 ESPNU 150 signees, seven more than any school in the Big 12, and finished the day at No. 3 in ESPN Recruiting's class rankings, the only Big 12 team in the top five.

Player you'll see next year: Courtney Gardner, WR, Oklahoma
The Sooners grabbed Gardner, a juco prospect, on signing day after he had been committed to Arkansas. Gardner's physical maturity earned rave reviews. For the Sooners, who need big help at pass-catcher positions, he'll provide a big, versatile target to help replace Ryan Broyles, who left for the NFL and left a big void in the Sooners' lineup when he tore his ACL late in 2011.

Best save: Texas A&M
The Aggies got some semi-expected news early, receiving word that
Bralon Addison
had sent his letter of intent to Oregon. It didn't take A&M long to get over it, though. The nation's No. 18 receiver had left the fold, but later in the day, at a news conference in Dallas broadcast live on ESPNU, the nation's No. 3 receiver pledged to the Aggies. The sweetest part for the Ags: SEC-bound
Thomas Johnson
had previously been committed to Texas, which is badly in need of receivers.

Biggest thieves: Texas
The Longhorns did a little work on the recruiting trail late, too. Eight of the final nine commitments that Texas received were previously committed elsewhere, and Mack Brown's staff flipped four players between Saturday and signing day. The final one came midday on signing day, when LSU-committed, Shreveport-bred
Torshiro Davis
flipped his commitment from LSU and sent Texas his letter of intent.

Future award winner: Johnathan Gray, RB, Texas
You don't become the nation's all-time high school leader in touchdowns scored by accident. Gray is the top overall player headed to a Big 12 school and could do big things in Texas' physical attack. The backfield will be crowded at first, but Gray seems like a can't-miss prospect who could perhaps become another award winner in the backfield for Texas, which hasn't had one since Cedric Benson in 2004.

Program on the rise: Baylor
RG who? Baylor's more than just one player, and Art Briles' staff proved it this year. Baylor brings in a class just outside the national top 25 that's loaded with prospects on the side of the ball the Bears need the most help with: Defense. Linebacker
Brian Nance
and defensive tackle
Javonte Magee
are among the nation's best at their positions.
February, 1, 2012
2/01/12
12:30
PM ET
Oklahoma has received a letter of intent from juco receiver
Courtney Gardner
, who had been committed to Bobby Petrino at Arkansas since December, but switched his commitment after a visit to Norman last weekend.
The addition gives Oklahoma an even more loaded class at receiver, which includes two of the nation's top 10 receivers (
Sterling Shepard
,
Durron Neal
) in the 2012 class, as well as a five-star signee from last year (
Trey Metoyer
) who had to qualify academically.
From Bob Pryzybylo at SoonerNation
:
Gardner tried to keep it quiet, but fellow commit Zack Sanchez (Keller, Texas/Central) let the cat out of the bag Monday in a radio interview by saying Gardner had committed to OU, too.

Gardner and Sanchez talked to each other for more than 90 minutes Saturday night at the hotel where both decided the Sooners were going to be the team for them.

For Gardner, he never thought OU would be an option. And at the beginning of the 2011 season, he really wasn't considered. However, it became apparent as the season progressed that wide receiver was going to have to be a position of emphasis for 2012.
Safe to say: Mission accomplished for the Sooners on the receiver front.
January, 4, 2012
1/04/12
1:51
PM ET
By
ESPN.com staff
| ESPN.com
SoonerNation takes a look at Oklahoma's upcoming recruiting classes:
Bob Przybylo writes

: Arkansas commit Courtney Gardner is taking an official to Oklahoma
Q&A

: In-state 2013 lineman, Rob Boyd, says the Sooners are "No. 1 right now."