Big East stance on future BCS
June, 12, 2012
6/12/12
9:00
AM ET
College football enters a critical month, with talks set to resume Wednesday about fashioning a future BCS system.
So much remains unresolved: Will there be a four-team playoff? A plus-one? Will status quo remain? If there is a playoff, how will the four teams be selected? Should there be a selection committee? Should only conference champions be eligible? Should the current bowls be incorporated into a playoff structure? How about a neutral-site national championship game?
As a quick refresher,
here is where the Big East stands
as it enters the meetings, with interim commissioner Joe Bailey and senior associate commissioner Nick Carparelli representing the league.
The Big East is in favor of a four-team playoff, with the current bowl structure incorporated into the semifinal round. The league is fine with a neutral-site national championship game.

Forget about a selection committee. The Big East is not in favor a group selecting the four teams to make the playoff, ala the NCAA basketball committee.

The Big East believes conference champions should be heavily considered.
[+] Enlarge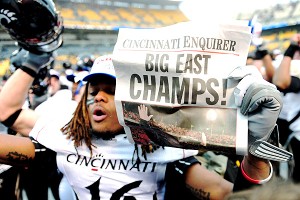 Andrew Weber / US PresswireThe 2009 Cincinnati Bearcats would probably have finished as a top four team.
Every conference gets a seat at the BCS meeting table, along with Notre Dame athletic director Jack Swarbrick. As you can imagine, every conference has its own ideas headed into these meetings, because it must protect its own best interests. Not surprisingly, the SEC is
opposed to a conference champion
requirement. The Pac-12, meanwhile, said a
plus-one should be discussed
again, following the announcement of a planned bowl matchup between the SEC and Big 12.
All of the different ideas are enough to make your head spin. So let's try to sift through the possibilities and explain why the Big East has taken its current positions.
Yes playoff.
The Big East stands to greatly benefit from a four-team playoff, should some iteration of the BCS standings remain in place to pick the four finalists. An undefeated team from the Big East should be able to finish in the top 4, the way Cincinnati did in 2009. Opening the field from two teams to four teams obviously expands opportunities for conferences not named SEC.
Yes conference champion criteria.
As opposed to the SEC, the Big East stands to gain with some sort of criteria that gives weight to a conference champion. Say there are multiple teams from the SEC and Big Ten that finish in the top 4, with the Big East champ at No. 5. If the top 4 finishers are allowed in, the Big East gets shut out. If there is a provision to allow only conference champs or even the top three conference champs, the Big East is in.
"In college football, it's different than college basketball. We don't play nearly as many games. Winning your conference should matter," Rutgers coach Kyle Flood said. "It should stand for something. Not that there wouldn't be a place for a team in an at-large situation. But at the end of the day, winning your conference should have some value."
No plus-one.
The plus-one differs from a playoff significantly. In this model, one game would be played after all the BCS bowls to determine a national champion. This type of model may end up favoring teams from the Rose Bowl and SEC/Big 12 BCS bowl partnership. Or it could knock a top 4 Big East team from consideration if it loses its BCS game. Remember, the Big East has no BCS tie-in, so it's at the mercy of the BCS bowls.
No selection committee.
You can understand why the Big East would be against this idea, where inherent biases are sure to come into play when you have a group of people selecting the teams they believe are the most worthy of being included in a playoff. Given the terrible perception the Big East has nationally, how many of you have faith that an undefeated Big East team would get the nod over a one-loss team from the SEC or Big Ten or Big 12? Former Florida State coach Bobby Bowden has already said he would be
willing to serve
on a such a committee. Say the final spot is up for grabs between a Big East and ACC team. What will he do?