Q&A: Rutgers safety Duron Harmon
July, 12, 2012
7/12/12
4:00
PM ET
I had a chance to catch up with Rutgers safety
Duron Harmon
on Thursday and asked him about the Rutgers defense, high expectations and just what people should think of new coach Kyle Flood.
Here is a little of what he had to say.
[+] Enlarge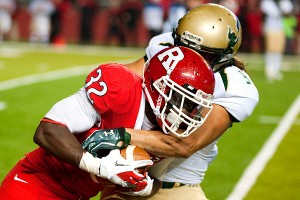 Cal Sport Media/AP ImagesSafety Duron Harmon helped Rutgers finish with the No. 1 defense in the Big East last season
Last year, you emerged as one of the best safeties in the Big East in your first year as a starter. How were you able to make such a big impact?
Duron Harmon:
The coaches' confidence in me, starting with coach (Greg) Schiano and then trickling down to my DB coach, Coach (Jeff) Hafley. They both told me I was capable of being an all-conference player, it was just up to me. Repeatedly over the year, they kept putting their faith in me, and their confidence in me.
So what did they see in you?
DH:
I ask myself that a lot. But I believe it was probably how hard I worked. I worked really hard to become the starter. I'm pretty fast, I have pretty good ball skills, and I think they thought with my hard work and the skills I had, I could be molded into an all-conference safety.
You had the No. 1 defense in the Big East last year with Schiano getting more involved and calling the plays. Now that he's gone, how does that impact your defense?
DH:
First of all, we have a great defensive coordinator in coach Robb Smith. He is a guy that has been known for his defensive system. If you look back at Maine when he was there, he always had a top-five defense. But then with him being an understudy of Coach Schiano -- Coach Schiano taught him a lot of things to where he is comfortable enough to run the defense the same way Coach Schiano ran it. He also ran the same system at Maine. But in the end, it all trickles down to the players. The coaches can call the plays, but it takes the players to execute them. We have a lot of special players on defense, and we have a lot of great senior leadership.
I think you have the No. 1 the secondary in the Big East. Do you?
DH:
I believe we do. Last year we showed we have a lot of capable players in the secondary. If we all do our part and don't go out there and worry about any other thing than doing our job, we can show we can be one of the better secondaries in the country.
You had a lot of question marks in that secondary at the beginning of last season. To go from a question mark to an area of strength -- how did you do that as a unit?
DH:
It started in the offseason. Our secondary, we're very tight, from the starters to the guys that don't play. We'll go play basketball, hang out, and stuff like that will make you close on and off the field. I really believe that helped, and then it was just the coaches' confidence in us. Coach Schiano and Coach Hafley told us from the beginning this is the most athletic, deepest secondary they've ever been around from top to bottom and they drained that in us to where we believed in them and we went out there and played like it.
I've been hearing a lot about Lorenzo Waters at safety. What can we expect out of him?
DH:
We won't miss a beat with
David Rowe
departing and Lorenzo coming in this year. He's a very high-motor guy. He plays very hard all the time, and he has great burst, he has great range, he's a very hard hitter, and I think he's going to be a great addition to this secondary.
A lot has been made about new coach Kyle Flood, and how he doesn't have much experience. Now that he's been in charge for six months, what do you think of him?
DH:
Coach Flood, I think he'll do well. There's some changes that came with him as the head coach, but sometimes I really believe change is good. Just his personality, the way he interacts with his players, the way he interacts with his fans on Twitter, he has a personality where players want to play for him. You don't always get that as a player. I truly believe everybody on our team wants to play for him, and we're going to play as hard as we can so he can have the best first year head coaching job anyone ever had.
Everything seems to be in place for Rutgers to make a run at that first Big East championship this year, but you have a new head coach. Can Rutgers get that first title?
DH:
Last year with us being at the spot to win the Big East championship going into UConn, we overlooked them, and I think we just learned from last year what it takes to actually win the Big East and know how you can't go into any game looking over anybody. We did that two times last year, we did that against Louisville and we did it against UConn. This year, even with the inexperienced coach we have a lot of coaches on the staff that have either been head coaches, coordinators, assistant head coaches. When you have that, with the great personality of Coach Flood, and great talent, which the Rutgers University football team has, we are in a position to go out there and have the chance to win the Big East championship this year.