While preparing for Saturday's Meineke Car Care Bowl against North Carolina, Pittsburgh is practicing at Charlotte County Day High School. That happens to be the alma mater of Panthers sophomore linebacker Max Gruder.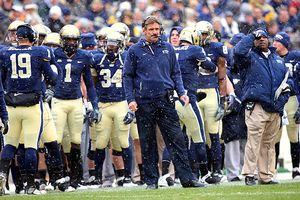 Ned Dishman/Getty Images
Pitt coach Dave Wannstedt is hoping to lead his team to their first 10-win season since 1981.
When the team first got to the practice field, some high school boosters had signs with Gruder's number and picture waiting to greet them. Gruder's teammates gave him some grief about that, and when he boarded the post-practice bus, a sign and balloons were waiting in his seat.
Gruder's family has since moved to Tampa, but he still needs about 60 tickets for Saturday's game. He's thrilled to be in Charlotte and to see old friends.
"It's great to be back here," he said.
The question is, are the rest of the Panthers as excited as Gruder to be there? Pittsburgh, after all, was ranked in the Top 10 with two weeks left in the season. It had a 31-10 lead against Cincinnati in the regular-season finale with a BCS bid on the line.
But the Panthers (9-3) ended the year on a two-game losing streak. Instead of the Sugar Bowl or Orange Bowl, they find themselves playing the day after Christmas against an 8-4 ACC team. The players insisted this week, though, that they're not down in the dumps.
"We were all very disappointed knowing that we had an opportunity to go to a BCS game and experience that," offensive guard John Malecki said. "But you can't dwell on the past. We're pretty much past all those negative feelings, and everybody is having a good time down here this week."
Dreams of a Big East title and BCS game slipped away. But Pitt still has the chance to finish with 10 wins, something the program hasn't done since 1981.
"Our only goal now is to get 10 wins," Gruder said. "That would be a great accomplishment. If we did that, you couldn't call this year a disappointment in any way."
To get there, Pitt will have to win a game that might feel a bit like an intrasquad scrimmage.
The Panthers' Dave Wannstedt and North Carolina head man Butch Davis coached together for 11 seasons at various college and NFL stops, and they work from mostly the same blueprint. Each runs a 4-3 defense predicated on the defensive line getting pressure on its own, and a pro-style offense. Pitt has had more dynamic offensive playmakers this season, while the Tar Heels have one of the best defenses in the country, statistically speaking.
"The similarities help a little bit when you're preparing, when you compare some of their players to our guys," Malecki said. "But you still have to go into the film room and try to pick up as many little tendencies as you can."
One similarity Pitt doesn't want to see is anything resembling last year's bowl game. In their first postseason appearance under Wannstedt, the Panthers produced a stink bomb while losing 3-0 to Oregon State in the Sun Bowl.
"That stuck with us all offseason," Gruder said. "We cannot do that again."
So Pitt does have some reasons to be motivated for this game. Perhaps some more balloons on the pre-game bus ride could help some, too.