Big East:

2011 fiesta bowl
December, 31, 2010
12/31/10
3:33
PM ET
Colleagues Ted Miller and David Ubben have been on the scene in Arizona all week and have already weighed in with their
Tostitos Fiesta Bowl predictions
. Not surprisingly, both have picked Oklahoma to win big over Connecticut.
Of course, I couldn't let this game pass by without offering my own prediction.
There's no glossing over the fact that Oklahoma is a major favorite, or that the Sooners have a world of talent. One thing I think people have overlooked, though, is that Connecticut is playing with a ton of confidence after its five-game winning streak. It's not often pretty, and sometimes you shake your head wondering how they do it, but the Huskies have been finding ways to win.
They will have to run the ball to their usual level, make big plays in special teams and be completely sound defensively against the Sooners' high-tempo, high-octane offense. The best defense is a a good running game led by
Jordan Todman
.
Oklahoma is really good but not invincible. We saw that earlier this year when Cincinnati almost -- and should have -- knocked off the Sooners. And we've seen in bowl games so far that the Big 12 defenses are highly suspect.
With all of that in mind, I think the Huskies will keep this one closer than most people expect. In fact, I think it will be in doubt into the fourth quarter. I can't pick the upset because I just don't think UConn has enough offensive firepower -- especially in the passing game -- to pull this off. But I see Randy Edsall's team turning in a very respectable effort before falling 31-24.
December, 31, 2010
12/31/10
11:00
AM ET

What do the
Connecticut Huskies
need to do to beat the
Oklahoma Sooners
in the Tostitos Fiesta Bowl? Here are three keys.
1.
Win the turnover battle
: Oklahoma is a more talented team that UConn. If the Sooners play well, they should win. But what if they don't? And what if the Huskies help them to play sloppy football? The Huskies need to take chances on both sides of the ball. On offense, they will need to pass to keep the Sooners defense honest and hope that quarterback
Zach Frazer
isn't off the mark. And the Huskies defense will need to blitz and pressure Sooners quarterback
Landry Jones
. Further, every defender should be raking the ball, hoping for a strip. Both teams had positive turnover margins this year. UConn needs to make sure Oklahoma is negative in that category on Saturday.
2.
Play keep-away
: Oklahoma wants to play fast. It likes to wear down a defense with its no-huddle, rush-to-the line of scrimmage pace and make big plays. UConn should be in no hurry. Huskies, take your time. Let the play clock run down. Slow things down. Stay in bounds. Run the ball, sure, but also use short, possession passes. UConn will need to take chances downfield in order to loosen up the Sooners' defense. But it also wants to limit the Sooners' touches. Moreover, this requires the Huskies to win the battle on third down. UConn has been terrible on third down this year. And that is a strength of the Oklahoma defense. That can't be the case Saturday.
3.
Redzone opportunism
: Connecticut needs touchdowns in the red zone. And it needs to hold Oklahoma to field goals. And, in general, the Huskies are far better in the red zone than the Sooners. Oklahoma ranks 68th in the nation in red zone offense and 112th in red zone defense. The Huskies rank fourth in the nation in red zone offense and 53rd in red zone defense. It's fine if Oklahoma piles up yards. But if they have two drives net field goals, and the Huskies get a TD (and a PAT), then guess who comes out ahead?
December, 31, 2010
12/31/10
10:00
AM ET
Here's a look at the Tostitos Fiesta Bowl from a Connecticut perspective:


WHO TO WATCH
: Quarterback
Zach Frazer
needs to come up big for UConn to win. Sure, All-American running back
Jordan Todman
is the Huskies' money guy, and his offensive line is outstanding. Todman should have some success against a mediocre Oklahoma run defense, which ranks 63rd in the nation, giving up 151.8 yards per game. But if Frazer doesn't keep the Sooners honest with a passing threat by making plays downfield, Todman won't be able to do enough to allow the UConn offense to keep up with the high-scoring, balanced Sooners. Frazer only threw five TD passes this year. He might need a couple to keep UConn in this game.
WHAT TO WATCH
: The UConn secondary vs. Sooners quarterback
Landry Jones
will be an interesting matchup. While there was a lot of concern about the Huskies secondary -- particularly at safety -- in the preseason, the results have been generally strong. UConn ranks fifth in the nation with 19 interceptions and 16th in the nation in pass efficiency defense. And four of those interceptions became pick-6s, which is a good way to overcome a middling offense. The Huskies will need to force Jones to make some mistakes. Jones is prolific; he's passed for 4,289 yards and 35 TDs this year. But he, at times, can let some throws get away from him, see 11 interceptions. The Huskies need to win the turnover battle, and their secondary might be where that starts.
WHY WATCH
: Everyone expects the Sooners to roll. You know: Just like they did in 2007 when Boise State notched an upset for the ages in an extraordinarily entertaining Fiesta Bowl. Did you ever regret watching that game? Further, this is an interesting measure for the Big East. Folks have been beating up on the conference all season. This is a good opportunity for it to take a swing back at its critics.
PREDICTION
: UConn will make things competitive into the second half, but Oklahoma just has too much firepower. The Huskies' offense won't be able to keep up and the defense will wear down. Sooners roll late, 42-24.
December, 31, 2010
12/31/10
9:30
AM ET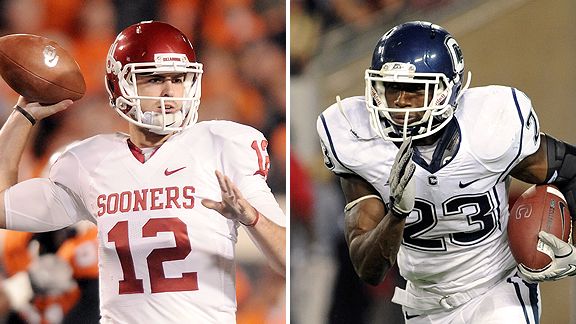 Getty ImagesLandry Jones leads heavily favored Oklahoma against Jordan Todman and Connecticut.
We've heard it ever since the bowl pairing was announced: Connecticut has no chance, and this might be the most lopsided matchup of the entire season. Oklahoma enters as the champion of the Big 12, a conference with five teams in the top 20.
Connecticut, to its credit, won its final five games to get here, but needed a 52-yard field goal in its season finale to win the Big East, a conference with one team (West Virginia) in the BCS top 25.
Even Vegas agrees, pinning the Sooners as a 17-point favorite.
So the big question is simple: What reason do we have to believe that we're not in for a snoozer on Saturday night?
[+] Enlarge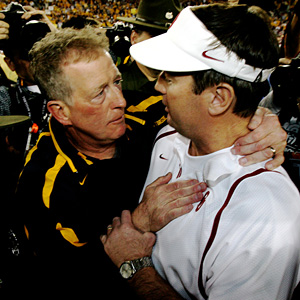 AP Photo/Ross D. FranklinThe last time Bob Stoops was at the Fiesta Bowl, he left with West Virginia interim coach Bill Stewart consoling him.
Ted Miller
: David, let's start with karmic reasons! For one, when everyone thinks one thing, it's inevitably wrong. Second, Oklahoma has a history of flopping in BCS bowl games, losing to opponents great (USC, Florida) and small (West Virginia, Boise State). The Sooners have been hearing non-stop how much better they are than UConn all week. That's been in their heads during preparation. You wonder if they will show up with their A-game on Saturday, no matter how often they claim they are fully and completely motivated. Further, UConn has been hearing about how lousy they are, how they don't deserve to be here. Heck, some want to change BCS rules so an unranked team won't get into a BCS bowl game again! You should expect the Huskies, a well-coached team, to come out focused and angry. We always talk about how important motivation is in a bowl game. That's an area where the Huskies should have a decided edge.
Or do you think this is cracked and the Sooner are going to come out on fire?
David Ubben:
Yeah, for as much as the Huskies have heard they don't belong here, Oklahoma has heard just as much about those famous flops on big bowl stages. Those didn't happen back in the 70s. Plenty of the guys on this team were there or played in the losses to West Virginia and Florida. They want to prove those days are behind them, and close a pretty good season by Oklahoma standards with a win. Also, unlike those teams, which had some of the best players in college football like Tim Tebow, Percy Harvin and Pat White, there's nothing about UConn that's particularly scary or gamebreaking.
Jordan Todman
is solid, but he's not a guy that's going to give Oklahoma nightmares like
Noel Devine
did.
And though teams like Boise State and West Virginia were short on program pedigree like the Huskies, they were also short on losses, where Connecticut has a healthy surplus. All five of those losses came to experienced teams and those five teams have the same number of losses combined (4) as the unranked Huskies have in just this season.
So, if Oklahoma is ready to play, are there any reasons for Sooners fans to be concerned?
Ted Miller:
Well, I think we can all agree that if Oklahoma comes out and plays its best, it's going to win the game. It's simply more talented in nearly every area.
But this is college football, and talent doesn't always carry the day. UConn's recipe for success here isn't revolutionary. It needs to win the turnover battle, probably decisively. It needs to win third down on both sides of the ball. It needs to establish its running game and play keep-away from a potent Sooners offense. It needs to make at least a few plays downfield in the passing game to keep the Sooners defense reasonable honest when it tries to gang up on the line of scrimmage against running back Jordan Todman. And it needs to win the red zone, scoring TDs when it's there and keeping the Sooners out of the end zone when they are there.
What can't happen? UConn can't make mistakes. And it must maintain some pass-run balance to keep the Sooners honest.
So that's a fairly involved scenario for a UConn win. What do the Sooners need to do to prove the experts correct?
David Ubben:
You're right, I think even Connecticut players would admit Oklahoma is the more complete team, but two of the greatest equalizers in football are turnovers and weather. Unfortunately, the three-point shot in college football (a.k.a. a field goal) isn't quite as effective as in basketball.
Since we'll be indoors, Oklahoma can count out that as a factor.
[+] Enlarge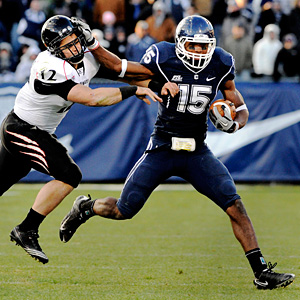 AP Photo/Fred BeckhamConnecticut may need to win the turnover battle to beat Oklahoma. Jerome Junior (15) was one of two Huskies with four interceptions this season.
Turnovers, however, could be an issue. If Oklahoma loses this game, I'd be willing to guarantee that it lost the turnover battle.
Landry Jones
has been much, much more careful with the ball in 2010, but he caught a bit of the turnover bug against Oklahoma State. If Connecticut can do something similar and -- here's the important part -- capitalize off them with points, then we'll have a ball game.
Don't expect the Sooners to put the ball on the ground, though. They've lost just five fumbles this year in 13 games, good for sixth nationally.
So, theories aside, let's get down to it. How does this play out?
Ted Miller:
I think UConn comes out with a sound plan and plays hard. I expect the game to be close at halftime, with the notion of a huge upset still alive. But the Huskies lack the firepower to keep up, touchdown for touchdown, with the Sooners. I expect the UConn defense will start to wear down due to the Sooners fast-paced offense, and that will create big-play opportunities in both the passing and running game for Oklahoma. Once the Sooners get up by double-digits, I don't see the Huskies being capable of loading up on the passing game to mount a comeback.
So let's say 42-24 Oklahoma.
What's your take?
David Ubben:
Yeah, I'm taking Oklahoma 41-20. Oklahoma hasn't seen a back as good as Todman this year that also plays in a power system. The closest thing has been
Cyrus Gray
at Texas A&M, who ran for 122 yards and the Aggies beat Oklahoma.
But unlike A&M, Connecticut doesn't have enough weapons elsewhere to keep up with an Oklahoma offense that it won't be able to stop barring turnovers. Remember, Connecticut is playing without nickel back Mike Lang, too. Oklahoma should be able to move the ball consistently, and while I think it might be close early, I tend to buy into your idea of them being worn down.
I think the Huskies can catch the Sooners on play action a couple times for big plays, but not enough to outscore them.
December, 31, 2010
12/31/10
9:00
AM ET
SCOTTSDALE, Ariz. -- Oklahoma leads the nation with 32 10-win seasons. Connecticut has none as an FBS team. Oklahoma has won seven national championships. Connecticut has none. Since World War II, Oklahoma leads the nation with 574 victories. Connecticut has 57 wins as an FBS team.
The Sooners have been ranked in the AP poll for 703 total weeks. UConn beat its first ranked team in 2007.
[+] Enlarge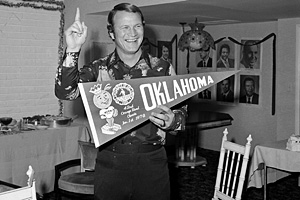 AP File PhotoFormer Oklahoma coach Barry Switzer holds a banner and indicates his Sooners are Number 1 after beating Michigan in the Orange Bowl on Jan. 2, 1976. UConn began playing FBS football in 2002.
In 2000, when Oklahoma was rolling undefeated to its last national title, the Huskies lost to Rhode Island and Northeastern.
Do you need more? How about this: Think of every measure of a college football program available. Oklahoma has a lot; UConn has very little.
Oklahoma is one of the most storied programs in the nation. UConn only become an FBS team in 2002.
One of the main storylines heading into the Tostitos Fiesta Bowl is the David versus Goliath perception of the two programs. And it's not just that the Sooners are 11-2 and ranked seventh in the BCS standings and the Huskies are 8-4 and unranked.
When you think of Oklahoma you think of coaching and playing legends: Bud Wilkinson, Barry Switzer, Steve Owens, Billy Sims and Adrian Peterson. And when you think of UConn? Well, you, er, think of basketball.
"We know what Oklahoma is and what kind of tradition they have," Huskies defensive coordinator Hank Hughes said. "If you matched us up for 100 years, we don't match up with them. But on this one day for three hours, we have to go out and try to beat them in that one football game. That's the approach we're taking."
In other words, UConn won't be facing J.C. Watts, Brian Bosworth or Greg Pruitt, which is good because
Ryan Broyles
,
DeMarco Murray
, Jeremy Beal and Quinton Carter will provide enough of a challenge. UConn's players seem quietly confident that they can keep up with the Sooners. And they seem properly motivated by those myriad doubters who see this as a mismatch that is only possible in a system like the BCS.
Still, it's hard to get past the contrast, which is even more dramatic than when the Sooners took on Boise State in the 2007 Fiesta Bowl.
Consider the bowl media guides.
In UConn's media guide, it lists an "FBS timeline," which starts with former athletic director Lew Perkins first recommending in 1991 that the school "seriously consider playing football at the NCAA Division I-A level" and ends with tailback
Jordan Todman
, on Dec. 8, becoming the second Husky to earn All-American honors in the "FBS era at UConn."
In Oklahoma's media guide, under a heading "OU Essentials," it cites the program's all-time record -- 809-303-53 -- and notes the Sooners lead the nation with 31 unanimous and 72 consensus All-Americans.
[+] Enlarge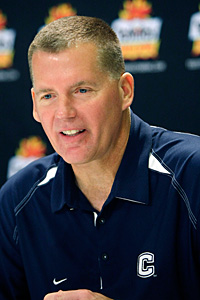 AP Photo/Matt YorkConnecticut coach Randy Edsall will be leading the Huskies against Oklahoma, and decades of tradition.
UConn celebrates Oct. 28, 2007, when the program earned "its first national ranking when it debuts at No. 16 in the AP Poll and No. 20 in the Coaches' Poll."
Oklahoma has spent 76 weeks ranked in just the BCS standings -- since 1998 -- including 20 weeks at No. 1, most in the nation.
Players from both teams are almost as aware of this contrast as fans and media. For UConn, it serves as motivation. For Oklahoma, it's a potential trap.
"Everybody is saying we should kill them," Sooners quarterback
Landry Jones
said. "But if you don't prepare, history is going to repeat itself."
Ah, not all Oklahoma history is good. Jones refers to previous Fiesta Bowl upset defeats against Boise State and West Virginia.
UConn coach Randy Edsall hasn't avoided the topic, even with his team. He prepared his players for an onslaught of questions on the matter.
"Tradition is what it is," Edsall said. "We told them exactly the kind of program Oklahoma is -- the history and tradition."
He also noted that taking on historically great programs is not unexplored territory for his current team. The Huskies won at Notre Dame in 2009 and lost at Michigan this year.
Further, there seems to be some frustration from the UConn side of things that it hasn't been more embraced for making the quickest rise from an FCS school to a BCS bowl game. That, after all, is history, too.
"This is a tremendous story," Edsall said. "It's about giving somebody an opportunity."
UConn has an opportunity to create its own bit of history on Saturday. It won't have to beat those great Sooners teams from past years. All it has to do is be the better team for three hours.
Three hours in which the Huskies will be playing in their fifth bowl game vs. the 45th for Oklahoma.
December, 30, 2010
12/30/10
1:00
PM ET
SCOTTSDALE, Ariz. -- One potential reason for Connecticut's rapid rise from I-AA to BCS bowl team is coaching continuity. Head coach Randy Edsall has been atop the program for 12 seasons and four assistants have been with him for at least 10 years. Two others have been with the Huskies for five years.
"Any time you can keep people around, it's very helpful," Edsall said. "They know how I act. I know how they act. We know what we're teaching. We know the system that we are in. Continuity is huge."
[+] Enlarge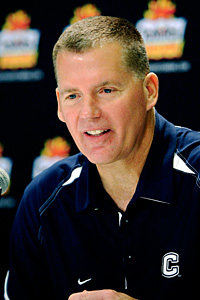 AP Photo/Matt YorkRandy Edsall has established a veteran coaching staff at Connecticut.
The "old timers" remember life before UConn upgraded its facilities to a point where they are as good as any in the Big East. They remember the duct tape before things went high tech.
"It's totally different," said Hank Hughes, the assistant head coach for defense, who's been with the program 10 years. "It's changed dramatically. Our facilities have gone from probably among the very bottom to some of the better quality facilities in the country."
Here's a look at the Huskies staff.
Hughes, who's been coaching 32 years, started with UConn in 2001 as defensive line coach. The Huskies have ranked among the defensive leaders in the Big East since joining the conference in 2004.
Joe Moorhead (offensive coordinator/QBs): Moorhead is in his second season with the Huskies. In 2009, UConn ranked second in the Big East in scoring. He ran a no-huddle, spread attack at Akron, but has adapted his schemes to better fit the Huskies personnel.
Todd Orlando (defensive coordinator/inside linebackers): Orlando is one of Edsall's original hires; he's been with the program 12 years. He was promoted to defensive coordinator in 2005. He's a former linebacker at Wisconsin.
Matt Cersosimo (receivers, recruiting coordinator): He was a graduate assistant with the program in 2002 and returned to the staff for a full-time job in 2006. He played defensive back at Springfield College.
Mike Foley (offensive line): Foley is in his fifth season with the Huskies. A former player and coach at Colgate, Foley is highly regarded for his work with the Huskies offensive line, which might be the best in the Big East.
Lydon Johnson (outside linebackers, special teams): Johnson, a former UConn player, is in his 12th season with the program. Two of the Huskies areas of strength? Linebackers and special teams.
Darrell Perkins (defensive backs): Perkins is one of two members of the staff who is new this year. He spent the 2008 and 2009 seasons at Louisiana-Monroe. The Huskies had19 interceptions this year, which ranked fifth in the country. The Huskies also ranked 16th in the nation in pass-efficiency defense.
Terry Richardson (running backs): He's in his 12th season with the Huskies. In 2008, Donald Brown was the Big East Offensive Player of the Year and became the Huskies first NFL first-round draft pick. In 2009, two Huskies RBs eclipsed the 1,000-yard mark. In 2010, Jordan Todman earned All-American honors.
Jon Wholley (tight ends): Wholley joins Perkins as a staff rookie, but he played for Edsall from 2001-04.
December, 30, 2010
12/30/10
11:00
AM ET
SCOTTSDALE, Ariz. -- Connecticut didn't look like a BCS bowl team when it was 3-4 and coming off a 26-0 loss to Louisville. It looked like a team spinning into the toilet, a promising season heading toward the sewer.
Team meetings are often overrated -- an unfocused, unmotivated, divided team doesn't just suddenly transform because guys deliver a fire-and-brimstone speech or two -- but UConn's players seem to believe they saved their season with one.
Part of that was good leadership from upperclassmen, guys such as linebacker and team captain Scott Lutrus. And there was star power: All-American running back
Jordan Todman
also appealed to his team to turn things around.
"We realized at that point there was kind of a fork in the road and we were going down the wrong path," quarterback
Zach Frazer
said.
But Frazer specifically recalled a speech that came from an unlikely person: True freshman offensive lineman Gus Cruz, who reminded them of Jasper Howard, a Huskies cornerback who was senselessly stabbed to death on campus the previous year
Said Frazer, "You don't really think a freshman is going to stand up and speak, but some powerful words came out of his mouth... He just reminded us that, 'Hey, Jas isn't here this season, but I'm sure he's watching down.' He didn't go through that experience last year, but he's a team member and he kind of put that in our vision."
It took guts to speak up. And it took something else to create a message that resonated with the team. Cruz said he was motivated by a quote on the wall of the football complex that the Huskies see every day: "Play every play like it's the last play you'll ever play."
Cruz wondered if everyone was doing that.
"I said if Jasper were here, this wouldn't be happening," he said.
What happened thereafter is the Huskies won five games in a row, won the Big East and now will play Oklahoma in the Tostitos Fiesta Bowl on Saturday.
Team meetings don't always work. But sometimes they do.
Said Cruz, "We've been doing pretty good after that."
December, 29, 2010
12/29/10
4:00
PM ET

Ted Miller talks with UConn guard Zach Hurd about the Huskies' line play.
December, 29, 2010
12/29/10
2:00
PM ET

Ted Miller talks with UConn fullback Anthony Sherman about fellow running back Jordan Todman.
December, 28, 2010
12/28/10
9:09
AM ET
SCOTTSDALE, Ariz. -- Connecticut, humbly, would like a moment of your time, if you can spare it. You see, the Huskies know what you think about them. They know what the pundits are telling you. They know that much of the College Football Nation doesn't believe they belong in the Tostitos Fiesta Bowl opposite a program of Oklahoma's stature. They, again humbly, beg to differ. And perhaps you can find a spot in your heart to see their merits and recognize the charms of their story.
First of all, they are fully aware of their circumstances. UConn was not ranked in the final BCS standings. It will be the first team unranked in the final BCS standings to play in a BCS bowl game. The lowest ranked team playing in any other BCS bowl game this year is No. 13 Virginia Tech.
[+] Enlarge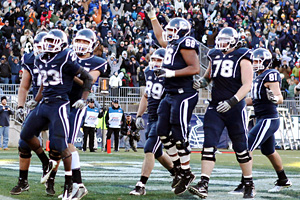 Elsa/Getty ImagesDespite their 8-4 record, the Huskies know they deserve to play in the Fiesta Bowl.
The Huskies finished 8-4 overall. Every other BCS bowl team won at least 10 games. They lost to Temple 30-16. On Oct. 23, they fell to 3-4 after suffering a 26-zip whipping at Louisville. It's no secret that the only reason they are here is because they won the tiebreaker over West Virginia atop the struggling Big East.
And if they weren't fully aware of this, everyone has told them about it -- over and over and over again -- just about every day since they tried to celebrate their Fiesta Bowl berth.
"I'm tired of hearing it," Huskies linebacker Scott Lutrus said. "I've heard it so much. We started hearing it on selection day. But I understand it, where people are coming from. We're an 8-4 team, not even ranked, going to a BCS bowl game. But we earned it. We deserve it. We won our conference."
UConn played by the rules of the BCS system. It's the champion of a BCS automatic qualifying conference. If we are to believe the winner of the BCS championship games -- past, present and future -- are "true" national champions, then we also must believe that UConn deserves to be in sunny Arizona where it can enjoy the notoriously over-the-top hospitality of the Fiesta Bowl.
If you want to get mad, get mad at the BCS system. But when you finish with that, take a moment to consider the possibility that UConn might be worth embracing.
Start with this quote from Huskies coach Randy Edsall, "To me, this is a dream come true." Edsall, who looks a bit like a Marine drill sergeant, later added -- not sounding much like a Marine at all -- "You know, sometimes you pinch yourself."
How many coaches talk like that? Even better is that it's true. Edsall is the architect -- mother, really -- of an extraordinary program construction project. His Huskies jumped up from I-AA football and played their first season of FBS football in 2002. According to this calculator, that's just eight years ago. By way of comparison, the Sooners have seven national titles. UConn played its first Big East game in 2004. It recorded its first victory over a ranked team in 2007.
Paging
Horatio Alger
: How can you not respect that?
UConn didn't become competitive because it landed a bunch of high-profile recruits, either. The Huskies rank at or near the bottom of the Big East recruiting rankings most years, which means their signing classes rank at or near the bottom among AQ conference teams most years.
America's team? Huskies hail from 17 states, and three are from Canada.
And about that embarrassing 3-4 start. It was followed by a five-game winning streak to conclude the season, with three wins by a combined eight points, including a 16-13 overtime triumph over West Virginia. Shouldn't that resurrection be celebrated? The Huskies could have waved a white flag on their season. Instead, they persevered and grew.
Further, while many teams that make fast climbs in national stature often get there with high-flying passing attacks, the Huskies have taken a blue collar route. They rank 112th in the nation in passing. They run right at you. If you stop that, they run some more. This is a physical team that's unquestioned strength lies with a veteran offensive line -- 75 career starts among them -- and a running back,
Jordan Todman
, who fights and claws for every yard against defenses that know he's coming.
Finally, this program has arrived at this point 14 months removed from an unimaginable tragedy: Cornerback Jasper Howard, just before he became a father, was stabbed to death on-campus in October of 2009.
"We think about him every single day," defensive tackle Kendall Reyes said. "He's a big part of where we are now. He's still with us."
Don't belong? Connecticut players busted their butts during offseason and summer workouts and preseason camp. They played through injuries. They fought through adversity. They found ways to win.
And when all the sweat was wiped away, the Fiesta Bowl handed them an invitation.
Perhaps if you take time to get to know UConn, you will grow to respect them and see that they belong.
And if you don't, well, then you can suck on a lemon.
"I know the question is out there," Reyes said. "But we deserve to be here. That's the rules. But I'm not concerned with that. We have a game to win. Honestly, I really don't care."