August, 23, 2012
8/23/12
3:30
PM ET
Syracuse recently returned to campus after a week-long stay at Fort Drum in Watertown, N.Y., as the football team worked with the 10th Mountain Division in various training and learning exercises.
Coach Doug Marrone came up with the idea to incorporate elements of military training into preseason camp, and his players deemed it a rousing success. I had a chance to catch up with second-year linebacker
Dyshawn Davis
to learn more.
So now that you are back, how do you feel things went for the team at Fort Drum?
[+] Enlarge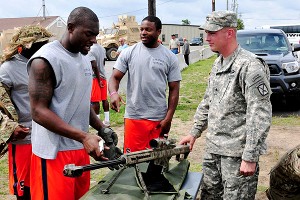 Syracuse University AthleticsSyracuse linebacker Dyshawn Davis learns about military artillery during the Orange's week-long training camp at Fort Drum in Watertown, N.Y.
DD:
I think it went pretty good. We came closer as a team. I was roommates with someone I had never talked to. It took us out of our element so we could become better as a football team. There were no distractions. It got us better. We got to spend time with Army soldiers, and we connected with them on a different level. They shared stories with us, how they went in combat and how they lost a brother, but they didn't have time to be sad. They had to continue to complete the mission. That was something that we needed to do as a team, and overall I think it was pretty good. It made us become mentally tougher.
What was the toughest part of the week?
DD:
We had a little activity we had to do where they split us up into groups. All the linebackers, we were one group. Our team leader was Dan Vaughn. There were a lot of activities that required us to do a lot of thinking. Each linebacker had a goal to accomplish, and everybody played a part in that activity. Position wise, we had the same activities they had set up for everybody, so we all completed the same activities they assigned us. They told us that the linebackers had the fastest time, so we listened to Dan Vaughn and we all were doing our team roles, and that activity alone brought us closer as a team and that led us to realize that we have to work together to complete a mission. Al the small things we did there can be transferred to the field.
You mentioned rooming with somebody you didn't know much. Who was it, and what was that experience like?
DD:
My roommate was one of the wide receivers on the team,
Ben Lewis
, a younger guy on the team. He was a good roommate. I got to know where he was from, what position he played in high school, what his high school was like. We did a good job waking each other up and making sure we were on time for meetings, making sure we were both in the playbook. I wasn't the only one that was roommates with someone I had never talked with before on the team. It was like that for everyone. That whole experience was a great experience. We were there for a week, so during that whole week we became closer and closer as the days went by. Seeing Ben at practice, going against him it was competitive, because he was my roommate and we talked and wanted to push each other and get each other better. It was not just with me, but the whole team. That whole Fort Drum experience was really good, and I think it helped us become closer as a team.
How will all that translate onto the field when the games kick off?
DD:
I think it will translate on the field later on, deep in a game, in close games when you need to dig down deep if we're tired. The soldiers told us they fight for each other. They put their lives on the line. We get to see the next day, but for them it's like a gamble -- are they going to live or die? They put it all out there. From hearing their stories and just imagining the soldiers fighting for each other, it visualized each other fighting for one another. When we're tired, we can think about everything the soldiers told us and push each other and how hard it was that whole week at Fort Drum and everything we went through, how tired we were and how we still had to get up in double sessions and get better, still keep fighting to become a better team. That will correlate in a game on the field.
You started all 12 games last year as a true freshman. How did that experience prepare you for this year?
DD:
I think it will prepare me well. I was a freshman last year, I got familiar with the game. This offseason, I was able to think about what was my weakness, what was the thing I was good at. This offseason, I wanted to focus on getting stronger and faster and being able to make open field tackles and get off blocks, and that right there is big for me because I'm just a step faster. Last year, I was young. I was a little hesitant, and I really didn't have confidence all the time. This year, I'm familiar with the game, I'm familiar with playing in front of thousands of people. I know how to think when I'm tired. I know the adversity that I face in a game, when we're down or I'm tired or hurt. I was happy I got to experience that early, so now I'm a veteran of the game and I know all the aspects of the game, and I know how to handle myself in the future.
February, 22, 2012
2/22/12
4:00
PM ET
We continue with our final 2011 position rankings by moving to linebacker. There were plenty of exemplary individual performances in this group, as six teams were represented on the Big East first and second teams. But this evaluation is of the unit as a whole, so I am factoring in the performance of every starter, along with depth and stats.
[+] Enlarge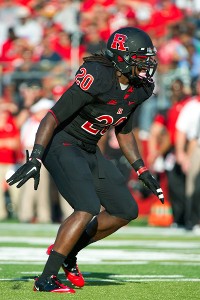 Rich Kane/Icon SMIKhaseem Greene's position switch went better than anyone could have expected, as he ended up leading the conference in tackles.
1. Rutgers.
Khaseem Greene
's move to linebacker was the smartest position change of the year, pushing the Scarlet Knights into the top spot in this category. Greene led the league with 140 tackles en route to Big East Co-Defensive Player of the Year honors. He was essentially all over the field. Greene and
Steve Beauharnais
were the only linebacker tandem to finish in the top 10 in the Big East in tackles for loss. Add in the much-improved
Jamal Merrell
and it's easy to see why this group is No. 1.
Preseason ranking
: No. 4.
2. Cincinnati.
J.K. Schaffer
had yet another outstanding season for the Bearcats, racking up 100 tackles once again. But quietly,
Maalik Bomar
put together a nice year as well, and that helped make up for some serious question marks that surrounded this unit going into the season. True freshmen
Dwight Jackson
and
Nick Temple
made contributions, but on the whole it was the Schaffer show again and that was enough to boost this group.
Preseason ranking:
8.
3. Louisville.
Dexter Heyman
and
Preston Brown
had career seasons for the Cardinals, elevating the position and helping Louisville post another outstanding season on defense. Heyman and Brown finished in the top 15 in the Big East in tackles, and Heyman ranked fourth in the league with 16 tackles for loss. His play earned him second-team honors, and he leaves a big hole to fill for 2012.
Preseason ranking:
3.
4. UConn.
The Huskies were one of two teams without a linebacker on the Big East first or second team. But I thought this position group was vastly underrated for most of the year.
Sio Moore
came up with some big plays, and
Yawin Smallwood
and
Jory Johnson
developed nicely throughout the season. To illustrate how active Moore was, he was the top linebacker in tackles for loss with 16. This unit should be even better in 2012.
Preseason ranking:
2.
5. USF.
The Bulls were the other team without a linebacker named to the Big East first or second team but that shouldn't diminish the season
DeDe Lattimore
had. He had seven sacks, 13 tackles for loss and led the team in tackles. In fact, all three linebackers led the team, in
Mike Lanaris
and
Sam Barrington
. But the group as a whole underachieved, as the Bulls struggled to get teams off the field and were often times out of position to make a play.
Preseason ranking:
1.
6. West Virginia.
Middle linebacker
Najee Goode
had a terrific season, earning first team Big East honors. But beyond him, there were few significant contributions. Injuries hurt and so did inexperience. Plus, the expected emergence of junior college transfer
Josh Francis
never materialized. Between
Jared Barber
,
Jewone Snow
and
Doug Rigg
, there was not much doing in this group.
Preseason ranking:
5.
7. Pitt.
The problem in evaluating Pitt is this --
Brandon Lindsey
played both end and linebacker in the hybrid Panther role. Does he get evaluated with the line group or the linebacker group? He started eight games on the line, so I gave more weight to his contributions at end. However, I did take him into account for this unit, though it was not enough to life this group up much as a whole.
Max Gruder
was solid, but otherwise this was a lackluster bunch.
Todd Thomas
showed some spark but injuries slowed him down. Between
Shane Gordon
,
Greg Williams
and
Tristan Roberts
, there were problems all year.
Preseason ranking:
6.
8. Syracuse.
It was a struggle for the Orange on defense this season, and linebacker was no exception.
Marquis Spruill
had to make the transition to middle linebacker and struggled at times.
Dyshawn Davis
showed glimpses as a true freshman.
Dan Vaughan
actually was the leading linebacker in tackles. You generally want your linebackers to lead the team in that category, and that was not the case this season. But there is talent here. Another year of development for Spruill and Davis could yield big things in 2012.
Preseason ranking:
7.
August, 31, 2011
8/31/11
1:30
PM ET
I started a series called coaching 'em up last month, where I take a look at one assistant coach whose unit will be in the spotlight this season. But the series got lost in the shuffle of media days and preview stories. So I am going to finish the job this week. We pick up where we left off with Syracuse.

Coach:
Dan Conley
Position:
Linebackers
Experience:
Conley has served as linebackers coach since 2008, his first assistant coaching job on the FBS level. Before that, he spent time at Wagner College, Iona, West Virginia Tech, Canisius College and Southern Connecticut. Conley has deep roots in Syracuse, though, having played there. He served as team captain in 1994 and was voted to the school's all-century team.
His challenge:
Syracuse lost its two top players and two emotional leaders in linebackers Derrell Smith and Doug Hogue. Hogue was a first-team All-Big East pick last season, while Smith made the second team. The two combined for 209 tackles, 4.5 sacks and 15 tackles for loss, and were a big reason why the Orange made it to a bowl game for the first time since 2004.
In at middle linebacker for Smith is Marquis Spruill, who played on the outside last season. Dan Vaughn is starting on the strong side, and true freshman Dyshawn Davis on the weak side. This group obviously has to grow up in a hurry in order to be as productive as the group last season. Spruill is the only one among the three that has started a game for Syracuse.
Defensive coordinator Scott Shafer likes Spruill in the middle because his speed and athleticism allow him to be effective sideline to sideline. Davis has turned heads since he entered Syracuse in the spring, running with the first team almost immediately. Defensive end Chandler Jones gave this assessment of Davis: "He's doing exactly what I expected him to do. He's making a lot of plays for us."
Previously spotlighted:
June, 3, 2011
6/03/11
9:00
AM ET
Syracuse lost six starters on defense, a unit that was a big reason why the Orange made it back into a bowl game.
So it comes as little surprise that the biggest question left unanswered for coach Doug Marrone is this: Who is going to step up as a leader on D?
"Who's going to step up and take over there?" Marrone said recently from the league's spring meetings. "We work on it as coaches, and the players work on that type of accountability. That's what the concern will be."

The Orange lost two of their best players in Doug Hogue and Derrell Smith, who combined for 209 tackles, 19.5 TFLs, three interceptions and four forced fumbles. But they were also big-time leaders, guys their teammates could rely on both on the field and off.
Syracuse also lost its starting defensive tackles and starting cornerbacks. So how is leadership developed?
"We do a lot in leadership," Marrone said. "We take a lot of time away from X's and O's and really train the players. You can't really pick them. We found that out last year. We opened up some development sessions for the players last year and then see which ones rise to the occasion. We give everyone the opportunity to become a leader."
Among the candidates: senior defensive linemen Chandler Jones, who has the potential to have a breakout year, and Mikhail Marinovich. Dan Vaughn is a senior and the man in the middle of the defense, so he has a chance, too -- even if this is his first year as a starter.
Marinovich and Jones are the only two returning starters who are going to be seniors so their leadership is going to be important. Safety Phillip Thomas, quite outspoken himself, has a chance to lead as well as a junior.
"It's like that song by Kenny Chesney, 'The Boys of Fall,'" Marrone said, referencing the end of the
music video
. "When Bear Bryant's speaking to the team and they all go to leave, he says, 'You're all leaders. Everyone's a leader.' It's just a matter of what their role is."
April, 4, 2011
4/04/11
10:45
AM ET
Spring practice was in full bloom over the weekend, and you know what that means: scrimmages! Here are some notes on the teams that faced off against themselves on Saturday.

Connecticut
The Huskies
didn't hold anything back, and that sometimes was problematic. Linebacker Sio Moore delivered a big hit on quarterback Michael Nebrich and had to be reminded by Paul Pasqualoni that they are, in fact, still teammates.
The
defense dominated
for most of the scrimmage, and it's no surprise that side of the ball would be ahead of the offense, given the number of returning defensive starters. Quarterback
Scott McCummings
, who has reportedly had a good spring, fumbled and threw an interception on Saturday. Mike Box got the first reps of the scrimmage under center.
"I thought there was some good give and take," Pasqualoni said. "I thought there was real, real good competition on both sides of the ball."

Louisville
Held back a little by injuries this spring, the Cardinals held their first scrimmage on Saturday, a 150-minute, 95-play, hard-hitting affair.
According to
the official recap
,
Will Stein
threw two touchdown passes to
Josh Chichester
, for 16 and 59 yards. Receiver
Josh Bellamy
also had a big day. Shenard Holton and Marcus Smith each had interceptions, while Randy Salmon and Dexter Heyman were very active on defense.
"It's hard to really see what we have going on out there because we have so many guys injured," coach Charlie Strong said. "We have a lot of guys playing who haven't played much, but it's good that we are starting to build some depth. I was pleased with the effort and I thought there was a lot of good hitting.

Pittsburgh
Only a portion of the scrimmage was open to the media, but the
Pittsburgh Post-Gazette reports
that Buddy Jackson took the opening kickoff back for a touchdown. The cornerback was only recently given a shot to return kicks.
Former guard Chris Jacobson is working at center and had some trouble with shotgun snaps. That will be key for the Panthers, who will be in the shotgun almost exclusively in their new offense. The newspaper also singled out defensive end Bryan Murphy as a spring standout so far.

Syracuse
The offense unleashed some
big-play potential
in the Orange's 84-play scrimmage. Big plays included a 75-yard pass from
Ryan Nassib
to
Alec Lemon
, a 64-yard carry by
Antwon Bailey
, a 70-yard dash by
Prince-Tyson Gulley
and a 54-yard pass from Nassib to
Marcus Sales
. Nassib was 7-of-12 for 192 yards.
But the offense couldn't keep the momentum after three straight scores, turning the ball over and failing to reach the end zone the rest of the day. Coach Doug Marrone said he didn't like the way the defense came out to start the scrimmage, but at least it responded. He singled out linebackers Dan Vaughan and Marquis Spruill and safety Phillip Thomas for praise on that side of the ball.
March, 18, 2011
3/18/11
10:29
AM ET
Time to look once again at the positions where each Big East team is strongest and weakest this spring (and only considering the roster as it stands in the spring). Up today: Syracuse.

Strongest position: Offensive line
Key returnees:
Justin Pugh, Zack Chibane, Andrew Tiller, Michael Hay
Key departure:
Ryan Bartholomew
The skinny:
Even with the loss of Bartholomew, whose underappreciated talent was highlighted by his strong work at the NFL combine, the Orange O-line is in great shape. Four starters are back, including second-team All-Big East left tackle Pugh. The only spot that needs replacing is center, where Macky MacPherson is working this spring after serving as a snapper specialist last year. MacPherson is undersized, but the coaches like his talent and work ethic. The line had some up-and-down moments last year but really came together strong for the New Era Pinstripe Bowl. With experience to work with, head coach Doug Marrone -- an old offensive linemen himself -- must love this situation. (Honorable mention to defensive end and safety, where all the starters return).
Weakest position: Linebacker
Key returnee:
Marquis Spruill
Key departures:
Doug Hogue, Derrell Smith
The skinny:
When you lose a pair of all-conference players and team leaders like Smith and Hogue, it's not going to be easy. Spruill had a nice freshman campaign at outside linebacker, but he is being asked to take on a lot more responsibility this spring while moving to the middle. Candidates to fill the other spots include senior Dan Vaughn, junior-college transfer Siriki Diabate and early enrollee Dyshawn Davis. But there's a lot of inexperience now at what had been one of the Orange's strongest spots.
March, 14, 2011
3/14/11
12:00
PM ET