May, 2, 2013
May 2
1:00
PM ET
One constant in the Big East remained throughout the spring: Louisville looks as good as advertised, as the majority of its starters and nearly every member of its coaching staff return.
Everybody else?
Well, they are just trying to catch up. Some teams have more answers than others now that the spring is behind them and the offseason is ahead.
First, those with a little more clarity. Start with Rutgers, which had to get adjusted to new coordinators on offense and defense, in addition to replacing its major playmakers on defense. Perhaps Ron Prince is the coach Gary Nova needed all his life. By all accounts, Nova looked like a new quarterback this spring, slimming down and growing up as he goes into his second season as the full-time starter.
Steve Longa
and
Kevin Snyder
joining
Jamal Merrell
as starting linebackers, and converted back/receiver
Jeremy Deering
showing major promise at safety.
Down the road at Temple, the Owls appear to have a new starting quarterback and new H-back as they transition into a more pro-style set. Connor Reilly had a huge spring, and his rise from No. 3 on the depth chart a season ago was one of the most surprising stories across the league. The guy he replaces, Chris Coyer, had a great spring at H-back and seems set there.
Over at SMU, the Mustangs got everything they expected out of junior college transfer Traylon Shead and Prescott Line. They are both tasked with replacing Zach Line in the backfield. SMU also made some big national headlines when it hired Hal Mumme, giving the Mustangs two men credited with many of the offensive innovations we have seen over the past two decades both in college and pro football.
UCF may have received the most clarity of all: The Knights had their postseason ban overturned, making them eligible for a bowl game in 2013. This is a major achievement considering how rare it is for a team to win an appeal with the NCAA. Add in Year 1 in a new conference, and the Knights have a BCS berth to play for this fall.
Now, for those still searching for some answers:
USF turned in an offensive clunker in its spring game, with no running back averaging more than 3 yards per carry and no quarterback emerging as the starter. Does Willie Taggart have the personnel needed to run the smashmouth style he wants in Year 1?
UConn, and new offensive coordinator T.J. Weist, has put its faith in quarterback Chandler Whitmer, but the Huskies still have no real answer or depth at running back behind Lyle McCombs.
Cincinnati also had to get used to a new coach and coordinators but still has some uncertainty at quarterback. Though coach Tommy Tuberville says Brendon Kay has a slight edge, he is keeping the competition between Kay and Munchie Legaux open this offseason.
Houston closed spring ball with quarterback David Piland atop the depth chart, but that doesn't mean he is guaranteed the starting job. Junior college transfer Billy Cosh and freshmen John O'Korn and Greg Ward arrive this summer, and they will be in the mix to push Piland for the starting job.
Memphis also has its quarterback competition open following spring practice, as incumbent Jacob Karam tries to hold off Paxton Lynch and Eric Mathews for the starting job.
Louisville, of course, has no such quarterback concerns, as Teddy Bridgewater is back. He and his Cardinals will deal with expectations this program has not had since perhaps 2007. That season, Louisville began the year ranked No. 10 in the preseason AP poll.
It's a good bet that Louisville will be a top-10 team when the preseason begins again. Bridgewater did nothing to change that this spring, going 16 of 20 for 214 yards and two touchdowns in the spring game. He's already in midseason form.
That's good news for the Cardinals. And bad for everybody else's hopes this season.
May, 2, 2013
May 2
9:30
AM ET
Memphis Tigers
2012 record:
4-8

2012 conference record:
4-4
Returning starters:
Offense: 9; defense: 8; kicker/punter: 2
Top returners
QB
Jacob Karam
, RB
Brandon Hayes
, WR
Keiwone Malone
, DE
Martin Ifedi
, LB
Charles Harris
, S
Lon Ballentine
Key losses
WR Marcus Rucker, LT
Jordan Devey
, LB
Akeem Davis
, CB
Robert Steeples
2012 statistical leaders (*returners)
Rushing:
Hayes* (576 yards, 6 TDs)
Passing:
Karam* (176-of-274 for 1,895 yards, 14 TDs, 3 INTs)
Receiving:
Rucker (525 yards, 3 TD)
Tackles:
Harris* (79)
Sacks:
Ifedi* (7.5)
Interceptions:
Ballentine* (3)
Spring answers
1. QB depth.
Head coach Justin Fuente said that Karam would have to re-win the job going into 2013. Karam performed well this spring, but
Paxton Lynch
and
Eric Mathews
made strong pushes for the top spot as well. The trio combined to complete 23 of 36 passes for 222 yards in the spring game, with each showing the capability of stepping up when called upon.
2. Defensive playmakers.
The Tigers return much of their top talent from that side of the ball from 2012, with Harris and Ifedi ready to lead the unit. Though facing the base offense in the spring game, the Memphis defense kept the offense from reaching the end zone on all 16 offensive series that started 65 yards away or further from the goal line.
3. Offensive line intact.
The Tigers finished 69th nationally rushing the ball while playing in Conference-USA last season. Still, they return four of five starters up front, in addition to their top two rushers. They should be able to improve on their 1.92 sacks-against average from last season as well.
Fall questions
1. QB starter.
Do you look at the position battle as a quarterback controversy or a quarterback competition? Memphis is likely choosing the latter, as Karam impressed last season and was pushed by a pair of promising up-and-comers. Still, no starter will be named until fall camp.
2. Secondary.
Memphis loses Steeples and free safety
Cannon Smith
, two key starters on a team that does not feature all that much turnover from last season.
Bakari Hollier
and
Anthony Watson
have produced in limited action, but whether they can replace the production of Steeples and Smith (a combined five career fumble recoveries and 13 passes defended), in a new conference, remains to be seen.
3. Depth.
This is a blanket term that, frankly, applies across the board for this roster. Fuente earned an extension after a strong finish to Year 1 and returns the bulk of his starters from last season, but 4-4 against Conference-USA competition is not going to cut it against Big East competition, as we saw Temple struggle down the stretch with a similar move last year from the MAC.
April, 8, 2013
Apr 8
9:00
AM ET
Cincinnati and Memphis held their biggest spring events Saturday, while Louisville conducted its final scrimmage before next weekend's spring game. Here's a look at what went down.

CINCINNATI
Sixth-year quarterback
Brendon Kay
accounted for three of the biggest highlights of the team's final scrimmage at the Sheakly Athletics Center, tossing a trio of touchdown passes before the 2,000-plus fans. Redshirt sophomore
Chris Moore
proved to be the biggest target on the afternoon, notching team highs of five catches for 153 yards and two touchdowns, including a 56-yard score.
The offense made big strides just one week after the defense stole the show at Paul Brown Stadium. This was Cincinnati's third and final scrimmage, as it will not hold a traditional spring game, and has one more practice on Wednesday to round out coach Tommy Tuberville's first spring.
Tuberville said he will not name a starting quarterback until the summer, though Kay, who replaced
Munchie Legaux
in 2012 and started the final five games of the season, seems to have the upper hand with the season just less than five months away.
"Had a good practice," Tuberville said. "Lot of good effort. We mixed a lot of the first-, second- and third-team guys in there today, to make people learn how to communicate. Execution was iffy, on and off. Effort was real good. We made some progress. We cut back a bit on the offense and defense today to see if we could do some base things. It was a good day. Had a good crowd and good turnout. Excited about finishing up this week and getting into the offseason."

MEMPHIS
Sixteen Tiger offensive series began 65 yards from the goal line Saturday. None resulted in points, though Memphis' quarterbacks did a stellar job running the base offense at Liberty Bowl Memorial Stadium.
Jacob Karam
,
Paxton Lynch
and
Eric Mathews
combined to complete 23 of 36 passes for 222 yards, with Karam and Lynch each tossing an interception.
"Today we came out and obviously just tried to run our very base, rudimentary, Day 1 installations on offense and defense," coach Justin Fuente said. "I thought the defense executed it pretty well. I thought the offense at times was fine. As an entire spring, we have taken a step forward. We have gotten better.
"When we were out there scrimmaging with real scheme involved and real winners and losers, I thought we made strides. Today, we came out there and played hard. I would have liked us to do a few things differently but I thought they competed well and were fundamentally sound for the most part."
Reggis Ball
and
Andrew Gaines
came up with the picks for the Tigers' defense, while linebackers
Anthony Brown
and
Charles Harris
added seven and six tackles apiece, respectively.
Carl Mitchell
and Kewan Alfred added a sack apiece as well.
Like Tuberville, Fuente does not plan on naming a starting quarterback this spring.
Memphis will hold one final practice Tuesday to conclude Fuente's second spring with the program.

LOUISVILLE
Though men's and women's basketball dominated the region this weekend, the conference's football favorites got at it on the gridiron Saturday for their final scrimmage on the practice fields before this coming Saturday's spring game at Papa John's Cardinal Stadium.
The situational scrimmage pitted the first-team offense against the second-team defense.
Reigning conference offensive player of the year
Teddy Bridgewater
completed all but two passes Saturday, with one of those misfires getting picked off by
Calvin Pryor
. He threw touchdown passes of 25 and 9 yards, too.
Converted quarterback
Dominique Brown
appears to be making the most of his reps as the No. 1 running back, as the redshirt junior reached the end zone four times, including once from 25 yards out.
With
Senorise Perry
sidelined (ACL tear recovery) and
Jeremy Wright
not enrolled in classes, the Cardinals have needed someone to rise to the occasion in the backfield this spring.
April, 5, 2013
Apr 5
9:00
AM ET
Seems like spring is just beginning, no?


It will be ending in the coming days for two Big East teams, as Cincinnati and Memphis will hold their spring games Saturday. The Bearcats' big spring event is actually an open scrimmage from 10 a.m. to noon at the on-campus Sheakley Athletics Center practice field, which holds roughly 2,500 people.
With cold weather having forced Cincinnati to cancel two of its earlier practices this spring, new coach Tommy Tuberville will hold one more practice on Wednesday to close out his first spring with the Bearcats.
Quarterback battles were the headline for both clubs entering this season, with both coaches saying that the men who finished last season as starters --
Brendon Kay
for Cincinnati,
Jacob Karam
for Memphis -- would have to re-win the starting jobs going into 2013.
Kay, who took over for
Munchie Legaux
in the ninth game of last season and won four of his final five games, has been trying to make the most of this spring after the NCAA granted him a sixth year of eligibility.
"It was a long process and a lot of paperwork, talking to a lot of people -- definitely a lot of relief," Kay told ESPN.com earlier this spring. "I'm just very thankful for it, for all the people that put in the work to allow me to get a sixth year. It's over with now. [I'm] preparing for my sixth year, trying to get it as good as it could possibly be."
"Six years, three coaches, three offenses, three knee surgeries," he added, summing up his college career. "It's been a long road to get here, but it makes it all that much more meaningful. Just all the support I've had all around me, that's what I'm thankful for."
During a scrimmage last Saturday at the Bengals' Paul Brown Stadium, Kay completed 9-of-14 passes for for 101 yards with a touchdown and a pick, while Legaux went 7-for-16 for 100 yards with two interceptions.
"It was obvious that our defense was ahead of our offense today," Tuberville said afterward. "You better be ahead on defense in the spring, I'll tell you that. If your defense is not ahead of your offense then you are going to have problems in the fall."
Memphis will hold a more traditional spring game at noon at Liberty Bowl Memorial Stadium, with one more practice coming Tuesday to wrap up coach Justin Fuente's second spring with the Tigers.
Rising redshirt freshman
Paxton Lynch
has pushed the rising senior Karam this spring, as has rising junior
Eric Mathews
, who served as last year's backup.
Karam, who transferred from Texas Tech after graduating in December 2011, threw for 1,895 yards last season with 14 touchdowns and three interceptions.
Both schools will hold youth clinics for those under eighth grade, along with autograph sessions, after their practices Saturday.
March, 12, 2013
Mar 12
4:00
PM ET
Today brings us to Memphis, which enters its first year in the Big East.
Spotlight
: Secondary

Why
: Quarterback is obviously the most important position, but
Jacob Karam
has a 14-touchdown, three-interception campaign under his belt from 2012 as he tries to hold off redshirt freshman
Paxton Lynch
. The Tigers, winners of their final three games of 2012, are a young team that won't feature much turnover outside of the defensive backfield, as they lose cornerback
Robert Steeples
and free safety
Cannon Smith
. Steeples, a Missouri transfer, recorded 42 tackles in his only season with Memphis, adding two tackles for loss, five pass breakups, five passes defended, one quarterback hurry and three fumble recoveries. Smith started 21 games over the past two seasons, notching 101 total tackles, one forced fumble, two fumble recoveries and eight passes defended.
Bakari Hollier
and
Anthony Watson
figure to be the next in line at corner and safety, respectively. Hollier, a rising junior, saw action in every game last season, notching 20 total tackles, one tackle for loss, three pass breakups and three passes defended. In nine games last season, Watson recorded nine tackles and blocked a kick.
February, 28, 2013
Feb 28
9:00
AM ET
Seems like the season just ended yesterday, no?
Memphis is the first Big East team to get a head start on the 2013 season, as the Tigers kick off spring ball today under second-year coach Justin Fuente. Memphis is coming off a 4-8 season, its best record since 2008. The Tigers ended 2012 on a three-game winning streak, and their four Conference USA wins were more than they had notched in the previous three seasons combined.
The program also
saw a 21 percent spike in attendance
, the biggest improvement among all current and future Big East schools.
[+] Enlarge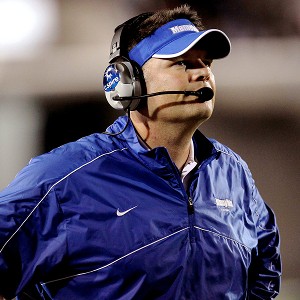 Nelson Chenault/USA TODAY SportsMemphis coach Justin Fuente is ready for the challenges of a new conference.
This week we caught up with Fuente — who
received a one-year contract extension Feb. 13
, locking him up through the 2017 season — to talk about the task at-hand as Memphis makes the transition to a new conference.
How would you characterize the mood or feeling around your program right now as you guys get ready for your first season in the Big East?
Justin Fuente
: Well I think this is an unprecedented challenge. I can't think of any times in the history of college football where a program has been, basically trying to build a program while simultaneously taking a step up in competition. So I think the weight or the magnitude of that challenge is certainly recognized here. We obviously understand we've got our hands full playing different people, some people maybe that we haven't been as familiar with in the past. So there's a whole challenge from that side, and then there's a whole challenge from the side that's just pure physicalness. You're just going to go play a couple teams that have kind of made a niche as big, physical teams, whereas you just didn't see that as much last year. It was a fast league last year but not necessarily a real big, physical league.
You touched on the dual-challenge you've got going on going into your second year. What would you say you've done most differently, if anything at all?
JF
: Well we haven't really done anything differently. The challenge is building this football team, whether you're playing SMU in Conference USA or you're playing SMU in the Big East, it really doesn't matter. The biggest deal is just what it means to the university, obviously from a national exposure side. But we haven't really changed anything from our philosophy to the way we do things. I think I was fortunate to be a part of a TCU staff -- we were in the Mountain West, and then we were going to be in the Big East and then ended up in the Big 12 right before I left. But we had those discussions at TCU; the difference was we already really kind of established ourselves as a program. So the challenge is the same, you just have to get better, playing in a better league.
How much does the way you guys were able to finish strong last year kind of shoot the momentum up a notch moving up this year?
JF
: I think it's good for the kids, it's a nice reward. I think the lightbulb kind of went on from a team aspect, from playing as a team, accountability level, those sorts of things. I don't know that anybody was any better a tackler or post-runner than they were when the seasons started, but I think they played better together. Now the challenge for us is two-fold -- one, that team is gone, and we have to re-establish ourselves as a team this year, and the second hurdle or the second thing that we've got to understand is we don't play any of those teams, we don't play the teams that we beat. So we've got to raise our level of expectations. Everybody's excited that we won four games and won our last three but we've got to change our level of perception, change how we see ourselves, and our level of dedication has got to continue to increase.
Perception-wise, I'd imagine part of that comes with getting in the Big East, getting on TV more and creating that kind of culture?
JF
: Oh sure. Yeah, it's a huge thing for outside perception I think, and viewability and exposure for our university on a national level, I think it's huge. We've got to worry about ourselves and change our perception of ourselves. What is good enough? What is dedicated to the team? The thing that I found out since taking over this job is it's more about building a team than it is fancy Xs and Os.
Among all teams that will be in the Big East this year, you had the highest attendance spike from 2011 to 2012. Is that kind of proof of what you're saying?
JF
: There's people in this community that are dying for us to get back on track. There's a lot of
Memphis Tigers
supporters in this city that will turn out. And they showed up for our first game and they showed up for our last game. I think they recognize and are starting to recognize the hard work these kids are putting in, and they're thirsty for us to succeed.
You touched base on it a little bit, being with TCU a few years back. But do you watch a team like Temple last year and how they fared, or any other teams that have taken that big jump and the kind of things they maybe were or weren't able to do against a new set of opponents?
JF
: I don't mean this negatively, it's just we have had so many things to concentrate on for ourselves that we have not been able to really spend much time on how other people have done things. Not that you can't learn from other people, it's just, we were in such the building blocks of an actual program that looking that far ahead still is premature. We're still just trying to get our guys playing in the right direction.
Recruiting-wise, what's your pitch in that respect?
JF
: Well first of all the community and the university stepped up in a major way from a facility standpoint, so it's easier to see, when the kids come on campus, the dedication to get this thing turned around. You have the opportunity to build a program for people that think it's very important. There are some programs that can win eight or nine games and people still won't show up, that is not the case here. This is very important to this community. And I think you have the chance to be the group that comes in and gets this thing turned around, all the while moving into a national conference, a conference with a large footprint, with large media markets, with underrated -- on a national scale -- football powers. There have been some really good football teams to come through the Big East in the last [few] years that get undervalued at times, in my opinion. But we get a chance to play some really good ball.
What's the next step for Jacob Karam as he goes into another year under center?
JF
: He's got to win the job. We're going to have open competition, so the first thing for Jake is he's got to become the starter. We have
Paxton Lynch
here who's a freshman who redshirted last year, that we're going to throw in there and let those guys go compete for the job. But I think from just Jake's standpoint, Jake's got to make the average play more often. I'm not looking for anything spectacular from him, I'm just asking him to make the routine plays on a more consistent basis; if he can do that, he'll have an awfully good chance of winning the job.
February, 27, 2013
Feb 27
10:30
AM ET
Memphis

Spring Start:
Feb. 28
Spring game:
April 6
What to watch:
Quarterback: Jacob Karam returns as the starter after throwing for 1,895 yards, 14 touchdowns and three interceptions. But coach Justin Fuente says Karam will be pushed during the spring and has to win the starting job all over again.
Bump up the physicality: Fuente has said repeatedly that he wants to see his team be more physical, especially now that it is joining the Big East. The spring is the perfect chance to improve in this area. "We will play some of the same teams we played last year, but they will be the bigger, more physical teams we played last year," he said. "We have to understand that we have a lot of ground to make up. That is not ground that is made up easily."
Competition at defensive back: The Tigers lose two starters from their defensive backfield -- Cannon Smith and Robert Steeples -- and Fuente is excited about the competition at this position going into the spring.
Rutgers

Spring Start:
March 26
Spring game:
April 27
What to watch:
Quarterback: Even though coach Kyle Flood says Gary Nova is his starter, you can bet there is going to be competition at this position going into the spring, especially with a new offensive coordinator in Ron Prince. That doesn't mean there will be changes, but certainly Prince is going to want to take a look at all the players he has available to evaluate what they can or cannot do.
Defensive leaders: Rutgers lost its top defensive playmakers and needs to find guys who can step in for Scott Vallone, Khaseem Greene, Steve Beauharnais and Logan Ryan, to name four. Plus, there is a new coordinator in Dave Cohen, so there might be some adjustment period.
Huggins stepping up: The time is now for the highly heralded local recruit to live up to the expectations that came with him when he arrived on campus. Jawan Jamison is gone off to the NFL, so all eyes have turned to Huggins to see if he has what it takes to be the next 1,000-yard rusher.
SMU

Spring Start:
March 25
Spring game:
April 20
What to watch:
Replacing Zach Line: The Mustangs have to replace their top runner over the past several seasons in Line, who had three straight 1,000-yard seasons. Leading the charge this spring are junior college All-American Traylon Shead and reserve back Rishaad Wimbley, who switched from defense a few seasons ago.
New defensive starters: The Mustangs lost the bulk of their playmakers on defense in Margus Hunt and linebackers Taylor Reed and Ja'Gared Davis. Finding guys to step up without them is a huge priority. Watch for Zach Wood at defensive end in place of Hunt; and Kevin Pope and Robert Seals at linebacker.
More consistency at QB: June Jones' offense runs best when the quarterback is at his best. Garrett Gilbert returns as the starter, but he is going to need to find much more consistency this spring and into the fall. Two numbers that have to be improved: accuracy (53 percent in 2012) and touchdown-to-interception ratio (15-to-15 in 2012).
USF

Spring Start:
March 20
Spring game:
April 13
What to watch:
New coaches, new style: Coach Willie Taggart has promised to ratchet up the intensity and transform his team into more of a smash-mouth group. That process begins in the spring, when he has his first opportunity to really show his players what he expects out of them. You can bet he expects a lot more physicality from his offensive and defensive lines to start.
Quarterback competition: Who will emerge as the starter? Will we even know after the spring? Matt Floyd and Bobby Eveld, the top two candidates, have plenty of work to do as they fight to win the starting job. But this competition could very well go into the fall, when freshman Mike White arrives on campus.
Defensive back improvement: This was the worst group the Bulls had a year ago and the one in most need of immediate improvement. USF registered two interceptions in 2012, tied with Auburn for the fewest among all 120 schools in the nation. And they both came in the same game -- against UConn on Nov. 3.
Temple

Spring Start:
March 22
Spring game:
April 20
What to watch:
New staff: Matt Rhule certainly has a familiarity with Temple, having served as an assistant there under both Al Golden and Steve Addazio. But anytime a new coach comes in, there is change, so the spring gives him his first chance to really start implementing his style and what he wants to get accomplished.
Quarterbacks: You can bet this competition is going to be open this spring, with Chris Coyer, Juice Granger and Kevin Newsome all returning. Coyer and Granger both started a year ago; Newsome transferred in from Penn State a few years ago. How this shakes out is one major story to watch.
Running backs: Montel Harris and Matt Brown are gone, taking with them 1,426 yards rushing and 16 of the team's 21 rushing touchdowns. Jamie Gilmore got more carries as the season went on when Brown was hurt; Kenny Harper also is back and certainly will be relied upon even more.
February, 27, 2013
Feb 27
9:00
AM ET
For the second straight spring, Extreme Makeover: Big East edition has gripped the conference.
Four teams enter practice with an eye toward their first Big East season. Two teams enter spring practice wondering if 2013 is their final Big East season.
The mix makes for quite the dysfunctional pairing, and most likely the only configuration featuring remaining members Cincinnati, UConn, USF and Temple, incoming members UCF, Houston, Memphis and SMU and departing members Louisville and Rutgers playing under the same conference umbrella.
Got all that?
What must be most especially difficult for the league this spring is marketing and promoting what should be a preseason top-10 team -- Louisville -- knowing the Cardinals are not long for the Big East world. It was the same scenario that unfolded back in 2011, when West Virginia represented the Big East as its highest-rated Top 25 team and Orange Bowl participant, with a move to the Big 12 just months away.
[+] Enlarge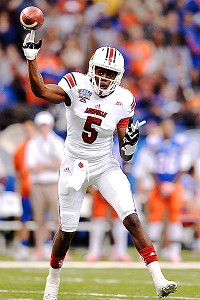 Cal Sport Media via AP ImagesThere are many question marks at QB in the Big East this spring. Louisville's Teddy Bridgewater is certainly not among them.
Given all the conference realignment, this is certainly not uncharted territory. But it certainly takes the luster off what should be downright euphoria over having one of the projected marquee teams in all the nation in 2013. Along with that conundrum is the idea that the Big East cannot begin to rebrand itself while it continues to have a hodgepodge of teams with one foot in the door and one foot out.
None of this is new, but it certainly is more than a little uncomfortable. Having said that, Louisville remains the biggest story to watch this spring and into the fall because of the opportunity the Cardinals have in front of them. Not only do they return nearly all of their key starters from the Sugar Bowl-winning team of a season ago, they return soon-to-be junior quarterback
Teddy Bridgewater
, already a preseason Heisman candidate.
Last spring, he was incredible, completing 70 percent of his passes in a near-flawless performance. That translated into a super sophomore season that not only has people talking Heisman now, it also has them talking about whether this is his final spring in a Cardinals uniform. Another solid spring showing from him, and Louisville should cement its standing as the preseason favorite to win the Big East, with an outside shot as a dark horse national title contender.
Louisville, however, is only one of a handful of Big East schools with quarterback certainty. UCF returns
Blake Bortles
, who had a 3,000-yard season in 2012 as the Knights went 10-4 in their final year in Conference USA. He is perhaps the next-best quarterback in the league, although that is probably up for debate, as Cincinnati returns
Brendon Kay
.
But Kay is going to face some competition this spring, with new coach Tommy Tuberville taking charge. He is not the only incumbent who is sure to be pushed. At Rutgers, coach Kyle Flood says
Gary Nova
remains the starter, but new offensive coordinator Ron Prince is certainly going to want to see what all his signal-callers have to offer. At Memphis,
Jacob Karam
must win his starting job again. At SMU,
Garrett Gilbert
needs to work on his consistency. So does UConn quarterback
Chandler Whitmer
, who is going to see some competition for his job as well.
At Houston,
David Piland
is in for a fight for his spot. USF and Temple need starters, too. The Bulls lose veteran
B.J. Daniels
and return
Matt Floyd
and
Bobby Eveld
. The Owls rotated between
Chris Coyer
and
Clinton Granger
last season, but Penn State transfer
Kevin Newsome
could figure into the mix as well with new coach Matt Rhule taking charge.
The quarterback position in the Big East represents the league as a whole: plenty of uncertainty this spring.
February, 1, 2013
Feb 1
3:00
PM ET
You guys are quiet this week! As a friendly reminder, drop me a line whenever it suits your fancy.
And for those who missed the chat, we will begin to transition Pitt and Syracuse to the ACC blog, and Houston, UCF, SMU and Memphis to the Big East blog in two weeks.
---
Marcus in Louisville writes:
I believe one of the biggest assets Louisville has had in the Charlie Strong tenure is the stability in assistant coaches. You are not seeing any turnover again this year. I see this as another reason for optimism in 2013 for the Cardinals. On the flip side, why are his guys getting overlooked for some of the head coaching jobs out there?
Andrea Adelson:
The stability has been remarkable, Marcus. Some of these assistants have gotten looks elsewhere. Offensive coordinator Shawn Watson did, but he decided to come back to Louisville. I asked in a recent phone interview why there has been so much stability at Louisville.
He said, "You know when you join something special. There's been a lot of people who've had opportunities to leave here but when you think about it, it's hard to leave. You don't want to leave this environment because you get this every so often in coaching. I've been doing it 30 years and it happens every once in a while where you get a group of guys on the same page, believe in the same things, support each other. There's no egos. It's about a team that wins. The fact that Charlie's the guy leading the program empowers all of us to do our job at a high level. It's easy to hold each other accountable to one another. It's a good deal."
---
Tim in Louisville writes:
It would be great to see an article dedicated to showing what each program developed players from and into what. Initial star rankings then final accolades for players.
Adelson:
Ask and you shall receive. Next Monday and Tuesday, Matt and I will take a look at the players on the Big East first team and look back at their recruiting rankings. Just in time for signing day!
---
Bigg Edd in Somerset, N.J., writes:
Just wanted to pass on something that
Khaseem Greene
sent to the Scarlet Nation
. This represents who he is and what being a college student is about; working hard in the class, community, and on the field. I know Rutgers and Big East fans can appreciate what he has given the game, this season, and wishes him the best at the next level. Rutgers, New Jersey, and Elizabeth are EXTREMELY proud that he stayed home and played for the Scarlet Knights. I hope you make mention of this article to the rest of the Big East.
Adelson writes:
I know Matt included this in links earlier this week, but I agree -- it is worth pointing this letter out in a separate post. Greene is one of the classiest players I have had the opportunity to cover, so I am not surprised at all that he took the time to write such a heartfelt letter of thanks and gratitude to all those who have helped him along the way. It really has been a treat to watch him play over the last several seasons, and I can tell you I will miss speaking to him on a regular basis. I will share one additional story. Last year at media day in Newport, I had an opportunity to interview Greene and his brother,
Ray Graham
, on my little flip camera for a video post. They were gracious and really wonderful. I went to upload the file onto my computer, and my camera had malfunctioned. Instead of the great video, I had a big question mark on my screen and an unrecoverable file. I was beyond upset. But I explained what happened to the Pitt and Rutgers sports information staffs. Greene was about ready to get in his car to leave when he came into the hotel ballroom with Graham to film a second take. I will forever be grateful to them both. After a long day of interviews, they delayed getting back just to help me out. Just shows their character. Thanks for the great moments, guys!
---
Darrell Winfield in League City, Texas, writes:
My son is on a visit to Memphis. What does their future look like in the Big East the next four years?
Adelson:
Great question, Darrell. Memphis made strides last year, ending the season on a three-game winning streak and winning a total of four games. That was its highest win total since 2008. So coach Justin Fuente seems to have things on an upswing. But now the Tigers are taking a step up in conference. UAB, Tulane and Southern Miss -- the teams Memphis beat at the end of the year -- are no longer on the conference schedule. For a program that has just begun taking steps back, this move could be a momentary setback. Look at Temple a season ago. The Owls were competing for MAC championships, then went 4-7 in Year 1 in the Big East. Memphis is not nearly in as good a position as Temple was entering the Big East. Now, what Memphis has going for it -- lots of returning starters, including quarterback
Jacob Karam
. Still, I think it will be tough sledding initially for Memphis.
January, 8, 2013
Jan 8
11:00
AM ET
Time to take an early look at the new-look Big East headed into 2013. Now, a few caveats: First, these rankings are subject to change many times before the season begins. Second, I am basing them mostly on returning starters and results from 2012. Since a majority of this league is new, I have not had time to sit down and watch every single game from every program.
Third -- we still have no idea if this is what the league will look like in 2013!
So give me a little time and take these for what they are -- a first take on 2013 with much more to come. *Note: Those looking for Pitt and Syracuse, check the ACC blog.
1. Louisville.
I think we can all agree here -- the Cardinals will go into the season as the prohibitive favorite to win the Big East.
Teddy Bridgewater
returns, along with just about every starter on a team that beat Florida in the Sugar Bowl. Get ready for this team to try to make another run.
2. Cincinnati.
I know the Bearcats have had a coaching change, but I like that the core nucleus returns. Cincinnati should have the best offensive line in the league;
Brendon Kay
got his sixth year, and so did emerging middle linebacker
Greg Blair
. While there are major players who have to be replaced, Cincinnati showed this year it has players to step right in and get the job done.
3. Rutgers.
I honestly think this might be too high for the Scarlet Knights. I may just still be suffering from sitting through the entire Russell Athletic Bowl. But there are major questions that have to be answered -- is
Gary Nova
any better at quarterback? Can
Savon Huggins
step right in for
Jawan Jamison
? Who steps up on a defense that loses its biggest playmakers? Far too many unknowns.
4. UCF.
I like
Blake Bortles
, and I like
Storm Johnson
, and the Knights are coming off a 10-win season as they join the Big East. To me, they are the best looking of the newcomers. Key players on defense have to be replaced, and don't forget that this team could be serving a postseason ban.
5. San Diego State.
The Aztecs return a majority of their starters, including Mountain West Offensive Player of the Year
Adam Muema
, who ran for 1,458 yards and 16 touchdowns this year. I watched their San Diego County Credit Union Poinsettia Bowl meltdown from start to finish. My takeaway -- if this team wants to make a serious run, it needs much better play out of quarterback
Adam Dingwell
.
6. USF.
In all honesty, the Bulls could be lower, given their performance the past two years. They have no quarterback. No running back. Questions all over the place on defense. And a new coach. Willie Taggart is going to need some time to change the program, but I think there is enough talent at some of the skill positions and up front for the Bulls to be more competitive in 2013.
7. Connecticut.
Considering the best players on defense are gone, it is hard to believe the Huskies will be much improved in 2013 over 2012. The defense was the best part of this team, and now it must replace the Big East leader in sacks, (
Trevardo Williams
), along with
Sio Moore
,
Blidi Wreh-Wilson
,
Jory Johnson
and
Dwayne Gratz
. Offensively, this group needs an overhaul. Will it get one before it's too late?
8. Houston.
The Cougars had a rough first year under new coach Tony Levine, finishing 5-7 in 2012. But there are some key players returning and a new offensive coordinator who should help steady the ship. Watch out for cornerback
Trevon Stewart
, named a FWAA freshman All-American.
9. Temple.
I think the Owls have a chance to make some major leaps up this list depending on how spring practice shakes out. There is a new coach in town in Matt Rhule, who knows better than anyone what it takes to win at Temple. He needs to make a decision at quarterback and find a running back, for starters.
10. SMU.
I do not have much hope for the Mustangs in Year 1, at least not yet. This team is taking bigger losses than any Big East newcomer. Starting running back
Zach Line
is gone. So are defensive standouts
Margus Hunt
,
Ja'Gared Davis
and
Taylor Reed
.
11. Memphis.
The Tigers made marked improvement in 2012 under Justin Fuente, going 4-8 -- including a three-game winning streak to end the season. Seventeen starters return, including quarterback
Jacob Karam
, so the Tigers definitely have momentum going into Year 1 in the Big East.