May, 2, 2013
May 2
7:00
AM ET
USF Bulls
2012 record:
3-9

2012 conference record:
1-6
Returning starters:
Offense: 5; defense: 7; kicker/punter: 0
Top returners
WR
Andre Davis
, LB
DeDe Lattimore
, DE
Tevin Mims
, DT
Luke Sager
, DE
Ryne Giddins
Key losses
QB
B.J. Daniels
, RB
Demetris Murray
, LB
Sam Barrington
, CB
Kayvon Webster
, DT
Cory Grissom
2012 statistical leaders
(*returners)
Rushing:
Murray (665 yards, 6 TDs)
Passing:
Daniels (2,078 yards, 14 TDs, 10 INTs)
Receiving:
Davis* (534 yards, 6 TDs)
Tackles:
Webster (82)
Sacks:
Barrington, Lattimore*, Giddins*(3.5 each)
Interceptions:
Jon Lejiste
,
Elkino Watson
* (1 each)
Spring answers
1. Depth along the defensive line.
This could end up being a strength for the Bulls this season, given the returning players along the line. Only Grissom is gone among starters last year. Guys who are back include Mims, Sager, Giddins, Watson,
Eric Lee
,
Todd Chandler
,
Julius Forte
,
James Hamilton
and now Notre Dame transfer
Aaron Lynch
is eligible. The Bulls should be able to go two-deep here.
2. Andre Davis progress.
We have seen flashes from Davis but he showed this spring he has the opportunity and capability of emerging as one of the top receivers in the soon-to-be renamed Big East. Davis had two touchdown receptions in the spring game -- including an 85-yarder -- and was the only real highlight on offense
3. Offensive line.
The Bulls had a hard time staying healthy on the offensive line last season, but they return plenty of guys who have seen significant time -- seven started at least one game last season. Perhaps that is a reason why coach Willie Taggart says this position is one he feels more comfortable with headed into the offseason.
Fall questions
1. Quarterback.
The Bulls do not have a starter at quarterback just yet as the competition continues between
Matt Floyd
and
Bobby Eveld
. Taggart has said that both players are still trying to learn the offense and he wants the competition to continue into the offseason. With Clint Trickett choosing West Virginia over USF, this competition is between Floyd and Eveld.
2. Getting stronger.
Taggart wants his team to be much more physical, both offensively and defensively. To that end, he says his team has a lot of work to do in the weight room this summer to bulk up and get stronger in order to be able to handle what he wants them to do.
3. Running back.
Being physical, of course, means having a will and a want to establish the run. This has not been a particular area of strength historically for the Bulls, and nobody really emerged as the starter after spring ended among
Marcus Shaw
, Mike Pierre or
Willie Davis
. So this could be a position where we see true freshmen contributing early. We'll see how Sta'fon McCray and Darius Tice do once they arrive on campus later this summer.
April, 9, 2013
Apr 9
4:00
PM ET
USF coach Willie Taggart has shaken up just about everything in his short time in Tampa. Why should the spring game be any different?

In an effort to foster competitiveness and have some good ol' fashioned fun, Taggart opted for a draft to split up his players into Green and White teams for the annual spring game. First, he chose defensive coordinator Chuck Bresnahan to coach the Green team and assistant head coach/secondary Ron Cooper to coach the White team. He then divided up the coaches and held a free agency period, where each team selected two players.
Green went with quarterback
Bobby Eveld
and defensive tackle
Luke Sager
; White went with defensive end
Aaron Lynch
and center
Austin Reiter
. Last week, a draft was held. USF revealed the first 30 picks, and the entire roster
for each squad
. The format, entirely different to the way USF used to run things, has pleased both players and coaches and brought a little more pep into the steps of everybody on the field.
"I think it's made us a more competitive team, made us more energized in practices and overall," Sager said. "Especially in the short term and definitely for the long-term, this has made us a better team."
The draft strategies for both coaches were different. So today I am going to give you a glimpse into how Bresnahan went about choosing his team. He wanted to accomplish two things: bring in his starting quarterback, and establish his trenches. So he went with offensive and defensive linemen in his first six picks. In addition to Sager, his squad has defensive line starters
Tevin Mims
and
Julius Forte
; and offensive linemen
Mak Djulbegovic
,
Brynjar Gudmundsson
,
Thor Jozwiak
and
Darrell Williams
.
"We tried to do it to win in the trenches because I believe that's where you win the game," Bresnahan said. "In a game like this, if you can run the football, it makes all the difference in the world, especially in the second half when it's a running clock. If we can stop the run on defense, you're forcing them to throw the football, and because the talent's been divided, we've got a chance."
Bresnahan is going with the philosophy Taggart wants to pound home -- being the more physical team up front. On defense, the Bulls certainly have got depth and talent to play much better than they did a year ago.
Ryne Giddins
, who has been limited this spring because of injury, also is on the Green team.
"Overall, we have guys that we can interchange and there not be a dropoff," Sager said. "It's great to see. The defensive front is one of the big strengths. With the majority of players back, we're going to be one of the best positions on the team."
But what really has stood out to Bresnahan so far is the competitiveness of the team.
"We've only seen our players for 11 practices, but one thing I can guarantee you: no matter what the format was, whether you put their names in and shook them up in a jar or you drafted them, come Saturday it's going to be competitive on the field," he said. "When the lights come on, we don't have a bunch of roaches that scatter. We have ants that are going to stay in line and keep going."
Stay tuned for more information on the White team Wednesday morning.
August, 24, 2012
8/24/12
12:00
PM ET
August, 23, 2012
8/23/12
11:30
AM ET
USF defensive end
Aaron Lynch
had his NCAA waiver for immediate eligiblity denied and will sit out this season, coach Skip Holtz said Thursday.

Lynch transferred to the Bulls from Notre Dame during the offseason, after playing in 12 games for the Irish last season as a freshman, with six starts. He ended the year with 33 total tackles, seven tackles for loss and 5.5 sacks.
USF held out slim hopes that the NCAA would rule in his favor. Now he must wait to be eligible in 2013.
When he is able to play, the Bulls should have some outstanding players on the defensive front.
Ryne Giddins
is going into his second year as a starter, and is poised for an outstanding season. USF also has linemen
Elkino Watson
,
Tevin Mims
,
Todd Chandler
,
Clavion Nelson
, JuJu Forte and
Luke Sager
.
The only significant player the front loses after this season is senior tackle Cory "Pork Chop" Grissom.
One other note: Holtz said reserve tight end Isaac Virgin has decided to transfer.
May, 10, 2012
5/10/12
7:00
AM ET
2011 overall record:
5-7
2011 conference record:
1-6 (T-7)
Returning starters:
Offense: 8; defense: 7; kicker/punter: 3
Top returners

QB
B.J. Daniels
, RB
Demetris Murray
, WR
Sterling Griffin
, WR
Andre Davis
, LB DeDe Lattimore, LB
Sam Barrington
, DE
Ryne Giddins
, DT
Cory Grissom
Key losses
C Chaz Hine, OG Jeremiah Warren, RB Darrell Scott, DE
Patrick Hampton
, DT
Keith McCaskill
, S
Jerrell Young
, CB Quenton Washington
2011 statistical leaders
(*returners)
Rushing:
Darrell Scott (814 yards)
Passing:
B.J. Daniels* (215-of-365 for 2,585 yards, 13 TDs, 7 INTs)
Receiving:
Sterling Griffin* (530 yards)
Tackles:
DeDe Lattimore* (94)
Sacks:
Lattimore* (7)
Interceptions:
Jerrell Young,
Kayvon Webster
*,
JaQuez Jenkins
* (two each)
Spring answers
1. Offensive line:
The Bulls went into the spring with question marks at center and guard, thanks to the departures of two of the most consistent players up front last season, Chaz Hine and Jeremiah Warren. It appears
Austin Reiter
has the edge at center, while
Damien Edwards
did really well at left guard. He and
Lawrence Martin
will compete at right guard when Danous Estenor returns from injury to his left guard spot.
2. Cornerback:
The Bulls have plenty of returning starters, but one of the biggest holes to fill was at cornerback with the departure of Quenton Washington. Junior college transfer Fidel Montgomery stepped right in and showed why he deserved to win the starting job, making plays for most of the spring.
3. Andre Davis emerges:
We all saw glimpses of how good Andre Davis could be last season, when he played extensively as a true freshman because of injuries at the position. He got even better this spring and is currently listed as the starter ahead of Sterling Griffin, who led the team in receiving yards last season. Davis is the type of player who can stretch the field -- and clearly B.J. Daniels has much more confidence in him now that he is a year older.
Fall questions
1. Cory Grissom's return.
Grissom broke his ankle toward the end of spring practice, and coach Skip Holtz is hopeful that his big tackle will be back in time for the start of the season. But as of right now, there is no real set timetable for his return -- it just a matter of how well he heals. Without him, USF is not as deep at the position as it would want. But there is some talent there in
Elkino Watson
,
Luke Sager
and
Todd Chandler
.
2. Safety.
This is a pretty deep position for the Bulls, who are hoping for improved play out of this position. Starter
Jon Lejiste
was out for the spring, but
Mark Joyce
and JaQuez Jenkins did really well in his absence. Lejiste is going to have a fight on his hands when he returns, but no doubt the Bulls are happy about having some competition here going into the spring.
3. Using Lindsey Lamar.
While Murray is the starter at running back, Lamar was moved to the position in the spring and coaches were happy with how he came along. Now the big question is how can Lamar provide some of the big plays out of the backfield the Bulls are going to need to complement the bigger Murray.
April, 20, 2012
4/20/12
11:30
AM ET
Three more teams play spring games Saturday. Here is a quick preview of each:

UConn.
You can bet all eyes are going to be on the quarterback position, where five players are still competing for the starting job. Junior college transfer Chandler Whitmer, true freshman Casey Cochran, 2011 starter
Johnny McEntee
,
Scott McCummings
and
Michael Nebrich
are all still in the mix, and coach Paul Pasqualoni has yet to indicate the direction he is leaning. This competition could very well stretch into the fall, the way it did last season. On the running back front, the Huskies got some tough news this week when they learned
D.J. Shoemate
's career was over because of a shoulder injury. That is obviously a tough blow, because hopes were high for the USC transfer. But
Max DeLorenzo
has had a terrific spring, so watch out for him as a player who can really provide a nice complement to
Lyle McCombs
.

USF.
The Bulls got some tough news this week as well when starting defensive tackle
Cory Grissom
broke a bone in his ankle. You can bet the inside rotation is going to be something the Bulls will work on in the spring game as they try to get a handle on how to replace Grissom, who should be out for an extended period this season.
Luke Sager
,
Elkino Watson
and
Todd Chandler
form the trio of players who will be relied upon to help out.
B.J. Daniels
has had a good spring, but a big key is going to be the way he develops chemistry and rhythm with his receivers. USF has got tons of talent, but now they have to put it together and mesh with their starting quarterback.
Lindsey Lamar
has gotten good reviews since his move to tailback, but what type of role does he have for the season? Secondary is another area where USF hopes to improve -- junior college cornerback Fidel Montgomery has had an outstanding spring.

Syracuse.
There has not been much news out of Syracuse this spring because coach Doug Marrone decided to shut down access to coaches and players so they can focus on getting themselves better. There was one open practice in Rochester that did not reveal much. The scrimmage gives fans in Syracuse an opportunity at their only glimpse of the team before the fall. Several reports out of Syracuse indicate that multi-threat quarterback Ashton Broyld could have a bigger role in the offense this season. There are several burning questions for this team, including who is going to emerge at running back, how
Marcus Sales
fits back into the team, and what the defensive front is going to look like after so many departures.
April, 16, 2012
4/16/12
4:40
PM ET
USF starting defensive tackle
Cory Grissom broke his right ankle
during practice Monday and is out for the rest of spring, the school announced.
Grissom will undergo surgery Thursday, and there is no timetable for his return. USF has its spring game Saturday.
Losing any player obviously hurts, but Grissom has the
most starting experience
of all the tackles on the team. Though line is a position with depth, Luke Sager, Elkino Watson and Todd Chandler don't have much in the way of extensive game experience. Grissom was having a terrific spring, too, so we will just have to wait and see how long he is going to be out.
Grissom's injury marks the second on the defensive line in a week. Backup end Anthony Hill tore his ACL last week, and there is no timetable for his return.
April, 3, 2012
4/03/12
8:00
AM ET
I had a chance to visit USF all day Monday, checking in on the Bulls to see where they stand in their quest to move on from a disappointing 5-7 season a year ago. Everybody was really great, from coach Skip Holtz, to the players, to the coordinators, so stay tuned for plenty of videos and posts in the coming days. And special thanks to everyone at USF.

Here are a few quick notes:
Holtz says he will be ready to reveal his first depth chart after the first major scrimmage of the spring Friday. The scrimmage will feature eight- to 10-play scrimmages, and there will be a set number of plays for everybody, that way each player can be evaluated. Plays will be called to get the ball in specific players' hands. One big key for the offense -- there will be no designed runs called for B.J. Daniels. Offensive coordinator Todd Fitch said he wants to see his offense run without relying on Daniels. In each of the past three seasons, Daniels has had more than 100 carries.
Two players who have stood out on the defensive line this spring: junior college transfer Tevin Mims at end and Luke Sager at tackle. Mims initially signed with Texas before transferring to Navarro Junior College. Holtz praised him for his early progress this spring. Sager, meanwhile, has done a nice job in competition with Elkino Watson for the open tackle spot. It's not a foregone conclusion that Watson wins the starting job.
Sophomore Austin Reiter has done a nice job stepping in at center for Chaz Hine, and looks to be the front-runner to win the starting job. Fitch had high praise for Reiter, who played sparingly a season ago.
Fidel Montgomery, Josh Brown, Kenneth Durden and George Baker are competing for the open cornerback spot. Coaches are pleased with how far Montgomery and Brown have come in their short time on campus since transferring in from junior college. Working on building depth in the secondary is a major spring priority.
Linebacker play was a strong part of the Kansas State defense last year under defensive coordinator Chris Cosh, and he really is working with his group this spring to make sure there is much better communication between the front and the back end. He highlighted DeDe Lattimore in particular, as a player who is starting to play much better against the pass. Depth is an issue at this position.
Stay tuned for plenty more!
April, 22, 2011
4/22/11
9:00
AM ET
Let's continue examining how each Big East team's spring plan to replace its biggest departed star worked out. Your turn, USF.

Biggest shoes to fill: Terrell McClain

"The Dancing Bear" is a sure bet to get drafted later this month. McClain was a force of nature at defensive tackle for the Bulls in 2010, stuffing the run and occupying multiple blockers. Last year's team lacked star power, but McClain is the hardest guy to replace.

Spring replacement(s): Keith McCaskill and Cory Grissom

McClain is so hard to replace, in fact, that the Bulls will likely try to do so by committee. McCaskill, a senior who played in all 13 games as a backup last year, will slide into McClain's tackle spot, while Grissom, a fourth-year junior, returns as the starting nose tackle. Both are solid and had good springs, though they need to raise their games to perform at the consistently high level that McClain did. Behind them are some promising youngsters in sophomores Luke Sager and Demi Thompson and redshirt freshman Todd Chandler.

Summer outlook: Incoming freshmen Elkino Watson and Marquis White will both be given a shot at cracking the two-deep. Maybe none of these tackles are a dancing bear, but with some experience at first string and some talented cubs behind them, Skip Holtz will hope that depth makes up for the loss of one special player.
April, 4, 2011
4/04/11
9:30
AM ET
South Florida held a spring game on Saturday that wasn't really a spring game, as the Bulls still have another scrimmage next weekend. But they were in Raymond James Stadium and getting after it in front of the fans, so let's review the particulars.

The unexpected star of the show was true freshman quarterback Matt Floyd, who finished 20-of-34 for 233 yards and a touchdown. That included 6-of-7 passing against the first-team defense, as Floyd saw more snaps than planned because
Bobby Eveld
got hit in the jaw early. With
Jamius Gunsby
taking the rest of the spring off to fix his academics, Floyd could rise to No. 3 or even higher on the quarterback depth chart.
Starting quarterback
B.J. Daniels
was less sharp, completing just 13 of 29 passes for 145 yards and an interception. Dropped passes marred the offense's day, and head coach Skip Holtz was not happy about it. Consistency in the passing game, of course, was a big problem for last year's team.
"It was pretty discouraging watching the passing game," Holtz said. "Defensively, they ran every blitz known the man. But I thought just the way we executed the passing game was really poor. ... We're definitely going to have to get better at that if we're going to have any shot as an offensive football team."
Demetris Murray
led the team in rushing with 10 carries for 57 yards. Transfer
Darrell Scott
didn't get much of a chance to impress; he pulled a hamstring early on and will miss the rest of the spring.
The defense controlled things most of the way. Luke Sager had two sacks, while Quenton Washington and Mark Joyce each had interceptions.
"It was ugly to watch," Holtz said of the scrimmage.
The game drew only 2,493 fans, a staggeringly low turnout for a spring game. Perhaps fans are waiting to attend this Saturday's on-campus scrimmage.
March, 17, 2011
3/17/11
4:00
PM ET
With half the Big East teams now fully ensconced in spring practice, it's time to take a look at the positions where each team is strongest and weakest. We're considering these groups as they stand for the spring only, not taking into account any newcomers who might arrive in the summer to bolster depth.

We'll go in order of how the teams began spring practice. Up first were the earlybird
South Florida Bulls
.
Strongest position: Defensive line
Key returnees:
Ryne Giddins, Cory Grissom, Keith McCaskill, Julius Forte
Key departures:
Terrell McClain, David Bedford, Craig Marshall.
The skinny:
South Florida is an interesting team for this exercise. The Bulls lost a lot of starters, but also played a whole bunch of guys last year, so they have depth in places even where there isn't starting experience per se. They also lack proven standouts at some of the deepest positions, like receiver. The defensive line lost a first-team All-Big East performer in McClain, and two starting ends in Bedford and Marshall. But the Bulls seem to just reload year after year on the defensive front, and it seems like it's only a matter of time before guys like Giddins and Forte take the next step and become stars. Replacing McClain won't be easy, but there are a lot of candidates, including McCaskill, Luke Sager and Anthony Hill.
Weakest position: Offensive line
Key returnees:
Jeremiah Warren, Chaz Hine, Mark Popek
Key departures:
Jamar Bass, Sampson Genus, Jacob Sims
The skinny:
Again, USF has some depth here; Popek was basically the sixth starter last season, and both guards are back. Still, anytime you lose your two starting tackles and an All-Big East center in Genus, it's going to take a little rebuilding in the spring. The Bulls have to hope that guys like Danous Estenor, John McGhin and Damien Edwards are ready to take on bigger roles.
February, 16, 2011
2/16/11
9:00
AM ET
Here is Part II of my pre-spring interview with South Florida coach Skip Holtz, in which we look forward to spring practice and the 2011 season. You can read Part I
here
. And if you missed Holtz's comments on his quarterback situation, you can find those
here
.
You don't bring back a lot of starters. But considering how many guys you played last year, how comfortable do you feel with your returning experience this season?

Skip Holtz:
I do feel like we return quite a bit of experience. You look at a guy like Mark Popek on the offensive line, who didn't start but played quite a bit, and Danous Estenor played quite a bit. Obviously
Bobby Eveld
started one game. I'll just use the quarterback position: last year in the spring, we had one quarterback on scholarship; this spring we're going to have four. I look at the improvements we've made there from a competitive standpoint.
[Tight ends]
Andreas Shields
and
Jeff Hawkins
played. We had a number of running backs play. I look on the defensive line and we played four defensive ends and even though we graduated two of them, Ryne Giddins, Patrick Hampton and Julius Forte played just as much as the starters did. We played about seven linebackers a year ago, so even though we lost three, you return four with a significant amount of experience. I think we redshirted some really good players. We return all four of our safeties a year ago. We played three cornerbacks and two of them return.
So I think we have a great nucleus to build on. I definitely feel like we're much farther ahead than we were a year ago at this time.
You brought in three transfers from other BCS programs last year. Can you tell me about each of them?

SH:
I'm really excited, and I'll start with the running backs. When we came in here a year ago, all of a sudden [Mike] Ford and [Jamar] Taylor were dismissed from the team. You start looking ahead and say Mo Plancher is going to graduate, and we're going to have a hole at the running back position. So we brought in some transfers in
Darrell Scott
from Colorado and
Dontae Aycock
from Auburn, and I think they're both very very talented players who are working extremely hard. They were both very impressive on the scout team with their attitudes and their work habits.
Darrell Scott came in about 240 [pounds]; he's down to about 226 and looks great. I think both of them are definitely going to be guys who make an immediate impact, and that's why we didn't sign a lot of junior college guys -- there was only one junior college player in our class. I think guys like Aycock and Scott are going to make a huge difference. And then a young man who transferred from Notre Dame,
Spencer Boyd
, is going to bring some depth to us in the secondary, where we graduated Mistral Raymond. He's a great athlete, and he's going to have an opportunity to come in and compete for time.
You had a good running game but not a lot of explosive gains there last season. How much can the new guys help that?

SH:
We didn't have a lot of big plays there, you're right. Both Dontae Aycock and Darrell Scott are bigger running backs. Mo Plancher was about 200, Demetrius Murray was about 200 pounds, where Darrell Scott is 226 and Dontae Aycock is about 230. I think they're bigger, stronger running backs who are going to be able to break more tackles maybe than we have in the past, and when I watch those two guys run, they've shown me some big-play potential. So I'm really excited to see how they develop and mature as we go through spring practice and fall camp.
How are receivers A.J. Love and Sterling Griffin coming along from the injuries that kept them out all of last season?

SH:
Well, it's nice to have them both back. A year ago we had four players returning with any type of experience at receiver, and Carlton Mitchell left early for the NFL before we got here. All of a sudden A.J. Love gets injured in the spring game, and Sterling Griffin gets injured in the summer.
Dontavia Bogan
had a great year for us, and what happened was a lot of these young guys got a chance to get experience last year. And then when you add A.J. Love and Sterling Griffin back to the mix, I think we'll be much deeper there. Plus, I'm excited about a couple of young signees we have that are coming into the program this season. But I think we'll be much deeper at that position, we'll be more experienced and we'll have more playmakers than we had a year ago.
Did it feel like, offensively, you were playing with one arm tied behind your back at times last year?

SH:
It really did, with our limited big-play potential in the running game and how inexperienced we were at the receiver position. But
Evan Landi
came on and gained some great experience. Terrence Mitchell converted over to wide receiver halfway through the year and made an impact. Steven Bravo-Brown got better,
Joel Miller
had a great game against Miami. And with those guys gaining that kind of experience and then being able to throw A.J. Love and Sterling Griffin in there, it may be one of the most experienced positions on our football team.
[+] Enlarge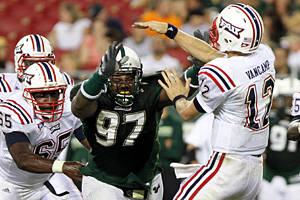 Kim Klement/US PresswireSouth Florida's departing defensive tackle Terrell McClain leaves big shoes to fill this coming season.
Defensively, it seems like Terrell McClain will be the hardest guy to replace. I know Bruce Feldman had some nice words about Todd Chandler the other day. How do you see the defense being able to replace McClain?

SH:
It's hard to replace a guy like Terrell McClain as a senior, whom they're talking about as a possible first-day draft pick, with a redshirt freshman. Keith McCaskill was solid for us last year and he's going to have to play more for us. Cory Grissom is going to be a year older as a starting nose guard. We're going to have to get a little more out of him.
Anthony Hill
is a guy who played a limited role for us a year ago that's going to be a junior; both him and Luke Sager, I expect more out of them. And then you hope Todd Chandler continues to mature into that position. And then there's a signee like Elkino Watson, who came in with an awful lot of accolades and is a talented player.
There are an awful lot of players there, and I don't think we're going to ask just one player to pick up that slack, that hole in the bucket left by Terrell McClain. We're going to ask a number of players to step their game up and fulfill that void.
Your season opener this year is at Notre Dame. How much does that help motivate everybody this offseason?

SH:
I think it's huge as a far as a motivational factor. I remember being at Notre Dame, and we used to open with Michigan every year, when I was at East Carolina, we opened with Virginia Tech. And what that does for your players' focus as they go into winter workouts and spring practice and summer conditioning and fall camp, it just keeps their focus maintained with what's on the horizon. Having the opportunity to play Notre Dame as a young football program like we are, I think it creates an awful lot of excitement in our program, and it's something I know the players are looking forward to.
Have you talked much with your dad about that game yet?

SH:
No, not enough yet. We'll get into that more as we get into summer breakdown. Right now, as we started winter workouts and are getting into out new practice facility, we're just trying to see where our players are and what we can do. Every team has a life expectancy of one year, and this time of year you start to put the pieces together. We're working on our own strengths and weaknesses before we start looking at our opponent and what they can do.
But I know they finished the season with wins at Southern Cal and a lopsided win against Miami. So I know it's going to be a great challenge, it's going to be a tall order. But it's going to be something as a young program that our players and fans are really looking forward to. It's going to be interesting to see what colors Dr. Lou is wearing that Saturday.
The team is drawing some offseason buzz because of how you finished. How do you address that, if at all, with the players?

SH:
I think it's a huge compliment to what this team has accomplished and a huge compliment to this program for what we've been able to accomplish in such a short period of time. The thing for us is, we've just got to stay focused on the task at hand. You start sitting around reading the newspaper articles and drinking the Kool-aid and start believing what everybody starts writing about you, your focus isn't where it needs to be as far as getting a team ready, getting it focused and getting ready for a season. I think it's nice to be able to have that type of exposure for our program, for our fan base and for our players, that they've earned and deserved.
But I think there are two aspects of building a program: I think you have to start by learning how to win, and then once you learn how to win as we started to do toward the end of last season, I think there's a whole another process that goes into being able to handle winning. That becomes maintaining your focus and not getting sidetracked by the circus of college football that goes with the media exposure and everything else.
I suppose that's a nice problem to have.

SH:
I'd much rather be here than still trying to learn how to win.
September, 3, 2010
9/03/10
10:45
AM ET
South Florida's opening game against Stony Brook doesn't hold a lot of intrigue -- except that it's the first game for the Bulls under new head coach Skip Holtz. I caught up with Holtz this week to talk about where his team is on the eve of a new era.
What is your excitement level like as your first game with South Florida approaches?
Skip Holtz:
I'm just excited to be here at game time. I didn't realize how excited I was until last week. Like everybody, you go "OK, this our dress rehearsal, we're going to treat this like our first game," and you go through everything, the schematics. Then all of a sudden you start talking about your press conference on Tuesday, your practice and everybody getting ready, and all of a sudden the excitement is really starting to grow that it's here. It's game time. I'm really excited to get started and to stand on the sideline and watch this team play.
Before fall camp you wanted to improve chemistry, and you took the team to Vero Beach for training camp to help with that. How has that process gone?
SH:
I thought we had a great camp. Vero Beach was a home run as far as what we were trying to accomplish on offense and defense and bringing everybody together. I think we made some strides, and I'm anxious to see how this team responds when you get some type of adversity. That's the whole reason we went to Vero and got closer. We'll learn how much it paid off when we hit some adversity during the course of a season, or even during the course of a game.
Receiver and running back were the two biggest questions on this team heading into fall practice. Where do those positions stand now?
SH:
Still question marks. [Laughs]. The only receiver who has any experience under his belt is
Dontavia Bogan
. You look at that position right now and it's made up of a bunch of guys who have been moved around.
Evan Landi
is a converted quarterback,
Lindsey Lamar
was a running back,
Joel Miller
was a running back, T.J. Knowles was a junior college player. So we really kind of piece-mealed that receiving group together.
I mention those guys, and
Faron Hornes
had a nice camp. He's done a good job for us and impressed me so far. And a young man who is a true freshman named Stephen Bravo-Brown has done a pretty good job. But only one of those seven guys I named has played, so you just don't know how any of them are going to respond when the lights come on and the stands are full and those types of things.
It's kind of the same situation at the running back position.
Bradley Battles
had a good fall camp for us and has done a lot of good things.
Demetris Murray
has had a good camp, and then there's a true freshman, Marcus Shaw, who I think is going to be a really good player. All of those guys will play, but it's the same situation we have at receiver -- just a lot of unknowns.
So is seeing how those guys respond in a game situation one of the biggest things for you in Week 1?
SH:
That's going to be huge, especially with the opportunity to play here at home to open the season, and to see how some of these guys are going to respond. Because you look at the offensive line, and all five of those guys have played.
B.J. Daniels
got a lot of quality reps a year ago. On defense, we've got a lot of guys who have played some, not in starting roles, but guys like David Bedford and Craig Marshall and Terrell McClain, Jacquian Williams, Sam Barrington and Sabbath Joseph and Donte Spires. They're upperclassmen, at least in game experience.
Those positions that concern me the most, as far as not knowing what you're going to get, are obviously the receivers and the running backs. And we've got some young guys at linebacker and in the secondary who will be playing a lot as well. Guys like Mike Lanaris and DeDe Lattimore and Jon Lejiste. So I'm anxious to see this team play. They've been working hard, their attitude has been great, but I'm anxious to see how it comes together on game day.
With Florida on the schedule in Week 2, some coaches might keep things pretty close to the vest. But with so many young players and a new system, can you afford to hold things back in the opener?
SH:
I said to the staff we've got to find a way to win the first one. We'll worry about the second one the second week. But right now we can't take anything for granted. It's not like we've got a veteran, seasoned team coming back that's been in this offense for four years, so we can say "Well, hold on that, hold on that. If we've got to put it in on game day we will." I mean, these are guys that have never stepped on the field before. I've got to imagine their eyes will be as big as their whole facemask.
You said earlier this week that you had a "no-name defense" that would have to do it by committee. That speaks, I guess, to inexperience, but does it also say you have some depth?
SH:
I would say it's depth, but then I'd bring up the saying that if you have three tailbacks, that just means you don't have one great one. We've got a lot of depth, but at this point where we are it's more saying that we don't have a difference-maker. You lose two defensive ends like Jason Pierre-Paul and George Selvie, and those guys are hard to replace. We've got some young guys -- two freshmen in Ryne Giddins and Julius Forte, Patrick Hampton as a junior who's never really played, Claude Davis a junior college player who just got in here.
So you've got a lot of inexperience, and that's the word that keeps coming up with this team. On the D-line you've got Cory Grissom that's played very little,
Anthony Hill
that's played very little, Luke Sager that's played very little. Those guys have worked hard and bring value, and we'll have to play a lot of guys and get them experience. Because we just don't have that. I say it's like the no-name defense because we don't have the Pierre-Paul this year. We don't have that one guy who will be a difference-maker, so we have to do it by committee.
Are there guys you think will emerge and be a "name," so to speak?

SH:
I think Terrell McClain as a defensive tackle is special. I think he's a legitimate player, something special. And then some of the young guys -- Sam Barrington, DeDe Lattimore, they can just run. They can really run. They have a tremendous amount of talent, but one's a redshirt freshman and one's a true sophomore. And then in the secondary, we've got good young guys like Jon Lejiste, and then we're talking about playing four corners.
So we'll just see which guys emerge and be it. Because we can scrimmage and say, "These guys will be it," but it's a close competition. And once you get on game day and guys start to gain game-time confidence, I think you may see some of those guys start to emerge.
Will you have a big pre-game speech prepared, or will you be more low key?
SH:
It won't be anything rah-rah. I'll get with them a little bit Saturday. I've got to be careful because I think they'll be ready to play. Everybody is this time of year. They've been beating on each other for a month; now they're ready to go out and play and get in the stadium. You only get 12 of them. I'll be pretty calm on game day and won't have a lot to say. Most of mine is done in the preparation.