September, 22, 2014
Sep 22
5:30
PM ET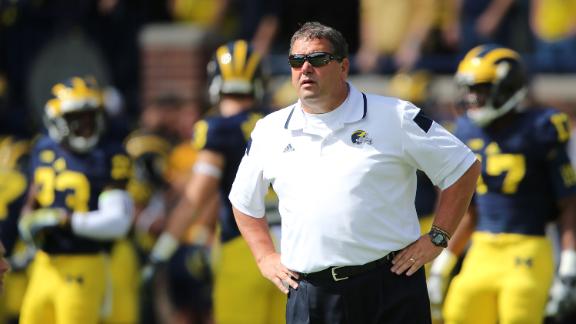 The problems with Michigan's offense are clear. The solutions, for a group that needs to get itself turned around in a hurry if coach Brady Hoke is going to
keep his job
after the 2014 season, are not.
The easiest symptom to diagnose for the Wolverines (2-2) through four games is their turnover margin, which is the worst in the nation at minus-10. Senior quarterback
Devin Gardner
has played at least some role in seven of the 12 times the offense has coughed up the ball. His second interception in Saturday's 26-10 loss to Utah cost him a chance to finish the fourth quarter. It might end up costing him his starting job. Hoke said he'll decide Tuesday whether Gardner or sophomore
Shane Morris
will start this weekend.
Cutting down on turnovers won't be as simple as changing the quarterback, though. Morris has struggled in that department, too. He has been at the root of three turnovers in limited time as a backup this season. In his three drives of relief work against the Utes, he threw one interception, fumbled once and narrowly avoided a safety on the game's final series.
[+] Enlarge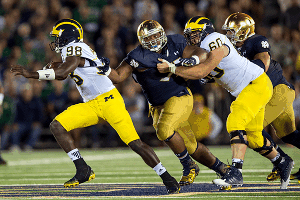 Matt Cashore/USA TODAY SportsProtecting quarterback Devin Gardner has been a major issue for Michigan this season.
"I think they both know what they need to do better, and they will," Hoke said Monday. "I think both competed and made some good decisions, also."
Gardner isn't the only player in jeopardy of losing playing time Saturday when Michigan opens its Big Ten schedule at home vs. Minnesota. Hoke said all 11 starters on offense will be evaluated this week during practice, and the Wolverines might rethink the personnel groups they are using in order to get the best possible combinations on the field.
Inexperience throughout the offense, and particularly on the offensive line, has led to an inconsistent attack. Against Utah, Michigan's offense moved the ball regularly on its own half of the field but appeared to run into a brick wall as soon as it crossed the 50-yard line.
The Wolverines reached Utah territory seven times. On four of those drives, the offense went backward the play after it crossed midfield. In all, Michigan ran 24 plays on Utah's half of the field and gained 44 yards, 25 of which came on one passing play that was immediately followed by Gardner's first interception of the day.
"It's been a reoccurring thing," offensive coordinator Doug Nussmeier said. "Consistency in performance is where we've got to improve. Coaches and players, we're all in this together, and it's all of us getting it corrected."
Drive-killing plays -- turnovers, sacks and penalties -- kept Michigan from establishing an offensive rhythm Saturday and two weeks earlier in its 31-0 loss to Notre Dame. That doesn't appear to be an easier fix than the turnover woes.
Hoke and Nussmeier talked about continuing to harp on technique and fundamentals. When asked what needed to change on offense, Nussmeier talked about the overall youth and needing a better look from the scout team. Hoke didn't bend from his stance that Team 135 in Ann Arbor will be a good one. When he asked what evidence he has to support that claim, though, he could cite only hard work and faith in his players.
The team, to its credit, has battled. The offense charged forward under Morris after a two-hour, 24-minute rain delay Saturday night. Then the same old problems bit them again. Morris fumbled after scrambling for 3 yards on the drive's first play in Utah territory -- a reminder that these aren't issues that can be willed away with grit and determination.
Michigan center
Jack Miller
, the lone representative of the offense to speak to the media after Saturday's loss, said, frankly, that he didn't have an answer for how to fix their problems. Hoke and Nussmeier took a more circuitous route Monday afternoon, but after two days of watching film they didn't have much to add.