Big Ten:

Big 12 Conference
September, 9, 2014
Sep 9
5:00
PM ET
Imagine if the Iowa-Iowa State game really meant something to people outside the state of Iowa.
Not the kind of meaning where you watched casually, because, you know, it's football. Or where you paid attention if only because you're a fan of another team in the Big Ten or Big 12, and hey, bragging rights are fun.
What if it really mattered? Like Auburn-Alabama or South Carolina-Clemson matter, like Texas-Texas A&M and Florida State-Miami once mattered?
The 62nd battle for the Iowa Corn Cy-Hawk Trophy, set for Saturday at 3:30 p.m. ET on ESPN as the 0-2 Cyclones visit Kinnick Stadium and the 2-0 Hawkeyes, resonates plenty within the state borders.
"It doesn't matter what part of the state you're in," ISU coach Paul Rhoads said this week, "you are either at the stadium or at a party with all eyes on the game. That's a pretty neat deal to feel and be a part of."
No doubt, it is.
For Iowa's Kirk Ferentz, Saturday marks the 25th Iowa-Iowa State game in which he's played a role, including 16 as the Hawkeyes' coach. Ferentz said he recalls tough games, often closer than expected.
They matter to the players, of course. These are rosters full of Iowans who've met on the playing fields since before their college careers began.
"This is one week where everybody is focused on this ball game within our borders," Ferentz said. "It's one that's endured, and it's been exciting to be a part of it every year."
To non-Iowans, though, Iowa-Iowa State has just always kind of been there, like vanilla ice cream or Flag Day. There are better flavors, better holidays.
Iowa-Iowa State needs a shot of energy. The fact is, it may not happen soon, doomed to "endure," as the often-understated Ferentz says, much like Louisville-Kentucky (football only, to be sure) or Georgia-Georgia Tech.
To take your in-state rivalry national, something special must happen, something that resonates. Iowa or Iowa State needs a transcendent player or coach, a game for the ages or a once-in-a-generation season for both programs in the same year.
Somehow, that seems like a stretch for this pair.
"Rivalry games are special," Rhoads said. "The fact that I'm an in-state guy, along with a lot of our players, probably makes it more important to them. But it doesn't take long to be a part of the culture and part of the program to understand the importance of this game."
The importance is real to the state of Iowa. Sadly, the rest of us don't get to share in the fun.
April, 28, 2014
Apr 28
1:48
PM ET
The
SEC's long-awaited future schedule model
came out Sunday, and it looks a lot like its predecessor. The league maintained an eight-game league schedule with longstanding division crossover games, rather than going to nine league games. Beginning in 2016, the conference will require each member to play one nonconference game against a team from a power conference on an annual basis. Teams will continue to be allowed to schedule FCS opponents.
Reporters Ted Miller and Adam Rittenberg weigh in on the SEC's schedule structure.
Ted Miller:
Well, Adam, you knew it was coming. We live in an age when if you want to do something sneaky and con the public, you claim you are doing the opposite of your true intent. And then repeat it over and over again until some believe it really is opposite day.
Even we fall for it. Our
ESPN.com headline
says, "Schedule strength is SEC priority," when the opposite is actually the truth.
[+] Enlarge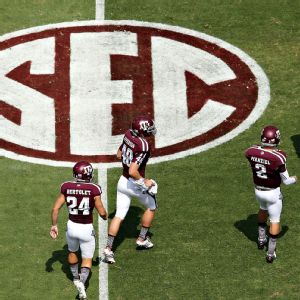 Ronald Martinez/Getty ImagesThe SEC is sticking with an eight-game league schedule.
It's irrelevant outside of the SEC whether the conference retained its "longstanding non-divisional rivalries." It's also irrelevant that the SEC insists it will continue to upgrade its nonconference schedule.
The only thing that matters is the SEC's massive con that games the system as we move toward the College Football Playoff: The SEC will maintain its eight-game conference schedule when other major conferences are -- or are planning to -- play nine conference games.
That is the only thing that matters, and this is nothing more than the SEC giving itself an annual advantage by deciding that it will eliminate seven losses from its standings.
This is not regional bias, folks. This is not SEC jealousy. This is something called "math."
With an eight-game SEC schedule, 5-7 teams become 6-6 teams. And 8-4 teams become 9-3 teams. And that 11-1 team that beat the 9-3 team that should really be 8-4 will look better than the 11-1 team in the Big 12, Pac-12 or Big Ten that beat an 8-4 team who would be 9-3 in the SEC.
Those sentences might glaze over many eyes and evoke a "Huh?" But they are the very thing that won the day among SEC leaders when it was decided to duck the mathematical realities of a nine-game conference schedule.
I'll now take a breath. Adam, what do you think?
Adam Rittenberg:
It makes me less excited about the playoff, for starters. Maybe I'm na´ve, but I saw the playoff, with its purported emphasis on schedule strength, as the great equalizer in scheduling. Maybe it still will be, but I have my doubts.
You cover a league (Pac-12) that for years has employed the most challenging schedule model in the country: nine league games plus marquee nonconference contests. I cover a league (Big Ten) that has traditionally resided in cupcake city. But three factors -- the playoff, an expanded conference and an upcoming TV contract -- triggered the Big Ten to adopt a nine-game league schedule, no more FCS opponents in the near future and stronger nonleague opponents. This is good for the fans. Expansion might remain a sore subject for some, but the idea of playing each other more, not less, is a good one.
If every league had the same model -- nine league games, at least one marquee nonleague game, a championship game -- it would create a degree of equity, produce more appealing games for fans and allow the selection committee to evaluate teams with similar profiles.
This SEC chest-puffing about the requirement to schedule one nonleague game against an opponent from a power conference is the most laughable part of Sunday's announcement. SEC teams already do this, just like those from the Big Ten, Pac-12 and so on. What really changes here? Can I still see SEC teams playing FCS teams in November? OK, cool, just checking. Rejoice, SEC fans.
Now fast-forward to December 2016, and the selection committee is choosing between a two-loss Pac-12 or Big Ten champion, which has played nine league games plus a championship game, and a one-loss, second-place SEC team with eight league games and no championship game. If the SEC team is chosen, it invalidates the whole system. Here's hoping the committee makes the right call.
[+] Enlarge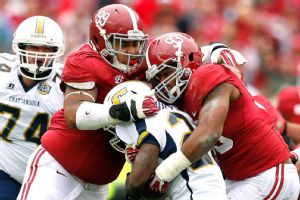 Kevin C. Cox/Getty ImagesAlabama crushed FCS foe Chattanooga in 2013; FCS Western Carolina is on tap in 2014.
Perhaps then, we'll see the SEC align at nine.
But maybe this has the opposite effect: leagues backing away from playing more conference games. The ACC has a similar decision ahead.
What do you think comes next?
Miller:
Know what would be great? If SEC fans would realize they are being cheated, just as much as the rest of college football. Why would Alabama fans rather watch a game against a Sun Belt team more often than, say, Georgia?
It would be great if they demanded a better schedule, one that went further toward determining the best teams in the SEC. In a 14-team league, how can anyone insist playing eight conference games rather than nine is better and more equitable?
Of course, that won't happen. As you and I have seen through the years, it's mostly "my conference, wrong or right" in the SEC. The typical SEC fan response when their conference is criticized ranges from "Well, your conference stinks!" to "We owned the BCS!" Folks down South tend to defensively circle the wagons instead of aspire to some objective self-analysis, though you could reasonably argue that is a powerful syndrome operating throughout college football.
Part of that defensiveness is there is no real rebuttal. This isn't an argument. It's an empirical truth that the SEC is gaming the system by playing eight conference games.
So as to what actually might come next, my thought is the CFP selection committee needs to make a stand: An eight-game conference schedule should automatically operate as a demerit as it falsely elevates the apparent strength of a conference.
What do you think?
Rittenberg:
We're all wondering about the committee's collective guts, especially when it squares off against the SEC monolith. That certainly would be a way to show the group means business. Because it's not about whether the Big Ten stinks, as hundreds of SEC fans told me Sunday night on Twitter. Yes, the Big Ten stinks, but it's not a Big Ten-SEC debate. It's about the SEC living in the playoff realm alongside the Big Ten, Pac-12, Big 12 and ACC.
While I'm not surprised by the SEC fan sensitivity to anyone who dares to critique their beloved league, how many other fan bases would actually want this? Don't fans want more appealing matchups? I know Big Ten fans want to play other league teams more, not less. They want more rivalry games. They want to see marquee nonleague contests. I'm guessing Pac-12 fans feel the same way.
The ACC's decision will be fascinating. Most of the coaches, like their colleagues in every other league, want to stay at eight. The ADs seem to be leaning toward nine. We could have four leagues playing nine league games and one playing eight.
The SEC would be on its own. Perhaps that's exactly what it wants.
February, 21, 2014
Feb 21
7:45
PM ET
Tom Bradley, a longtime assistant under Joe Paterno at Penn State, has agreed to join the staff at West Virginia, the school said Friday.
"I'm excited to be back to coaching again, to be again be part of something that is bigger than myself," Bradley said in a phone interview with ESPN.com.
Bradley, 57, will be the Mountaineers' senior associate head coach.
"Tom brings numerous years of successful college coaching experience and versatility," coach Dana Holgorsen said in a statement. "He is an excellent defensive teacher, has high energy and intensity and gives us a proven recruiter with regional and national ties."
Bradley coached for 33 years under Paterno at Penn State after graduating there in 1979.
After coaching various positions, he eventually replaced Jerry Sandusky as defensive coordinator in 2000. When Sandusky was charged with sexually abusing children, Bradley took over for Paterno as interim head coach in Penn State's last four games in 2011.
He resigned from the school after the season, and has spent the last three years as a football analyst, most recently covering Army football games.
To continue reading this story,
click here
.
December, 29, 2013
12/29/13
1:30
AM ET
TEMPE, Ariz. -- Kansas State and Michigan finished the regular season headed in opposite directions, and that dichotomy was clear from the outset Saturday as the Wildcats cruised to a
31-14 win
in the Buffalo Wild Wings Bowl.


It was over when:
Shane Morris' third-down pass with 7:30 to play and Kansas State up by 18 fell incomplete, sending Michigan's punt team in for the fifth straight drive and effectively ending any chance at a comeback attempt. Michigan's offense was stuck in neutral throughout, and while Kansas State failed to cash in on several second-half opportunities to put the game away, there was never any real drama down the stretch.
Dante Barnett
's interception on Michigan's next drive ensured the final score was as one-sided as the play on the field had been throughout.
Game ball goes to:
Kansas State quarterback
Jake Waters
. The junior-college transfer was nearly flawless all night, completing 21 of 27 passes for 271 yards, three touchdowns and no interceptions.
Tyler Lockett
caught all three touchdowns and would have had a fourth if he didn't drop a perfectly thrown ball from
Daniel Sams
in the end zone. Waters was impressive with his arm, but he made his share of plays with his legs, too, racking up 42 rushing yards, including running for five first downs. Aside from the drop, Lockett was exceptional. He finished with 194 all-purpose yards -- his sixth game this season with more than 150 all-purpose yards.
Stat of the game:
22. That was Michigan's rushing total with 2 minutes left on the clock, a dreadful effort that effectively doomed any chance at moving the ball consistently. The ground game has struggled all season for the Wolverines, and Kansas State didn't seem to break a sweat shutting down Michigan's runners. A 14-yard run by
Devin Funchess
on a double reverse in the first quarter and a 40-yard scramble by Morris with less than 2 minutes to play provided the only highlights. The rest of the ground game amounted to just 11 yards on 13 carries, and Morris was forced to carry the load in his first career start.
Unsung hero:
Morris, a true freshman, stepped in for injured
Devin Gardner
, and he was solid. He wasn't asked to make too many tough passes -- particularly in the early going -- but he also got no support from the running game. Still, he completed 15 of 19 passes in the first half for 121 yards, converting a couple of big third downs and improvising when plays broke down. In the end, it didn't matter much, as Michigan simply couldn't overcome its many holes, and while Morris was calm, cool and consistent, the lack of support doomed his second half.
What Michigan learned:
It has a quarterback for the future, but there are plenty of other issues that need to be addressed. Morris was solid despite getting precious little help from his teammates, but even if he continues to develop over the offseason and unseats Gardner as the quarterback of the future, Michigan's prospects won't improve much if the defense and running game don't get much better. Kansas State ran with ease up the middle, had wide open receivers often and had little trouble completely silencing Michigan's ground game. It was a script far too familiar for the Wolverines in 2013, and Brady Hoke has his work cut out for him finding answers before the 2014 season begins.
What Kansas State learned:
There's no bowl jinx, and Bill Snyder can win games in December just as easily as he wins them in the fall. Kansas State hadn't won a bowl game since 2002, but the Wildcats dominated this one from the outset. The offense continues to evolve, and the defense completely shut down Michigan. After a slow start to the season, Kansas State finished as hot as anyone, winning six of its final seven games. More importantly, the pieces are in place for that success to continue into 2014.
To watch the trophy presentation of the Buffalo Wild Wings Bowl,
click here
.