Big Ten:

Iowa State Cyclones
August, 22, 2013
8/22/13
2:00
PM ET
By
Brad Bournival & Tom VanHaaren
| ESPN.com
Big Ten fodder is never hard to find, especially in recruiting. Here's a look at a few programs that highlighted a busy recruiting week:
Cotton getting close
Linebacker
Micquell Cotton
(O'Fallon, Ill./O'Fallon) has narrowed his list down to Indiana and Iowa State. The three-star back holds offers from both schools as well as Syracuse and Michigan State.
Cotton has visited both already and will take official visits this fall before making a pick.
The Cyclones have some appeal with a solid 2014 class that includes ESPN 300 wide receiver
Allen Lazard
(Urbandale, Iowa/Urbandale), running back
Tommy Mister
(Chicago/St. Rita) and a few other good looking commitments.
We'll see where things stand after he takes his trips.
Iowa adds cornerback

Cornerback
Josh Jackson
(Corinth, Texas/Lake Dallas) committed to Iowa on Thursday. He confirmed his commitment in a text message.
The 5-foot-11, 175-pound senior becomes Iowa's 13th commit and the unranked defensive back becomes the third player to be taken in the secondary in the Hawkeyes' 2014 recruiting class. He joins cornerback
Omar Truitt
(Washington, D.C./St. John's College) and safety
Jyaz Jones
(Dallas/South Oak). Jackson's commitment continues the youth movement at Iowa, as six underclassmen will return next season from Iowa's two-deep chart.
"I think it's going to be great," Jackson said. "With the guys coming in, we'll definitely make a big impact in the Big Ten and for the team."
Defensive end
Torey Hendrick
(Brooklyn, N.Y./ASA College) hasn't broken down his top five yet, but the junior college sensation already knows one he'll take a visit to Iowa.
The 6-foot-4, 225-pound Hendrick hasn't set a date, but Iowa City be a destination. Expect Kansas to maybe earn a visit as well.
Hendrick currently has offers from Arizona State, Florida State, Kansas State, North Carolina State and Rutgers to go with Iowa and Kansas.
Lacrosse commit getting looks


Jason Alessi (Birmingham, Mich./Brother Rice) is committed to Michigan for lacrosse, but that might not be the sport he ends up playing in college as he is starting to get noticed for football as well.
Alessi is a 2014 defensive back who already holds football offers from Cornell and Air Force. He has heard from Yale, Harvard and most recently Michigan State.
The 6-foot, 170-pound safety took a visit to East Lansing last week and is now waiting for the Spartans to make a move. The coaching staff told him they want to watch film on his first few games this coming season and then make a decision.
If he has a good start to the season the Spartans might not be the only team to come calling.
Linebacker U looking again

Penn State has opened up its search to replace outside linebacker
Jared Wangler
(Warren, Mich./De La Salle), who decommitted from the Nittany Lions before pledging to Michigan.
With Syracuse commit
Jason Cabinda
(Flemington, N.J./Hunterdon Central) already in the mix of candidates, Penn State has offered outside backer
Brandon Lee
(Indianapolis/Lawrence Central). That means Northwestern has some company in landing the standout as Lee will travel to California on an official visit when the Golden Bears play the Wildcats on Aug. 31. Lee currently has a top five of Cal, Louisville, Northwestern, Oregon and Virginia Tech.
London a wanted man
To continue reading this article you must be an Insider
June, 14, 2013
6/14/13
4:30
PM ET
Wishing you a great weekend. Be sure to follow us
on Twitter
.
And away we go ...
Brutus from The Ninth Circle writes:
Hey Adam, got a recruiting question for you. I've been watching Penn State's ability to recruit under sanctions and have been mildly impressed with what Bill O'Brien has been able to do. I think the caliber of recruit, while varying, has been good. I'd say in some cases it's been better than some previous years. The various pundits point to the sanctions as being a factor in affecting their ability to recruit. So my question is, how do you think the recruiting will change, if at all, once the sanctions have passed? Does the ability to compete in a bowl really have that much of an effect? Or are we going to see only a minor change in recruiting ability once the sanctions are gone? I'm intrigued by how much the recruiting is affected by the coaches, the facilities, the exposure, the bowl games, and the overall stability.
Adam Rittenberg:
Brutus, I've been more than mildly impressed with Penn State's recruiting efforts under O'Brien, especially when you consider how selective they need to be. Time will tell how many recruits pan out, but O'Brien and his assistants have brought in a lot of high-ceiling guys at a time when they really can't miss on many or any. The chance to win championships and play in bowl games matters to recruits, and Penn State will have an easier time once the sanctions are finished or nearing their end. But O'Brien has effectively leveraged his NFL experience on the recruiting trail. Recruits with NFL aspirations, especially those who play offense, can see the path to the next level under O'Brien in State College.
Penn State still offers great facilities and great exposure, especially during Big Ten play. The program also is much friendlier to NFL scouts under O'Brien than it was under Joe Paterno. O'Brien also can sell the chance to play for championships as juniors and seniors, and the light at the end of the tunnel will get closer each year. I expect a recruiting upgrade post-sanctions, but perhaps not a dramatic one as long as O'Brien stays, Penn State keeps winning at a decent level and players move on to the NFL.
---
Stan from Chestnut Ridge, N.Y., writes:
Your
reply to "Unhappy Husker" today
was a fail. You implied that Nebraska was equal with all Big 10 members w/your $25.7M comment. C'mon Adam: don't be untruthful. OK, you might be presidential material, but being misleading here is just wrong. Nebraska won't get an equal share for several more years. And U totally missed his larger point. Nebraska DOES have fabulous facilites/game-day experience, but recruits have to GET THERE before it matters. THAT is the point. Nebraska isn't close to that manyr top talent H.S. players, so many have to wait to see Nebraska until their Sr. season, based on NCAA rules, unless they pay for it on their own earlier. So when you said "regardless of the kickoff time" you should have thought instead. And you say NE will have "more night games in future seasons." How does that help THIS year's recruiting?
Adam Rittenberg:
Stan, you're right about the revenue share error, as Nebraska didn't get a full Big Ten revenue share in 2012. But my larger point doesn't change: Nebraska will be a richer athletic program in the Big Ten than it would have been in the Big 12. You can't dispute that, and I think some Nebraska fans need to appreciate the financial benefits of the Big Ten rather than pining for the good ol' Big 12, which made their program less and less relevant with its Southern shift. I also understand the difficulty Nebraska has in getting some recruits to campus on game day, and the added importance of official visits for the Huskers. I
wrote about this topic
last month.
I understand that night games help recruiting, but I don't buy into the belief that an 11 a.m. kickoff against UCLA is going to ruin Nebraska's recruiting efforts for 2014. That's fan panic, not reality. There will be enough afternoon kickoffs this season -- in addition to home games against Wyoming and Southern Miss in prime time -- for recruits to attend. Some will take official visits to Nebraska on their bye weeks. Some will take Saturday morning flights to Omaha from other Midwest cities, and there are several. Is it ideal? No. Is it a reason for Nebraska to go back to the Big 12 or wish it was still there? No.
---
Matt K. from New York writes:
I think this season one can make the argument that Penn State has the strongest receiving corps in the Big Ten with Robinson, Carter, and
Jesse James
(coolest name on the team) returning, plus the additions of Adam Breneman and
Eugene Lewis
coming up, but my question is who do you see throwing these receivers the ball? Hackenberg will surely need some time to learn BOB's system, but his ceiling definitely seems much higher than Tyler Ferguson's. Also, do you see Michael O'Connor getting a redshirt his first season to separate eligibility years between him and Hackenberg, or will he be kept without a redshirt for depth purposes?
Adam Rittenberg:
Matt, I agree Penn State has an excellent group of pass-catchers coming back for 2013, especially at the tight end spot with
Kyle Carter
, James and
Matt Lehman
, to go along with Breneman. The quarterback competition comes down to whether Ferguson separates himself early in camp. He had the entire spring to work in the offense, while Hackenberg did not. If Hackenberg progresses quickly or Ferguson struggles early in camp, I can definitely see O'Brien playing for the future with Hackenberg. If the two are relatively equal, it usually makes sense to go with the younger, seemingly more talented player. I'm sure Penn State would like to redshirt O'Connor to create enough separation between its quarterbacks. If Hackenberg and Ferguson both prove to be solid options, I see Penn State going that route.
---
Mac from Cincinnati writes:
Hey Adam, I saw the recent strength of schedules and Ohio State's is 105th. A lot of people are predicting them to go to the national title as you know. Do you think that they are picking them to go because their schedule is weak or because they are a really good team? Also I saw that Oregon has the 113th toughest schedule and they are also a title contender. Why aren't people talking about their weaker schedule as a reason why they might make it?
Adam Rittenberg:
Mac, I've read a lot about Ohio State as a national title contender, and every story mentions the weak schedule, so it's definitely a topic of discussion. The schedule certainly plays into Ohio State being labeled a title contender. The Buckeyes went 12-0 last season but were far from a dominant team. Although they'll be better in certain areas this season and more comfortable with the Urban Meyer way, they have significant question marks with a young defense. So the schedule certainly is a factor in the title talk surrounding the Buckeyes, who face a few early challenges (Wisconsin, Northwestern) but should be a fairly sizable favorite every time they take the field. It's worth pointing out that Ohio State's schedule would have looked a bit better
if Vanderbilt hadn't backed out of a season-opening game in Columbus
. The Buckeyes ended up moving their game against Buffalo to the opener and replaced Vanderbilt with San Diego State. You bring up an interesting point about Oregon, which plays two major-conference teams (Virginia and Tennessee) in non-league play, plus nine conference games, including a trip to Stanford (but no USC). The Ducks' schedule doesn't appear as easy as Ohio State's, but it might be.
---
Aaron from Bettendorf, Iowa, writes:
Adam,With the Big 10 going to 9 conference games I like the idea of one cupcake, one middle of the road, and one "upper echelon" team. One cupcake is not a problem for Iowa as they typically schedule one a year anyway. Middle of the road appears to be Iowa St - which should be played every other year now with the nine game schedule - due to neither Barta or Pollard wanting to look like a bad guy by backing out of the series. So my 3rd pick will go to...Virginia Tech. Iowa and Beamer ball are very similar. Iowa is starting to recruit the Virginia area more due to the hiring of coach Reid. That game puts you in the Virginia/Maryland/DC markets. Lastly, it will likely be a marquee game on ABC/ESPN in the primetime slots.
Adam Rittenberg:
Aaron, I like your approach here and I'm guessing a lot of Iowa fans would, too. The problem: Iowa would need to organize its schedule to include at least seven home games in most if not every season. Virginia Tech certainly would want a home-and-home series unless the teams met at a neutral site. Would Iowa agree to play a neutral-site game against Virginia Tech at FedEx Field, where the Hokies played Boise State in 2010? It would be more of a Hokie home game, but it would get Iowa into that market. From talking with
Gary Barta
and
Kirk Ferentz
, it doesn't sound like there's much interest in scheduling a second major-conference team for home-and-homes. I think Iowa has three options after the Big Ten goes to nine league games in 2016: keep scheduling Iowa State and two guarantee games; take two-year breaks with Iowa State and replace the Cyclones with a team like Virginia Tech; or keep playing Iowa State and sprinkle in neutral-site games with teams like Virginia Tech. I prefer the second and third options to the first.
---
Max from Toronto writes:
Adam, your response to Jon from Tumalo, Ore., about the NCAA refusal to punish SEC cheating in any sort of meaningful way, pretty much shows that you have to tow the ESPN company line. You sounded like nothing more than an SEC apologist. Major infractions are major infraction, I bet you bought the only Cam Newton's dad knew crap. I ask you this, since it's now reached to ridiculous extremities, do you know just how much your employers are paying the NCAA not to punish their cash cow?
Adam Rittenberg:
You're right, Max, the NCAA giving Mississippi State a one-year bowl ban would ruin ESPN's investment in the SEC and send panic across the ESPN campus in Bristol. If you've followed recent NCAA cases, there are a lot of "major infractions" that aren't punished with postseason bans. I'm not apologizing for Mississippi State or the SEC, and it amazes me how Auburn escaped any penalties for the Cam Newton situation. My response to Jon was an attempt to explain why the Mississippi State and Ohio State cases were different in the NCAA's eyes and why Mississippi State escaped a postseason ban. I never said I agreed with the ruling, but there's a difference between an assistant providing benefits to a recruit and the head coach lying repeatedly to everyone, which happened at Ohio State.
---
Tony from Geneva, Neb., writes:
Do you see any parallels between the 2013 Huskers and the '83 Scoring Explosion Huskers. Both defenses could be called a bend but dont break model. Now dont get me wrong. Gill, Rozier and Friar averaging 52 points a game is probably loftier than Martinez, Abdullah and Bell will accumulate due to the turnover bug that has yet to be remedied. But I believe 43-46 points a game isn't out of the question when you look at the roster. Bo shouldnt be afraid to run it up to get inside the opponents head a week in advance. Sportsmanship in Big Red country is a standard, but settling for 27 points against Wyoming could show weakness to a future conference foe.
Adam Rittenberg:
An interesting comparison, Tony. I have little doubt Nebraska will put up mammoth points and yards totals in its first few games, which should help a talented offense build confidence. It might be unrealistic to expect Nebraska to average more than 40 points a game against Big Ten defenses, but the Huskers should be one of the league's most productive offenses this fall. My issue with Nebraska's offense remains the turnovers, which tend to catch up with a team even if it's racking up all those yards and points. Few defenses are good enough to overcome so many giveaways, and Nebraska's defense has some major question marks entering the fall. If the Husker offense builds on last year's production and cuts down on the turnovers, it could lead the team to a division title. But I also think Nebraska could have fewer yards, fewer points
and fewer turnovers
, and still get back to Indy. Remember, Nebraska's 1983 team had 21 turnovers (15 fumbles, six interceptions). Nebraska had 35 last season.
June, 7, 2013
6/07/13
10:00
AM ET
The Big Ten scheduling paradigm is shifting, both within and outside the league.
More conference games are on the way, and the Big Ten has urged its members to upgrade their non-league schedules, mindful of the upcoming College Football Playoff. We're seeing more big-time series and more blockbuster neutral-site games like
Wisconsin vs. Alabama to kick off the 2015 season
.
But one
Big Ten team finds itself a bit stuck
with the new model: Iowa. The Hawkeyes have their annual game against in-state rival Iowa State, which has taken place every year since 1977. The schools have a contract to meet every year through 2017. Like most of its Big Ten brethren, Iowa wants/needs to play seven home games per season to meet its athletic budget. Since Iowa State is a rotating home-and-home series, it's tough for Iowa to add a second marquee non-league opponent.
"I'm not sure I envision playing 11 BCS teams," Iowa coach Kirk Ferentz recently told ESPN.com. "I guess we could do that. There's no law against it, or policy against it. From my vantage point, when we decided as a conference to move to nine [league games], which not everybody has done or is doing, that's one of the choices you make. OK, so you play your nine conference games, they're locked in. And then you want to look outside for another BCS opponent.
"I'm sure there will be teams that choose to play 11 or 12 BCS teams. I'm not sure we're in that group. I'm not sure that's in our best interest."
Iowa typically has played Iowa State and one other major-conference team in recent years, whether it was Pitt or Arizona or Syracuse. The school managed to keep seven home games per year, but the task becomes harder beginning in 2016 as the Hawkeyes will have five guaranteed road contests every other year.
Ferentz has spent the past 14 seasons as Iowa's head coach and served as a Hawkeyes assistant from 1981-89, so the Cy-Hawk series is all he knows in Iowa City.
"I've had 24 years in this program, and it's hard to envision us not playing them," Ferentz said. "It does mean an awful lot to the state. It's unique in our situation because the other schools in our conference that have something like this, they're playing other Big Ten schools. It's pretty much true nationally. Pitt-Penn State used to be a big thing, but it's a little unique in that we've got two different conferences represented.
"If you're Michigan and Michigan State, you don't have to worry about it."
What's the solution for Iowa? The program undoubtedly faces a dilemma, but a two-year break with Iowa State now and then wouldn't be the end of the world. Iowa would be free to schedule a series against a marquee major-conference foe or perhaps a one-time, neutral-site game like Wisconsin-Alabama.
I also wonder whether Iowa could play 11 major-conference teams in a season from time to time. Would a schedule featuring five Big Ten home games, Iowa State on the road and a decent major-conference team at a Kinnick Stadium be too much? Not really.
Ferentz is right that the Iowa-Iowa State game resonates within the state. But it shouldn't restrict Iowa and its fans from bigger and better opportunities elsewhere.
May, 15, 2013
5/15/13
10:00
AM ET
CHICAGO -- Future nonconference scheduling is one of the biggest topics at the Big Ten spring meetings, as some programs have more flexibility than others.
Iowa certainly finds itself in the "others" category. The reason: its annual in-state series against Iowa State. Like most Big Ten programs, Iowa needs to play seven home games per season to satisfy its budgetary demands. As the Big Ten moves to a nine-game league schedule in 2016, teams will play just three non-league games per year and have five guaranteed road games every other year.


If the Hawkeyes continue to play the Cy-Hawk series every year, their nonconference schedules beginning in 2016 will consist of Iowa State and two lower-level FBS teams that don't require return home games. Iowa has an FCS opponent on its schedule from 2013-18 but will stop playing FCS schools after the 2016 season, in compliance with the Big Ten's new scheduling directive.
Athletic director Gary Barta told ESPN.com on Tuesday morning that he doesn't expect scheduling another major-conference opponent besides Iowa State because of the likelihood for a home-and-home agreement and Iowa's need for at least seven home games per season.
Here's more from
The (Cedar Rapids) Gazette
:
"It's a good rivalry, it's good for college football, but the unique challenge is they're [Iowa State] not in our conference," Barta said Tuesday. "Our No. 1 goal is to win the Big Ten Conference and whatever beyond that. But because our in-state rival is there, it's great for the game, it's great for for the state, it just doesn't apply toward that No. 1 goal of winning the Big Ten Conference, which is unique."

So, in 2016 with nine B1G games, Iowa's non-conference schedules of the future will be home-and-home with Iowa State and two games that won't be home-and-home, Barta said. Iowa's budget dictates seven home football games. No bend there.

The inventory beyond Iowa State and no FCS schools remains to be seen. Last week, CBSsports.com revealed that Iowa and Northern Illinois will meet in 2018 and 2020.

The parameters are narrow for Iowa non-conference scheduling.

"We'll have two games to fill every year and they won't be home-and-homes, because I have to have seven home games," Barta said.
While I'm not sure what playing Iowa State annually has to do with winning the Big Ten, Barta's dilemma is understandable. The Iowa-Iowa State series resonates in the state, and as much as Hawkeyes fans love to dismiss their rivals from Ames, the series has been more than competitive in recent years. Still, a little more scheduling flexibility would benefit Iowa and its fans.
Michigan would have had a similar dilemma if its annual series against Notre Dame was continuing. Athletic director Dave Brandon said Tuesday that a
positive of the series suspension is having greater flexibility with other marquee opponents
. Then again, the Michigan-Notre Dame series still resonates nationally, while the Iowa-Iowa State clash usually doesn't.
Could Iowa work in a neutral-site game or two? Does it make sense to take two-year breaks in the Iowa State series from time to time?
May, 10, 2013
5/10/13
4:30
PM ET
Wishing you a great weekend. Be sure to follow us
on Twitter
if you aren't already.
To your questions ...
Tons of fun from Champaign, Ill., writes:
I've seen a lot of comments and disgruntled fans talking about the neutral site games for the Big Ten and how it takes away from the student and campus atmosphere that college football is known for. As a graduating senior however, I remember some of the most memorable games I attended being neutral site games. The Arch Rivalry games between Illinois and Mizzou were some of the most exciting college atmospheres I had experienced despite never winning (I wish it would come back). Also, the Illinois/Northwestern game at Wrigley Field was a blast being able to go out in Wrigleyville before and after the game (fortunately for me I was in the "scoring" endzone), and I look forward to the Washington game at Soldier Field next year. I feel that the neutral site games bring the campus atmosphere to these NFL stadiums and it creates a unique experience away from campus. The fans for the most part show unprecedented sportsmanship that you don't often see at the campus tailgates. As a current student who has experienced these neutral site games I hope they don't go away just because of poor attendance and traveling distance. Or maybe I'm just the only one... Thoughts?
Adam Rittenberg:
Some good thoughts here, especially about better sportsmanship at these games. You're definitely not the only person who likes neutral sites. From a tradition standpoint, there's a drawback as teams only play 6-8 home games a year, and each of those dates is special for the fans. There are different types of neutral-site games, from rivalries like Illinois-Missouri, Oklahoma-Texas and Florida-Georgia that have strong ties to a neutral site, to novelty games like Illinois-Northwestern at Wrigley Field. My take: if neutral-site games get us more attractive non-league games, I can sacrifice a campus-site game here and there. I'm so tired of unappealing non-league games, and if this is the only way certain schools will upgrade their schedules, fans should get on board. Who wants to see Nebraska-Idaho State or Illinois-Charleston Southern? I'd much rather trade those clunkers for appealing neutral-site games.
---
Seth from Chicago writes:
Hey Adam - Bobby Stoops recently ruffled some southern feathers by suggesting that while the top few SEC teams are ahead of the rest of college football, the rest of the conference is no better than any other conferences bottom group. Sports Nation lined the SEC up with the Big 12 - any chance you and/or Brian will line the Big 10 and the Pac 12 up (something we actually could have seen on the field if the scheduling agreement didn't blow up before it started)?
Adam Rittenberg:
Absolutely, Seth. Maybe we'll do a more in-depth comparison with the Pac-12 blog, but here's my very quick analysis of the matchups, based on the most recent
Pac-12
and
Big Ten
post-spring power rankings.
Ohio State vs. Stanford (edge: Ohio State)
Michigan vs. Oregon (edge: Oregon)
Northwestern vs. Arizona State (edge: Northwestern)
Nebraska vs. UCLA (edge: Nebraska, but we'll find out Sept. 14)
Wisconsin vs. Washington (edge: Washington)
Michigan State vs. Oregon State (edge: Michigan State)
Penn State vs. USC (edge: USC)
Minnesota vs. Arizona (edge: Arizona)
Indiana vs. Utah (edge: Indiana)
Purdue vs. Cal (edge: Cal)
Iowa vs. Washington State (edge: Iowa)
Illinois vs. Colorado (edge: Colorado, I guess)
It's a true 6-6 split in my view, and several games (Northwestern-ASU, Penn State-USC, Michigan State-Oregon State) are really tossups. The leagues are comparable entering 2013. Ohio State and Stanford both are national title contenders, and you can never count out Oregon. The Pac-12 might have a slight edge at the top, while the Big Ten seems a little stronger in the middle of the league.
---
Dan from Pittsburgh writes:
Adam, Now that the B1G divisions are set for the foreseeable future, how do you think the conference will be handling Thanksgiving Weekend rivalry games? Aside from what has already been announced (UM/OSU and Nebraska/Iowa), the conference could set itself up with some very appealing match-ups, think Paul Bunyan's Axe or the Battle for Chicago. No disrespect to a steadily improving MSU, but I'm hoping my Nittany Lions will finally get a real end of the year rivalry with either UMd. (not sure if the B1G can make a trophy out of the Mason-Dixon Line) or Rutgers (the losing state must claim Filthadelphia for the next 365 days).
Adam Rittenberg:
Dan, I think you can pencil in most of the rivalry weekend matchups right now. Two factors to keep in mind are division games and proximity, as many fans won't have as much time to travel because of the Thanksgiving holiday. Ohio State-Michigan and Purdue-Indiana are guarantees. In splitting up Purdue and Indiana, the Big Ten agreed to keep the Bucket game on its traditional day. Although the Nebraska-Iowa series needs a little bit of juice, it makes sense for Thanksgiving weekend because of proximity. I really like the Friday game because it provides an exclusive national TV window, and I think Iowa fans will warm up to it in time.
Illinois-Northwestern isn't a huge rivalry and has moved dates a lot in recent years, but it also makes sense for that weekend because of the schools' proximity. So that leaves four East division teams: Penn State, Michigan State, Maryland and Rutgers. PSU-MSU was more of a faux rivalry with a hilarious/hideous trophy than anything else, but it could go there and then the Big Ten could pair the two new members. I'd also be fine with Penn State-Maryland and Michigan State-Rutgers. The proximity component doesn't really work for Michigan State, but there really aren't other options. What I like is that aside from Purdue-Indiana, every game is in the division. Right now, the Big Ten has way too many cross-division matchups on that Saturday and down the stretch in November.
---
Fred from the Land of Sky Blue Waters writes:
Hi Adam,Will Wisconsin continue to be one of the better B1G teams? Last year they struggled to get through their non-conference schedule, and then were basically gifted a ticket to the conference championship game. And now you add in a new coaching staff, which may or may not work out. As much as everyone seems to think they are one of the B1G elite and the ship will continue to sail as usual, things could also start taking a slide (see Iowa), don't you think?
Adam Rittenberg:
Fred, last season was unusual all around in the Big Ten, and Wisconsin definitely went through a transition period with its new assistants. Another transition period could be on the way with Gary Andersen coming in and seven new assistants. But remember that Wisconsin returns 25 seniors, a group that only knows winning. Bret Bielema pointed to 2014 before last season as the year when he could possibly have his best team in Madison. It's possible Wisconsin takes a step back, but the foundation is in place, the facilities are finally being upgraded (long overdue) and Andersen understands the positions (wide receiver, defensive back) that need an upgrade in recruiting. I get the Wisconsin-Iowa comparison, but Wisconsin has been consistently good longer than Iowa has, and while both programs face some recruiting challenges, I like what Wisconsin is doing so far. So we'll see, but I'd be surprised if Wisconsin falls back too far, especially in the seemingly easier West division.
---
Samuel from Iowa City, Iowa, writes:
Adam, let's not go too far. "Everyone wants to know who will have the important and unenviable task of choosing the field of four for the Playoff each year." Important. Sure. Millions of dollars are involved. Unenviable? How many college football fans do you think would find the task of picking the playoff unenviable?
Adam Rittenberg:
Samuel, most fans I deal with freak out at the mildest critique (read: truth) about their team. You honestly think they could handle the immense pressure and scrutiny the selection committee members will face? No way. Sure, it's a huge responsibility, but there are a
lot of smart, qualified people in the business who want no part
of being on the committee because of the intense spotlight. I deal with a portion of irrational Big Ten fans in my job -- not everyone, but some of you are -- and it can grade on you. I can't imagine the lengths some college football fans (cough, SEC, cough) would go to contact, criticize and pressure committee members. It'll be a largely thankless job, and a tough one.
---
Randy from Marengo, Iowa, writes:
It looks like a lot of B1G schools are working to upgrade their schedule. Iowa is stuck playing Iowa State, and with the 9-game schedule coming, that may be the only decent out of conference game they get. Assuming Iowa gets their act together and gets back to the level of 2009-2010, and ISU stays where they traditionally have been, what harm might that cause Iowa, if any?
Adam Rittenberg:
Randy, while we could talk about Iowa's lack of recent success against Iowa State and Iowa State's recent upgrade under Paul Rhoads, your point about Iowa State being Iowa's only marquee non-league opponent every year is a valid one. I'm not opposed to Iowa playing good mid-major teams like Northern Illinois, but there's a lack of diversity on Iowa's schedule that seems a little troubling. Like all Big Ten teams, Iowa needs to decide its program goals and whether the College Football Playoff is realistic. If so, Iowa needs to think seriously about adding a bigger-name opponent to its non-league schedule. How that would impact the annual Iowa State rivalry remains to be seen. I'd be all for Iowa playing Iowa State and bigger-name non-league foe, but that might not be realistic for the Hawkeyes. If so, do you suspend the Iowa State series for a year or two and play a big-name SEC/Big 12/Pac-12 team? I'd be OK with that.
---
Corey from Lansing, Mich., writes:
Hey Adam, I know I'm beating a dead horse here, but when you say MSU hasn't won an outright B10 title since 1987, it bothers me greatly. OSU had the loss to Wiscy, Wiscy lost to MSU and all three had one loss. not to mention OSU (vacated) all of its wins from that season. I understand why it was a co-championship before the scandal (even though I never agreed with it). But why was the outright title never given to MSU after the "Tattoo 5"? Is there a 2010 B10 championship trophy still at Wisconsin? Again I'm sorry for bringing up something so old, but to me these are important questions that I have yet to find answers to
Adam Rittenberg:
Corey, there still wouldn't have been an outright champion in 2010. Both Michigan State and Wisconsin finished with one loss (MSU to Iowa, Wisconsin to MSU), so they share the title. The Big Ten didn't have a championship game at the time so any teams that tied atop the conference shared the title, even if one beat the other. The same thing happened in 2008 with Penn State and Ohio State (shared title even though Penn State beat Ohio State). The bigger issue for MSU is that the Spartans would have gone to the Rose Bowl, based on their win against Wisconsin, if the Ohio State scandal had broken earlier. But it still would have been a shared title.
January, 28, 2013
1/28/13
10:00
AM ET
The penultimate weekend before signing day is in the books, and not surprisingly, there was plenty of news on the Big Ten recruiting trail. As a reminder, you should bookmark
ESPN Recruiting
and particularly the
Midwest blog

for all your Big Ten recruiting news leading up to the big day.
Michigan made the biggest splash of the weekend -- although not a surprising one -- as it
secured a commitment
from running back
Derrick Green
of Richmond, Va., who picked Michigan ahead of Tennessee and Auburn. Rated as the nation's No. 5 running back and No. 38 overall player by ESPN Recruiting, Green immediately becomes Michigan's highest-rated commit in an already solid 2013 class. Although Michigan had 14 commits in the ESPN 300 -- second in the Big Ten behind Ohio State -- Green is ranked 50 spots higher than the next Michigan pledge (cornerback
Jourdan Lewis
).
But Green isn't merely a decorated prospect. He fills a significant need for Michigan, which has significant question marks at running back. The Wolverines couldn't generate a run game outside of quarterback Denard Robinson in 2012, as Fitz Toussaint struggled to build off of a solid 2011 season before suffering a major leg injury Nov. 17 and undergoing surgery. How Toussaint responds from the setback remains to be seen, and Michigan's other backs --
Thomas Rawls
,
Justice Hayes
-- are unproven.
The 6-foot, 215-pound Green is the
type of back who could contribute right away
,

and he'll at least give Michigan another option in the backfield. Michigan now has three running backs in its 2013 class.
Other recent Big Ten recruiting notes (2013 class):
December, 18, 2012
12/18/12
5:00
PM ET
To the mail ...
Jason from Virginia Beach, Va., writes:
Adam, do you think the UW head coach search will be helped or hindered with Coach Alvarez's timeline. Are you surprised by the amount of movement from the current and former UW coaches as they align with former colleagues and do you think it paints a picture that perhaps it is known who will now coach UW but that announcement is pending the bowl season (e.g. Bielema's replacement is known, as is the makeup of his future staff)?
Adam Rittenberg:
Jason, if you're asking whether I think Wisconsin's hiring policies that prevent an official offer/hire until Wednesday night at the earliest hurt the timeline a bit, I'd say yes. Other schools have been able to act much faster in replacing coaches. But it's not the end of the world, either, as Wisconsin hasn't lost a bunch of committed recruits to other programs and still will sign a relatively small class in February. I'm not surprised by the number of Wisconsin assistants taking jobs elsewhere because they're good coaches who are sought after and had to make decisions quickly. I also don't think the departures suggest Wisconsin has its future coach in place and he wouldn't want to retain any of these assistants. Barry Alvarez clearly thinks highly of them and wanted to retain them and even considered coaching the team himself so he could retain them. If Alvarez ends up hiring defensive coordinator Chris Ash as coach, you could see several of these guys coming back (or is it staying?) at Wisconsin. We'll see. But I do think the timing of it all -- Bret Bielema's quick exit, Wisconsin's delay in making an official hire, the tight deadlines to decide on other offers -- hasn't helped Wisconsin one bit.
Jordan from Atlanta writes:
Simple question, if Bielema was so concerned with pay for assistants, why does he keep hiring the same coaches he could afford at UW?
Adam Rittenberg:
Jordan, that's a fair question, but Bielema also had concerns about losing those same assistants at Wisconsin if he couldn't increase their salaries there. He has fewer concerns at Arkansas because of the increased compensation for assistants. Bielema hired all of these people and thinks highly of them, so it makes sense he'd want them at Arkansas. The key is not losing them to more lucrative offers elsewhere, and Bielema feels he won't have the same issue with the Hogs.
Brian from Fort Myers, Fla., writes:
I have a problem with the Big 10 being the league everyone loves to hate article (I know I wont be the only one). You wont find 2 more followed programs in all of college sports like Ohio State and Michigan. The SEC is at the top of 40 states HATE list. Anyone outside of the SEC hates it. Mainly because it is the best and most powerful conference in college football. But with great power comes great responsibility. If the SEC fails in the bowls, then it will have the most egg on its face. If Notre Dame can beat Alabama soundly then the SEC will be at its lowest, however, if Alabama wins, then who is the only team left in NCAA without a loss...Ohio State. Big Ten. Ironic.
Adam Rittenberg:
Brian, while the SEC would take a hit if Alabama loses to Notre Dame, the league would need a miserable bowl performance, including multiple losses against the Big Ten, to suffer any type of reputation damage. The SEC has won six consecutive national titles. The streak will end at some point, but what the SEC has done until this point -- and could continue to do -- can't be overlooked. The story was about which league -- Big Ten or ACC -- most needs a strong bowl performance. Both leagues have underachieved to varying degrees this season. Both leagues need really need some good news in late December and early January to change the narrative. In my view, it will take more than one SEC loss in the title game to prevent all the love bestowed upon that league.
Robert from Gurnee, Ill., writes:
Adam,This is in response to your blog article regarding realignment of the B1G with Rutgers and MD. Regarding the East/West scenario you listed there is a core alignment that makes sense and then the rest is flexible. OSU, PSU, MD and Rut in an East and NE, IA, MN and WI in a West. MSU, M, IL, IN, P and NU can all flex as NU and IL would be the eastern most schools in a West and IN and P would be the western most schools in an East. That makes them flexible to fit in either division if geographic distance is an issue. The same is true of the Michigan schools as their distance to Rut or MD are approx. the same as to NE and MN. This would allow a little more flexibility to accommodate traditional rivalries. Regarding adding more schools. I would prefer to see Missouri and Iowa State. Mizzou just fits in my view and adding ISU would give Iowa that traditional rival in the conference. I believe each fits academically. Your thoughts?
Adam Rittenberg:
Robert, your geographic breakdown makes sense. There's no way the Big Ten will separate the two new additions -- Rutgers and Maryland -- from Penn State. If you read anything commissioner Jim Delany said last month during the expansion process, you'll see those schools will be grouped together. The same goes for the schools on the western edge of the league (Nebraska, Minnesota, etc.) So it does come down to dividing the schools in the middle. I think you have to look at competitive balance, existing rivalries and other factors in doing so. As far as your expansion suggestions, Iowa State isn't happening. It adds nothing in the way of a new market. You fans need to start thinking differently. If a potential expansion candidate already exists in a market where the Big Ten dominates, eliminate it. It does nothing to a league looking to improve its demographics. Missouri makes a little more sense, but schools in the East and Southeast (read: ACC) make a lot more sense when you look at population growth. And besides, Missouri is in a good situation in the SEC. Why would it want to leave?
Jim from Albuquerque, N.M., writes:
Hello Adam,I am one of the more opinionated Husker fans. It has been emphasized that Nebraska is sloppy in league play. Taking into consideration that NU has had to recruit different personnel in the BIG, and the fact that it takes a few years to go "full cycle" with recruiting the personnel for a program, would you agree the most impressive win of the season for NU was the win of Michigan? Or has this year's Michigan had smaller players than the Michigan of old? And does that play into making it a more evenly matched game with the Huskers?
Adam Rittenberg:
Jim, I agree that Michigan was Nebraska's most impressive win, but I don't know if I'm following your rationale here. A big part of Nebraska's sloppiness had to do with fumbles, which has nothing to do with recruiting different personnel to the Big Ten. We could argue Nebraska's defense still lacks the right type of personnel in the front seven to match up with the Big Ten's bigger offensive lines, but I don't know if that's the entire answer, either. Wisconsin seemed to beat Nebraska with its speed primarily as well as with its power, but the Badgers' speed definitely was a factor in the Big Ten title game.
Braxton Miller
's speed also gave the Huskers' problems in the Ohio State loss. Michigan is in the process of developing the type of depth Brady Hoke wants, but I don't think the Wolverines had a major size problem in the Nebraska loss. They lost starting quarterback
Denard Robinson
to injury and clearly didn't have a good plan to replace him. Nebraska also limited its sloppiness in that game and did what was needed against an opponent that had become one-dimensional following the Robinson injury.
AJ from Omaha writes:
Maybe you've touched on this before, but will the new scheduling do away with the protected cross-division games? Seems a little unfair that certain teams will always have to play other teams who are always going to be competitive ... i.e. Penn State and Nebraska. Not to take away from other programs, but some teams are much more consistent across decades. Shouldn't the conf. scheduling be more rotational and random?
Adam Rittenberg:
AJ, a lot depends on how the Big Ten aligns the divisions when Maryland and Rutgers -- and potentially two more teams -- enter the league. There may be fewer rivalry games to protect with cross-division games (i.e. Michigan-Ohio State, Wisconsin-Minnesota). The other variable here is whether the Big Ten goes to nine conference games, which was on the table before the Pac-12 scheduling alliance surfaced. If the Big Ten ends up with two 8-team divisions and only eight league games, each team would play only one cross-division opponent. There's no way you could have protected games because teams would never play one another. Would the Big Ten consider four 4-team pods rather than two 8-team divisions? We'll see. It would create a better schedule rotation. I agree with you that not all cross-division games are equal, but Nebraska and Penn State were paired for a reason -- because both are brand-name programs that create buzz for the league. I've heard from a lot of fans not thrilled with their cross division games (Iowa-Purdue) because they're not sexy enough, so it goes both ways.
September, 7, 2012
9/07/12
11:00
AM ET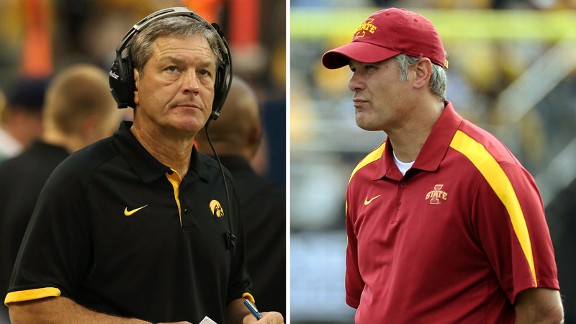 Getty Images, US PresswireWho is better in the state of Iowa, Kirk Ferentz or Paul Rhoads?
So, it's that time of year again, Brian. Let us
kneel by this bushel of corn
and debate the merits of two men on Iowan sidelines. Ultimately, we're debating Paul Rhoads versus Kirk Ferentz, but let's start with the basics.
Ferentz is the guy whose name seems to come up every other offseason for an NFL opening, but yet, here he is well beyond the seven-year itch in Iowa City. How would you describe his place in the collective opinion of the Hawkeyes fan base?
Brian Bennett:
Unless you're winning national titles every other year like Nick Saban, it's hard to coach somewhere for 14 years and not hear some grumbling. I don't think you could have found many Iowa fans who would have been upset with Ferentz in 2009, when the team started 10-0 and won the Orange Bowl. Unfortunately, the Hawkeyes have stalled a bit since then, going 7-5 in the last two regular seasons. There are some who want to see a more dazzling offense -- even though
James Vandenberg
threw for more than 3,000 yards last season -- or bigger-name coordinators. Iowa fans have high expectations for a guy who makes $3.8 million and is one of the top 10 best paid coaches in the country. But I think most reasonable Hawkeyes fans know, at least deep down, that they'd be hard pressed to land a better coach in Iowa City.
I know you're very high on Rhoads, and not just because he's highly quotable. He's masterminded some great upsets in his short tenure with the Cyclones. Still, he's got a 19-20 record. Should we be that excited about him?
David Ubben:
It's unfair to look simply at his overall record and draw conclusions from there. Simply put: It's hard to win at Iowa State. Maybe harder than any other school in the Big 12, though Kansas State and Kansas have a strong argument. All you need to do is look at history.
Iowa State's been to 11 bowls in a little more than a century of college football. Rhoads has brought the Cyclones to bowl games in two of the past three seasons, and almost made it 3-for-3 if not for a missed throw on a windy day against Nebraska in 2010. Nobody knows the danger of crossing paths with Rhoads more than Nebraska. Find me another coach who could lose his starting quarterback, running back and a handful of linemen, but still go into Memorial Stadium and beat a Big 12 North (check your history books if y'all don't know what that is) champion like Nebraska for the first time in Lincoln in more than three decades. (I don't care how many turnovers Nebraska had in that game, by the way. Somebody had to force them, no?)
[+] Enlarge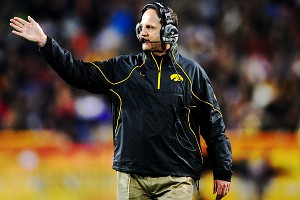 Mark J. Rebilas/US PresswireDefensive coordinator Phil Parker has been with Kirk Ferentz for 14 years.
Rhoads is unbelievable. Coaching is all about getting the most out of what you have. Rhoads does that as well as anybody in the country. Gene Chizik won a national championship at Auburn ... and went 5-19 in two seasons in Ames before he did it. Rhoads took the same two-win team from Chizik and turned them into a seven-win team, winning the first bowl game for the school since 2004. Not many guys can do that.
You also have to consider the kinds of coaches Rhoads has brought on his staff. He's only been at Iowa State a little more than three years and Urban Meyer already jacked his offensive coordinator, Tom Herman. For the uninitiated among us, who are a few coaching names we'd recognize from Kirk Ferentz's coaching tree?
BB:
Ferentz's coaching staff at Iowa has been so strongly-rooted that no new tree has needed to sprout. He had the same offensive and defensive coordinators for his first 13 years at Iowa before Norm Parker retired and Ken O'Keefe left for the NFL this past offseason. Many of his other assistants are also virtual Hawkeye lifers, like new defensive coordinator Phil Parker, who's in his 14th year with Ferentz. I guess you could point to his son, Brian, who was an offensive assistant with the New England Patriots before moving on to -- you guessed it -- Iowa this offseason.
Ferentz must be doing something right for all those coaches to want to stay on his staff for so long. Besides, wouldn't you rather have long-term stability with your coaches instead of assistants who can't wait to jump at the next opportunity? Continuity has been a hallmark of Ferentz's tenure, as has tremendous player development. NFL scouts know they must make a stop in Iowa City, because Hawkeyes players are so well-coached and prepared for the pro game. Iowa has had 18 players selected in the NFL draft in the past three years alone, which is pretty impressive. Can Rhoads make the same claim?
DU:
He can't, but you could make the argument that it only makes Rhoads' accomplishments at Iowa State even more impressive. He's only had two players drafted since he arrived, highlighted by second-rounder Kelechi Osemele last year, a four-year starter along the offensive line for the Cyclones.
Bottom line: Iowa State is the school with less tradition in a state that doesn't have a ton of Division I talent. Rhoads has to go elsewhere, and most often for him, that means Texas. He's found some gems down there, including
Jared Barnett
, the guy who engineered last year's upset against No. 2 Oklahoma State--the best win in school history. Rhoads is a great developer of talent, but ultimately, the NFL loves its measureables. Iowa State doesn't churn out many players that wow you with their physical skills. Still, the wins come, and last year, his linebacker,
A.J. Klein
, shared Big 12 Defensive Player of the Year honors. Klein and teammate
Jake Knott
may have NFL futures, and future Cyclones may as well, but Rhoads is still building. That NFL pipeline is still under construction.
The thing that ISU fans have to love most about Rhoads, though, is how much he's changed the perception of the school. It's similar to what Mike Leach established at Texas Tech. Teams fear Iowa State, and after last year's win over Oklahoma State, how could they not? Iowa State's anything but a gimme win these days. That alone is worth a lot.
What's Ferentz done for Iowa's perception across the Big Ten?