November, 18, 2014
Nov 18
8:30
AM ET
This week, USA Today, in the latest of its fan index lists, catalogued the
top 10 traditions in college football
.
Among them, dotting the "i" at Ohio State, lighting the Tower at Texas and rolling Toomer's Corner at Auburn. All fine events, but no list of such customs in the sport is complete without the latest craze: the wait for Tuesday night.
I say that somewhat jokingly, so refrain from the angry tweets. No, I don't really think it's more fun to dream about the details of a five-minute interview with Jeff Long than to decorate an intersection with toilet paper.
But it's close.
So welcome to the fourth of seven Tuesday College Football Playoff poll unveils, where it finally gets real in the selection-committee room.
Why is this Tuesday different? Because after last Saturday, none of the remaining unbeaten or one-loss Power 5 contenders will meet in the regular season or in conference-title games.
September, 3, 2014
Sep 3
12:00
PM ET
As a placekicker,
Justin Tucker
abides by the philosophy of focusing on the action and not the consequence. On Thanksgiving Night 2011 in College Station, Texas, as he lined up with a one-point deficit and just three seconds left in the Texas-Texas A&M rivalry as all knew it, Tucker couldn't help but betray that creed.
"I can tell you in that particular situation it was very difficult to put those emotions into the back of my mind and just focus on the task at hand," said Tucker, now with the Ravens. "But we were able to do it, and I'll tell you what: That place shut up real quick; 88,000 people -- you could probably hear a pin drop in there."
This is the lasting memory of one of several college football rivalries that has gone by the wayside in the era of realignment. This is, on a smaller scale, the opportunity that awaits Michigan and Notre Dame on Saturday night in their final scheduled meeting.
[+] Enlarge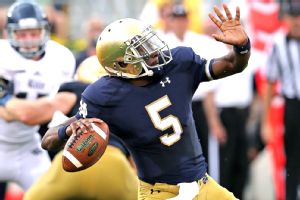 Jonathan Daniel/Getty ImagesEverett Golson can etch himself further into Notre Dame lore if he leads the Fighting Irish to a series-ending victory over Michigan on Saturday.
Brian Kelly said the first thing he thinks of regarding the Wolverines is that he's lost to them three times. That image can change in a hurry with a signature blow in one final matchup under the lights.
Just ask those from other dormant rivalries, Pittsburgh-West Virginia among them.
"When I think back of all the frustrating losses of my career, and we had a few, that's the worst by far," former Panthers defensive tackle Chas Alecxih said of the 2011 finale of the Backyard Brawl.
Pitt entered Morgantown looking to upset the eventual Orange Bowl champs. The Panthers were ACC-bound in two years; the Mountaineers Big 12-bound the next fall. Todd Graham, in his lone year coaching Pitt, relayed how he'd been told he could lose 11 games in a year so long as he beat WVU. Former players talked to the team about how important it would be to end the series on top.
A 13-point Pitt lead eventually gave way to a 21-20 defeat, punctuated by a Tino Sunseri fumble on the last play.
"I just remember as the clock ran out I just fell on my face, I just hit the ground for about 30 seconds, man," Alecxih said. "I just remember that agony, and just knowing that that was going to be the last game, and we were always going to say we lost the last Backyard Brawl."
All this from a player and program that, four years earlier, had been part of an upset that changed the college football landscape.
WVU was a four-touchdown favorite and a win away from a BCS title-game berth when the three-win Panthers visited to close 2007.
"It was just so gloomy, and all I really remember is just getting whacked with beer cans," then-freshman quarterback Pat Bostick said of the bus ride in. "I go, 'OK, this is everything people say it's going to be.' There weren't necessarily batteries being thrown or nickels or dimes being thrown, but there were certainly some obscenities."
Bostick threw a wrench into the Mountaineers' plans, orchestrating a 13-9 win that knocked WVU out of title contention. Coach Rich Rodriguez bolted for Michigan less than three weeks later.
For the entirety of the hour-plus ride home, Bostick and his teammates sang "Take Me Home, Country Roads," the official song of the state they were departing.
"To be honest with you, I don't know if I can count on one hand how many people I actually saw after the game," Bostick said. "It was like the place died. It was just a ghost town after. I don't know where they all went, how fast they (left), but they got out of their quick."
Bostick was at the 2011 finale in his current role as the team's radio analyst, and he joked he wasn't sure he'd make it down to the locker room alive in his Pitt polo.
The intensity was considerably less hostile the last time Missouri and Kansas faced off, a 24-10 Tigers win in 2011. Part of that can be attributed to the neutral-site atmosphere at Kansas City's Arrowhead Stadium, where the game was played from 2007-11. Part of that can also be attributed to the overall apathy of Kansas fans, former Missouri receiver
TJ Moe
said.
"They were so horrible in those days," Moe said. "We were trying to get a win and move along there. We certainly didn't like those guys, but they came in so defeated after losing nine games before they even got to us that it really wasn't that bad."
An O'Fallon, Mo., native who grew up on the Border War, Moe said it still remains a point of pride that he went 3-0 against the Jayhawks during his career. He finds it hard to believe the game is no longer played after the Tigers moved to the SEC. From his perch, the ball is in Kansas' court.
"We just want to play you guys because the rivalry is fun, so if you don't want to play, fine, we'll get somebody else," Moe said. "It's a rivalry that's a big deal to fans on both sides. Everybody at Kansas is saying, 'You guys left us. You screwed us. We're not playing you anymore.' Which is fine."
Michigan-Notre Dame lacks the longevity of the others, as it has been played just 41 times, thanks to several interruptions. The Backyard Brawl was played 104 times, the Border War was played 120 times and Texas-Texas A&M was played 118 times before the Aggies' SEC move.
Realignment might have other ideas, but everyone interviewed for this story expressed hope his rivalry would return.
"What is truly lost at its core is a great football matchup between two -- I won't say two 'great' teams -- I'll say one great team and their little brother," Tucker said, laughing.
For now, he has his forever moment in rivalry lore, and that could be at-stake again this weekend should the Michigan-Notre Dame matchup resemble those of recent past.
"The fact that we got to end it with a bang, the
Texas Longhorns
got to put the dagger in that 118-year rivalry," Tucker said, "that's a great feeling."
June, 18, 2014
Jun 18
1:30
PM ET
Texas and Texas A&M might not be playing one another anytime soon.
But other schools around the league are interested in the prospects of rekindling rivalries that were destroyed by two rounds of conference realignment.


While the Longhorns and Aggies remain at odds, Texas Tech athletic director Kirby Hocutt told ESPN.com this week he's optimistic that he'll be able to get Texas A&M on the Red Raiders' schedule down the line again. Hocutt said there has been interest from Texas A&M's side, as well.
"Hopefully that's a series that at some point in time that could start again," Hocutt said. "Is that a game that won't happen again? No. We've had discussions about it. Hopefully we can reengage that in the coming years."
Oklahoma and Nebraska already have an agreement in place to play a home-and-home in 2021-22. Missouri coach Gary Pinkel
has reportedly said
he thinks his school will play Kansas again someday.


And West Virginia athletic director Oliver Luck, who has already added Penn State and Virginia Tech to future schedules, told ESPN.com he's hopeful he'll be able to revive the "Backyard Brawl" with Pitt at some point, as well.
"At some point we'll get Pitt back on the schedule," Luck said. "What I'm trying to do with our nonconference games is stay as regional as possible and rekindle some of our historical rivalries. Penn State is back on the schedule. Virginia Tech is back on the schedule. That game meant a lot to southern West Virginians. The Pitt game meant a lot to northern West Virginians. We've continued to play Pitt in many of the sports.
"We've both gone through transitions, so it's tough schedule-wise for both of us. But I think at some point we'll get Pitt back on the schedule. I see [Pitt athletic director] Steve Pederson every now and then at various conventions. And we've had some discussions about that. We just haven't been able to really eyeball the proper time to get it going again."
September, 17, 2013
9/17/13
5:30
AM ET
BIG TEN SCOREBOARD
Saturday, 12/20
Monday, 12/22
Tuesday, 12/23
Wednesday, 12/24
Friday, 12/26
Saturday, 12/27
Monday, 12/29
Tuesday, 12/30
Wednesday, 12/31
Thursday, 1/1
Friday, 1/2
Saturday, 1/3
Sunday, 1/4
Monday, 1/12
Tweets from https://twitter.com/ESPNCFB/lists/b1g