Big Ten:

Kansas State Wildcats
December, 29, 2013
12/29/13
3:11
AM ET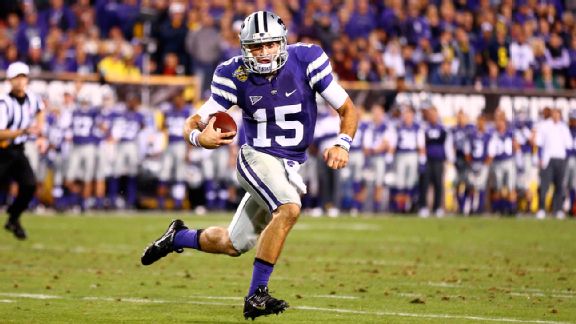 Mark J. Rebilas/USA TODAY SportsJake Waters threw three touchdown passes, but his timely rushes kept the Wildcats' offense moving.
TEMPE, Ariz. --
Jake Waters
was reticent. It was all so easy, but it didn't feel right to admit that. Still, the numbers told a story.


Waters was exceptional, leading a dominant offensive effort for Kansas State in a
31-14 win
over Michigan in the Buffalo Wild Wings Bowl. He threw three first-half touchdown passes Saturday night, all to
Tyler Lockett
. Michigan knew what was coming, yet the Wolverines were powerless to stop it.
Yes, Waters had to admit. It was easy.
"When you have a special player like Tyler, any time he's one-on-one, I'm looking for him," Waters said. "I have that confidence in him, because he's such a special player."
Michigan quarterback
Shane Morris
had a solid enough game, too. The freshman was making his first career start in place of injured
Devin Gardner
. He hadn't thrown a pass in a game since Nov. 2, but he was sharp. He completed 15 of 19 throws in the first half. He was cool, composed, confident. But unlike Waters, Morris got little help.
When the game was over and the Kansas State crowd cheered for head coach Bill Snyder as the Wildcats accepted the trophy for their first bowl victory in 11 years, Waters wasn't even on the stage. Lockett was the offensive MVP. The defense had dominated. Waters was a supporting player.
When Michigan slumped off the field, owner of a 7-6 record and loser of five of its final six, Morris was at the forefront. Amid a season gone awry, for a program adrift as it stares down a bleak offseason in which so many areas need to improve dramatically, he offered hope.
"Who knows who will be the quarterback next year?" Morris offered when asked about the future -- a 2014 season in which Gardner is slated to return but wholesale changes appear imminent.
All season, Waters split time with
Daniel Sams
in a two-quarterback system, but he improved, and so did the team. Kansas State rallied from a 2-4 start to finish as one of the nation's hottest teams.
[+] Enlarge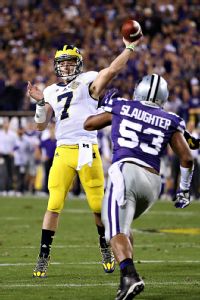 Christian Petersen/Getty ImagesShane Morris performed admirably in his first career start, giving Michigan hope for the future.
All season, Morris waited in the wings. A former ESPN150 recruit, he threw just nine passes behind Gardner, and Michigan devolved.
Saturday's meeting was a marker for where both programs now stand. Kansas State is poised for 2014, with Waters and Lockett speaking jubilantly about the future. Michigan is at a crossroads, with Morris a lone bright spot in a finale that included a disastrous defensive effort and another lackluster effort from the ground game.
And yet, in the aftermath, the praise for Waters was limited, offered largely as a side note to Lockett's impressive performance. But even Kansas State's players raved about Morris, who threw 38 passes and finished as Michigan's leading rusher.
"Shane held his own," Michigan receiver
Jeremy Gallon
said.
"You would've thought he was doing it five years now," lineman
Taylor Lewan
said.
Michigan coach Brady Hoke credited his quarterback, too, but found little consolation in the performance. His job now is to decide whether Morris in an answer to one of many problems.
On the other side, Snyder shrugged off his willingness to stick with Waters for the bulk of the game as simply riding the momentum of a hot hand. But it's Waters and Lockett and Snyder who have all the momentum now. As the page turns on the final chapter of 2013 and they look ahead to what's to come, there isn't simply hope and promise in Manhattan, Kan. There is expectation.
"Ending the season 6-1," Lockett said, "it gives us a lot more to look forward to going into next year."
For Michigan, the future might be the baby-faced quarterback who led the offense to just six points before Saturday's final two minutes, but even that remains a question still unresolved.
December, 29, 2013
12/29/13
1:30
AM ET
TEMPE, Ariz. -- Kansas State and Michigan finished the regular season headed in opposite directions, and that dichotomy was clear from the outset Saturday as the Wildcats cruised to a
31-14 win
in the Buffalo Wild Wings Bowl.


It was over when:
Shane Morris' third-down pass with 7:30 to play and Kansas State up by 18 fell incomplete, sending Michigan's punt team in for the fifth straight drive and effectively ending any chance at a comeback attempt. Michigan's offense was stuck in neutral throughout, and while Kansas State failed to cash in on several second-half opportunities to put the game away, there was never any real drama down the stretch.
Dante Barnett
's interception on Michigan's next drive ensured the final score was as one-sided as the play on the field had been throughout.
Game ball goes to:
Kansas State quarterback
Jake Waters
. The junior-college transfer was nearly flawless all night, completing 21 of 27 passes for 271 yards, three touchdowns and no interceptions.
Tyler Lockett
caught all three touchdowns and would have had a fourth if he didn't drop a perfectly thrown ball from
Daniel Sams
in the end zone. Waters was impressive with his arm, but he made his share of plays with his legs, too, racking up 42 rushing yards, including running for five first downs. Aside from the drop, Lockett was exceptional. He finished with 194 all-purpose yards -- his sixth game this season with more than 150 all-purpose yards.
Stat of the game:
22. That was Michigan's rushing total with 2 minutes left on the clock, a dreadful effort that effectively doomed any chance at moving the ball consistently. The ground game has struggled all season for the Wolverines, and Kansas State didn't seem to break a sweat shutting down Michigan's runners. A 14-yard run by
Devin Funchess
on a double reverse in the first quarter and a 40-yard scramble by Morris with less than 2 minutes to play provided the only highlights. The rest of the ground game amounted to just 11 yards on 13 carries, and Morris was forced to carry the load in his first career start.
Unsung hero:
Morris, a true freshman, stepped in for injured
Devin Gardner
, and he was solid. He wasn't asked to make too many tough passes -- particularly in the early going -- but he also got no support from the running game. Still, he completed 15 of 19 passes in the first half for 121 yards, converting a couple of big third downs and improvising when plays broke down. In the end, it didn't matter much, as Michigan simply couldn't overcome its many holes, and while Morris was calm, cool and consistent, the lack of support doomed his second half.
What Michigan learned:
It has a quarterback for the future, but there are plenty of other issues that need to be addressed. Morris was solid despite getting precious little help from his teammates, but even if he continues to develop over the offseason and unseats Gardner as the quarterback of the future, Michigan's prospects won't improve much if the defense and running game don't get much better. Kansas State ran with ease up the middle, had wide open receivers often and had little trouble completely silencing Michigan's ground game. It was a script far too familiar for the Wolverines in 2013, and Brady Hoke has his work cut out for him finding answers before the 2014 season begins.
What Kansas State learned:
There's no bowl jinx, and Bill Snyder can win games in December just as easily as he wins them in the fall. Kansas State hadn't won a bowl game since 2002, but the Wildcats dominated this one from the outset. The offense continues to evolve, and the defense completely shut down Michigan. After a slow start to the season, Kansas State finished as hot as anyone, winning six of its final seven games. More importantly, the pieces are in place for that success to continue into 2014.
To watch the trophy presentation of the Buffalo Wild Wings Bowl,
click here
.
December, 28, 2013
12/28/13
12:00
PM ET
Michigan and Kansas State will face off for the first time in the programs' histories on Saturday (10:15 p.m. ET, ESPN) in the Buffalo Wild Wings Bowl in Tempe, Ariz. Here are a few key players and matchups to watch.


Who to watch:
Kansas State defensive end
Ryan Mueller
came up big all season, racking up 11.5 sacks -- the sixth-best tally in the nation. He could add to those numbers Saturday against a shaky Michigan offensive line that allowed the second-most sacks in the Big Ten. In addition, the Wolverines will be starting true freshman
Shane Morris
at quarterback, and Mueller will be poised to expose any butterflies the young signal-caller might have in his first start. Also keep an eye on Kansas State wide receiver
Tyler Lockett
, who racked up 1,665 all-purpose yards this season, along with Michigan receiver
Jeremy Gallon
(80 catches, 1,284 yards, nine touchdowns) and cornerback
Blake Countess
(six interceptions).
What to watch:
The matchup at the line of scrimmage should be crucial -- and if Kansas State can rattle Morris early, it could get ugly for the Wolverines. Michigan will want to run the ball and take some of the pressure off the freshman quarterback, but that could be easier said than done: The Wolverines finished second-to-last in the Big Ten in rushing during the regular season. Michigan averaged just 1.6 yards per carry during its final five games, while Kansas State's defense allowed just one of its final eight opponents to top 125 yards on the ground.
Why to watch:
Michigan quarterback
Devin Gardner
will miss the game with a turf toe injury, meaning Morris will get a chance to lead the offense and give Wolverines fans a glimpse into the future. An ESPN 300 prospect a year ago, Morris threw just nine passes this season. But he appears to be the heir apparent, meaning there's ample reason for fans to tune in, even if the regular season proved to be something of a disappointment for Michigan.
Prediction:
Michigan 27, Kansas State 24. So much of the storyline adds up to a Kansas State victory, but won't the offseason be so much more interesting if Michigan fans can second-guess waiting so long for Morris to get his chance?
December, 27, 2013
12/27/13
11:30
AM ET
Michigan reporter Chantel Jennings and Big 12 reporter Jake Trotter break down the biggest storylines in Saturday's Buffalo Wild Wings Bowl matchup featuring Michigan and Kansas State:


Motivation can be a big advantage in bowl games. Who will be the more motivated team?
Chantel Jennings:
I generally believe that the best motivation is brought from the team with the better positive momentum, which in this case would be Kansas State. The Wildcats won five of their last six and their one loss was a ten-point loss to Oklahoma. Michigan, on the other hand, lost five of its last seven and are going into this game with an untested quarterback, a young running back, an offensive line that really only showed up for a few games and a defense that is coming off its worst performance of the year. I think there's definitely something to be said for the "chip on the shoulder" mentality, but in a game like this, I like the team that comes in with the most positive momentum.
Jake Trotter:
I have no idea how much Michigan cares about this game. Kansas State isn't a name program in the sense Oklahoma or Texas is, and the Wolverines had their sights set way higher than the Buffalo Wild Wings Bowl before the season. But I'm fairly confident Kansas State cares. The Wildcats have lost five straight bowl games dating back 11 years, and have openly discussed how important getting a bowl win for coach Bill Snyder would be here. Michigan is also an easy team to get up for. Combine those two, and I would expect Kansas State to come out motivated with plenty of energy.
[+] Enlarge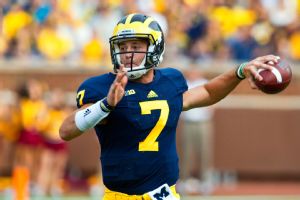 AP Photo/Tony DingWill Kansas State crank up the pressure against Shane Morris? The freshman QB has only thrown nine passes this season.
How big an impact will Michigan QB Devin Gardner's injury have on this game?
Jennings:
It'll be huge. When the team was still in Ann Arbor, offensive coordinator Al Borges said that they had to slim the playbook a bit for
Shane Morris
but not too much. From a certain standpoint, that might be true. Maybe Borges can call a similar game with Morris, but the biggest difference will be the playmaking ability. Gardner had the presence of mind in situations when his feet starting moving. He could make plays himself after they broke down elsewhere. Morris hasn't ever had to do that. That's going to change the game hugely. With Kansas State knowing that the Wolverines have an O-line that hasn't done much and a QB that hasn't done much, why not throw the kitchen sink at them?
Trotter:
Any time you lose your starting quarterback, it's big. It's especially critical here because of how well Gardner played in the shootout loss to Ohio State. Morris is talented, but the fact is, he's a true freshman with only nine career pass attempts. The Wildcats have been erratic at times defensively, but with safety
Ty Zimmerman
likely back from injury, they will be emboldened to bring more pressure. Given how explosive the K-State offense was down the stretch, Michigan will probably have to score a bunch to win this game. That will be difficult with a rookie quarterback who could find himself under duress.
The key player in this game will be?
Jennings:
Kansas State defensive lineman
Ryan Mueller
. If he can get to Morris and rattle him early in the game, Mueller could change the entire feel of the game. A tentative, second-guessing Morris will be one that the Kansas State D can take advantage of. And with the pass rushing abilities of Mueller, he has the chance to put Morris (and by extension, the Michigan offense) on his heels.
Trotter:
All eyes will be on Morris. Because of his big arm, Morris is capable of big plays. But because of his inexperience, will the lefty be prone to big turnovers, too? Turning the ball over against Bill Snyder-coached teams is usually a recipe for a disaster. As a four-star recruit in Michigan's most recent signing class, Morris definitely has the talent to beat K-State. But will he have the composure? The answer to that question will go a long way in determining the outcome of this game.
December, 12, 2013
12/12/13
9:00
AM ET
Today we continue to look at each of the Big Ten's bowl opponents. Let's check out Michigan's saucy Buffalo Wild Wings Bowl competitor, Kansas State.
Buffalo Wild Wings Bowl
Tempe, Ariz., December 28, 10:15 p.m. ET, ESPN
Michigan (7-5) vs. Kansas State (7-5)
Kansas State Wildcats

Coach:
Bill Snyder (23rd season)
Record:
7-5, 5-4 Big 12
Combined opponents' record:
81-61
Common opponents:
none
Leading passer:
Jake Waters
, 138-233 (59.2) for 2,198 yards with 15 touchdowns and nine interceptions.
Leading rusher:
John Hubert
, 182 carries for 968 yards (5.3 yards per carry) and nine touchdowns.
Leading receiver:
Tyler Lockett
, 71 receptions for 1,146 yards (16.1 yards per catch) and eight touchdowns.
Leading tackler:
Blake Slaughter
, 103 tackles. However, the Wildcats have
Ryan Mueller
, who led the Big 12 in tackles for loss (18.5) and was second in the conference for sacks (11.5).
What to know:
The Wildcats employ a two-quarterback system similar to what Northwestern did this season with
Kain Colter
and
Trevor Siemian
. Waters is the passer of the two quarterbacks (averaging 183 passing yards per game) and
Daniel Sams
is the more run-first player (38 passing yards and 65 rushing yards per game). "I've never been a fan of having two guys at that position that play equally," Snyder said. "But both of them work diligently at it. Both of them are very deserving of having the opportunity to play. … Even though that's not my preference, that's the way it's played out. So consequently that's the way we'll do it. Both of them will play." Greg Mattison said earlier this week that this kind of attack and system gives the Wildcats "a very potent attack." And considering how much the Wolverines struggled with the run against Ohio State, it wouldn't be surprising to see Kansas State use even more of Sams.
From a broader perspective, the Wildcats started the season 2-4 before closing out the year winning five of their last six games and enter the Buffalo Wild Wings Bowl with a ton of momentum. The Wolverines, on the other hand, come in losing five of their last seven. It'll be interesting to see how a team on the upswing plays against a team with a huge chip on its shoulders.
Key matchup:
Mueller vs. the Michigan O-line. The Wolverines put a much more complete offensive line performance together against Ohio State, but
Devin Gardner
was still sacked three times. With Mueller's ability to get to opposing quarterbacks and three full weeks to find the weaknesses and inconsistencies in Michigan's offensive line, he'll be hungry. Even with time off to heal his body, Gardner -- who's already
missing practices this week
due to turf toe -- could be closer to being sidelined than anyone realizes. If that's the case, the Wolverines would be working with a true freshman quarterback on a bowl stage, which Michigan really wants to avoid.
December, 8, 2013
12/08/13
9:45
PM ET
Dec. 28, 10:15 p.m. ET, Tempe, Ariz.(ESPN)
KANSAS STATE WILDCATS
The Wildcats were left for dead. KSU sat at 2-4 including a loss to FCS power North Dakota State and 2012 breakout star Collin Klein was no longer in the quarterbacks meeting room. Time to start thinking about 2014, right?
[+] Enlarge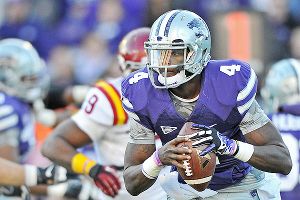 Peter G. Aiken/Getty ImagesThe versatile Daniel Sams has accounted for 15 touchdowns this season.
Bill Snyder and company didn't get the message. Instead, they reeled off wins in five of their last six Big 12 games to finish 7-5 and earn a berth in the Buffalo Wild Wings Bowl. After sputtering early, the Wildcats' two-quarterback system with
Daniel Sams
and
Jake Waters
worked seamlessly during the final half of the season, helping K-State average 36.7 points per game in its final six games. KSU's 6.54 yards per play during that span led the Big 12, even better than the headline-making crew from Baylor.
Defensive end
Ryan Mueller
led the way for the K-State defense, terrorizing Big 12 quarterbacks and running backs in route to 11.5 sacks and 18.5 tackles for loss. The Wildcats' fundamentally sound defense looked similar to the squad that earned a Fiesta Bowl berth a year ago, leading the Big 12 with 4.73 yards per play allowed in the final six-game stretch.
Now Michigan, who lost four of its last five games, awaits and the Wildcats return to Arizona for the second straight year in a bowl matchup will be a battle of two teams who finished the season on opposite sides of the spectrum.
-- Brandon Chatmon

vs.

MICHIGAN WOLVERINES BREAKDOWN
[+] Enlarge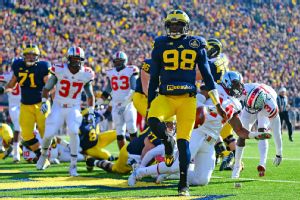 Andrew Weber/USA TODAY SportsDevin Gardner has been productive on those rare occasions when he has had time in the pocket.
The Wolverines had an up-and-down season and eventually finished 7-5. While they were just two or three plays away from being 9-3, they were also -- quite realistically -- two or three plays away from being 5-7.
Early on, Michigan almost dropped games to Akron and Connecticut, while struggling to find any kind of an offensive identity, despite returning key playmakers. Quarterback
Devin Gardner
took a beating from opposing defenses through the middle of the season (enduring 17 sacks in three games) and while he found a way to make it to the Ohio State game in one piece, he ended the year far from 100 percent.
But after 10 games, the Michigan coaching staff finally found its best offensive line combination and when they did -- and when that group really worked together -- the Wolverines found a run game and managed to give Gardner enough time in the pocket for the plays to develop down field.
Defensively, it was a very different feel all season. The Wolverine defense employed a bend-but-don't-break mentality and were a bright point for a sputtering team at many times. But near the end of the season, it gave up huge plays and went through major breakdowns in decisive games to end the year with Iowa and Ohio State.
-- Chantel Jennings
August, 28, 2013
8/28/13
5:30
AM ET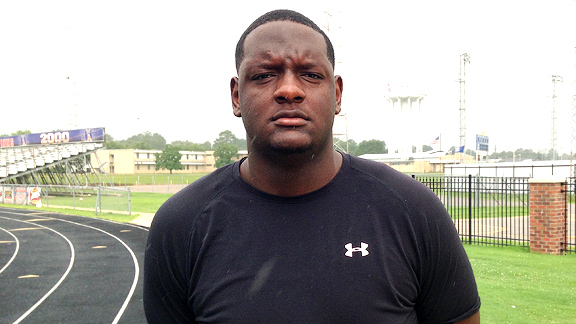 Greg Ostendorf/ESPNFriday's decision by offensive tackle Cameron Robinson, the No. 3 prospect in the ESPN 300, between LSU and Alabama could foreshadow the last five months of the 2014 cycle.
The Early Offer is RecruitingNation's latest feature, giving you a daily dose of recruiting in the mornings. Today's offerings:
Cameron Robinson
announces on Friday and his pick could go a long way toward determining who has the No. 1 class, TE
DeAndre Goolsby
is quickly climbing the charts of many recruiters, and Elijah Hood's decision could help UNC lure one of nation's top surprise classes.
Decision day set for Robinson
One of the most significant recruiting battles of the 2014 class will come to close Friday when the nation's No. 3 overall player Cameron Robinson (West Monroe, La./West Monroe) announces his decision. Robinson, a five-star prospect, is a franchise offensive tackle that only comes around once every few classes, and the battle between LSU and Alabama is one that could set the tone for the rest of the recruiting season. If LSU lands him, then it could help the Tigers run the table with other high profile in-state recruits like No. 1-ranked
Leonard Fournette
. That type of run could help the Tigers unseat the Tide from the top spot in the class rankings that it's held for the last two years. If Alabama lands him, then the Tide basically locks up another No. 1 class with more than five months left in the recruiting calendar. Most projections, including RecruitingNation's Hot Board, have Robinson leaning towards Alabama.
A picture is worth a thousand words