Big Ten:

Vanderbilt Commodores
February, 10, 2014
Feb 10
10:30
AM ET
Wake Forest coach Dave Clawson's
first recruiting class
was put together in a matter of weeks -- a timetable cut unenviably short, much like the task of Penn State coach James Franklin.
Their approaches, though, were vastly different.
When Clawson left Bowling Green, he also left his recruiting class. Franklin, however, continued to pursue some of the recruits he had committed to Vanderbilt, and was praised for flipping five pledges from his former school. For some of those teenagers, the relationship with the head coach overrides the actual school.
They commit to the coach, not the program
.
[+] Enlarge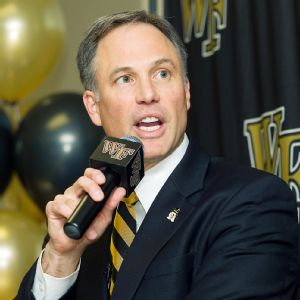 Brian Westerholt/Four Seam Images/AP ImagesWake Forest coach Dave Clawson didn't believe it was right to try to recruit players who were committed to Bowling Green, his former school.
"It's not about the buildings; it's about the people inside the buildings,"
Franklin told ESPN.com Big Ten reporter Adam Rittenberg
. "That comes down to relationships and trust and all those things. We've had guys we've been recruiting across the country for two years, and we were going to stick with those guys. The same thing with the recruits and families. They were comfortable with us and who we are as men and how we conduct ourselves. It also helped that we went from one school to another that has similar philosophies when it comes to academics."
Clawson, who was hired in December, used the recruiting dead period to hire his staff and called it a "three-week sprint" to start from scratch on the recruiting trail. He didn't consider Bowling Green's targets much of an option, for several reasons.
"I didn't think it was right to do that," Clawson said. "We didn't want to recruit anybody who had committed to us at our previous school. There were a handful of guys we had recruited there that had not committed there, and part of the reason they didn't commit there is they were probably above us. Some of those players were able to get on [at Wake Forest], and I think those were some of our better commits."
Ironically, so was a former Vanderbilt pledge.
Once Franklin left Vandy, that opened the door for Wake Forest to recruit some of those pledges, too. The Deacs' top recruit, receiver
Kameron Uter
, was once a Vanderbilt commit. Head coaching changes open the door for last-minute decisions and late pushes by rival coaches. Clawson said the Wake staff was careful, though, to respect solid commitments.
"What we did, quite honestly, was, if that relationship was intact -- probably not too many kids were going to switch if they had committed to a place that had the same head coach, same coordinator, same recruiting coach, all those relationships," he said. "If there were instances that that relationship had changed because of a head coaching change, we certainly approached those players and asked if they were still committed. If they told us no, that became our opportunity to get guys we felt were ACC-level players that we weren't now at a relationship disadvantage."
Clawson and his staff did the best they could under the circumstances -- just as Franklin did at Penn State. They just had a different philosophy in how to get it done.
January, 13, 2014
Jan 13
11:00
AM ET
James Franklin opened
his lengthy and entertaining introductory news conference Saturday at Penn State
by thanking Vanderbilt, his previous employer.
Two days later, Vanderbilt fans are thinking Franklin has a funny way of showing his appreciation.
As Franklin hinted Saturday, he's bringing several Vanderbilt assistants with him to Penn State. Reported additions or possible additions include defensive coordinator Bob Shoop, wide receivers coach/offensive recruiting coordinator Josh Gattis, tight ends coach/special teams coordinator Charles Bankins, strength coach Dwight Galt and football chief of staff Jemal Griffin. Penn State has yet to make any official staff announcements.
Shoop
is a native of Oakmont, Pa., and has extensive coaching experience in the northeast as well as in Virginia (University of Virginia and William & Mary).
These likely additions aren't a surprise as Franklin said Saturday, "I am fiercely loyal as a person in general, and I'm going to be fiercely loyal to the guys that I've worked with in the past."
It's also not surprising that Franklin immediately started contacting Vanderbilt recruits about Penn State. Two of them, tight end
Chance Sorrell
and defensive end
Lloyd Tubman
,
switched their pledges from Vanderbilt to Penn State
on Saturday.
More could be coming, especially if you believe
this story in The Tennessean
, which outlines what has happened to Vanderbilt's recruiting class since Franklin left. One recruiting analyst tells the newspaper that Vanderbilt is left with only three truly solid verbal commits. Another said, "Normally, you're going to have staffs take some kids. But I don't think I've seen many cases where it seems like the entire class is trying to be taken to the next job."
Penn State fans aren't about to feel sorry for Vanderbilt. They remember what happened to the Lions' 2012 recruiting class during the extremely turbulent weeks following coach Joe Paterno's dismissal. Urban Meyer flipped several Penn State commits to Ohio State, including Noah Spence, Armani Reeves and Tommy Schutt.
PSU has 21 commits for the 2014 class, which is essentially complete. It will be interesting to see how much of a Vanderbilt flavor Franklin's first staff and first class will have at Penn State.
January, 11, 2014
Jan 11
7:00
PM ET
Here's a story from James Franklin's three years at Vanderbilt:
The Commodores play their in-state rival Tennessee on the Saturday before Thanksgiving. When Franklin arrived in 2011, students didn't stay on campus for the game, rival or no rival. They went home.
One day, Franklin went into Rand Dining Center, where the campus gathers to eat lunch. He sat down with some students to preach the Commodore gospel. He asked one student if he was staying for the Tennessee game.
"No," the student said. "I'm going home. I already bought my ticket."
So Franklin punched him.
On the arm, and not meanly, but he made his point.
"Change your ticket!" he cried.
Penn State could use a little James Franklin.
"We are going to do everything we possibly can to bring this community back together," Franklin said at his introductory press conference Saturday.
To continue reading,
click here
.
January, 11, 2014
Jan 11
9:35
AM ET
STATE COLLEGE, Pa. -- ESPN 300 receiver
De'Andre Thompkins
didn't know whom his Penn State coach would be on Monday night. The Nittany Lions' commit only knew the coach he preferred.
"I really hope [James] Franklin takes it," he told ESPN.com, five days before the hire became official.
He wasn't the only one -- four-star wide receiver
Chris Godwin
felt similarly -- because Franklin's reputation precedes him. He's the gregarious coach who calls recruits "homeboy" and the tireless recruiter who
clips two cell phones to his boxers
when he's preparing for a night's rest.
[+] Enlarge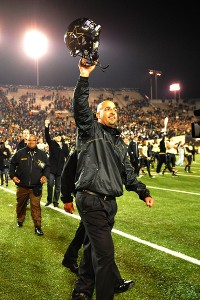 Don McPeak/US PresswireJames Franklin was the most successful coach at Vanderbilt in generations, and his outgoing personality is infectious.
He garnered Vanderbilt commitments from ESPN 300 prospects in Florida, Georgia and California. He convinced offensive tackle and Louisiana native
Bailey Granier
to choose Vandy over Alabama and Florida State. And he reeled in 22 four-star recruits during his time there -- a half-dozen more than Penn State. The Commodores managed a total of just one four-star prospect in the six previous classes.
Franklin's impact on the Nittany Lions' future recruiting classes -- and on overall recruiting in the Big Ten -- should be instant and far-reaching. An ACC coach told CBS' Bruce Feldman that, if Franklin wound up at Penn State,
"He'd kill it in recruiting around here."
"He's very different because he's so approachable," said Ricky Bowers, a high school coach at The Ensworth School in Nashville, Tenn., whose team won four consecutive state titles. "He's just different. He's friendly, likable and passionate.
"The only way you wouldn't like him is if you were jealous of him."
Franklin drove to Ensworth before the state title game just to wish Bowers luck. And Bowers said Franklin is that rare type of coach with whom he can just shoot the breeze on the occasional lazy day.
Franklin was characterized by others as an energetic recruiter with an infectious personality -- so Bowers wasn't surprised much by all the NFL attention. After all, Nashville-area recruits looked at Franklin as the man who built up the local college program out of the ashes. Lest you think that's an exaggeration, consider this: Before Franklin arrived in the Music City, the Commodores last boasted a nine-win season in 1915, a full decade before Joe Paterno was born. In the past two years, Vanderbilt has recorded back-to-back nine-win seasons.
"Good gracious, he's got everybody fired up about football," said Marty Euverard, the high school coach at Montgomery Bell Academy in Nashville. "He just knows how to build relationships, and I think that's a key component. Some people have a gift; some don't. He's got it."
Penn State's old coaching staff
tried
to construct new recruiting pipelines. Former defensive coordinator Ted Roof attempted to circle back to his recruiting roads around Georgia and, when he left, safeties coach Anthony Midget focused on his old stomping grounds in Florida. Their spoils? Roof helped reel in two 2013 commits who remain on the roster, defensive back
Kasey Gaines
and defensive tackle
Parker Cothren
, from Georgia and Alabama, respectively. Midget didn't grab any in the most recent class.
Compare that untapped territory with Vanderbilt. The Commodores signed three players from California -- and that was just in the last class alone. Vanderbilt's current roster includes players from 21 states. No recruiting area has really been off-limits to the bald coach with the trademark frames.
"He's been able to cast a wide recruiting net at Vanderbilt, one that's broader than any net I've seen cast," Bowers told ESPN.com. "He's honed in on schools that Vanderbilt has not traditionally been in on. When you first see him, he just has this personality, where you like him right away. He's just a nice guy and, yeah, he's a really good recruiter."
Franklin was able to attract top recruits to a cellar-dwelling program and turn it into something special. It's unknown what he can do with a former powerhouse -- whose fans once showed up in the thousands
for a 7 a.m. pep rally
, and showed up by the handful Wednesday night in snowy, below-freezing temperatures at the airport just to catch a glimpse of Franklin.
Nobody can say for sure the heights that Franklin can take this program, recruiting-wise. But Thompkins and Godwin aren't the only ones who are excited -- and Big Ten newcomers Maryland and Rutgers, two teams in PSU's recruiting footprint, shouldn't be the only ones who are worried.
January, 11, 2014
Jan 11
9:30
AM ET
Penn State's last coaching search went at a slow, seemingly wayward pace and left plenty of questions, especially about the man being introduced to lead the program on Jan. 6, 2012.
There will be no Bill O'Who moments when James Franklin,
officially hired today as Penn State coach
, steps to the lectern this afternoon inside Beaver Stadium. Franklin is a known name and a big name in the coaching profession. He has accomplished what few believed possible: He made Vanderbilt not merely relevant in football, but pretty darn good with three consecutive bowl appearances and a 24-15 record. The 41-year-old has been mentioned for seemingly every college and NFL coaching vacancy this year. If Penn State fans weren't familiar with his work before the past few weeks, they certainly are now.
[+] Enlarge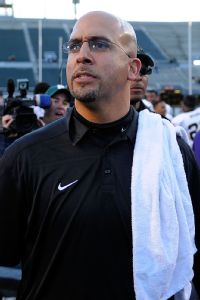 Stacy Revere/Getty ImagesNew Penn State coach James Franklin led Vanderbilt to a 24-15 record.
Franklin isn't a mystery man like Bill O'Brien was two years ago. Penn State is getting a sharp, dynamic coach who can compete with Ohio State and Michigan on the recruiting trail and, despite the lingering NCAA sanctions, should soon make Penn State a contender in a tough Big Ten East division. Some felt sorry for Penn State when O'Brien bolted for the NFL just two seasons after the NCAA imposed unprecedented sanctions on the program, including a four-year postseason ban.
No one is feeling sorry for Penn State now. The only pity party being thrown might be by new Big Ten member Maryland, which tapped Franklin as its coach-in-waiting in 2009 but couldn't keep him in town.
This is a move that carries potential high rewards for Penn State, and also some risks.
Franklin signed the nation's No. 22 recruiting class in 2013, and Vanderbilt's 2014 class currently ranks 29th. He's an exceptional recruiter with national reach, as well as ties both in the state -- he's from Langhorne, Pa., just outside Philadelphia, and played quarterback at East Strousburg University -- and in the Mid-Atlantic. Franklin's time in the SEC should put Penn State in play for more prospects in a region they rarely have entered.
Vanderbilt's current roster
includes players from 21 states, including the big three (Texas, Florida and California), but also Big Ten states Ohio, Illinois, Indiana and Pennsylvania.
There has been a lot of talk about Ohio State coach Urban Meyer shaking up the Big Ten with his "SEC-style" recruiting approach. Well, Meyer has company with Franklin. That's not a bad thing for a league that for the most part lags behind in recruiting at the highest levels.
Franklin will fire up Penn State fans, players and recruits when he speaks. He oozes confidence -- some see it as arrogance -- and won't flinch at the NCAA sanctions, the administrative instability and the pro-Joe Paterno section of Penn State's fan base, which
frustrated O'Brien at the end
of his tenure (but wasn't the primary reason he left). Penn State is an old-school program and Franklin is undoubtedly a new-school coach, but the marriage can be successful.
His hiring also brings some potential red flags.
1.
Franklin has had six coaching jobs since 1999 and hasn't remained in one place for longer than five years. Although many believe he's suited for the college game, NFL teams could come calling if he continues to succeed. When top SEC vacancies become available, his name likely will be mentioned. For all his talk of "anchor down" at Vanderbilt, it's debatable whether Franklin will ever truly drop anchor, even if he's back in his native Pennsylvania. The buyouts in his contract will be very telling, as Penn State can't afford to be a steppingstone job.
2.
A Penn State program embroiled in a child sex-abuse scandal in 2011 is hiring a coach who had four players accused of raping an unconscious 21-year-old woman in June. A November court filing by defense lawyers
requested text messages sent by Vanderbilt coaches
that could shed light on what took place. Franklin immediately dismissed the players and hasn't been implicated in any potential cover-up, but Penn State simply can't afford any character issues with its new coach. PSU's vetting of Franklin had better be foolproof or the school will suffer.
3.
There's a lot of hype around Franklin, some of which might be overkill. Coaches who win at places like Vanderbilt or Duke or Northwestern tend to get additional credit when it's not always merited. Of Franklin's 11 SEC wins at Vanderbilt, only two came against teams that finished with winning records. He still must show he can beat top teams like Ohio State, Michigan State and possibly Michigan, all three of which he'll see annually in the East division. Vanderbilt's offense ranked no higher than 55th nationally in scoring under Franklin, who has overseen only one truly explosive offense (Kansas State in 2007, when he served as coordinator).
Al Golden would have been the safe choice, but Penn State swung for the fences with Franklin, who will earn up to $4.5 million per season, according to ESPN's Brett McMurphy. Franklin mint, indeed.
There are more potential rewards than risks here, and the fact Penn State could land such a coveted coach under the cloud of sanctions illustrates how the job has improved in two years. Franklin enhances the Big Ten coaching fraternity. That two of the league's past three coaching hires are African-American is an excellent sign after a lengthy drought.
A Penn State program not known for glitz under Paterno has made a flashy, fascinating hire in Franklin.
Buckle up, Nittany Nation. This will be a wild ride.
January, 1, 2014
Jan 1
12:41
PM ET
LAKE BUENA VISTA, Fla. --
Michael O'Connor
will never forget New Year's Eve 2013. It was the day his life was turned upside down.
September, 19, 2013
9/19/13
2:00
PM ET
Just a few days after stubbing its toe on the field, the Big Ten conference will try to right the ship in the recruiting world.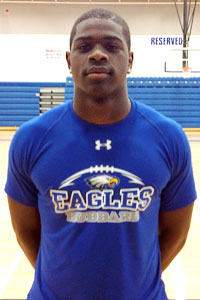 Brad Bournival/ESPNESPN Junior 300 running back Larry Scott will make an unofficial visit to the Horseshoe this weekend.
From official visits to commitments, here's a look at a few programs that highlight a busy time in this week's Big Ten storylines.
Buckeye leafs
The fact Ohio State opened as 57-point favorites against Florida A&M didn't scare off some big unofficial visitors, as ESPN Junior 300 running back
Larry Scott
-- L.J. for short -- out of Hubbard (Ohio) High School will lead a group of three big names with unofficial visits to the Horseshoe.
To continue reading this article you must be an Insider