Big Ten:

Virginia Cavaliers
July, 10, 2013
7/10/13
5:00
PM ET
ESPN Insider Travis Haney recently
singled out six coaches in the country
whom he deemed to be on the hot seat, and two of them -- Virginia's Mike London and Maryland's Randy Edsall -- hail from ACC country.

Haney took a look at whether or not the 2013 schedules will help or hurt London and Edsall in terms of their job secruity. Haney went into detail about both situations, and categorized each coach's hot seat as either sizzling, simmering or warming.
There was only one thing I disagreed with, and it really had little to do with the overall topic:
"Presuming Edsall survives another year, the 2014 schedule obviously will look significantly different. But it isn't as if the Big Ten presents anything all that different than the ACC in terms of difficulty."
Except maybe Ohio State and Michigan. And Wisconsin. With all due respect to the Cavaliers, opening the conference season at home against Ohio State is a wee bit more difficult than opening against Virginia. Here's what Maryland's 2014 Big Ten schedule looks like:
at Indiana
Ohio State
Bye
Iowa
at Wisconsin
at Penn State
Bye
Michigan State
at Michigan
Rutgers
Here's what Maryland's final season in the ACC looks like:
at FSU
Virginia
at Wake Forest
Clemson
Syracuse
at Virginia Tech
Boston College
at NC State
Granted, having to play Florida State and Clemson helps tilt the scale of difficulty in favor of the ACC, but having to play at Michigan? At Penn State? At Wisconsin? Those stadiums alone are more daunting than most you'll find in the ACC.
My take: If Randy Edsall is going to win, he better do it now, because it's only going to get more difficult in the Big Ten.
January, 25, 2013
1/25/13
4:30
PM ET
Wishing you a great weekend. We'll have a Senior Bowl wrap-up and any big recruiting updates on Monday.
Rick from Adel, Ga., writes:
Hello Adam,I have 2 questions. First question, With the NCAA investigating itself for internal problems, will that benefit Penn St. in getting sanctions reduced? Second question, Would it be better if the B1G went to 9 conference games, playing 4 games at home, 4 away, and 1 neutral site where the two teams can split revenue? If they do the 9th conf. game at a neutral site I would think that would eliminate having a home/away series and allow even more times for teams in different divisions to play each other.
Adam Rittenberg:
Rick, I'm still trying to get a sense of whether
the NCAA's internal issues
could help Penn State or the state's lawsuit. The initial responses I've received from those in the know is that there are some key differences in the Penn State and Miami cases. The biggest being that the NCAA's enforcement team didn't investigate Penn State like it did Miami. The Freeh Report was used by the NCAA in lieu of its own investigation, so the enforcement team -- and all of its issues -- really doesn't relate to Penn State at all. Wednesday's news certainly hurts the NCAA's credibility, which in theory could help in the state's case, but Penn State still signed a consent decree about the penalties, and it made public the findings of Louis Freeh's group, which the NCAA in turn used to impose sanctions. So it's not the same. You bring up an interesting idea about a nine-game conference schedule with neutral-site games and shared revenues. I don't know if every Big Ten school would be on board with this, and whether so many neutral-site games are realistic every year. But several athletic directors have told us that all scheduling models are on the table in the coming months -- eight-game schedules, nine-game schedules, 10-game schedules. So we can't rule anything out.
---
Dennis from Norfolk, Neb., writes:
Most plans for the new division alignment contains either a "brand" imbalance or a protected crossover game. This means it takes longer to play everyone in the league. .Is there any discussion about making the protected crossover optional? .The Big 12 had no protected crossovers, The B1G and the SEC have them and I thought I heard they were optional in the Pac 12. Don't know about the ACC.
Adam Rittenberg:
Dennis, my understanding from talking to several Big Ten athletic directors is that everything is on the table for discussion, including the future of protected crossovers. I think the protected crossovers took on too big of a role in the initial division alignment. These crossover games should be an as-needed type of thing, more of a last resort to preserve rivalries that can't be preserved within the divisions. There are several Big Ten rivalries that are worth keeping every year in the Big Ten, and there are several that are not. There also are new, emerging rivalries that should be considered when figuring out the divisions. It's certainly possible we'll see an alignment where there are only one or two crossover games requested by the participants, rather than each team having one every year.
---
Steve from Chicago writes:
Love to hear comments on article in lunch links yesterday in which Ohio St. says "A ticket increase is necessary largely because of the lack of a 8th home game in upcoming schedules." Before we heard that cannot go to 9 game conference schedule or add tough non-conference games because need 7 home games. Now Ohio St is saying need 8. With that comment how can a 10 game conference schedule be discussed let alone a 9 game schedule.
Adam Rittenberg:
Good question, Steve. A huge concern for athletic directors when they discuss future conference schedules is meeting their individual budgets. Ohio State, for example, needs at least seven home games a year. There will be years with eight, but they're few and far between, so the school has to adjust accordingly to meet its financial goals. This doesn't help the fan buying tickets, but it's not easy to run a program featuring 36 varsity teams, almost all of which lose money. If the Big Ten ends up implementing a 10-game conference schedule, it will really restrict what programs like Ohio State -- and several others that need at least seven home games per season -- can do in the nonconference portion. Do games like Ohio State-Oregon and Ohio State-Texas go away because they involve road trips? It's possible, and that'd be a shame. The problem with 9-game league schedules is that those schools have to make sure they play all three non-league games at home in seasons where they have five Big Ten road games. So it's very tricky, and it's why 8-game schedules remain appealing.
---
Jeffrey from Dunn Loring, Va., writes:
Adam,Maybe I haven't been paying attention, but what's the quarterback situation look like for Purdue next season? Their top two QBs are gone - will the Boilermakers use one of the remaining signal callers on the team, or is Coach Hazell actively looking elsewhere?
Adam Rittenberg:
Purdue has a lot of quarterbacks on its roster -- five, to be exact, including heralded incoming recruit Danny Etling (already enrolled). So Darrell Hazell and his staff have options there. The problem is inexperience.
Rob Henry
is a familiar name, and he would have been the team's starter in 2011 if he didn't suffer an ACL tear weeks before the season opener. But he didn't have a huge role in the offense last fall, even after
Robert Marve
's injury and
Caleb TerBush
's struggles. If Henry can recapture the form he showed during the offseason two years ago, he likely will be the top guy. But the young players can't be counted out, especially a guy like Etling, who drew excellent reviews in recruiting. Players like
Austin Appleby
and
Bilal Marshall
also are in the mix, but it's really a clean slate for Hazell and his offensive staff, led by coordinator John Shoop.
---
Steve from Columbus, Ohio, writes:
Adam: With 4-team pods, you've said several times that there were questions about how a 2-game playoff would work or how ties would be broken. I think the real idea behind pods is that every season, you have two 8-team divisions, it's just that the divisions change each season. In other words, 2015 might have a Lakes-Plains division and a South-East division, 2016 would have a Lakes-South division and a Plains-East divison, 2017 would have Lakes-East and Plains-South... Still would have a division champ (not a pod champ), division tie-breakers, and a playoff between the top two teams. Could even have a protected game, and still keep an 8-game season (thus maximizing home-game revenue).
Adam Rittenberg:
To Steve and many others suggesting this, I love the idea of rotating divisions. There would be more variety in which teams play each year, and you wouldn't have so much pressure to increase the total number of conference games (which will hurt nonconference scheduling). You would have to construct the divisions to preserve rivalries and as much competitive balance as possible, and you'd have to come up with a good tiebreaker system. This is much more realistic than adding semifinal games, which I doubt the presidents would do. Again, love the plan. It makes sense. Probably means it won't happen (I kid, I kid ... sorta).
---
Jordan from Detroit writes:
It's been a while since I've seen talk about who would be #'s 15 and 16 in the b10. However when there was talk about it people were focusing on Georgia Tech, Virginia, and maybe even UNC and/or Duke. Why are people not focusing as much on Virginia Tech? They have one of the most successful football programs, they are right next door geographically, as well as creating a source for the b10 network in the Virginia market. So why are the Hokies not discussed as much? The only downside is that they are not part of the AAU but considering how Nebraska isn't a part of it (and honestly if Notre Dame wanted to join the b10 Delaney would forget about the lack of AAU in a heartbeat) I don't think of it as a deal-breaker. What do you think?
Adam Rittenberg:
Jordan, you're not the first person to ask about Virginia Tech as a Big Ten expansion candidate. For starters, the AAU thing is a very big deal. Although Nebraska lost its membership, it had it at the time of its admission. If Nebraska wasn't an AAU member in June 2010, it would have had a harder time being approved, Big Ten sources have told me. Still, Virginia Tech is a good candidate because of its location and its success in football. But there has been much more buzz about Virginia Tech as a potential SEC expansion candidate. If the ACC blows up eventually, most folks seem to think the SEC would try to add Virginia Tech to expand its footprint. Maybe things change with the Big Ten, but I don't think Virginia Tech is on the league's radar as much as AAU members like Virginia, Georgia Tech and North Carolina.
---
John L. from Djibouti, Africa, writes:
Adam, the Big Ten Blog has been my daily meditation for a long time now. I'm currently deployed and may rely on it more than ever! Wisconsin has showed consistent success -- getting to B1G Championships, Rose Bowls, National Award contenders and plenty of graduates playing on Sundays, i.e., JJ Watt,
Russell Wilson
, yet it still seems like we haven't seen much of a boost, if any, in recruit caliber. Can you explain this?
Adam Rittenberg:
John, first of all, thank you for everything you do. Appreciate the kind words. A lot of Wisconsin fans wonder why the recent success doesn't make the Badgers more of a national player in recruiting. Location has something to do with it as Wisconsin isn't located in a state packed with elite recruits. Wisconsin also has built its program on developing players, and while aiming higher in recruiting will be important going forward, there seems to be a greater focus on finding the right fits -- if they're less heralded recruits -- and fostering improvement year to year. Facilities also are a big key, and as I've written before, Wisconsin's have been among the worst in the Big Ten for a long time. The poor facilities haven't come close to matching the product on the field. The
new student-athlete performance center
signifies a significant upgrade, and Wisconsin must continue to invest in a program that has yielded great returns for the school. It's also important for Wisconsin to target areas where it can compete for good recruits. Florida seemed to be one of these areas under the previous coaching staff (thanks in large part to assistant Charlie Partridge). Gary Andersen needs to find similar regions where Wisconsin can target elite prospects.
---
Bob from Indiana writes:
Re: John Shoop as Purdue OC. So was this little piece that you put up about Shoop supposed to be an objective reporting of news or an editorial about your frustration as a fan of a middling, somewhat dysfunctional NFL team and what this guy did a decade ago with very little material/players to work with. I'm not saying you should be falsely positive; I'm saying that this blurb came across as fairly negative, especially compared to some of the other reports you've done about other asst. coach hirings around the Big 10.
Bob from Crown Point, Ind., writes:
Adam...Having a hard time discerning the thought process of Purdue's coach Hazell believing John Shoop is the answer for a team in need of building an offense. I too am a life long Bears fan and remember very well the Shoop playbook which seemed not to have a single passing route longer than 3 yards. Please throw out a nugget of info...an overlooked stat...or something to help understand this move.
Adam Rittenberg:
These emails came in right after one another -- it shows how not all Bobs from Indiana think alike. To Bob No. 1, as I've mentioned many times, this is a blog and we will provide strong opinions from time to time. We're supposed to give a take on news items like this. My John Shoop post was intentionally a bit over the top -- not entirely serious -- because of his Chicago Bears connection and my Bears fandom and frustration with many of Shoop's offenses (2001 team the exception). You're right that he had little to work with in Chicago, and he'll inherit some more talent at Purdue. But it doesn't change my memories of him as a playcaller. Like every new Big Ten assistant, I'll give Shoop a chance and a clean slate. He deserves it. As mentioned in the post, the guy remains in high demand and did some good things toward the end of his tenure at North Carolina. For Bob No. 2, I'd look at the UNC offenses in 2010 and the way quarterback T.J. Yates developed. Wide receiver Hakeem Nicks also blossomed in Shoop's offense in 2008 -- and had quite a few catches longer than three yards.
December, 26, 2012
12/26/12
1:00
PM ET
Your post-Christmas edition. I'll try to have another on Friday, although no promises as I'll be away from the blog more than normal this week.
On to your questions ...
George at Palmyra, Va., writes:
Do you think the Buckeyes will run the table again next season? They really have no tough games. Three very easy OOC home games and a weak Cal team that doesn't have a coach. Wisconsin at Columbus without
[Montee] Ball
, and a new coach and new system. Away games at Illinois and Purdue should be little work. So Michigan and Northwestern seem to be the only obstacles. What do you think?
Adam Rittenberg:
George, the schedule certainly sets up well for Ohio State, and the possibility of an undefeated season can't be dismissed in part because the Buckeyes just accomplished one. The fact Ohio State doesn't play Michigan State or Nebraska in the regular season certainly is a benefit. San Diego State won't be a pushover, but the game is in Columbus and Ohio State should be fine. The road games against a Northwestern team that returns almost everyone and a Michigan squad in Year 3 of the Brady Hoke era certainly stand out, as does a potential Big Ten championship game showdown. I wouldn't count out Wisconsin, which returns key players on both sides of the ball and made a good hire in coach Gary Andersen. But again, that game is in Columbus, where Ohio State rarely loses. Ohio State's season really comes down to defensive depth. If the Buckeyes have enough, they certainly can run the table.
---
Josh from Sparta, N.J., writes:
As for future expansion candidates, I think we keep overlooking Virginia Tech. While they are not an AAU member, they are a solid football power and would be a great fit geographically with Maryland, Rutgers, and Penn State. They can also move the needle playing on prime time. Thoughts?
Adam Rittenberg:
Josh, Virginia Tech is a very attractive candidate, but the lack of AAU membership remains a big deal to the Big Ten presidents. Also, the prevailing thought is that Virginia Tech will be an SEC expansion target more than a Big Ten expansion target. Most of the 16-team SEC projections I've read about have included Virginia Tech. You can check in with my colleagues Chris Low and Edward Aschoff, but they've definitely heard that Virginia Tech is on the SEC's radar.
---
Christopher from Madison, Wis., writes:
Heisman Winner and Wisconsin running back Ron Dayne's last game was a Rose Bowl victory against Stanford in 2000. Wisconsin's Montee Ball (2012 Doak Walker award winner) will finalize his career at the 2013 Rose Bowl against Stanford. Will there be any similarities between what the Wisconsin offense did in 2000 and what they will accomplish in 2013, other than competing with great running backs? Or what are the differences?
Adam Rittenberg:
Christopher, those are some interesting parallels with Dayne and Ball, whom
I wrote about earlier this season
. Wisconsin's offensive structure -- power run, huge offensive lines, play-action-oriented pass game -- hasn't changed too much during the years, although there certainly were some tweaks this fall under first-year coordinator Matt Canada. The 1999 squad put up big points totals -- 42 at Ohio State, 59 against Indiana, 40 against Michigan State, 41 against Iowa -- and recorded more quality wins than the 2012 team, which also had some offensive explosions. The 1999 Badgers beat five ranked teams and won their only overtime game, while the 2012 Badgers beat only one ranked team (Nebraska in the Big Ten championship) and went 0-3 in overtime. Both squads were very solid on defense.
---
Fischsticks04 from Washington, D.C., writes:
Hi Adam - in today's mailbag, you stated: "To your second question, a lot of people have brought up the North Carolina-Duke connection. The Big Ten would rather have Carolina than Duke, but the question could become whether it would be willing to take both to get UNC. Tough to say." Can you please explain to me how the Big 10 would not be jumping for joy if Duke were even slightly interested in joining? Academically, they are better than even Northwestern. Brand image-wise, they are a national brand and have fans all over the country. They would be a huge boost to the already solid basketball league. Why do think the Big 10 would "settle" for taking Duke to get UNC?
Adam Rittenberg:
Not to disparage Duke, but I don't think the Big Ten necessarily needs to add two schools in the Research Triangle. And if given a choice, I'd take North Carolina in a heartbeat. The school fits in well with the other Big Ten schools -- flagship public school in the state, elite academically and in research, AAU member, broad-based athletic program. Duke's academics also would resonate and the men's basketball brand is exceptional, but the football program gives you less than Maryland's or Rutgers'. And it's not like North Carolina isn't a national hoops brand, too. Also, the fact Duke is more of a national school could hurt a bit in what is being billed as expansion to new regions. You want to make a mark in the Research Triangle. Which school has more fans in that area who will give the Big Ten a greater presence? UNC, hands down.
---
Deepdax from San Francisco writes:
You mentioned the Kraft Hunger Bowl out here in San Francisco......I live here and attended the game just to see what it was like. I went to Michigan State. Nice location with a beautiful view of the bay but half full or less for the Illinois game. The UCLA band was seated in prominence the Illini band was hidden away all by itself in a corner of the stadium. Neither bands marched at halftime. In all, very little atmosphere of a college game and in San Francisco very little hype that it was even happening. Just my experience there.
Adam Rittenberg:
Thanks for the observations, Dax. It definitely sounds like there would need to be some upgrades from the bowl to appeal to the Big Ten. One question is where Kraft Fight Hunger would fit into the Big Ten's bowl lineup. The Illinois-UCLA game isn't really a fair gauge because both teams had fired their coaches, squeaked into bowls and had little to no fan enthusiasm. If those are two 9-3 teams squaring off in San Fran, attendance and enthusiasm should be a lot better for the game. But it is a long way for Big Ten fans to travel -- that's definitely a consideration -- and the bowl likely would need to make a stronger financial commitment. I just would like to see at least one more Big Ten-Pac-12 matchup in the bowl season, whether it's Kraft Fight Hunger, Holiday, Las Vegas or another game.
---
Peter from Horsham, Pa., writes:
I absolutely hate conference expansion for what it is doing to traditional regional rivalries, to me the draw of college football. If we must go to 16 teams, can we at least compose one division completely of original Big Ten teams?
Adam Rittenberg:
Peter, I agree with you about expansion. It has gotten out of hand, and the traditional rivalries pay a price. Greed and panic are a bad combination. I doubt we will see one eight-team division filled only with original Big Ten members because of geography, which should play a bigger role in alignment, at least if you believe commissioner Jim Delany. With Nebraska on the opposite end of the Big Ten footprint from Penn State and the new members (Maryland, Rutgers, maybe two others from the East Coast), it seems unlikely all of those schools would be in the same division. We could end up seeing four four-team pods, some of which could include only Big Ten charter members. But I highly doubt Nebraska and Penn State are in the same division, which would make your idea impossible.
---
Mike from Manila, Philippines, writes:
UConn is making a strong commitment to get an AAU invite within the next 2 years. Assuming they become an AAU school, would UConn be considered as a possible B1G candidate (i.e., to help lock up NYC market and gain access to the New England market)?
Adam Rittenberg:
Mike, that's an interesting note about Connecticut and the AAU. It certainly would make the school more attractive to the Big Ten. The big question is whether the Big Ten would rather strengthen itself in New England or make a push to the south, where population is growing, there are more elite recruits, college football is bigger, etc. I'm not dismissing the New England market, but college football really doesn't resonate in the Northeast. You already have a bit of a presence with Rutgers, but wouldn't it make more sense to try to create a presence in the Carolinas or even Georgia? I'm not saying there's one right answer, but I would be more interested in pursuing other ACC schools -- North Carolina, Georgia Tech, Virginia -- than UConn.
---
September, 8, 2012
9/08/12
3:46
PM ET
CHARLOTTESVILLE, Va. -- Here's a quick look back at Virginia's come-from-behind
17-16 win over Penn State
:


It was over when:
With about 90 seconds left in the game, on third-and-goal from Penn State's 6-yard line, Virginia quarterback
Michael Rocco
found tight end
Jake McGee
open in the end zone for what would be the game-winning touchdown. The Hoos marched 86 yards on 10 plays in 6:36. Penn State kicker
Sam Ficken
would then miss a 42-yard field goal with no time remaining.
Gameball goes to
: Jake McGee. He had four catches for 99 yards and a touchdown, including the game-winner. He also had a terrific catch in double coverage to exted UVa's final scoring drive. On third-and-16, he caught a 44-yard pass from Rocco for the first down.
Stat of the game:
Virginia's defense held PSU to minus-17 yards and no points after its three turnovers. PSU, which missed its first three field goals, didn't score any points off of UVa's turnovers until Ficken's 32-yard field goal in the fourth quarter.
October, 8, 2010
10/08/10
4:00
PM ET
As always, you can
contact me here
and follow me
on Twitter
.
Enjoy the games this weekend!
Drew from Mt. Pleasant, Mich., writes:
Rich Rodriguez has mentioned a few times that he envisions scenarios where he has more than 1 QB on the field. Might this be the week we see it? Tate in shotgun and Denard spread out as a receiver? It seems like there are endless possibilities, and it could really confuse the spartan defense, potentially forcing them to burn a time out. Am I totally crazy for thinking we may see something like this saturday afternoon?
Adam Rittenberg:
Not totally crazy, Drew, especially with an innovative offensive mind like Rich Rodriguez crafting the game plan for Michigan. While I would be a little surprised to see
Denard Robinson
lined up as a wide receiver, I wouldn't be totally shocked to see Forcier get a few snaps on Saturday. To me, Michigan State's secondary is still the weak part of the defense. Michigan obviously wants to run Robinson and the other backs, but it really should go after the Spartans' DBs with receivers
Roy Roundtree
,
Darryl Stonum
and
Junior Hemingway
. Robinson has shown he's capable of making good throws, and so has Forcier.
---
Eli from Brooklyn, N.Y., writes:
You know what? I'm sick of this. I was going to wait till the outcome of the next four games to send this E-mail, but all the stuff I've been reading about how bad of a team Penn State is (including your "mediocre at best" comments) has me boiling. I hate to be one of the 'delusional fans' you hate so much, but exactly what's mediocre about losing, ugly, to the two out of three teams you and everybody else already predicted we would lose ugly to?
Adam Rittenberg:
It's not just the ugly performances against Alabama and Iowa, Eli. When has Penn State looked better than mediocre this season? For a half against Youngstown State? On defense against Kent State? Sure, there have been a few moments here and there, but you can't honestly say Penn State has either played to its potential or put together four quarters of good football. I know it's tough with a freshman quarterback, but you have a senior running back in
Evan Royster
, enough experience on the offensive line and quite a lot of talent at receiver. As a fan, you should expect and demand more from your team.
---
Thomas from Corpus Christi, Texas, writes:
Hi Adam,I'm trying to make sense behind your "player of the year award." You have Terrelle Pyror in front of the QBs from Indiana and Northwestern. However looking at the stats the other two QBs hold a considerable amount of advantage over Pryor. It's not like the Buckeyes have really been tested offensively this year from opposing competition. So my question is: To this date, minus one good game against Oregon last year, has he ever really been that impressive in College Football? Or are people still just believing in his High School Hype?
Adam Rittenberg:
Thomas, I think
Terrelle Pryor
is held to an unfair and somewhat unrealistic standard by many folks because of his hype in high school. And while Indiana's
Ben Chappell
and Northwestern's
Dan Persa
have put up excellent numbers this year, so has Pryor, if you really study it. He's throwing the ball a lot better than he did in 2009, and he's carrying the rushing load for the Buckeyes as they try to figure things out at running back. Pryor has been impressive for stretches in all five games this season, even against Illinois. And while his passing accuracy against Miami wasn't great, he still made quite a few big plays against what's looking like a very good Hurricanes defense. I've always pointed out when Pryor doesn't deserve credit, like the preseason Big Ten Offensive Player of the Year honors he receives, but he has done a nice job overall this year and deserves to be in the Player of the Year discussion.
---
Richard from Toledo, Ohio, writes:
Adam, In your article about Ohio State needing "style" to impress people around the country, you say that Boise State and TCU are "respected by voters because of what they've accomplished over time." On its face, that is a fair argument. Both teams have had recent success. BUT...at the same time you make that argument, you said in your mailbag that OSU's decisive win in the Rose Bowl last year carries no weight because this is a different season. So, which is it? You can't support some teams for one reason, but completely ignore that same reason to find fault (or, in this case, simply a lack of support) for another. You're not the only media type using those arguments, but they really don't hold water if you enforce your reasoning selectively.
Adam Rittenberg:
Richard, some good points here and you lay them out well. My argument with Boise State and TCU is that it's harder for voters to completely write off those teams once they enter their league schedules because of what they've accomplished over time. Ohio State will never be written off once it gets into the Big Ten grind because of the Big Ten's reputation. Trust me, Boise State and TCU absolutely have to win impressively to avoid dropping in the polls. In fact, the pressure to win with style points for non-AQs is greater than it is for Ohio State because they play in weaker leagues (Boise more so than TCU). But if Boise and TCU keep winning with style points, they'll help their cause to stay in the top 5 because they're not flash-in-the-pan programs. Everyone needs to win impressively: Ohio State, Oregon, Boise State, TCU, Oklahoma ... the list goes on. I just don't think the voters should sit there and say, "Hmmm, Oregon crushed Stanford in the second half, while Ohio State needed a late touchdown to cement a win against Illinois. Oregon looks better than Ohio State to me, but I'm going to punish the Ducks because they lost to Ohio State nine months ago." If Oregon is performing better this year in your mind, the Ducks should be placed ahead of Ohio State.
---
Courtney from Iowa City, Iowa, writes:
Hi Adam, Love the blog and read it regularly. I'm an Iowa fan with a question about Michigan and Northwestern. They are both 5-0 but Michigan is ranked significantly higher than Northwestern. I feel like I'm missing something here. Why exactly? Northwestern has been consistently better than Michigan over the last few years and Michigan's wins this year haven't been that much better. Yes, Denard Robinson is amazing but weren't we all saying the same thing about
Tate Forcier
last year? Is this another case of Michigan "moving the needle" and everyone hoping Michigan is back? From the outside it kind of seems like Northwestern is getting the short end of the stick. Any thoughts?
Adam Rittenberg:
Courtney, I think there's some truth to the Michigan moving-the-needle argument plus the Denard factor, but we can all agree that Michigan's schedule has been more challenging than Northwestern's to this point. Northwestern's four FBS opponents have a combined record of 5-14. The Wildcats own only one win against a team with a winning record, FCS Illinois State. NU also has struggled to put away weaker teams. Michigan, meanwhile, decisively beat a decent Connecticut team in the opener, beat Notre Dame on the road and beat an Indiana squad I think will make a bowl game this year. You're right, it's not a murderer's row of opponents, but it's better than Northwestern's slate. We'll learn a lot more about both teams in the coming weeks, as Michigan gets its first major tests with Michigan State and Iowa, while Northwestern, provided it gets past Purdue, will be challenged by Michigan State on Oct. 23.
---
James from Madison, Wis., writes:
I think some people both nationally and locally are looking at Wisconsin fans' frustrations about Brett Bielema the wrong way. Referring to that link you posted earlier today (Oct. 6), the focus was that [Barry] Alvarez's teams weren't better than Bielema's at the end of his tenure compared to the start of the Bielema era. This is all well and good, and is the main part of the problem. You can't have top 10 teams with BSC aspirations and have them lose in the first Big Ten game. It just automatically puts a damper on the season and destroys morale of both fans and players. It is the fault of coaching when more talented teams lose to lower quality opponents, time and again. Bielema's record against ranked teams speaks for itself. We need a coach who can take the talented Wisconsin teams that we have had the past 3-4 years and actually do something with them, instead of going into the state of Michigan and losing to teams that a top 10 team shouldn't lose to. Period.
Adam Rittenberg:
Good points here, James. And I totally agree about losing the first Big Ten game, which puts your team in a hole right away in the league race. If Bret Bielema can't lead Wisconsin past Ohio State, Iowa or Michigan (in Ann Arbor, no less), you really have to wonder if he's a B-to-C coach for the Badgers. Wisconsin prides itself on its home record under Bielema, but the really great coaches can win on the road. You saw it with Kirk Ferentz at Iowa last year, and you've seen it with Jim Tressel at Ohio State for a number of years. Pat Fitzgerald at Northwestern also has won more big-time Big Ten road games than Bielema. It's why Wisconsin's trips to Iowa and Michigan will be so huge this year.
August, 19, 2010
8/19/10
5:09
PM ET
By
ESPN.com staff
| ESPN.com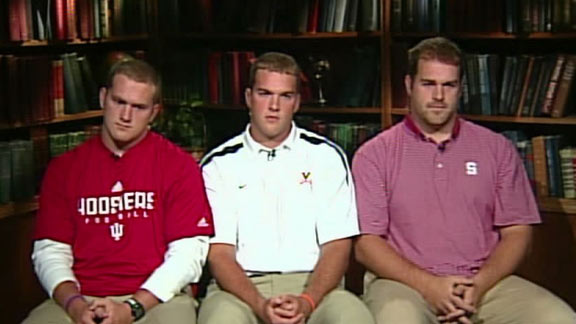 Indiana tight end Paul Phillips and his brothers Andrew and Colter remember their father Bill Phillips, who was killed in a plane crash last week with Alaskan Senator Ted Stevens.