It's hardly unusual for a Wisconsin tight end to post a stat line like the one Lance Kendricks had in the 2009 Champs Sports Bowl: seven catches, 128 receiving yards, receptions of 24 yards and 37 yards.
Garrett Graham had days like that. So did Travis Beckum. And Owen Daniels. The list goes on.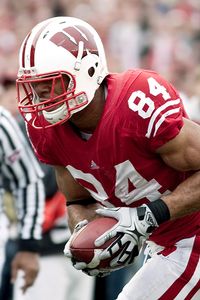 David Stluka/Icon SMI
Wisconsin tight end Lance Kendricks played a big role in the Badgers' bowl game.What seemed unusual about the bowl was that Kendricks was the one who ended up with the big numbers. After all, Graham had been Wisconsin's top tight end all season, earning first-team All-Big Ten honors. Kendricks had been a solid No. 2 option last season, but entered the bowl with 22 catches for 228 yards.
Not surprisingly, he recorded career bests for receptions, yards and longest reception.
Miami defenders certainly didn't expect the ball to keep going Kendricks' way. Same goes for the TV broadcasters and pretty much everyone watching the game.
Perhaps the only folks not surprised were Kendricks' coaches and teammates.
"More than anything, what that game did was it gave insight to other people," Badgers offensive coordinator Paul Chryst said. "I don't know if there's anything Lance did that any of the guys around here were like, 'Wow, where'd that come from?' It just happened to work out that way.
"Lance has been on a steady progression, and I hope he continues to go that way."
Kendricks knew he'd be stepping into a featured role at tight end in 2010 regardless of what happened in the bowl game. Graham and Mickey Turner were moving on, and Kendricks boasted by far the most experience on the roster.
If anything, the bowl gave Kendricks a taste of things to come.
"It definitely helped my confidence," he said. "I felt like I had a lot of fun, which made me more confident. I had a lot of family there, and a lot of people came up to me and talked to me. It was a good feeling to go out there and play well."
Kendricks will take on an enhanced role in 2010, and at 6-4 and 239 pounds, the senior passes the eye test. An ESPNU 150 selection in 2006, Kendricks headlined Wisconsin's recruiting class and was rated as the nation's 16th best wide receiver.
The Milwaukee native had some good options to play receiver -- LSU and Notre Dame were among his suitors -- but stayed in his home state for college. When Wisconsin moved Beckum, an athletic freak recruited as a linebacker, to tight end, Kendricks had a good idea he'd be next.
"I could see where he was going," Kendricks recalled, "and then [the coaches] were looking toward me. I was like, 'Oh, man.' But I wasn't disappointed at all. It was a nice transition for me."
Wisconsin is one of the few college programs left where a move from wide receiver to tight end is a step up in status. Kendricks' skills as a pass receiver were strong, but he needed to improve as a blocker and got plenty of chances to do so in a reserve role the last three years.
After working alongside Beckum, Turner and Graham, Kendricks is ready to continue the Badgers' tight end tradition.
"Certainly things have changed," Chryst said. "His role is going to change a little bit, more to what it was like in the bowl game. So in that way, it gave him a taste of what it's like."